Hi everyone, now that we've officially transitioned into a new year, I thought I would share my top 16 purchases of 2016 that I'm bringing with me into 2017 starting with the Jenni Saddle Bag!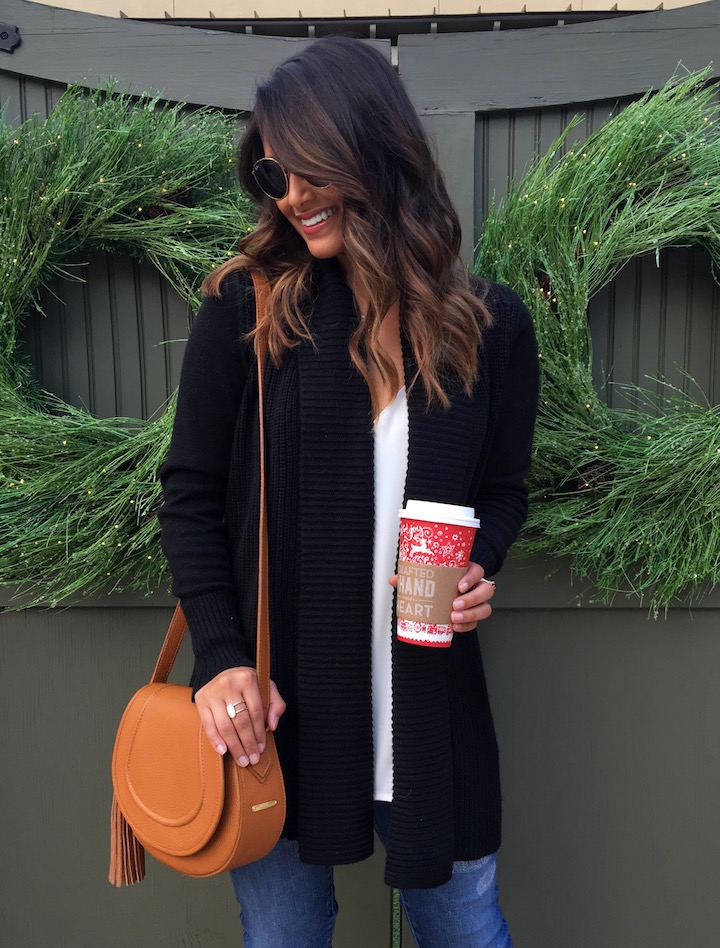 The Jenni Saddle Bag (designed by Haute Off The Rack in collaboration with Gigi New York)
Call me biased, but I love this crossbody bag that I specifically designed for traveling and the girl on-the-go.
| Shop The Jenni Saddle Bag |

| Shop This Look |

2. The BlankNYC 'Morning' Suede Moto Jacket 
| Shop This Look |
This jacket has been one of my best outerwear purchases of the season because it goes with everything including our crazy Louisiana weather! I haven't just worn it at home though. I brought it with me to NYC and everywhere else that I've traveled since I purchased it! Last seen styled (here). I'm wearing the sz S and it fits perfectly and I can still fit a thin sweater beneath it. Oh and did I mention that I own it in three colors? LOL That's how good it is!
3. The Beauty Blender— can you believe that I never tried using one until this year? I can't because I'm hooked and have no clue how I've gone my whole life without one. The Beauty Blender makes such huge a difference in the way that I apply my makeup as well as the end results.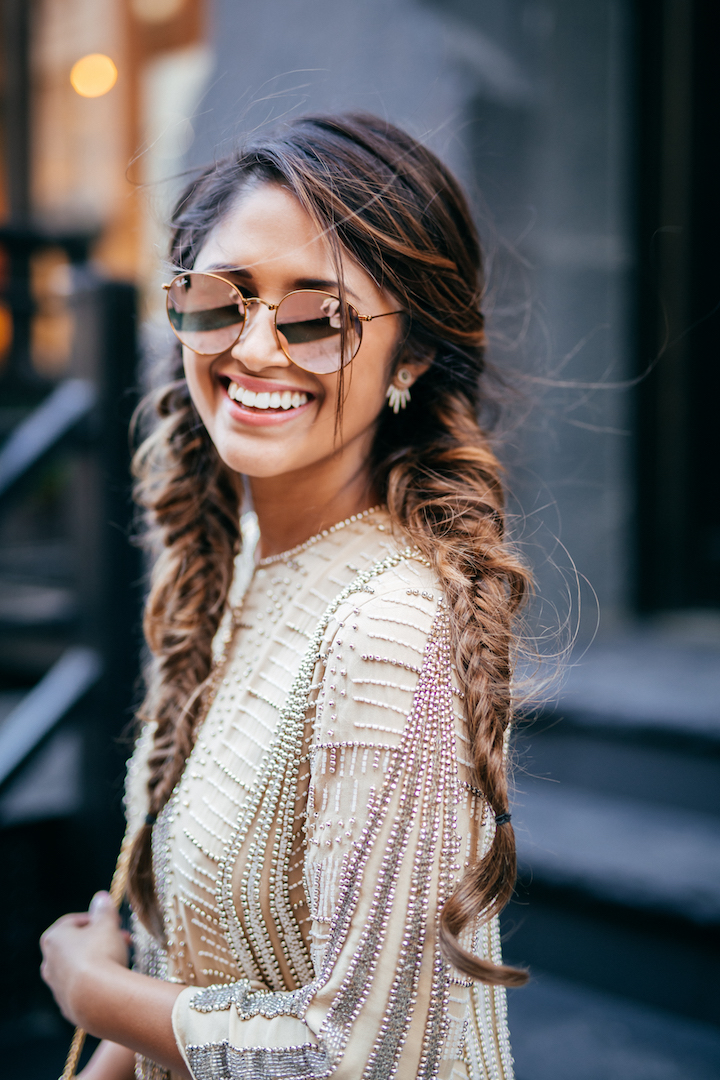 | Shop Ray-Ban Sunglasses |

I haven't been able to stop wearing these rose gold beauties. I'm wearing the sz 53mm in the photo above, but I also love my sz 50mm too!
5.  Diptyque 'Essences Insensées – Rose de Mai' Fragrance (Limited Edition) Parfum and Diptyque Baise Scented Candle
| Shop Diptyque Products |

I first received the Baise Scented Candle as a gift for my birthday last year and I didn't even wait for it to burn out before I ordered a second. It smells heavenly! I always like to light it when I'm cleaning or when we have company over. As for the Diptyque eau de parfum, I got a tiny sample of it in a gift bag and got so many compliments when I wore it that I decided to buy it. I think it might the most expensive perfume that I've ever purchased, but it's totally worth it. It smells so chic and fresh.
6. Pure Silk Pillowcase— This pillow case is anti-aging, anti-sleep crease and anti-bedhead! Talk about the ultimate beauty sleep! Plus it feels so smooth and silky against my face at night. I know this pure silk pillowcase is kind of an investment considering the price, but we spend a third of our lives in bed so why not treat ourselves to the best kind of beauty sleep! After all, we deserve it!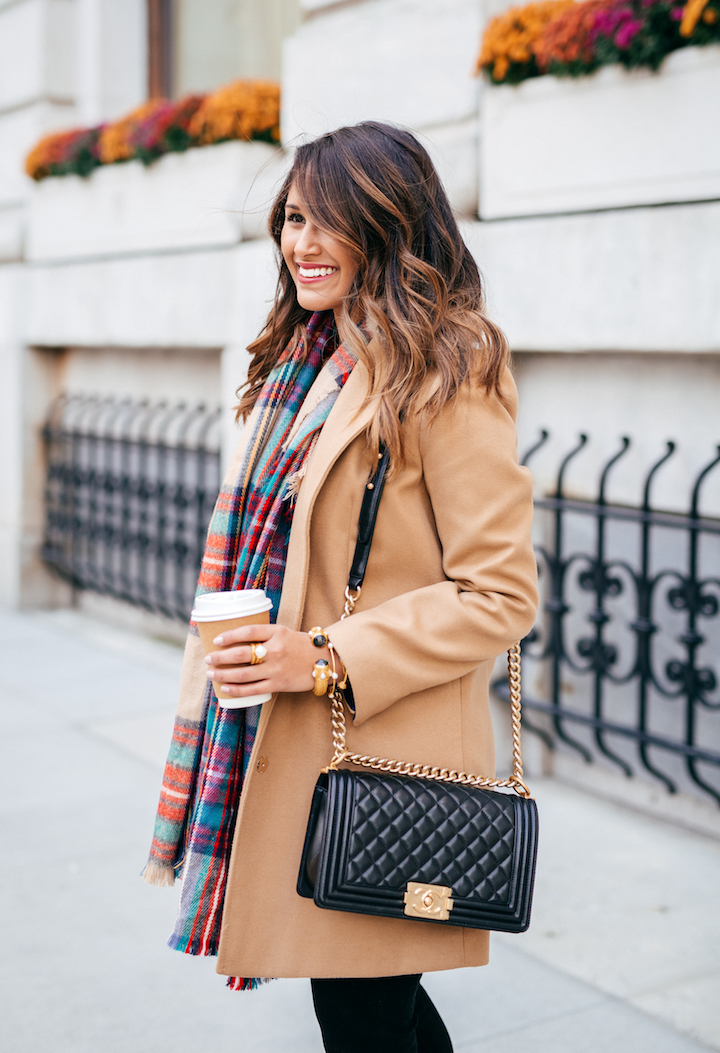 7. The Topshop Camel Coat

Not only do I wear this coat with everything and everywhere, but I also loved it so much that I bought a second one in this burgundy color. I'm wearing the sz US 2.
See how I styled the burgundy version here—> Christmas Day Outfit Idea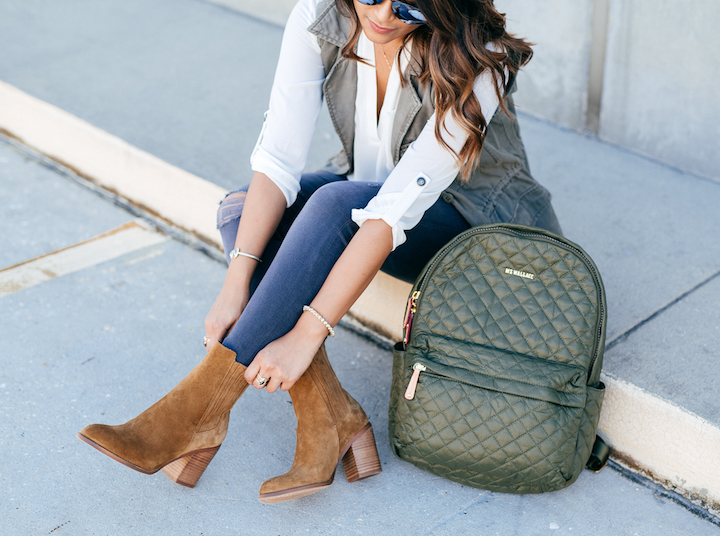 8. Marc Fisher 'Alisa' Booties— I'm pretty sure that I never took these booties off during fall and I even got them in grey and black too! They run TTS! See the full post here—> Fall Travel Outfit 
 9. The MZ Wallace Metro Backpack— I've said it before and I'll say it again. The Metro Backpack is hands down the best travel bag ever! I never leave town without it and it also doubles as a great gym bag. See here—>Three Ways to Help You Stay Fit During the Holidays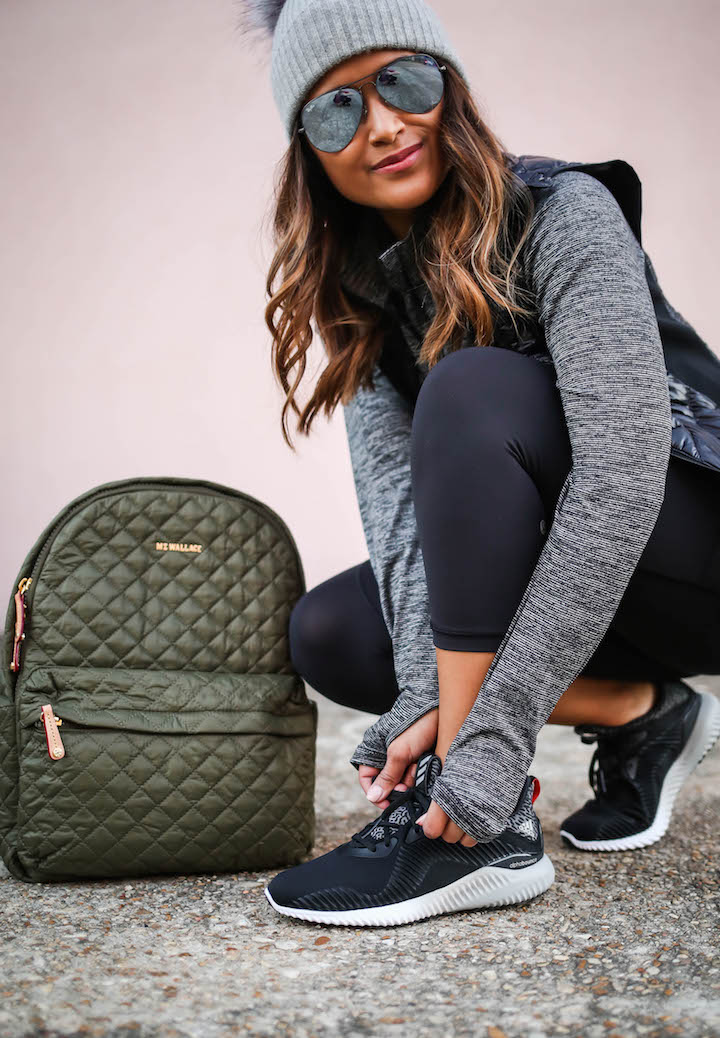 10. The Adidas AlphaBounce Running Shoes
| Shop More Sneakers I Love |

The AlphaBounce running shoes are very comfortable and cushiony. Plus they look super sleek with my activewear looks. I'm also obsessed with them in the new tan color. For size reference, I ordered the size 6.5 for my first pair, which is my normal size. However, I've heard that for running shoes, you should always go a half size down because you want them to be nice and snug for extra support when running. With that being said, I could have easily gone with the size 6, but I don't mind the 6.5, but with a thicker sock. I actually just bought a second pair in a different color and prefer the size 6.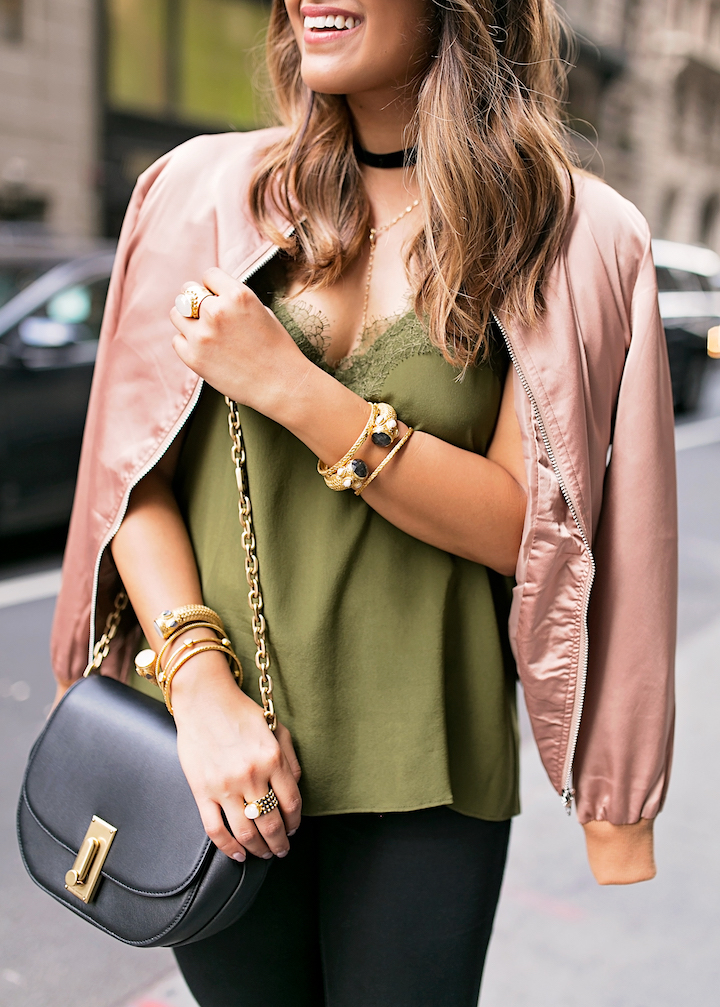 11. Cami NYC Racer Camis & Velvet Tanks

To make a long story short, I ordered one of these Cami NYC Racer Tanks and then I never stopped. I'm pretty positive that I own one in every color as well as the velvet and these things aren't cheap. That's how much I love them! I consider all of my Cami NYC tanks year round wardrobe staples. I'm wearing a size S in the photo above, but I prefer the XS.
See how I've styled them in the below blog posts:
Fall Trends To Try: The Lace Tank
Trend Obsession: Lace Tanks & Bomber Jackets
12. Oribe Gold Lust Dry Shampoo & Dry Texturizing Spray | Dry Bar Dry Shampoo & Triple Sec

Dry shampoo… y'all, the addiction is real! My boyfriend doesn't understand why I don't just wash my hair, but he just doesn't get it. Dry shampoo is my life and I don't remember what I did before it. I even use it when it may hair is perfectly clean because I love the added texture. As for the dry texturizing spray, it just amplifies your dry shampoo and gives you something to work with when it comes to styling your hair. I tried the Dry Bar and Oribe brands for the first time year and they work amazingly. Plus they smell so good!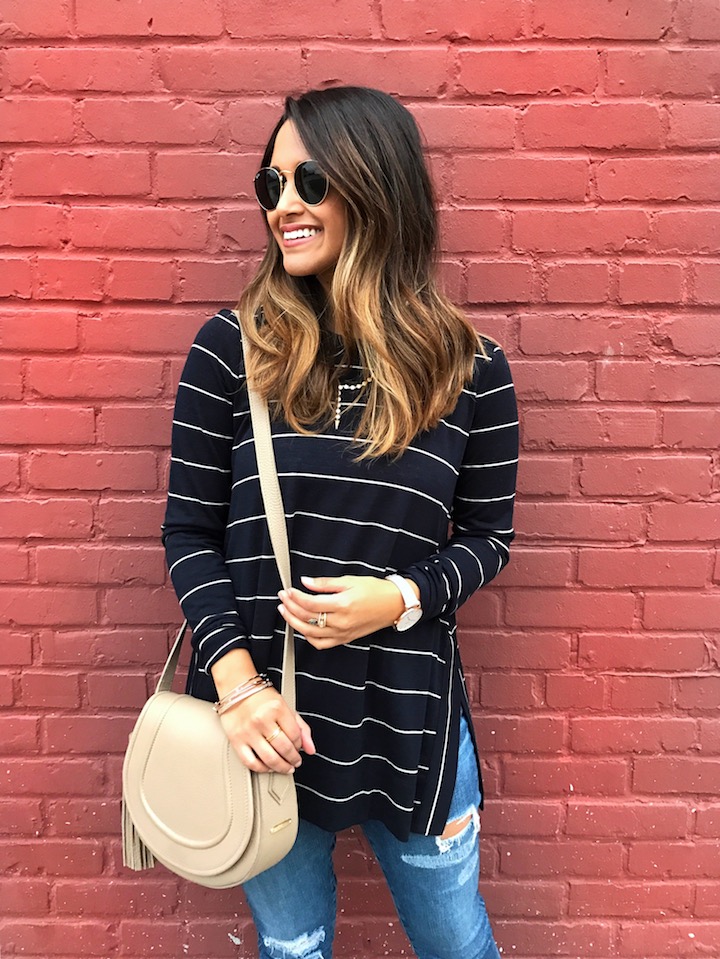 Always keep a good striped top in your wardrobe and feel free to add more when you come across super cute ones like this long sleeved top with side slits. It's super comfortable  ad comes in two other colors. I'm wearing the sz S.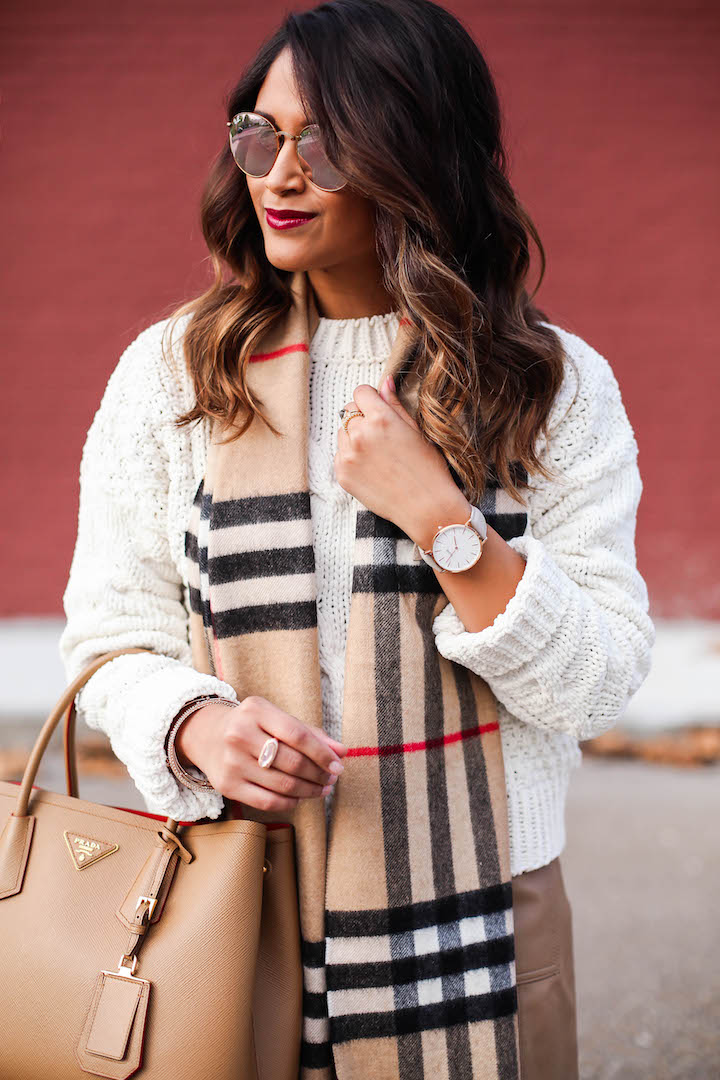 14. Burberry Scarf
I have always coveted the Burberry Cashmere Scarf in the classic camel check color and this past holiday season I decided to finally bite the bullet and buy it. I'm so glad I did though because it's a timeless accessory that I know I'll wear in years to come. Plus I feel so luxe and grown up when I'm wearing it! LOL
15. Rebecca Minkoff Regan Satchel
The Rebecca Minkoff Regan satchel is the perfect everyday bag for the girl who always carries her life with her because it fits everything. I love it in this tan color and the grey.
| Shop Koral Leggings |

These leggings are so flattering and comfortable that I bought an additional pair in case anything ever happens these. I also bought a couple of a other styles too for active wear outfits. I'm wearing the sz S and I usually wear a sz 26 in jeans. I also love these Alo Moto Leggings that I own two colors as well.
See how I've styled them in the posts below:
His & Hers New Year's Day Style
Chic Christmas Eve Outfit Idea
Secret Santa Game Idea For You & Your Friends 
Bonus Purchase: BaubleBar Statement Necklace