Hi everyone! If you're still looking for the perfect piece to complete your New Year's Eve outfit, don't you worry! I've got you covered with plenty of ideas starting with this sequin bomber jacket. It's great for throwing over a little black dress or romper. I went even more simple than that and styled the sequin bomber jacket with a casual pair of black jeans and a lace tank. Speaking of lace tanks, if you don't already own one, I highly recommend this Cami NYC Racer Tank. I realize it's a tad expensive, but I wear it all the time and get so many compliments on it! Plus, I consider it a wardrobe staple, which is worth investing in!
I will be posting a second blog post today featuring a round up of all my New Year's Eve looks. So make sure to check back for additional ideas!
| Shop Sequin Bomber Jackets |

Scroll through this post to see how the look came together.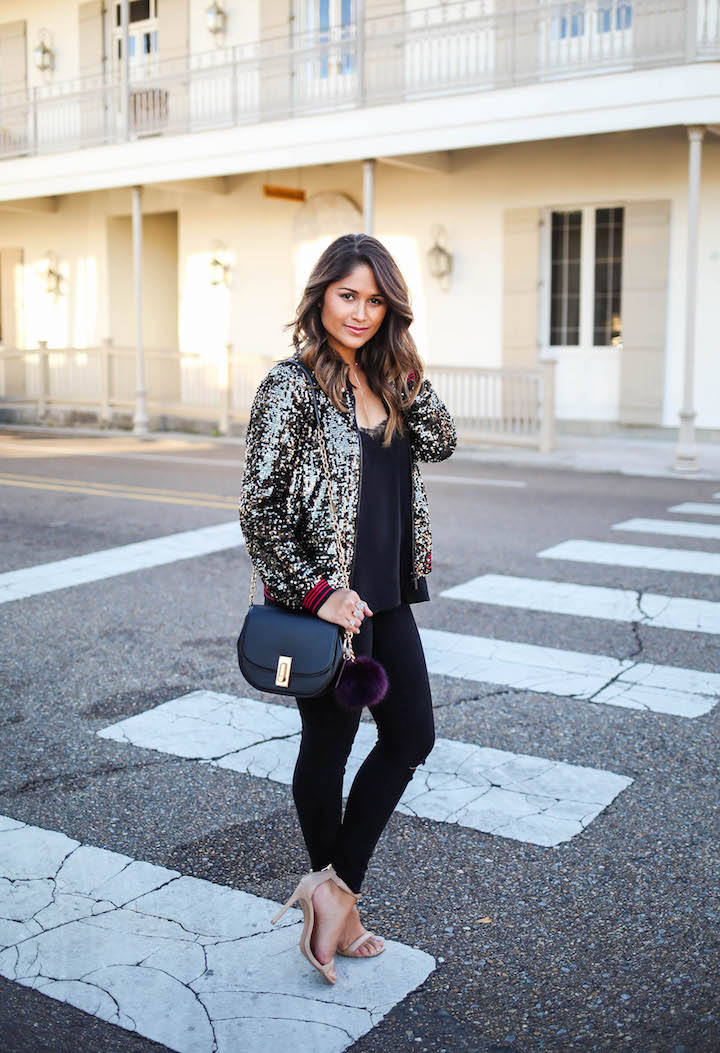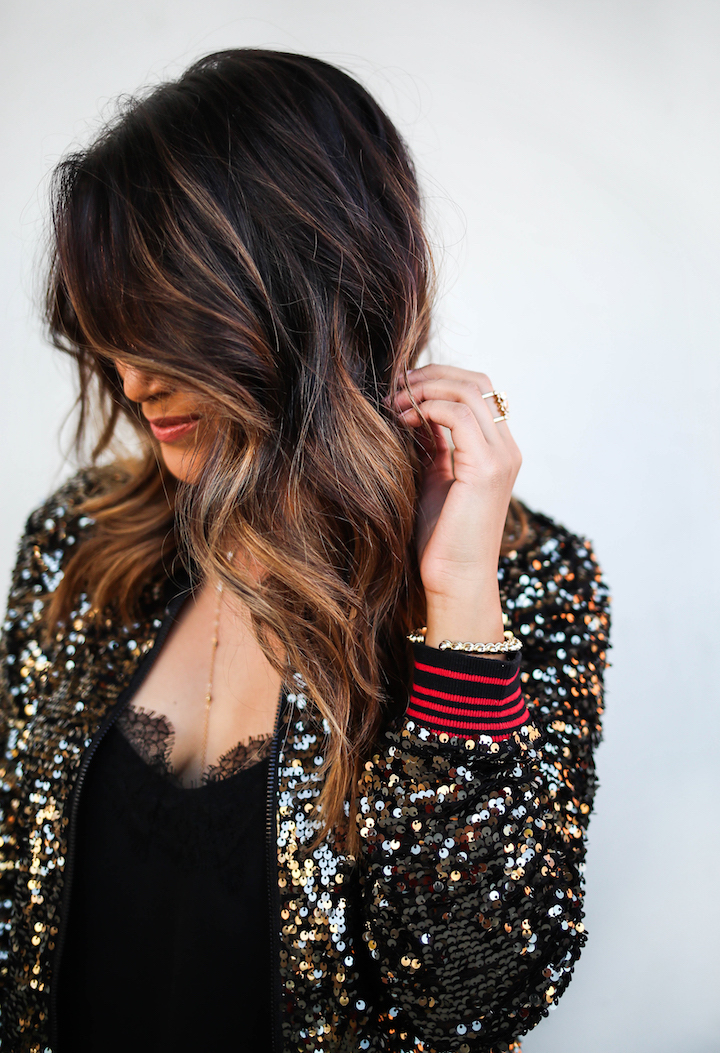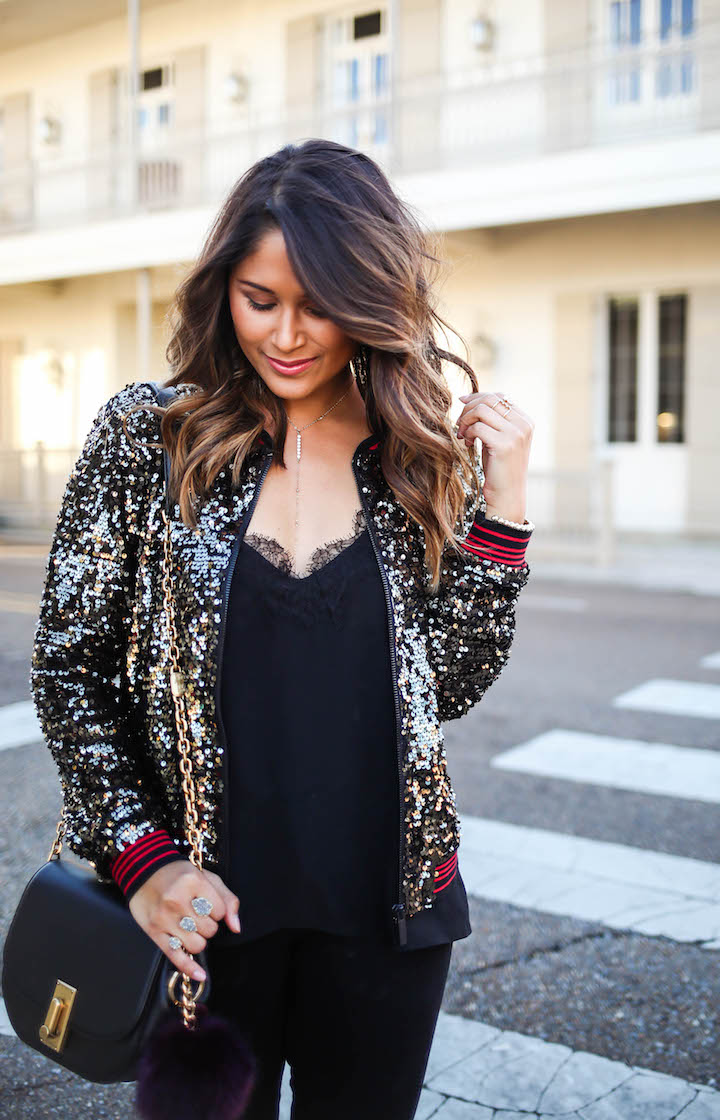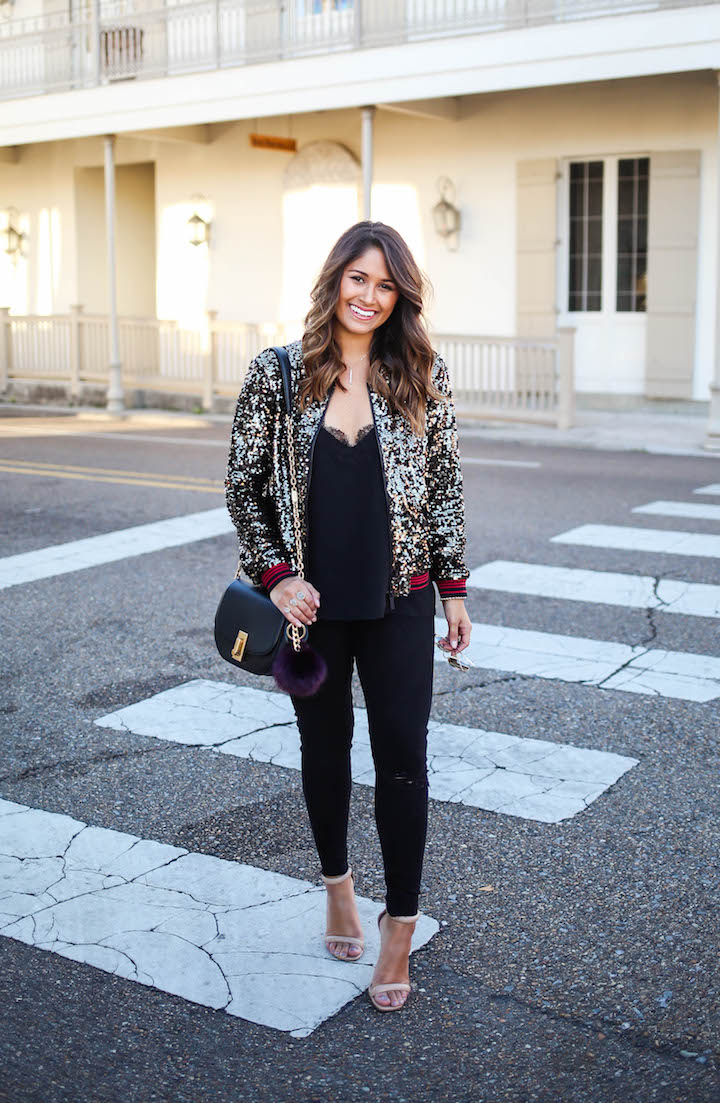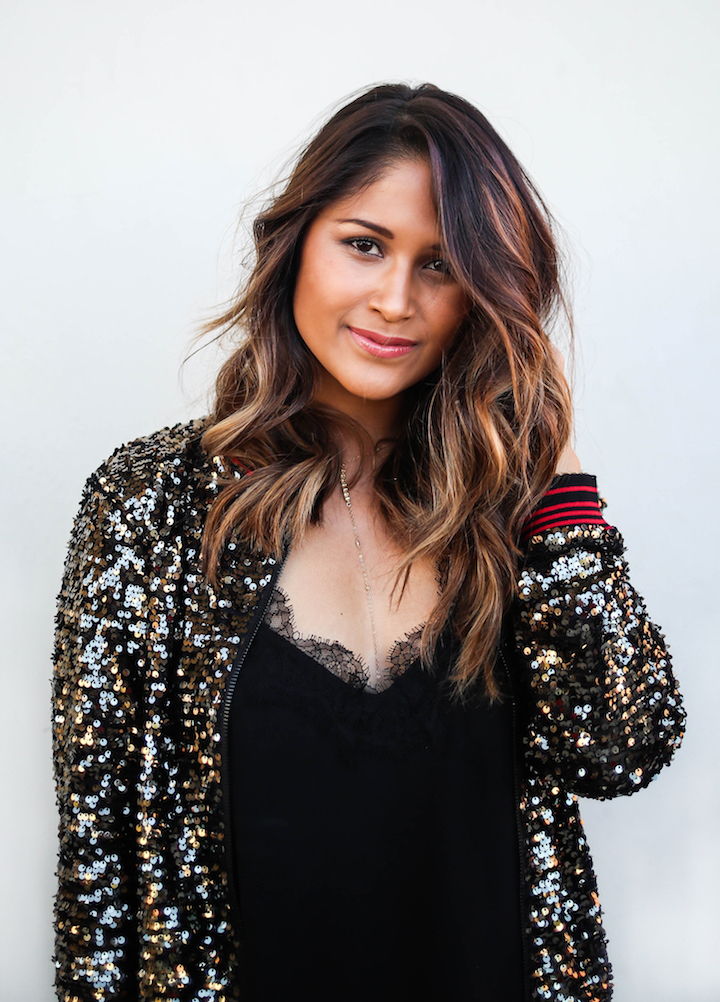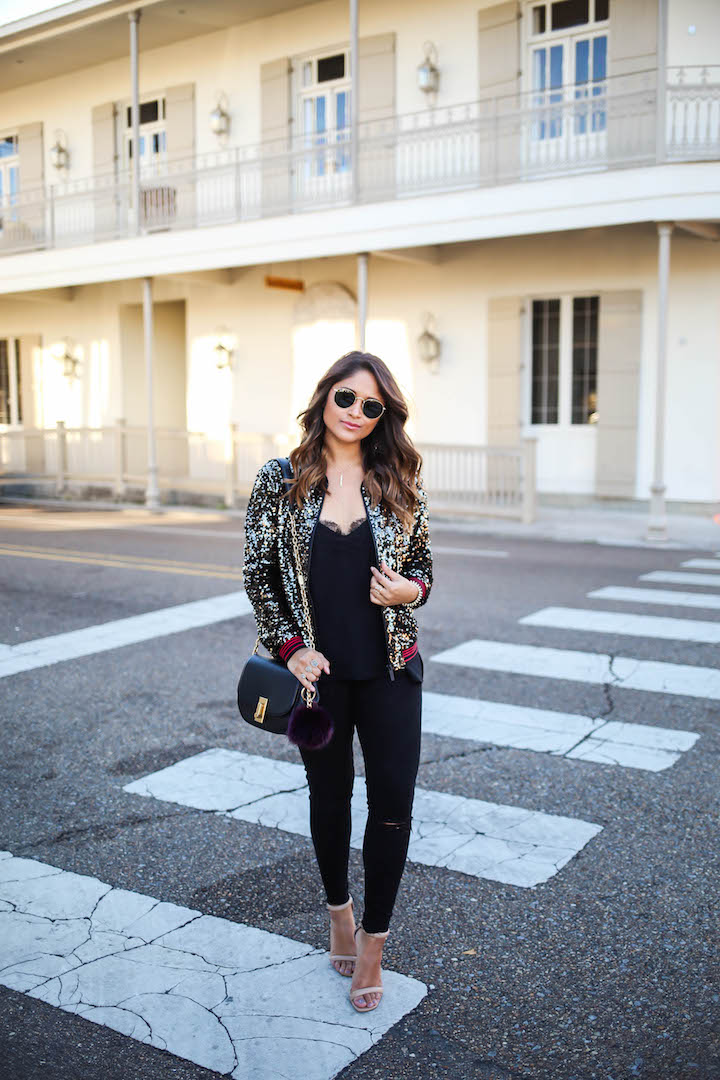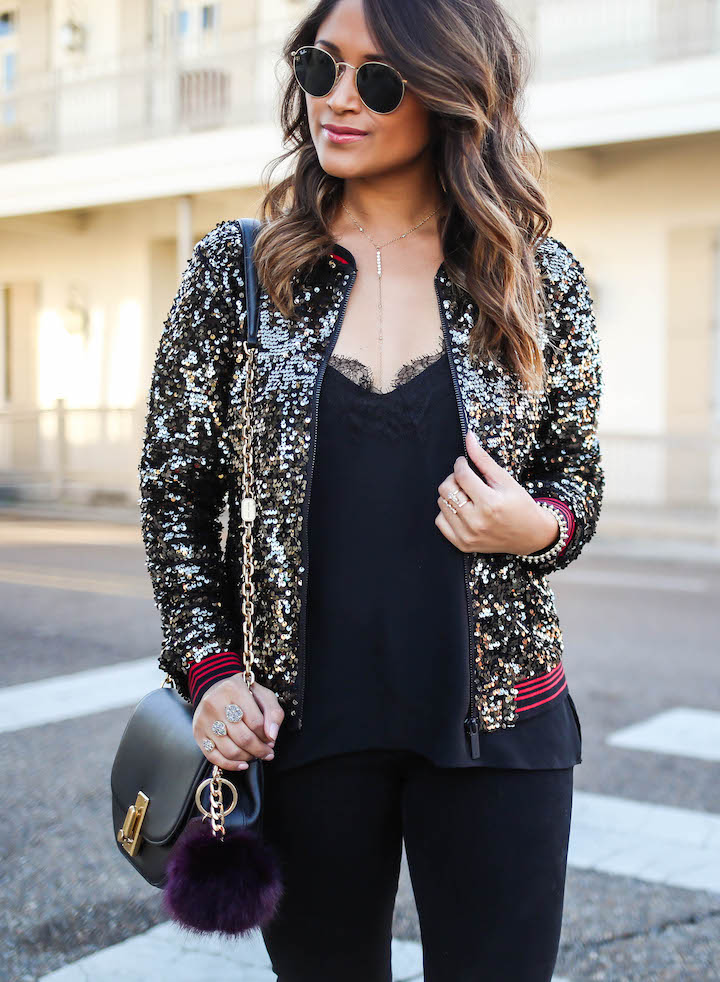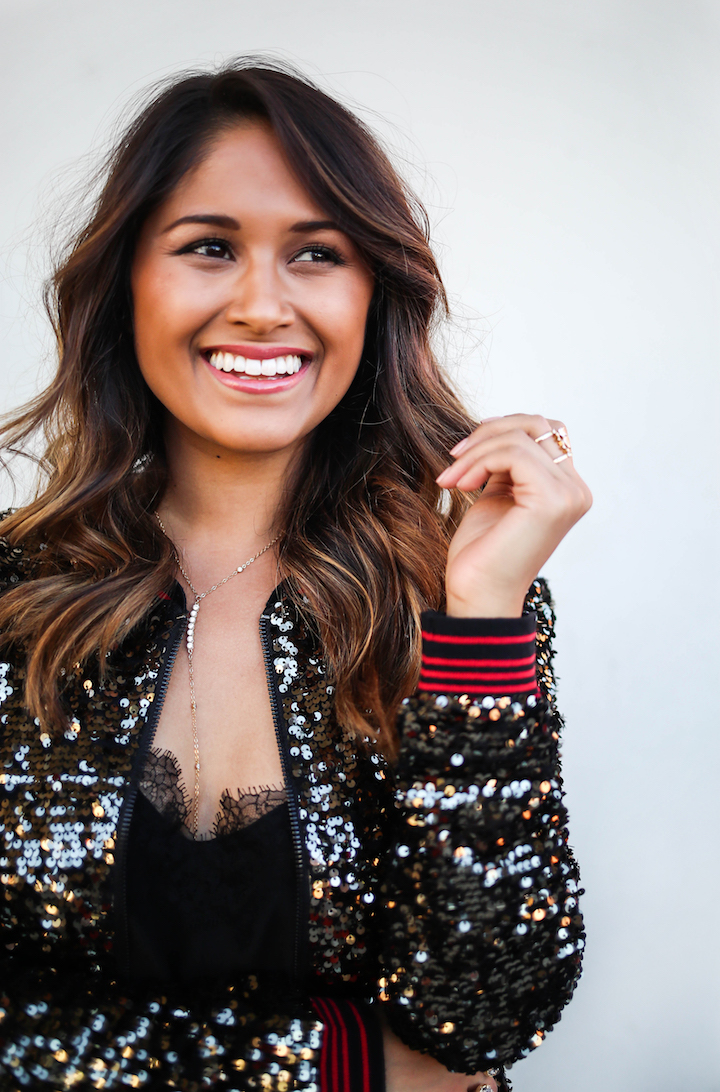 Photos by: Michelle Preau
| Shop This Look |

Outfit: Denim | Sequin Bomber Jacket (also available here & here) | Nude Ankle Strap Heels | Marc Jacobs West End Saddle Bag <—SALE ALERT! | Lace Racer Cami | PopPom Keychain c/o Mark & Graham | Ray-Ban Round Sunglasses (also available here & here)

Jewelry: Naomi Double Ring c/o Kendra Scott | CZ Bar Y Necklace c/o Elizabeth Stone Jewelry
Hairstyle Details: As promised, I'm sharing how I created bombshell waves using lead TRESemmé tylist, Tyler Laswell's tips and tricks. You can check those out here—> Holiday Party Hairstyles With TRESemmé
This time around I ditched the hair extensions, but I still applied TRESemmé TRES TWO Mousse and TRESemmé TRES TWO Mega Hold Hairspray. I just used smaller amounts of product since I was dealing with less hair.  Those products work great for this hairstyle because they're both lightweight and moveable while still strong enough hold the style and give you some extra volume. Click here to see exactly how I wave my hair—> Year Round Beach Waves