Hi everyone, it's that time of year again where must trade in our fuzzy socks and 3-day-old top knots for killer heels and perfectly un-done locks. I'm referring to holiday party season, which is why I've teamed up with TRESemmé to share some holiday party hairstyles along with all of the vital tips and tricks! I'll be sharing three stunning hairstyles created by lead TRESemmé stylist, Tyler Laswell and how you can try them yourself at home. Today, I'm kicking off the season with bombshell waves and double braids!
| Shop The Hair Products Used To Create These Holiday Hairstyle |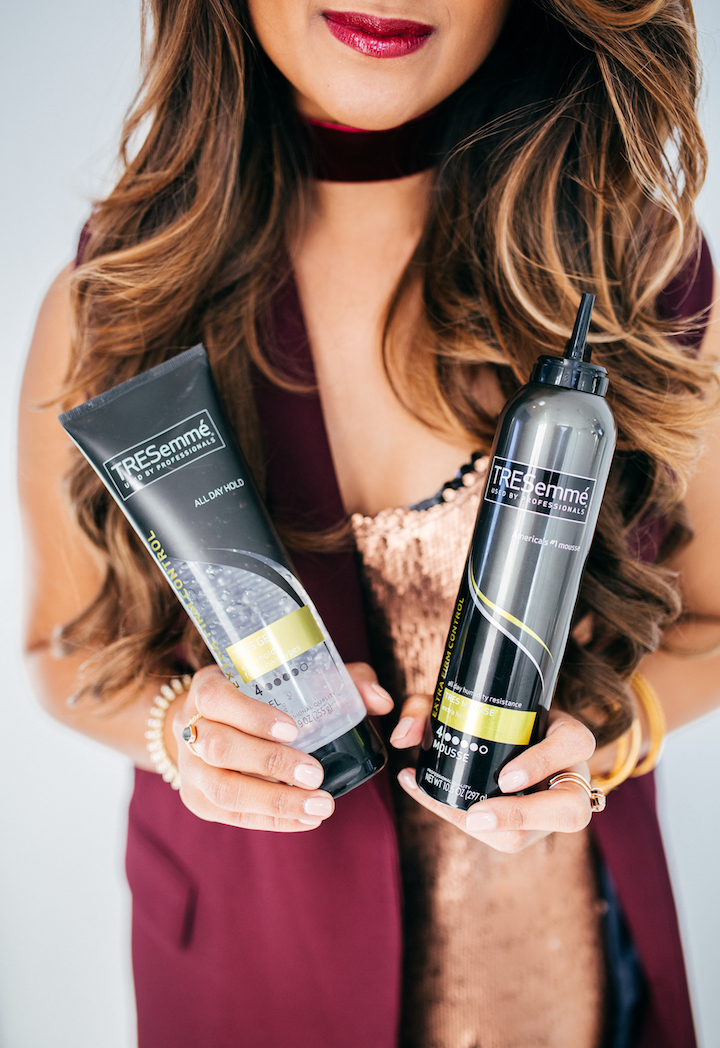 For my first look, I rocked voluminous bombshell waves with a rose gold, sequined mini dress and a sleeveless burgundy coat. I accessorized with a quilted chain bag, a velvet choker and some bowtie heels. This outfit is perfect for a fancy Christmas party or you could even save it for New Years Eve.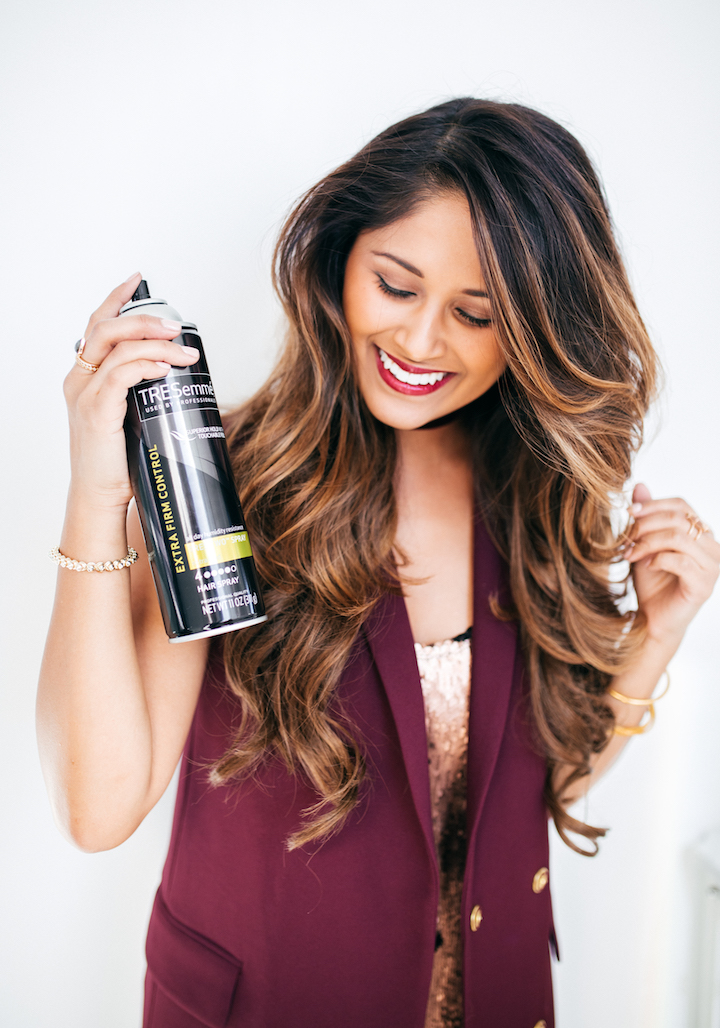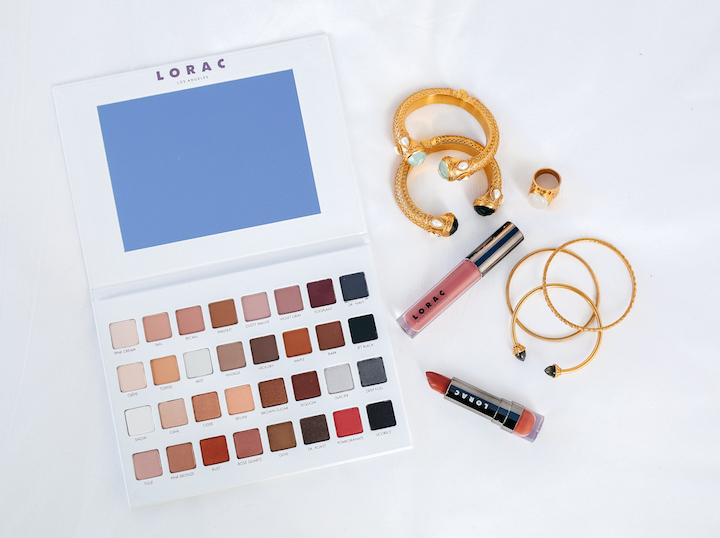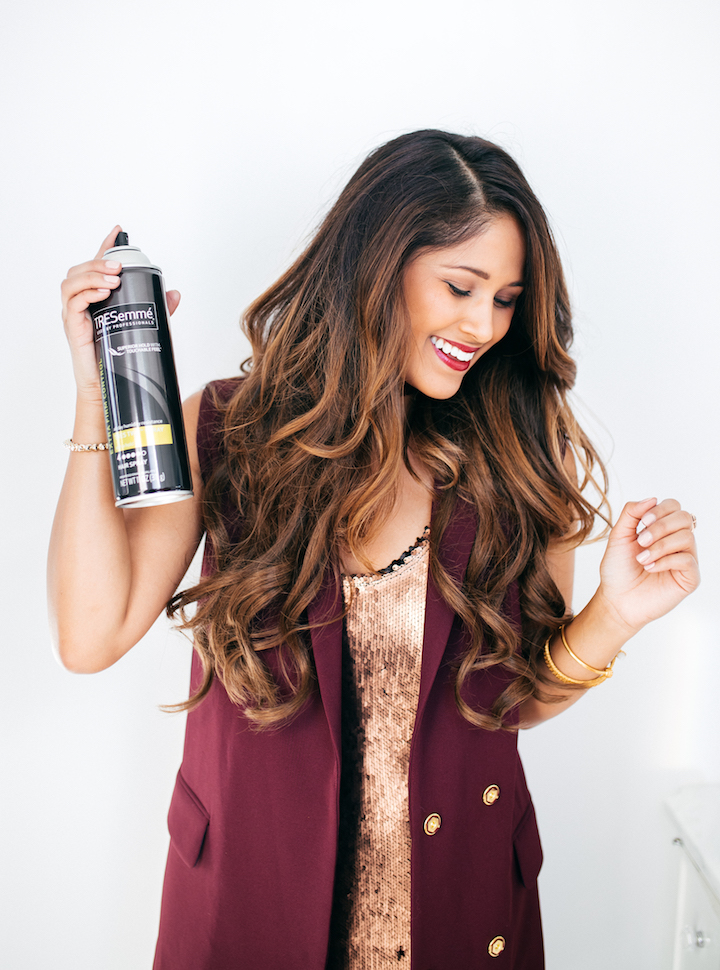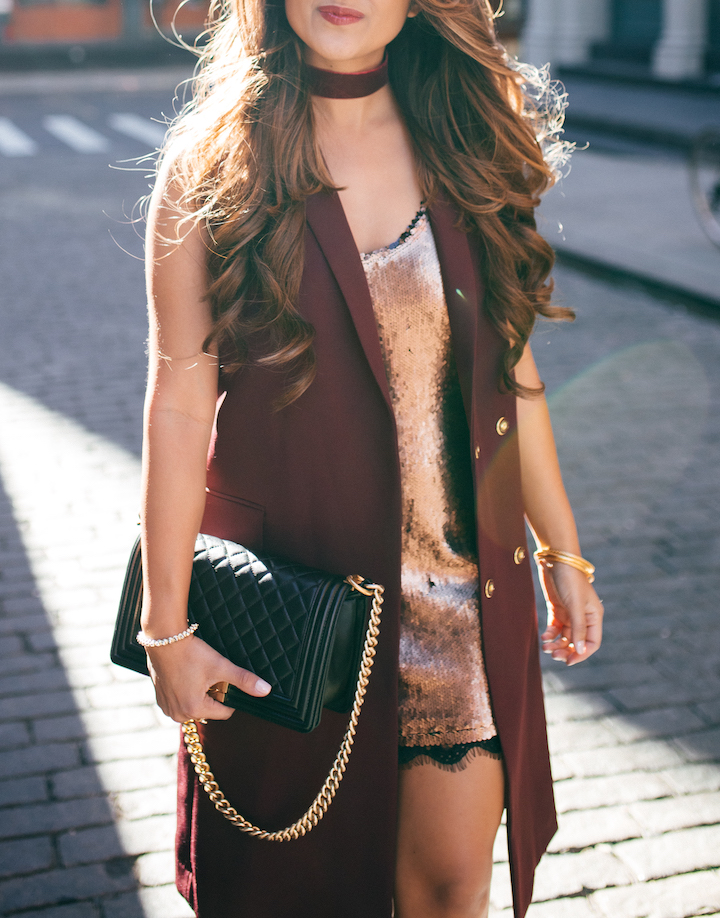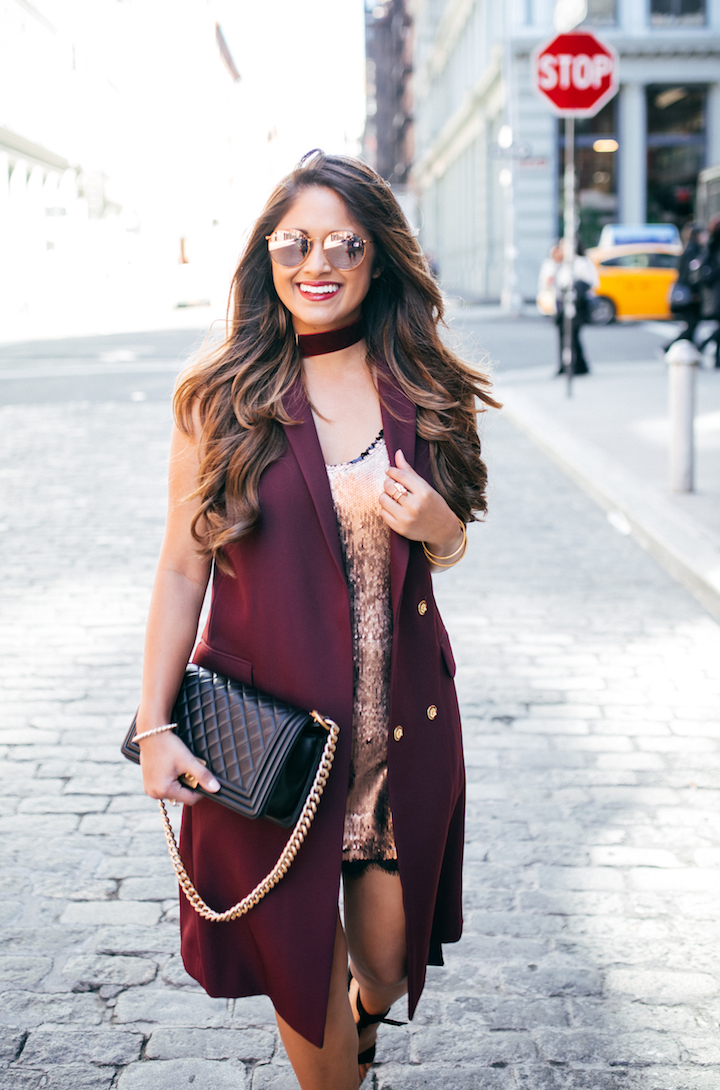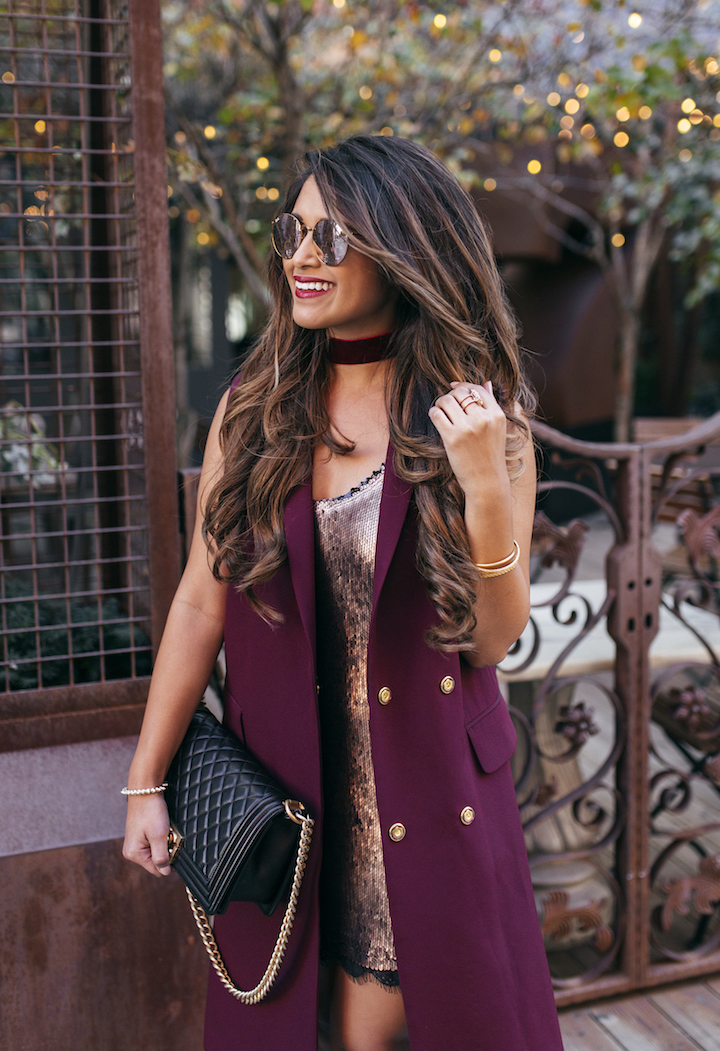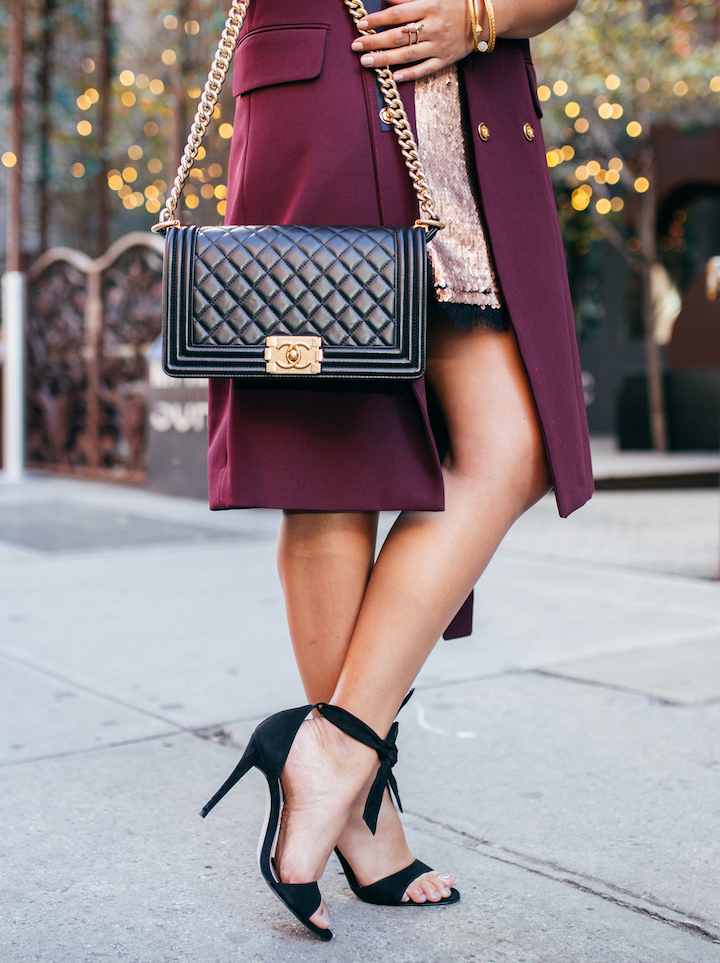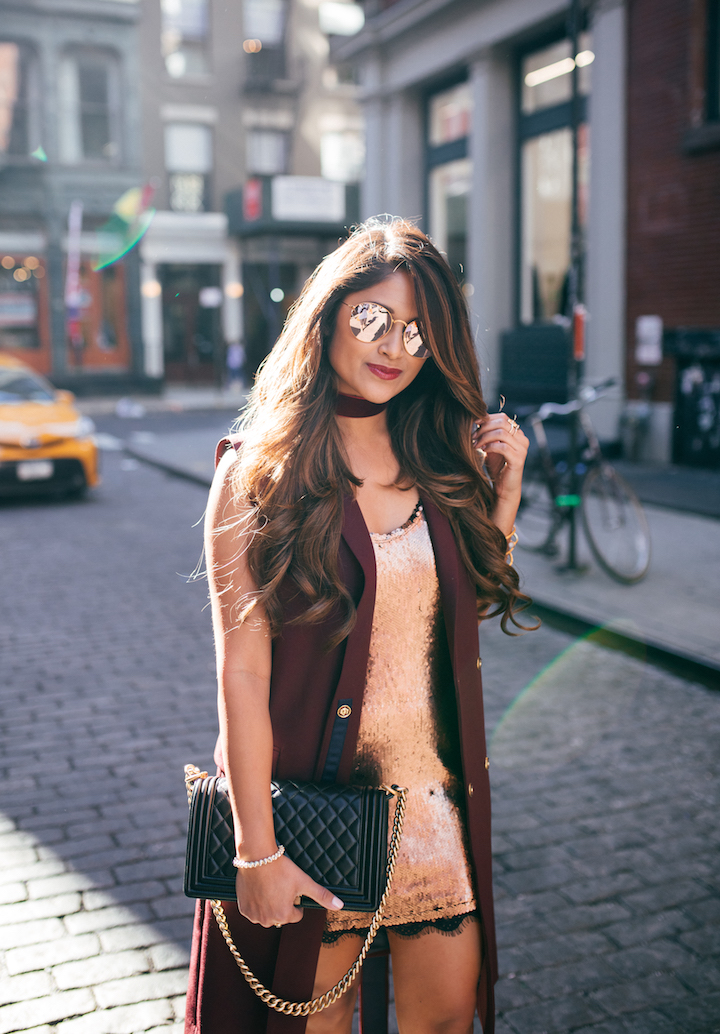 TYLERR'S BOMBSHELL WAVES: TIPS AND TRICKS
1.  Don't over work your hair when blowdrying; this is a volume killer! Just make sure the product is dry and the ends are smooth. Let the curling iron or hot rollers do the rest.
2. TRESemmé TRES TWO Mousse and TRESemmé TRES TWO Mega Hold Hairspray are ideal products to create this look. Both are lightweight and moveable but pack a powerful punch when it comes to holding a voluminous style.
3. I like to keep my teasing light and airy when I am creating this kind of a style. Start at the roots by spraying a little TRESemmé TRES TWO Mega Hold Hairspray and tease the hair with a flick of the wrist working your way to the ends. Also, it is important to keep your tease nice and clean. After I am done teasing, I like to go over the tops sections of the hair with a flat bore bristle brush to smooth out any rough patches.
| Shop This Look |

Outfit: Rose Gold Sequined Dress | Sleeveless Burgundy Coat | Chanel Boy Bag (similar here) | Steve Madden Bowwtye Heels (also available here) | Ray-Ban Rose Gold Sunglasses | Maroon Velvet Choker (also available here) | Kendra Scott Boyd Cocktail Ring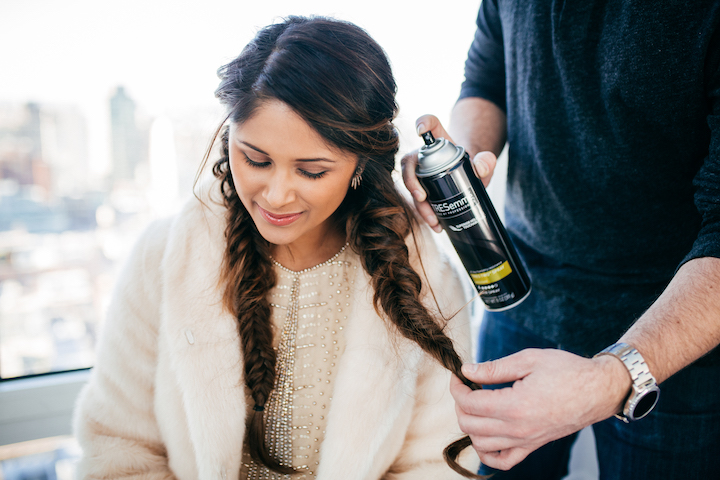 For my second look, I went a little more boho-glam with two side braids and an elaborate beaded dress. I love how the double braids give this look an unexpected twist with a more fun and playful vibe as opposed to the sexy bombshell waves.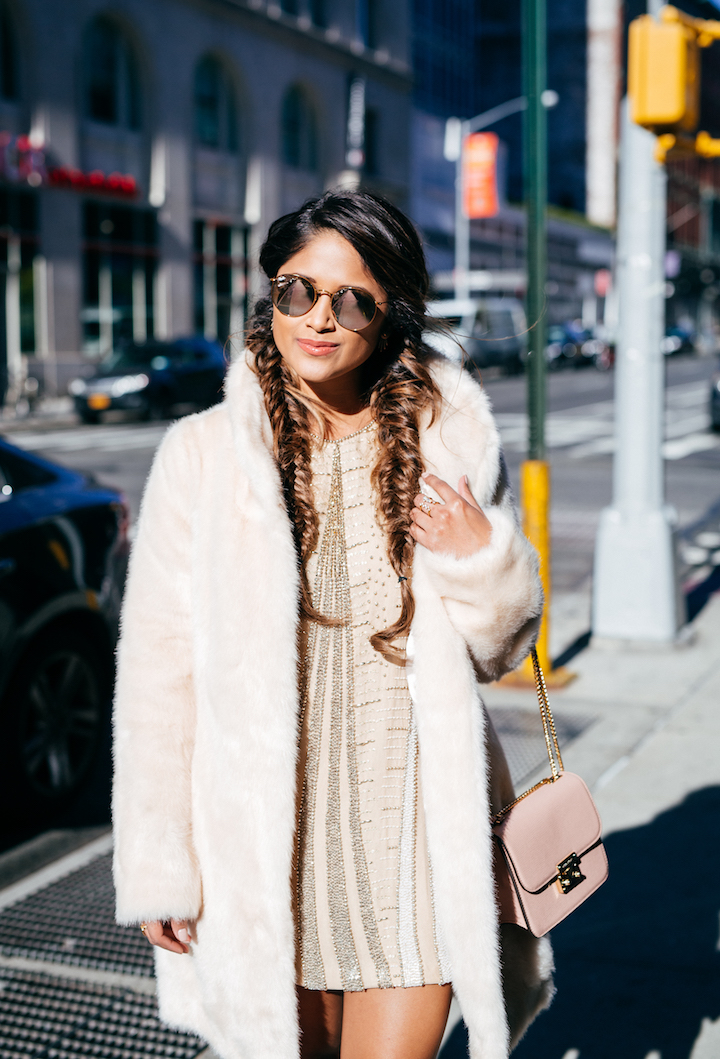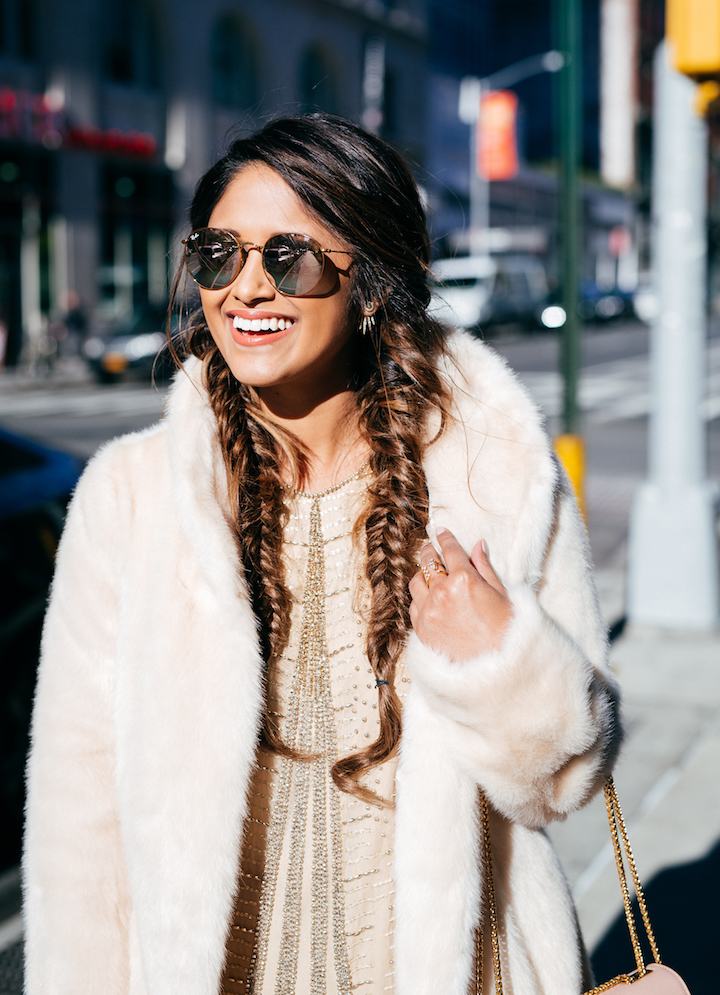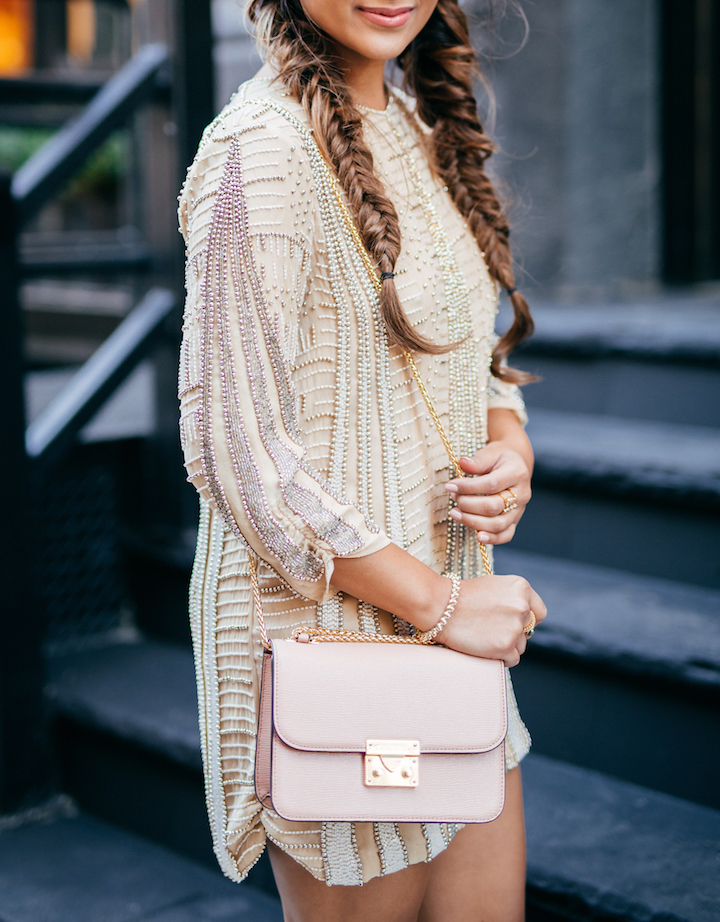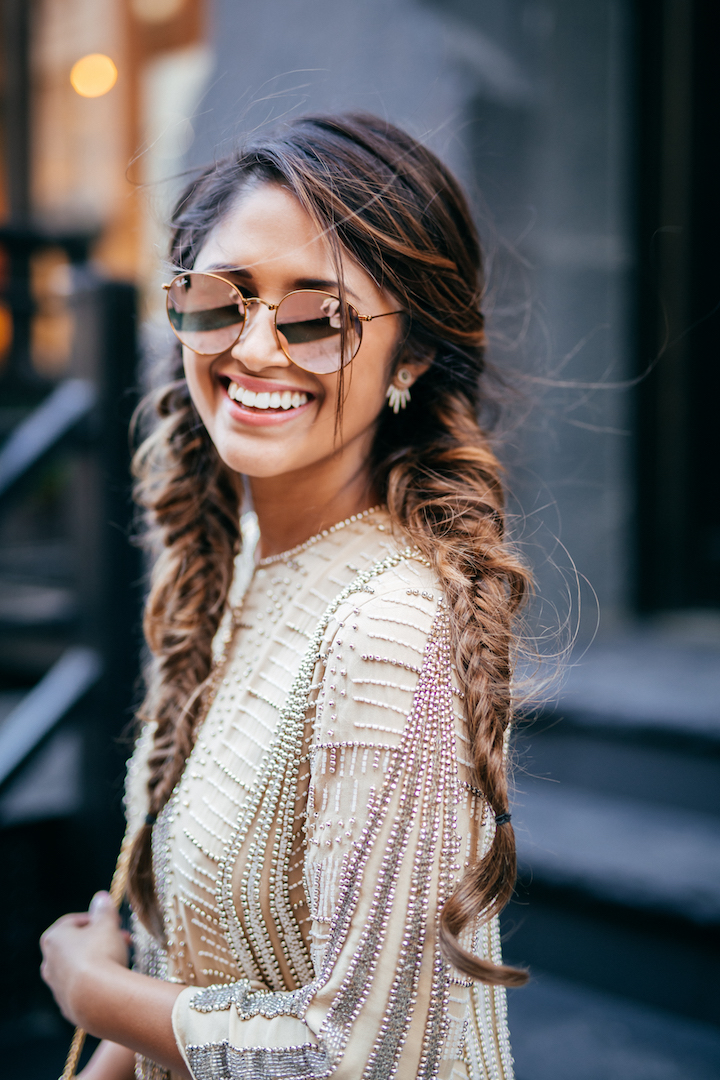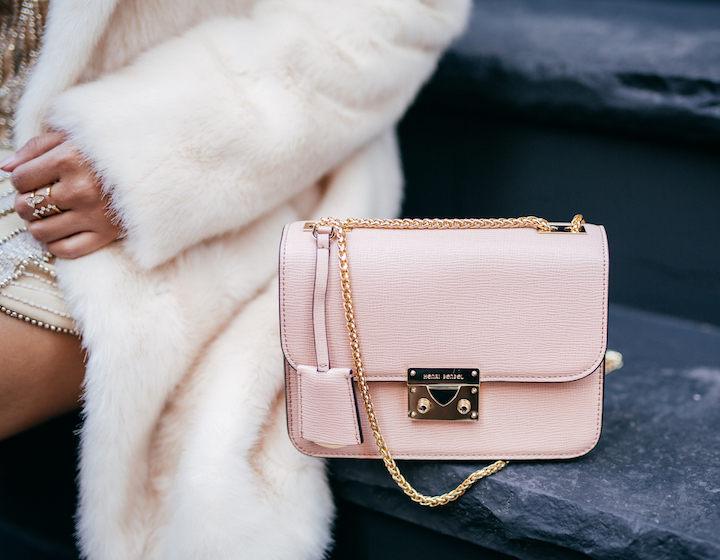 TYLER'S DOUBLE BRAID: TIPS AND TRICKS
1. I love to braid two to three day unwashed hair. By this point, it has a few different layers of products in it and this makes my life so much easier when creating a textured braid. If you are looking to create this kind of texture on day one, all you have to do is combine TRESemmé TRES TWO Mousse and TRESemmé TRES TWO Extra Hold Gel and apply evenly throughout your hair. Rough dry using your hands and a blow dryer. If the hair still feels too soft, repeat this until you can feel the products in the hair.
2. If your hands feel sticky after finishing the braid, be sure to wash them as this keeps your hands from sticking to the hair and pulling too much out when you go to fluff your braids.
3. Practice makes perfect when it comes to braiding so don't give up. Also, who likes a perfect braid anyways; purposely undone is how I like my braids.
| Shop This Look |

Outfit: Michelle Beaded Dress c/o ParkerNY (wearing sz 2) | Waldorf Party Bag c/o Henri Bendel | Steve Madden Stecy Sandals | Ray-Ban Rose Gold Sunglasses | Faux Fur Coat c/o Eliza J
For extra volume, Tyler added Luxyhair extensions into my natural hair to create both of these hairstyles. However, both of these looks can be done using just your own hair. They may just look slightly different.
I hope you loved these two holiday party hairstyles and make sure to stay tuned for my next hairstyle featuring two different ways to rock a milkmaid braid! Also, I'll be showing how I created my own version of Tyler's bombshell waves using his tips and tricks, but without the the added hair extensions.
All photos were taken by Lainey Reed at the beautiful NoMo SoHo Hotel in NYC.
This post is in partnership with TRESemmé, a brand I love. All opinions and selections here are my own. Thank you for supporting the affiliate posts who make this blog possible.