Morning everyone!! Before we head into Easter weekend, I have a little holiday treat for you. Today is the official drop of the Beachside Gauze Button Front Shirt that I collaborated with Gibsonlook on. This boho-chic shirt features an oversized fit with an exaggerated shirttail that covers your backside while still showing off your legs on the sides, which is so flattering. It's super lightweight & breathable and when it comes to all the different ways to style it, THE LIMIT DOES NOT EXIST! This is almost my third year working and collaborating with Gibsonlook and it's always such a pleasure working with them because they alway put my Haute off the Rack girls first when it comes to designing pieces we know you'll love. I'm so honored and grateful that they choose to partner with me each and every drop!
The Gauze Button Front Shirt You Need This Spring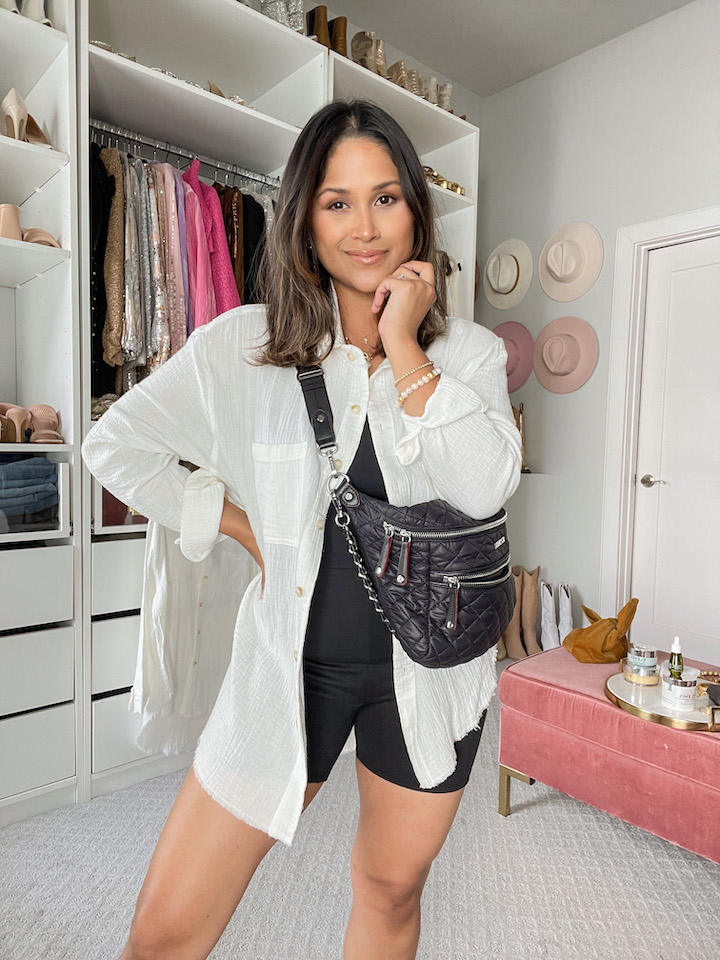 Outfit: Beachside Gauze Button Front Shirt (wearing sz S) — 10% OFF with code: HAUTE10 | ponte unitard romper | MZ Wallace Sling Bag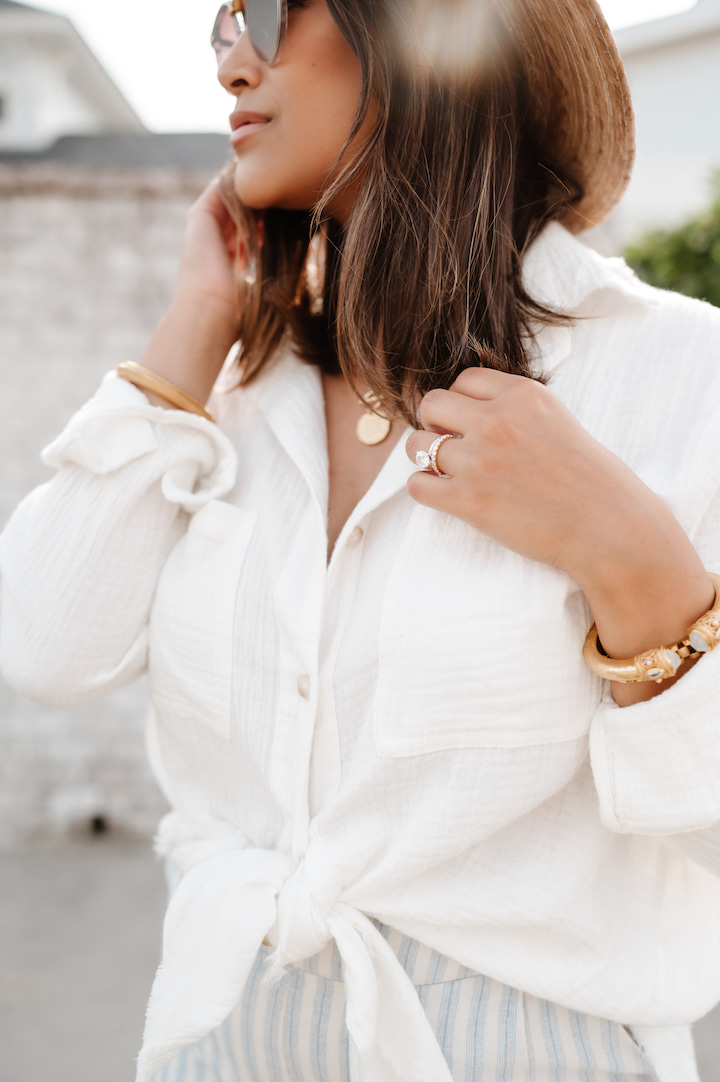 To celebrate we're giving one away over on my IG, check it out here–> @hauteofftherack
| Shop More of My Top Spring Picks from Gibsonlook |

In cased you missed it, I launched my second 8-piece collection with Gibsonlook this past Fall in September 2022. You can check it out here–> Gibsonlook x Haute off the Rack Fall Collection
To celebrate, we're offering 10% OFF your entire purchase with code: HAUTE10. Scroll through this post for fit and sizing info and to see a few different ways to style this shirt.
MY SIZING AND HEIGHT FOR REFERENCE:
Most people don't realize how petite I am and I understand that knowing my sizes can help you determine what size to get.
I am 5 ft and post baby I currently wear a size 28 in high waisted jeans and smalls/mediums in leggings. I'm still breastfeeding so my bra size fluctuates, but right now I wear a 36B and take a size S/M in dresses and tops, smalls/mediums in sports bras, and S in outerwear.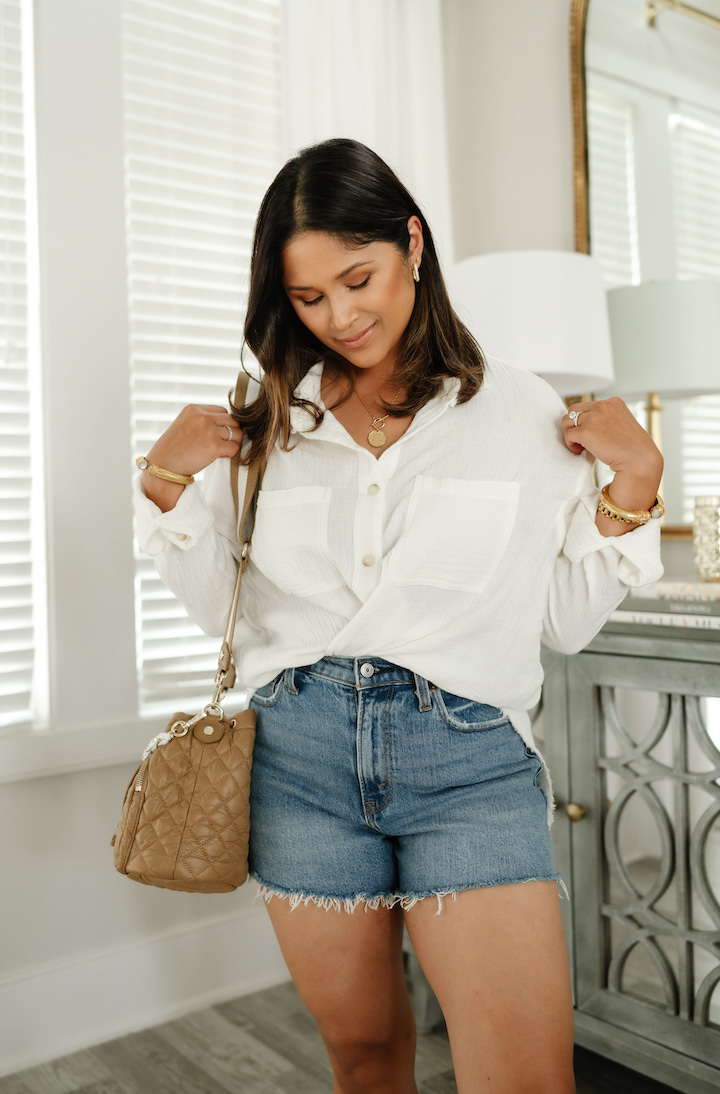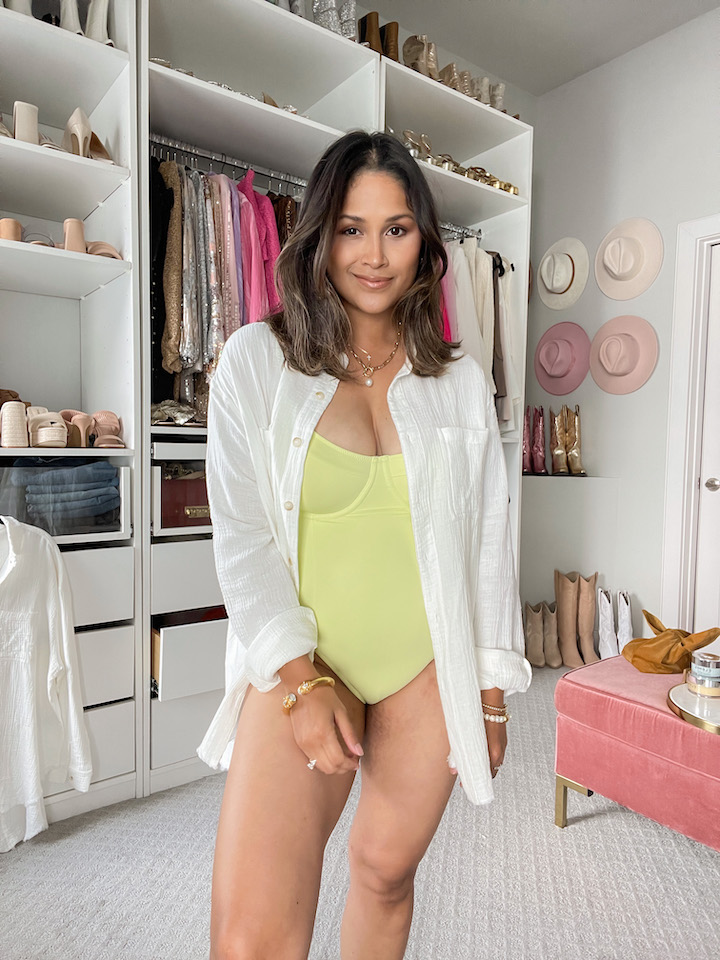 | Shop This Look |
outfit: Beachside Gauze Button Front Shirt (wearing sz S) –take 10% OFF with code: HAUTE10 | Showoff One-Piece | Sanibel Necklace in Gold | Monaco Demi Cuff
Bring a little bit of the beach to your wardrobe with this effortlessly chic top and take 10% OFF with code: HAUTE10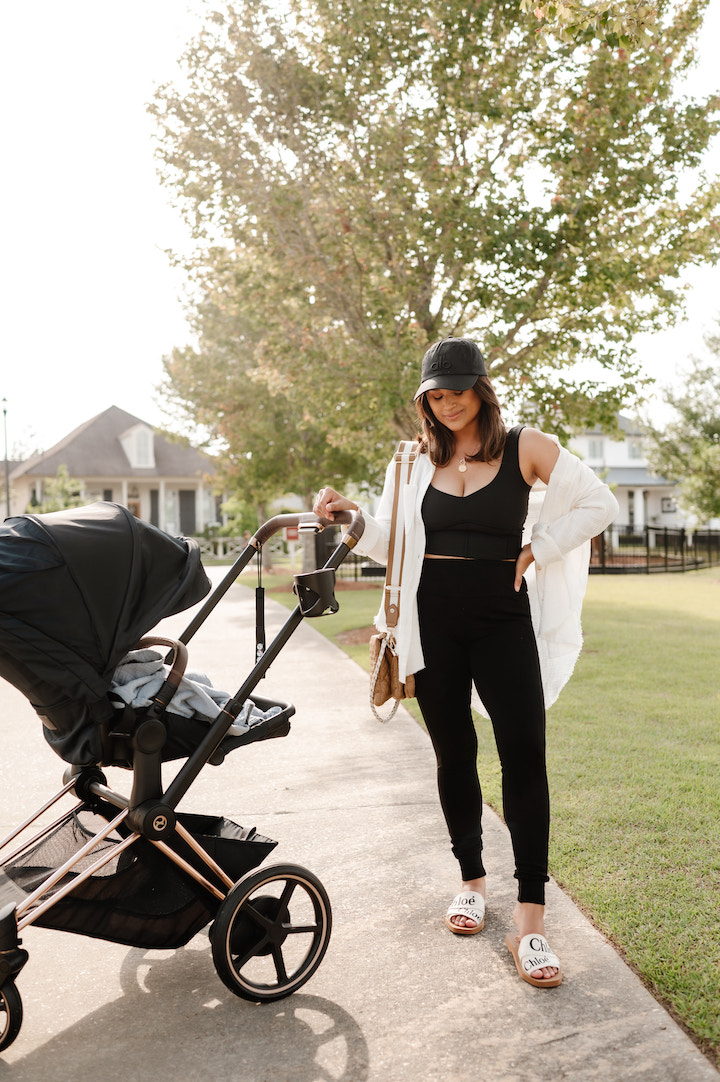 | Shop This Look |
outfit: Beachside Gauze Button Front Shirt (wearing sz S) — Ponte Jogger Leggings (wearing sz XS) –take 10% OFF with code: HAUTE10 | Sweetheart Corset Slim Tank | Alo Hat | Chloe Slides | MZ Wallace Pippa Bag
size down for more fitted look or go TTS for comfort
Meant to fit like a jogger with a cuff at the bottom // features a pockets on both sides that fit your whole phone
Super high waisted // really hold you in while still super stretchy
These new jogger leggings are revamp from last fall. You all loved them so much we decided to tweak them and make them even better. The fabric is crazy comfy and stretchy and the jogger style gives the leggings a more relaxed effortless look, which I love. If you want a more fitted look, size down or get your regular size a comfy relaxed fit. Don't worry they're still just comfortable if you size down. I got them in both the XS and Small!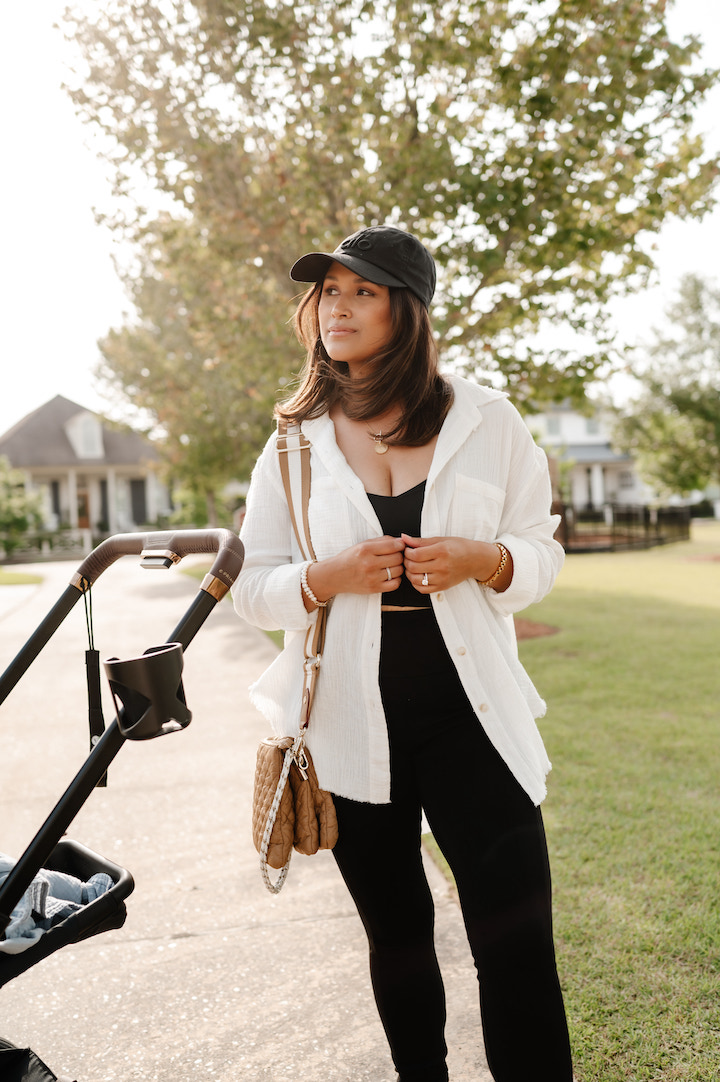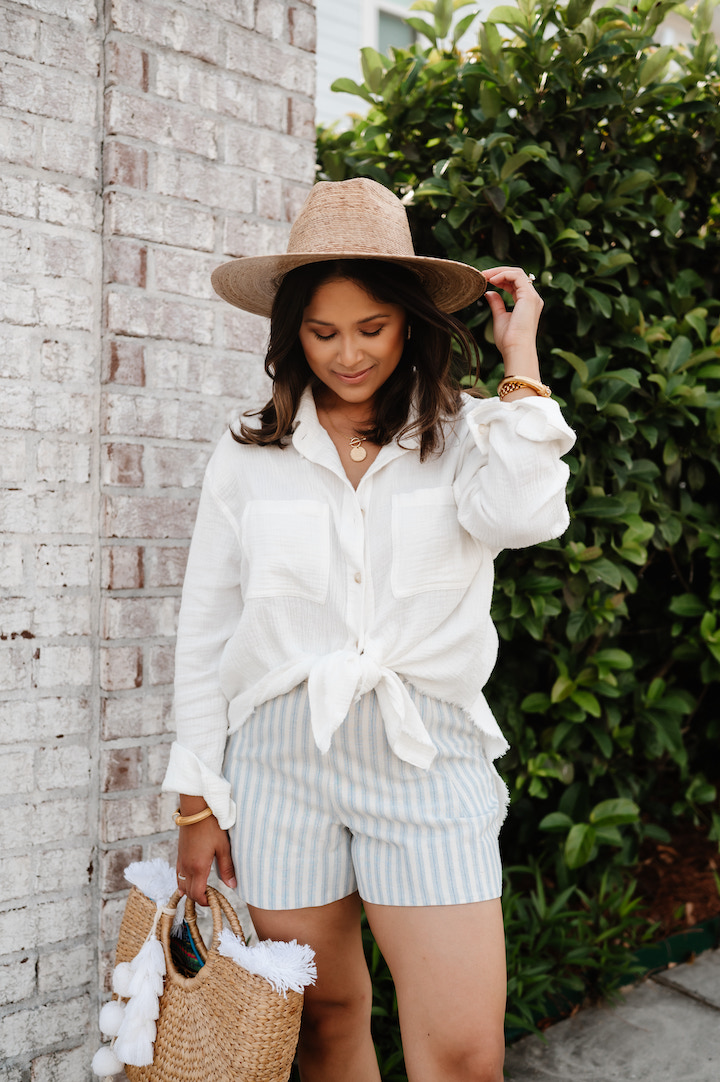 | Shop This Look |
outfit: Beachside Gauze Button Front Shirt (wearing sz S) — Striped Wide Leg Shorts (wearing sz S) –take 10% OFF with code: HAUTE10 | Palma Fedora |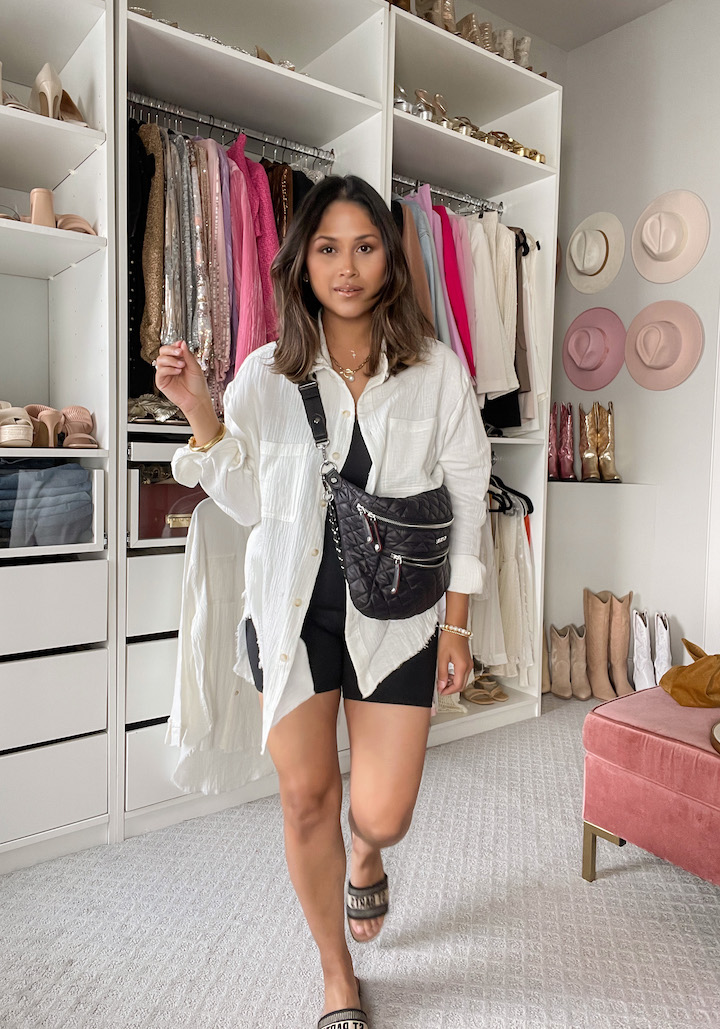 If you want to see everything that goes into designing a collection with Gibsonlook, you can check out last year's post here→ HOTR x GL Collection Launch Announcement
I also love how this reel shows the team in action this past spring while we got together in LA to finalize designs for you after working remotely for months.–>GL x HOTR Fall 2022 Collection Launch Announcement