Happy Sunday everyone, I am so excited to announce that the Fall 2021 Collection that I designed with Gibsonlook drops this Friday, September 10. It's an 8 piece capsule collection filled with elevated basics like the padded shoulder tee and chic wardrobe staples like the trench duster jacket and ribbed duster cardigan. So much of my heart and energy went into designing these pieces with you at the forefront of our minds. We've been working diligently on this collection since March so we hope you love all of these pieces as much as we do! This whole experience has been a dream come true and I'm so honored to be able to share it with you.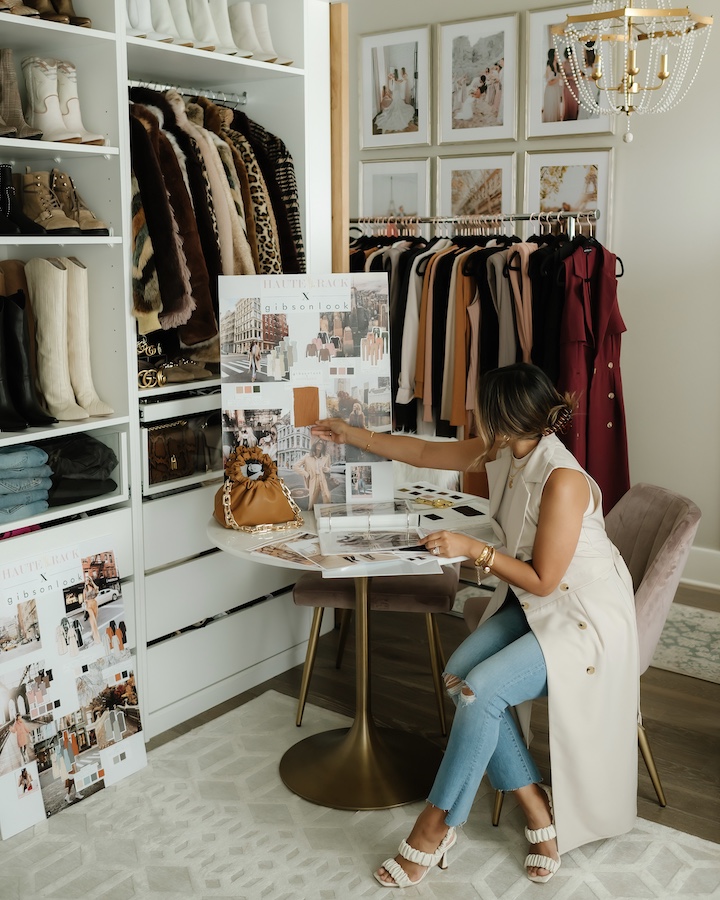 To give you a little back story, we first started creating pieces together in September 2020 and launched our first clothing design in October 2020: Cozy Fleece Long Belted Cardigan
You can check out that post here→ 12 Ways to Style a Cozy Duster Cardigan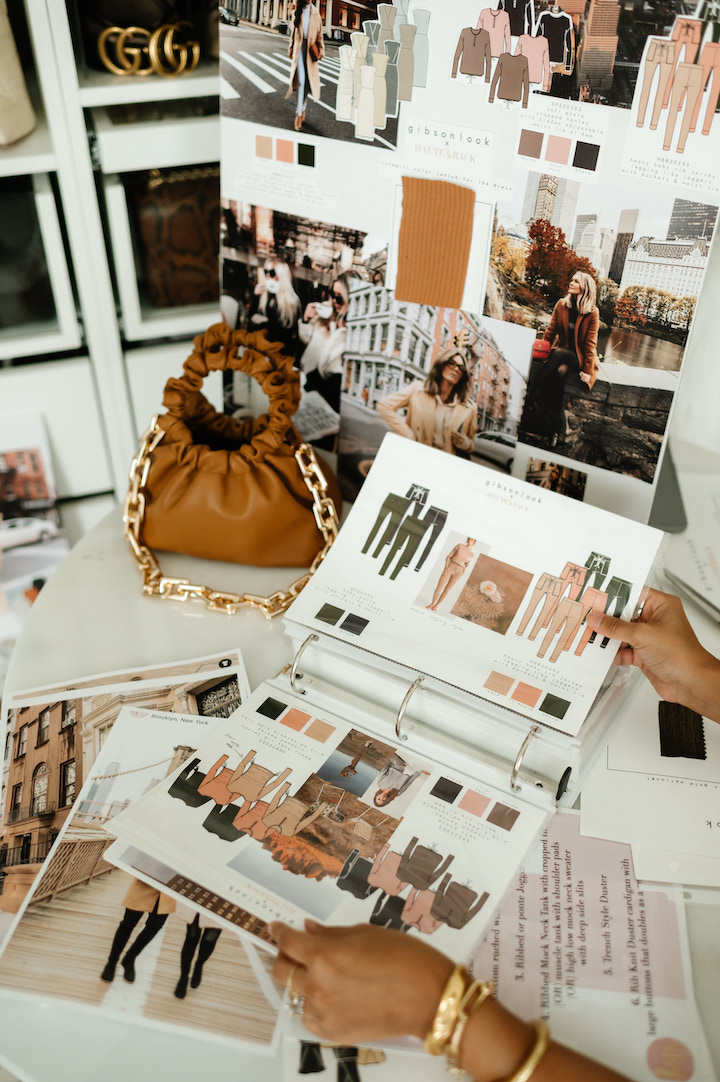 After our first design together, we continued designing new pieces each month ever since. In fact, we actually already finalized our designs for holiday so there are always exciting things to look forward to with the Gibsonlook team. I'm so grateful for this partnership with Gibsonlook because I always dreamed of having my own collection one day that's finally coming true. I also owe you all a huge thank you because none of this would be possible without your support. So thank you from the bottom of my heart and just so you know how grateful I am, we're going to be giving back to you in some BIG ways! See below!
HOTR x Gibsonlook Collection Launch Announcement Details:
EXCITING GIVEAWAY:
To celebrate, we will be giving away a $250 gift card with early access to shop the collection!The winner will be announced on Thursday, September 9 at 12pm MST and notified via email!
All you have to do to enter is subscribe for early access to shop the collection here→ Haute Off The Rack Early Access
Giveaway #2!!
Yes, that's right! I want to give back to my fellow Louisiana friends who were impacted by Hurricane IDA. Head over to my Instagram stories to see how you can help make your friend's day if they've been affected by hurricane IDA.
We'll also be donating $1500.00 of the sales of this collection to the Cajun Navy Relief. This donation will go towards providing people in SE Louisiana who have been greatly impacted by hurricane Ida with supplies like diapers, wipes, formula, food, water, clothing and more! For those of you don't know, Covington, LA is my hometown and while our house was spared, many of our friends and neighbors were devastated by the destruction of hurricane Ida so it is important to us to give back to my community.
Save BIG!
As always we'll be offering 15% OFF your entire Gibsonlook purchase with code: HAUTE15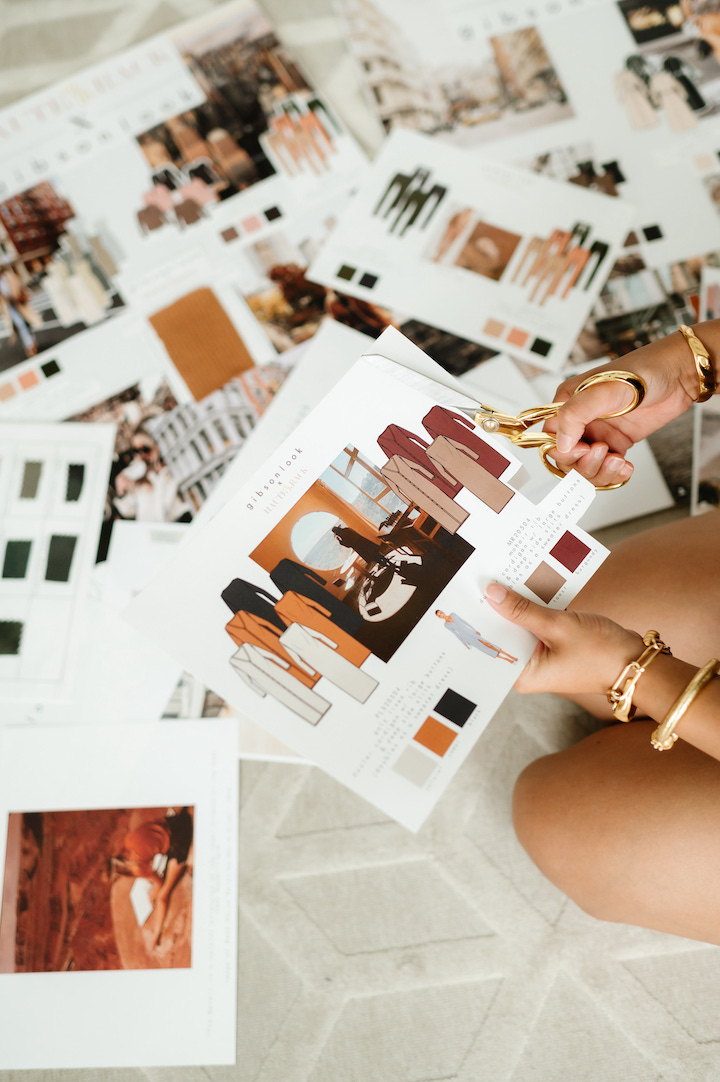 How to Shop the Collection:
Follow me on Instagram at

@hauteofftherack

and for the latest announcements as I will be sharing an early access link to shop the collection on Thursday, September 9!

The entire collection will be available on the

Gibsonlook

website so be sure to

subscribe for early access to shop the collection here→

Haute Off The Rack Early Access

Check back here on my blog to see how I style all of the pieces and for it fit and design details. You can also watch my IG stories for a full fit review on each piece that I will save on my highlight under my bio on Instagram.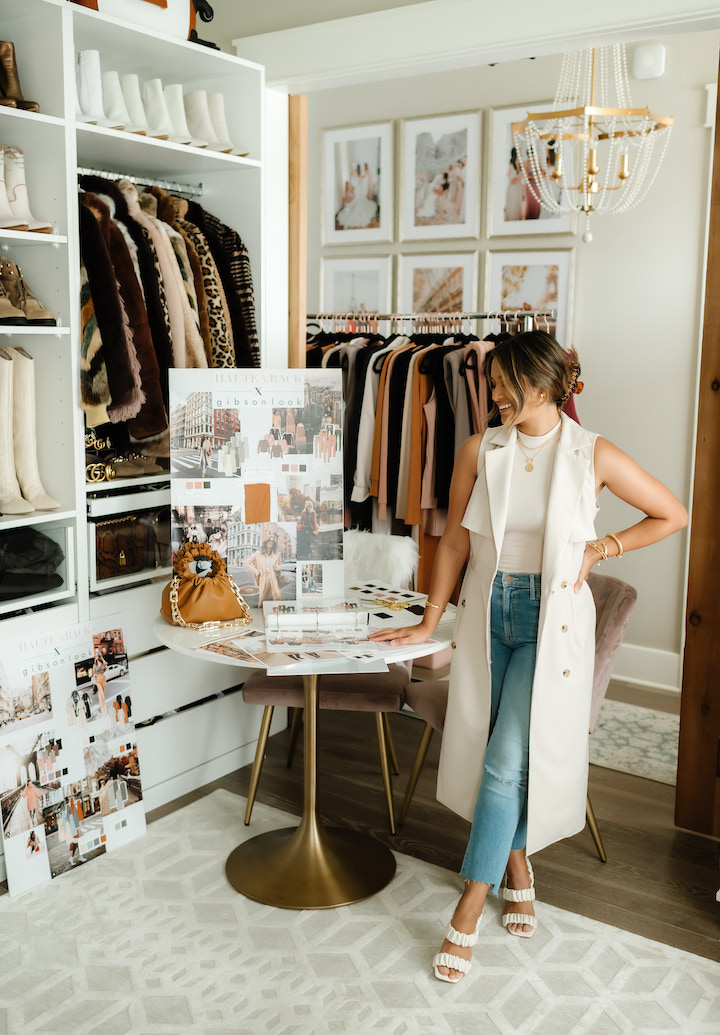 What sizes will the collection be available in?
The Haute Off The Rack x Gibsonlook Collection with be available in XXS-2XL
Scroll through this post for a few sneak peeks of the collection and some behind the scenes.
In case you're wondering how the design process works, here is a summarized step by step list:
1) I do tons of trend research and review personal sales reports to develop a successful design concept. I also look through my own wardrobe to see what it lacks. Then I put together an inspo board, list out all of the design features and style details, and submit my wishlist to the Gibsonlook team. I always keep my #hauteofftherack girls at the forefront of my mind during the entire process.
2) The Gibsonlook design team takes these ideas, creates a design deck, and makes up the first set of samples, trend concepts, and color palette schemes for next steps.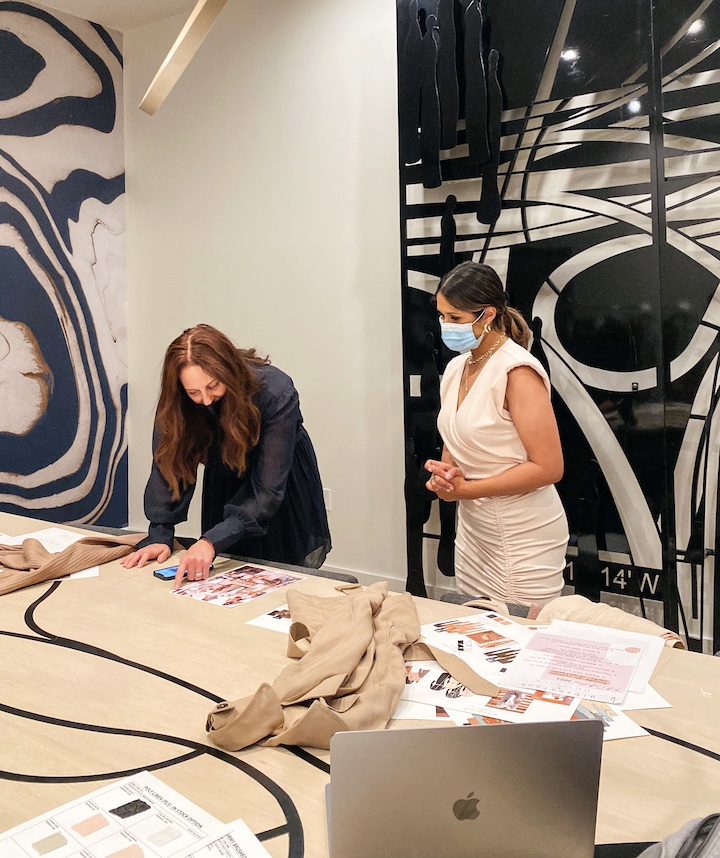 3) For the last year of collaborating, we went back and forth mailing samples and swatches, but since this Collection is big, I traveled to LA in April, where The Gibsonlook design team presented the initial result of my Concept Collection to me. It was hands down one of the coolest experiences of my life! I have always wanted to have a meeting in a conference room and the fact that it was all for me featuring my designs was a dream come true all in itself. When I walked in the room, they had all of the beautiful samples hanging on a rack with inspiration boards and design decks printed for everyone to reference during the meeting. All of the samples were ready for me to feel, alter and try on. We had so much fun working the collection all afternoon from reviewing fit needs, selecting fabrics, and discussing what the perfect HOTR Collection would include. You all came up a lot during the conversation because ultimately we want you to feel happy, confident and beautiful in our clothes.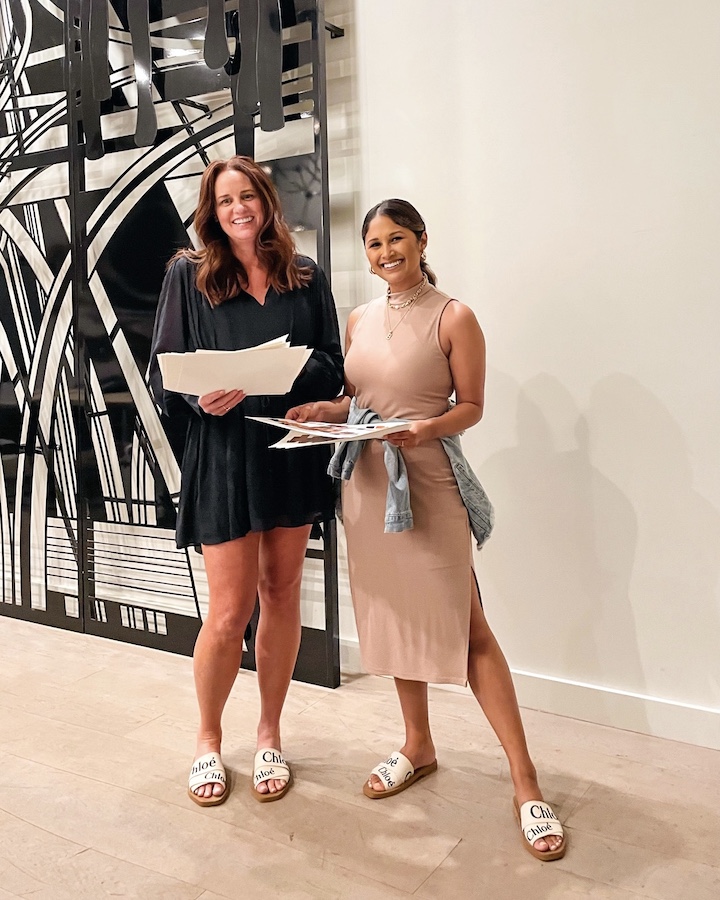 4) Following the in-person meeting, the second samples were made with all the necessary changes and shipped to me for a round of edits. Usually, I wear the pieces around once I receive them to get a good feel for the item, and then I film feedback videos, and samples are adjusted accordingly. We pay a lot of attention to the fit styling to ensure the items reflect your wants and requests. The Gibsonlook team uses their expertise to ensure the scale works from XXS to 2XL and is inclusive to a broad audience.
5) After all changes have been completed, final samples are sent to me for approval.
6) Once I receive the final round of samples, I travel to an aesthetically pleasing shoot location that reflects the vibe of the collection! I was supposed to go to NYC this past week to shoot the Collection, but Hurricane Ida came barreling through at a category 4 and devastated all of southeast Louisiana, including my hometown. I am so fortunate that the Gibsonlook team is hosting me along with 5 other influencers to shoot and launch the Collection this upcoming week. We'll be able to show you the pieces on different body types so you can reference them for fit.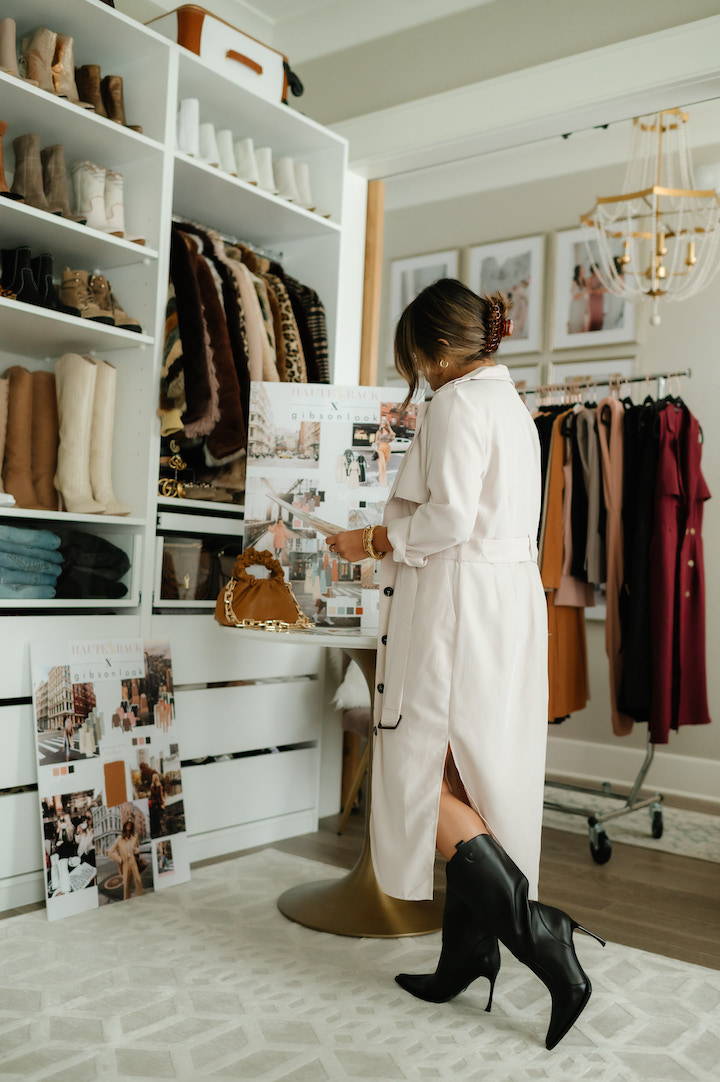 7) When we arrive at the shoot location, we unpack & organize looks for shooting. A ton of planning, prepping, outfit styling, and location scouting go on behind the scenes during this time. I have a lot of help from my assistant to make this all possible. I'm so excited to have the Gibsonlook team along with 5 other talented content creators involved in this shoot as I'm usually shooting along with my photographer and assistant.
8) Steam, steam, and steam! I also layout all of the selected shoes, handbags, and accessories for the shoot. We style all of the looks beforehand and photos of them, so we know what goes with what.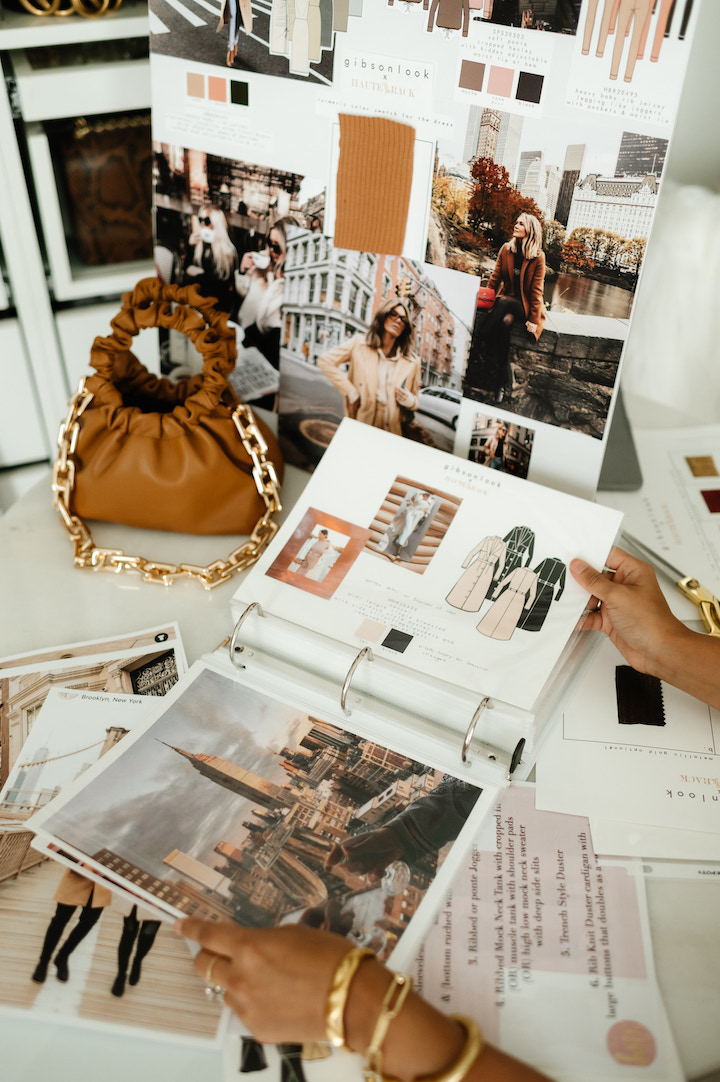 9) Create content with photographers for my blog, Gibsonlook website and social media. We always choose a location that best highlights the overall vibe of the design. An aesthetically pleasing background + natural light is key to a successful launch!
10) Everything comes to life when the Collection finally hits the site! The best part is getting to see the Collection on my friends, family, and you of course! None of this would be possible without you all, so thank you!!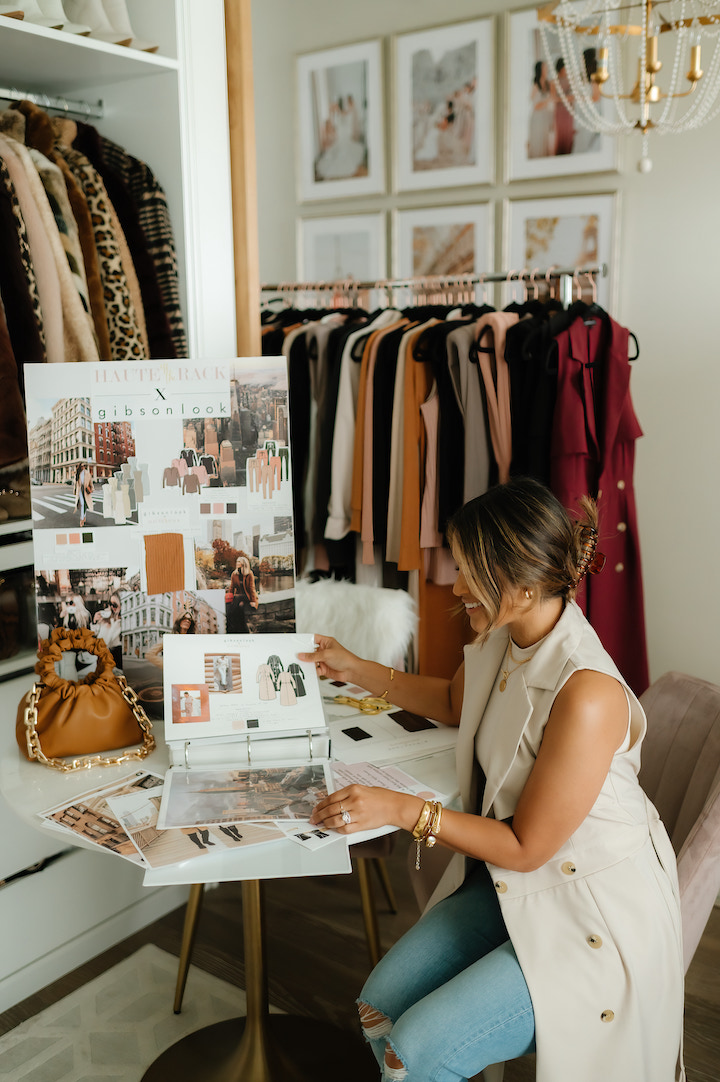 See more Gibsonlook x HOTR below:
How to Style a Sleeveless Trench Coat
The Jennifer Long Sleeve Smocked Dress
How to Wear the Jennifer Shirt Dress
The Perfect Summer Babydoll Dress
The Most Wanted Dress of the Season
The Loungewear Jumpsuit Your 2021 Wardrobe Needs
15 Ways to Style A Black Midi Dress