Hey everyone! Today is the official launch day of the most sophisticated-chic Sleeveless Trench Duster and Mock Neck Bodysuit that I designed in collaboration with Gibsonlook. I'm super excited about the sleeveless piece because it's unlike anything I've ever designed with Gibsonlook before since we've been working together, but when you see the styles, you'll immediately see my name written all over them. If you've followed me for a while, you know that I've always been a huge fan of sleeveless outerwear. In fact, the sleeveless trench duster was inspired by an outfit I wore to NYFW years ago. It was one of my favorite looks I've ever worn so I wanted to recreate that look for you all to enjoy too. The sleeveless duster comes in three colors: black, burgundy and tan (more of a light beige). This sleeveless trench is as versatile as it gets and will totally elevate your workwear wardrobe.
As for the Jennifer Mock Neck Bodysuit, I'm sure you've seen rocking similar styles before as I think it's such a flattering cut and neckline. It comes two colors: Black & Tan (the tan is very light –almost more of an ivory) This is a closet staple that is great for layering and can be style multiple different ways.
To celebrate, we're offering 15% OFF your entire purchase with code: HAUTE15. Scroll through this post to see how to style both pieces and for fit and sizing info.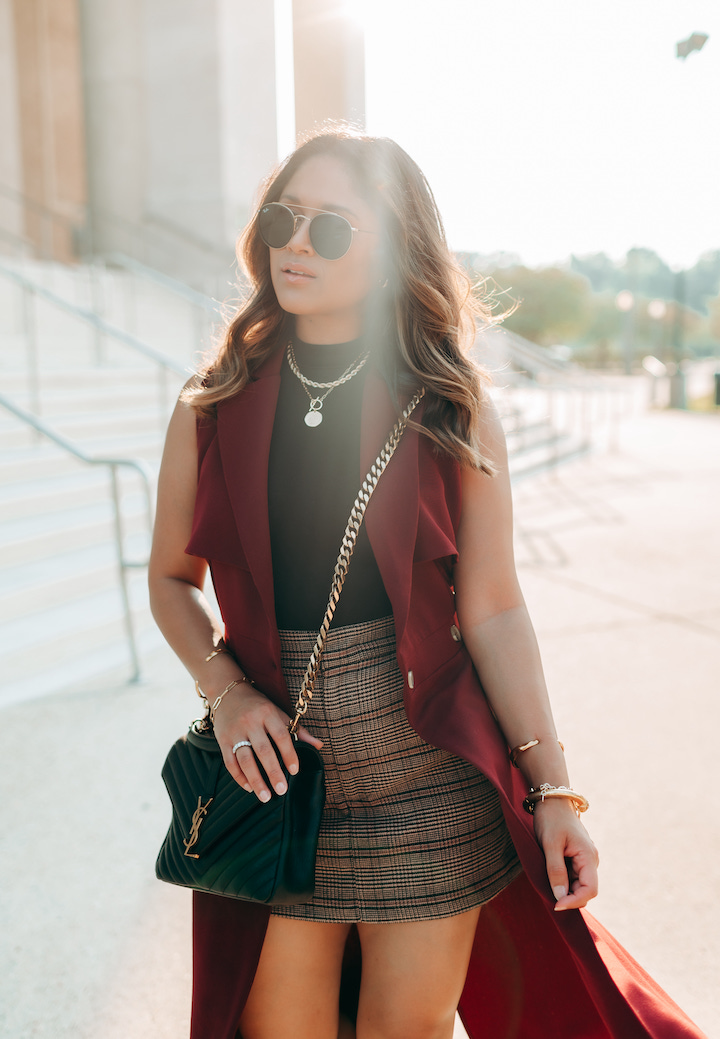 | Shop This Look |

Outfit: Jennifer Trench Duster Dress & Jennifer Mock Neck Bodysuit (designed by Haute Off The Rack in collaboration with Gibsonlook)– wearing sz XS in both <– Take 15% OFF with code: HAUTE15 | Similar Plaid Skirt | YSL Medium College Bag | Rayban Sunglasses | Bamine Sandal
| SHOP MY JEWELRY |
Jewelry: Big Spender Necklace, Harper 4mm Necklace & Bowery Hoops — take 20% OFF with code: HAUTE20| Shop more of my top Electric Picks jewelry (here) | Holland Cuff Bracelet in Vintage Gold | Hera Bracelet | Paris Demi Hinge Cuff
____________________________________________
How to Style A Sleeveless Trench Coat: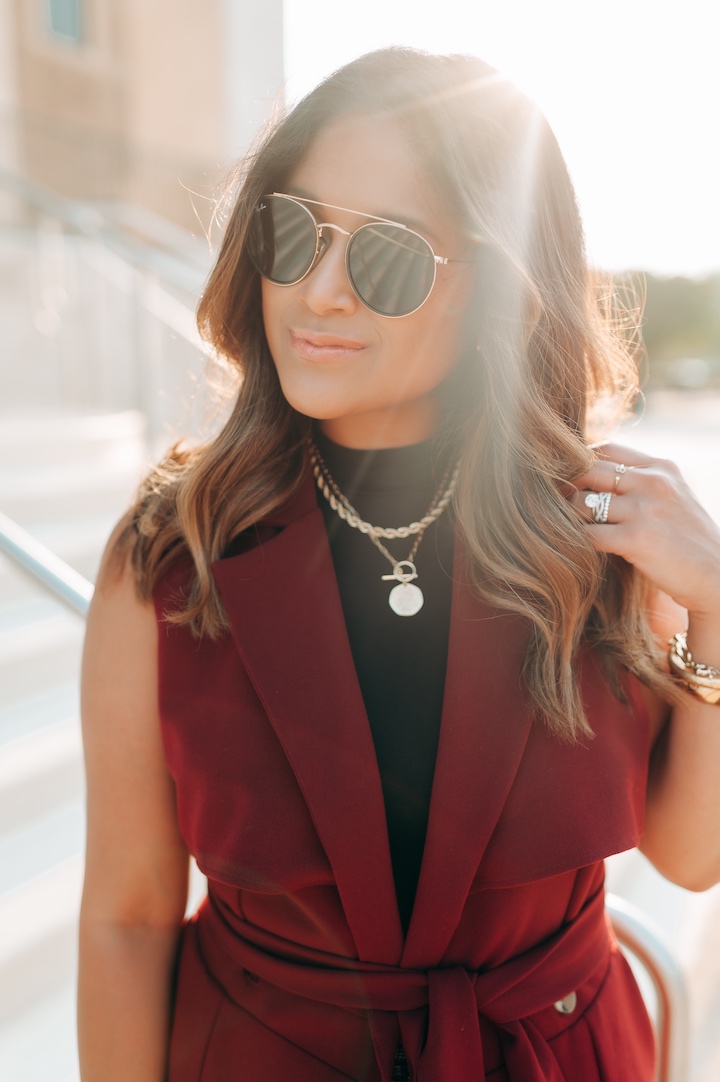 MY SIZING AND HEIGHT FOR REFERENCE:
Most people don't realize how petite I am and I understand that knowing my sizes can help you determine what size to get.
I am 5 ft and I wear a size 27 in high waisted jeans & smalls in leggings. I'm currently a 34B and take size XS/S in dresses and tops, smalls in sports bras, and XS-S in outerwear. I typically size down in Gibsonlook pieces. However, I suggest going true to size in these pieces because there is no stretch. I'm wearing a size XS in the Jennifer Mock Neck Bodysuit and XS in the Jennifer Trench Duster Dress.

Jennifer Mock Neck Bodysuit:
We designed the mock neck bodysuit to pair with trench duster, but this piece is a closet staple that can be worn multiple different ways. Plus a mock neck always makes me feel sophisticated and is very flattering on the shoulders. You might remember this detail from my mock neck midi dress that I launched last holiday here–> 15 Ways to Style a Black Midi Dress
The best part is that it has a zipper at the nape of the neck so you don't have to squeeze the mock neck over your hair and makeup and mess it all up. Also, I designed the bodysuit with a thong style to avoid any panty lines on your jeans and skirts.
The bodysuit can be worn with jeans, skirts, shorts, trousers, you name it! It's a super sleek and lightweight fabric, which makes it a great base top for layering. You can wear it to work with trousers and a blazer, or out to lunch with a pair of shorts and a cardigan or even on date night with a pair of high waisted jeans and heels. Layer gold necklaces over it the top to dress it up.
Sizing: I'm wearing the size XS. This top runs true to size.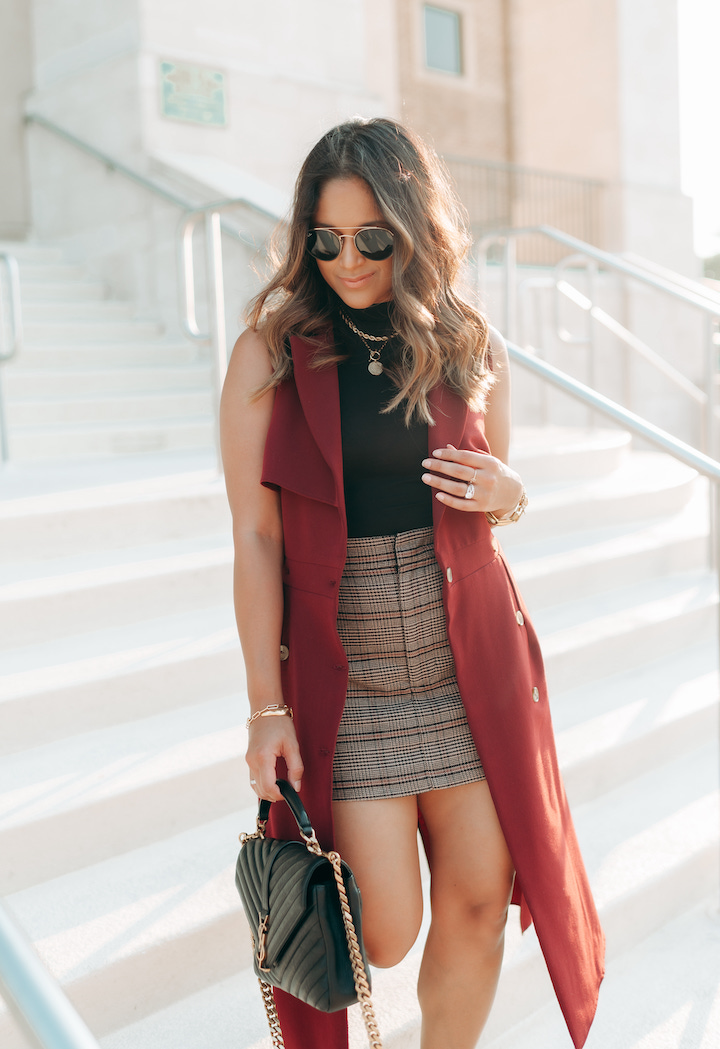 This Jennifer Trench Duster Dress is sophisticated-chic while versatile and effortlessly cool all at the same time! It's the perfect transitional piece into fall because it gives you all the fall vibes with the long coat factor, but the sleeveless feature makes it bearable to wear in the warmer months leading into fall. Once the weather cools down, style the sleeveless trench with boots and sleeveless turtleneck sweaters underneath or long sleeve blouses. You can also wear it as a dress with a longline topcoat over it.
I feel like a powerhouse in this sleeveless trench coat that can also be worn as a dress. I also feel so cool wearing it open with a pair jeans and bodysuit underneath. I designed this piece to help you elevate your everyday outfits.
I love the cinched detail on the back that makes it super flattering on the waist as well as the removable tie belt so you can wear the trench open with it loosely tied in the back or tie in front with a cute outfit underneath. You can even completely remove the waist tie and replace it with a statement belt.
I would wear the sleeveless trench duster to lunch, shopping, happy hour, work meetings and the office (if I had one! LOL). Speaking of offices, if you aren't allowed to wear sleeveless tops to work, just wear a long sleeve dress or blouse with the trench duster over it.
| Shop This Look |

Outfit: Jennifer Trench Duster Dress & Jennifer Mock Neck Bodysuit (designed by Haute Off The Rack in collaboration with Gibsonlook)– wearing sz XS <– Take 15% OFF with code: HAUTE15 | Krewe STL Nylon Sunglasses | Jaw Clip
| SHOP MY JEWELRY |
Jewelry: Royals Necklace, Harper 4mm Necklace & Bowery Hoops — take 20% OFF with code: HAUTE20| Shop more of my top Electric Picks jewelry (here) | Holland Cuff Bracelet in Vintage Gold | Hera Bracelet | Paris Demi Hinge Cuff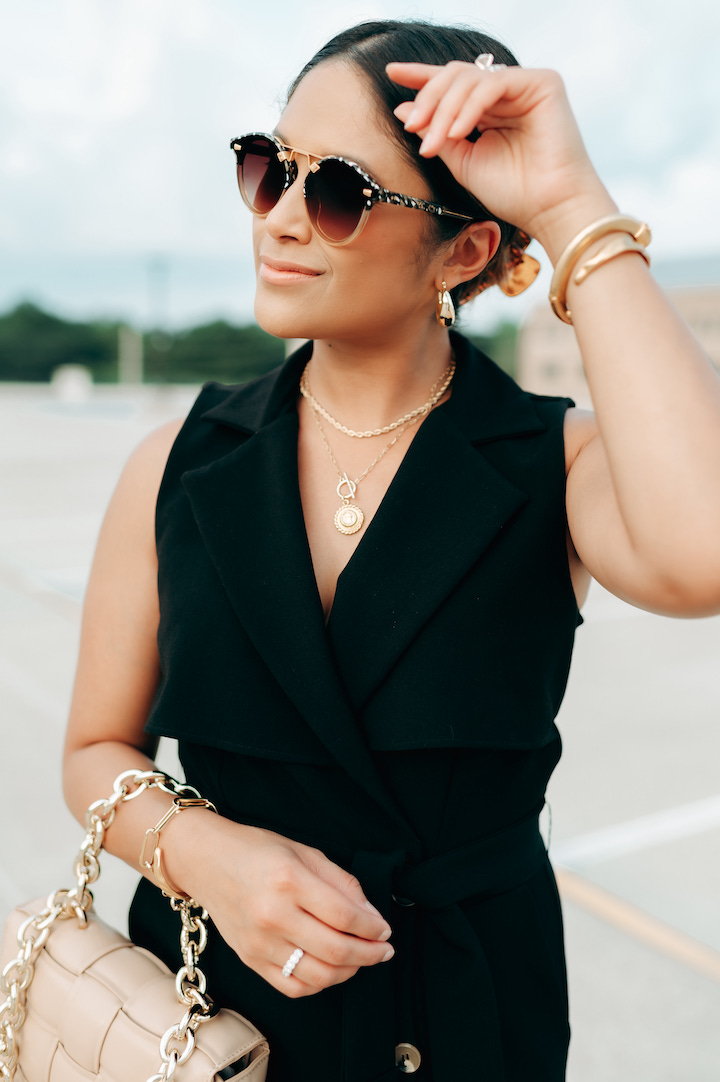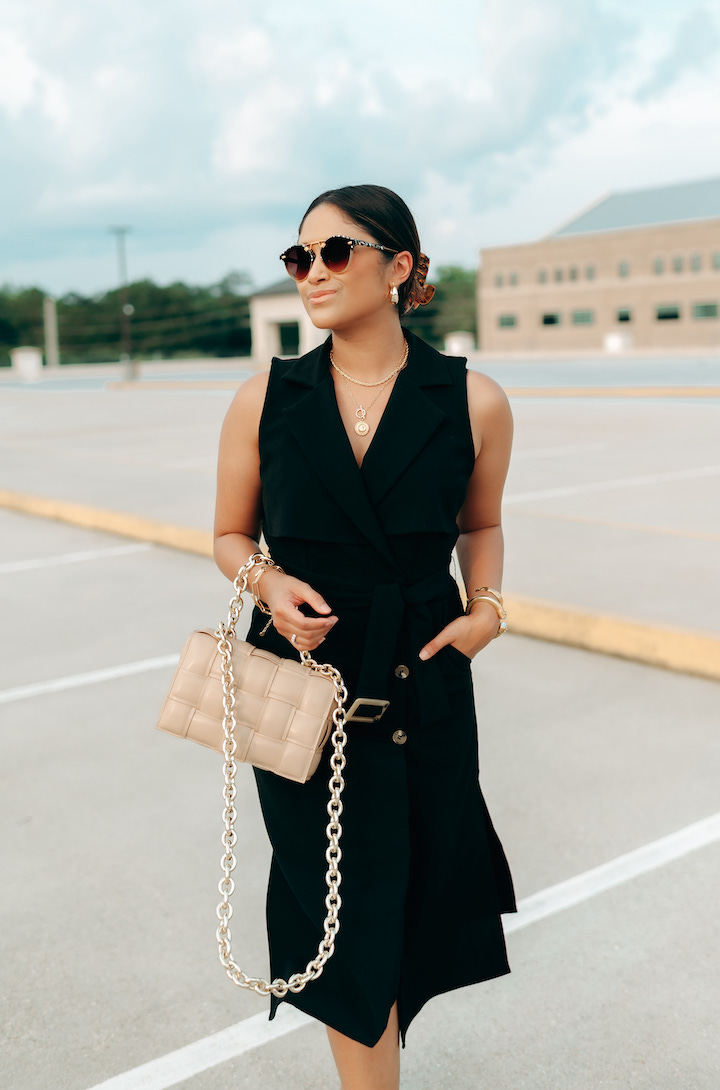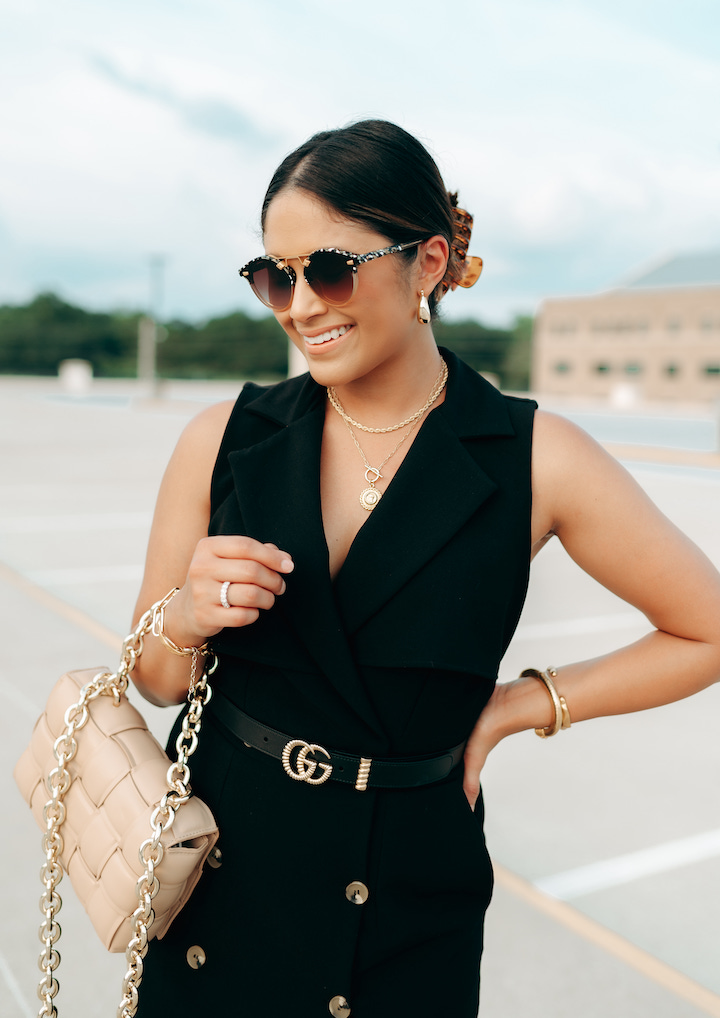 | Shop This Look |

Outfit: Jennifer Trench Duster Dress & Jennifer Mock Neck Bodysuit (designed by Haute Off The Rack in collaboration with Gibsonlook)– wearing sz XS <– Take 15% OFF with code: HAUTE15 | Krewe STL Nylon Sunglasses | Jaw Clip
| SHOP MY JEWELRY |
Jewelry: Royals Necklace, Harper 4mm Necklace & Bowery Hoops — take 20% OFF with code: HAUTE20| Shop more of my top Electric Picks jewelry (here) | Holland Cuff Bracelet in Vintage Gold | Hera Bracelet | Paris Demi Hinge Cuff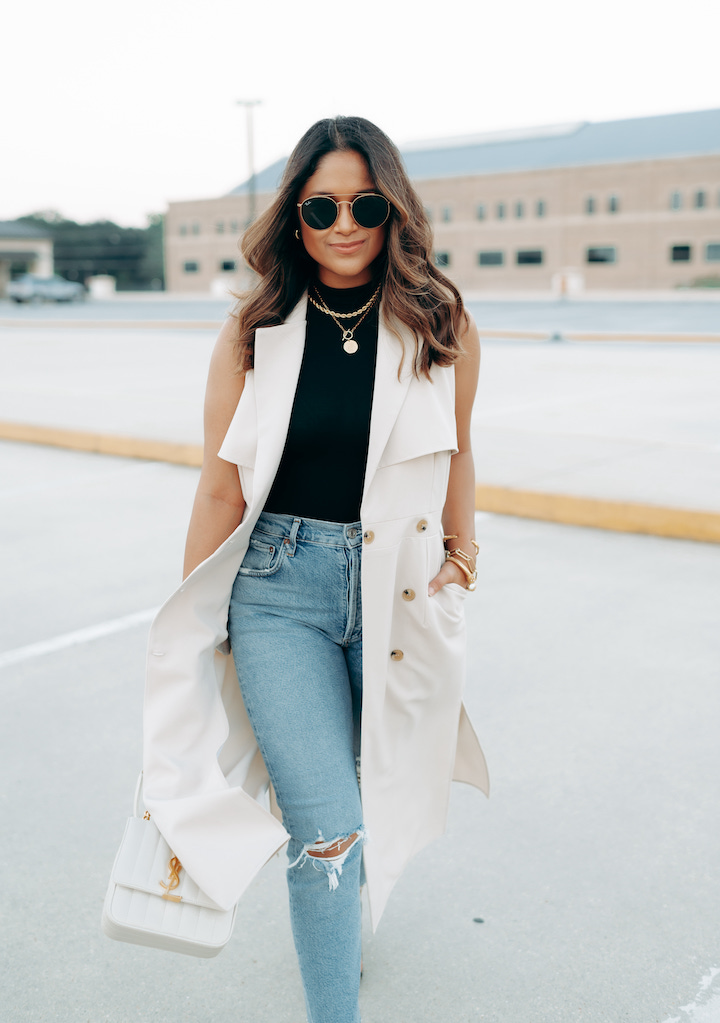 | Shop This Look |
Outfit: Jennifer Trench Duster Dress & Jennifer Mock Neck Bodysuit (designed by Haute Off The Rack in collaboration with Gibsonlook)– wearing sz XS <– Take 15% OFF with code: HAUTE15 | Riley High Rise Straight | Rayban Sunglasses | Black Heels
| SHOP MY JEWELRY |
Jewelry: Royals Necklace, Harper 4mm Necklace & Bowery Hoops — take 20% OFF with code: HAUTE20| Shop more of my top Electric Picks jewelry (here) | Holland Cuff Bracelet in Vintage Gold | Hera Bracelet | Paris Demi Hinge Cuff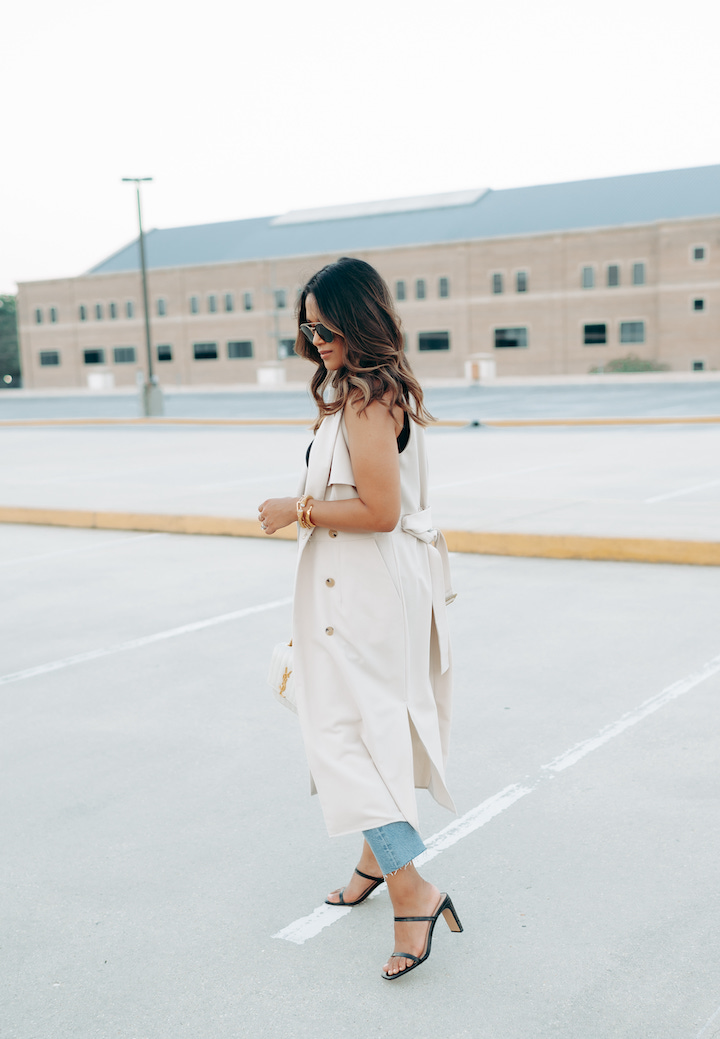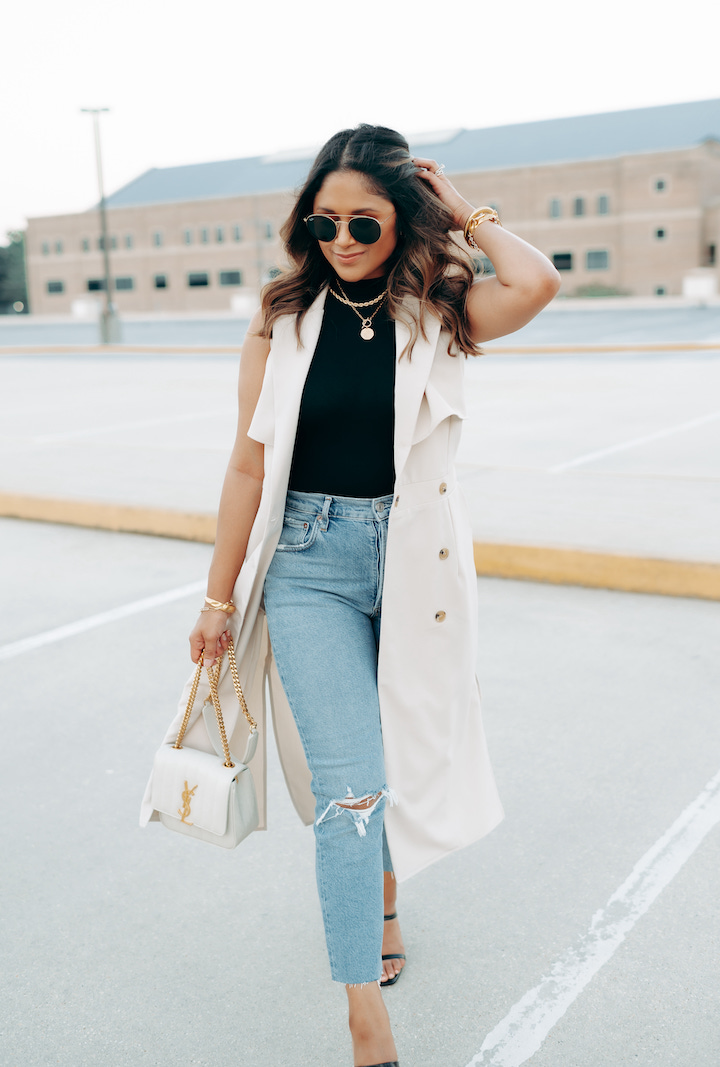 | Shop This Look |
Outfit: Jennifer Trench Duster Dress & Jennifer Mock Neck Bodysuit (designed by Haute Off The Rack in collaboration with Gibsonlook)– wearing sz XS <– Take 15% OFF with code: HAUTE15 | Riley High Rise Straight | Rayban Sunglasses | Black Heels
| SHOP MY JEWELRY |
Jewelry: Royals Necklace, Harper 4mm Necklace & Bowery Hoops — take 20% OFF with code: HAUTE20| Shop more of my top Electric Picks jewelry (here) | Holland Cuff Bracelet in Vintage Gold | Hera Bracelet | Paris Demi Hinge Cuff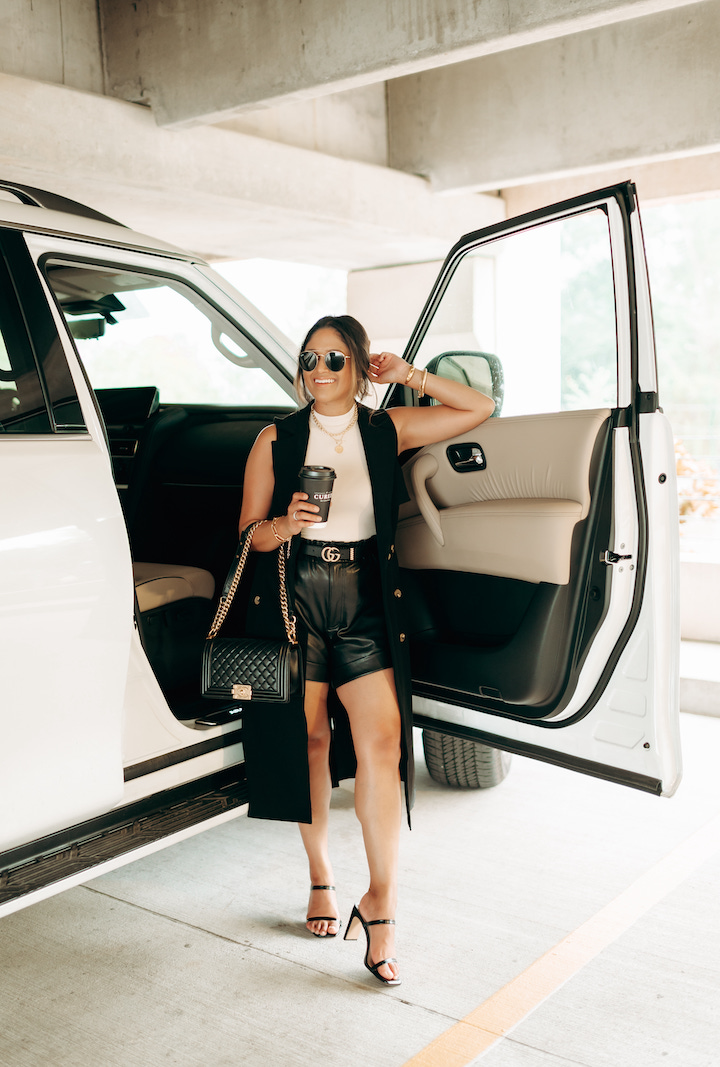 | Shop This Look |
Outfit: Jennifer Trench Duster Dress & Jennifer Mock Neck Bodysuit (designed by Haute Off The Rack in collaboration with Gibsonlook)– wearing sz XS <– Take 15% OFF with code: HAUTE15 | | Rayban Sunglasses | Black Heels | Similar Faux Leather Shorts
| SHOP MY JEWELRY |
Jewelry: Royals Necklace, Harper 4mm Necklace & Bowery Hoops — take 20% OFF with code: HAUTE20| Shop more of my top Electric Picks jewelry (here) | Holland Cuff Bracelet in Vintage Gold | Hera Bracelet | Paris Demi Hinge Cuff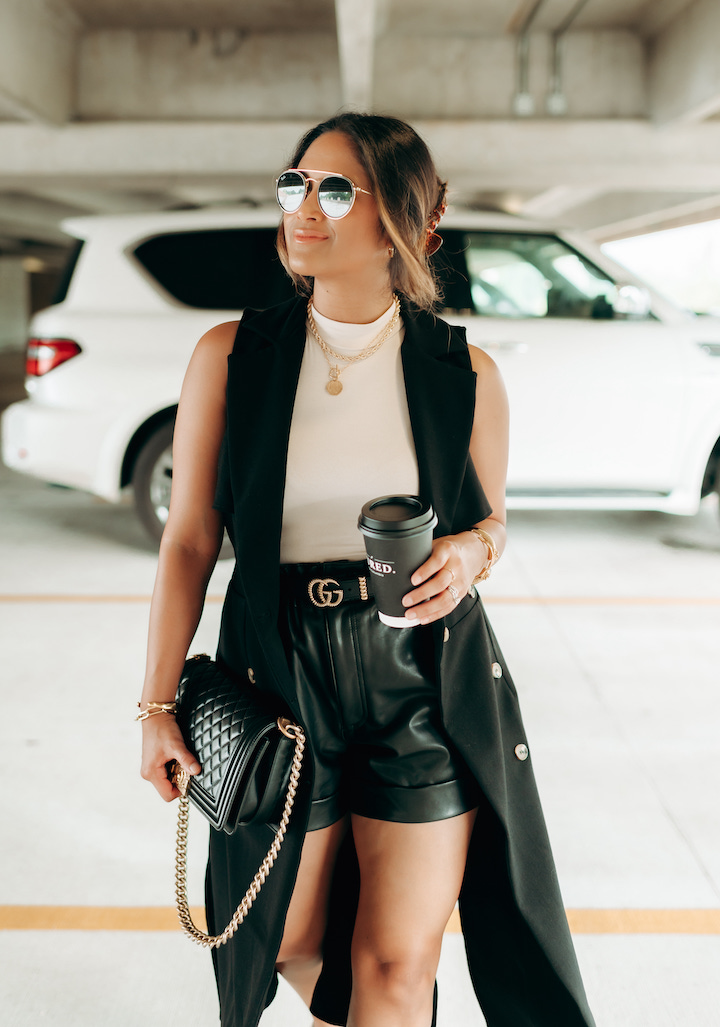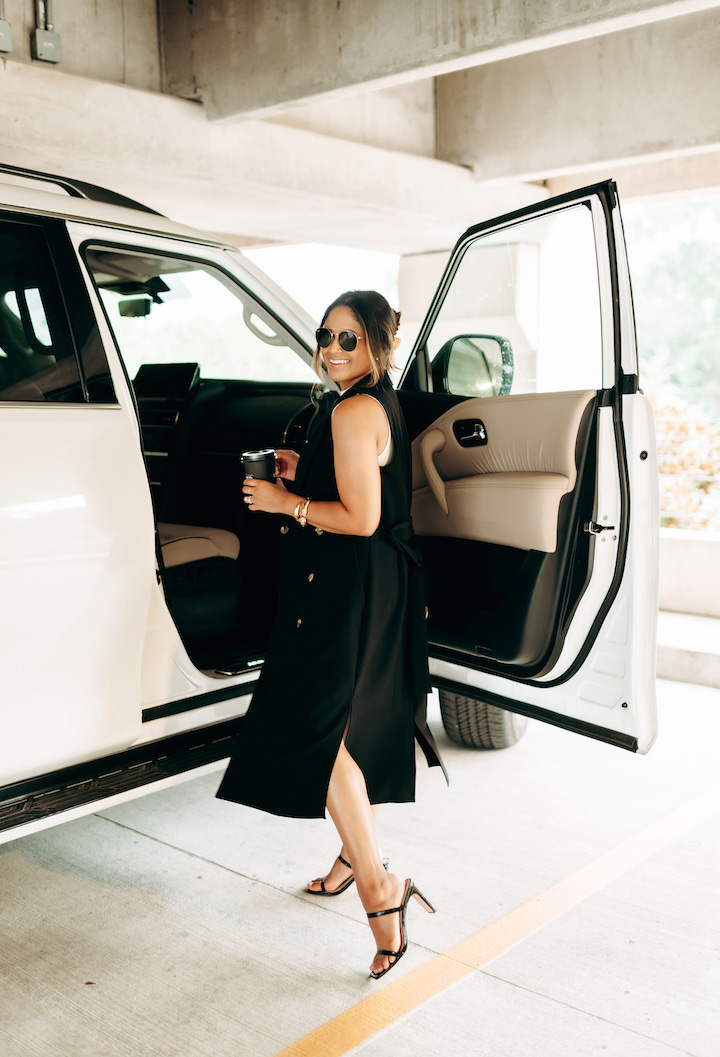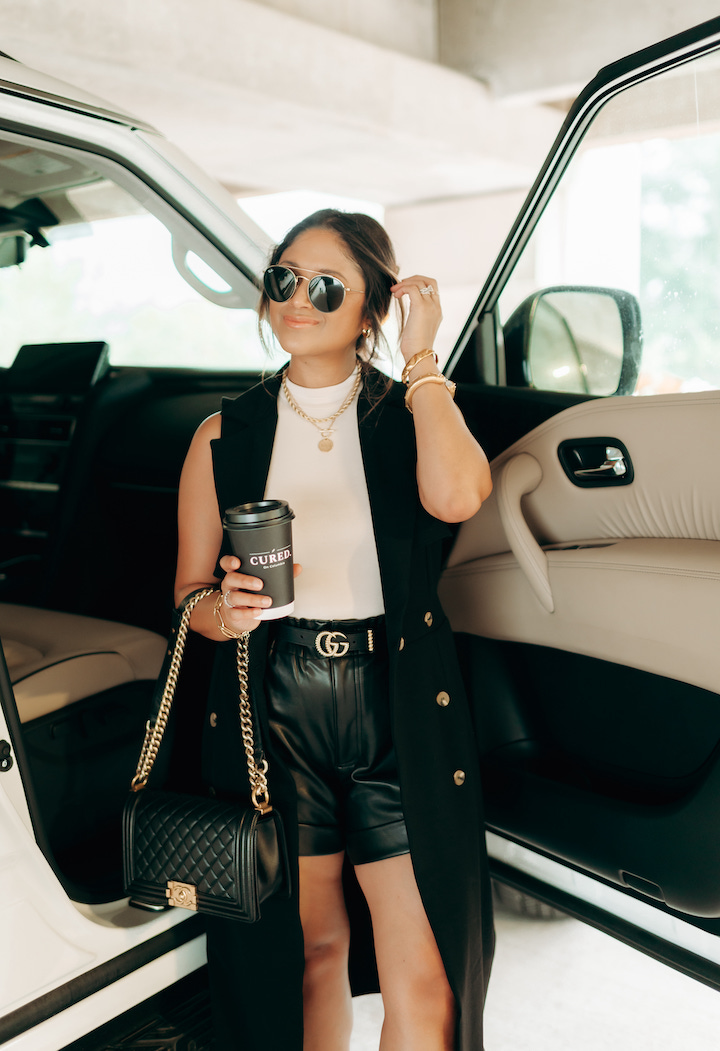 | Shop This Look |
Outfit: Jennifer Trench Duster Dress & Jennifer Mock Neck Bodysuit (designed by Haute Off The Rack in collaboration with Gibsonlook)– wearing sz XS <– Take 15% OFF with code: HAUTE15 | | Rayban Sunglasses | Black Heels | Similar Faux Leather Shorts
| SHOP MY JEWELRY |
Jewelry: Royals Necklace, Harper 4mm Necklace & Bowery Hoops — take 20% OFF with code: HAUTE20| Shop more of my top Electric Picks jewelry (here) | Holland Cuff Bracelet in Vintage Gold | Hera Bracelet | Paris Demi Hinge Cuff
____________________________________________
Check out more of my designs with Gibsonlook below:
The Jennifer Long Sleeve Smocked Dress
How to Wear the Jennifer Shirt Dress
The Perfect Summer Babydoll Dress
The Most Wanted Dress of the Season