If you follow along with me regularly, you know I'm not much of a chef, but I do love to put together grazing boards and bake easy desserts because I've gotta have my daily sugar fix. Most recently we celebrated National Ice Cream Day with homemade ice cream cookie sandwiches. I'm sure you're like how do you have the time to observe all of these random food holidays?!  And I'm like how do you not?! LOL Because when it comes to snacks and treats, I always find the time! In reality though, the only reason I'm able to make time is because my Walmart+ membership makes it so easy!  With free same-day delivery from local stores, Walmart+ is the go-to membership to save time and money and make life easier. Walmart literally gets me whatever I need whenever I need it.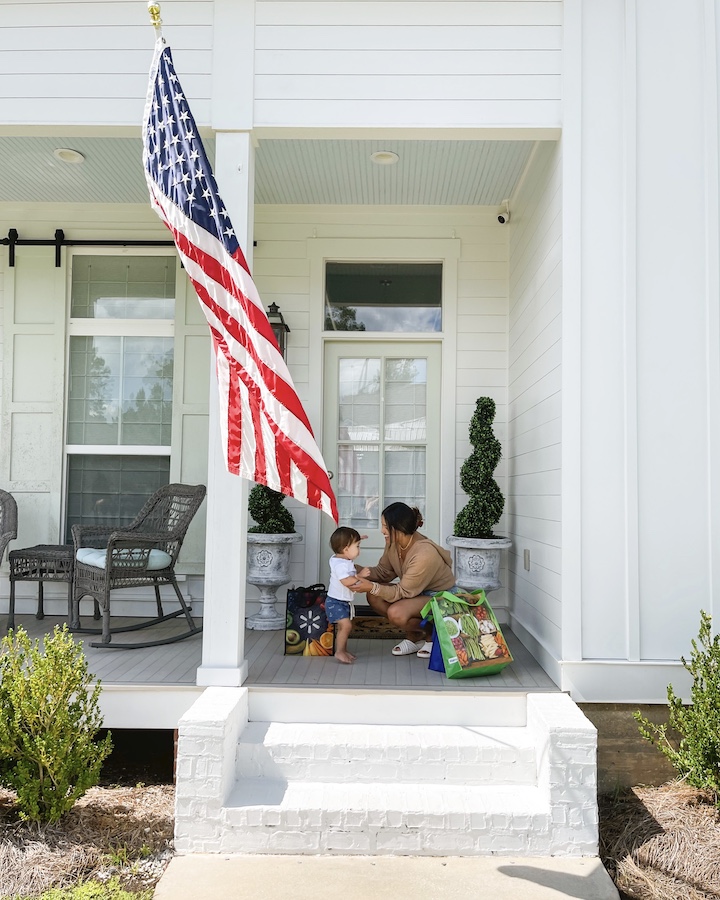 I always take full advantage of their free shipping and free delivery. We got all the ingredients to make these treats delivered right to our house so we could spend more time playing outdoors instead of dealing with a baby in the grocery store. Plus Walmart has all the best outdoor toys to entertain the little kiddies during parties. 
If you want to make some fun treats with your kids this summer or if you're already gearing up for back-to-school supplies and essentials, save yourself the time and effort and sign up for Walmart+. I promise it makes your life so much easier when it comes to grocery shopping or getting everything you need for the kids to go back to school as well as everyday life in general. It's a new membership that brings together in-store and online benefits to help save Walmart customers more money. And don't worry you'll still get to enjoy fresh, high quality groceries with their unlimited free delivery from your local store — everything you need delivered whenever you need, at the low prices you love. No extra hidden fees!
My cute tan sweater + comfy white sandals are both from Walmart.
The benefits include: NEW Walmart+ free shipping from Walmart.com with no order minimum (excludes freight & Marketplace items), Free delivery from your local store (your order must be at least $35 and other restrictions may apply), mobile scan & go, and member prices on fuel! Put more time back in your busy lives and more money back into your account because you deserve it with Walmart+.
 Walmart+ makes shopping faster for families, which is exactly what I need these days especially when I'm scrambling to get everything ready for a party. I immediately signed up for the program the minute they released it last year and it was one of the best decisions I've made! Membership costs $98 a year or $12.95 a month and includes a 15-day free trial period. Not having to take 3 full hours to get out of the house with Beck to the grocery store and back is worth every penny of the membership fee!
CHECK OUT ALL OF THE BENEFITS OF THE WALMART+ MEMBERSHIP BELOW:
Walmart+ free shipping, no order minimum: This new benefit offers Walmart+ members free shipping on items shipped by Walmart (Excludes

freight & Marketplace items) which means no order minimum when shopping items shipped by Walmart!

Free delivery from your local store: Same everyday low prices you love as fast as same-day on more than 160,000 items from tech and toys to household essentials and groceries. Your order must be at least $35 and other restrictions may apply.

 

Mobile scan & go: Unlock mobile scan & go in the Walmart app — a fast way to shop in-store. Using the Walmart app, customers can scan their items as they shop and pay at self-checkout using Walmart Pay for a quick, easy, touch-free payment experience.
Member Prices on Fuel: Fill up and save!

Save

5 cents a gallon at nearly 2,000 Walmart, Murphy USA and Murphy Express fuel stations. Plus member prices at Sam's Club fuel centers.

Visit Walmartplus.com to start your free trial.

Now, back to the fun stuff! Follow the recipe below to make these delicious homemade ice cream sandwiches.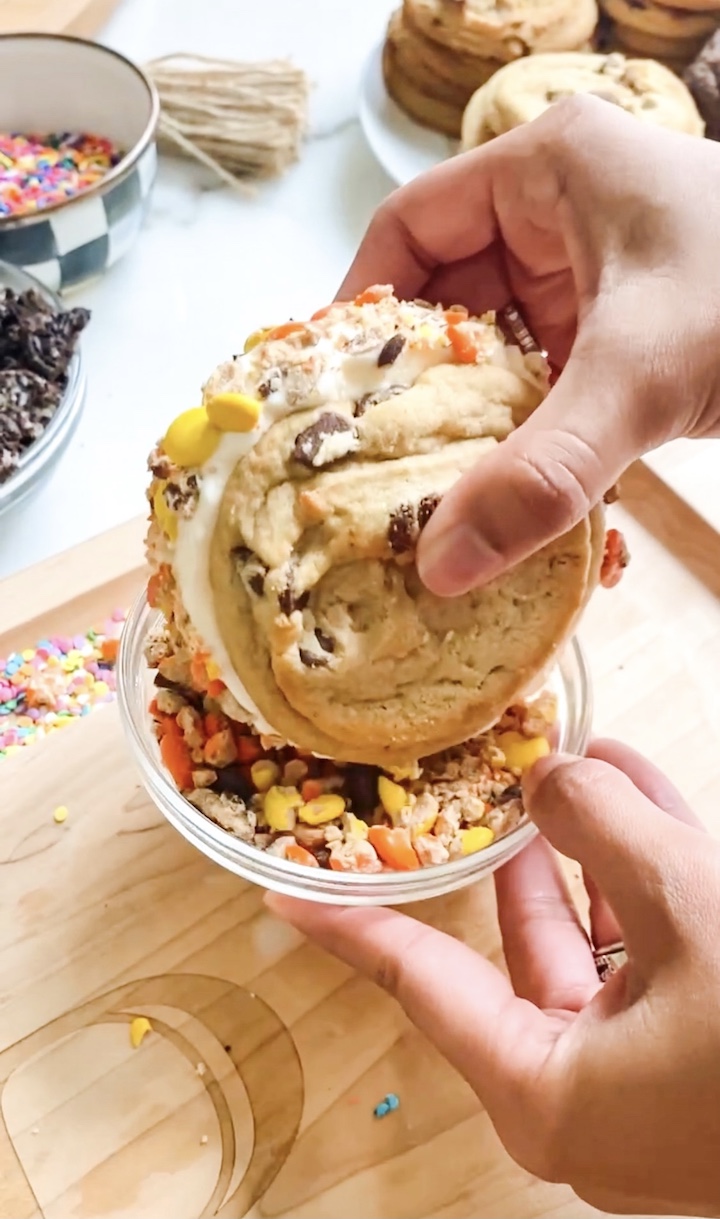 How to Make Ice Cream Cookie Sandwiches

 

Ingredients:
Large Cookies — We like chocolate-chip and M&M cookies, but you can use whatever kind you'd like. You could even bake your own cookies, but we got some from the bakery to save time.
Toppings: The sky's the limit when it comes to toppings. In fact, I could think of a bunch of other toppings that would be delicious over ice cream, but we went with chocolate chips, Reeses Pieces, Oreos & Rainbow sprinkles.
Pint Size Ice Cream — Choose your favorite or go simple with vanilla and let the toppings be the flavor. We got the 3 flavors: vanilla, mint chocolate chip and strawberry.
Steps:
Crush all of your toppings in plastic baggies and then pour them into their own separate bowls.

Use a sharp knife to cut your ice cream pint containers into 3-4 slices to create the perfect size ice cream filling for your cookie sandwich. The trick is to make the ice cream slice larger than the cookie so that it's easier to roll into your toppings and ensure that everything sticks!

Place your ice cream slice between two cookies and dip it into your topping of choice

Be sure to place in the freezer immediately after making them unless you're ready to serve! We laid ours out on tin foil in the freezer until we were ready to eat them!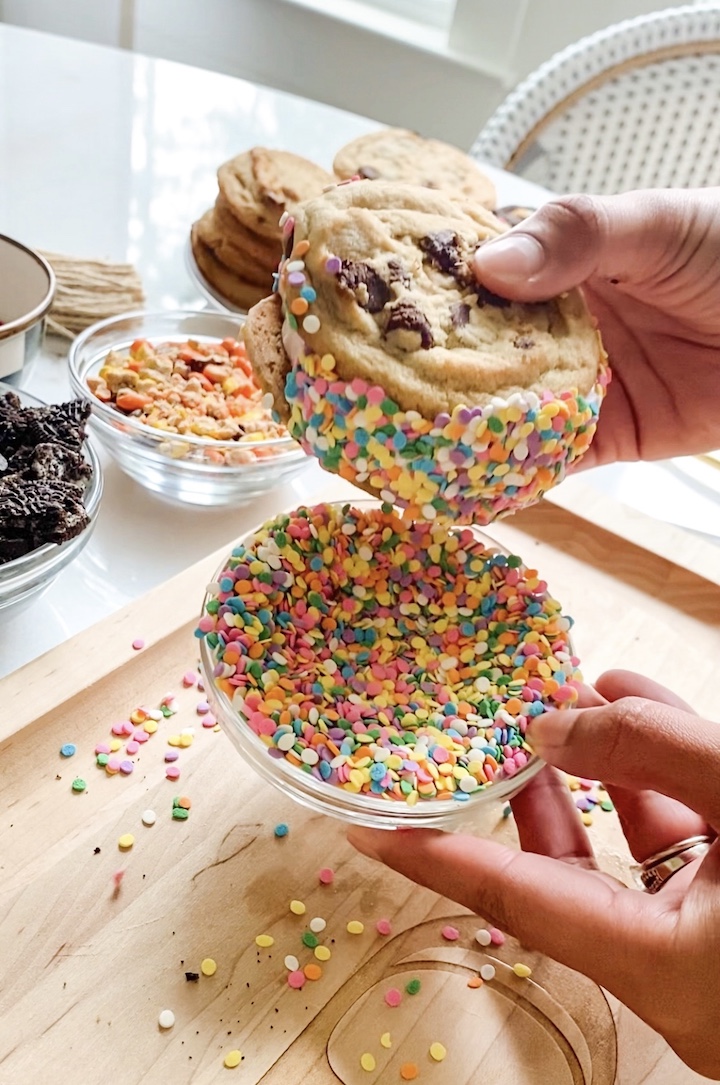 This post is in partnership with Walmart, a brand I love. All opinions and selections here are my own. Thank you for supporting the businesses who make this blog possible.