Howdy y'all! I threw an epic Disco Cowgirl themed party this past weekend for my Eve Parade krewe and we had an absolute blast. Everyone's costumes were amazing even the guys too because yes, we decided to includes the cowboys!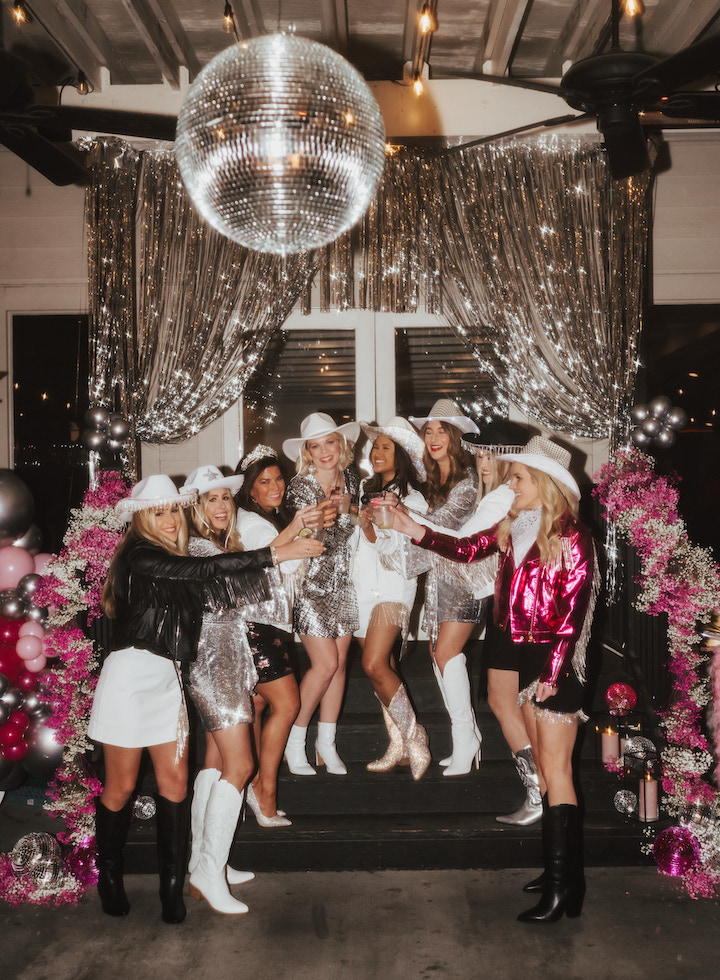 In case you missed it, I started my own Mardi Gras krewe/float in the Eve Parade this year, which is an all female parade on the Northshore in Mandeville. This year it has doubled in size so I'm super excited to ride in it next month on Friday, February 10. More details to come!
Anyway back to the party…Since I'm the lieutenant of my float I thought I would throw a fun themed party to kick off Mardi Gras season to get everyone excited. Usually I host King Cake tasting party, but this year I decided to kick things up a notch and go with a cool trending theme: Disco Cowgirl.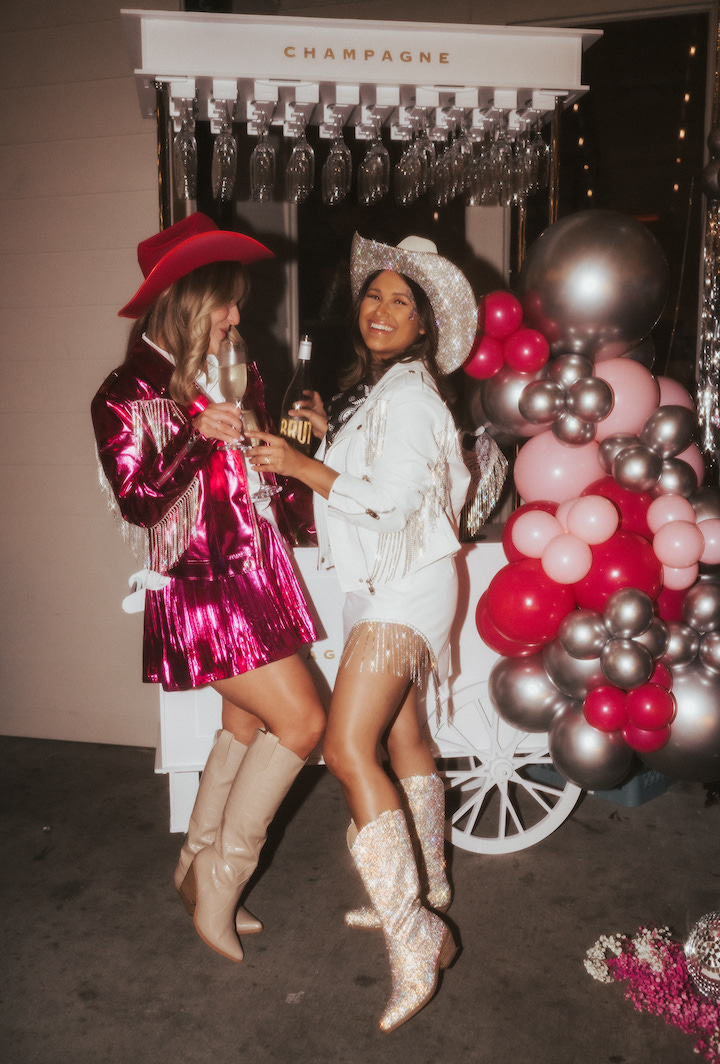 | Shop My Look |

Outfit: Betsey Johnson Utah Cowboy Boot (short version here) | Show Girl Crystal Fringe Mini Skirt (alternate fringe skirt option) | Crystal Fringe Jacket | Silk Blingdana | Mockneck Bodysuit | White & Crystal Rhinestone Hat
Scroll through this post to see all of the party details! Also, Check out this video from the party–> Disco Cowgirl Party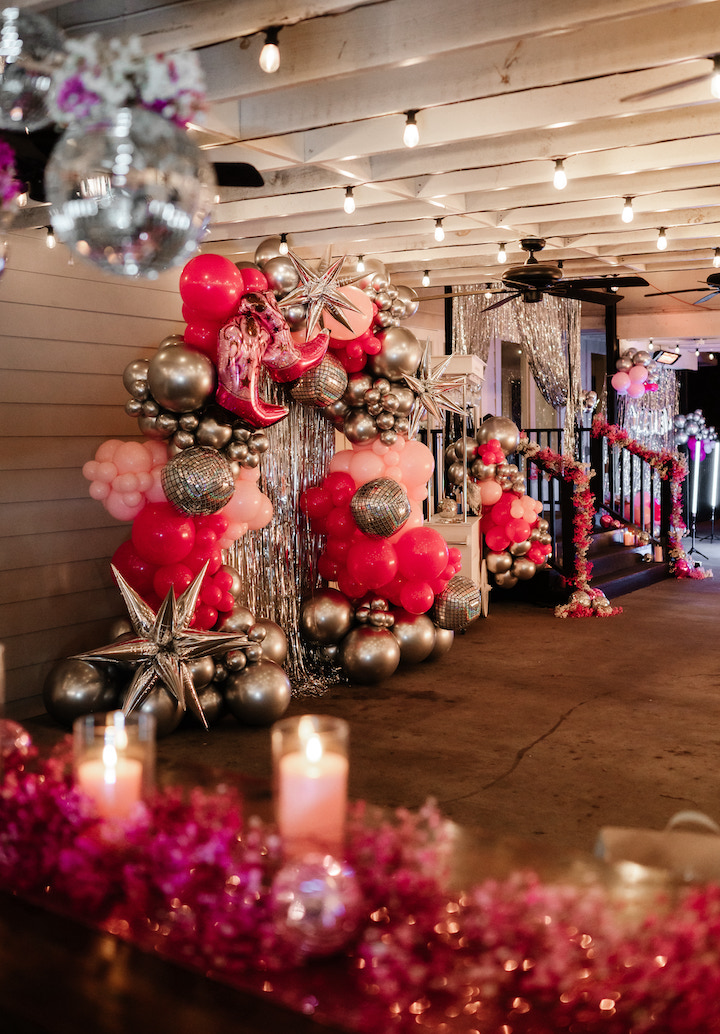 Can I get Yeehaw for all the vendors who helped transition this space into Disco Cowgirl land? See a full list of all the vendors at the bottom of this blog post.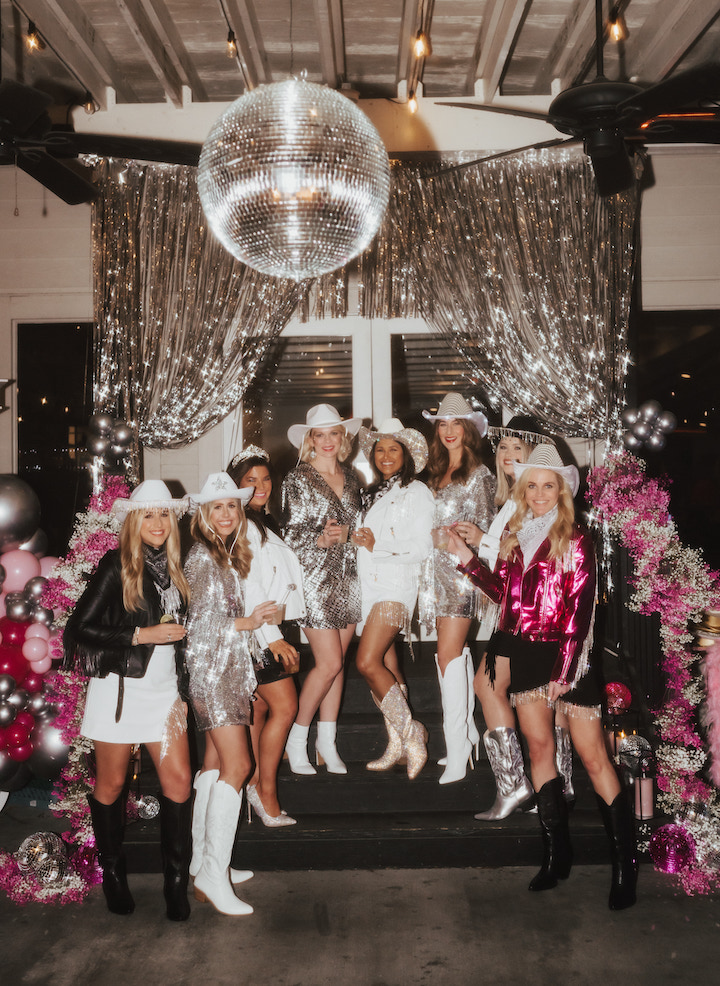 | Shop Our Looks from Buddy Love |
Take 15% OFF | code: HAUTE15

Disco Cowgirl Party Decor Ideas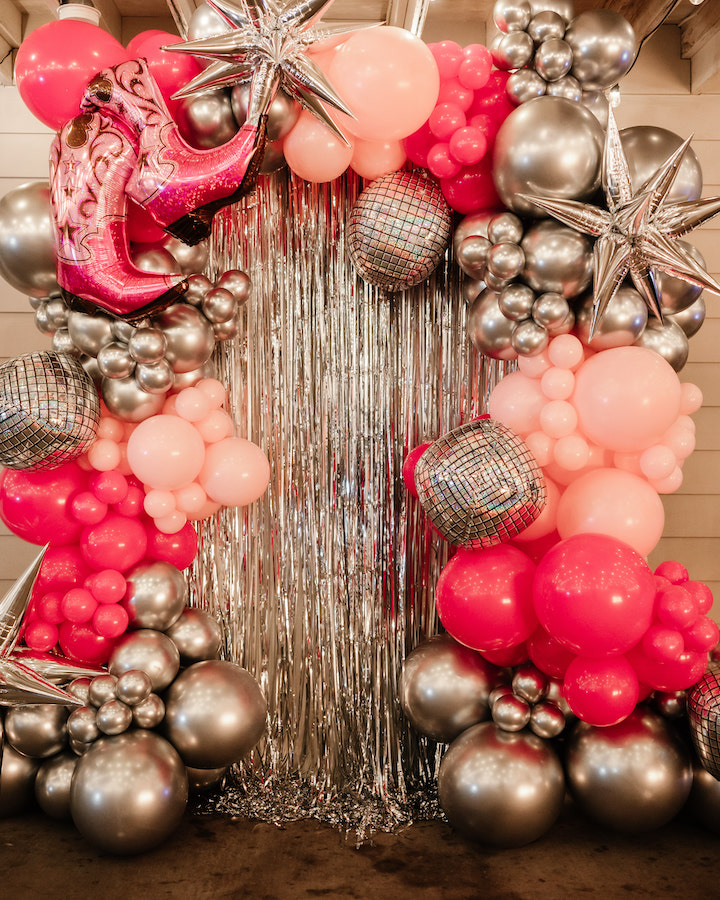 Balloon garland by @thegracefulhost.shop
@gloevents_bychloe did such an incredible job with this entrance into the party. I love how she lined the stairs with candles and disco balls and then draped pink and white baby's breath over the staircase that cascaded all the way down to the floor. I had @thegracefulhost.shop hang a curtain of silver streamers with valance at the top to transition this simple staircase into the perfect photo backdrop.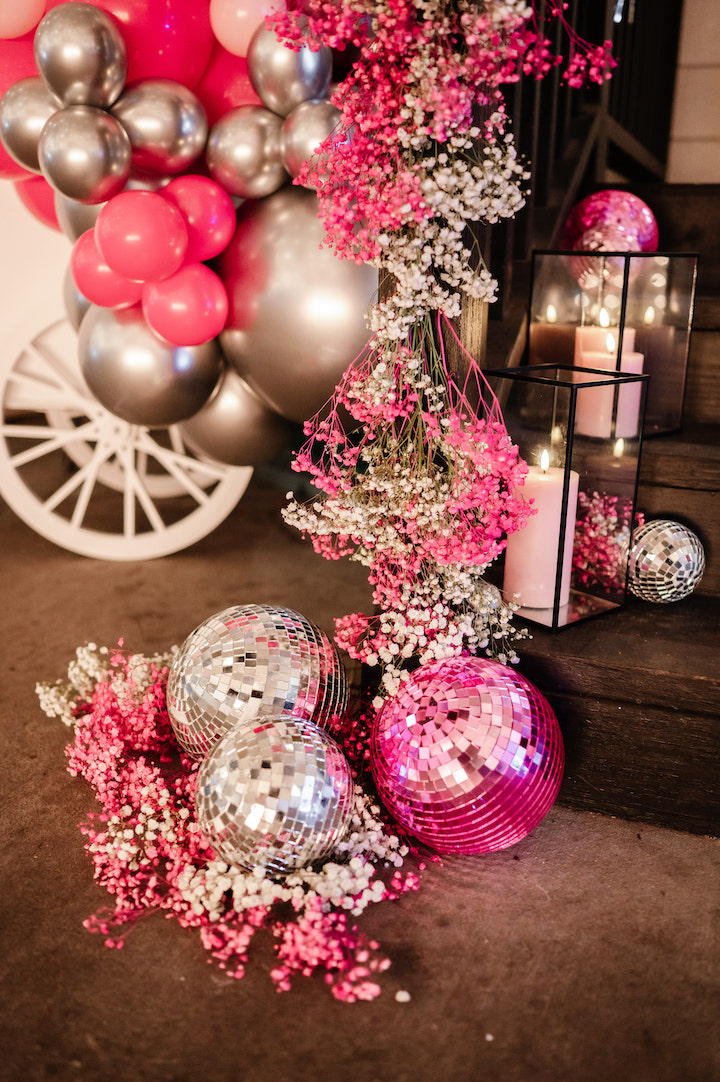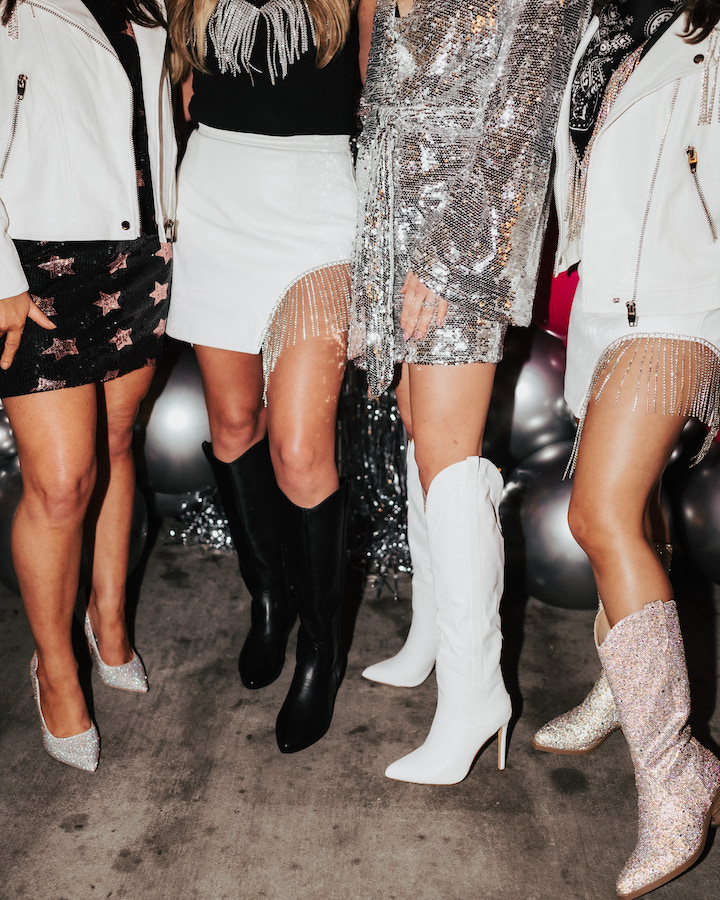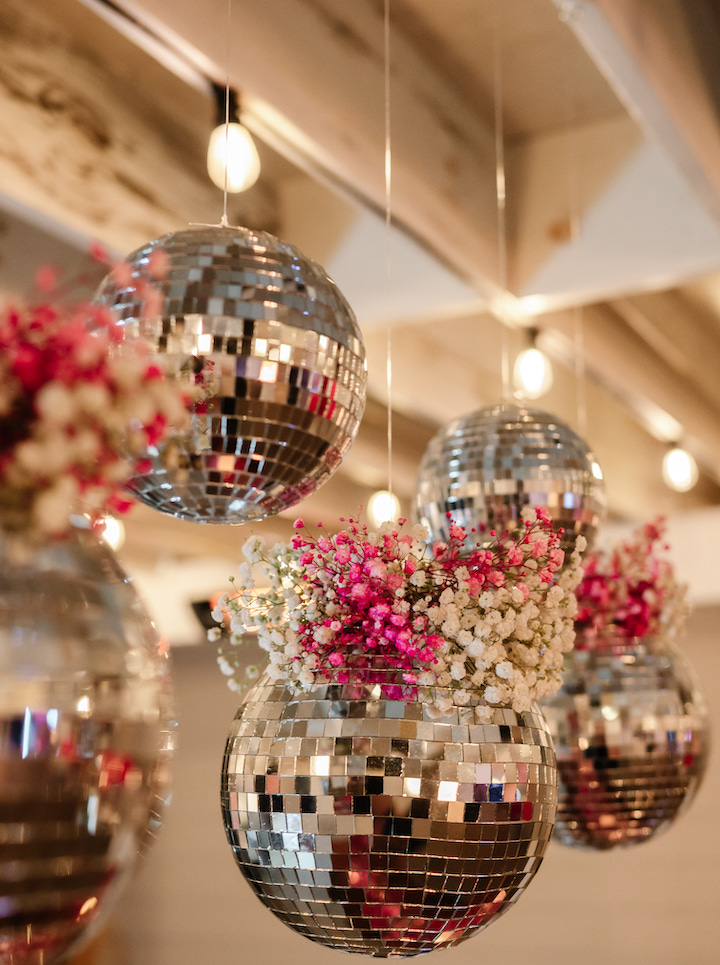 @gloevents_bychloe hung all of these disco balls from the ceiling and then wrapped them in pink and white baby's breath to tie in the pink color and give it some added texture.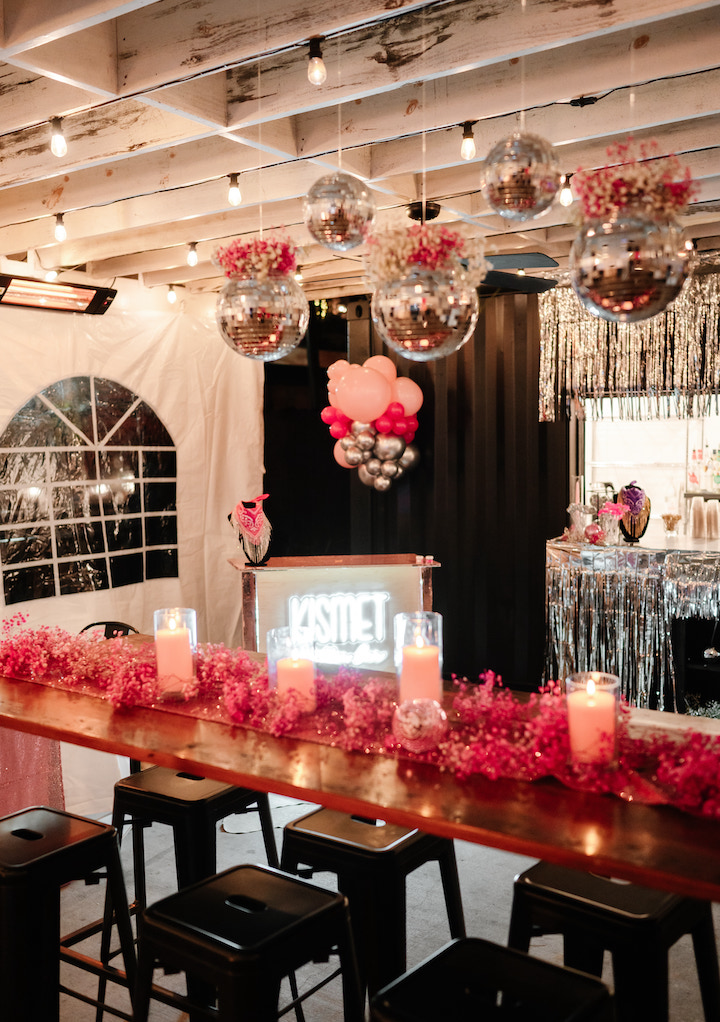 I love how @gloevents_bychloe also used the pink baby's breath to create this beautiful tablescape complete with pink sequin runners, disco balls and and pale pink candles.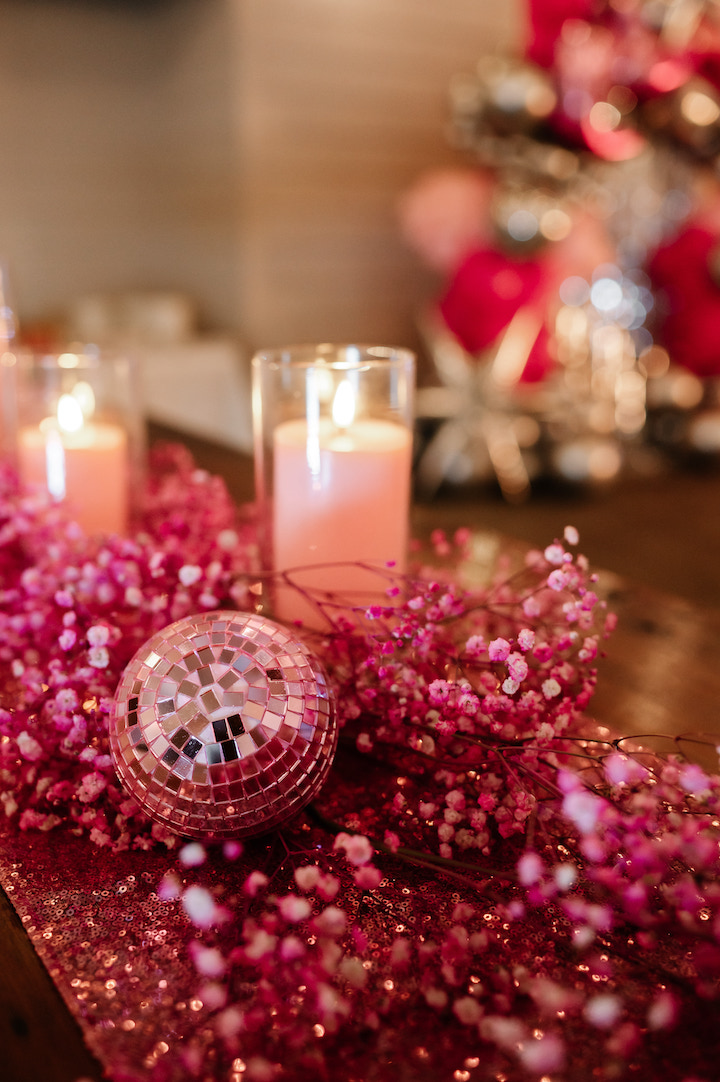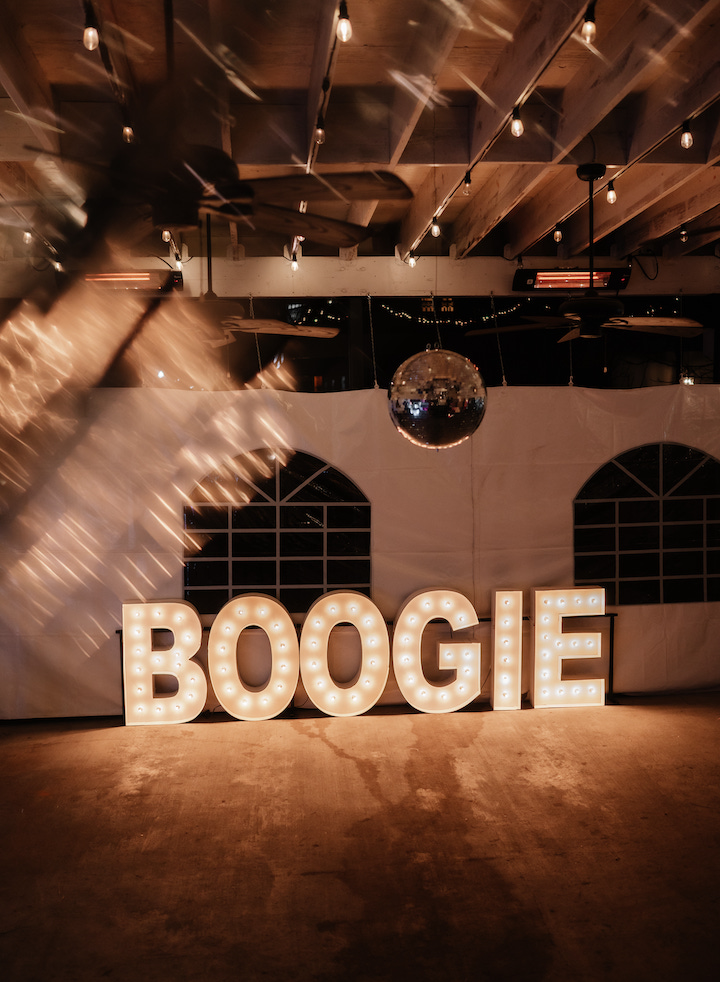 How fun are these huge light up letters that say "BOOGIE" for the dance floor? We rented them from @alphalitneworleans.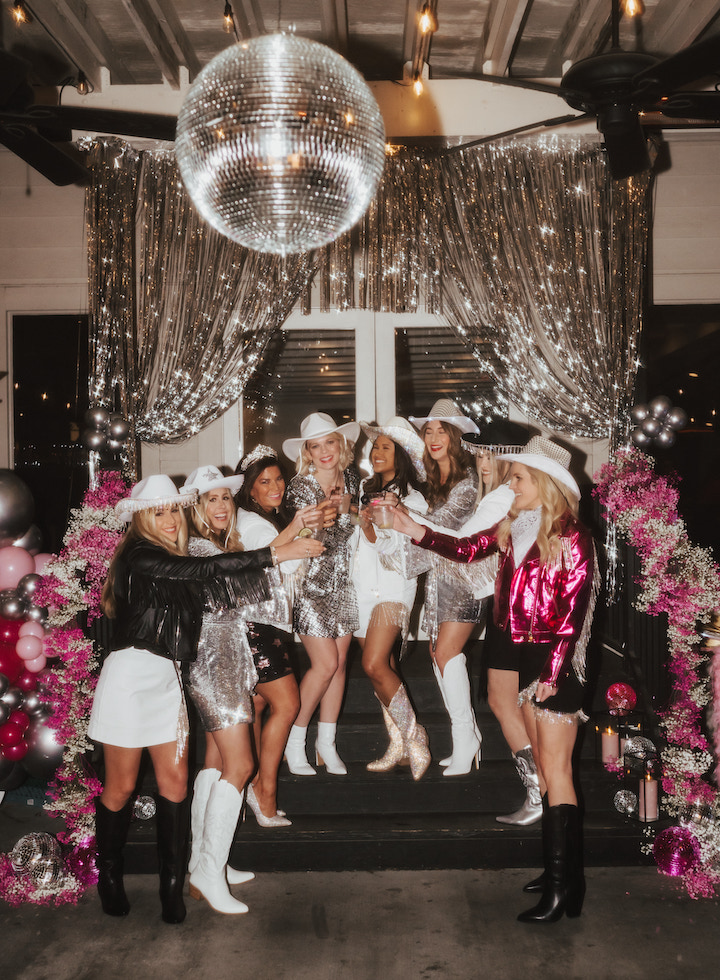 | Shop Our Looks from Buddy Love |
Take 15% OFF | code: HAUTE15

Huge thanks to Buddy Love for providing all of these super cute outfits for me my and friends to wear to the party! Buddy Love knows how to do Disco Cowgirl right! You can take 15% OFF all of our looks along with your entire purchase using code: HAUTE15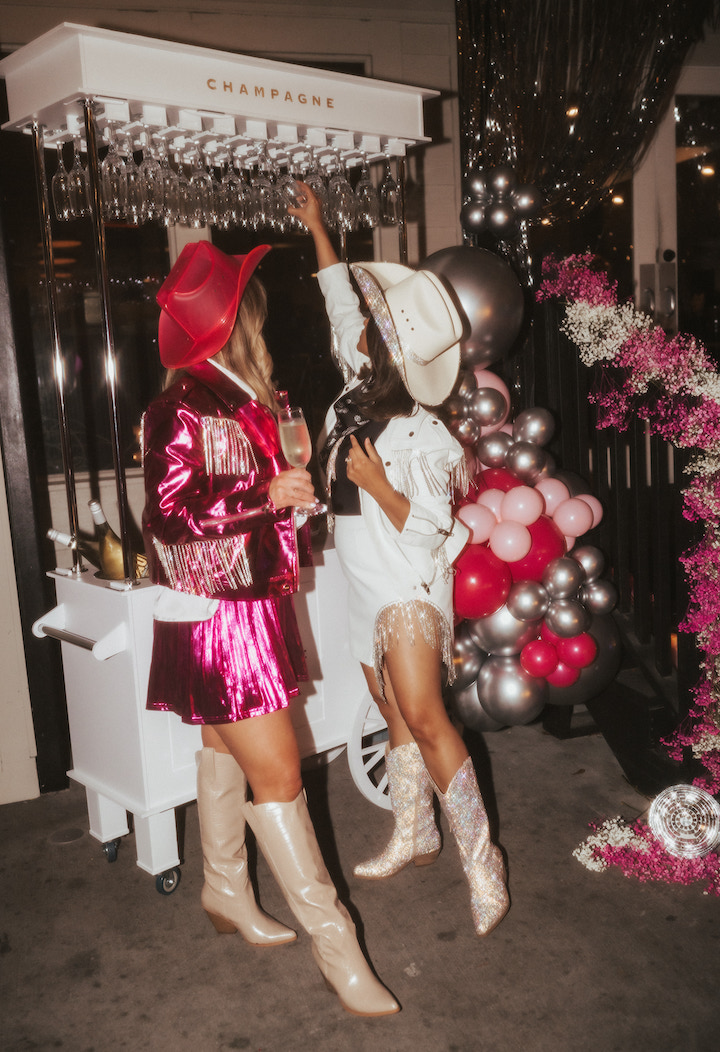 We rented an adorable self serve champagne bar from @corksandconfettirentals and it was such a hit at the party especially when the bar was backed up! I highly recommend renting one of these carts for your next event for your guests to enjoy. It's also perfect to place at the entrance of your party for your guests to grab as they walk in. You can use it as a self-serve cart or you can hire a bartender to work the cart.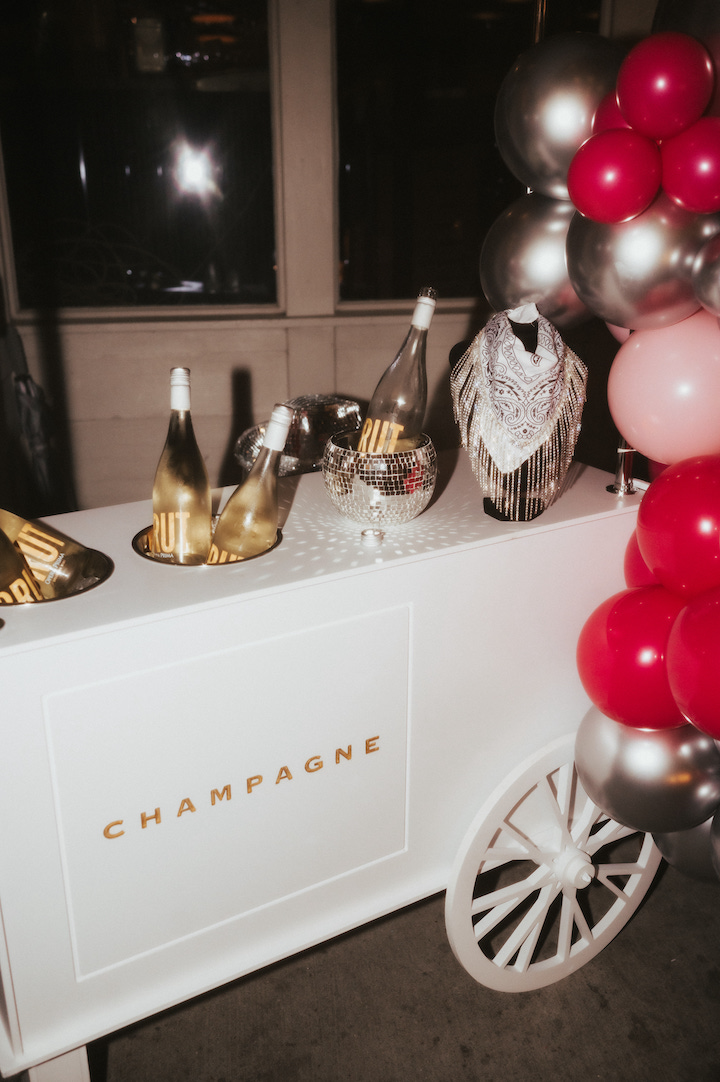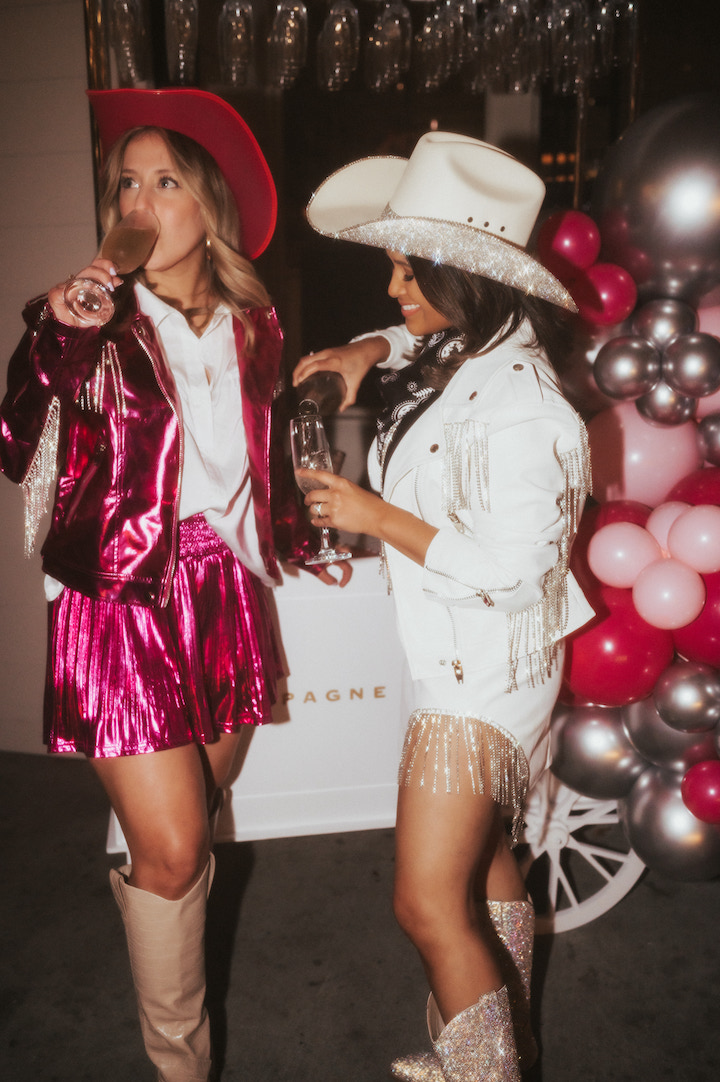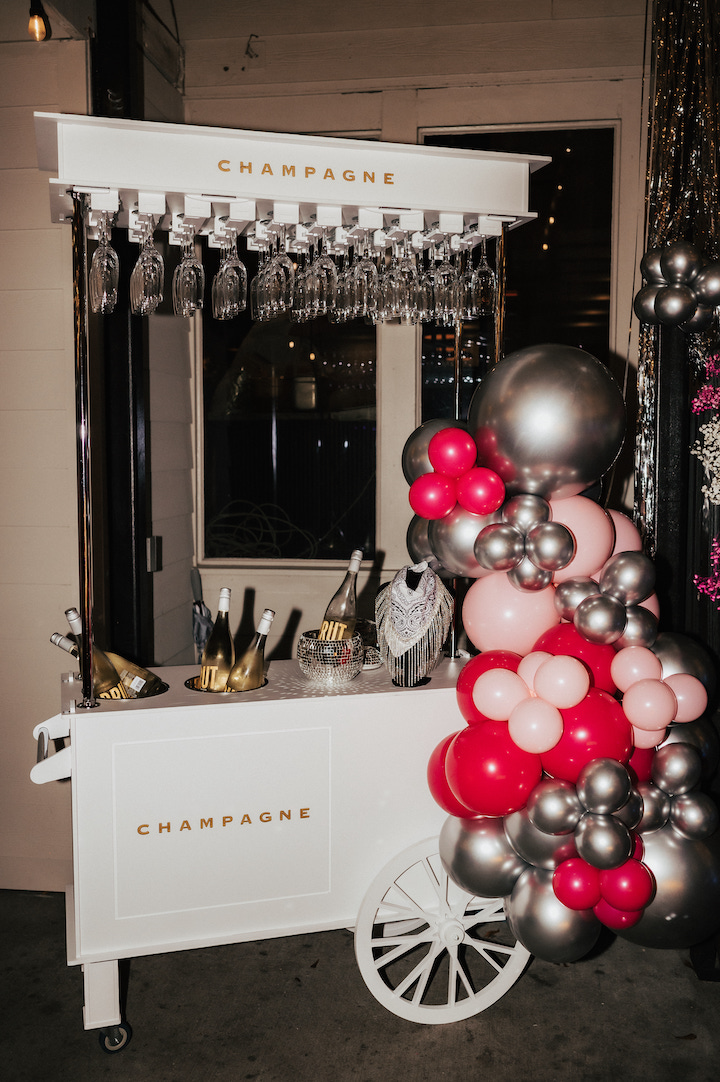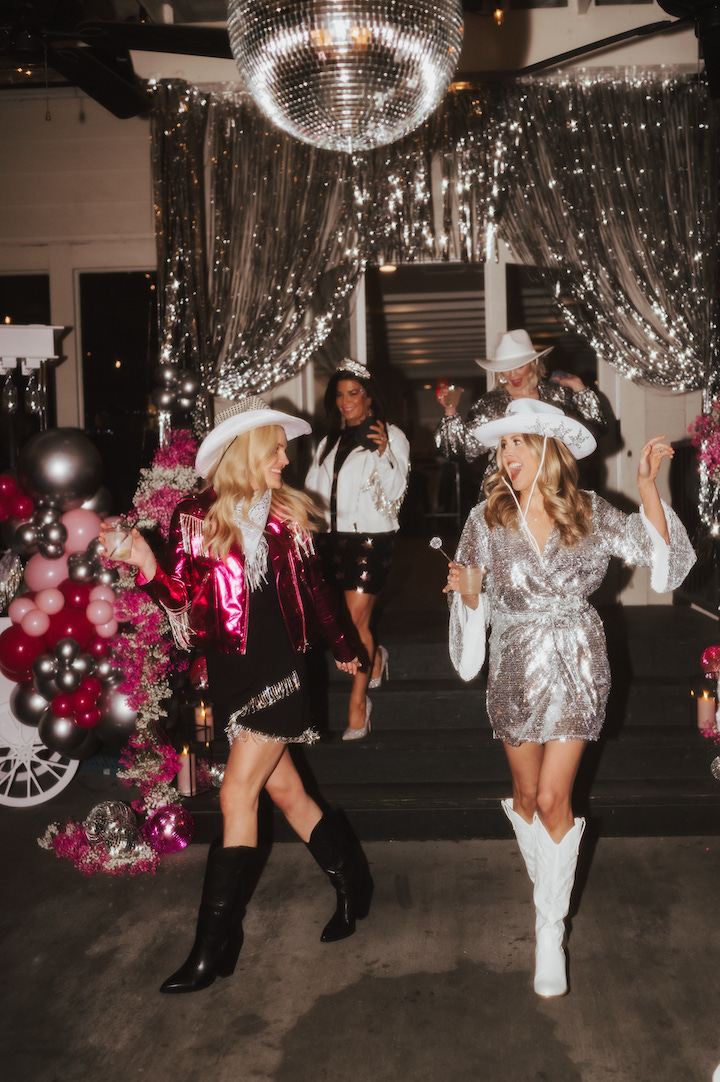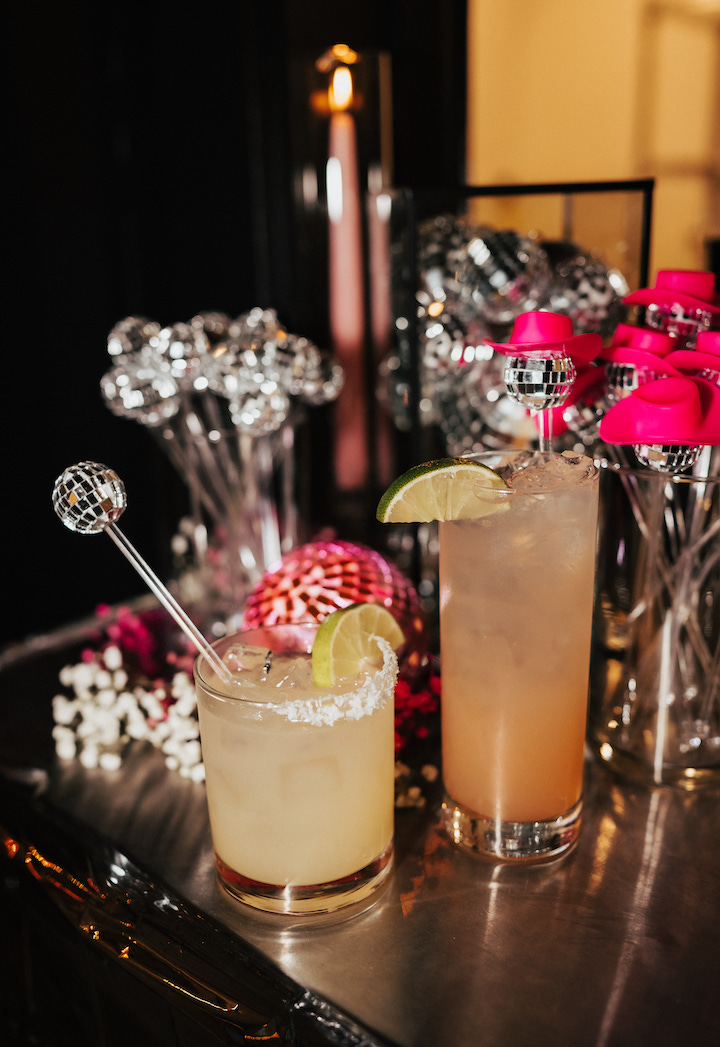 We had a full service bar outside, but we also served two specialty cocktails: a Yeehaw Margarita and a Disco Cowgirl Paloma | How cute are these disco ball drink stirrers? We hot glued tiny pink hats to a few of them to go with the theme.
Unfortunately, I don't have photos of the mouth-watering food, but I hosted the party at Meribo where they serve delicious pizzas and pastas!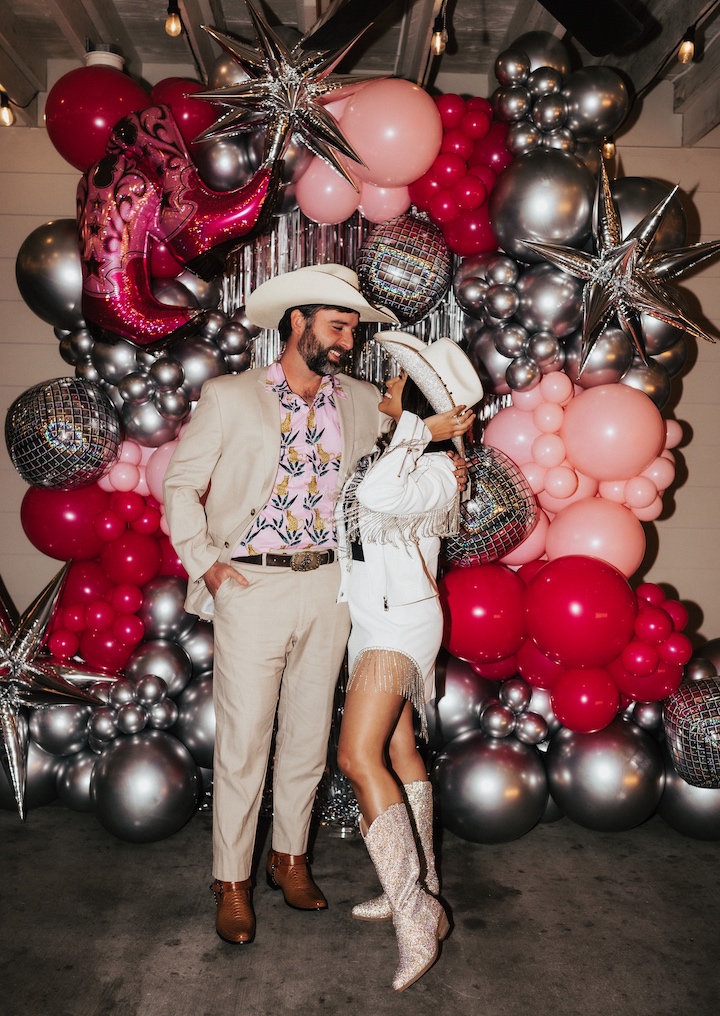 Fun Fact: Blake is wearing the same suit he wore for our wedding five years ago as his costume with some snakeskin cowboy boots that he got from amazon and a western belt buckle. He bought his cowboy hat from a local western store, this one (here) is similar.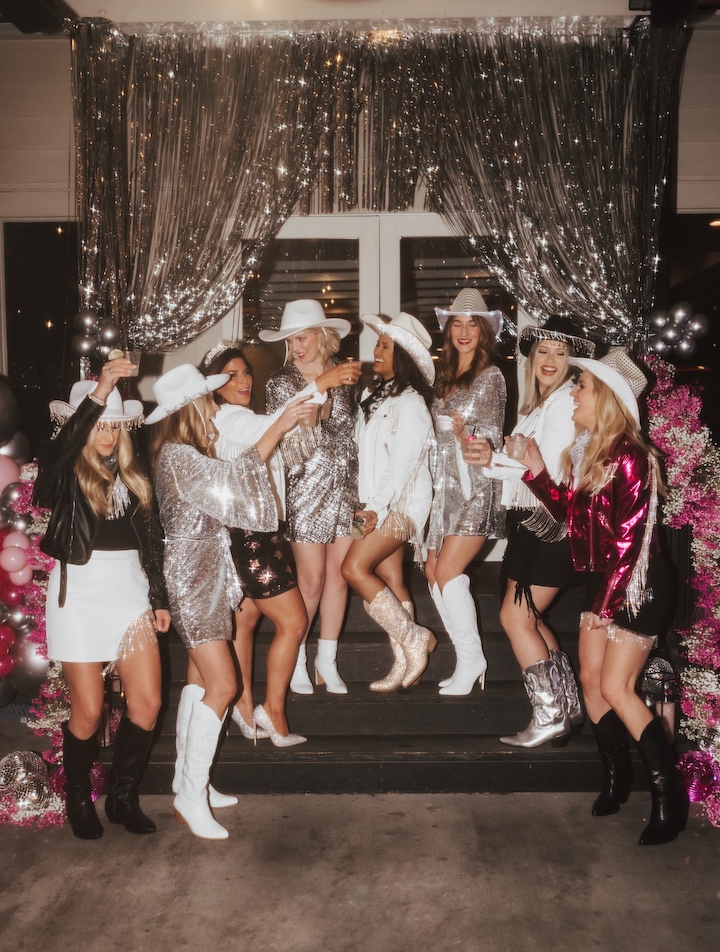 Kismet Cosmetics Glitter Bar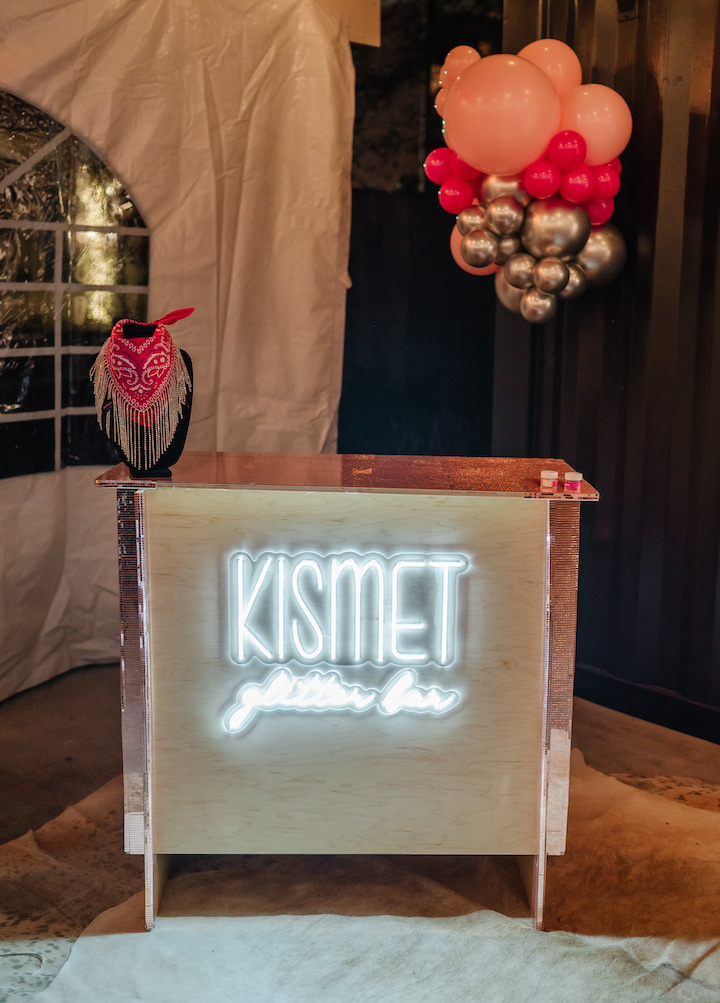 The party featured a glitter bar by @kismetcosmetics where my guests could get their faces bedazzled with my exclusive glitter blends: Stardust & Haute Boogies Nights. We also offered lip touch ups, which was perfect for photos and you could even purchase the glitter and lip colors too. This was such a cool feature of the party that we actually already booked them again for parade day! Super fun for bachelorette parties, kids parties, music festivals, concerts, big events and especially Mardi Gras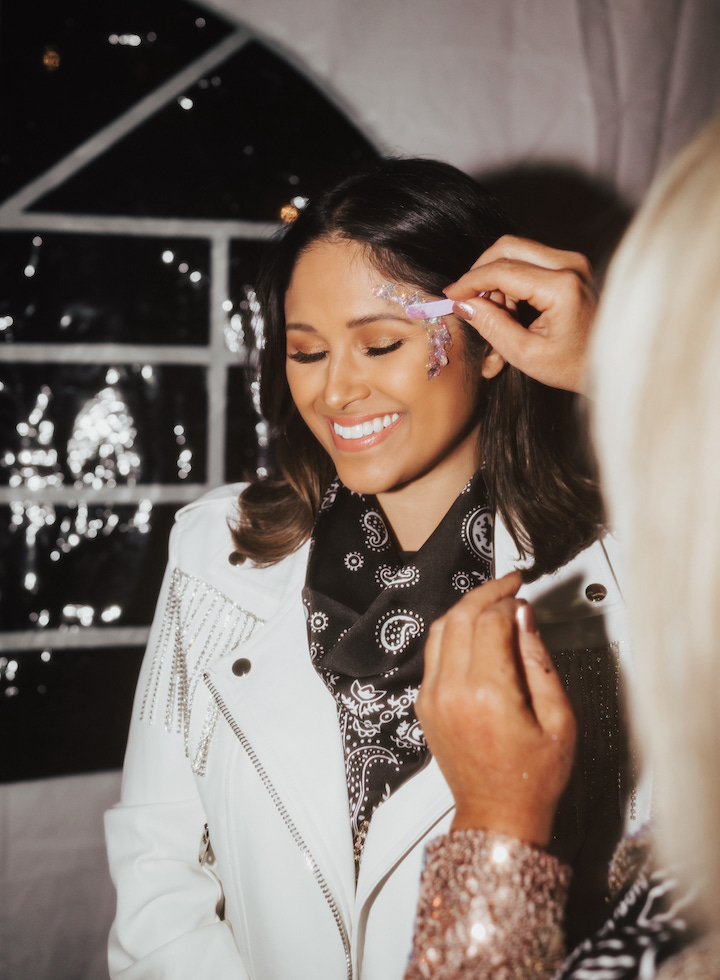 360 Photo Booth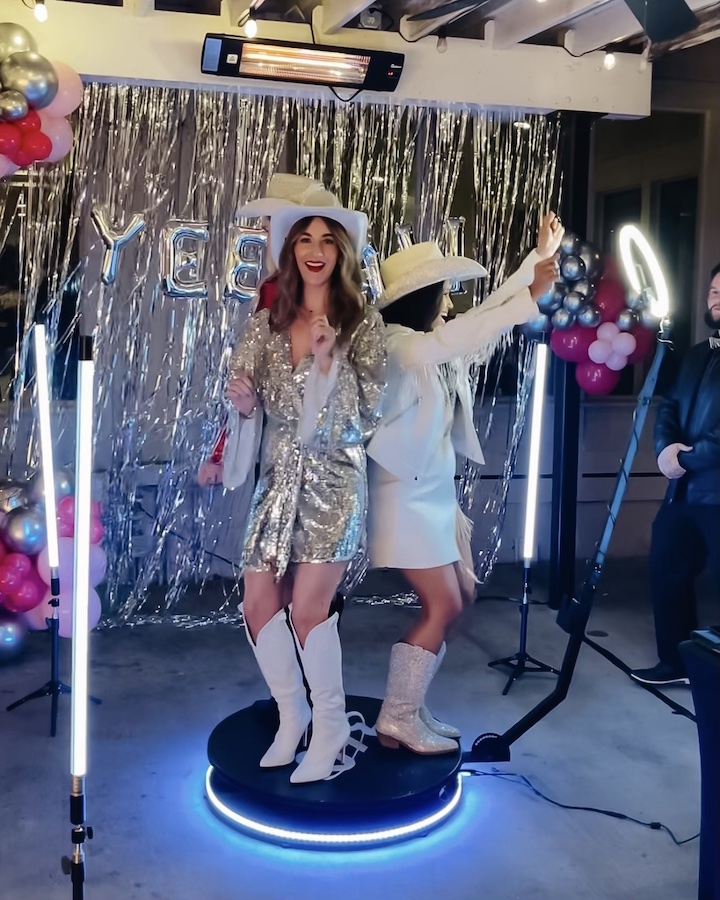 The 360 photo booth that we rented from @b1studiollc was hands down, the best part of the party! We had so much fun dancing and making videos in the photo booth. I highly recommend booking a 360 photo booth for your next big event because it encourages your guests to have fun and get creative. It really helps them let loose and gets them excited to get back on the dance floor. They're also hilarious to watch the next morning. It was seriously such a blast! I keep trying to think of reasons to throw another party just so I can use the 360 photo booth again.
| Shop Disco Cowgirl Party Decor |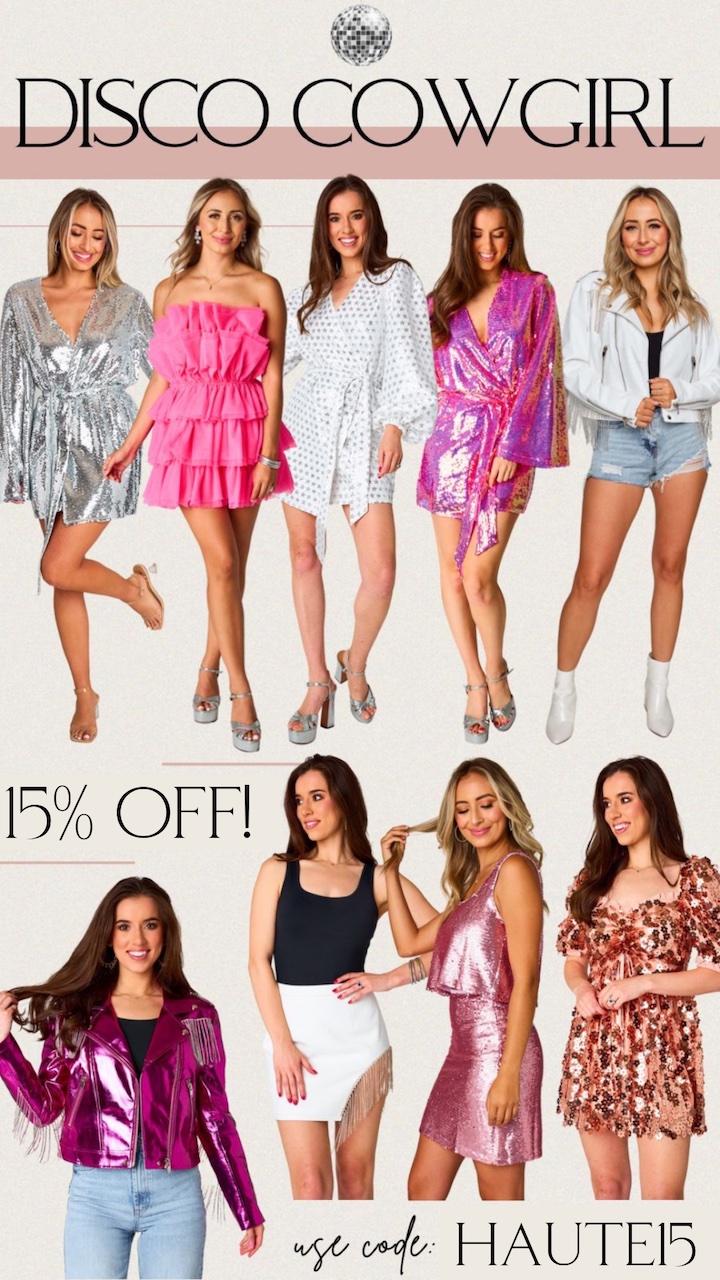 | Shop Our Looks from Buddy Love |
Take 15% OFF | code: HAUTE15

I'm obsessed with these rhinestone cowboy boots! They were absolutely perfect for the party, but they would also be so much fun for concerts, bachelorette parties, Nashville trips and even Vegas! If you're a bride, don't even hesitate for a second to get these boots because trust me, you need them! I also linked to some other snazzy boot options below.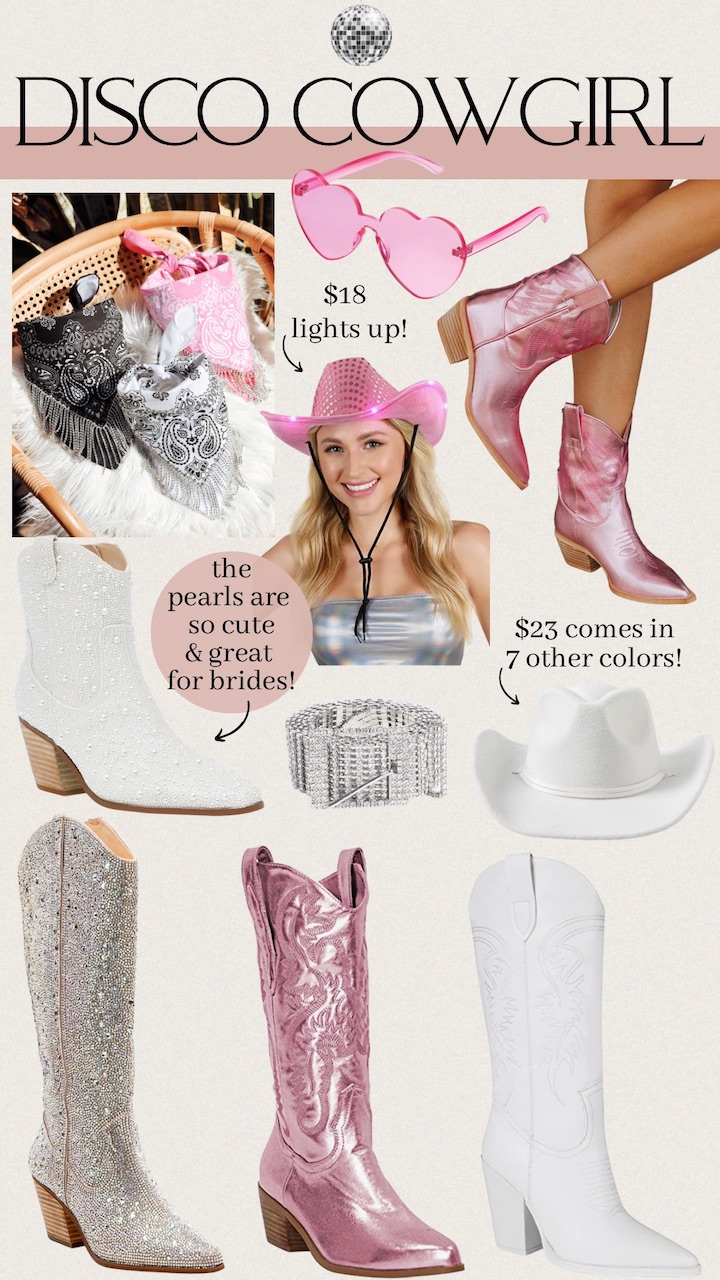 | Shop Disco Cowgirl Accessories |

Thank you to all of the amazing vendors that helped make this such an amazing party!
Vendors:
360 Photo Booth @b1studiollc
Decor @gloevents_bychloe
Balloons @thegracefulhost.shop
Venue @meribopizza
Outfits @shopbuddylove
Champagne Cart🍾 @corksandconfettirentals
Glitter Bar✨ @kismetcosmetics
Accessories @blingdana_
DJ @black_cat_madisonvlle
BOOGIE letters @alphalitneworleans
Photos @aperture_photos_co