Hi everyone, as promised today I'm sharing third holiday party hairstyle with TRESemmé for New Year's Eve along with my own version of the milkmaid braid! If you feel more comfortable with your hair down instead of up, not to worry because I will also be sharing how I recreated lead TRESemmé stylist, Tyler Laswell's bombshell waves using his tips and tricks minus the hair extensions in case you don't own any! So stay tuned for that tomorrow!
| Shop The Hair Products Used To Create These Holiday Hairstyle |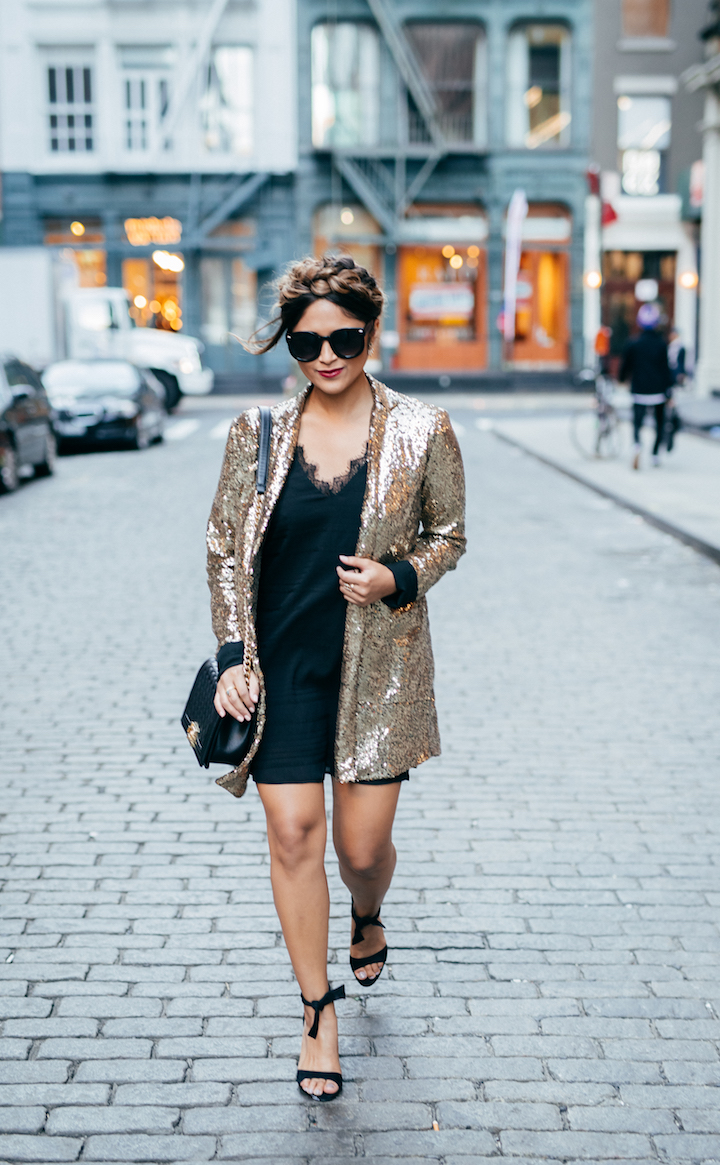 For my last hairstyle, I wanted to try something different and new, but still true to my personal style so we went for a braided style, naturally. Tyler suggested a milkmaid braid, but not just any milkmaid braid…no, we went for a double!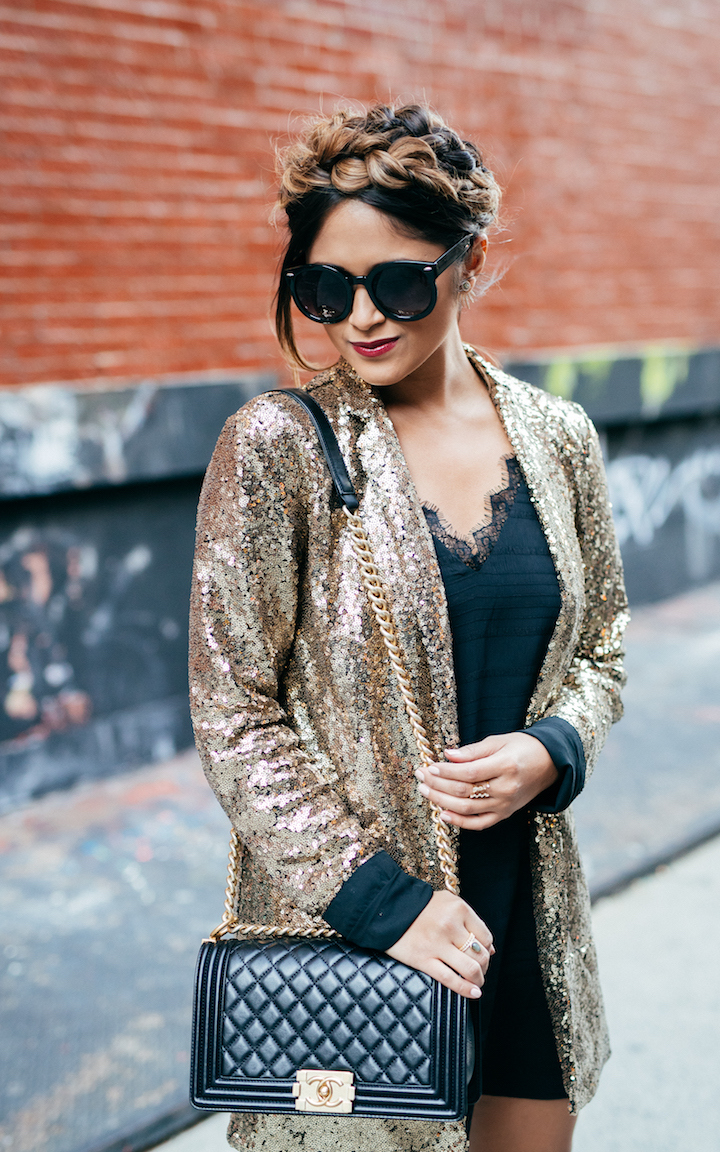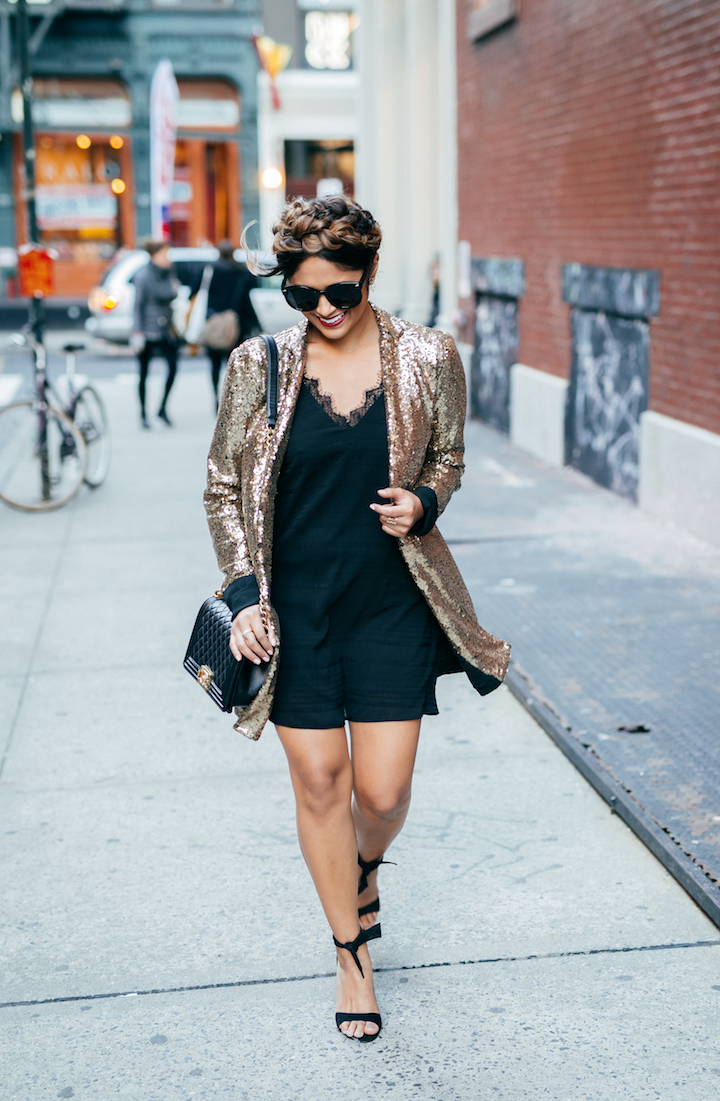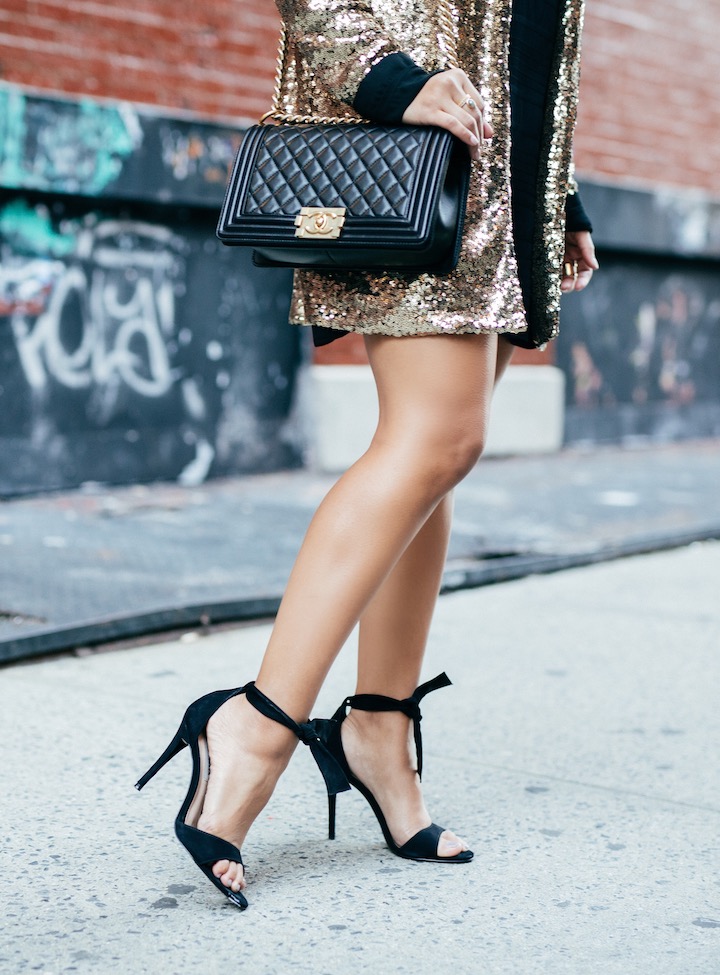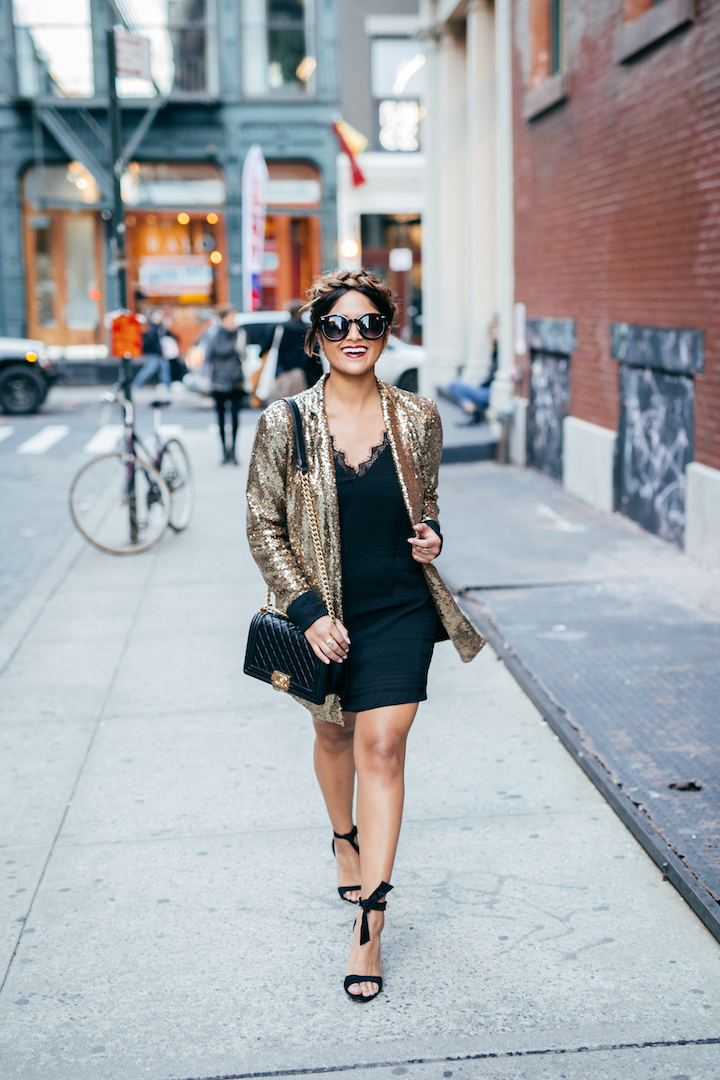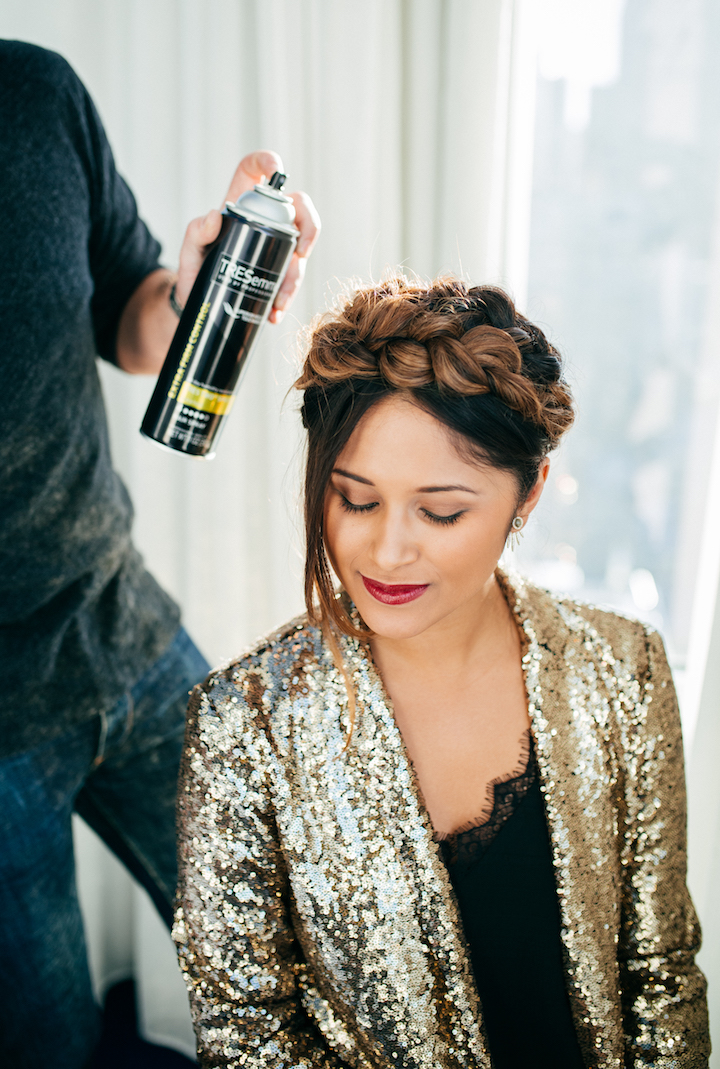 Tyler's MILK MAID BRAID: TIPS AND TRICKS
1. Just like the double braid, I love to braid two to three day unwashed hair. By this point it has a few different layers of products in it and this makes my life so much easier when creating a textured braid. If you are looking to create this kind of texture on day one all you have to do is combine TRESemmé TRES TWO Mega Hold Mousse and TRESemmé TRES TWO Extra Hold Gel and apply evenly throughout your hair. Rough dry using your hands and a blow dryer. If the hair still feels too soft, repeat this until you can feel the products in the hair.
2. It might sound crazy but I love to use hot rollers before I create this style. The rollers give amazing lift at the roots which prevents the hair from feeling flat in the areas that aren't braided and secondly, soft curl or wave is much easier to braid then straight hair. Basically, if you have a lot of layers in your hair, it prevents that crazy layer from popping straight out of the braid and looking all kinds of crazy.
3. Be sure you have a mix of both long and short bobby pins in your tool box. Sometimes you just need to wrangle one small piece of hair and a long pin is too much. Also, I like to mix my colors to nobody wants to see a black pin sticking our of a gorgeous caramel highlight.
4. I love to use TRESemmé TRES TWO Mega Hold Hairspray to lock in and tame any unruly bits in just about every style I do. With braids, it is more important then ever to make sure that you hold the hairspray as far away as you can this prevent wet spot and keeps you braid looking purposely undone.
| Shop This Look |
Outfit: Little Black Dress (similar here & here) | Similar Sequined Blazer (love this sequined bomber jacket) | Black Bowtye Heels (similar here) | Chanel Boy Bag (similar here)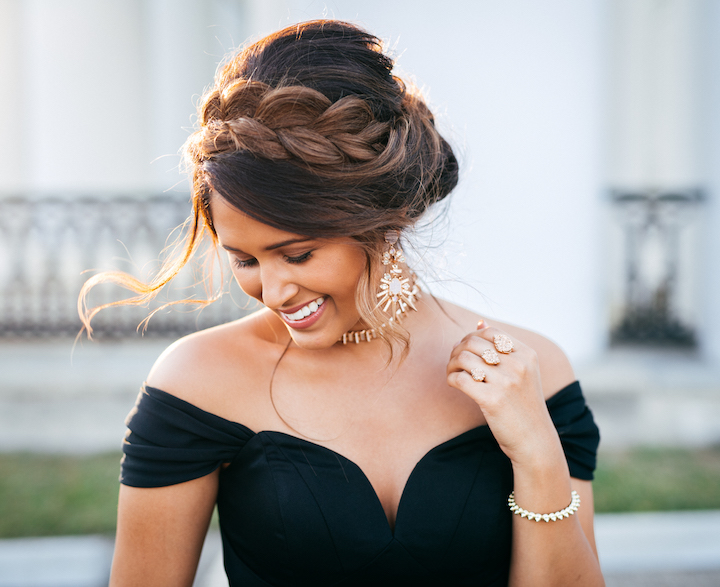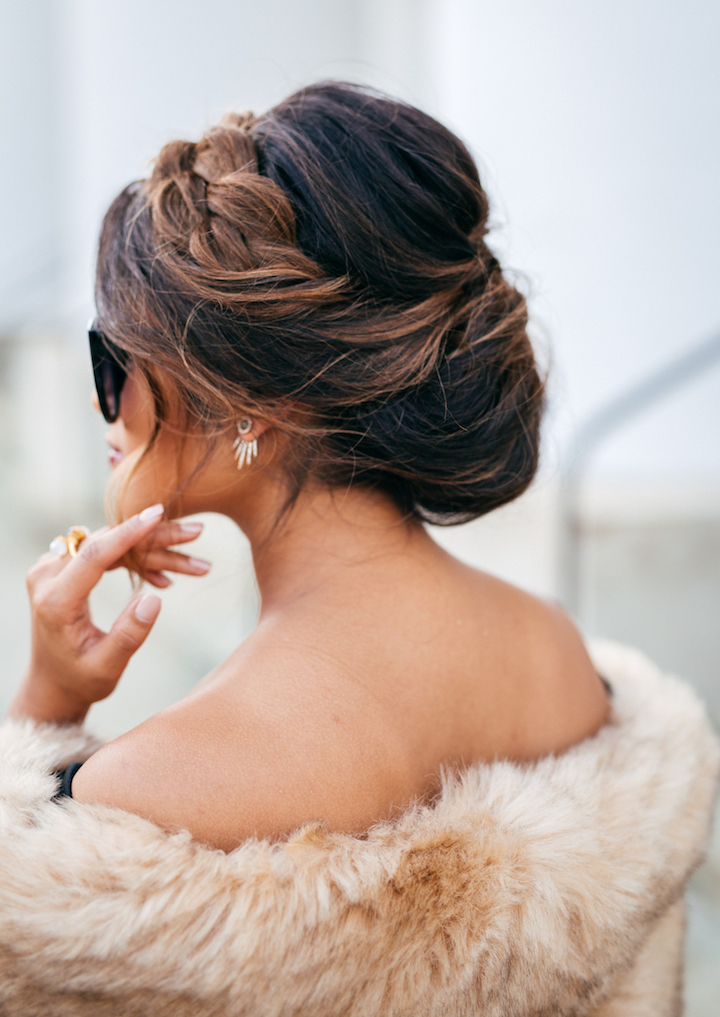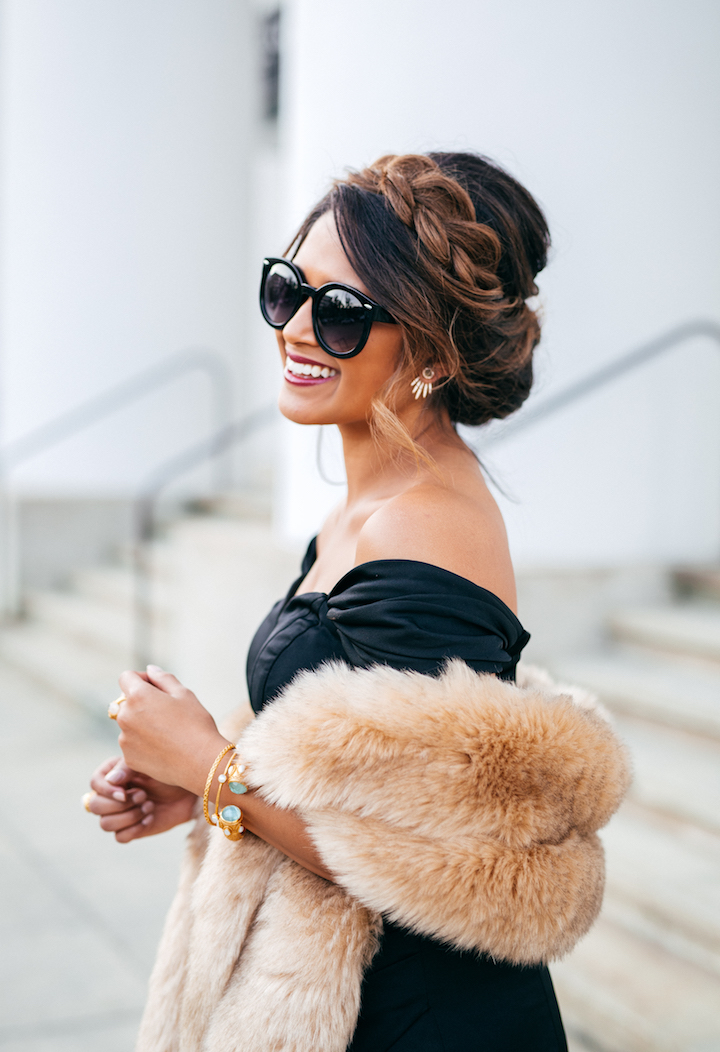 If a double milkmaid braid sounds too complex for you to try on your own. You can try my version too. I basically followed the first half Tyler's steps as far as prep, but instead of clipping the hair extensions into my hair and using both the extensions and my natural hair to create the braid, I braided the set of hair extensions into one full, thick braid before clipping it into my hair. I hid all of the clips at the ends of the extensions beneath a low bun at the nape of my neck. I used bobby pins to secure everything and of course plenty of TRESemmé TRES TWO Mega Hold Hairspray.
I left a couple of pieces out in front and gave the hairstyle plenty of lift, texture and volume throughout to keep it looking perfectly undone!
See outfit details here—> Holiday Party Style: Glam Off The Shoulder Gown
Don't miss my last post with TRESemmé bombshell waves and double braids here—> Holiday Party Hairstyles With TRESemmé
All photos were taken by Lainey Reed at the beautiful NoMo SoHo Hotel in NYC.
This post is in partnership with TRESemmé, a brand I love. All opinions and selections here are my own. Thank you for supporting the affiliate posts who make this blog possible.