Hi everyone and Happy Workout Wednesday! Today I'm sharing 3 ways to motivate yourself to workout because let's be real here…we don't get as excited for the gym as we do for our favorite TV show or dinner at our favorite restaurant.
Get motivational materials! Buy an outfit you love and want to look great in or find one in your closet and try it on once a week or when needed! I would say that I have about 10 outfits already hanging in my closet that I would love to wear, but are too tight or make me feel self-conscious. I haven't done this in a while, but over the summer I found a little white romper that I wanted to fit in/look amazing in for a specific event. I also owned a couple pairs of denim shorts that I wanted to look better in/not have to unbutton after lunch! So before I started a fitness and eating plan, I tried everything on and gave myself weekly goals. At the end of each week, I would try the pieces on to see my progress and I felt more and more motivated every time I saw how much I had progressed.
Reward yourself! As if being fit and healthy isn't rewarding enough…well it's not. Haha! At least it's not when I'm thinking about how much nicer it would be to sleep in a little longer instead of hitting the gym. Sometimes I need a little more than that so I tell myself that if I get up and go to the gym 3-4 times that week, I'll treat myself to something I want on Sunday. The treat can be anything from brunch, dessert, clothing, or even just an hour longer of sleep.
Look the part! You know the saying, "fake it until you make it"? Obviously we aren't going to paint abs on ourselves, but it helps to have super cute active wear outfits to get you excited for going to the gym.
Speaking of looking the part, I've rounded up some of my favorite fitness looks and accessories below!
| Shop This Jacket |

I love how this bomber jacket gives my workout looks a sleek and edgy vibe! Plus it's super warm in case you go running outside during these winter months. I'm wearing the size XS.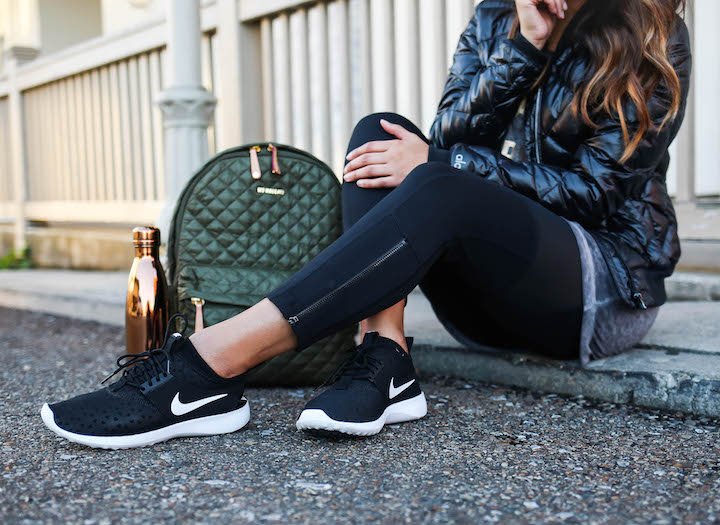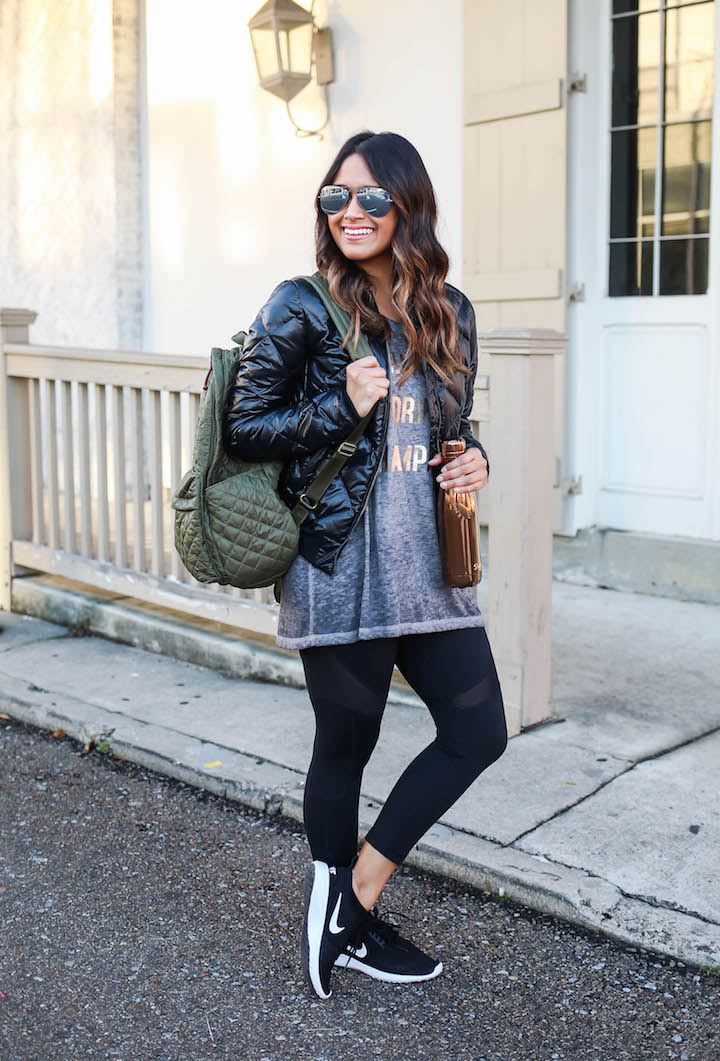 | Shop This Look |

Outfit: Zella 'Cabana' Crop Leggings | Metro Backpack c/o MZ Wallace | Alo Idol Bomber Jacket (also available here) | Black Nike Tennis Shoes | Similar Graphic  Tee | Silver Ray-Ban Aviators | Metallic S'well Water Bottle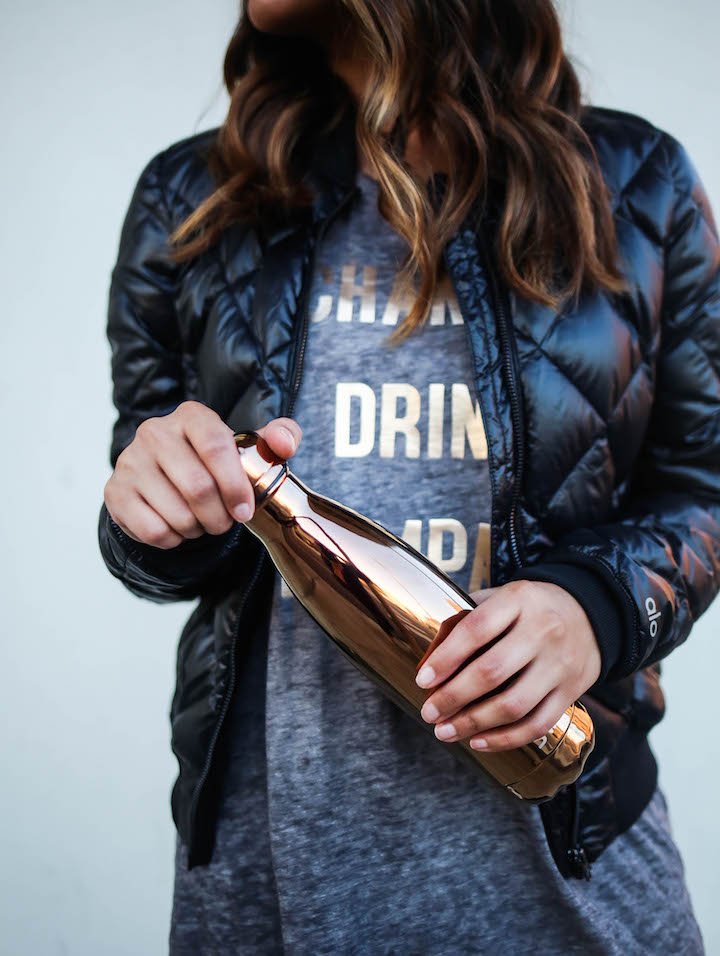 | Shop S'well Bottles |

I'm not going to lie to you… I literally only bought this S'well metallic water bottle because it makes me feel cooler, but isn't that what all of this is about anyway! lol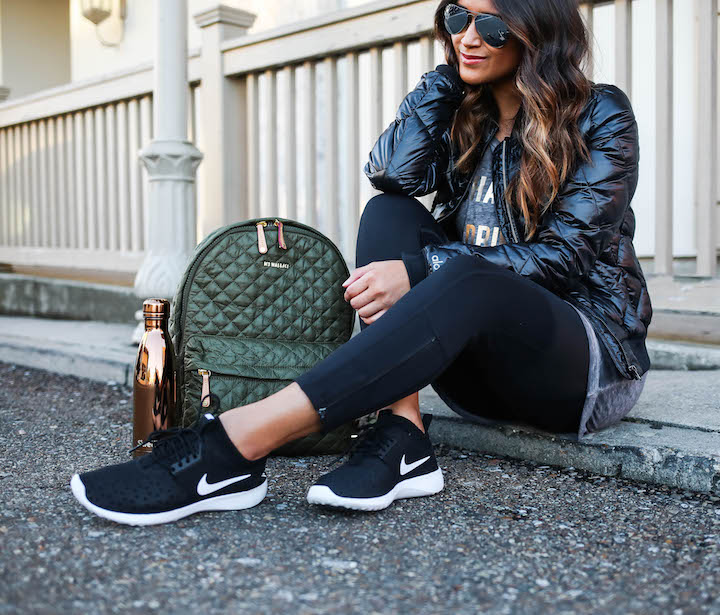 | Shop Zella Leggings |

If you have never tried Zella leggings from Nordstrom, you are missing out because they super comfortable while still figure flattering and are much more affordable than most high quality active wear brands out there. On top of that, they also make cute trendy styles like these 'Cabana' Crop Leggings that I'm wearing in these photos. I wear the size S in most of their leggings, but could probably squeeze into the size small for a couple of pairs.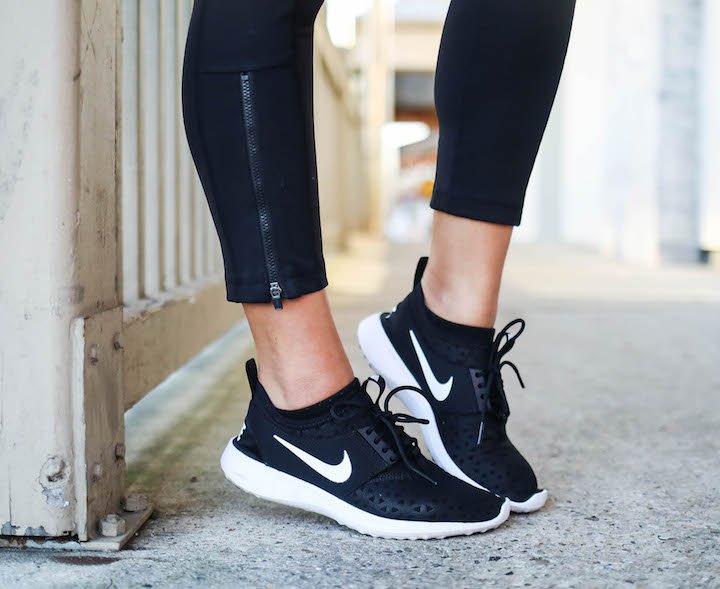 | Shop Black Nike Running Shoes |

I love wearing black running shoes with my black leggings because I think it makes the whole outfit appear more sleek and slimming.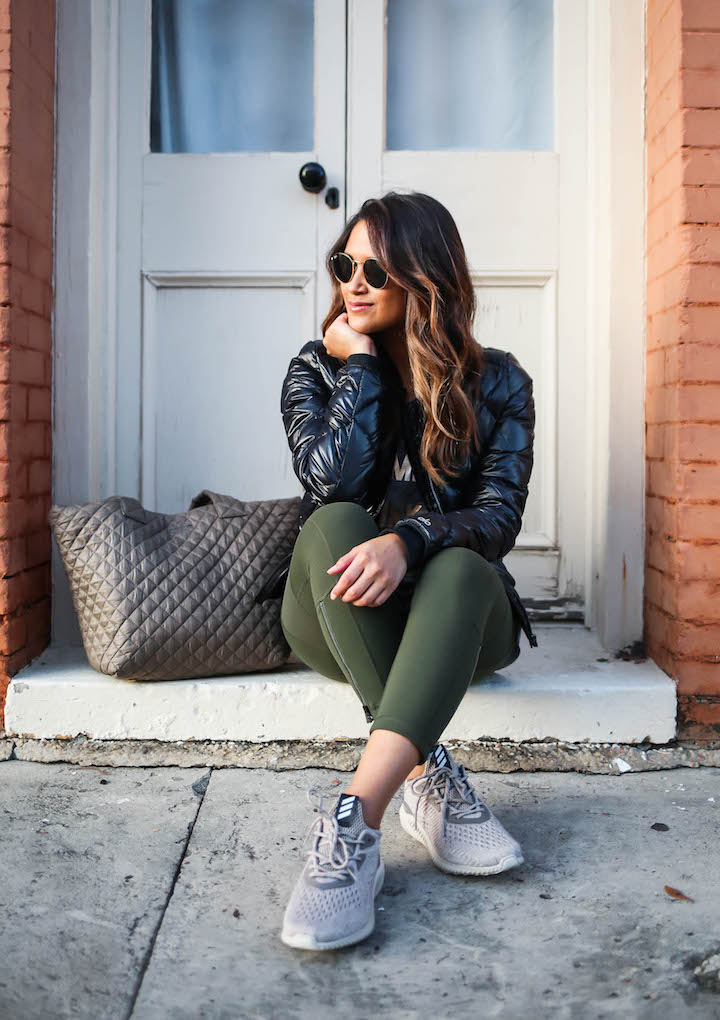 The Adidas AlphaBounce Running Shoes
| Shop Adidas |

The latest Adidas AlphaBounce running shoes are my new jam especially in this tan color! I've been wearing these in the black, but I liked them so much that when I saw the tan I had to scoop them up too! See my review on them here—> Three Ways To Help You Stay And Motivated During the Holidays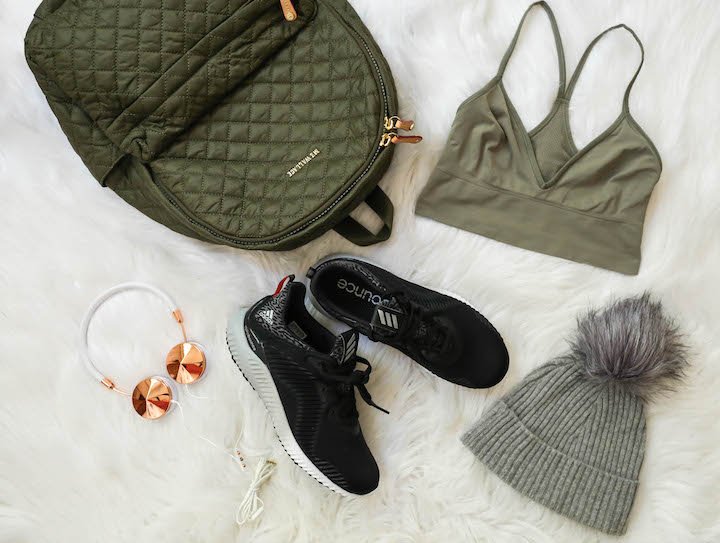 These bras are great for the gym as well as everyday wear! Just make sure to size up!
| Shop These Accessories |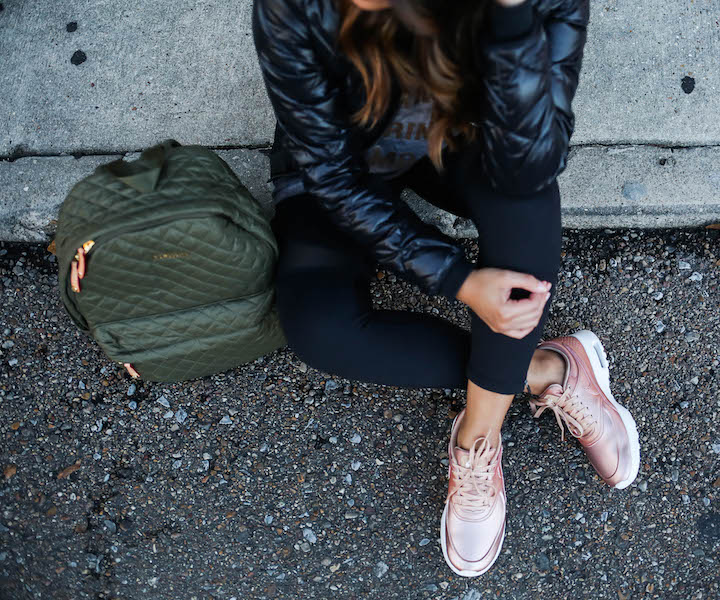 These exact Air Max Thea SE shoes in rose gold are sold out, but they're are available in other colors here—>Nike Air Max Thea & here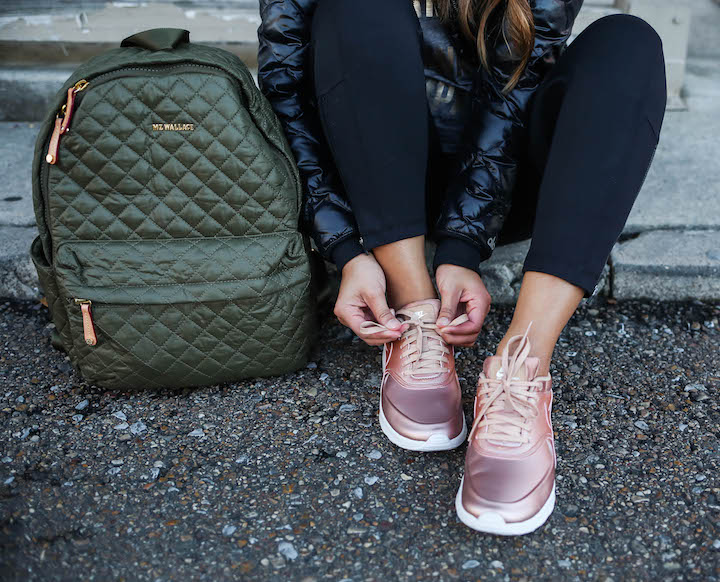 | Shop The MZ Wallace Backpack |