"Oh the weather outside is warm and sunny," which means that it's officially Christmas season in Louisiana so I'm sharing tips and ideas on how to decorate your home for the holidays in today's post. If you live in the south, you know exactly what I mean by the confusing weather! It was literally 75 degrees when I picked out this Christmas tree a week ago! Speaking of my tree, this is actually my first Christmas tree in my own home so it's kind of a big deal! However, as most of you know, I live in a super small home (1,200 sq ft) so I decided to go for a mini tree that wouldn't look overwhelming in my dining room. He stands at about 3 feet tall, which ended up looking a little underwhelming so I placed a tin bucket inside of a large woven basket and set him on top. Then, I wrapped the bottom part of the tree with a white faux fur tree skirt from Hobby Lobby to hide the tree stand and bucket. Those simple tasks turned into quite the process though because the tree is crooked and insanely prickly. It took three of us, some laughing breaks and a couple of battle scars to get him stand up right. I seriously felt like I was being attacked by a monster porky pine while we decorated the tree. Note to self: pay attention to the type of tree I buy next year!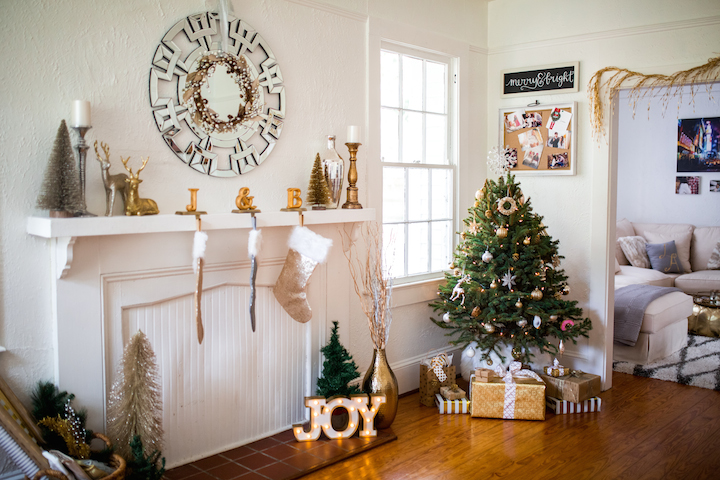 Decor Details: gold letters, gold garland & small gold tree found at Hobby Lobby | framed cork board, small white chalk board & round mirror (similar round mirror) found at Home Goods | Wrapping Paper, Round Basket w/ Chalkboard, Holiday Natural Berry Wreath, Holiday Joy Lit Marquee Sign, Holiday Metal Stocking Holder, Gold Laying Deer, Bottle Brush Tree & Gold Vase at Target | Mini Green Tree
| Shop My Holiday Decor |

Since this is my first tree, I obviously didn't have any ornaments so I stocked up on a couple of special statement ornaments during the World Market sale last week and purchased a variety of small gold ones from Target. I also found my gold sequined stockings with faux fur trim at World Market.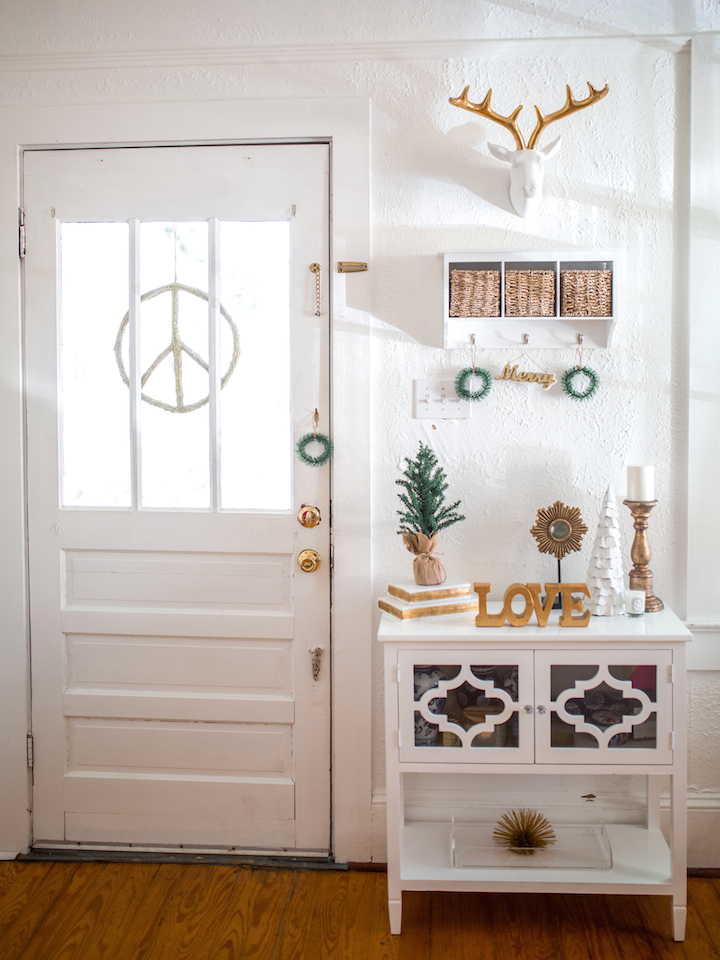 Decor Details: Personalized Lucite Serving Tray c/o White Elephant Designs | Gold Urchin, Entryway Organizer Shelf, Merry & Green Wreath Ornaments found at Target | Mini Tree With Burlap found in dollar section of Target | White Glitter Tree, Stag Head with Metallic Antlers, Candle Holder & Metallic Starburst found at World Market | Gold Love Accent Piece found at Hobby Lobby | Entryway Table & White & Gold Books found at Home Goods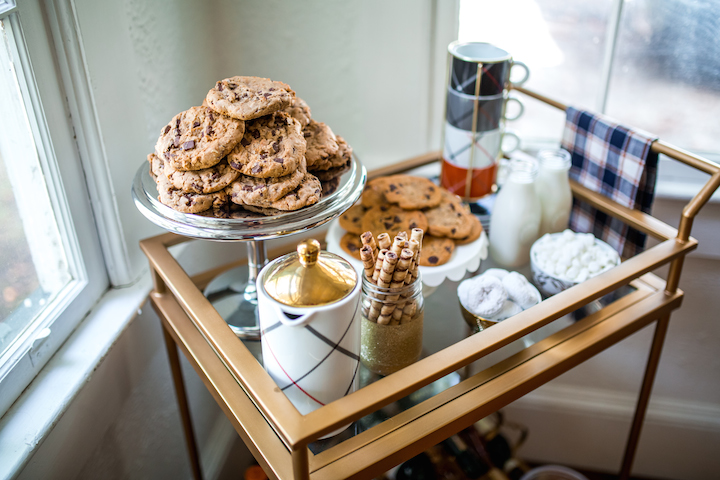 Decor Details: Gold Bar Cart , French Press, Plaid Mugs, Plaid Linen & Porcelain Plaid Bowls found at Target | Tall Cake Stand (borrowed) | Ivory Cake Stand |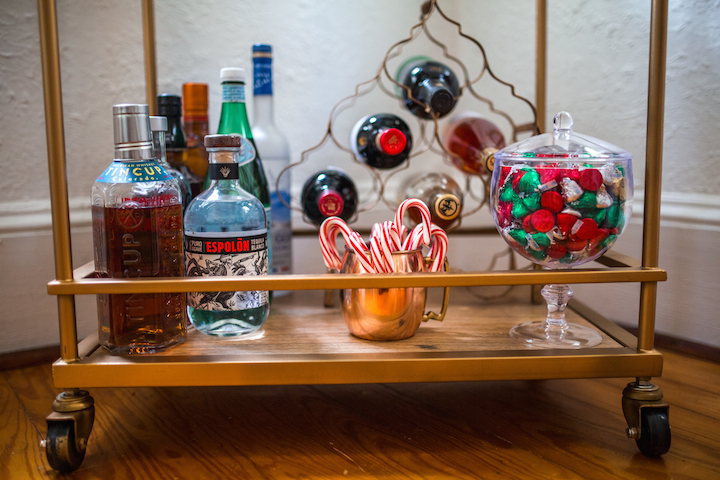 Decor Details: Moscow Mule Mug | 8 Bottle Wine Rack | Tall Candy Vessel found at Target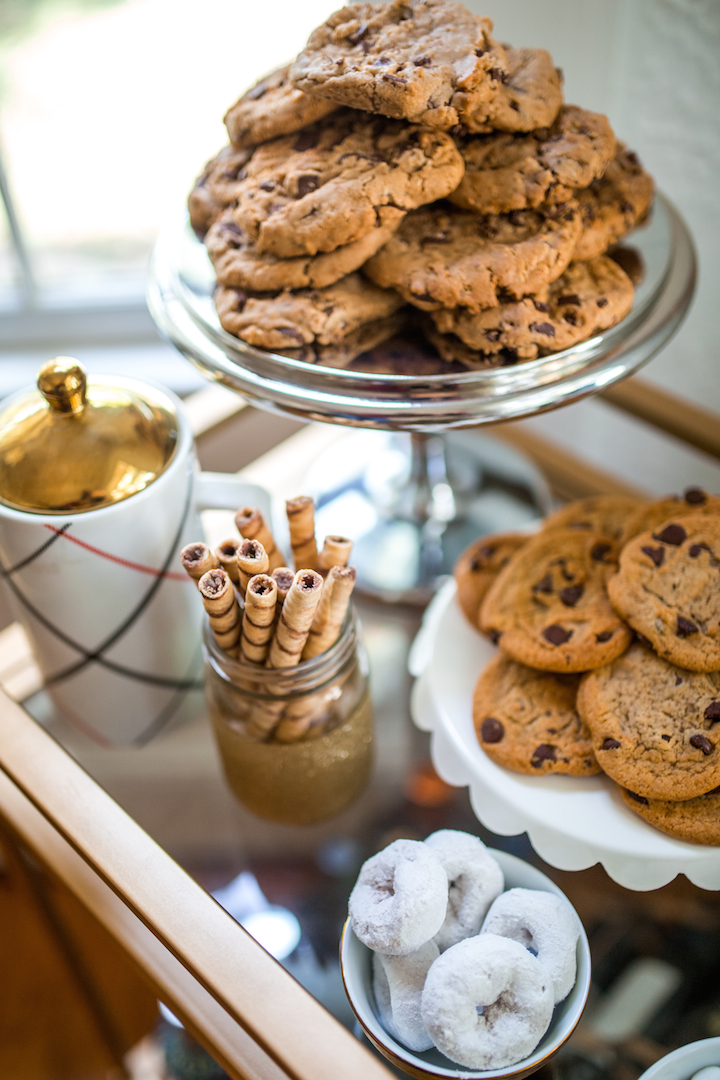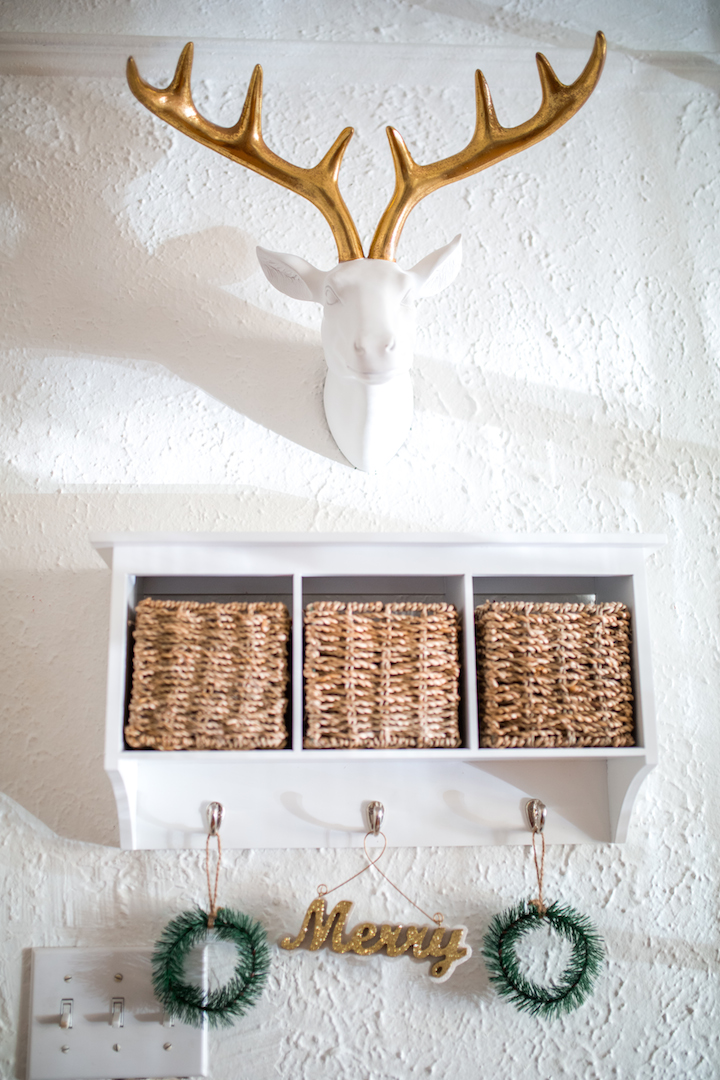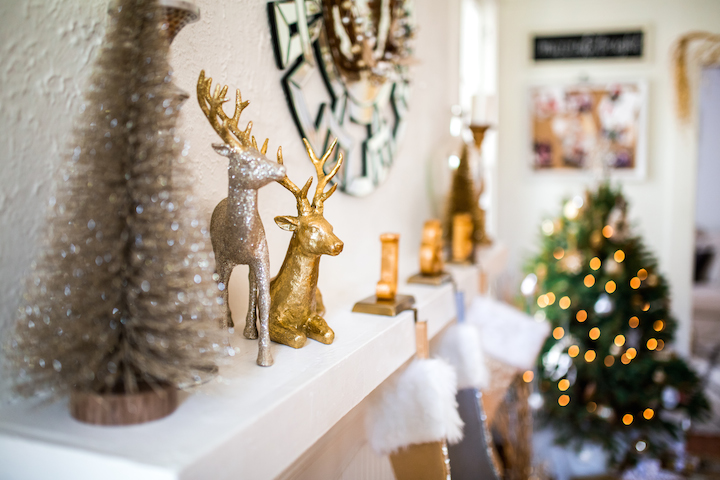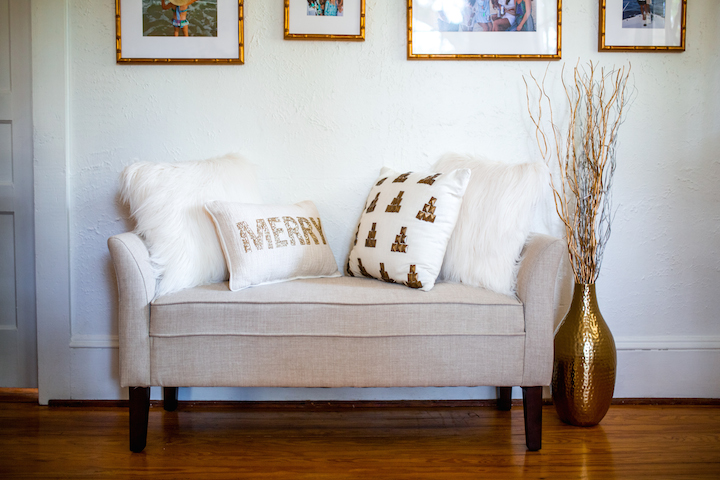 Decor Details: Settee Bench, Faux Fur Pillows, Merry Pillow, Nate Berkus Pillow & Gold Vase found at Target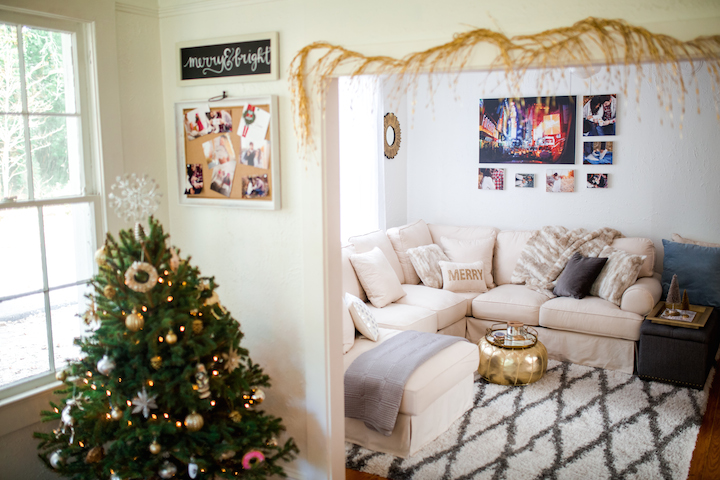 Decor Details: White Sectional Couch purchased from Ashley Furniture 2 years ago | Gold Mirrored Tabletop Tray, Fuax Fur Pillows & Faux Fur Throw found at World Market | Gold Moraccan Pouf | Area Rug found at Home Goods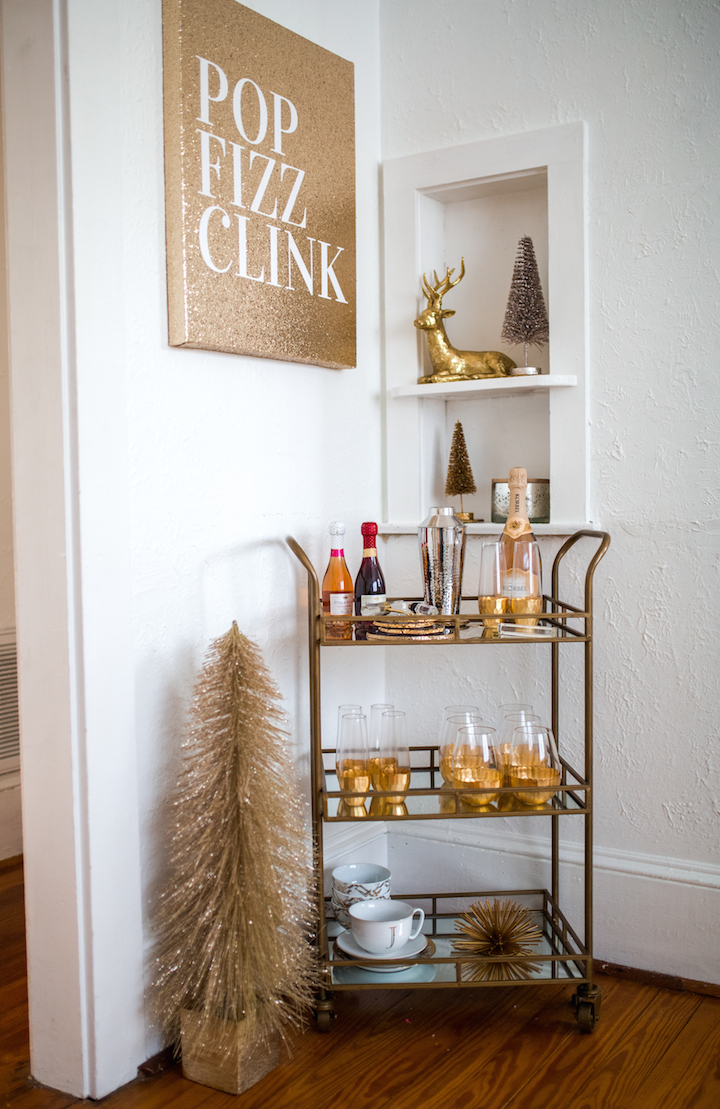 Decor Details: Mini Glitter Christmas Trees & Pop Fizz Clink Art found at Home Goods | Bar Tools & Gold Sea Urchin found at Target | 3-tiered Rolling Bar Cart, Gold Stemless Wine Glasses & Champagne Flutes found at World Market | Agate Coasters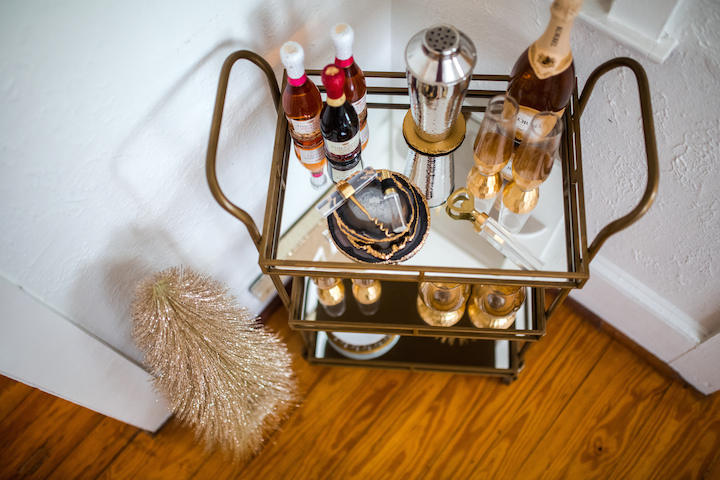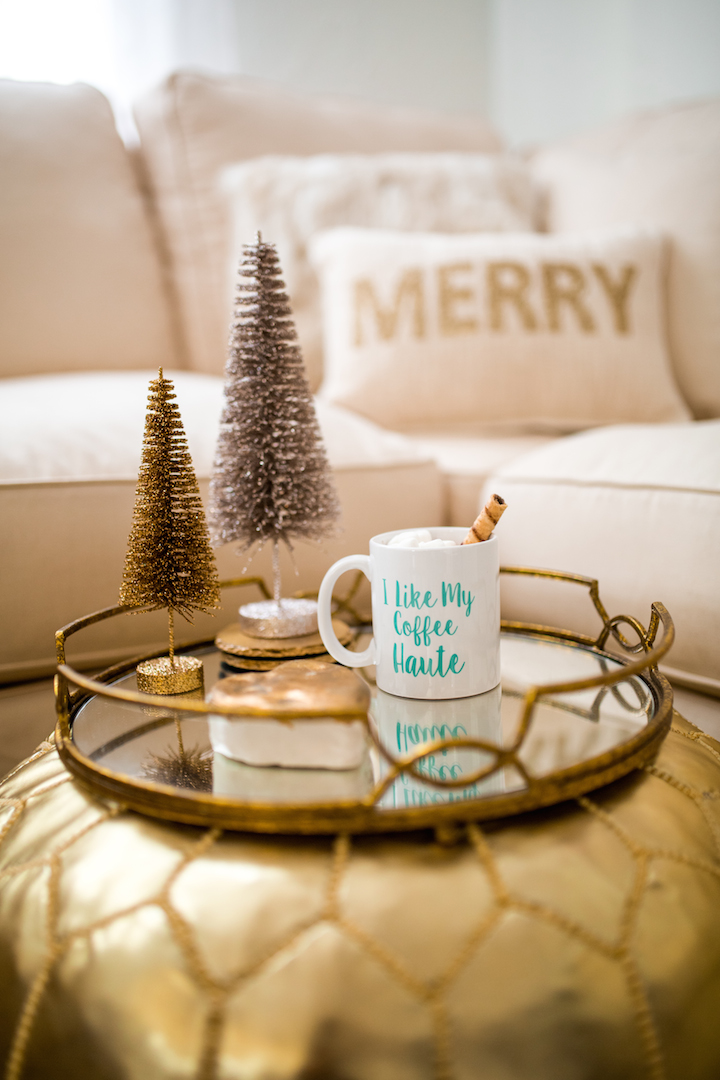 I Like My Coffee Haute Mug (designed by Haute Off The Rack in collaboration with White Elephant Designs)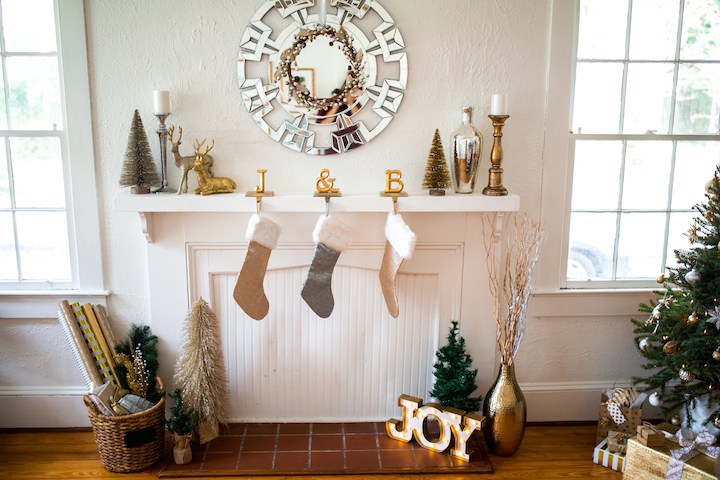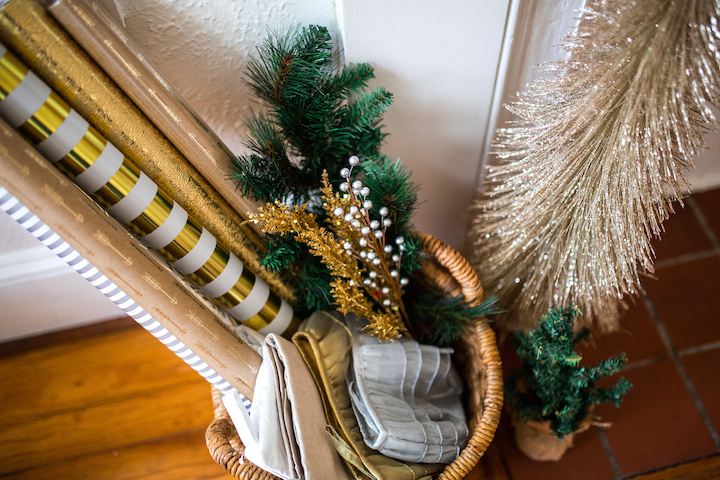 I have zero storage in my home so I found that the perfect way to store my wrapping paper and supplies is to keep them all on display along with rest of my decor in a round woven basket. I added a little little holiday flair with gold twigs and silver berries from Hobby Lobby.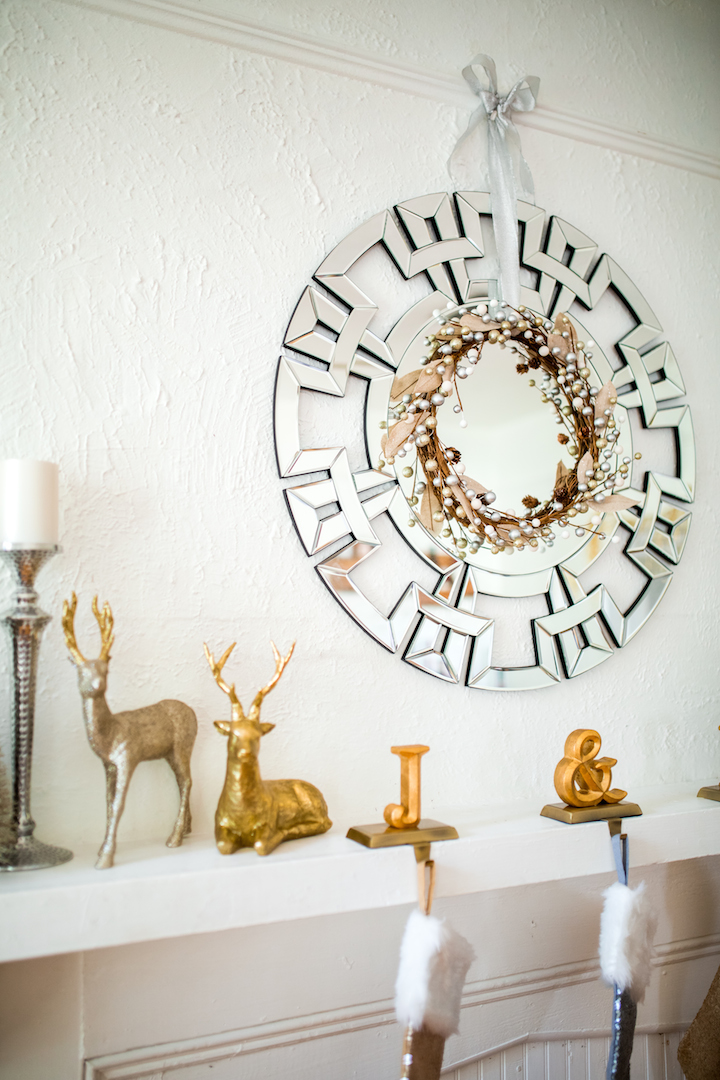 I found this beautiful Natural Berry Wreath at Target and hung it over my round mirror with silver ribbon for a soft and subtle, festive look. For my stocking holders, I used plaid gold metal stocking holders and placed my gold letters from Hobby Lobby on top of them. Speaking of stockings, check out stocking stuffer ideas below!

| Stocking Stuffers For Her |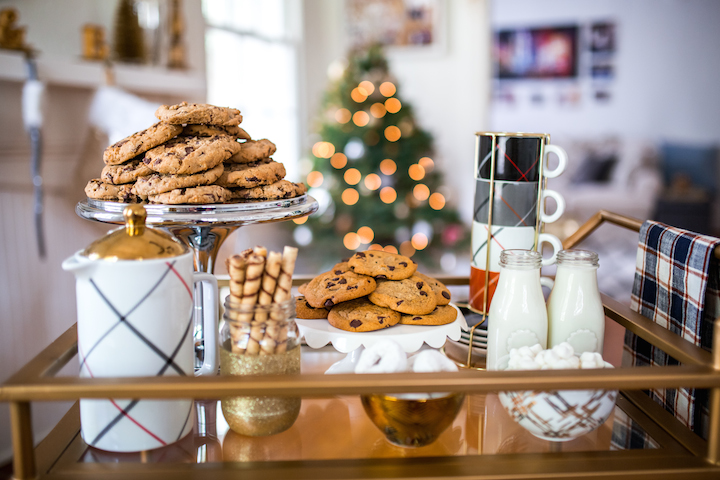 Decorate your bar cart with a cookie bar and hot chocolate station for Santa on Christmas Eve or for your guests at a holiday party. This is also super fun to set up and invite all of your friends over for a wrapping party!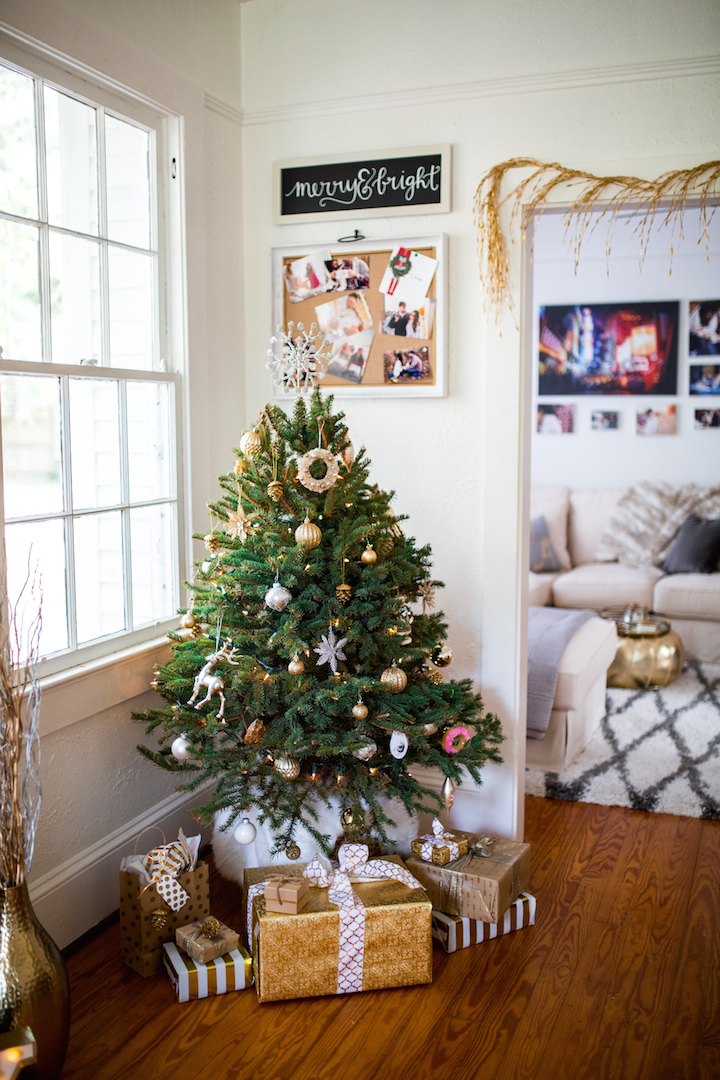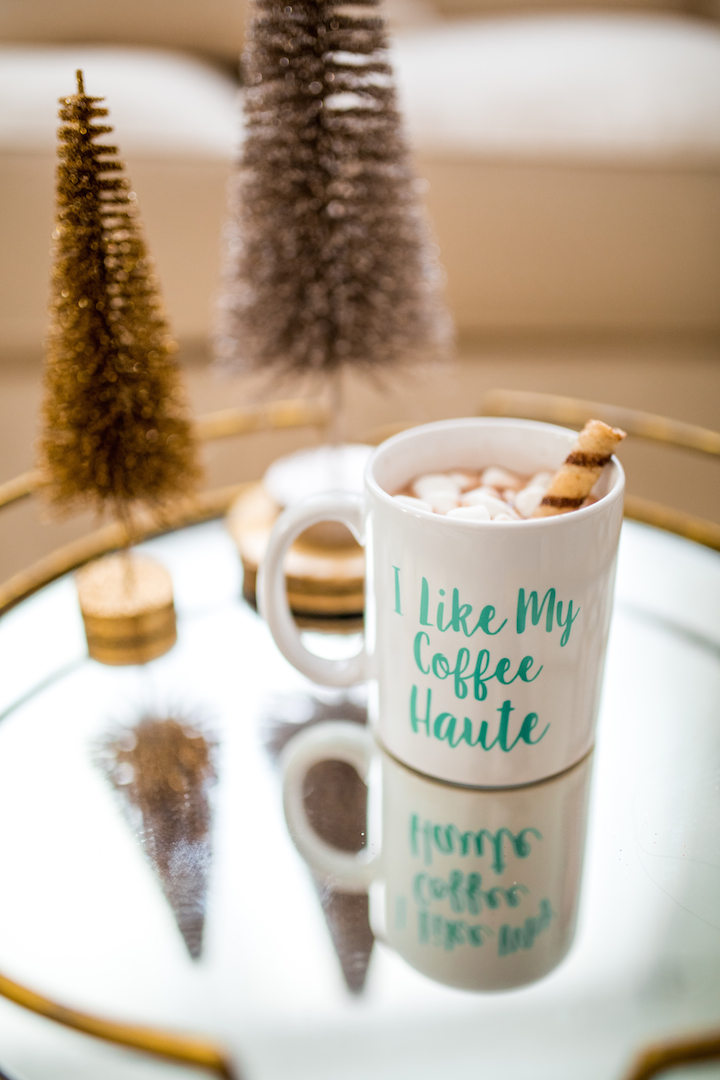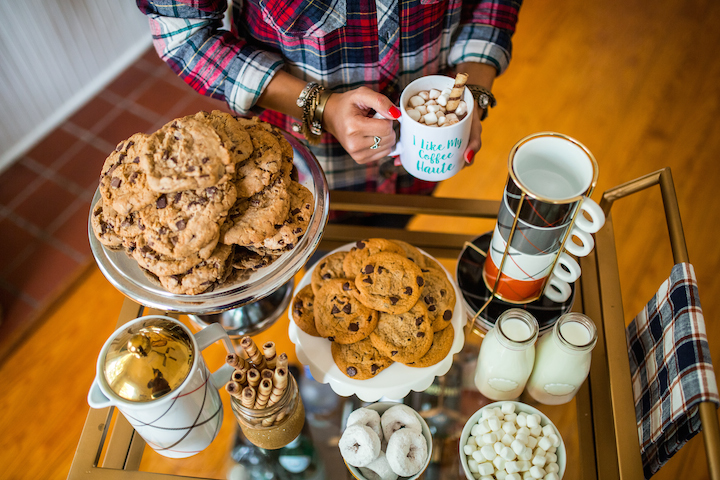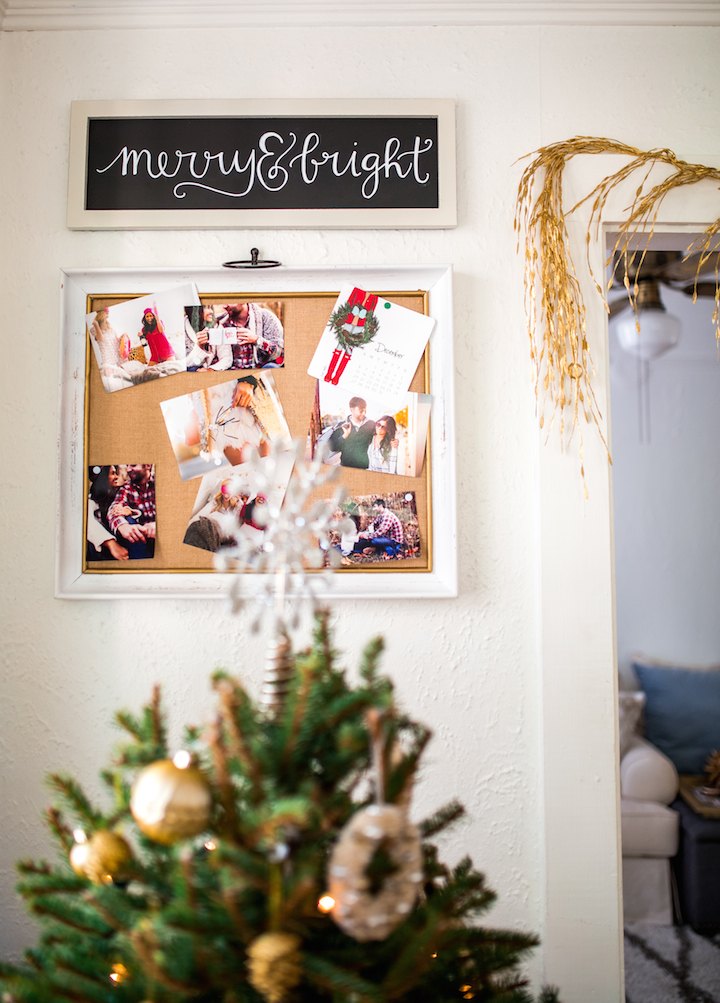 I found this framed cork board and small chalkboard at Home Goods to hang above my tree for all of my holiday cards and photos. Then, I had my talented neighbor, Anna Ledonne write a Christmas phrase on it with white chalk marker to complete the full look.
Photos by: Lainey Reed Photography
Hi everyone, I hope you enjoyed my post today with tips and ideas on how to decorate your home for the holidays. Keep your eyes out for more holiday decor posts and gift guides. Also, don't miss yesterday's post featuring my first of many holiday party looks–> Holiday Braided Updo Hairstyle
See my most recent home decor posts here-> Friendsgiving Party Idea & outdoor decor here–> How To Host A Friendsgiving Bonfire
Thanks so much to my best friend, Haley Defraites for helping me decorate my house for Christmas. She literally spent two day whole days with preparing my house for this shoot all while putting up with me and her almost two-year-old. She even wrapped all the presents beneath my tree with one hand and a crying child in her lap. This was right after the child spilled chocolate milk all over my white rug. Don't worry, it came out so she's still my fairy god child!