I'm so excited to share my second Friendsgiving party idea with you. In case you missed my first post, you can view it here–> How To Host A Friendsgiving Bonfire 
My last post was for a fun and cozy outdoor party, but this post is about how to host an intimate Friendsgiving party inside your home. It's the perfect type of gathering to host in place of your monthly (or) weekly wine night.
Friendsgiving Party Checklist:
Snacks (I recommend something sweet, something salty and something fresh) | Wine | Champagne | Serving Trays | Serving Stands | Serving Utensils Plates | Snack Bowls | Wine Glasses | Champagne Glasses | Bar Tools | Linens | Table Runner or Table Cloth | Candles | Pumpkins | Coasters | Fresh Flowers | Table Centerpiece | Coffee & of course plenty of friends!
Fun Snack Idea: Have all of your guests bring their favorite homemade dip and/or dessert and print out their recipes to exchange with everyone. It's the perfect thing to do right before the holidays so that you have plenty of appetizer dish and dessert options to bring to parties! Plus who doesn't want to stuff their faces with dip, chips, dessert and wine all night! Am I right?! If you decide to go this route, I would add additional snack table to your set up to avoid a cluttered dining table.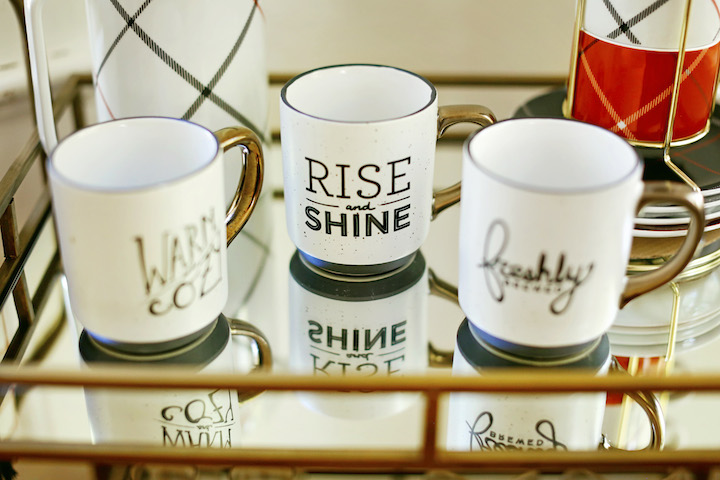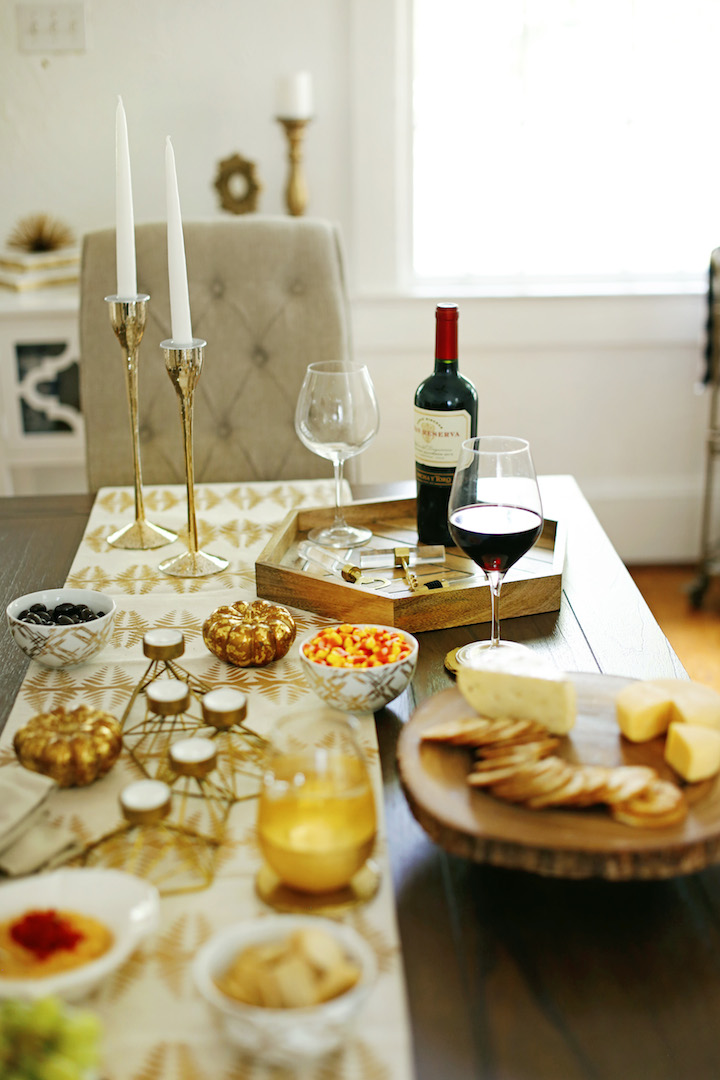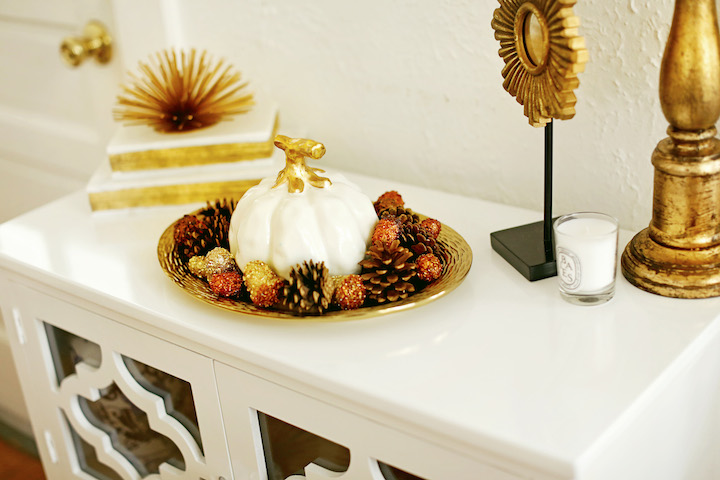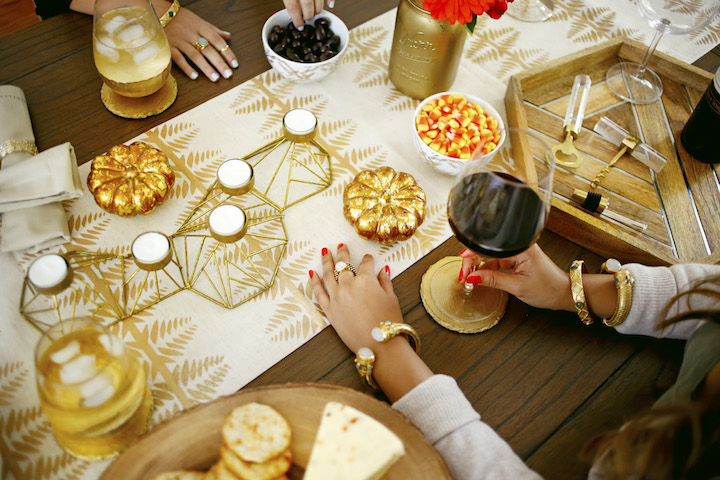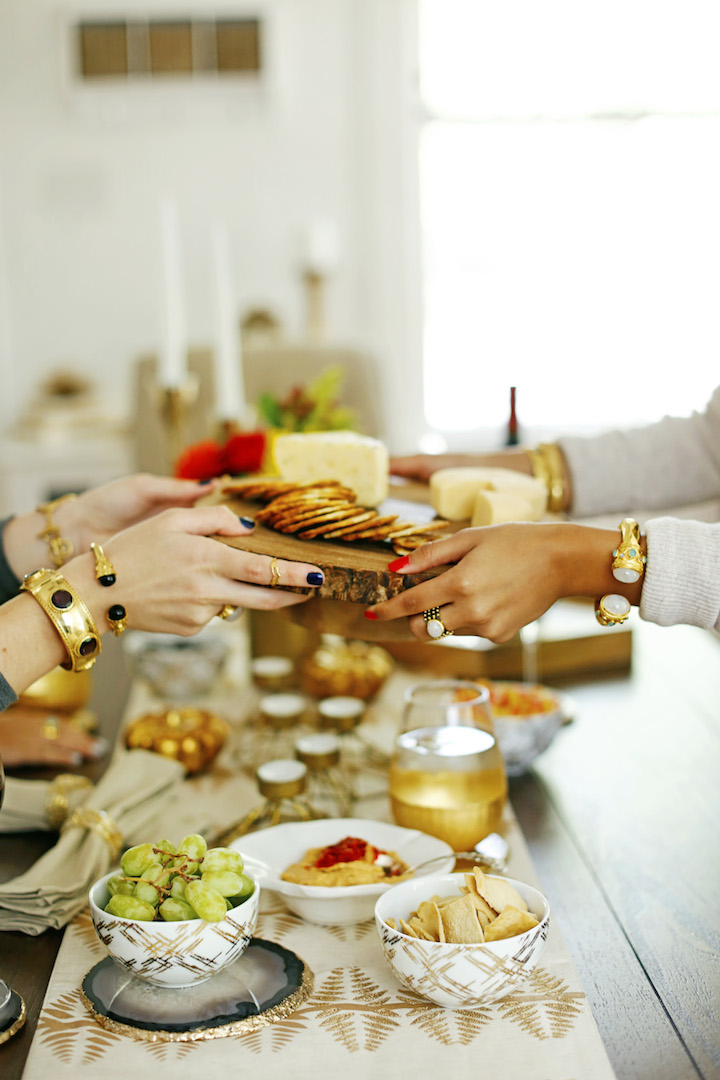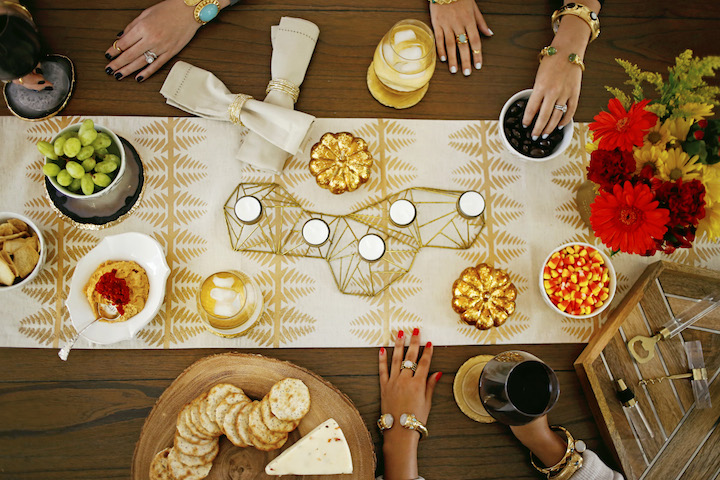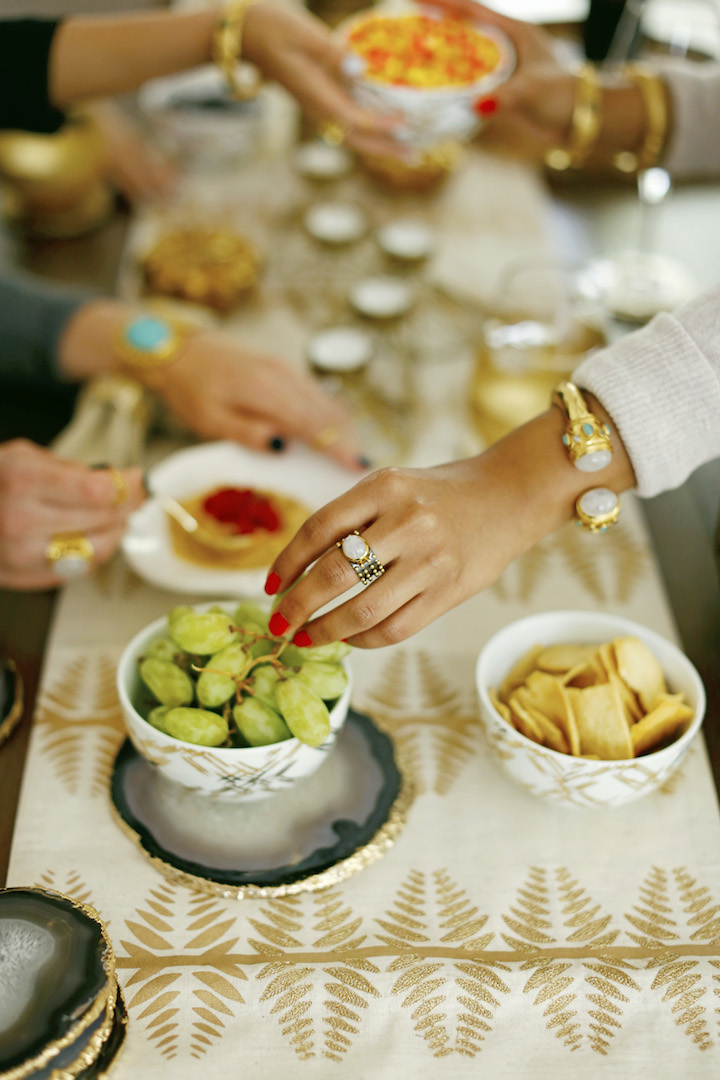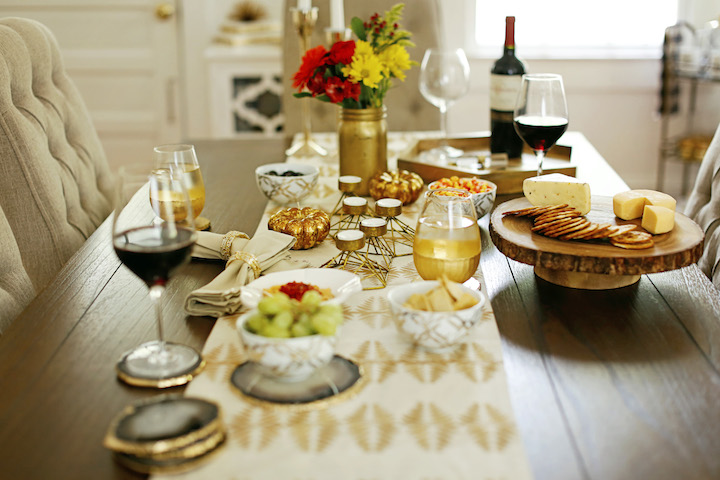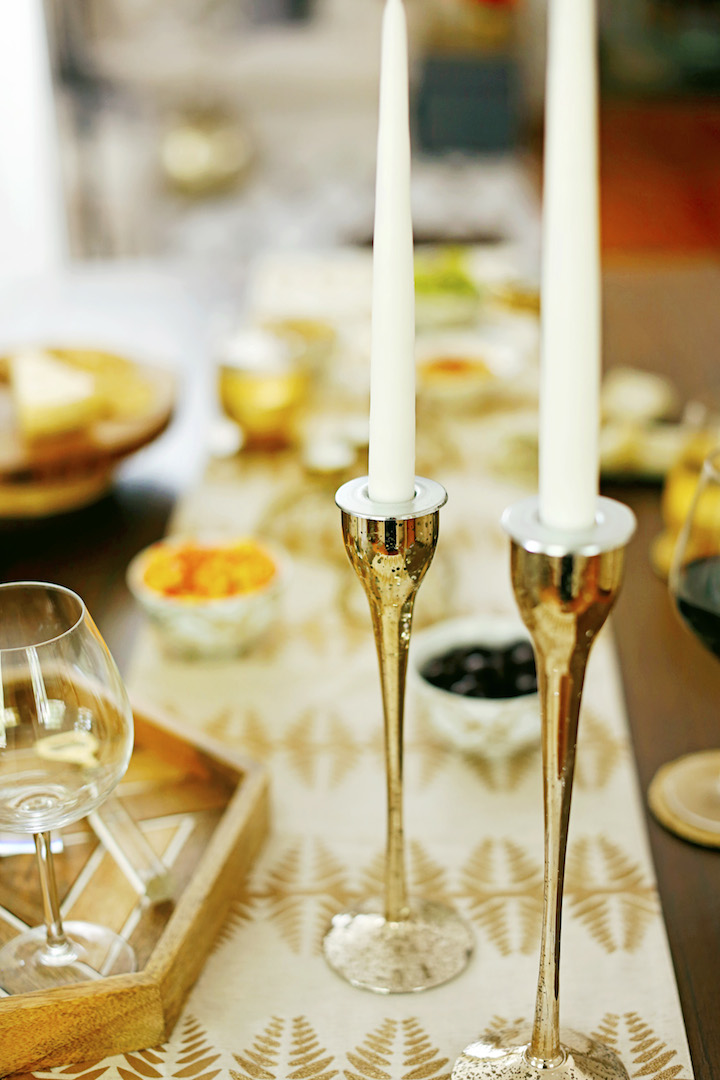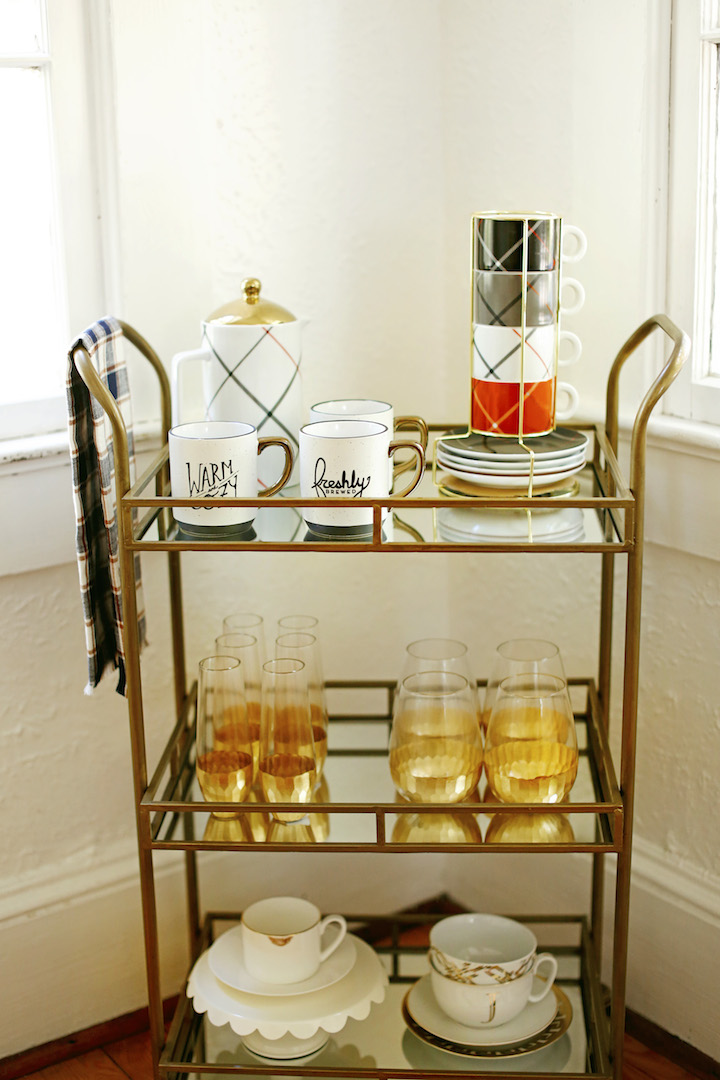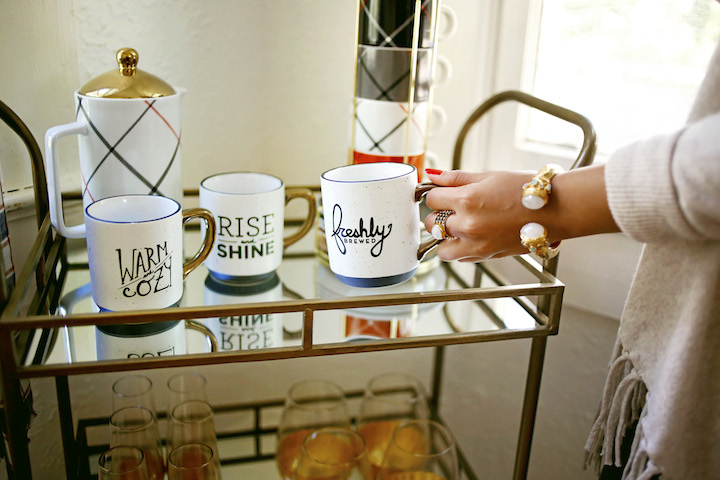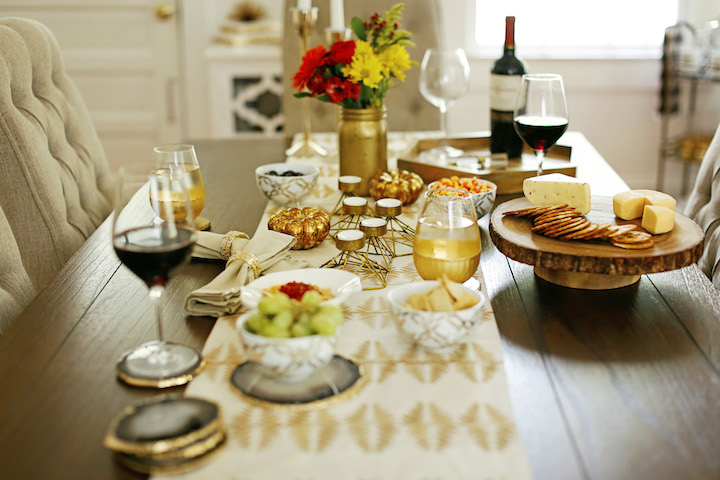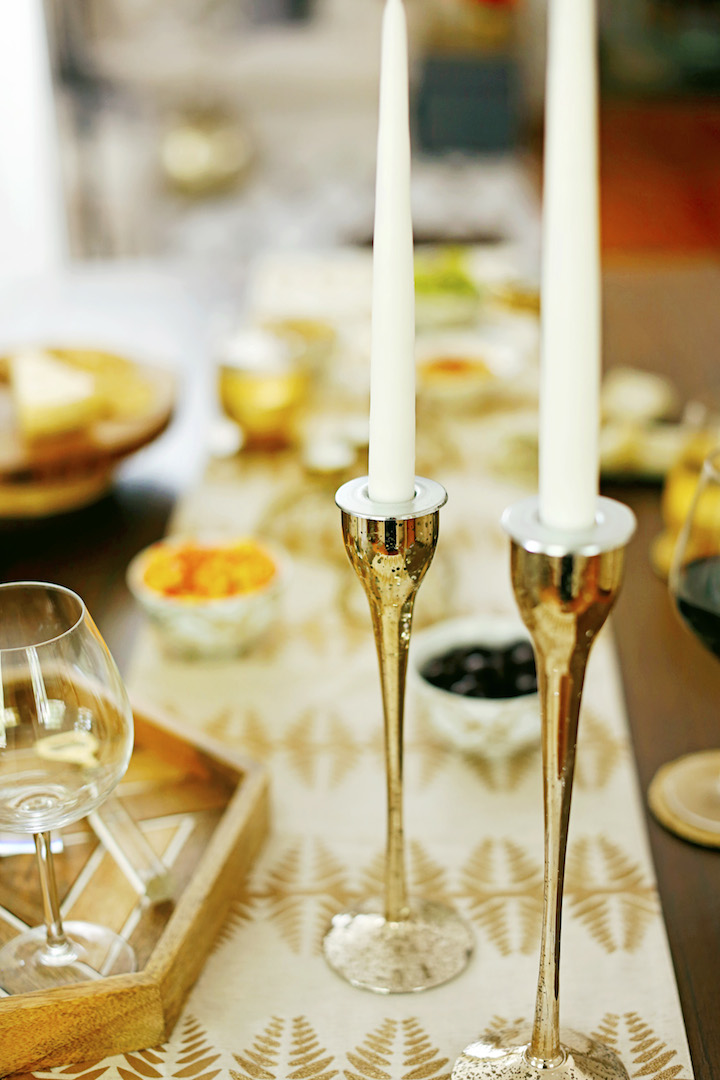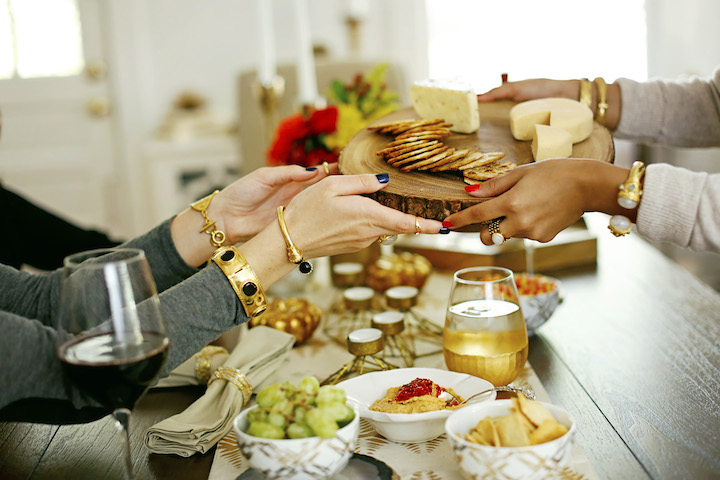 Photos by: Kaela Rodehorst Photography
| Shop This Post |

Nate Berkus Wood & Metal Tray | Clear & Gold Bar Hardware | Wooden Bark Charger | Metallic Starburst on Stand | Thankful Pillow | Nate Berkus Porcelain Plaid Bowls | Wood Bark Pedestal Stand | Gold Beaded Spiral Napkin Rings | Gold Stemless Wine Glasses (matching champagne glasses) | Gold Cole 3-Tier Rolling Bar Cart | Gold Metallic Leaf Table Runner | Gold Geometric Votive Holder Centerpiece | Cushioned Bench | Coffee Mugs found at Target on Clearance
| Shop Julie Vos Jewelry | <–Take 30% OFF w/ code: HOTR30

Hi everyone, I hope you're able to take some of this Friendsgiving inspiration and use it for your own party. Also, in case you're wondering what my favorite dip recipes are, you can check them out below. Not only are they the most delicious and crowd pleasing dips ever, but they each take under five minutes to make and only call for three ingredients each!
Chili Cheese Dip:
What You Need:
1 block of cream cheese | 1 can of beanless chili | 1 bag of shredded cheddar cheese | glass square pan (if using microwave) | Frito Scoop Chips
Directions:
1)Spread your cream cheese evenly on the bottom of the square pan
2) Pour the can of beanless chili over the cream cheese
3) Sprinkle a thick layer of shredded cheddar cheese on top
4) If using microwave, heat for 2 minutes, let sit for one minute and then heat for 2 more minutes
5) Serve with Frito Scoop chips and enjoy!
Ranch Rotel Dip:
What You Need: 
1 large container of sour cream | 1 packet of ranch seasoning | 1 can of Original Rotel
Directions:
1) Empty our sour cream into a mixing bowl and stir in ranch seasoning until completely mixed. I usually add half the the package of seasoning, taste the dip and then add more as I go to avoid over-seasoning the dip.
2) Drain the can of Rotel and stir into the ranch dip. I usually use a little over half the can!
3) Serve with Ruffles or Wavy Lays and eat your heart out!