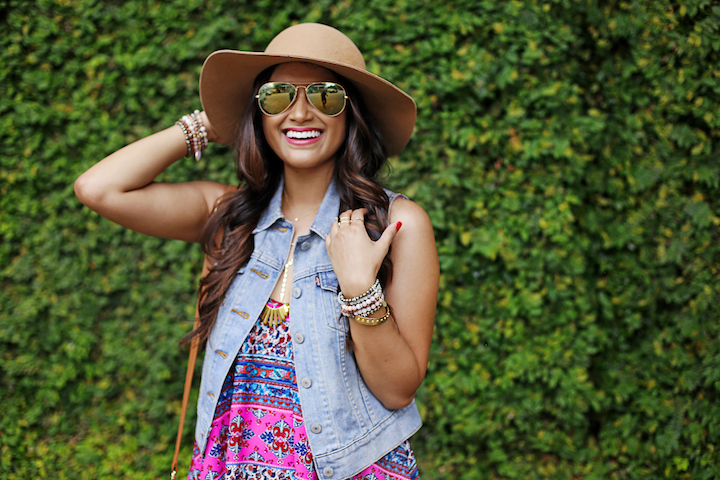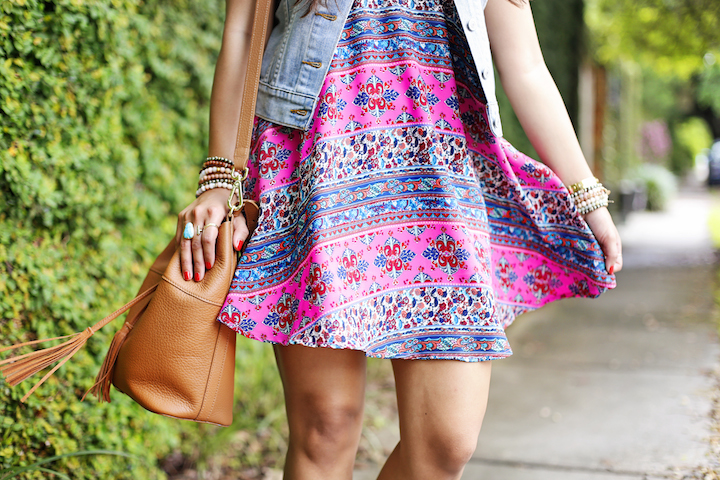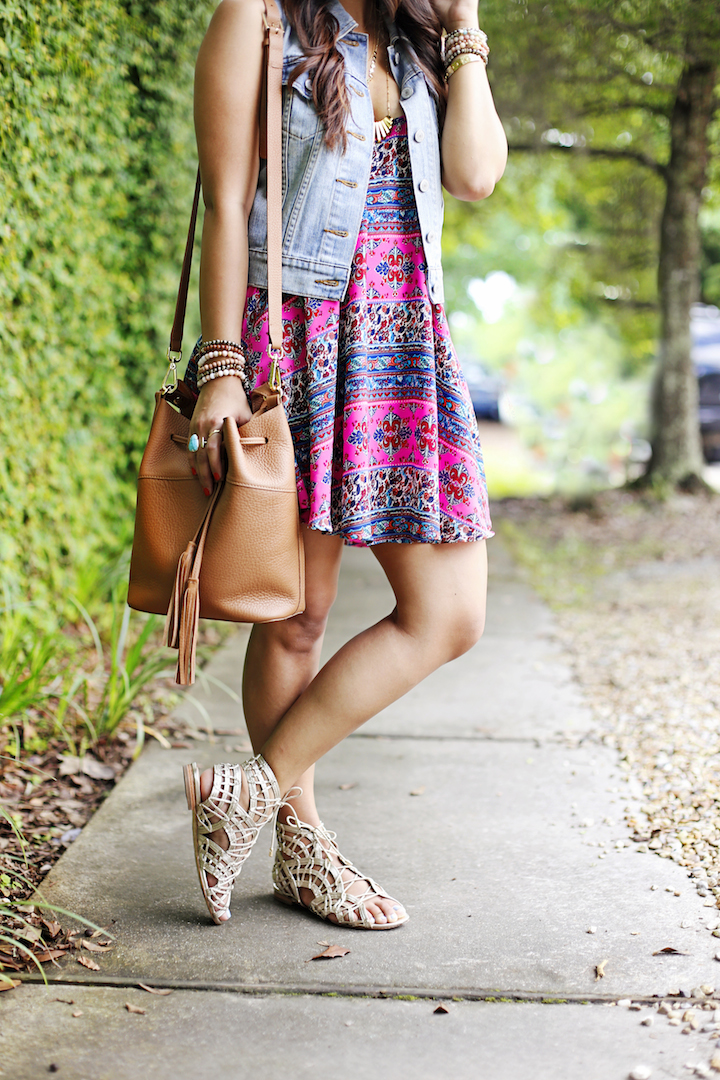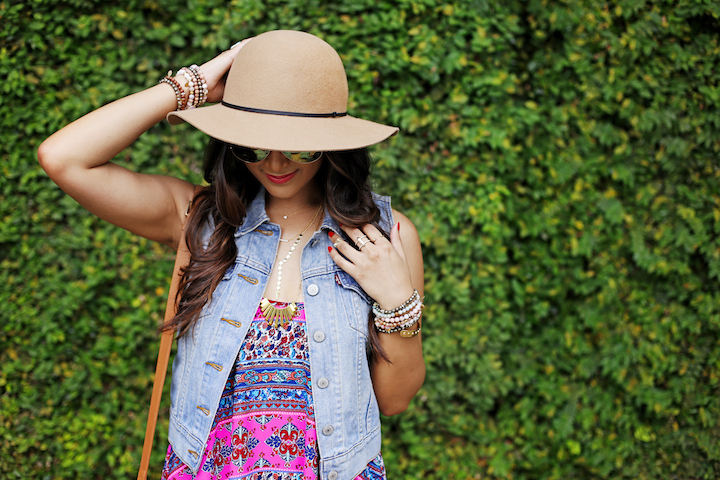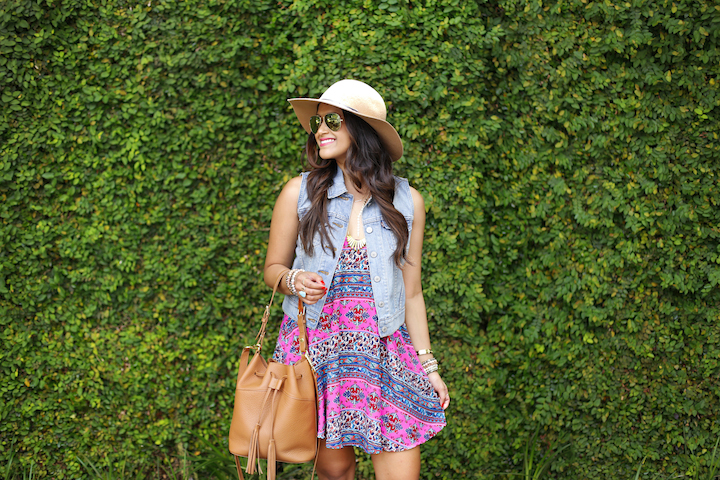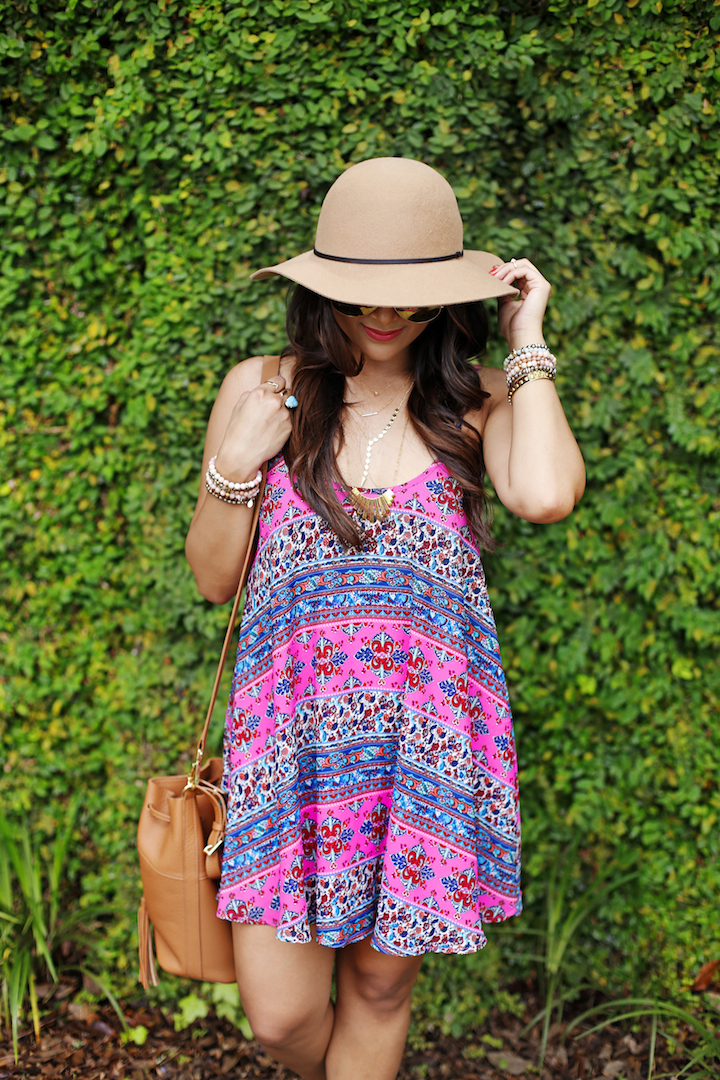 Photos by: Kaela Rodehorst Photography 
| Shop This Look |

Outfit: Show Me Your Mumu Bella Dress (romper in same print) | Denim Vest | Floppy Hat | Joie Renee Sandals c/o Emma' Shoes | Jenn Bucket Bucket (Designed by Haute Off The Rack in collaboration with GiGi New York)
Jewelry: Beaded Bracelets c/o Mary P Lamb Designs | Charm Bracelets c/o Jemma Sands | Shimmer Triangle Necklace, Knox Pave Bar Necklace, Rings & Chaplin Cuff c/o Gorjana | Gold Lariat Necklace c/o Melanie Auld | Abra Ring c/o Kendra Scott
What to wear to New Orleans Jazz Fest:
1) A hat to protect your face and to hide your flat hair from the sweat and humidity!
2) Loads of SPF!
3) Comfortable to shoes to walk in all day (preferably ones that you don't mind getting a little dirty!)
4) Sleeveless Dress, Top or Romper! It's hot y'all!
5) Stacks of Boho bracelets and layered necklaces
6) Something bright and colorful so your friends can easily find you!
7) Lightweight clothing like breezy dresses, off the shoulder tops, cutoff shorts, cropped tops and Kimonos
8) Cross body bag or backpack so you can keep your hands free for drinks and dancing! (Check out this look w/ backpacks here–> New Orleans Jazz Fest Style)
9) Flash Tattoos (Check out my flash tatts here–> The Tie-Dye Swim Coverup of the Season)
10) Some type of fringe accessory!
Good Morning readers, today I'm sharing one my looks for New Orleans Jazz Fest this weekend! Who else is going to see Elton John? I actually wasn't planning on going until I remembered how jealous I am of my boyfriend who is on his way to the Kentucky Derby! So I figured I would do something fun too! Plus, it means that I get to wear my favorite dress again. I'm not kidding you! I wear this thing all the time! It's just such an easy dress to throw and run out the door when it's hot outside.
I hope you all found my "what to wear to New Orleans Jazz Fest" tips helpful and come say hi if you see me dancing around Jazz Fest. It should be easy to spot me in this colorful printed outfit!
P.S. Keep your eyes out for tomorrow's Jazz Fest outfit! Flash Tatts included!