Good Morning everyone, I hope you all had a wonderful Memorial Day Weekend. Today I'm finally sharing my Palm Beach travel review from my recent girl's trip to the Brazilian Court Hotel. First, let me start by saying that I have never visited a more beautiful and charming island than Palm Beach. It's definitely not your average causal beach-town. I would consider it more of an exclusive, upscale island with perfectly manicured front lawns and beautiful blooms on every corner. It almost didn't even seem real!
| Shop This Look |
Outfit: Yumi Kim Rush Hour Maxi Dress (also available here) | Dolce Vita Lace-up Heels | Straw Clutch 
Where to sightsee:
When it comes to site seeing, if you're one of the people who just likes to stroll around the local neighborhoods and beach area, you're in luck because The Brazilian Court is located right in the middle of all of the beautiful homes on the Island and just a couple blocks away from the beach. Speaking go the beach, the hotel will arrange for beach chairs, towels and umbrellas to ensure that you everything you need.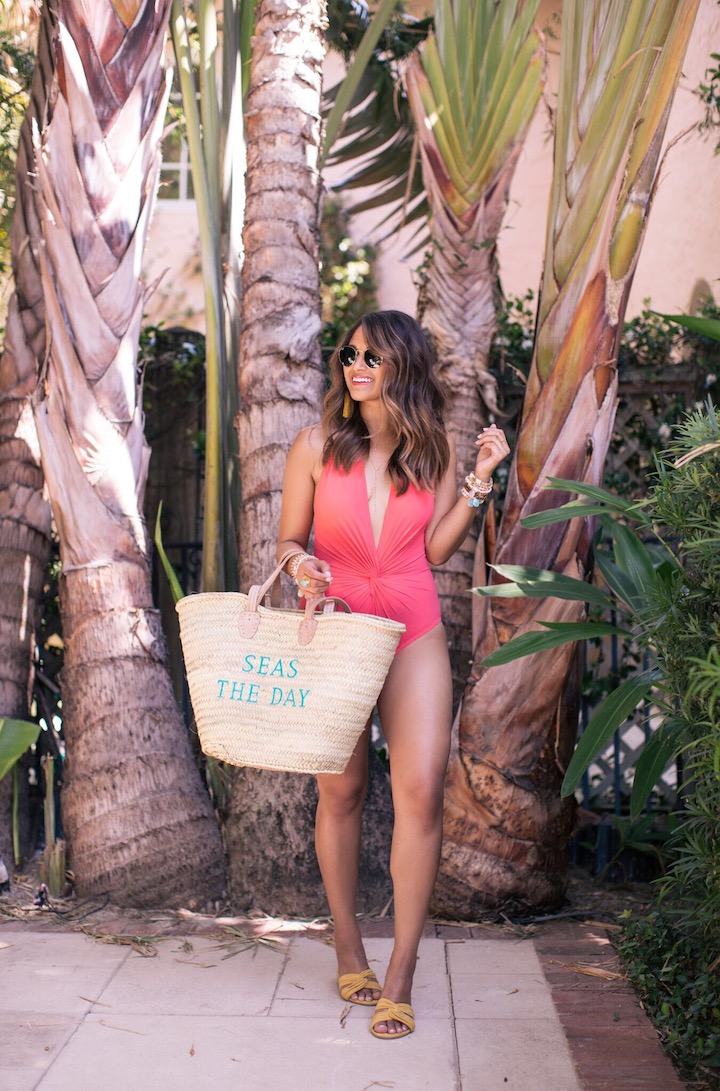 | Shop This Look |
Outfit: One Piece Swimsuit (similar here & here)— wearing sz S | Ray-Ban Round Sunglasses | Yellow Slide Sandals | Beach Tote c/o mariellavilar.com
| Shop More Colorful One-pieces |

Also within walking distance from the hotel, you can find the famous Worth Avenue, which is the luxe spot to shop. However, even as much as I love shopping, I still have to say that my most favorite street is actually one street over from all the clothing stores. I'm referring to Peruvian St. where you'll also find Major Alley covered in beautiful bougainvillea.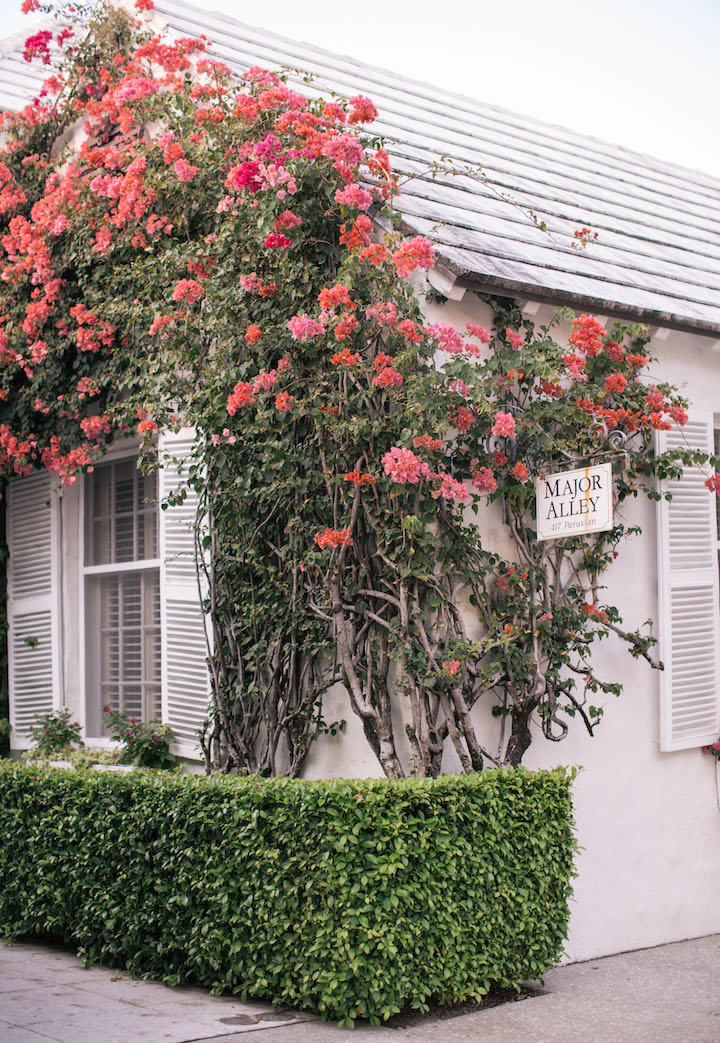 Where to Shop
As I mentioned earlier, Worth Avenue is the hot spot to shop for luxury fashion items, but if you're looking for more everyday pieces from your favorite brands like Sam Edelman, Lululemon and Nordstrom, I suggest visiting The Gardens Mall. It's only a 20 minute uber ride from the island where we were staying. Krystal and I made sure to stop on our way to the airport to get our fix before heading home. I was super impressed with the size of The Garden's Mall and the amount of stores and restaurants it had to offer. However, I of course passed everything up and went straight to Chick-fil-A. I also popped into Lululemon to stock up on my favorite activewear pants.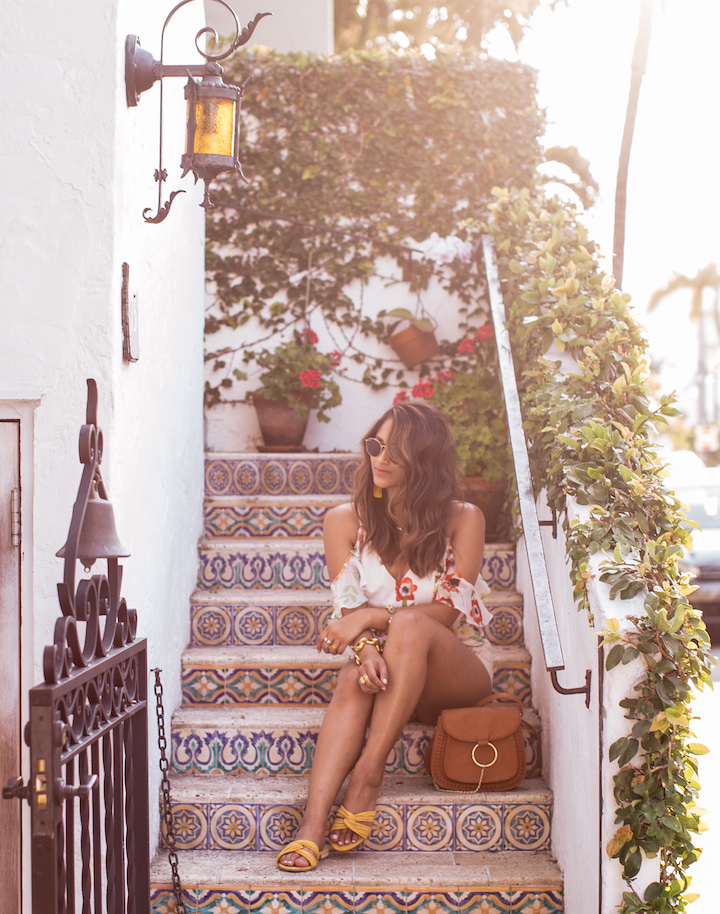 | Shop This Look |
Outfit: Yumi Kim Whimsical Romper — wearing sz S | Jolene Saddle Bag & Spicy Mustard Sandals c/o Sole Sole Society | Nude Strappy Sandals (also available here) | Ray-Ban Round Sunglasses |
See the full post here—> How to Style Colorful Sandals for Summer
| Shop My Look |
Outfit: Misa Lorena Dress (also available here) (I also love this Navy Dress from ModCloth) | Furla Bucket Bag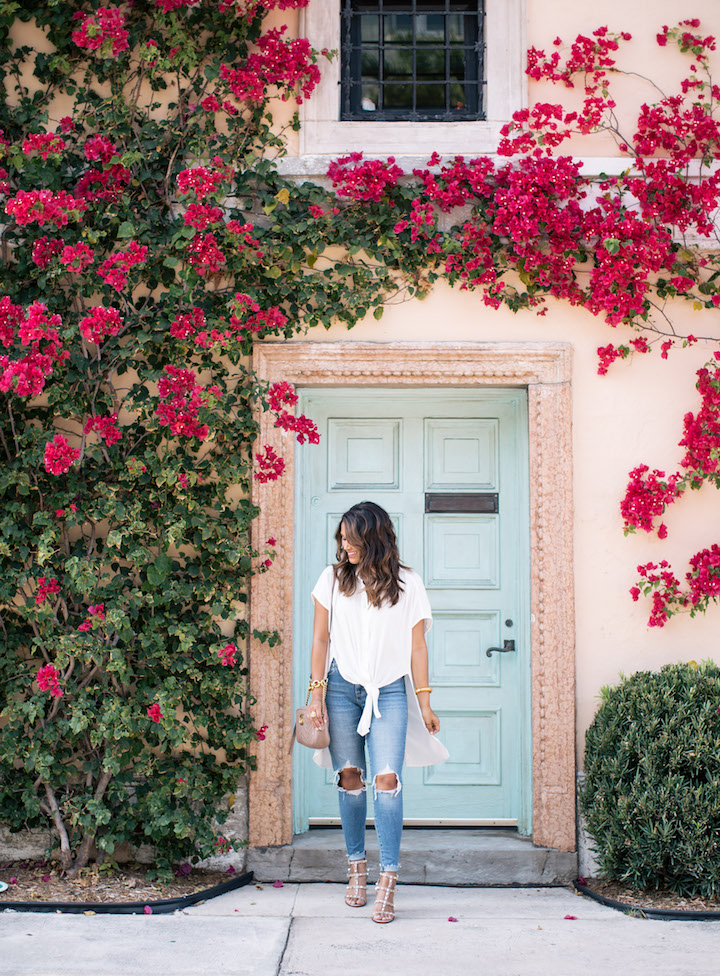 | Shop This Look |
Outfit: Tie Front Shirt | Ripped Jeans (I'm also obsessed with the hem on these frayed jeans) | Rockstud T-Strap Sandals (similar & more budget friendly option here) | Gucci Marmont Bag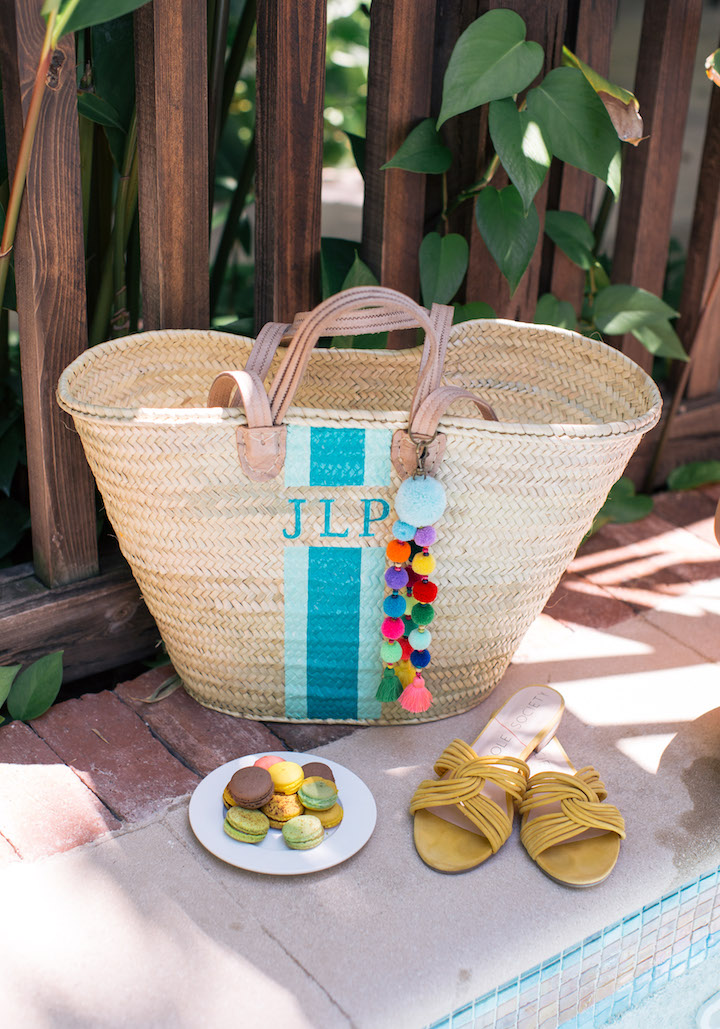 This beach tote was custom-designed by local Palm Beach entrepreneur, Mariella Vilar. Find more of her woven baskets and accessories here—>mariellavilar.com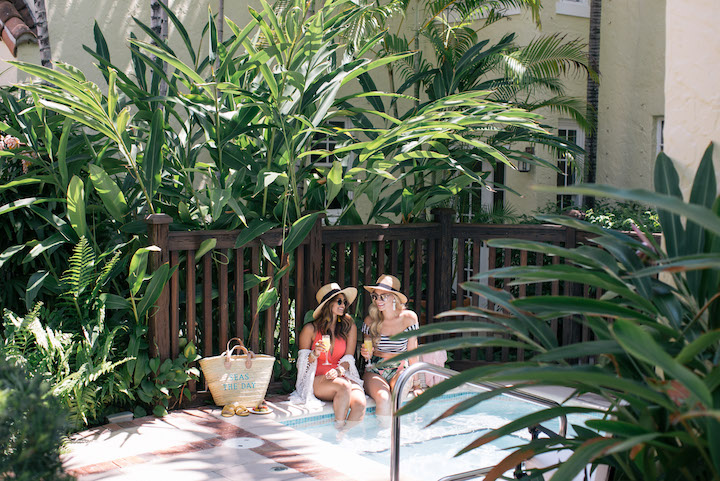 Photos by: Chelsae Anne
Where to dine:
Ta-boo | The second we arrived to the hotel we marched a few blocks over to Ta-boo for fish tacos, nachos and fries! Talk about the ultimate welcome lunch! The restaurant is located right in the heart of Worth Avenue so you can hit the shops immediately after dining.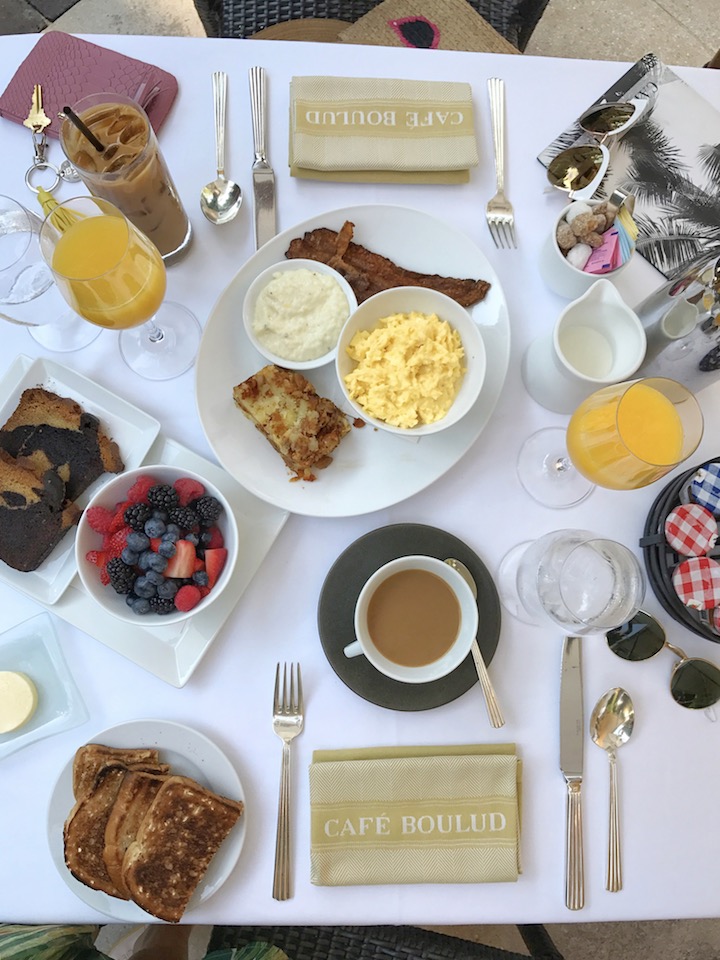 Café Boulud | Each morning we walked downstairs to breakfast at Cafe Boulud at the Brazilian Court Hotel to eat in the courtyard or we ordered room service and we were never disappointed. We especially loved their hash browns!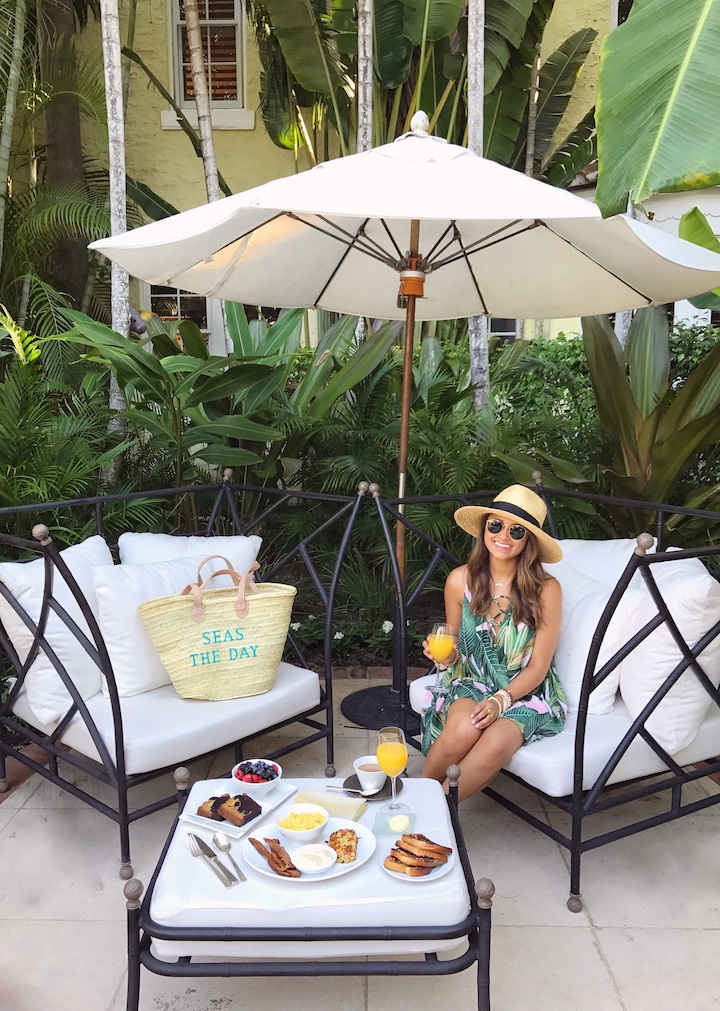 Pizza al Fresco | Allegra from Very Allegra introduced to Pizza al Fresco where I learned of the most delicious taco-inspired pizza called the Messicana. This is perfect place to dine outside because they have the cutest outdoor courtyard complete with café lights and umbrella covered tables.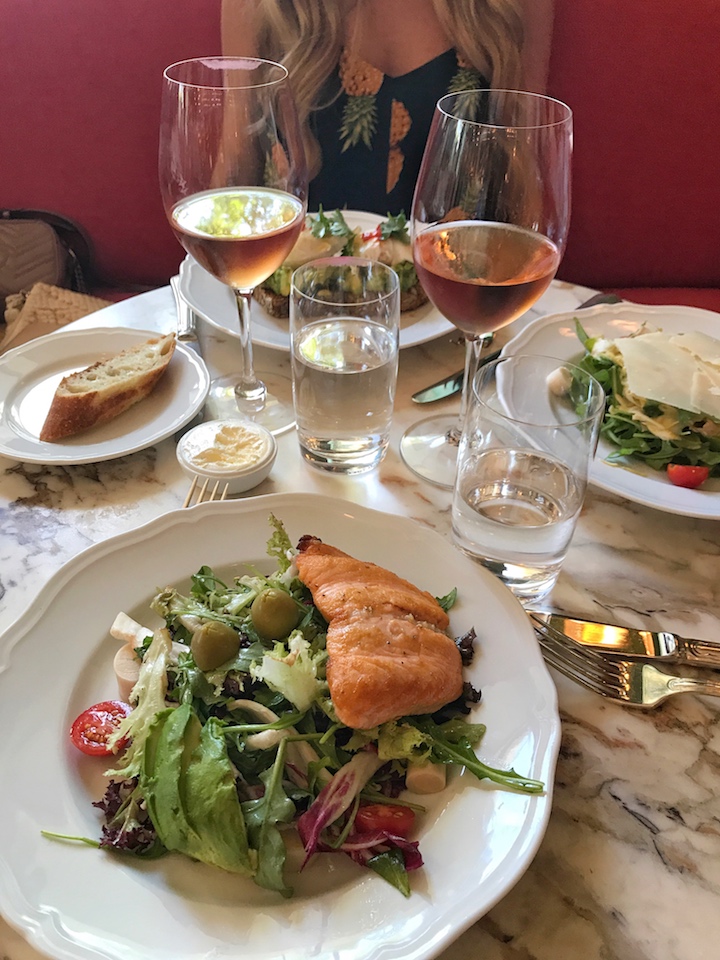 Sant Ambroeus | On our second day, Beth from Palm Beach Lately was kind enough to take us to Sant Ambroeus for lite salads and sweets! You must try their flowerless chocolate cake with gelato. It's also a great place to just sit and enjoy the colorful and happy atmosphere over coffee or cocktails with friends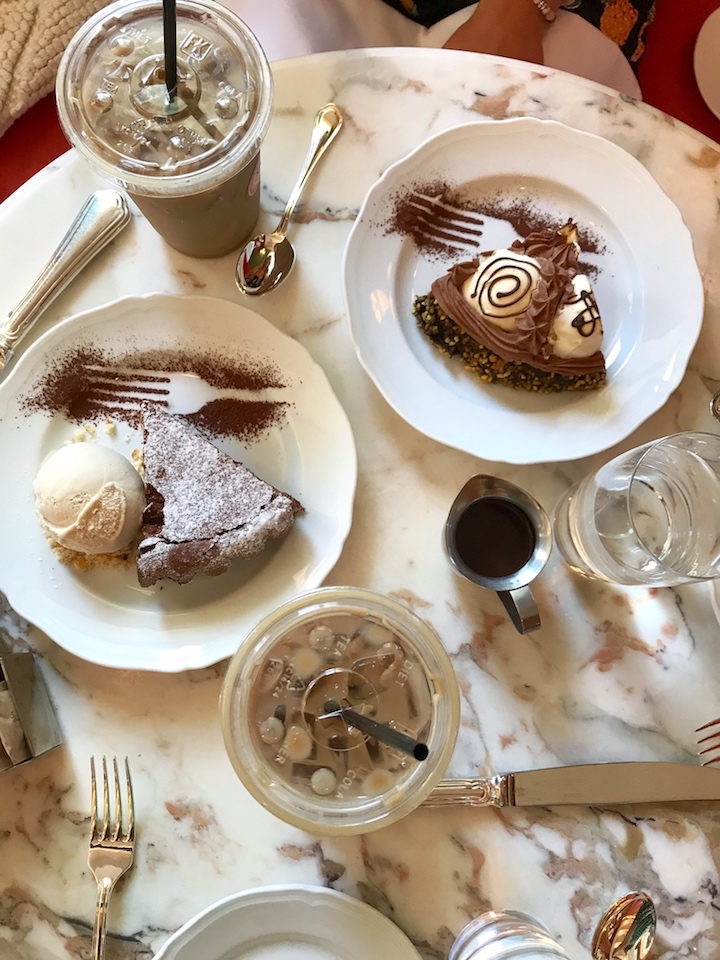 Buccan | I think that Buccan was my favorite restaurant in PBI right next Imoto. Oh and it's "literally" located right next to Imoto, but I'll tell you about that place in a minute! I don't know about you, but anytime I see fresh tuna on a menu, I order it. So we started off with the tuna crisps and squash blossoms and then followed that with some short rib empanadas. As much as we wanted to order more dishes, our appetites just wouldn't allow it so we settled for some freshly baked chocolate chip cookies and espresso!
Imoto  We ended our last night with a bang at Buccan's sister restaurant, Imoto. To top it off, Stephanie from The Style Bungalow and her photographer Chelsae joined us for sushi, fried rice, tuna tatami and of course chocolate chip cookies. I think the fried rice appetizer was my favorite item on the menu! However, their sushi was amazing as well.
"Take a Ride with Lilly," available April 1st — September 30th, 2017, starting at $369 per night
Overnight accommodations for two in a luxurious studio at The Brazilian Court Hotel
All-American breakfast for two each morning
One-day bicycle rentals for two with Lilly Pulitzer inspired Martone Bicycles
Picnic on the beach for two
Thank you to the Brazilian Court Hotel for hosting. All opinions are my own.