Hey everyone, as promised I'm sharing my Palm Beach travel guide with you today. I actually visited Palm Beach in 2017 and loved it so much that I promised myself I would return again. Last time I stayed at the Brazilian Court Hotel, which you can see here—>Palm Beach Travel Review
This past visit, I stayed at The Colony Hotel and it was the most darling hotel with palm print wall paper that lined the hallways and the cutest retro pool area with striped umbrellas. I also love that it's just around the corner from the beach and Worth Avenue so we were able to walk or bike almost everywhere with the exception of visited West Palm Beach.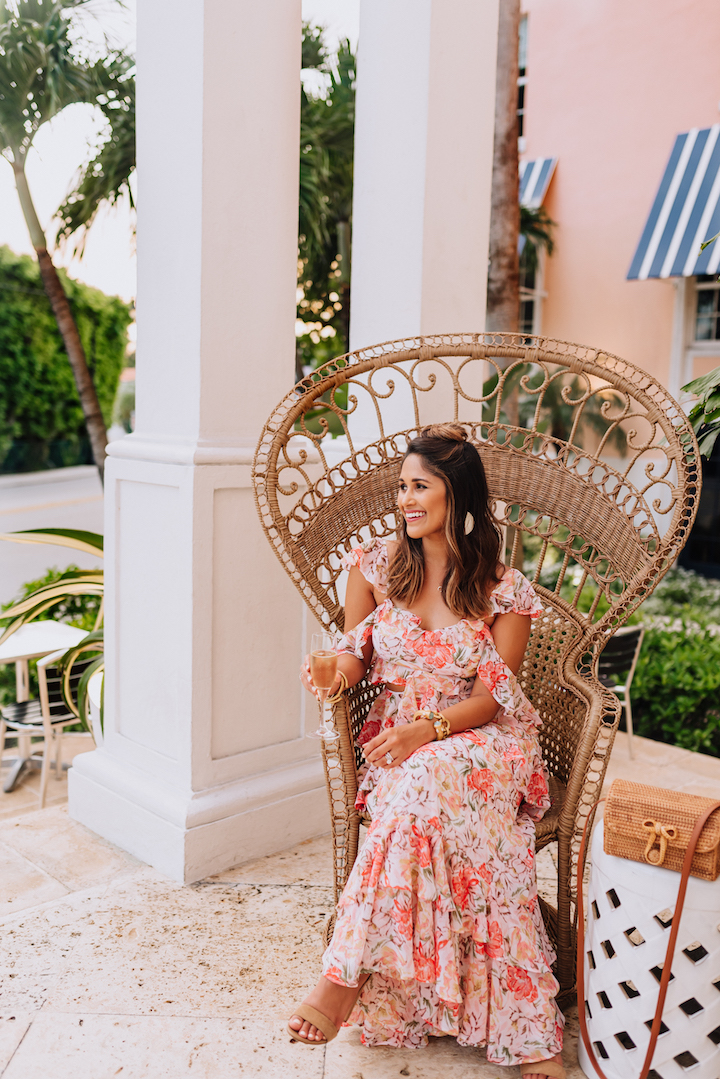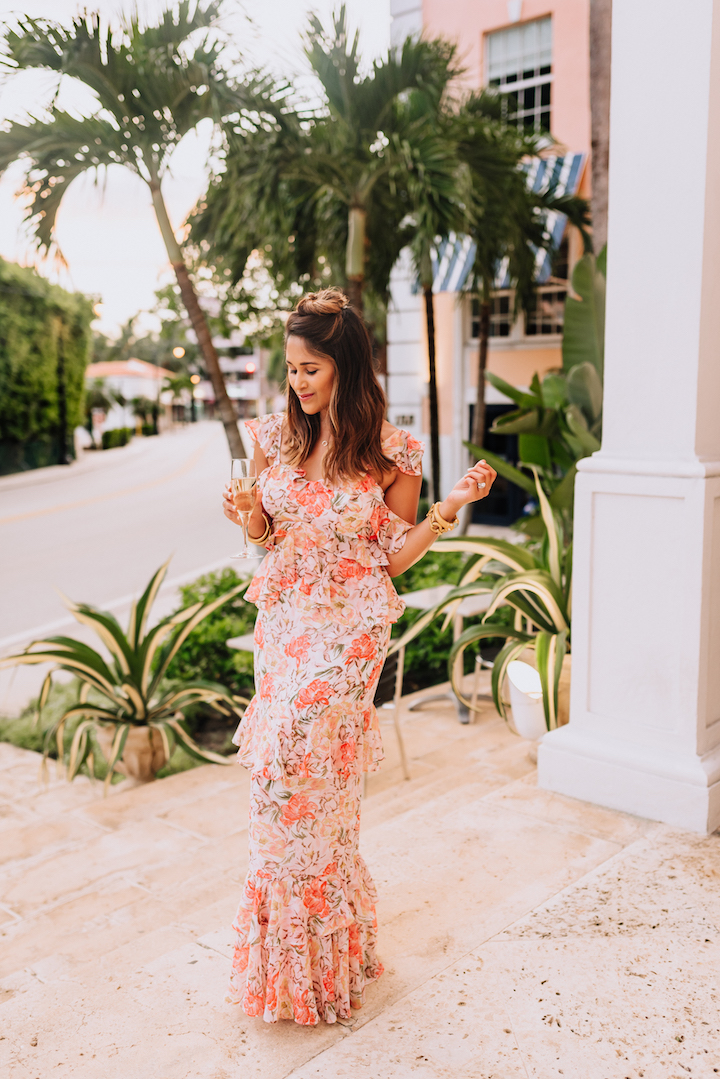 Outfit: Floral Ruffle Dress (also here) | Bracelets c/o Julie Vos |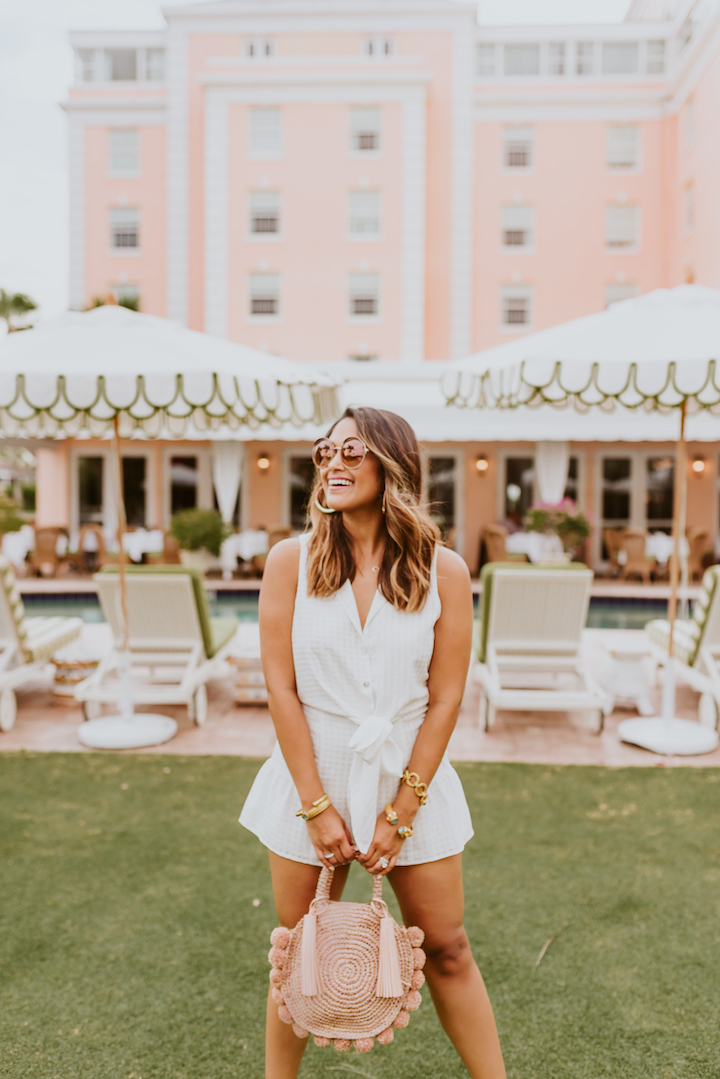 | Shop This Look |

Things to do:
Shop till you drop! | While I would love to blow all of my money shopping on Worth Avenue, I decided to do some window shopping instead and then took an uber over to Garden's Mall for a wider variety of stores. That mall has practically every store you could wish for that we don't have back at home in Louisiana.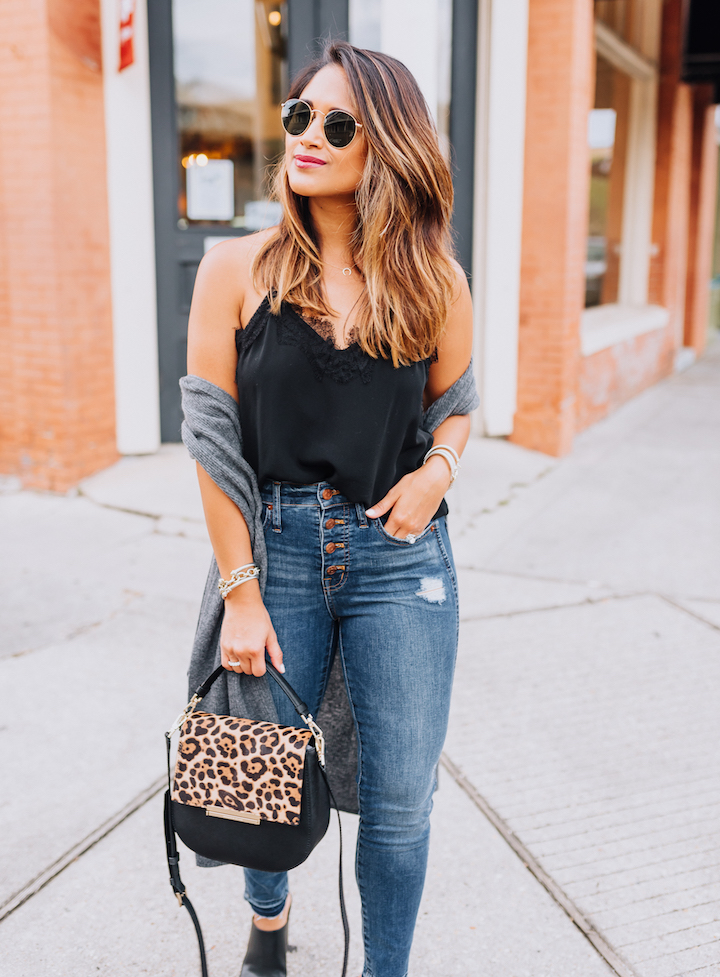 | Shop This Look |

| Shop The kate spade new york Make it Mine Collection |

Outfit: Make It Mine Byrdie Bag c/o kate spade new york | High Rise Skinny Jeans (also available here) | Lace Cami (also available here) | Cashmere Vest | Black Leather Mules |
I picked up these jeans from the Nordstrom in Garden's Mall. Check out the full look here—> How To Maximize Your Handbag Collection
Check out all of the different flaps you can choose from here—> https://www.katespade.com/flaps/
Get a massage at Kaffe's Garden Spa | I got the Pink Himalayan Salt Foot Soak followed by a pink salt stone massage and it was by far the best massage I have ever gotten. The warm stones make such huge difference in the overall experience.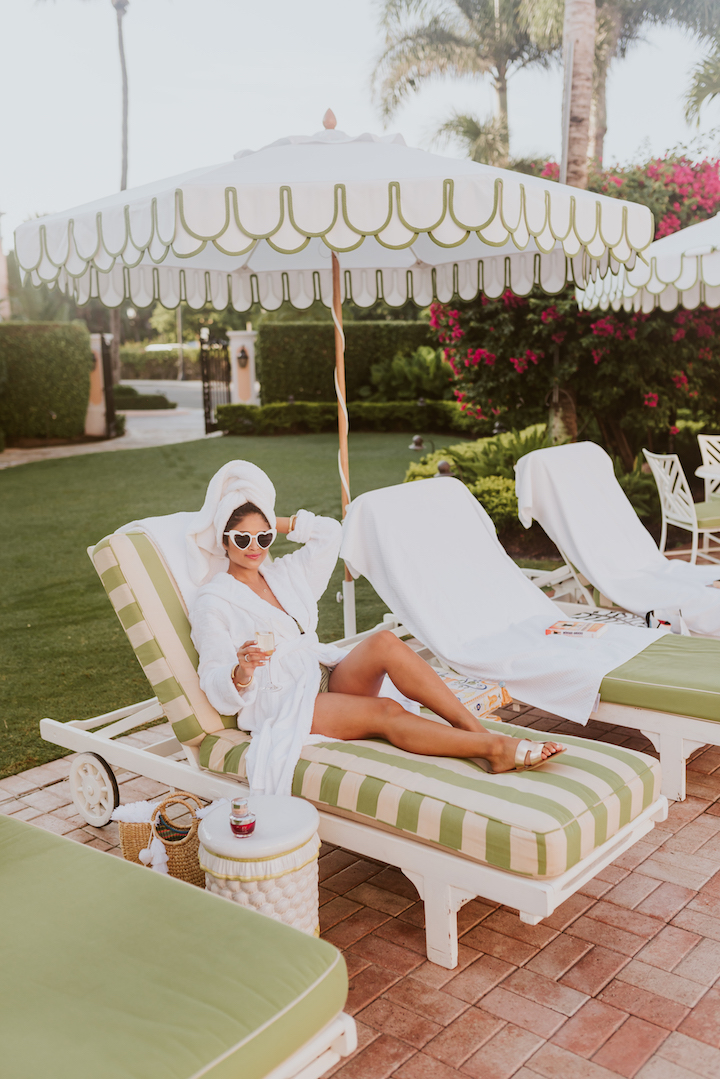 See the full post here—> My Olay 28 Day Challenge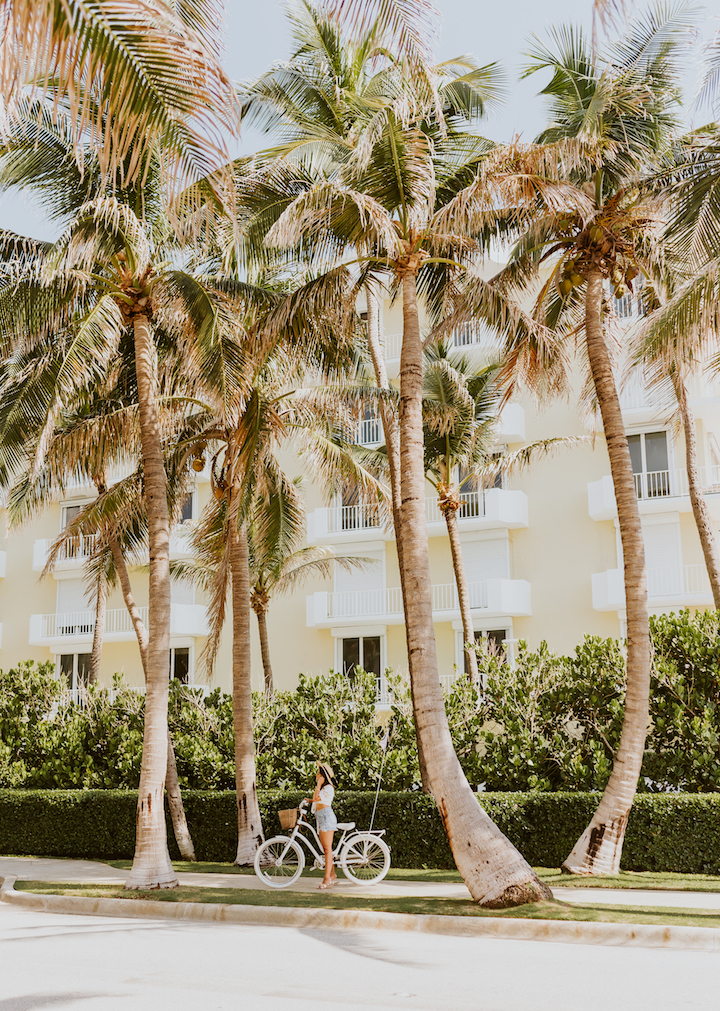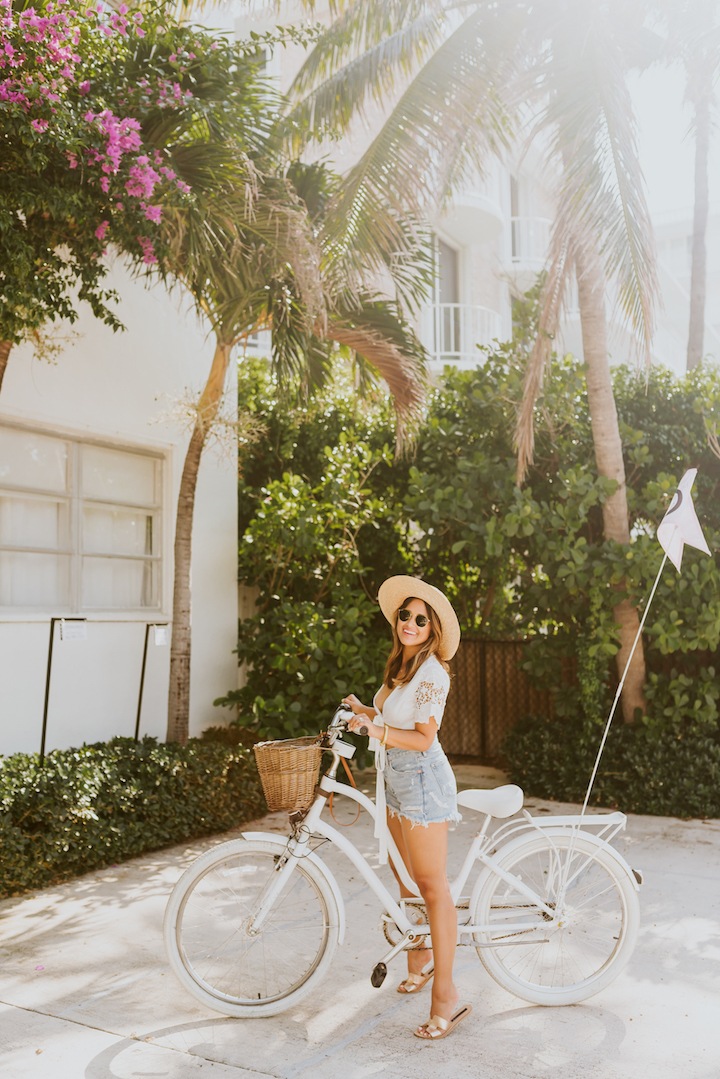 | Shop This Look |
Outfit: Cutoff Shorts (also available here) | Similar Cropped Top | Boater Hat | Sandals
Rent some cruisers | The Colony Hotel offers their guests complimentary bike rentals!
Downtown West Palm Beach Food Tour | We loved walking around downtown West Palm Beach and getting a little history while hitting up some of the most delicious restaurants in town. My favorite spot was probably The Blind Monk and Canache Bakery Cafe. Their key lime pies were amazing.
Where to snack & dine:
Loic Bakery | Be sure to order the pistachio and raspberry croissants. Those were my faves and they're freshly baked in house!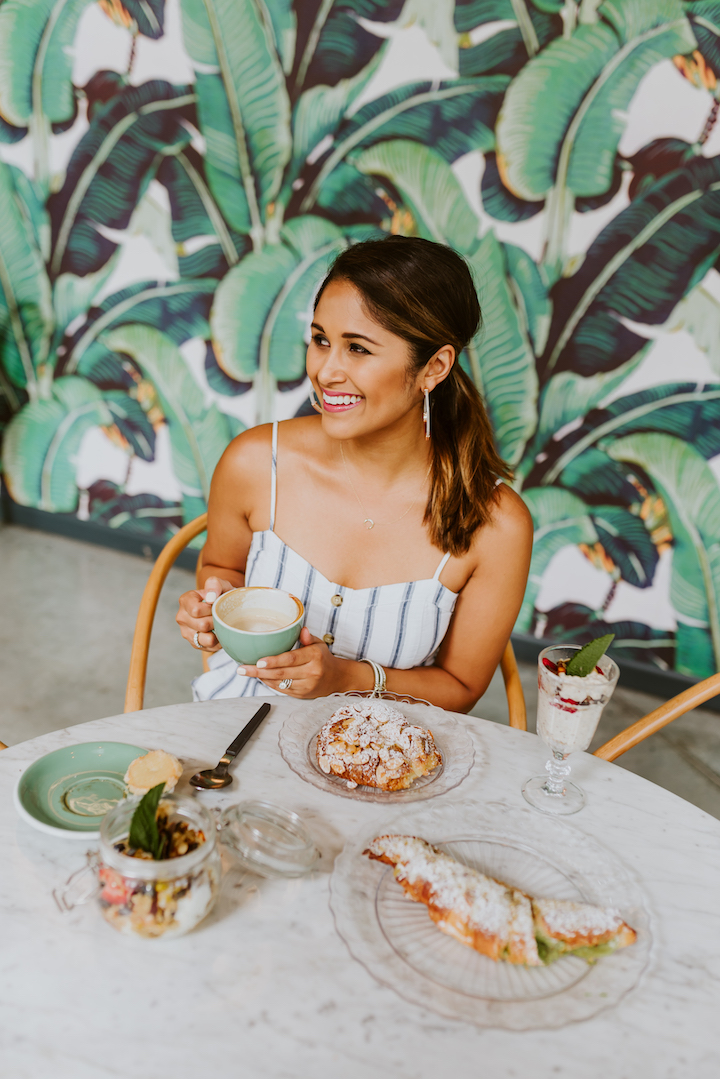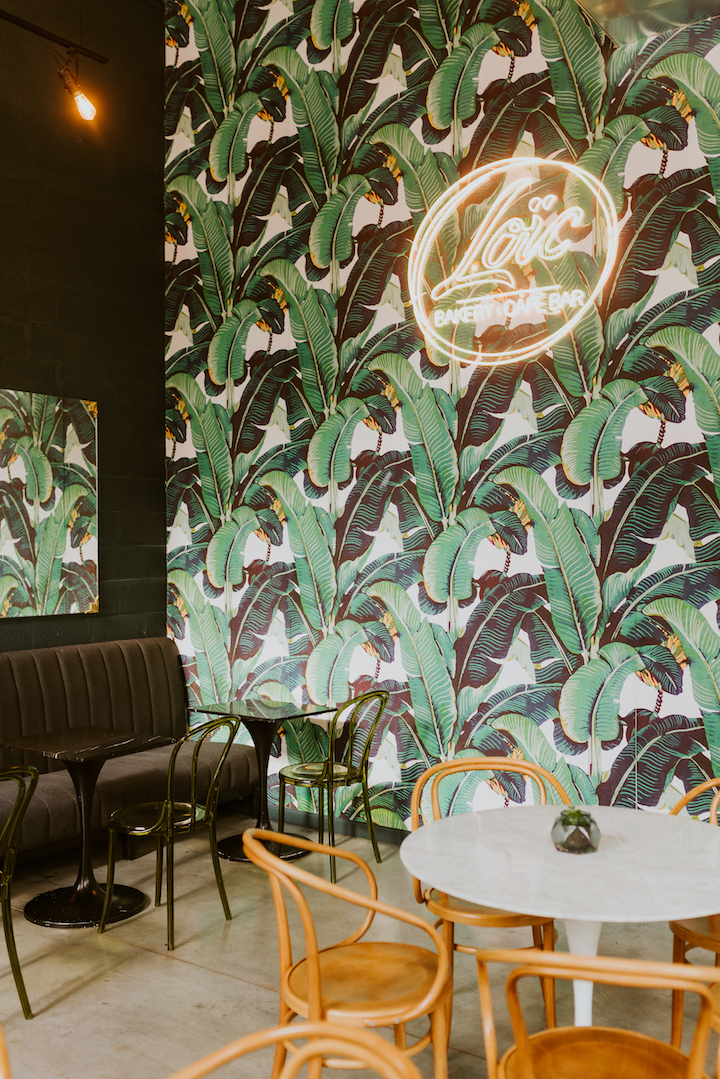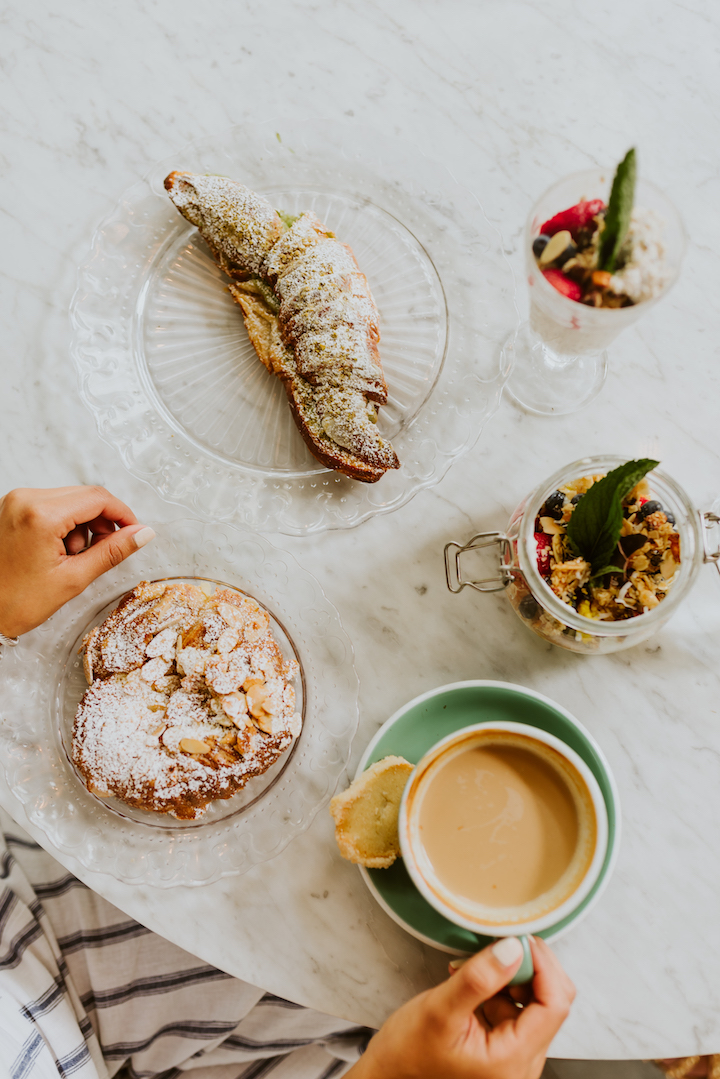 Pizza Girls | If you're in the mood for some authentic Brooklyn style pizza, this place comes highly recommended! You can even order by the slice if you're just looking for a snack. I loved the Veggie pizza!
Grease Burger Bar
The Restaurant | We ate at "The Restaurant" at the Colony Hotel for breakfast, lunch and dinner our stay and every meal was even more delicious than the last. I especially enjoyed the Huevos Rancheros I also love that the fact that they have live music during dinner.
Ta-Boo | Stop for lunch at Ta-Boo in between window shopping on Worth Avenue. We ordered the nachos, fish tacos and fries. Window shopping can be quite exhausting! 😉
Pizza al Fresco | I learned about this place during my first visit to Palm Beach and we liked it so much that we actually ate here twice during this past trip. I highly recommend the Messicana pizza. This is perfect place to dine outside because they have the cutest outdoor courtyard complete with café lights and umbrella covered tables.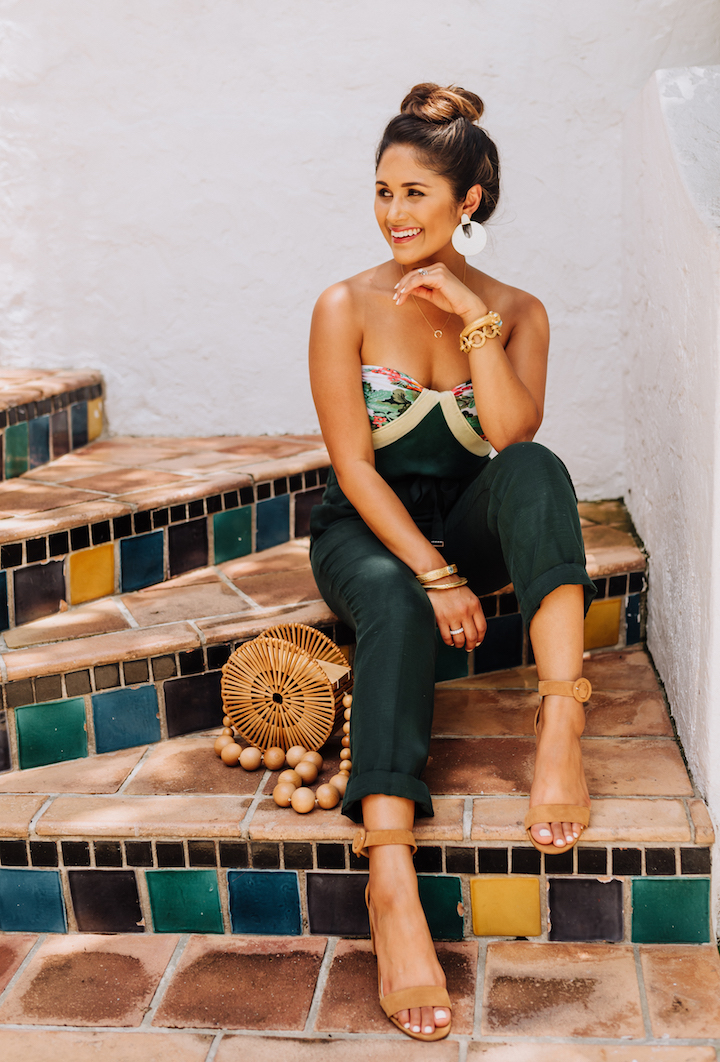 See the full post here—> Scarf Top + Twill Ankle Pants
Sant Ambroeus | I had lunch with Beth from Palm Beach Lately here last year and I love colorful and quaint it was. You must try their flowerless chocolate cake with gelato.
Buccan | I ate at Buccan last year when I visited and it was my favorite restaurant in PBI right next Imoto. Oh and it's "literally" located right next to Imoto, but I'll tell you about that place in a minute! I don't know about you, but anytime I see fresh tuna on a menu, I order it. So we started off with the tuna crisps and squash blossoms and then followed that with some short rib empanadas. As much as we wanted to order more dishes, our appetites just wouldn't allow it so we settled for some freshly baked chocolate chip cookies and espresso!
Imoto | This is another restaurant repeat for me because we ate here last time I visited, but it was so good that I had to go back. You must order the tuna appetizer and the banana beignets for dessert!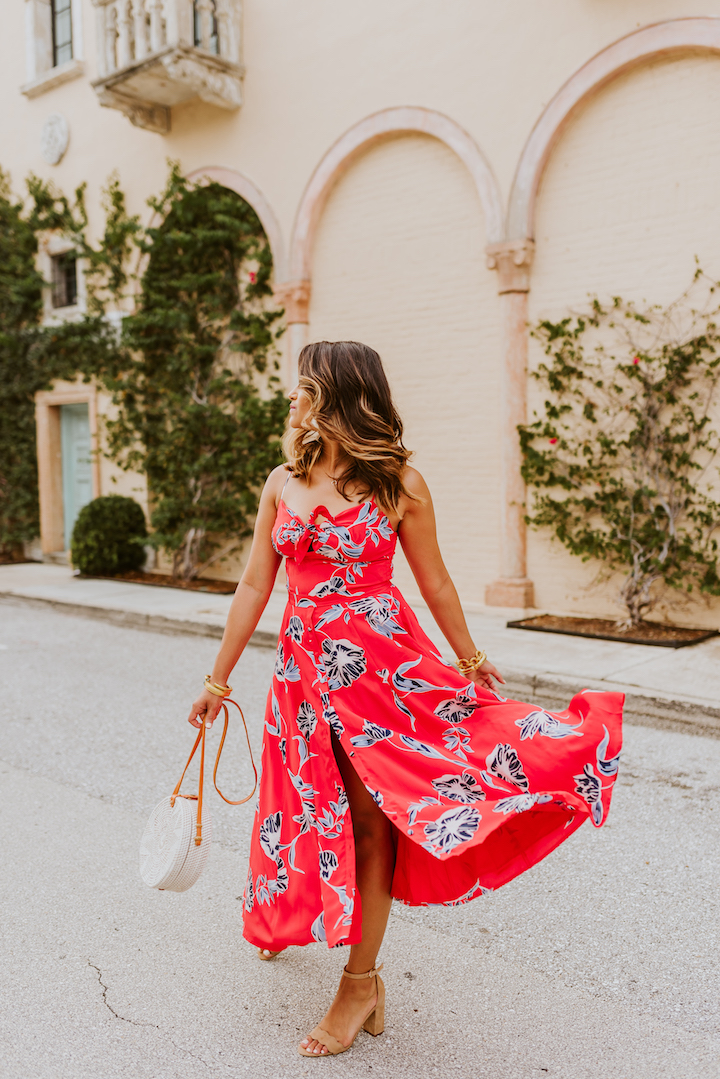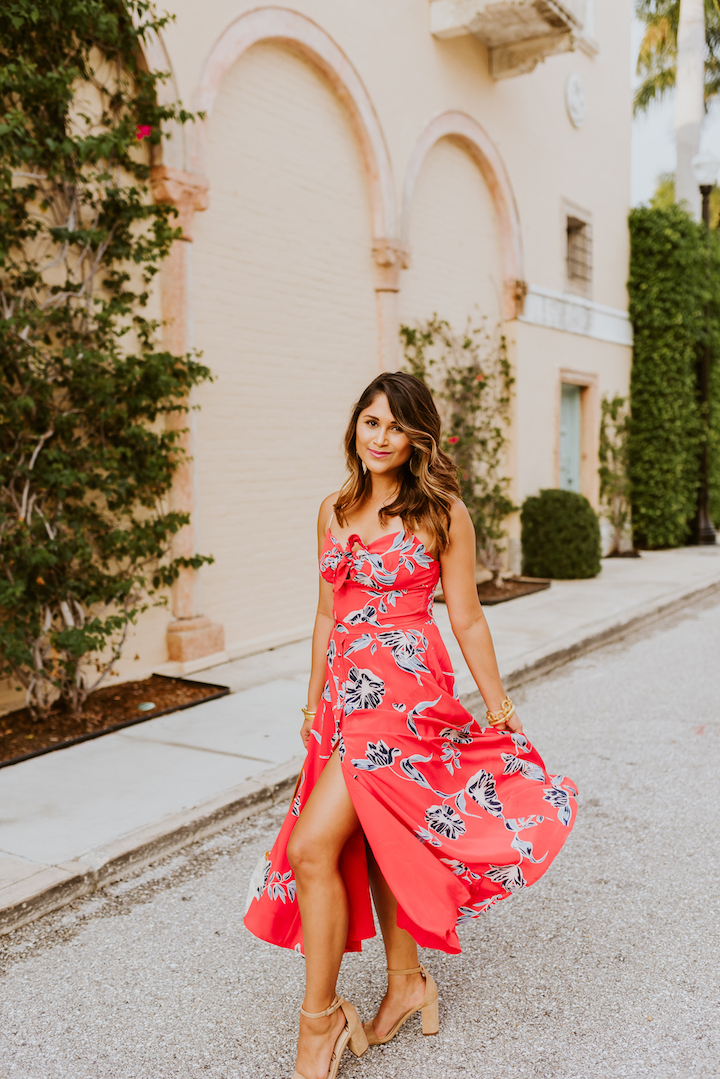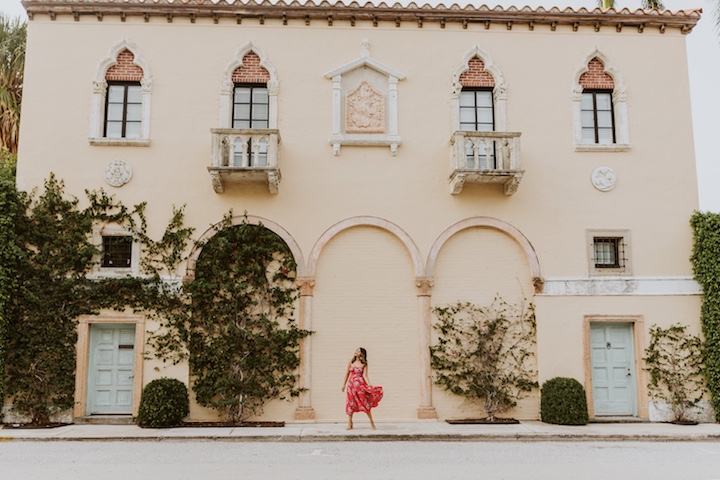 | Shop This Look |
Outfit: Yumi Kim Pretty Woman Dress (I love this yellow print too)| Nude Ankle Strap Heels | Circle Bag c/o Poppy and Sage | Bracelets c/o Julie Vos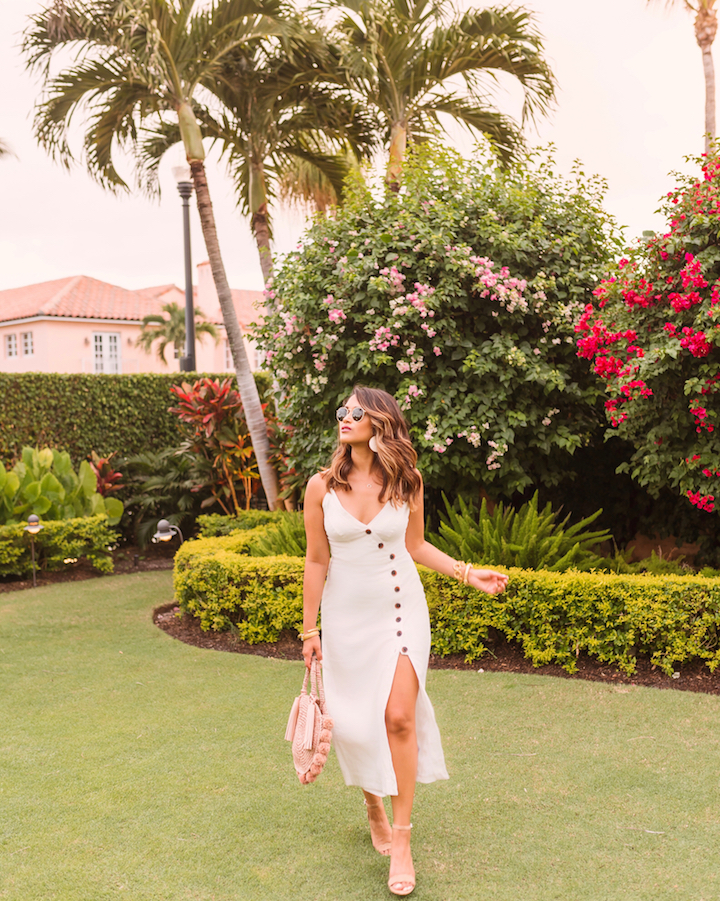 | Shop This Look |
Outfit: White Button Down Dress | Nude Ankle Strap Heels (also available here) | Straw Circle Tote (also available here)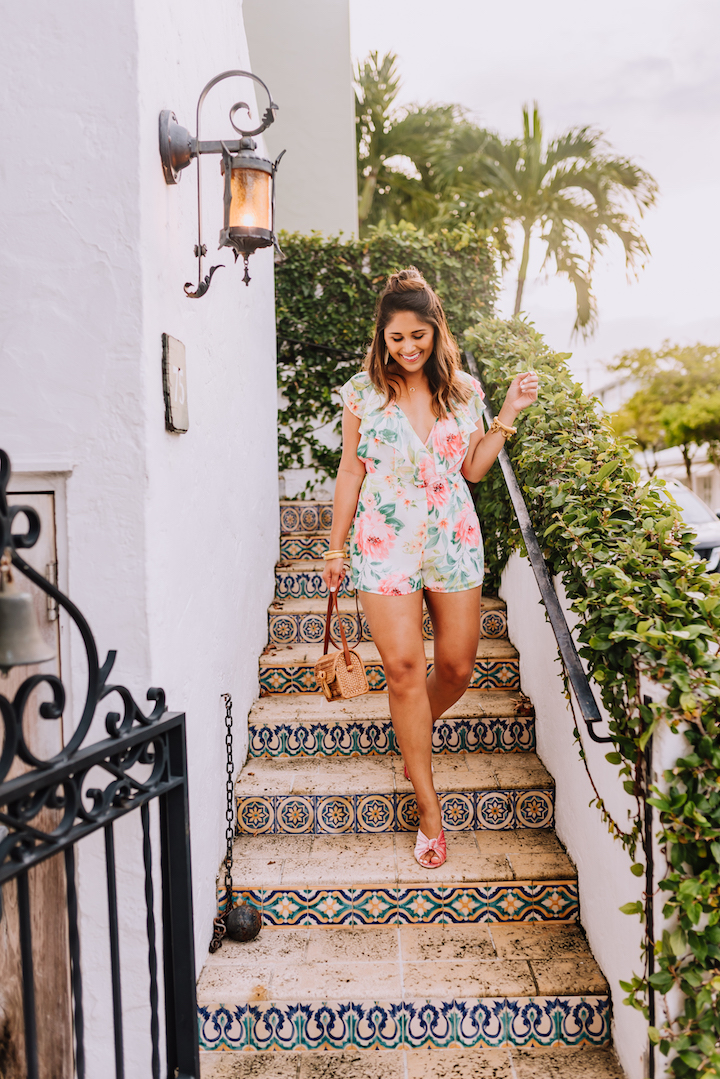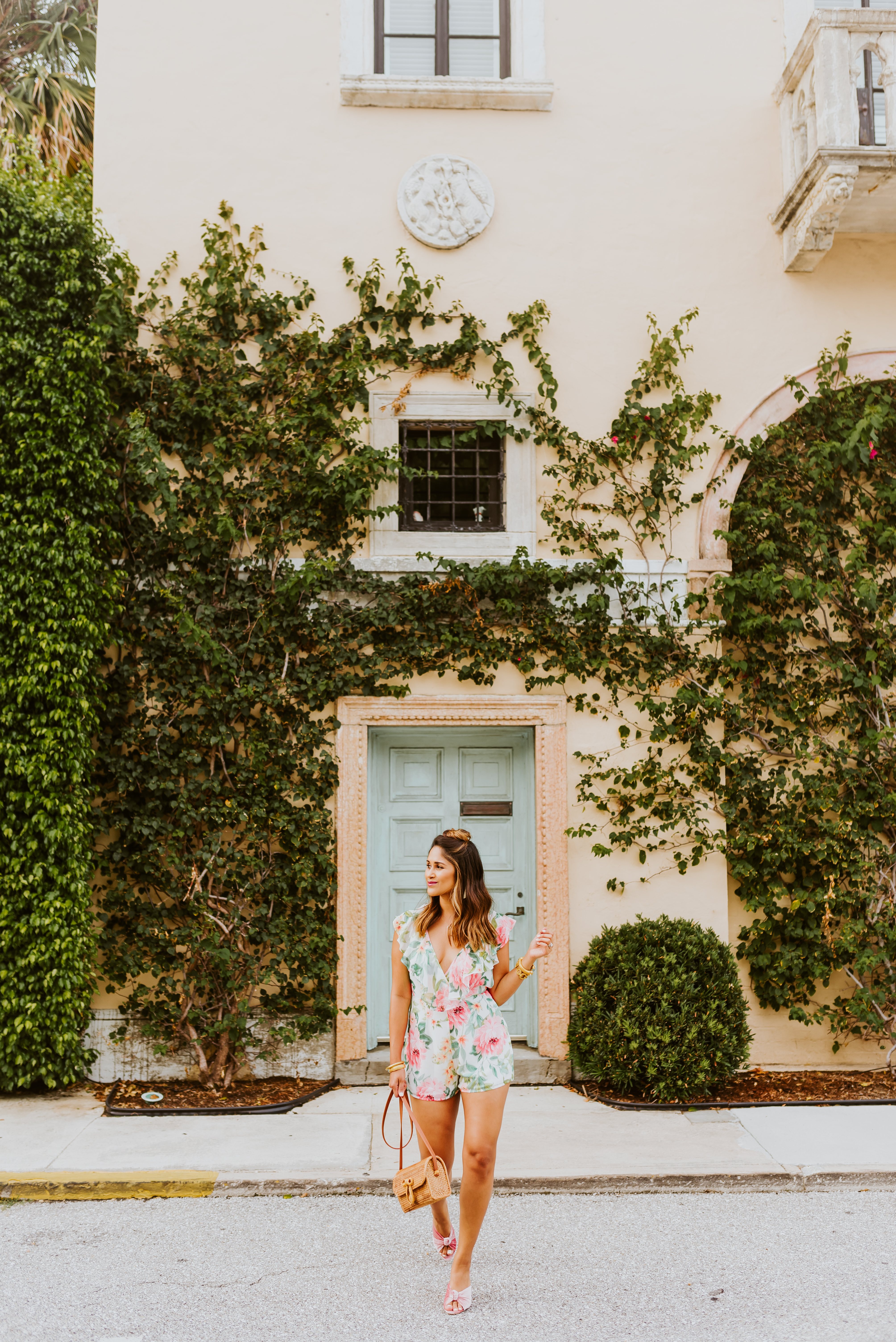 | Shop This Look |
Outfit: Call Back Romper — wearing sz S | Crossbody Clutch | CoCo High Heel Knot Slides
Photos by Aperture Photos
Thank you to Palm Beaches FL & The Colony Hotel for hosting me.
SaveSave
SaveSave
SaveSave
SaveSave
SaveSave