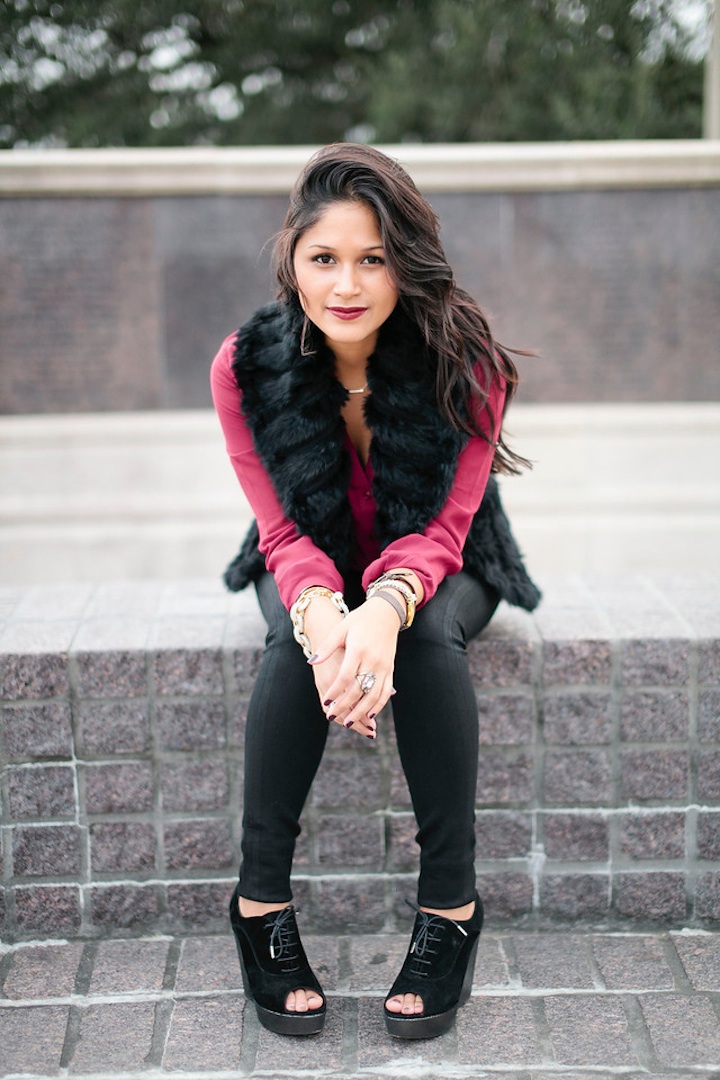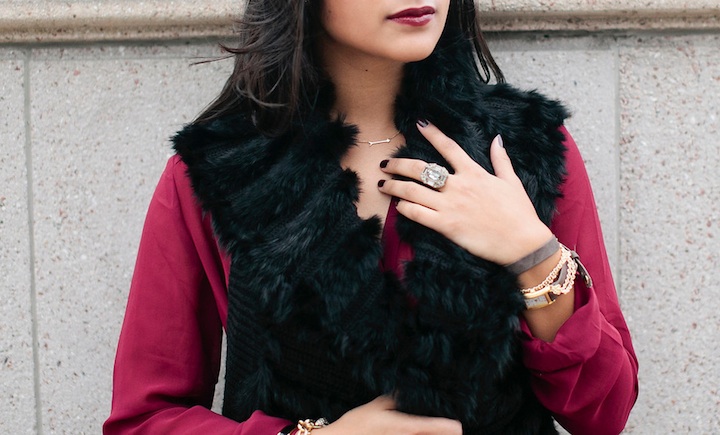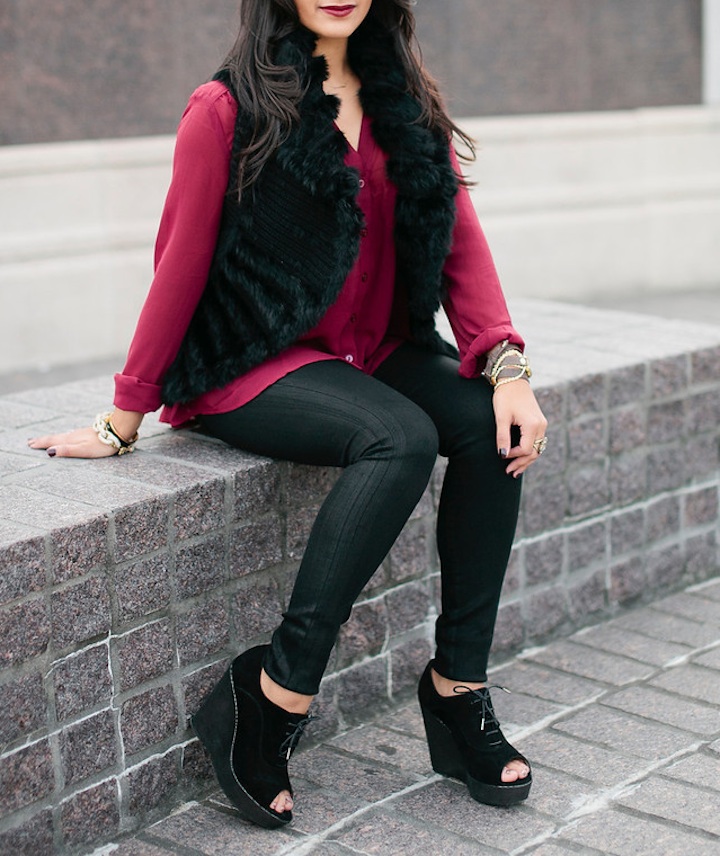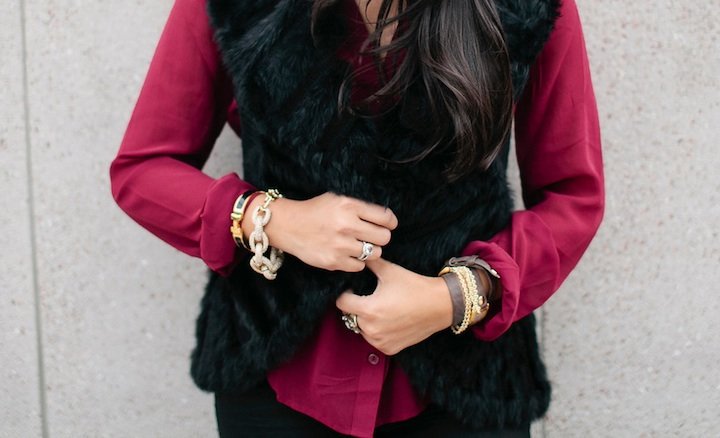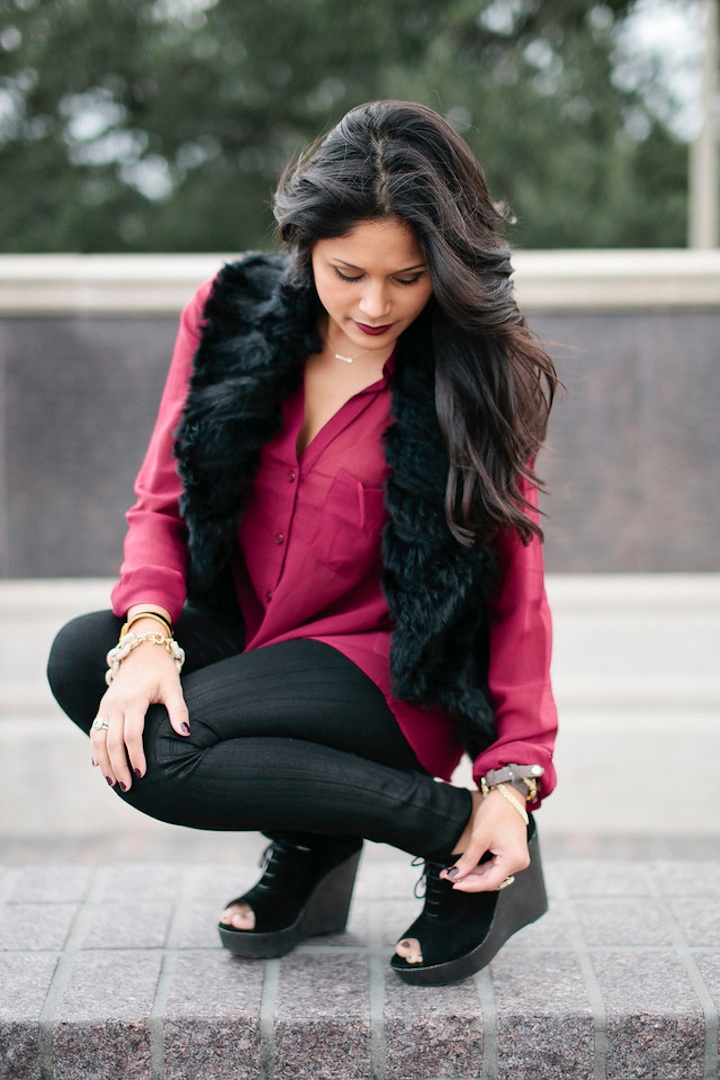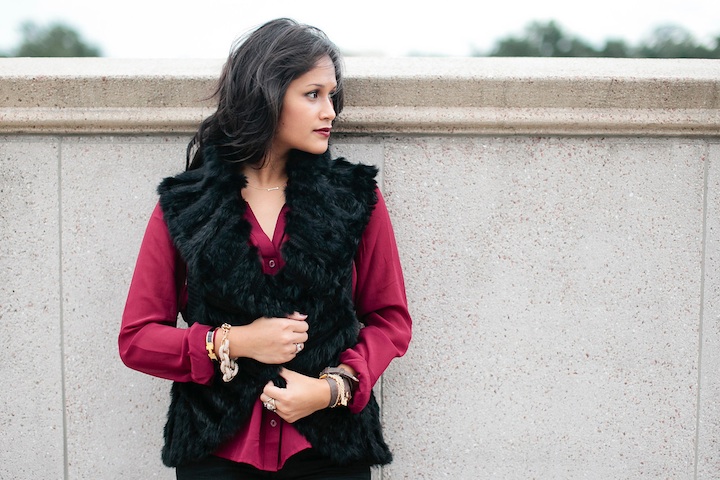 Photos by: Kristen Soileau Portraits
*Shop the look by clicking the images in the widget below!*
Outfit: Metric Knit Fur Vest (Love), Citizens of Humanity Rocket Leatherette Skinnies (Love), Burgundy Sheer blouse (Urban Outfitters) Dee Keller Sassy Wedge Booties (Thank you to Park Lane)
Jewelry: Pave Link Bracelet (J. Crew), La Mer Collections Wrap Watch (The Villa), The Franny Vintage-inspired ring (Club Monaco, currently sold out)
Good Morning readers, I hope you all have been having a great week!  Thank God it's almost Friday right?  I have some exciting news for you!  I've partnered up with a few New Orleans bloggers for some upcoming style collaborations starting this weekend! So get ready to see Rachel Hall of Luxe Hall, Juley Thuy of Upperlyne, and  Katie Dumestre & Rachel Adams of The Elizabeth Chronicles put their style to work on Haute Off The Rack.  I am so excited to work with them and can't wait to share all of the photos with you!  While we're on the subject of style collaborations, what did you think of the first Haute Off The Rack & District Dress Up style collaboration? See here–> (Burberry & Chambray) We'd love to hear your thoughts!  If you liked it, you'll be happy to know we have still have two more outfits to show you!
 About the outfit: I got this sheer blouse from Urban Outfitters a few months ago and it has been such an easy top to style with every day outfits as well as dressy outfits. Considering how versatile it is, I'm considering investing in a few more colors.  Did you notice how much this burgundy colors pops with all black? I especially love how the black fur vest adds a hint of glam to the outfit.  What do you think?  By the way this fur vest is available at Love boutique in Baton Rouge, La (225) 927-7395. Love's selection of fur accessories make great Christmas presents and are sure to add some glamour to any outfit this holiday season!
P.S. Click the ad below to enter the Frock Candy Giveaway for a chance to win a free pair of your favorite boots!