This post is sponsored by Tide Free & Gentle, all opinions are my own.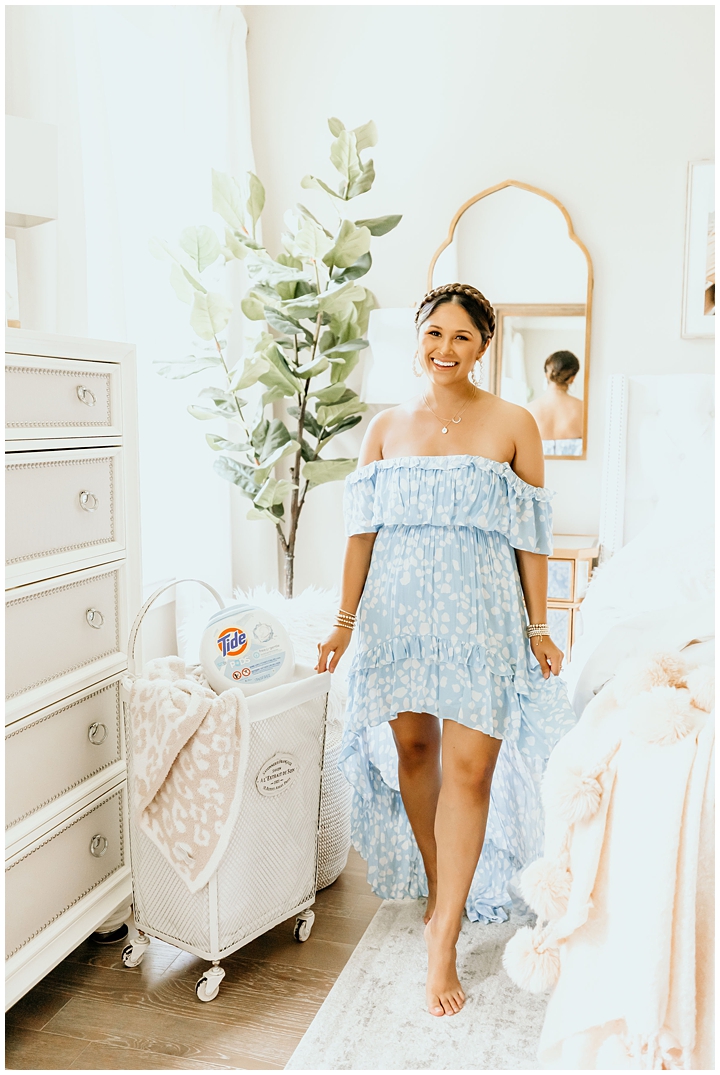 Morning everyone, I hope you all had a wonderful weekend. Today I'm talking about why I started using gentle and hypoallergenic products in my home.  Ever since I became pregnant with Beck, I've been super mindful about the cleaning products I use around my house, especially my laundry detergent since we lay on our bed sheets every day and dry off with bath towels after every shower. So I started using Tide Free & Gentle laundry detergent PODS because not only are they hypoallergenic, free of dyes and perfumes, but they are also tough on dirt, food and stains. I can use the detergent on my own clothes, sheets and towels without having to worry that they'll irritate my skin or cause my baby to have any skin sensitivities. 
Additionally, Tide PODS are better for the environment because the product formula uses less water, they work in cold water and they clean better so I don't end up wasting more water re-washing my clothes.
Lastly, over the past few years I started noticing that cleaning products with strong scents cause me to have headaches or bother my allergies, so I always like to avoid products with strong fragrances.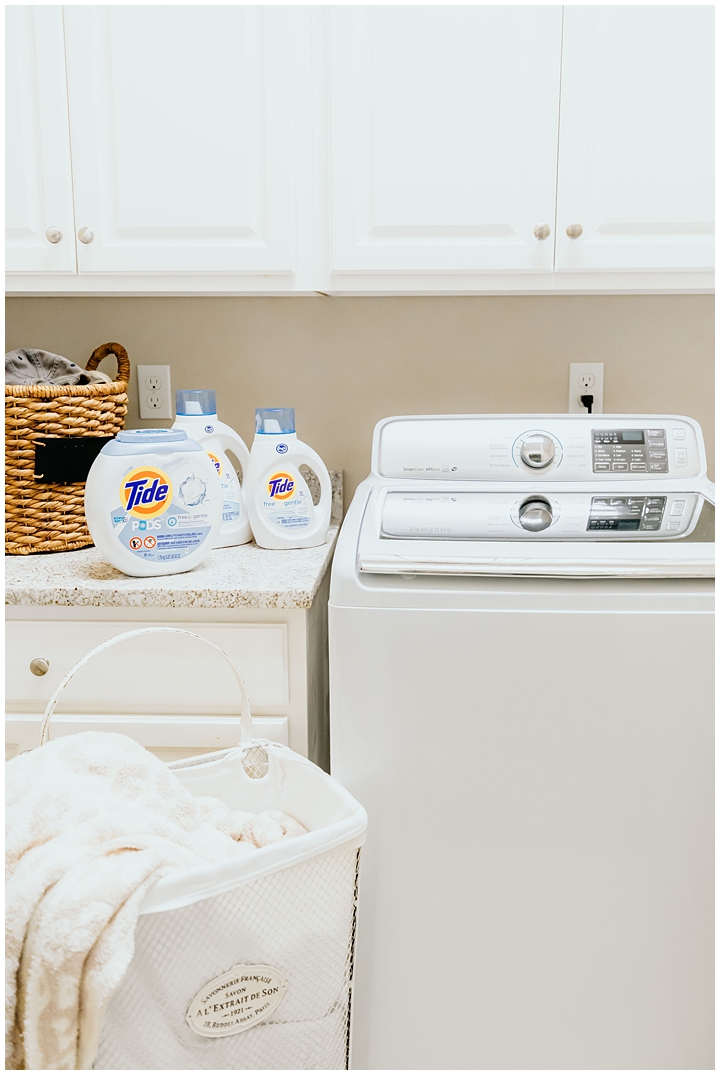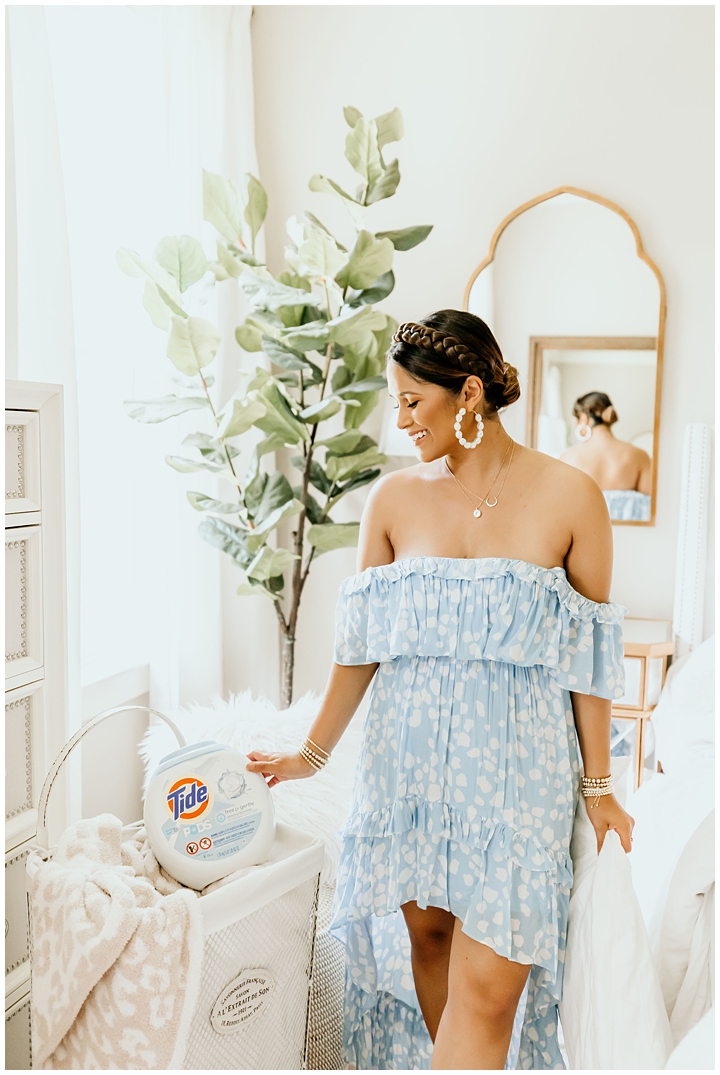 Also, I fortunately don't struggle with eczema or psoriasis, but if you do, you'll be glad to know that Tide is recognized by both the National Eczema Association (NEA) and the National Psoriasis Foundation (NPF), based on an exclusive partnership, and have received Seal of Recognition from the NPF and Seal of Acceptance™ from the NEA. The NPF's Seal of Recognition highlights over-the-counter products that are recognized to help ease irritation for those living with psoriasis and psoriatic arthritis or those with sensitive skin or limited mobility. The NEA has also provided Tide Free & Gentle with the Seal of Acceptance™ that recognizes it as an exceptional detergent for eczema and other types of sensitive skin.
The pacs are super easy to use. All you do is toss in one laundry pack for small and medium loads, 2 pacs for Large/X-Large loads and 3 pacs for XX-Large loads. Be sure to never add Tide PODS® Free & Gentle to the dosing drawer. Just throw them into your washer machine, add in your laundry and then start the machine.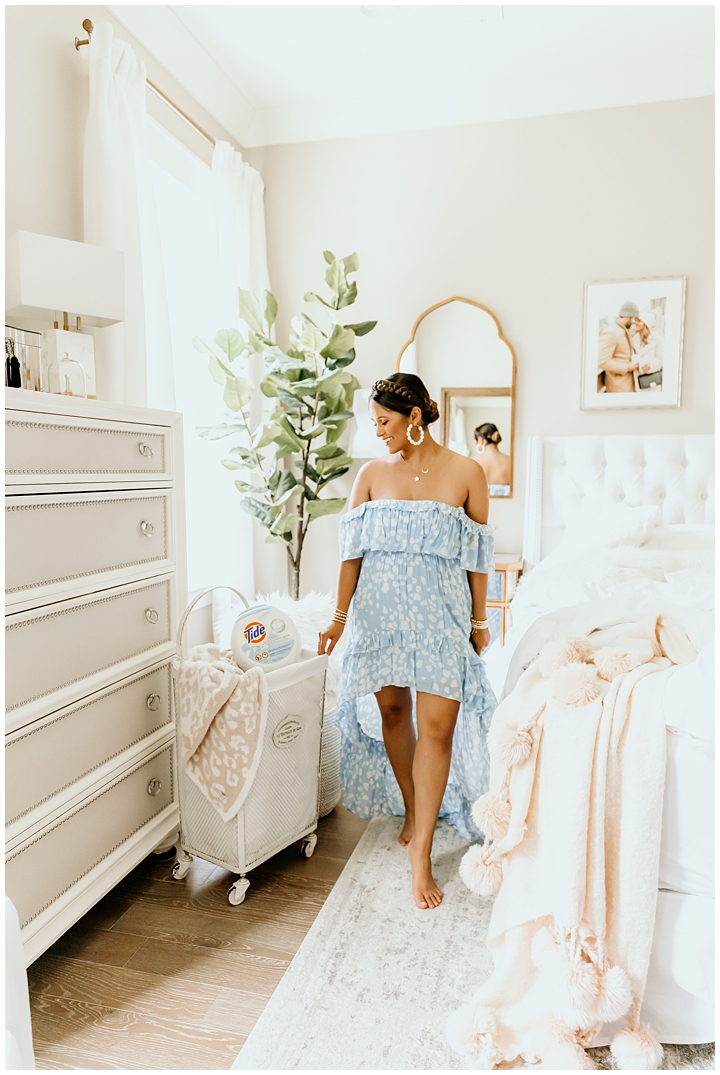 | Shop This Look |
Outfit: High Low Maxi Dress | Pearl Earrings | Gold Beaded Bracelets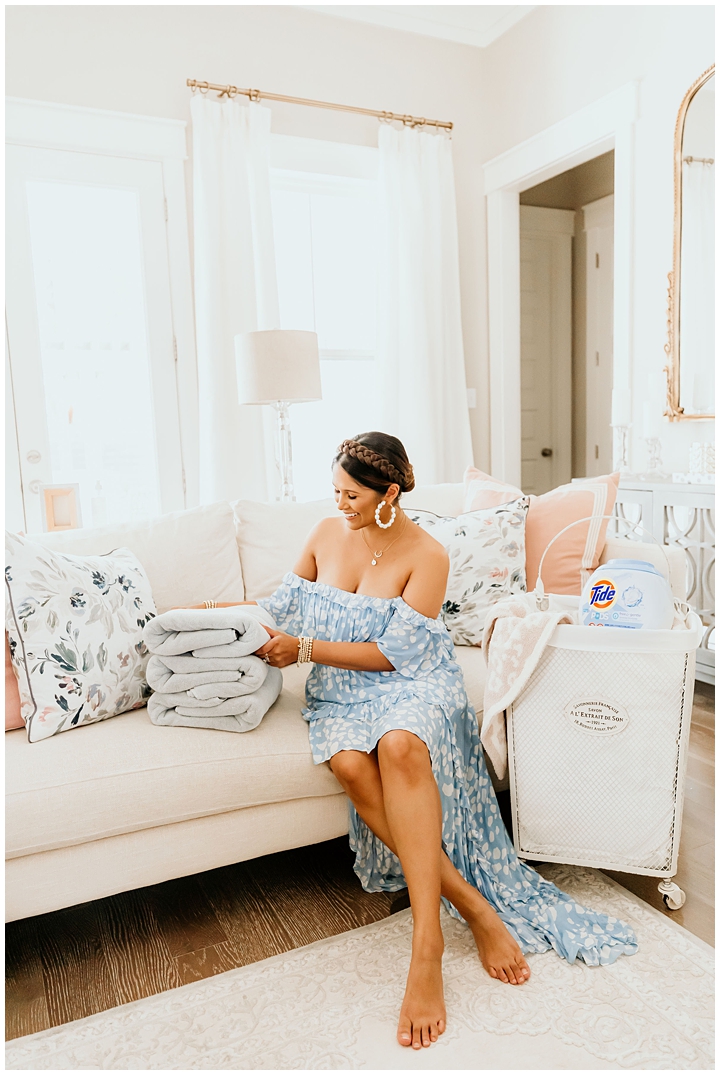 | SHOP MY LIVING ROOM |
Furniture: Sofas from Arhaus | Gleaming Primrose Mirror | Mirella Mirrored Gray 54″ TV Stand | Enzo Rug, Dove |Barbara Barry Modern Drape Rod Pocket/Back Tab Window Curtain Panel| Warm Gold Curtain Rod |
Pillows: Down Feather Inserts | Meadow Ribbon Trim Tassel Pillow | Classic Trim Pillow in Peach | Vienna Floral
On Left Console Table:  Glass Sora Pillar Candleholders | Gleaming Primrose Mirror | Vogue x Music Book | Chanel Three Book Set | White Globe on Gold Stand | diptyque Baies/Berries Scented Candle | Cloche with Metal Base |