Happy Wedding Wednesday everyone! Get excited because today you're getting an exclusive first look into my New Orleans wedding. I'm not giving away all of the details just yet, but I've been getting so many questions about my bridesmaids dresses that I figured I should create a blog post with all of the information to order my exact dresses.
Even before I was engaged, I knew I didn't want my future bridesmaids dresses to look like "bridesmaids" dresses (aka overly modest, stuffy or stiff). I truly wanted my friends to be able to wear them again to another occasion because there is nothing I dislike more than investing a couple hundred into a dress that I don't even like knowing that I'm only going to wear it once. That being said, I avoided looking at any dresses labeled as a bridesmaids dresses and instead I had a look through my own closet of gowns and maxi dresses. I came across a couple of my favorite maxi dress styles by Amanda Uprichard that I had purchased over the years and immediately ran to my computer to find them in a color that would complement my wedding colors. I've been wearing pieces by Amanda Uprichard for years so I trusted the quality and fit and knew my friends would love her designs too.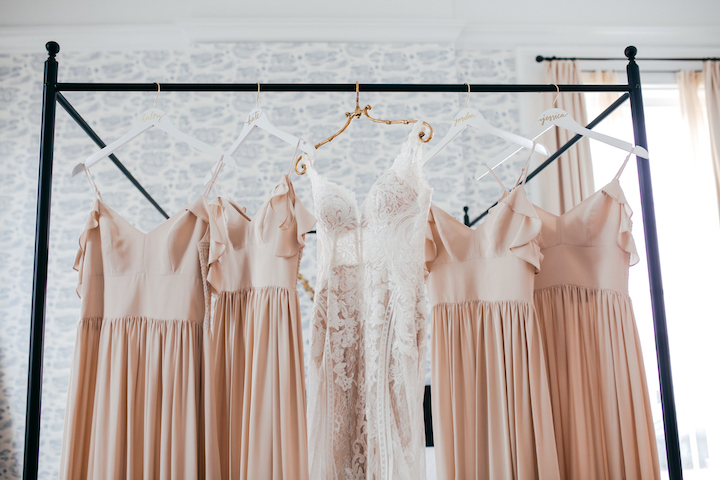 Unfortunately, they were sold out everywhere so I reached out to their team to see if they offered custom dresses for bridal parties and sure enough they do! They're even about to launch a brand new wedding collection with beautifully flowy styles and eye catching thigh-high slits. Just about everything I look for in a gown! Amanda and her team made created the dresses in the soft bone color I requested and they turned out even more perfect than I had imagined. In fact, I even ordered one for myself to wear to a future event.
You can special order my exact bridesmaids dresses in bone at www.amandauprichard.com or even choose them in a different color or style.
I style their nude colored dresses with rose gold Loren Hope jewelry.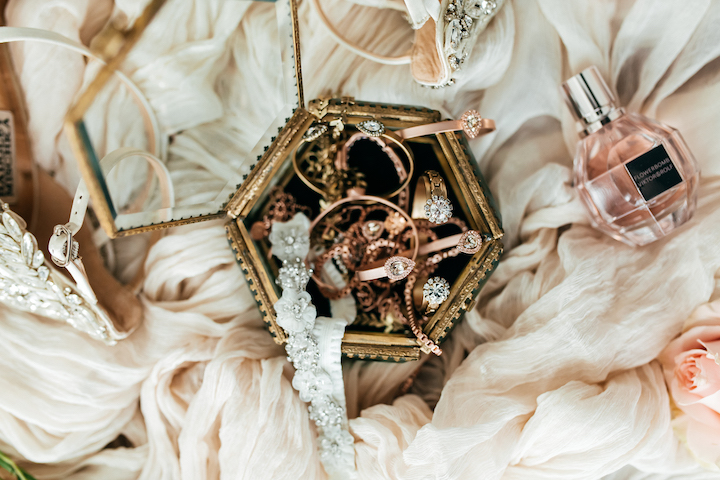 | Shop My Bridesmaids Loren Hope Jewelry |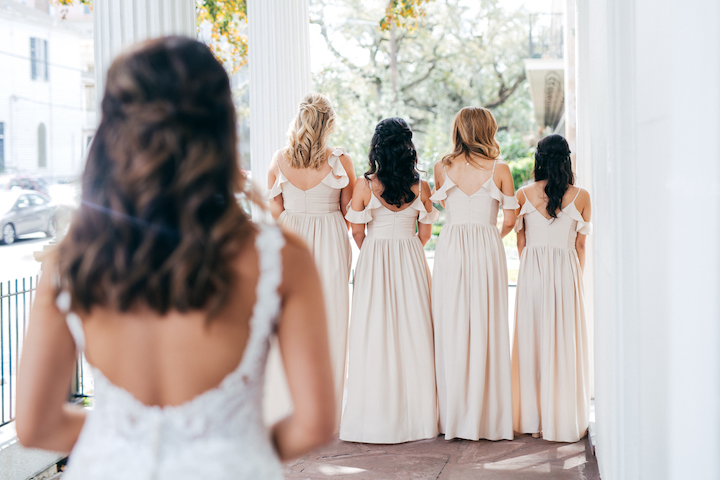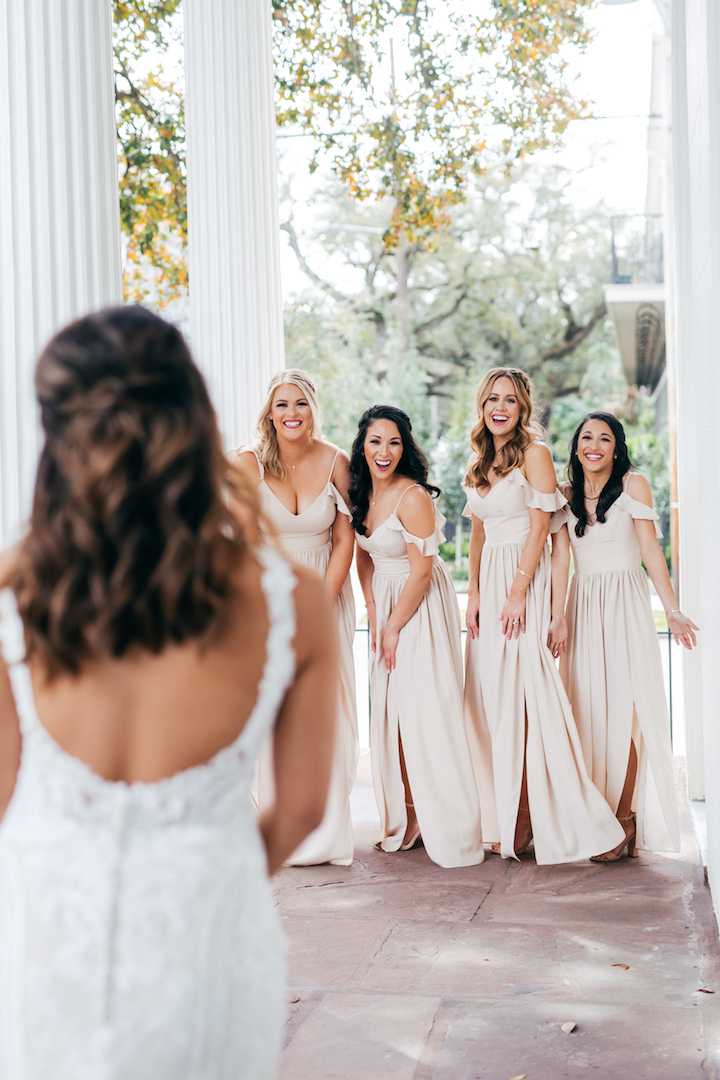 Hair & Makeup: I chose local makeup artist, Ashley Sievert to do the bridal party's makeup because I've been wearing her products for years and when it comes to natural looking makeup that pops, Ashley Sievert is your girl!  We all got so many so many compliments on our makeup that day that I decide to have Ashley give me a makeup lesson before our big wedding reception in Cabo so I could recreate the look.
For hair, I chose my go-to gal in New Orleans, Ginger Dufriend because she always kills it with perfectly undone boho hairstyles, which is exactly the vibe I was going for.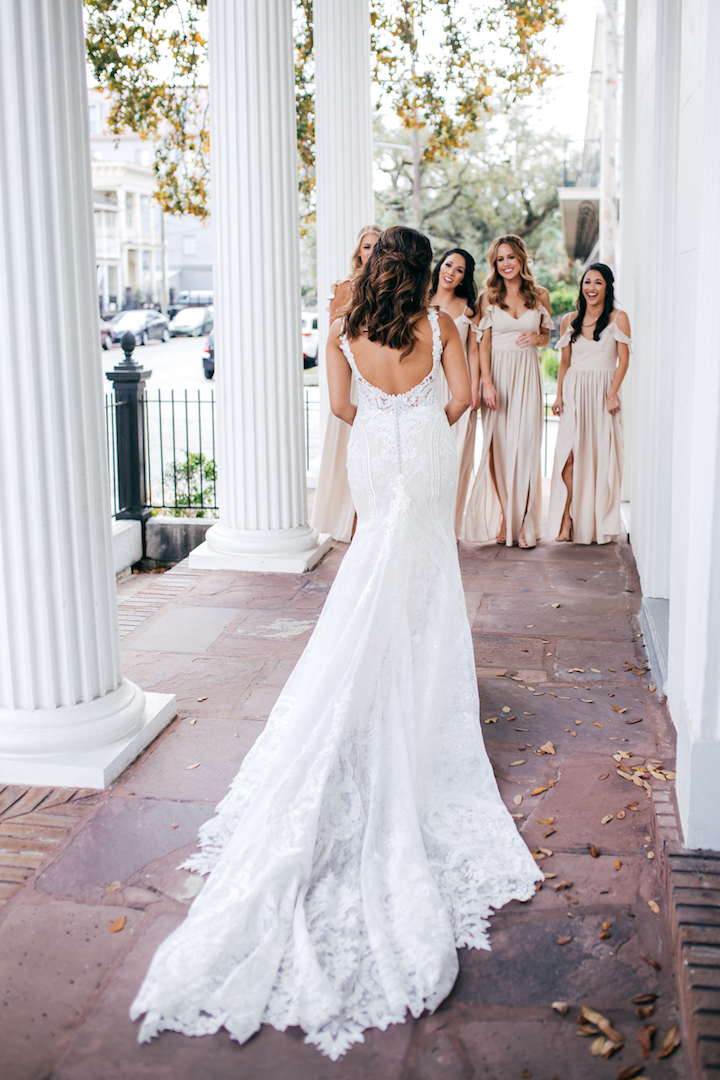 Fun facts about my bridesmaids:
I made my sister my maid of honor, but I've known these girls for 10+ years so technically they were all my maids of honor. I've been friends with one of them since the first grade and another one since 4th grade and the last one in 8th grade. We've all been inseparable ever since! In their wedding speeches, they all mentioned what a loyal friend I am. In other words…they were never able to get rid of me because once I become your friend, I'm yours forever!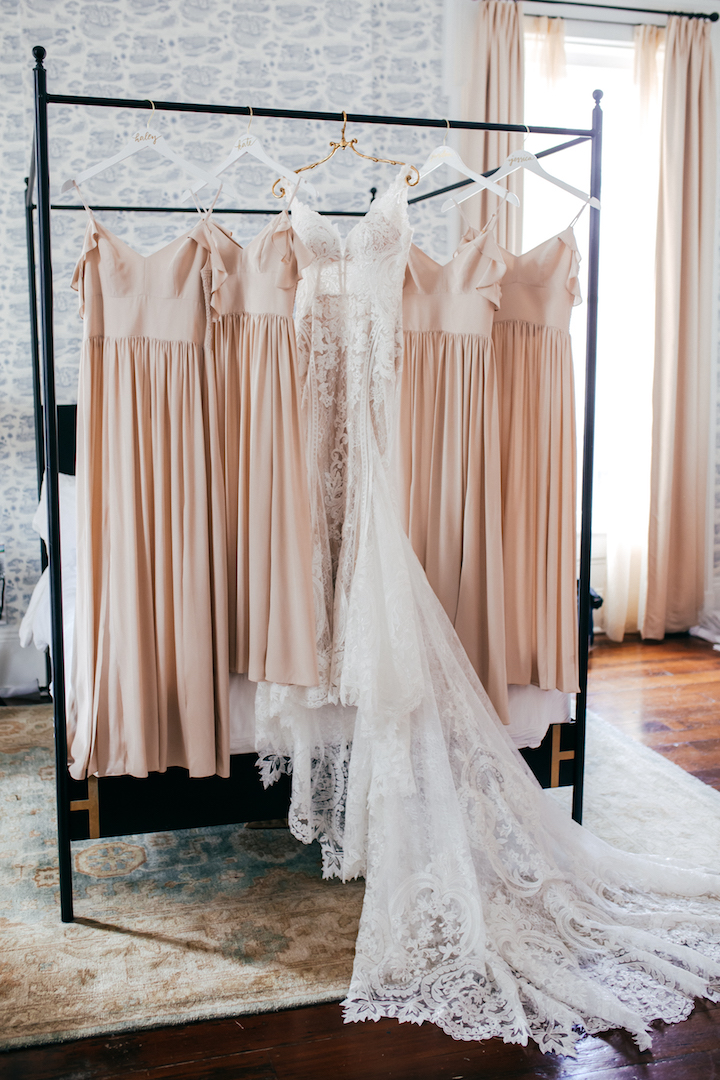 Dress Hangers: I researched custom hanger options for my wedding dress and bridal party dresses for weeks and everything seemed slightly over priced or wouldn't arrive in time. So I decided to just order 50 white wooden hangers with gold wires from Amazon and had my friend write everyone names in gold paint. They looked just as good as everything else I had come across except I saved myself $65 extra bucks.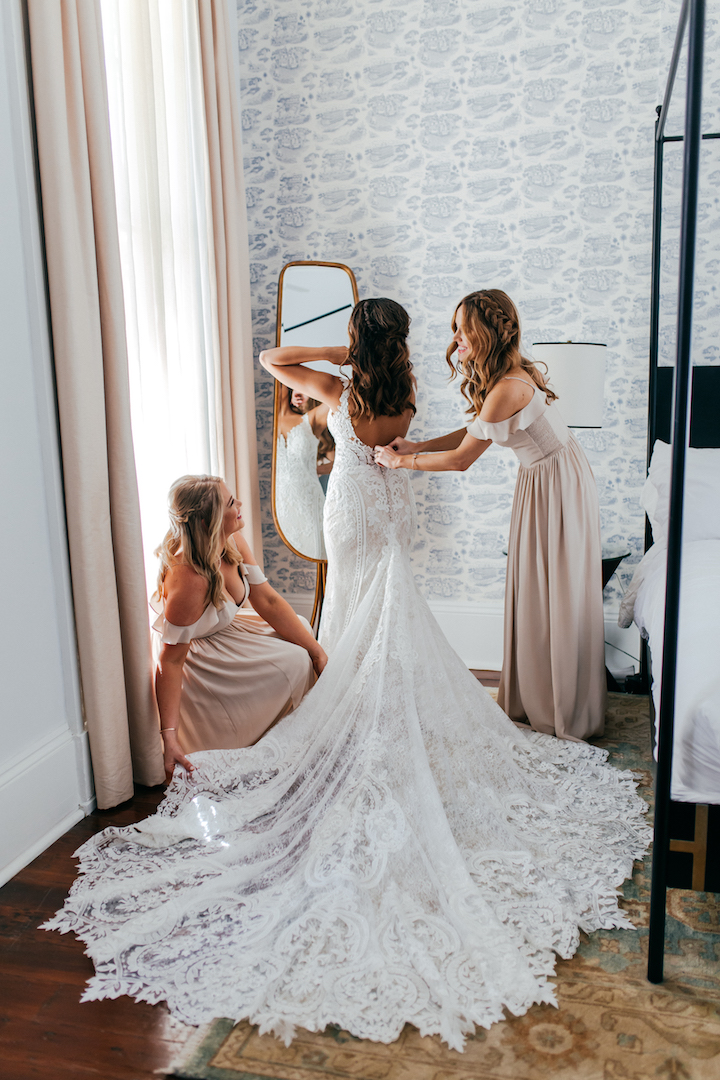 I will be doing a whole blog post just about my wedding dress, but I found this Martina Liana gown at Town & Country Bridal boutique in New Orleans. I wearing style 905: French-Insired Lace Wedding Dress. I thought it fit my New Orleans garden glam theme perfectly!
The floral applique clutches we're carrying are apart of my upcoming wedding collection with GiGi New York that we're launching with my garden glam theme wedding in New Orleans very soon.
Wedding Vendors:
@elysejenningsweddings | Wedding Planner & Designer
@kimstarrwise | florals & signage |
@chasingwang | cakes
@distressedrentals | rentals
@kinfolkbrassband2018 | brass band
@oldtownpraline | secondline umbrellas
@ilmercatonola | venue
@henryhowardhotel | dressing location
@scriptura_nola | invitations & program hankies
New Orleans Classical and Jazz | Ceremony Music
@luminousevents | festoon lighting
Hair & Makeup:
@hairbyginger | hairstyles
@ashleysievertbeauty | makeup
Fashion Details:
@townandcountrybridal | Wedding Dress by @MartinaLianabridal
@amandauprichard  | bridesmaids dresses
@lorenhope | jewelry
@leemichaels | wedding bands
@giginewyork | clutches
@yosisamra | flats
@Markandgraham | weddings gifts
Film & photography:
@laineyreedphotography | lead photographer
@mpreau | 2nd shooter
@brookeboydd | film
@aperture_photos_co | iPhone
SaveSave
SaveSave
SaveSave
SaveSave
SaveSave
SaveSave
SaveSave
SaveSaveSaveSave
SaveSave
SaveSave