Hey everyone, I hope you had a lovely first weekend of spring! Today I'm finally sharing the details from my bridesmaids luncheon cooking class at Simplee Gourmet in New Orleans. If you know me, then you know I like all of my parties to include games or activities. It's the best way to get your friends and family members to interact with each other instead of just standing around talking. At my bridal shower I incorporated a flower crown making class so I thought it would be fun to turn my bridesmaids luncheon into a cooking class. Simple Gourmet was so kind to host us and they chose the perfect chefs to teach us how to whip up some New Orleans inspired dishes like shrimp and grits, lump crabmeat salad and crawfish and mirliton soup. Don't worry I'll be sharing all of the recipes to these mouthwatering dishes in today's blog post especially the Crepes Fitzgerald that we made for dessert.
See more details on the MacKenzie-Childs Sweetbriar Collection here—> Bridal Brunch Table Setting With MacKenzie-Childs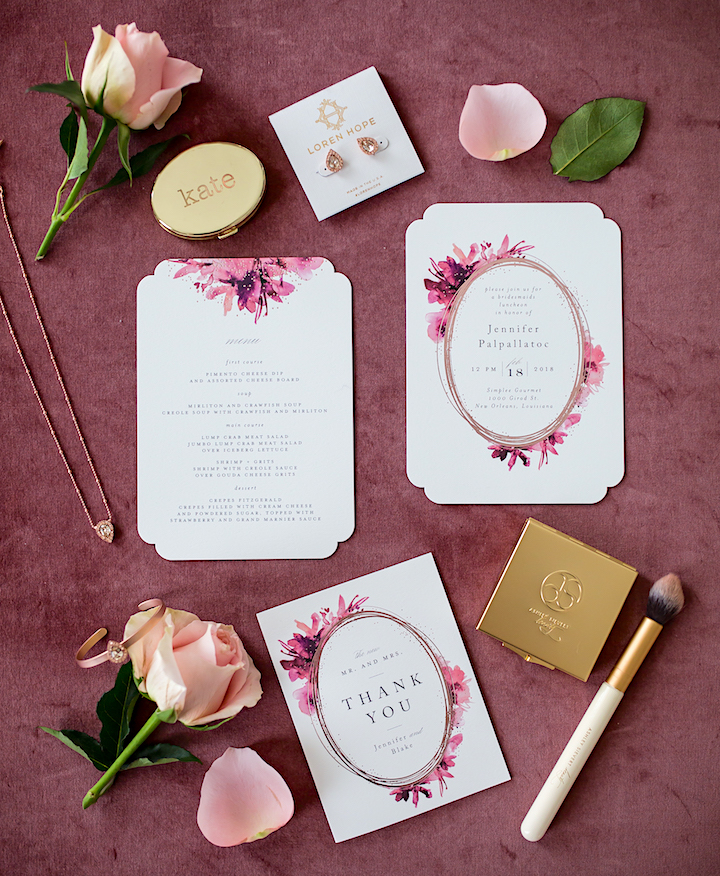 | Shop My Invitations & Bridesmaids Gifts |

 I ordered my bridesmaids luncheon invitations and menus from Minted.com and they even came with thank you cards to match. It took me forever to decide though because offer so many pretty gold foil designs.
As for bridesmaids gifts, I picked out quite a few different goodies for both my New Orleans bridesmaids and my Cabo bridesmaids. I gifted my new Orleans bridesmaids personalized Mark & Graham compact mirrors, rose gold Loren Hope jewelry, rose gold Yosi Samra flats, Ashley Sievert bronzer and contour brush and some floral appliqué clutch from my exclusive Gigi New York Wedding collection that hasn't even launched yet to use on the day of the wedding. See a sneak peek below.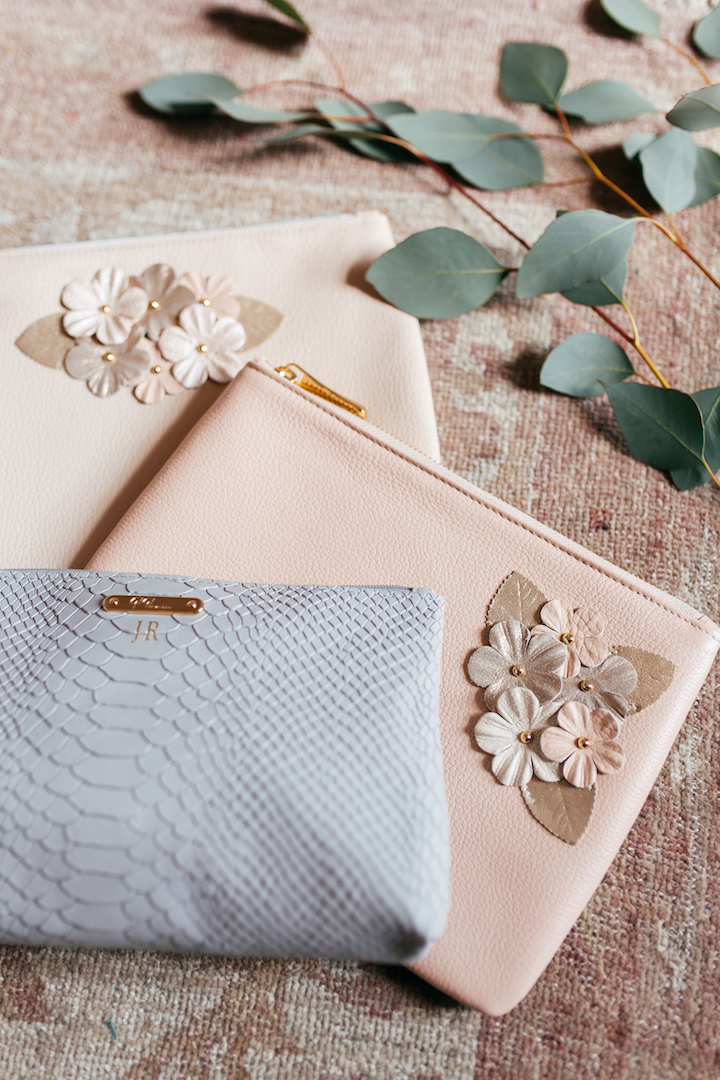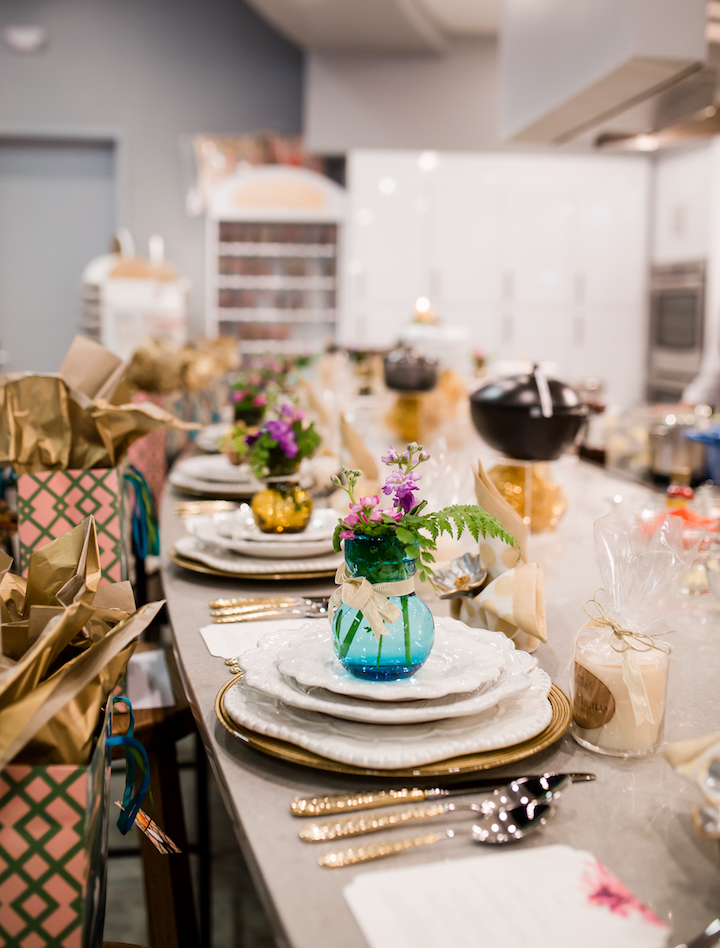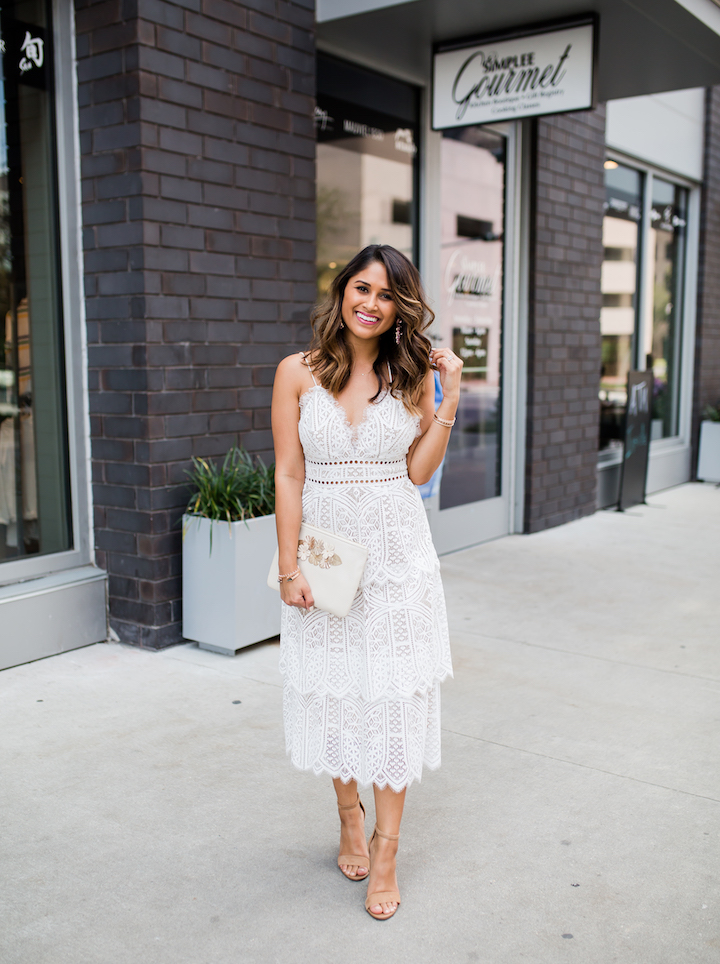 | Shop My Look |

Outfit: Lace Midi Dress | Nude Ankle Strap Heels | Sequin Floral Hoop Earrings | Gigi New York Clutch (will be available soon)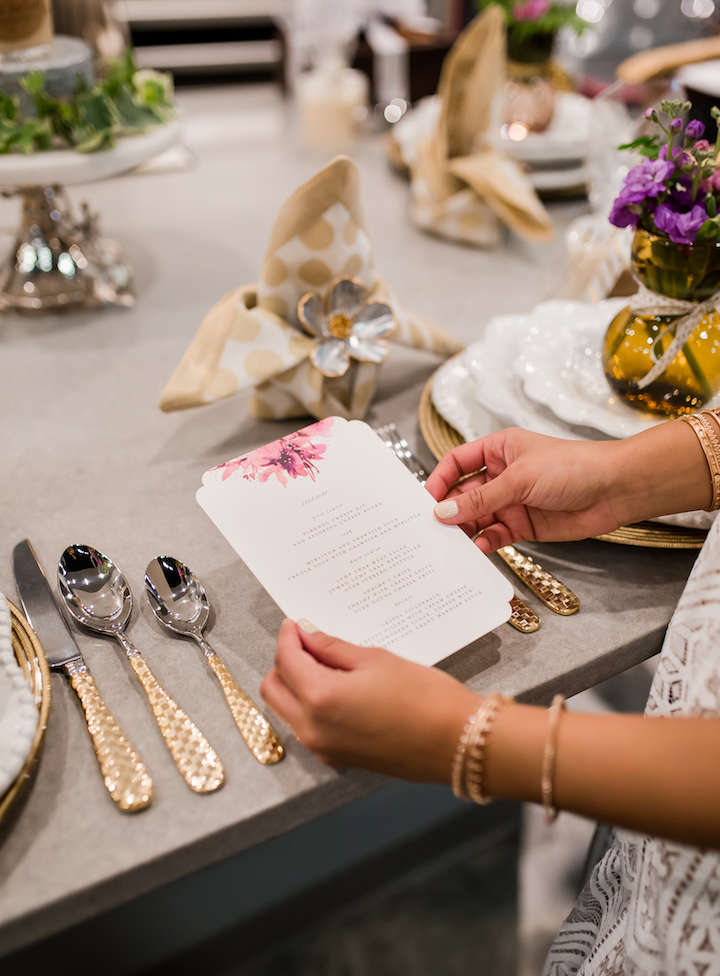 You may recognize the dinnerware and flatware from my at-home bridal brunch and that is because Simplee Gourmet also carries MacKenzie-Childs tabletop and kitchen collections. I'm in love with the new Sweetbriar Collection so be sure to check it out and add it to your registry if you're a bride-to-be. See more details on the collection here—> Bridal Brunch Table Setting With MacKenzie-Childs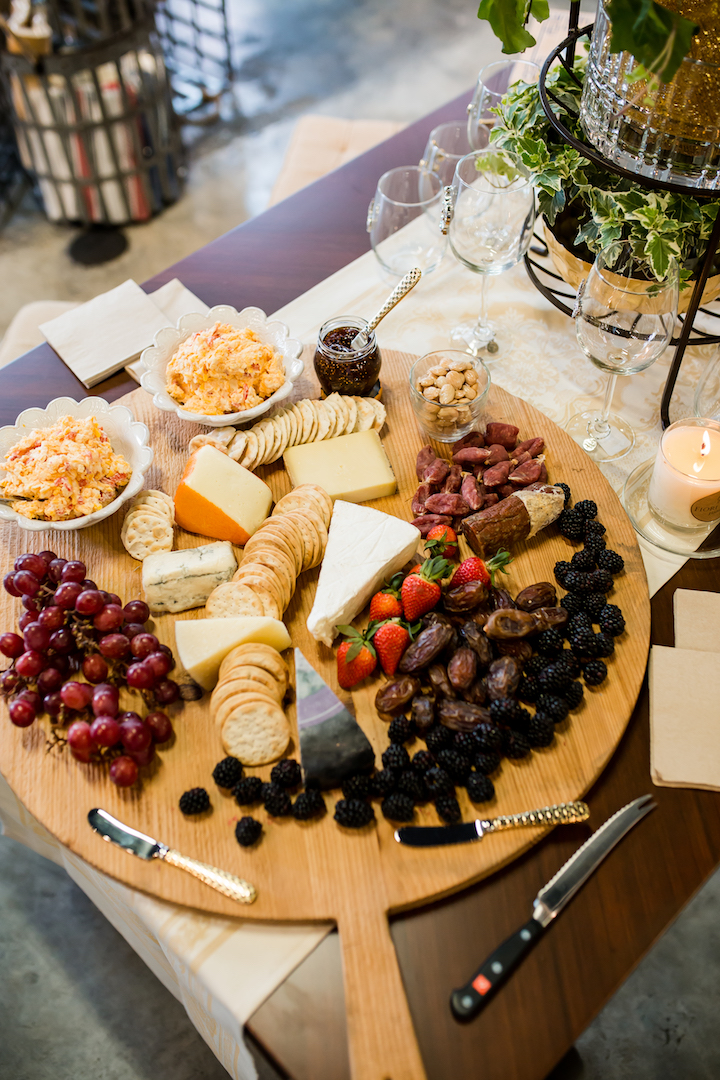 Simplee Gourmet had the most delicious pimento cheese board set out for us as we all arrived and it was the most divine pimento cheese dip I've ever tasted. Lucky for you, I've included the recipe below!
Jennifer's Bridal Luncheon Cooking Class Recipes
Ingredients:
1 1⁄2 C white cheddar cheese, grated 1 C sharp cheddar cheese, grated
8 oz. cream cheese, softened
1⁄2 C mayo
1 t red wine vinegar
4 oz. pimentos
1⁄2 t onion powder
1⁄2 t garlic powder
1⁄2 t paprika
1⁄4 t hot sauce
Directions:
Grate cheese and add to bowl.
Add cream cheese, mayo, vinegar, onion powder, garlic powder, paprika, and hot sauce.
Using a hand mixer, blend all ingredients
Fold in pimentos
Serve

Jumbo Lump Crab Salad
Ingredients:
Jumbo lump crab meat
1⁄2 bunch chopped green onions, whites and light greens only 1⁄4 C mayo
3 t jalapeño juice
1 t Tabasco
Salt to taste
Pepper to taste
Old bay to taste
3 T capers
Directions:
Blot excess crab juice with paper towel once in bowl
Add all ingredients to bowl
Fold in carefully, making sure not to break up crab meat
Serve over lettuce or with crackers

Shrimp + Cheese Grits
Ingredients: Grits:
2 C stone ground cheese grits 8 C water
1 bag shredded Gouda
1 bag shredded cheddar
1⁄2 stick butter, cubed
1⁄2 c heavy whipping cream
S+P
Shrimp:
8 strips bacon, chopped
1 1⁄2 # shrimp, peeled + deveined
3 cloves garlic, minced
1 t Tony's
4 green onions, chopped whites + light greens
Directions:
In a stock pot, bring water to a boil. Slowly stir in grits, reduce heat, and cover. Cook for20 mins or until thickened. Stir in cheese, butter, + cream. Set aside to keep warm.
In a large skillet, cook bacon over medium heat until crisp. Remove bacon from pan with slotted spoon and reserve oil in pan. Use the oil in the pan to sauté shrimp. Once the shrimp are pink, turn off heat and serve over grits. Top with green onions.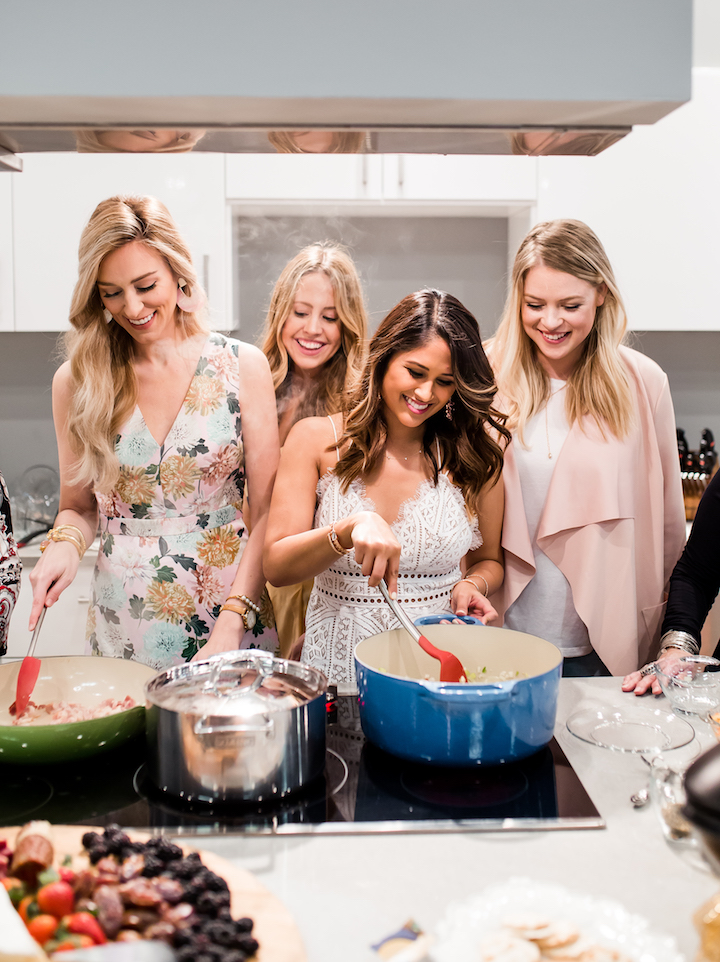 Crawfish + Mirliton Soup
Ingredients:
2 T oo
2 T butter
1 C finely chopped onions
1⁄2 C finely chopped green bell pepper 1⁄2 C finely chopped celery
1⁄3 C finely chopped Tasso 1 T minced garlic
1⁄4 C flour
2 T tomato paste
6 C veg stock 1 bay leaf
1⁄2 t esssence 1 1⁄2 t salt
1 t liquid crab boil
Pinch cayenne pepper
2 C peeled + seeded + diced mirlitons 2 C chopped tomatoes
1 t chopped fresh oregano
1 # crawfish tails
1 T fresh basil, chopped
1 T fresh parsley, chopped 1⁄4 C heavy cream
Directions:
Heat a 4qt stock pot over med high heat
Add oo and butter to pot
Once hot, add onions, bell peppers, celery, + Tasso, cook until very soft
Add garlic and continue cooking
After 1 minute, sprinkle flour over veggies and cook 1-2 mins
Add tomato paste, stock, bay leaf, essence, salt, crab boil, + cayenne
Bring to a boil then reduce to a simmer
Allow to simmer 5 minutes then add mirlitons and cook until tender, 20 mins
Add tomatoes + oregano cook for 5 mins
Add crawfish, basil, parsley, + heavy cream and stir
Cook about 5 more minutes
Make sure seasoning is as desired
Serve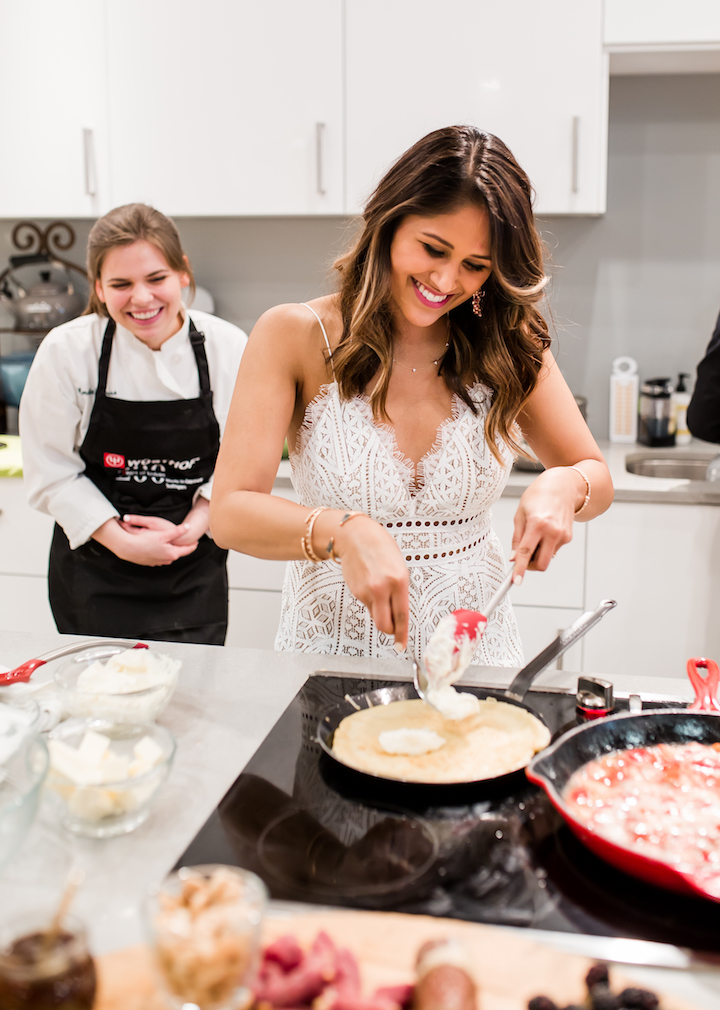 Crepes Fitzgerald
Ingredients: Crepe mix Cream cheese Powdered sugar Strawberries
25 T Grand marnier 10 oz Sugar
10 oz Butter
Directions:
Mix crepe mix.
Make crepes using a crepe pan.
Spread cream cheese and powdered sugar inside crepes and fold.
In a small saucepan heat butter + sugar, add strawberries and cook for about 3 mins.Add grand marnier.
Pour sauce over crepes and serve.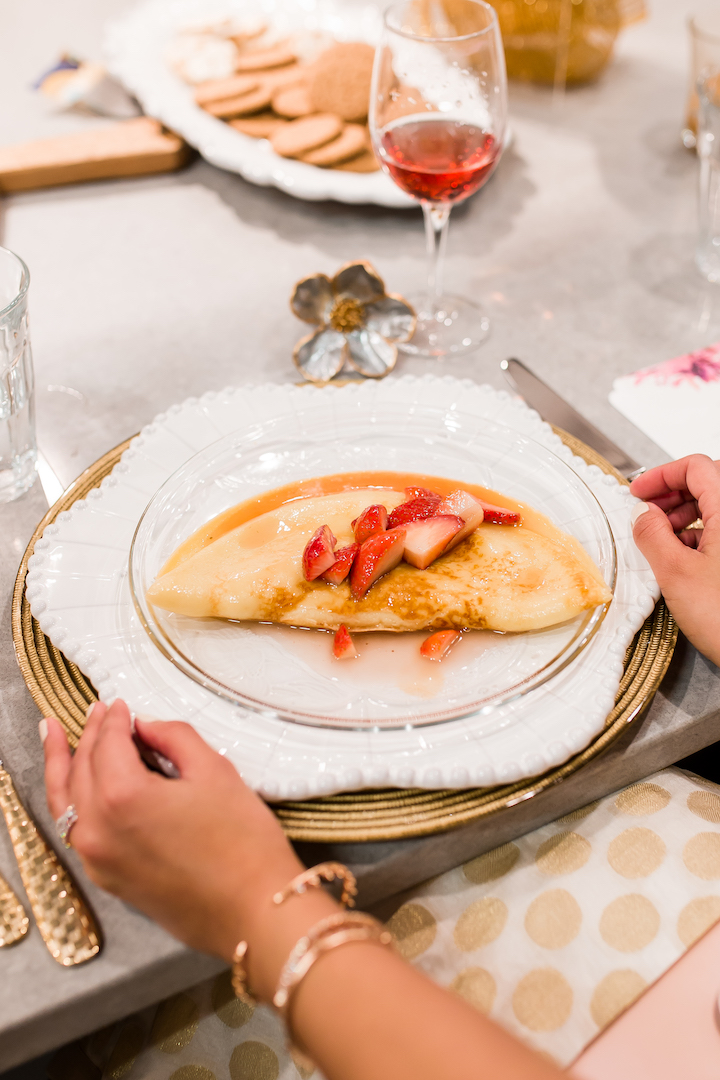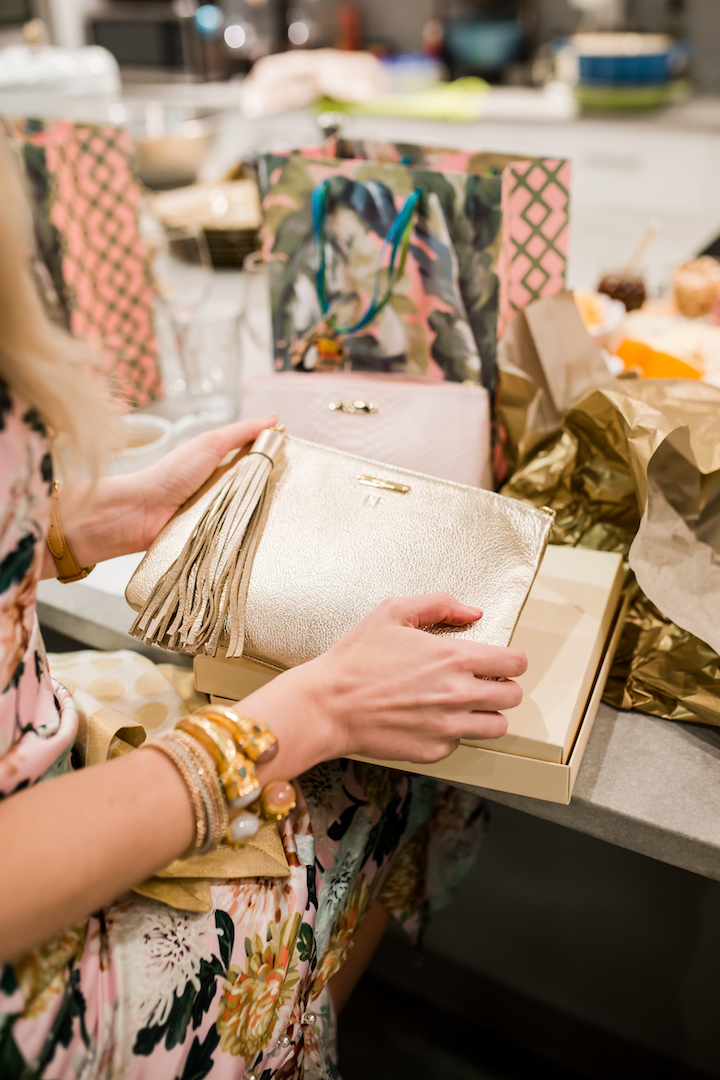 If you're looking to do something fun with your bridesmaids, family or group of friends, I highly recommend booking a cooking class at Simplee Gourmet. They did such a wonderful job planning the event from top to bottom and catering to my every request to make it a great experience for my bridesmaids.
Decorative Wedding Cookies by The Little Oven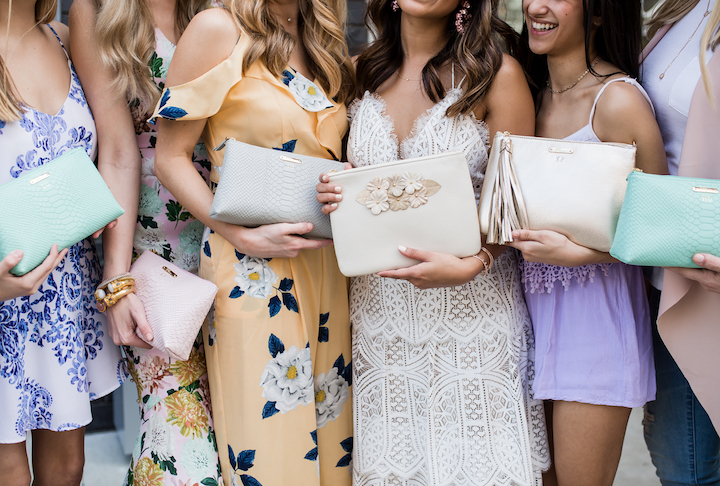 | Shop My Gigi New York Gifts |

Not only did I host my bridesmaids luncheon at Simplee Gourmet, but Blake and I also registered for some of our wedding gifts there as well. Keep your eyes out for my upcoming post featuring all of the items we registered for. Simplee Gourmet carries the most beautiful selection of dinnerware, flatware and serving pieces. They also carry the top brands for wine glasses, cutlery and cooking pots and pans.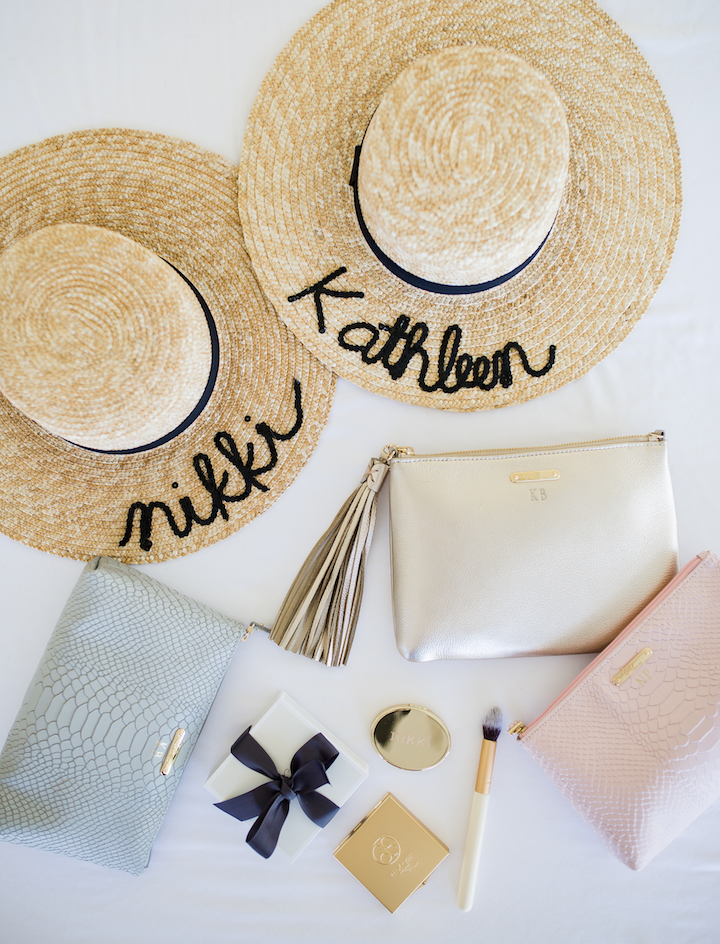 | Shop My Cabo Bridesmaids Gifts |

A huge thank you to the owner of Simplee Gourmet for working with me to make this an an incredible experience for my friends and also to the amazing chefs,  Alexandra Waguespack and Amelia Rosso who managed to teach us how to cook!
SaveSave
SaveSave
SaveSave
SaveSaveSaveSave