Happy Friday everyone, I'm so excited for my baby shower with my friends coming up next weekend and I realized that I never shared the details from the gender neutral shower that I threw for my friend last April.  Most people hate the stress of planning events, but I thrive on coordinating and designing parties and events so I was super excited that my friend allowed me to partner with her family to create the perfect shower for her and Baby S. I'm not gonna lie…boy showers and parties tend to be a challenge for me because I'm so girly, but this tropical animal theme with gold and palm print accents turned out even prettier than I could have imagined. Thankfully I had plenty of help from my assistant along with her mom and sister and some fabulous vendors.
Scroll through this post to see everything we used to throw the perfect baby shower along with my top 5 tips for hosting.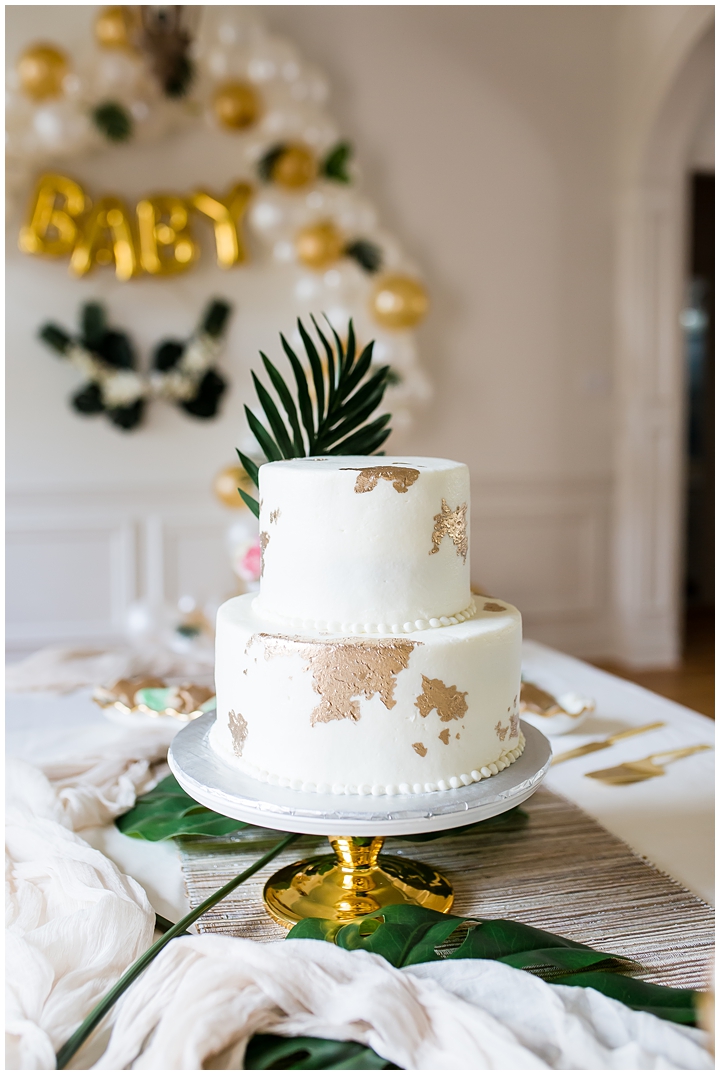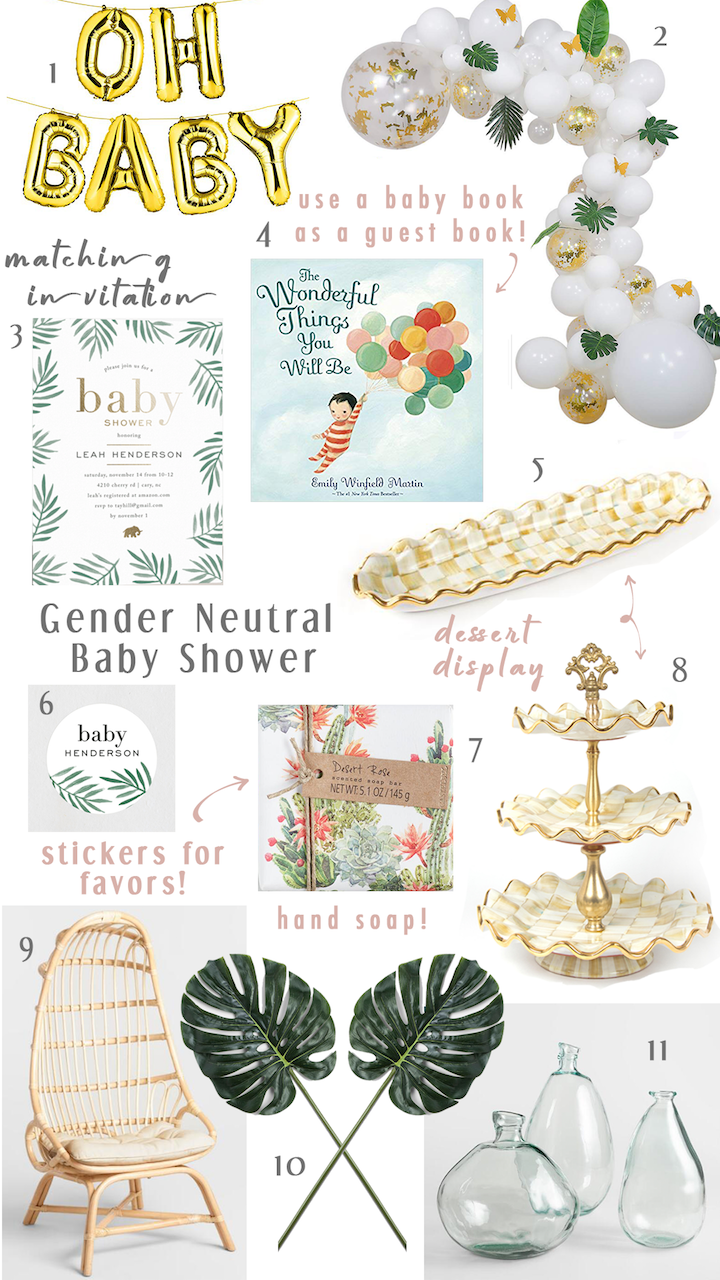 | Shop This Baby Shower |
1. 16″ Set of Gold"OH Baby" Balloons | 2. DIY White Balloon Garland Kit  | 3. Baby Shower Invitations | 4. The Wonderful Things You Will Be | 5. Hors d'Oeuvre Tray | 6. Baby Shower Stickers | 7. Desert Rose Bar Soap | 8. Three Tier Sweet Stand | 9. Natural Rattan Fallon Cocoon Chair with Cushion | 10. Faux Stem Split Leaf Philodendron | 11. Clear Barcelona Vases

Me & the beautiful mom-to-be
My outfit: Printed Ruffle Dress (also similar here) | Nude Heels | Jewelry c/o Julie Vos
Top 5 Tips for Planning and Hosting a Baby Shower:
Choose a date at which the mom-to-be can still enjoy herself. A pronounced baby bump is adorable, but you always want her to still have plenty of energy and time to organize all of her gifts after the shower before the baby arrives. We planned this for shower in the middle of her second trimester. We also made sure it was a date that her most important loved ones would be able to attend.
Once you've chosen a venue, theme, date and time, design an invitation that reflects the theme and mail out the invitations 3-4 weeks before the shower so the guests have enough time plan ahead and purchase a gift from the registry. I love using Minted for all of my invitations because it easily allows you to upload addresses and have both the recipient and sender's addresses printed on the envelope. So when they arrive, all you have to do is stuff the envelopes and put them in the mailbox. Minted even offers customized stamps and matching thank you cards too.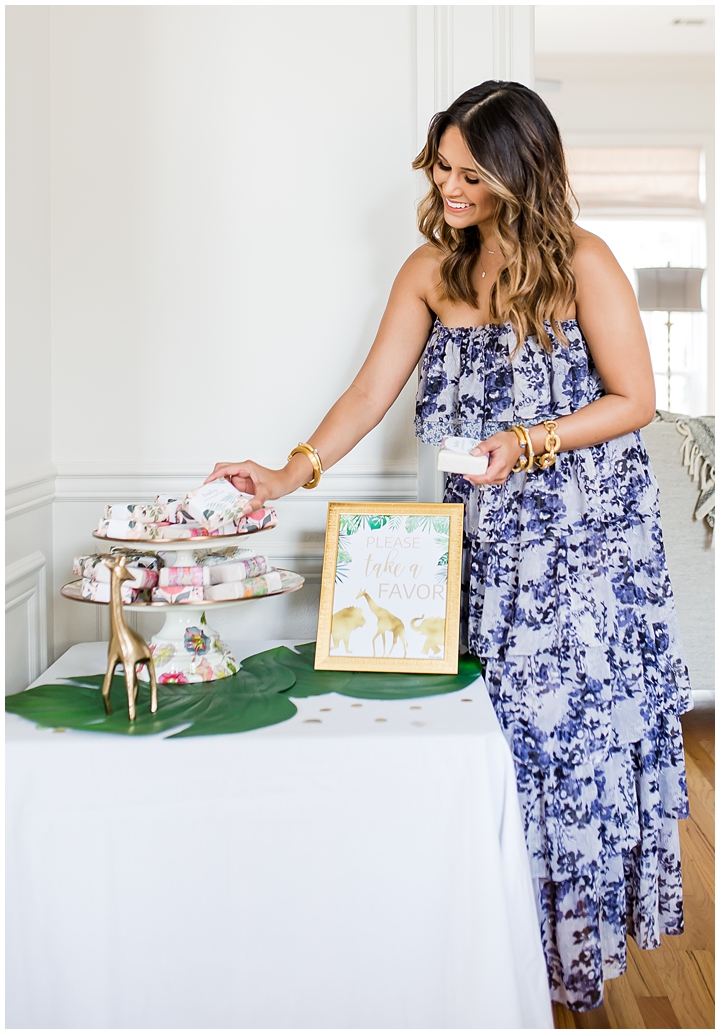 I found these gold safari signs on etsy and used inexpensive gold frames from the dollar store to display them. I used dessert stands to display the favors for guest to take.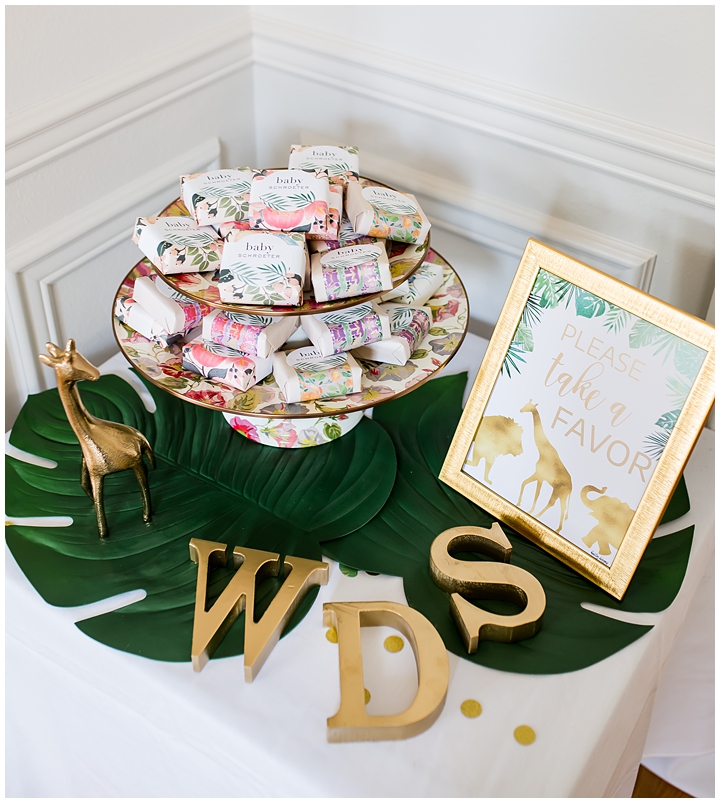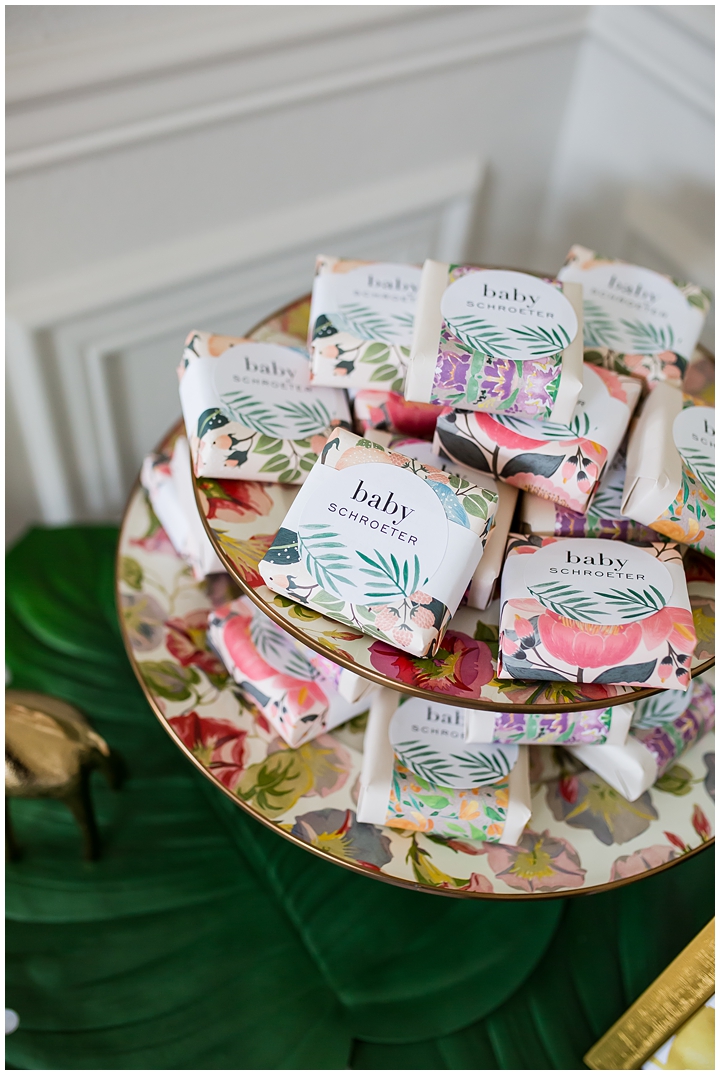 We gave out scented soaps as shower favors and used stickers from Minted to customize them. I found these palm leaf placemats at World Market these wooden letters at Hobby Lobby. We chose the baby's initials and spray painted them gold, which they ended up using as decor in his room.
3. When it comes to decor, once you choose your theme or color scheme, look through your house to see what you already that you could use like candles, vases, tablecloths etc…This will help you save some money when it comes to shopping for decor. Speaking of saving, I always like to make my own flower arrangements too when hosting at my house instead of hiring a florist. I like to save florist for venues when I have lots of space to fill.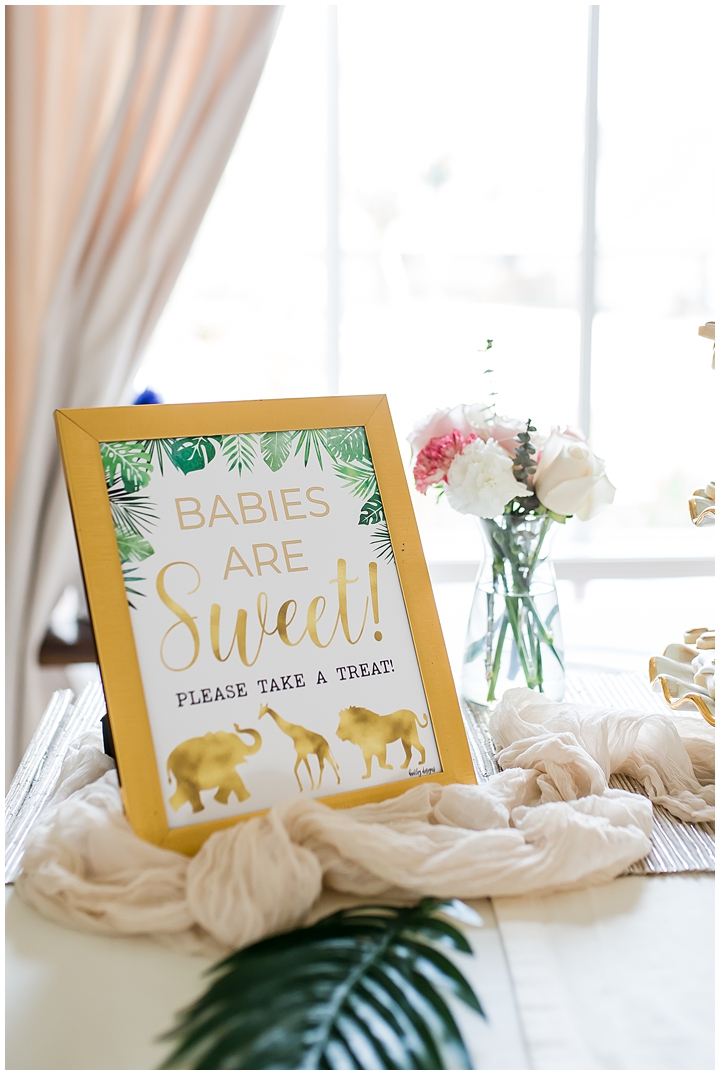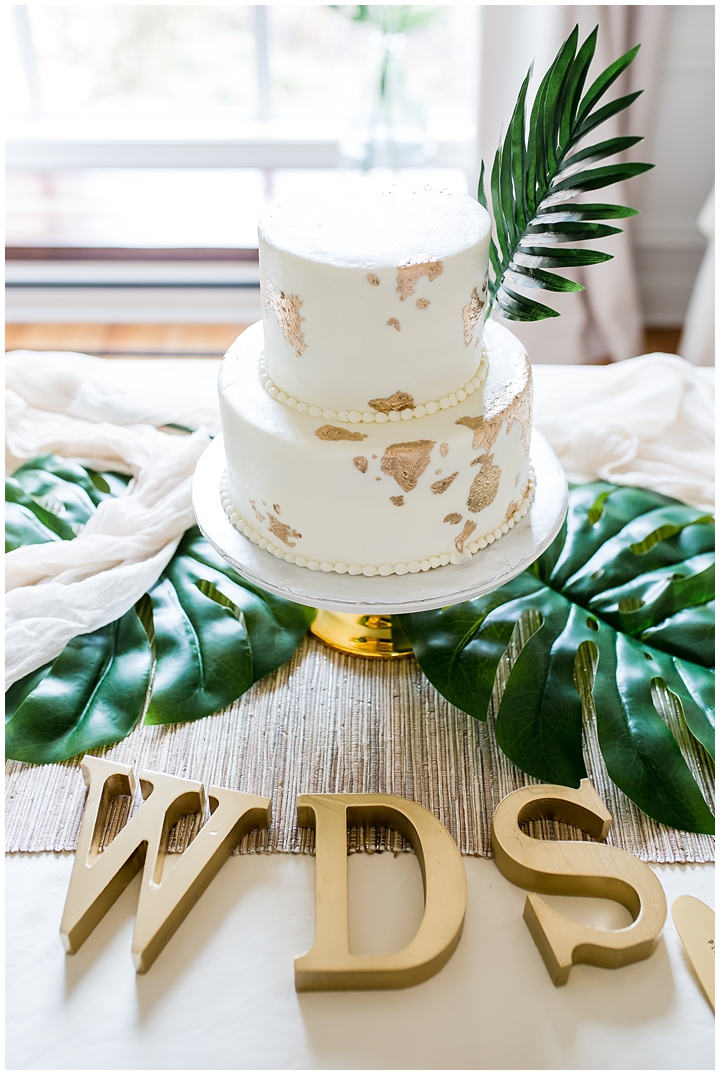 Cake & cookies by The Little Oven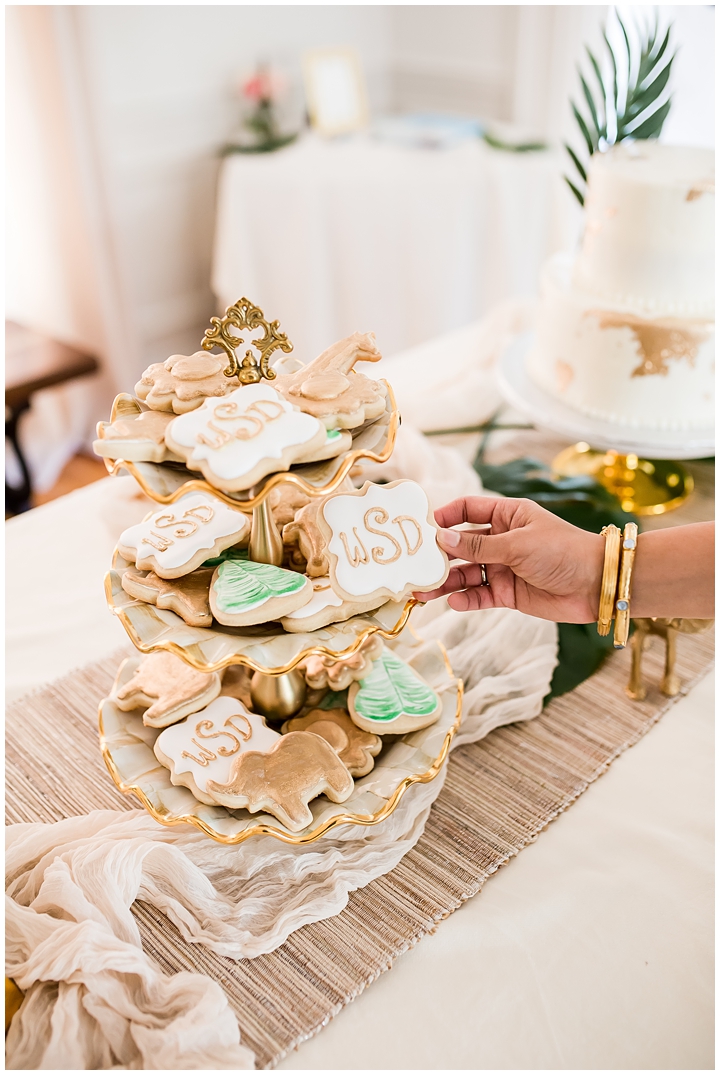 4. Make a check list and delegate different tasks to people who want to help. I always think it's best to put different people in charge of each category. For this shower, I was in charge of all decorations including the cake and cookies and her mom and sister took care of all the food and beverages. However, if you have more people on the party planning committee, you can break it down even further to where one person is in charge of beverages like tea and the mimosa station and another person who is in charge of just the cake and favors. I'm sure you get the idea, but just make sure you keep track of everything in one place. I like to use google docs to this because it allows other people to edit the document as well.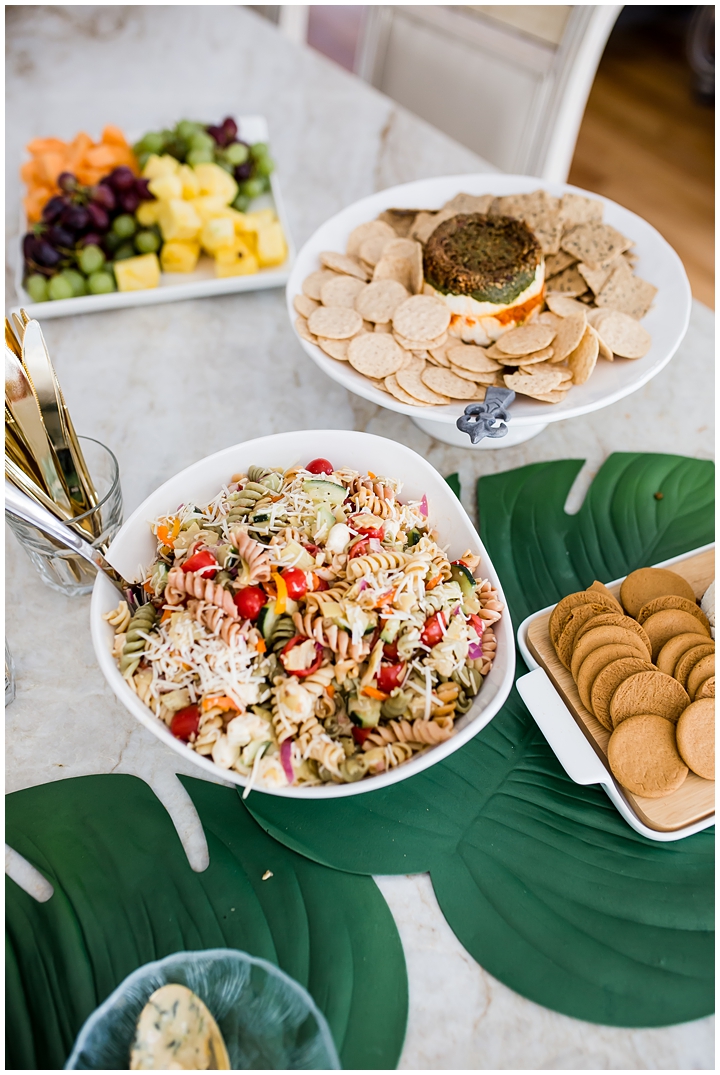 5. When the shower date finally arrives, be sure to set up as much as you can the night before so you can see if there's anything you're missing while you still have time to run out and grab it. The check list should definitely help prevent most of that though.  On the day of the shower, get yourself ready first and then give yourself about 2-3 hours to finish decorating and setting up before your guests arrive.
I found this rattan chair at World Market and have used used it at multiple other baby showers too.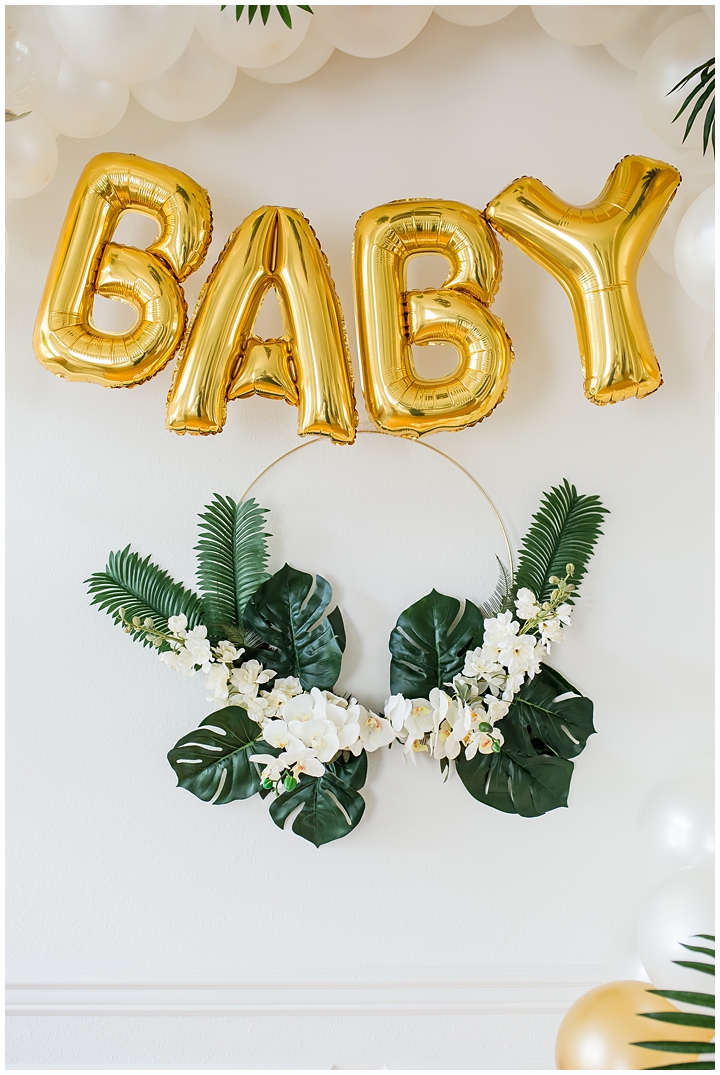 The 16″ Set of Gold"OH Baby" Balloons always comes in handy at baby showers and gender reveal parties!
Extra Tips:
I like to provide the guest honor with a special comfy chair and bottle of water while she opens gifts as well as a pen and paper for the gift-list secretary. It's also nice to go the extra mile and stand nearby with scissors and trash bag to collect the scraps and help with difficult bows.
Make sure the mom-to-be gets a photo with her cake before you cut it and serve to guests. Speaking of cutting the cake, I think it's always a good idea to pass out cake during gift opening to give your guests something to do.
Gift your guest of honor with customized thank you cards that match her invitations.
Host a diaper raffle for a chance to win a prize. Just be sure to mention that on the invitation. Also, I love the ideas of requesting children's books with handwritten notes inside of them instead of cards.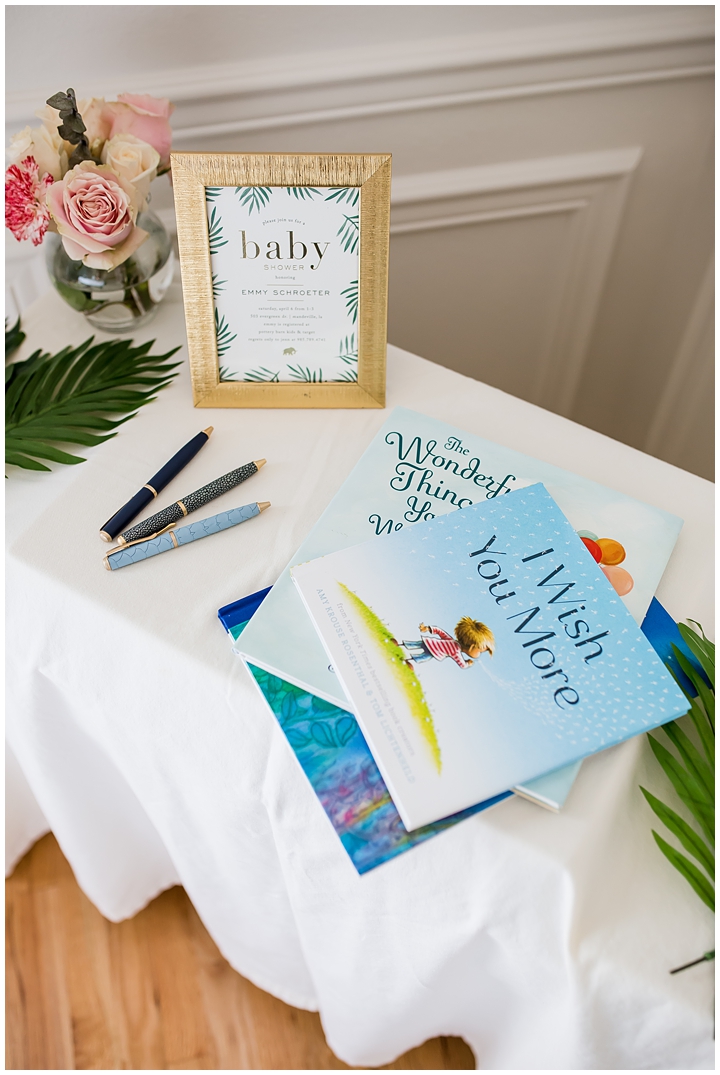 We used children's books as the guest book. Also, you'll notice that I framed the invitation too. I always like to tie in the invitation to the decor. You can also pass the books around while the guest of honor is opening gifts to make sure that everyone signs.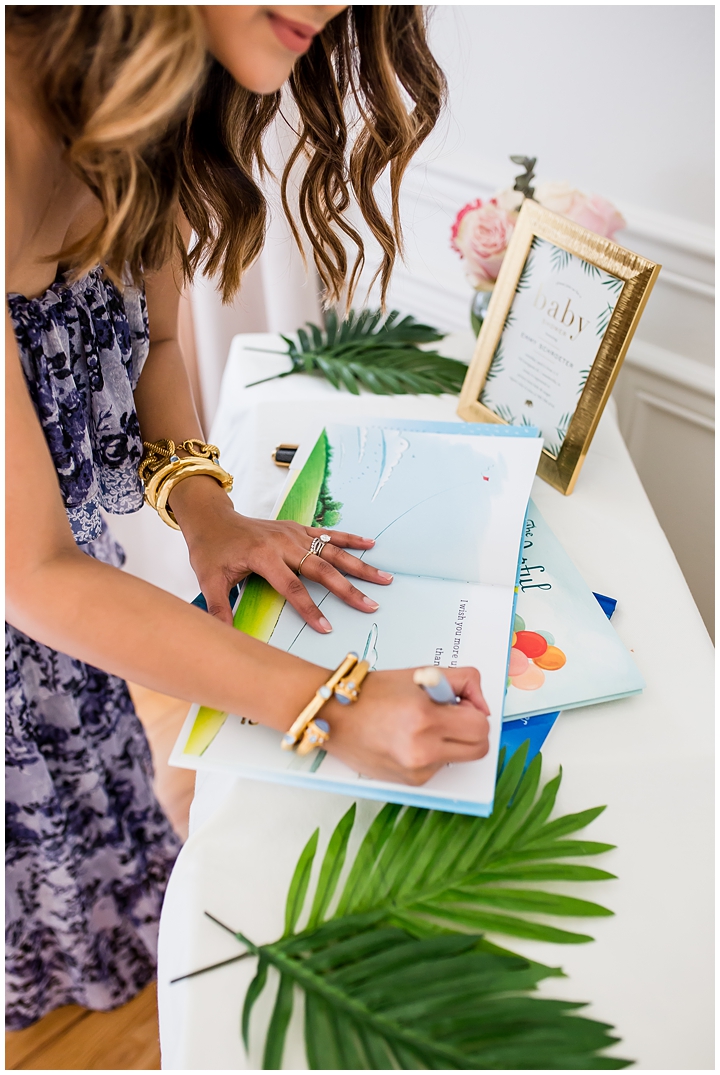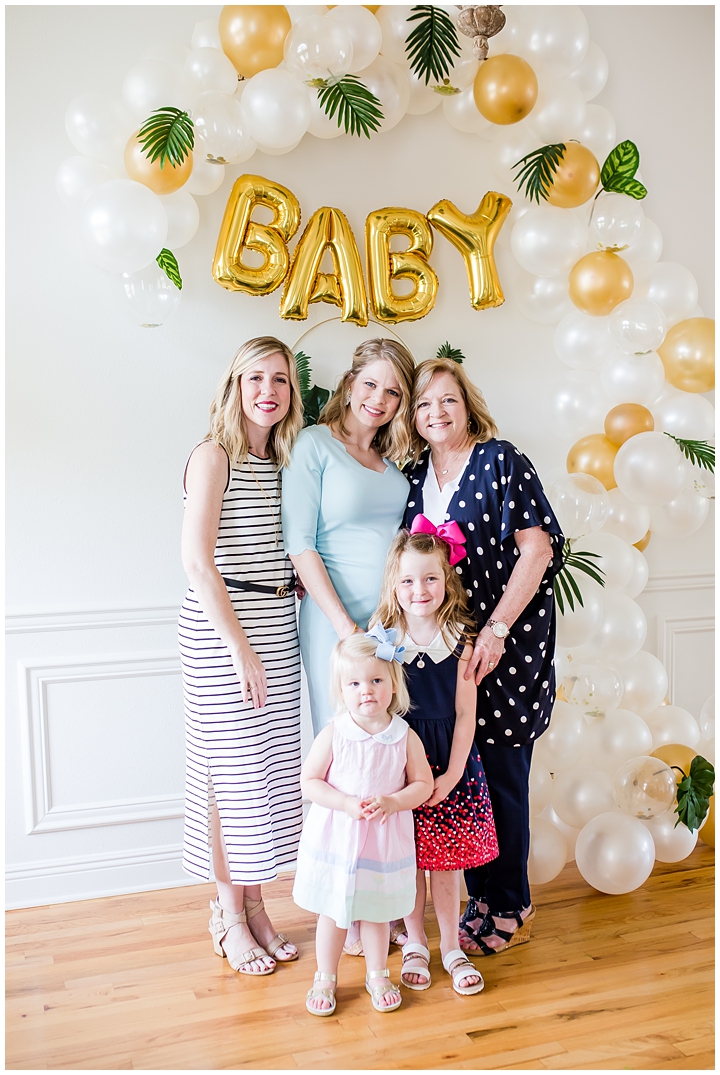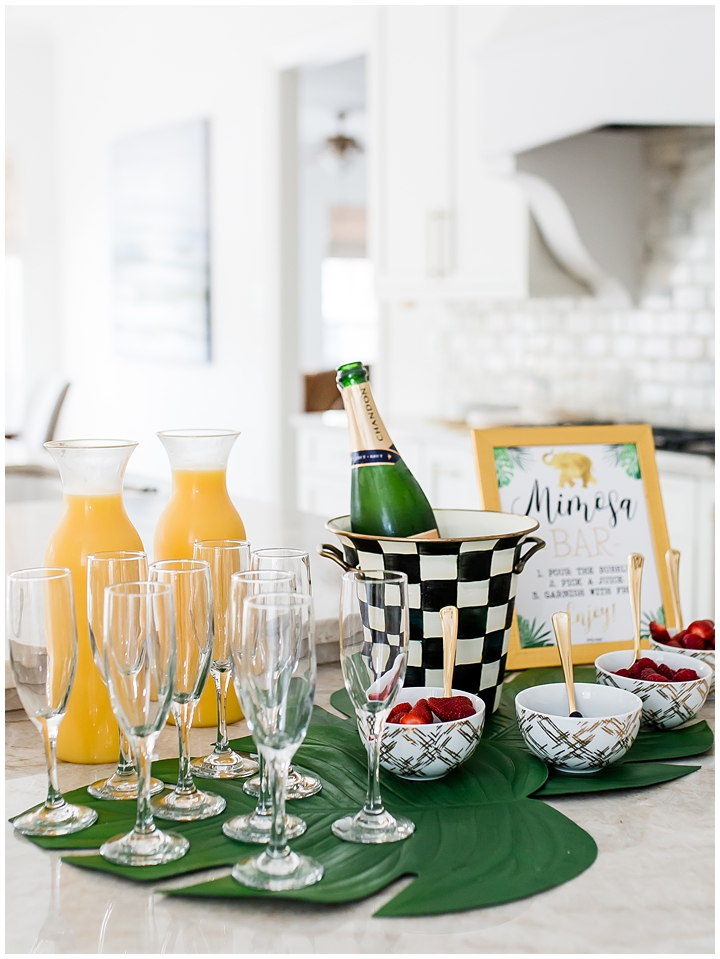 I think decorative cookies can also be considered shower favors too.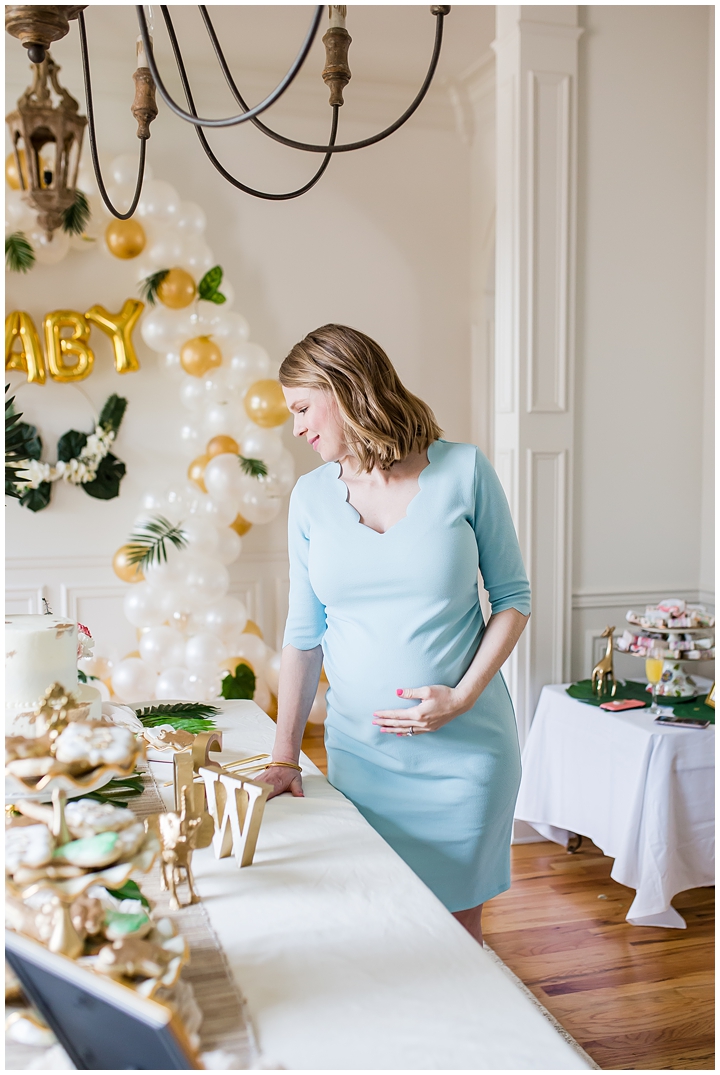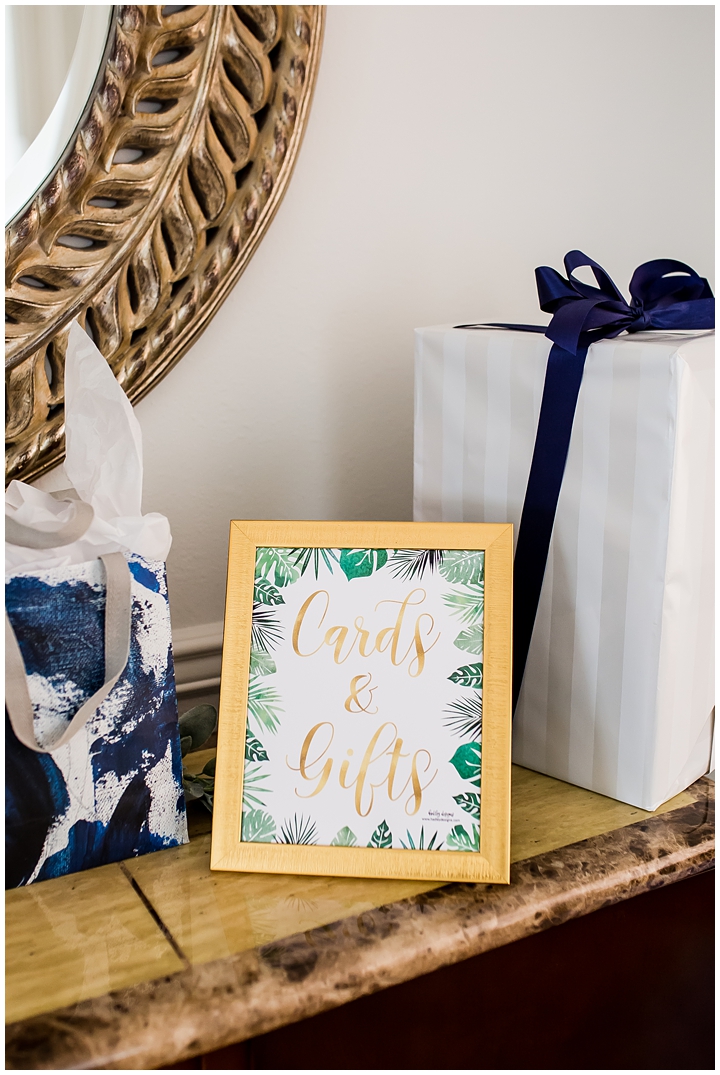 Vendors:
Balloon Garland by Animated Art Balloon
Cake & Cookies by The Little Oven
Palm Leaf Wreath by The Sweetest Grace
Decor Design by Haute Off The Rack
How precious is this mom-to-be? Her shower was in April and below is a photo of when we visited them in the hospital after Wells was born in June.