Hi everyone, and wow! I can't believe it has taken me this long to write about the first trimester of my pregnancy. I'm already 34 weeks now with only 6 weeks left. Although, I do have to give myself somewhat of a break considering I was sick all the way through week 20 and vomited everyday until week 18. The first trimester and a half was pretty brutal and I actually still get sick if I don't take my medicine. Yes, that's right I had to resort to medicine. It's not something I wanted to do, but I had to in order to function on a daily basis. I don't mean for all of this to sound negative, but I'm just trying to give it you straight and you all have known about my pregnancy for a while. We're of course so excited and grateful to welcome Baby P into our family, but today I'm going to answer some of the not-so-glamorous questions about the first 12-14 weeks of pregnancy. Don't worry, it's not all bad! The first trimester was also filled with happiness and excitement too, but without further ado, here we go…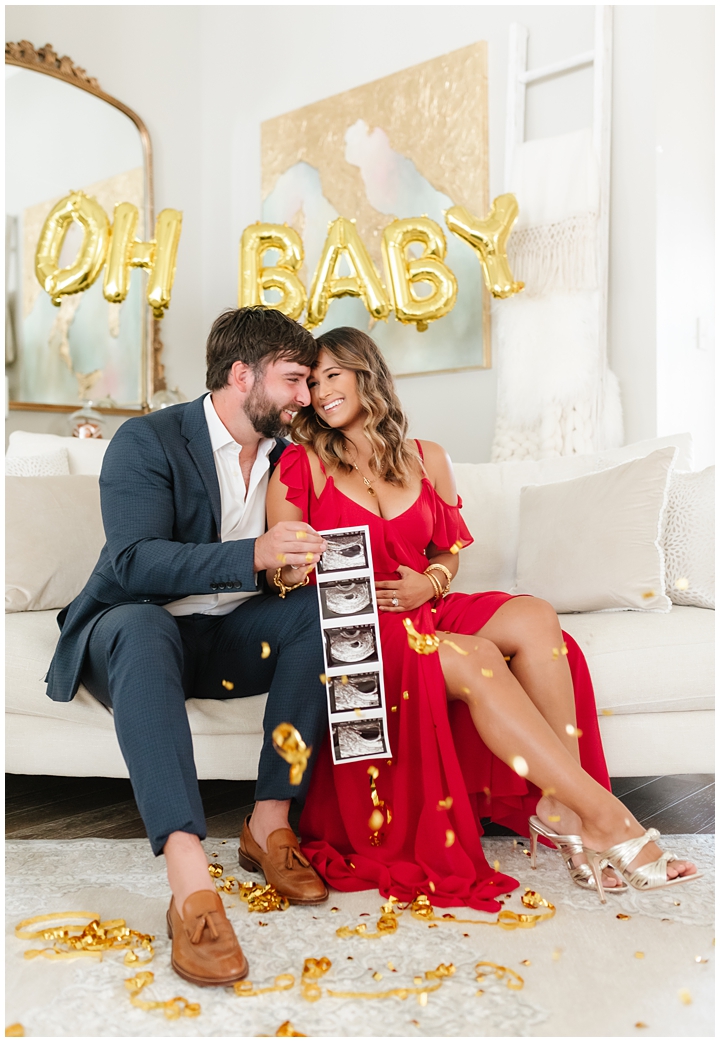 Q1.) Were you trying and what was your TTC journey like?
A1.) Yes, we were trying to conceive. I got off of birth control in April right before we left for Hawaii. I waited until this point because I knew that if I got sick, I did not want to be sick on a cruise ship in Hawaii for 12 days. Once I knew we were ready to start actively trying, I started taking prenatal gummy vitamins that Krystal from A Pinch of Lovely suggested. I had been on birth control for 10 years and before that I had a super irregular period so I figured it would my body some time to get acclimated. When we returned from Hawaii I started using daily Wondfo ovulation test strips to better understand my cycle. I know they recommend to wait to start taking the test on the 12th day of your cycle, but the tests were inexpensive and came in a pack with so many that I figured why not take one everyday that I'm not on my period to better understand the line on the test strip.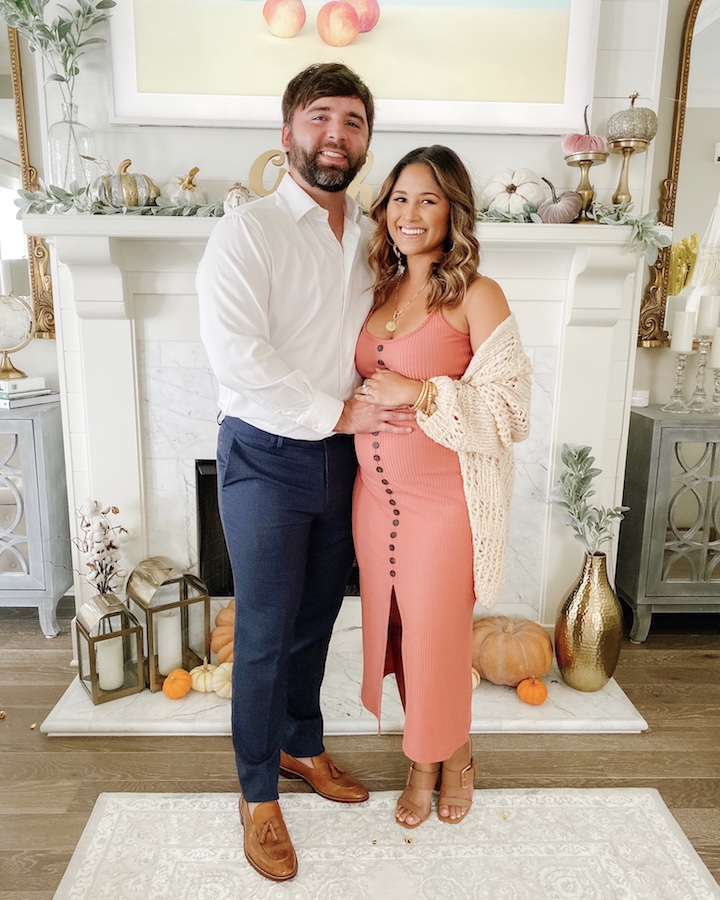 Button Front Dress (similar here)
The following month in July, I for sure thought I was pregnant because my period was 10 days late and I was on day 45 of my cycle. See I told you! I have a super irregular cycle. Turns out I wasn't! I don't think I'll ever really know why my cycle was so long that month because I ended up getting pregnant the following month in August. We realize that we are so fortunate that it worked so quickly for us because I know that not everyone has that same kind of journey. I will say though that I really do think that doing the ovulation test strips everyday and double checking them with the Clearblue Ovulation sticks on the days that my app said we were most likely to conceive really helped.
I also think it helped to listed my friends TTC journey stories too because there so many things I didn't realize about our bodies.
Q2.) Did you use an app to track ovulation?
A2.) Yes, I used the Ovia app to track my ovulation and now I use the Ovia Pregnancy app for baby updates and information.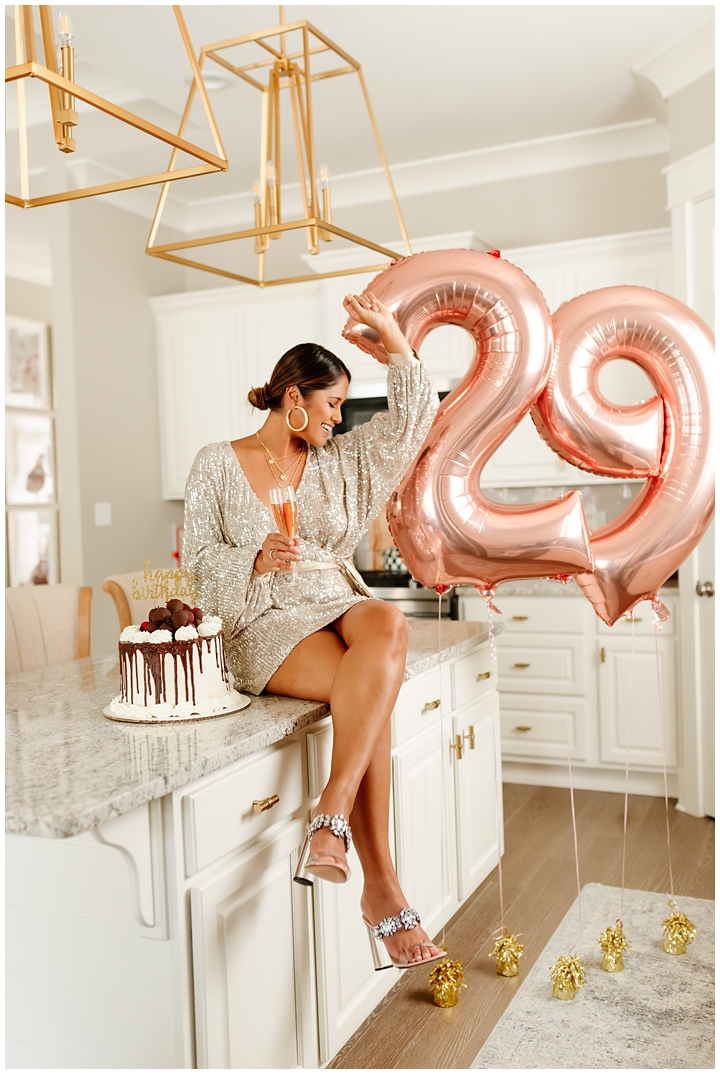 Outfit: Similar Sequin Dress | Embellished Clear Shoes | Lightweight Gold Hoops
I was actually drinking sparkling cider here, but let everyone else think it was wine!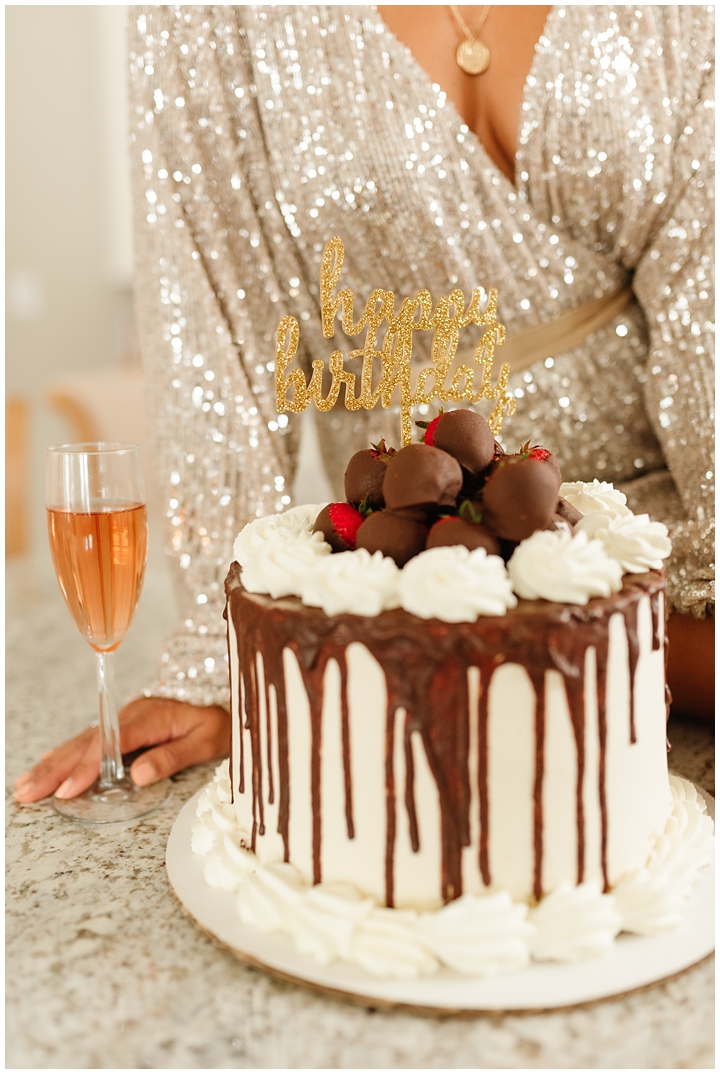 Q3.) What is the first pregnancy symptom you noticed?
A3.) I took a digital pregnancy test at the earliest day possible so I knew right away, but I will say that morning I felt strange when I woke up almost like I was on the verge of getting a cold. Soon after that, my boobs were really sore and my back and chest started breaking out. Funny story: I actually took a pregnancy test 9 days after my positive ovulation test even though they say to wait until 12 days after and I didn't see a line. Then I took another one the next day, which was 10 days post positive ovulation test and I got a positive pregnancy test on August 8. I was so excited, but I also just had this intuitive feeling that was pregnant even before I took the test.
Side note: I really like using the Ovia app, but my "most fertile" days were slightly off in the app and that's not necessarily the app's fault because remember I mentioned that I'm super irregular, but that's exactly why the ovulation tests strips were so helpful.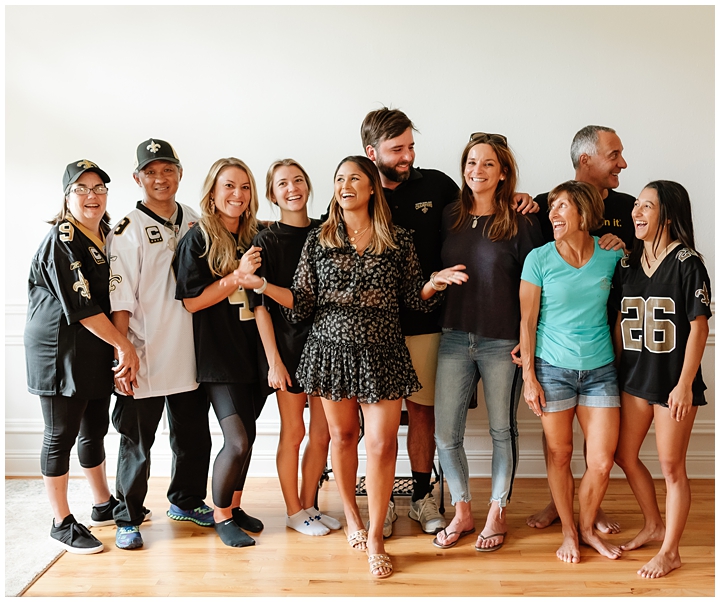 No one believed me at first! Watch the full video here—>—>Baby P Announcement and Gender Reveal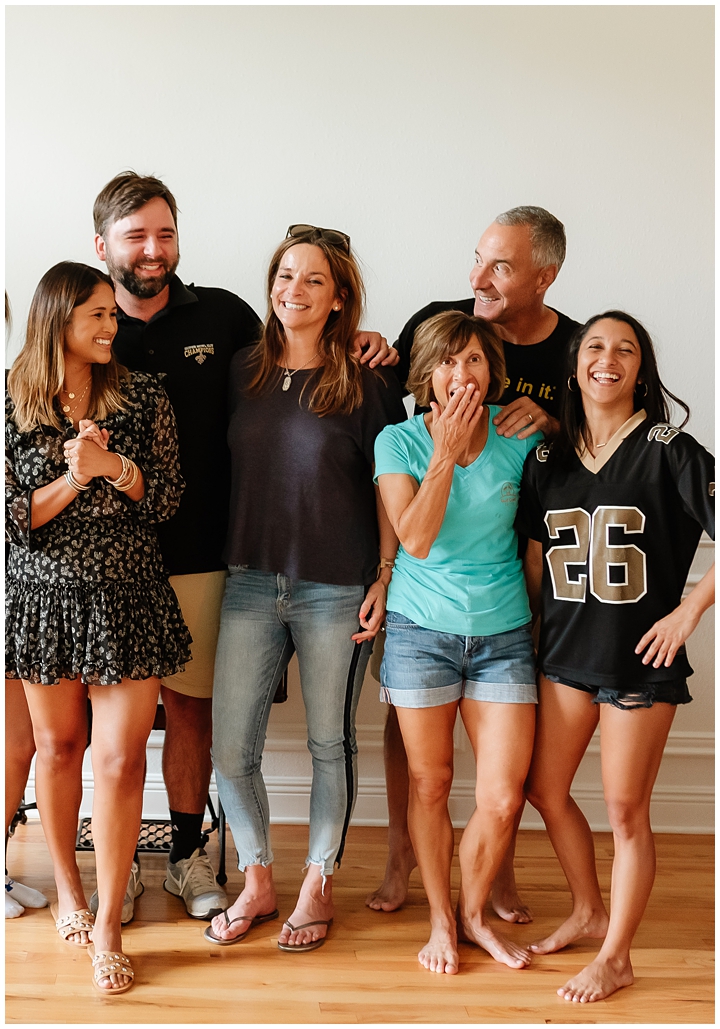 Q4.) How did you tell Blake?/How did you tell your parents?
A4 part 1.) If I could go back I would have done something way cuter, but since I found out 10 DPO (aka about 4 weeks) I was still nervous and decided to just show him all of the pregnancy tests I took. He didn't even know what they meant when I showed because he didn't understand the lines. LOL If I could do it over, I would have wrapped up a mini tennis racket and ball because Blake plays tennis and I would have included a little note (from the baby) that said "Can't wait to learn from you…DAD!"
A4 part 2.) You can see in this blog post that we told our parents while taking family pictures during my birthday lunch at my mom's house. We waited until 9 weeks on my birthday to tell any of our friends and family just so we could see the doctor first and have everything confirmed. No one tells you about the waiting game during those first few weeks. I found out that I was pregnant on Thursday, August 8th with an at-home pregnancy test and I didn't even tell Blake until two days later because it almost didn't feel real and the test line looked so faint. I wasn't sure if he'd even believe me. Haha! You start to question if it could be maybe be a false positive because you aren't feeling any symptoms yet. Five days after finding out that we were pregnant we went on a trip to Bermuda. At first I was nervous to go because I hadn't seen the doctor yet, but it turned out to be the best trip to kick off this journey together and also served as a great distraction. I was only 5 weeks at that point so I wasn't really feeling anything at all. See more from our trip to Bermuda here—> Our Secret Babymoon at the Hamilton Princess Bermuda
See the full video of how we told all of our friends and family on youtube here—>Baby P Announcement and Gender Reveal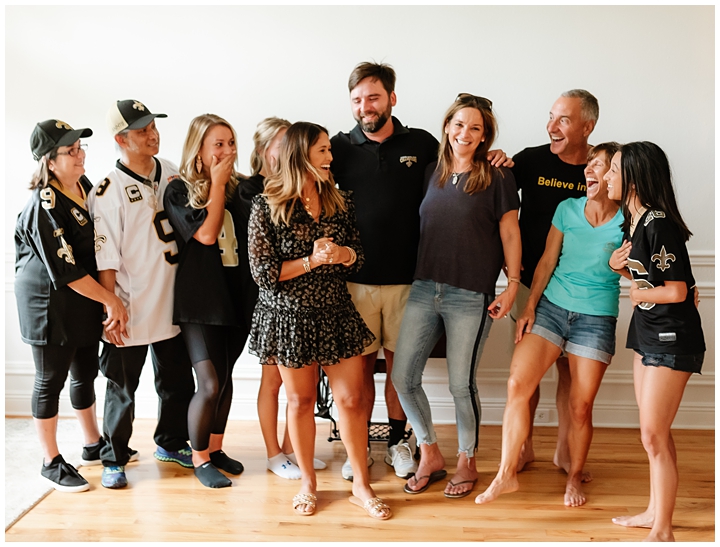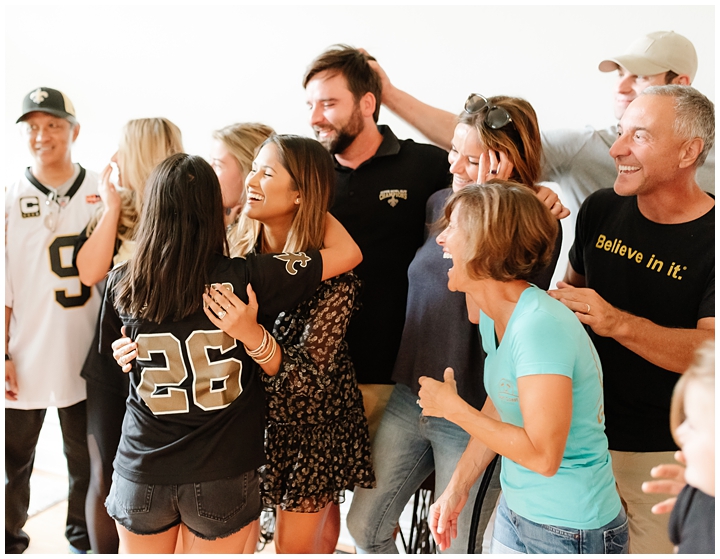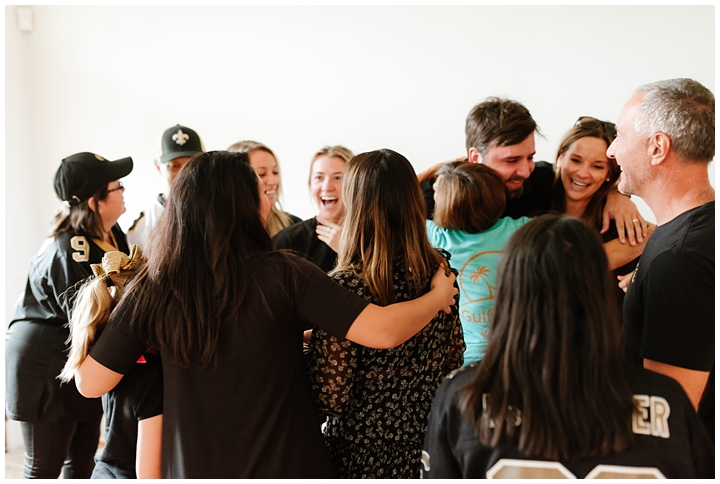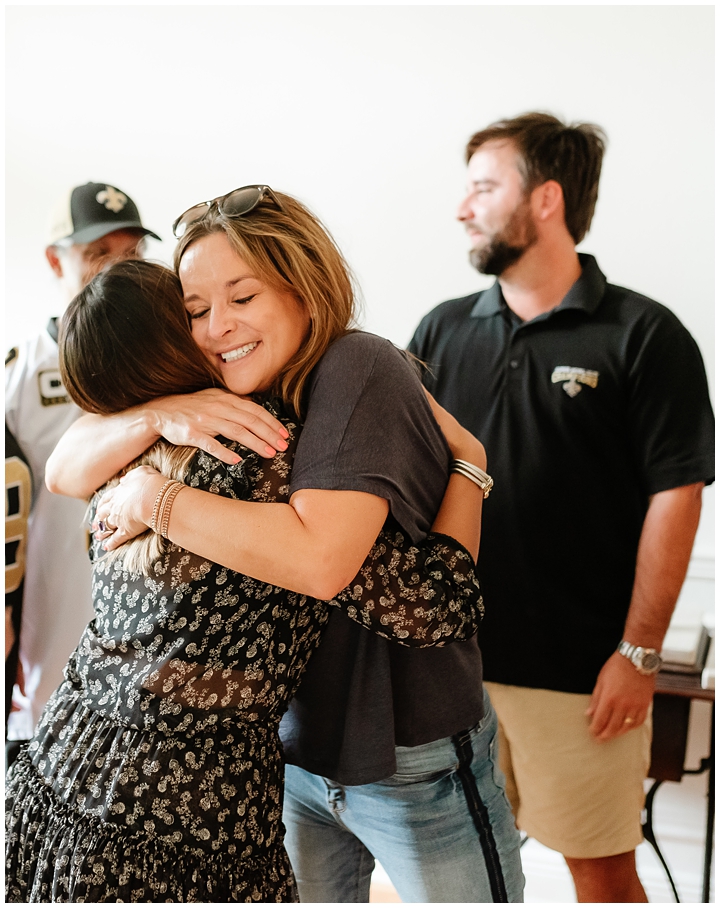 Q5.) Are you going to find out the gender?
A5.) As we all know now, yes! I'm super impatient so we actually got the blood test at 10 weeks to find out the gender and threw the gender reveal party when I was 13 weeks. My assistant and BFF were the only ones who knew for 3 weeks and had to keep it from me. They had to know so they could order the correct confetti cannons for the party. We invited all of our closest friends and family. See the full post on the baby gender reveal party here—>Baby Gender Reveal Party Decor & Details
Q6.) How do you cope with morning sickness?
A6.) Morning sickness was probably the hardest part for me during the first trimester and well into the second trimester too. They should really call it all day sickness because I was nauseous all day long even after I threw up. Speaking of throwing up, I vomited every day from week 7 to week 18. I started feeling symptoms just before I reached 6 weeks. My boobs felt sore and even just the thought of healthy food made me nauseous. I pretty much only ate noodle soup, Chick-fil-a, chips and crackers. How I made it through fashion week in New York at 8 weeks is beyond me. I threw up a couple times and felt super nauseas with intense heartburn, but somehow I managed to rally and make it to all of the events.
As far as how I coped with morning sickness, that's a loaded question because nothing made it go away, I just made it through somehow. Honestly, the only thing that kind of helped me was medicine, but I still threw up through the medicine too. I even tried everything from smelling peppermint oil, resting, eating crackers before I even got out of bed, ginger candies, ginger tea, you name it! I actually still have to take Bonjesta each night to get through the day. Something else that helped me cope with the morning sickness besides the medicine was knowing that it meant my body was working hard to make a baby. There is research that proves that morning sickness means a healthy baby and the thought of that made me feel better.
One more thing I'll leave you with…. During every tough situation during pregnancy, I always try to find the silver lining and I know you're thinking… Duh! The baby! But he's not here yet so I try to look for something in that moment to help me get through it. One night I couldn't stop throwing up. I couldn't even keep water down and it got so bad that I started throwing up stomach bile. I just kept crying and crying in between vomiting because I felt so weak and helpless. And Blake just sat there with me on the bathroom floor in the middle of the night comforting me. And in that terrible, awful moment I felt like the luckiest girl in the world because I'm a grown ass adult and yet Blake still chose to sit there with me on the bathroom floor all night when he had work the next morning. And I knew that if he was willing to just be there with me even though there was nothing he could do to help me, that he was going to be the most amazing dad. So even though I look at that night as one of the worst nights of my first trimester, it was also one of the best because it showed me that I'm not in this alone. And I'll always have him by my side when things get tough. Not because he has to be, but because he wants to be.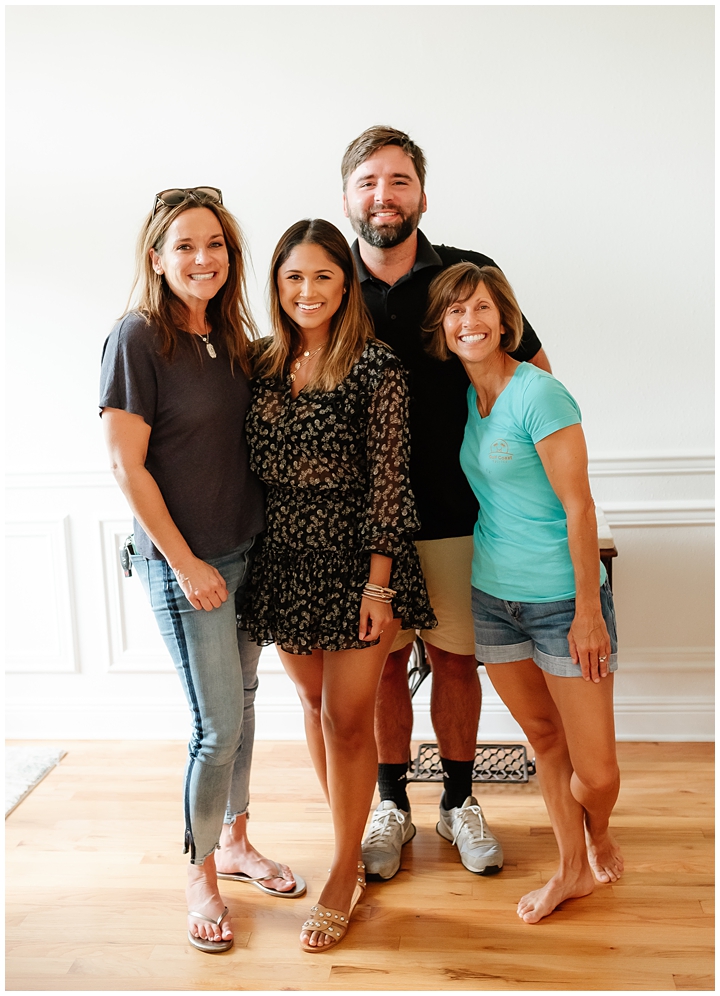 Me and B with our moms (aka soon-t0-be-grandmas)
Q7.) When are you due?
A7.) My due date is April 17, 2020.
Q8.) Who is your OB?
A8.) Our OB is Dr. Hymel in Covington, LA and she has actually delivered all of our best friends' babies over the past two years. Fun fact: all of those babies turned out to be boys. Our baby boy will #8 out of our friends. Also my nurse practitioner is our good friend Casey Barnes who we've known since high school. It's been such a blessing to have her as our NP because she's always happy to answer my questions on and off the clock.
Q9.) What prenatal vitamins are you taking?
A9.) While we were trying to conceive I took these Vitafusion Prenatal Gummy. Once I found out I was pregnant I switched to One A Day Prenatal for the iron, but after I learned that Ritual prenatal vitamins were vegan and easy on the stomach, I started taking those and really like them. Their prenatal includes 12 essential nutrients with the highest quality ingredients your body can actually absorb. I love the no-nausea capsule design so I can take my in the morning or night. Other prenatal vitamins made me nauseous or just made my stomach hurt. Ritual prenatal vitamins are vegan certified and have no shady additives, fillers or colorants. They feel gentle and easy on my stomach while supporting the nutrient needs of my body and baby. You can try them too with their happiness guaranteed simple subscription service. Plus you can take 10% OFF your first 3 months with code: HAUTE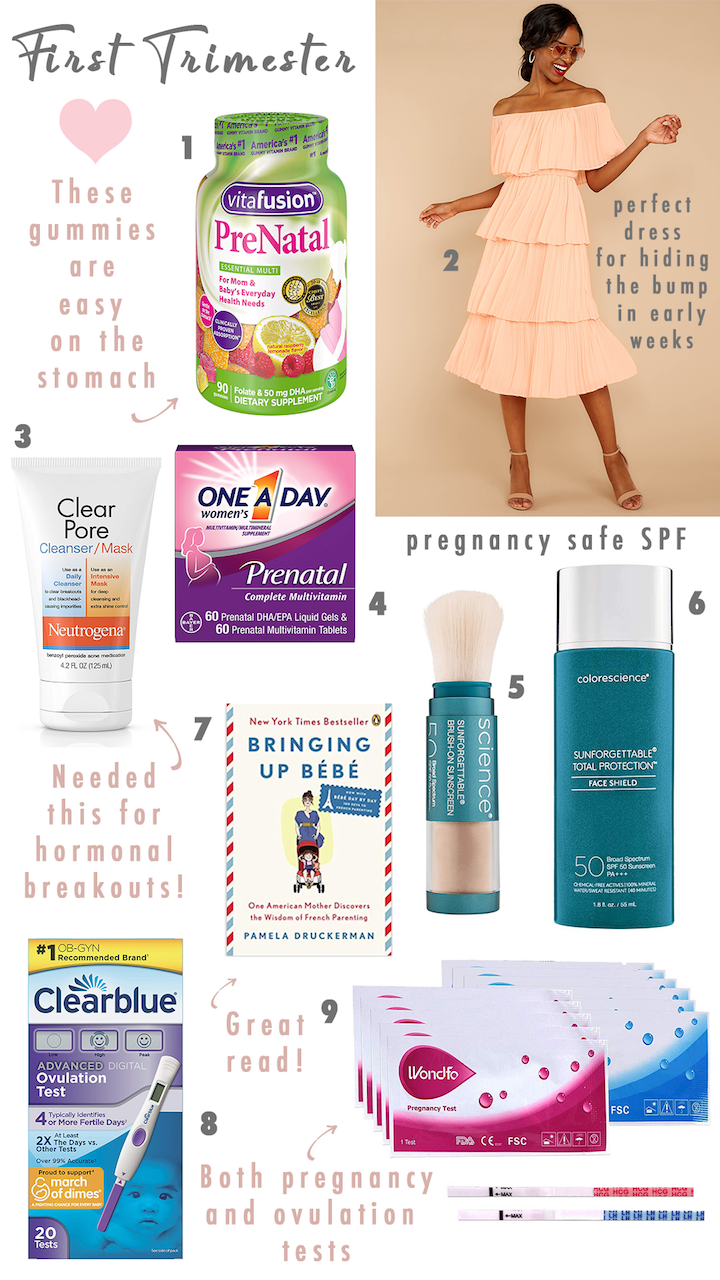 | Shop My First Trimester Essentials |
1. Vitafusion Prenatal Gummy | 2. Midi Dress (also similar here & here) | 3. Neutrogena Clear Pore | 4. One A Day Prenatal | 5. Mineral SPF 50 | 6. Total Protection SPF 50 Face Shield | 7. Bringing Up Bébé | 8. Clearblue Ovulation| 9. Wondfo Ovulation and Pregnancy Kit