Good Morning everyone, today I'm sharing the post you've all been waiting for: the private 20-person villa we stayed in while visiting Tuscany. I can't even tell you how many inquires I received about Villa Caprolo during our trip to Greve in Chianti, which sits beautifully among the hills of Tuscany. So today I'm spilling every detail!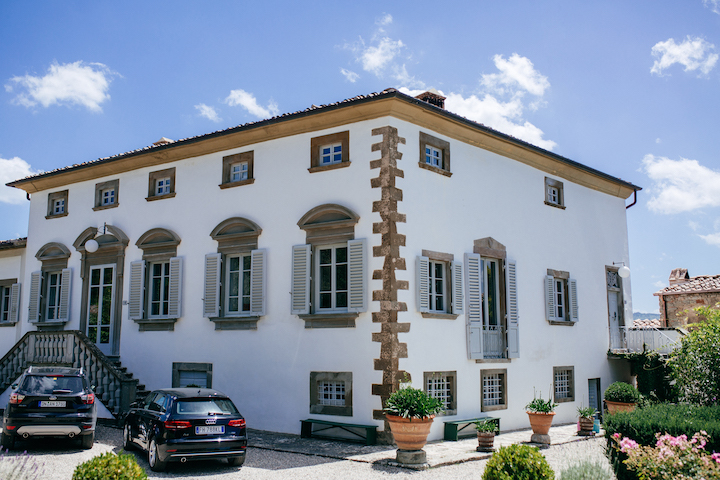 The Road to Tuscany
I'm not going to lie…the 3.5 drive from Rome to Tuscany was no cake walk. First of all, in most European countries, they don't offer large SUVs so you either have to rent a 10 passenger van or settle for a compact SUV. Obviously, we chose the compact SUV, but with 3 people, five suitcases and five carry on bags, it was quite a tight squeeze. However, after working on what seemed like jigsaw puzzle, we managed to fit everything just perfectly. With that being said, if you're traveling with more than a few people and lot of luggage, make sure to do your research on car rentals.
Secondly, when it came to navigating through Italy, we had to use both written directions as well as the GPS. Speaking of the GPS, we made sure to choose an automatic car with a navigation system to make driving through Italy less stressful. Additionally, we rented pocket wifi for $15 per day so we could easily access internet on our phones. We were able to get all of the amenities from the airport car rental service in Rome where we first arrived. In case you missed my first travel post, you can view it here—> 5 Ways to Conquer Jet Lag, but basically we landed in Rome and stayed our first night at the airport hotel before driving to Tuscany the next day. I highly recommend doing this because it gives you a day/night to recover from travel.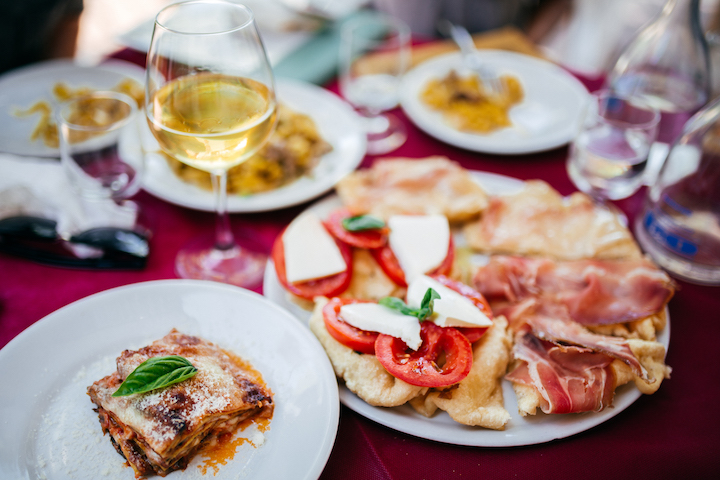 Thirdly, when it comes to road trip meals, don't expect to find any drive-thrus. Okay, okay… so we did spot one McDonald's, but who wants fast food when you're in Italy and can have fresh pasta. This is where that pocket wifi really comes in handy. I was able to pull up some reviews on nearby restaurants and I ended up finding an authentic Italian gem right off the interstate called Ristorante La Primare. This meal definitely sits among my list of top five faves.
Arriving to the villa was a dream! I swear the hills were singing and they were saying, "The hills are alive with the sound of music." Okay maybe that was me! Haha! In all seriousness though, the view from our villa at the top of the hill didn't even look real. We felt like we were in Italian heaven.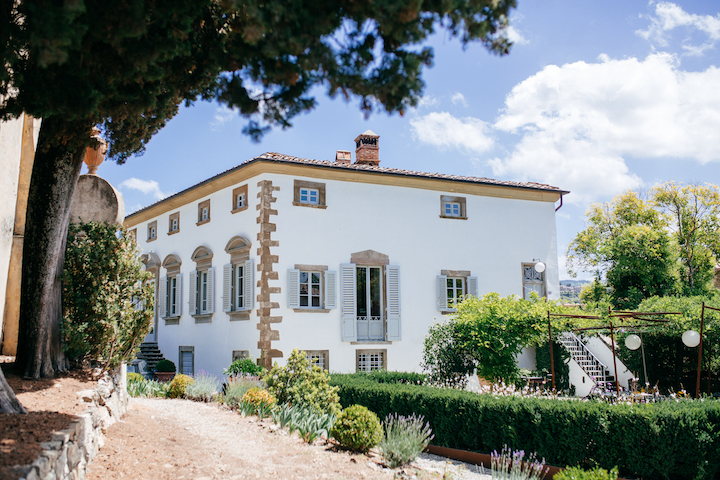 Our Private 20-Person Villa in Tuscany
Just to give you a little backstory, we actually planned this trip with my entire family for over a year before even booking our flights to Italy. My Stepdad researched for months until he discovered the perfect villa for our friends and family. Not only is it a quaint, non-touristy spot located about 40 minutes from both Florence and Sienna, but it also accommodates 20 people comfortably with eight bedrooms and bathrooms. On top of that, it comes with a large kitchen and dining room as well as multiple lounge areas indoors and outdoors. Additionally, the villa is equipped with a daily cleaning service, fitness room, outdoor dining area, an infinity pool that overlooks the mountains, a historical old chapel built in the 1800s and the most breathtaking lookout point of Tuscany on the cliff the above the pool. In fact, every evening we all gathered in that spot to drink wine and watch the sunset. I swear each day the sunset was even more stunning than the day before and it was actually in that very spot that Blake asked me to marry him, but I'll be sharing that story separately!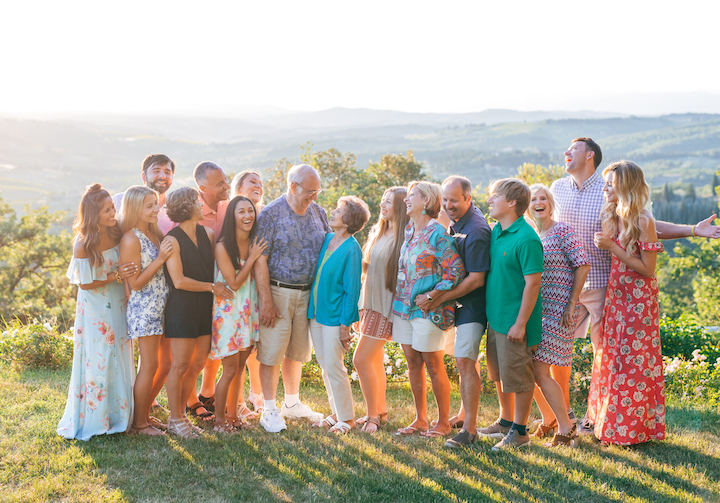 The whole family plus Lainey (my friend & Photographer), Krystal (aka A Pinch of Lovely) and her husband Jordan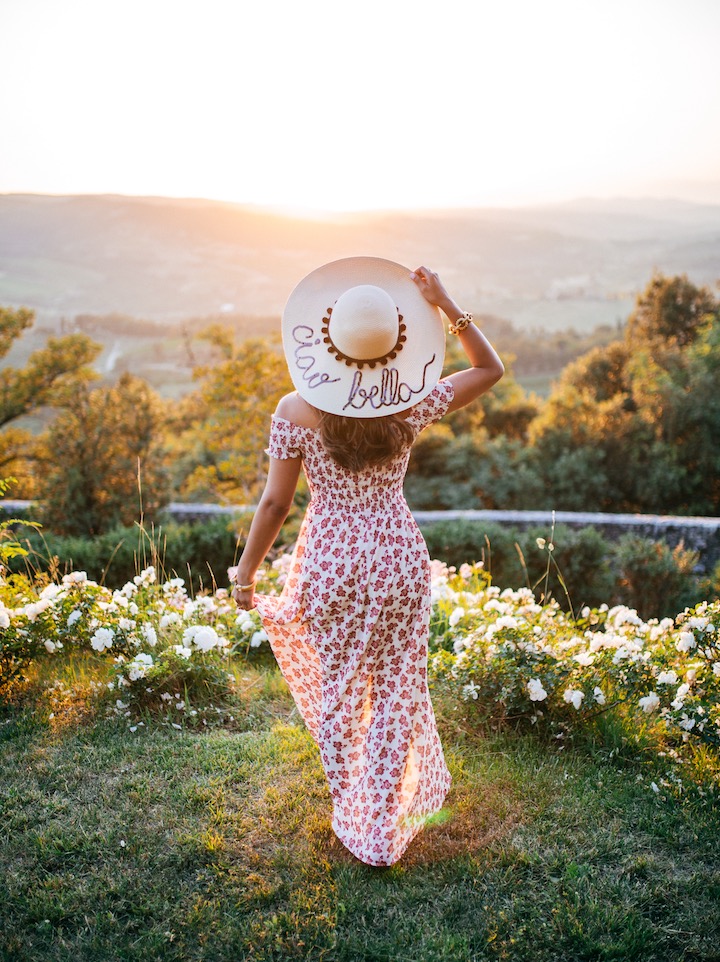 This lookout point on the cliff above the pool terrace was everything and more! I hope to visit this exact spot again one day!
| Shop This Look |
Tularosa Maxi Dress (also available here) — wearing sz XS | Ciao Bella Hat c/o White Elephant Designs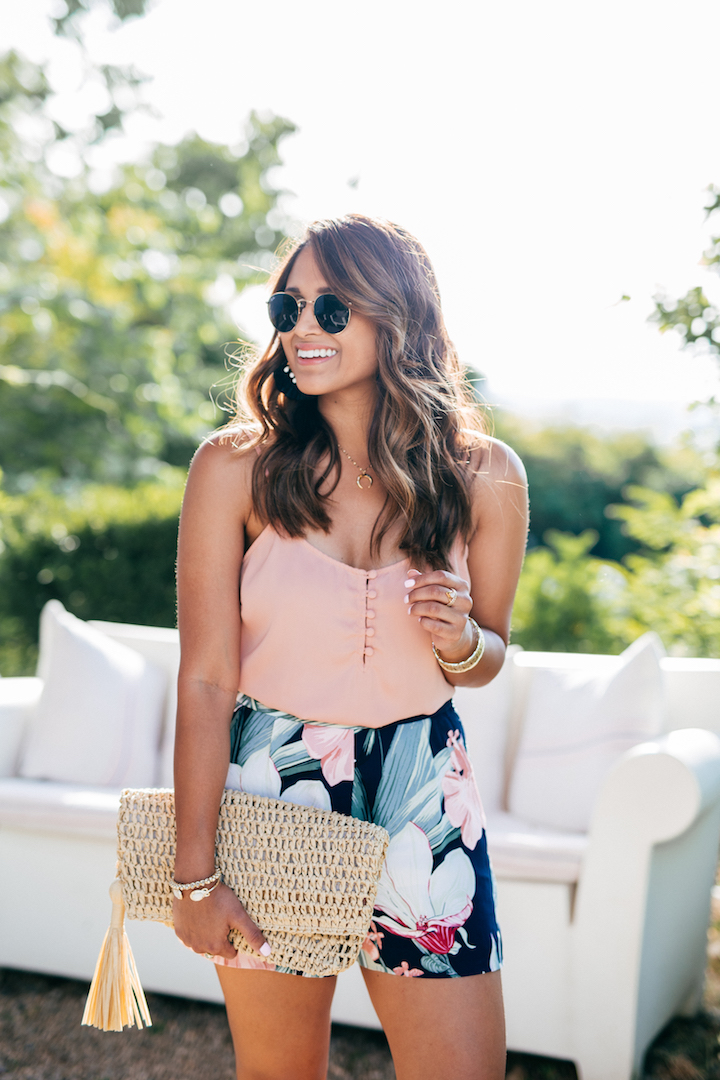 | Shop This Look |

Outfit: Printed Shorts — wearing sz Petite XS, Raffia Hoop Earrings, Metallic Slide Sandals, Straw Clutch c/o Ann Taylor | Nude Tank | Ray-Ban Round Sunglasses
See the full outfit post here—> My Top Summer Pieces from Ann Taylor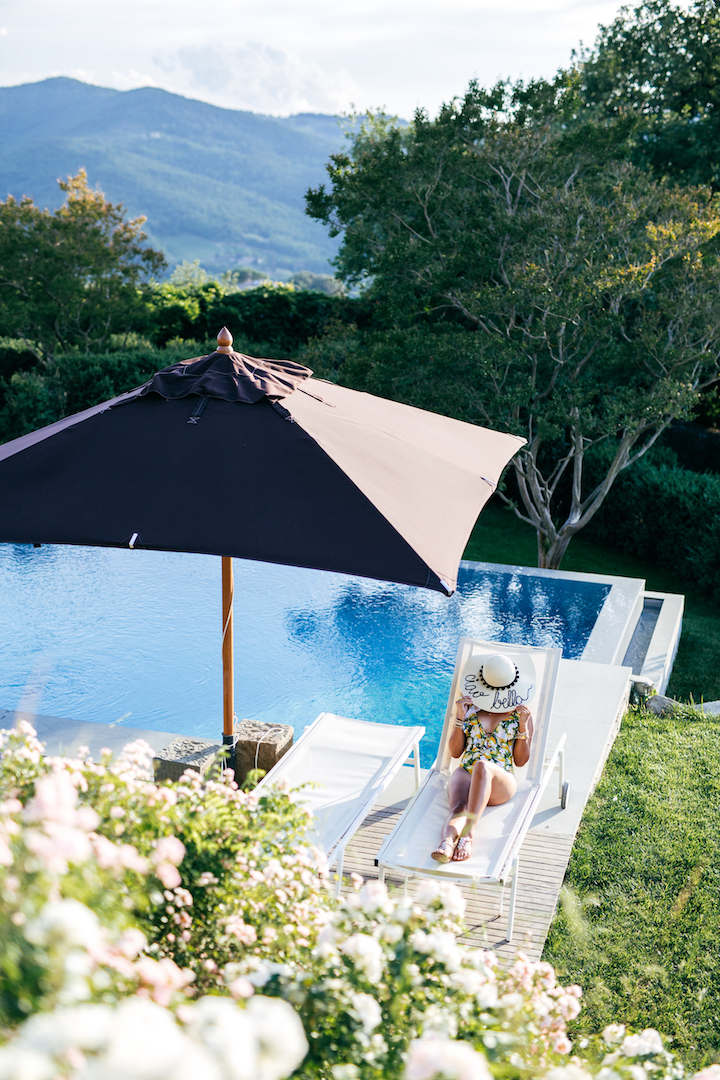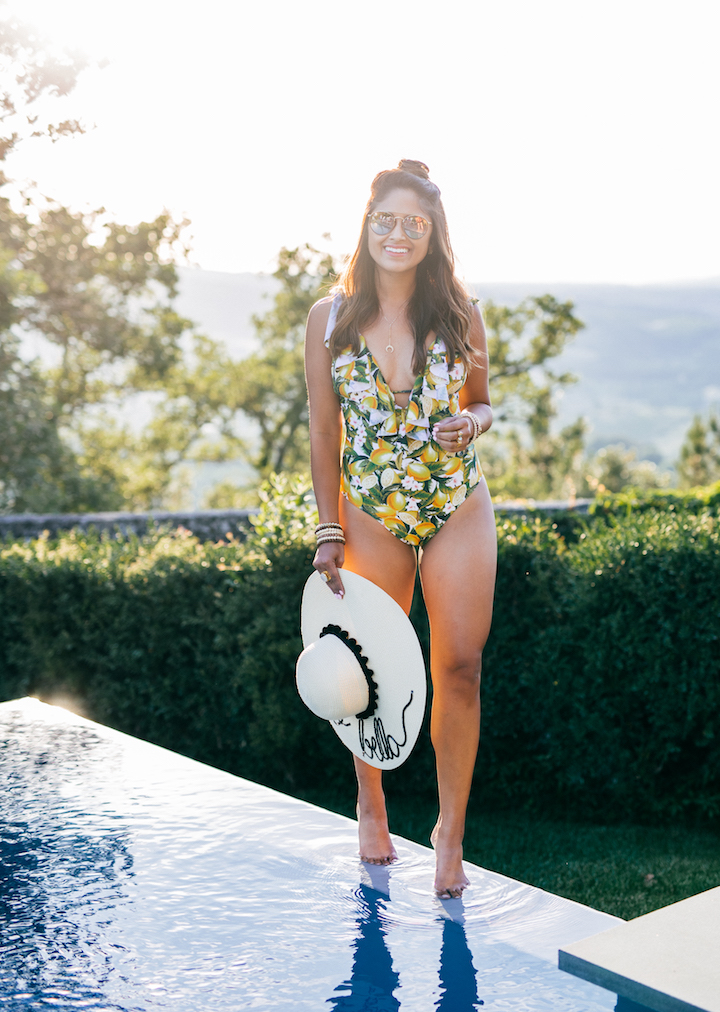 | Shop My Swimwear |
Lemon Print One Piece | Ray-Ban Sunglasses | Ciao Bella Hat c/o White Elephant Designs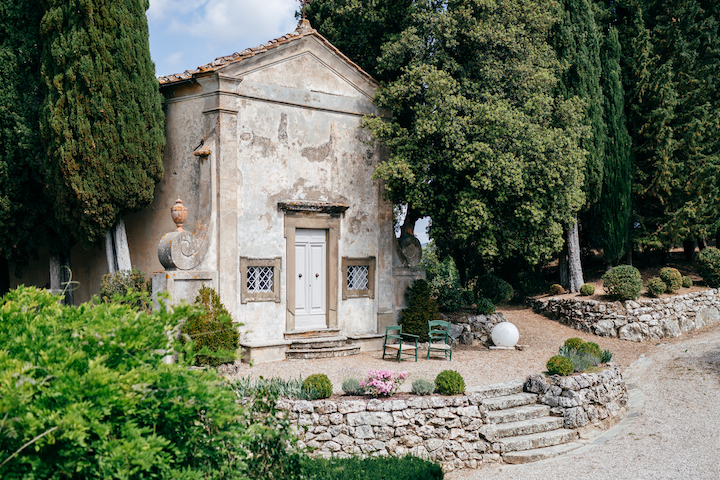 One night during our stay, we had local chefs come to our villa and cook us a traditional four course Tuscan meal for the whole family. This is one family dinner that we will never forget! Villa Caprolo offered the of luxury of personal cooks as an optional everyday service, but we opted to cook some meals ourselves and still managed to enjoy family dinners every night. We even went around the table and listed to everyones highs and lows of the trip each night. However, if we could do it all over again, I definitely would have hired the chefs for more nights and even a brunch or two.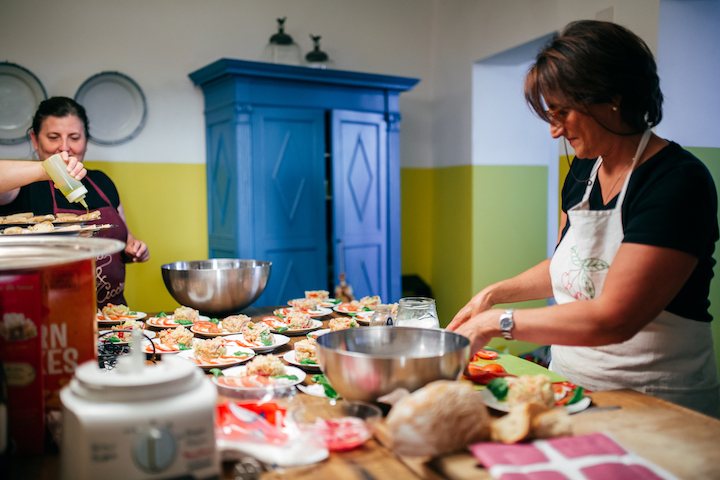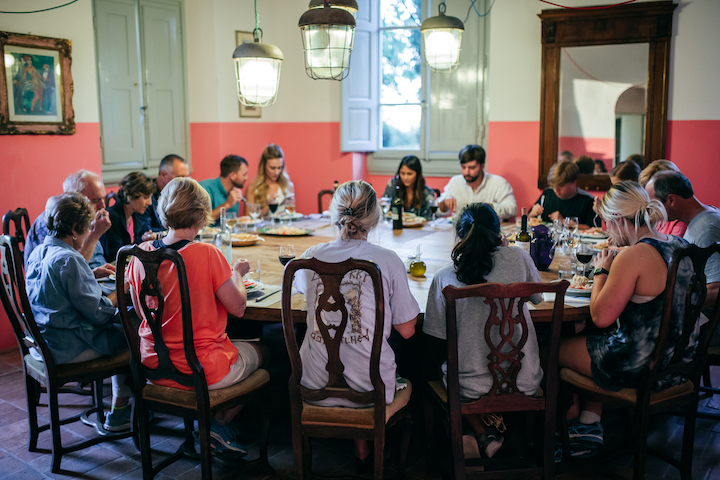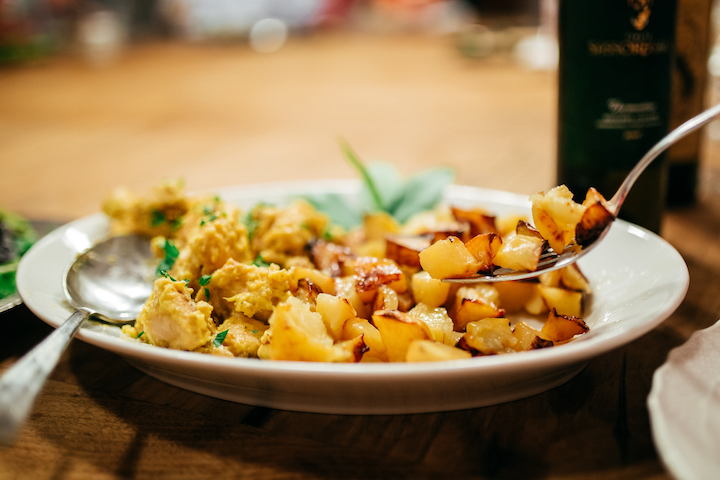 Photos by: Lainey Reed Photography
SaveSaveSaveSave