Hi everyone and Happy Friday! I'm finally getting around to sharing my 18-day trip to Italy and Greece and today I'm starting with 5 ways to conquer jet lag. Traveling to a faraway country and exploring new places is an incredible experience, but getting there isn't always glamorous especially when it comes to jet lag. So I decided to use my personal experience to come up with 5 ways to help you beat jet lag and enjoy your whole travel experience.
1) Prepare yourself! Before you even step foot into the airport, you must make sure that you have all of the necessary equipment to help you beat jet lag including comfortable attire.  When it comes to travel outfits, I suggest wearing your most comfortable jeans or yoga pants, a soft, loose tee, cushiony walking shoes (with socks) and plenty of deodorant.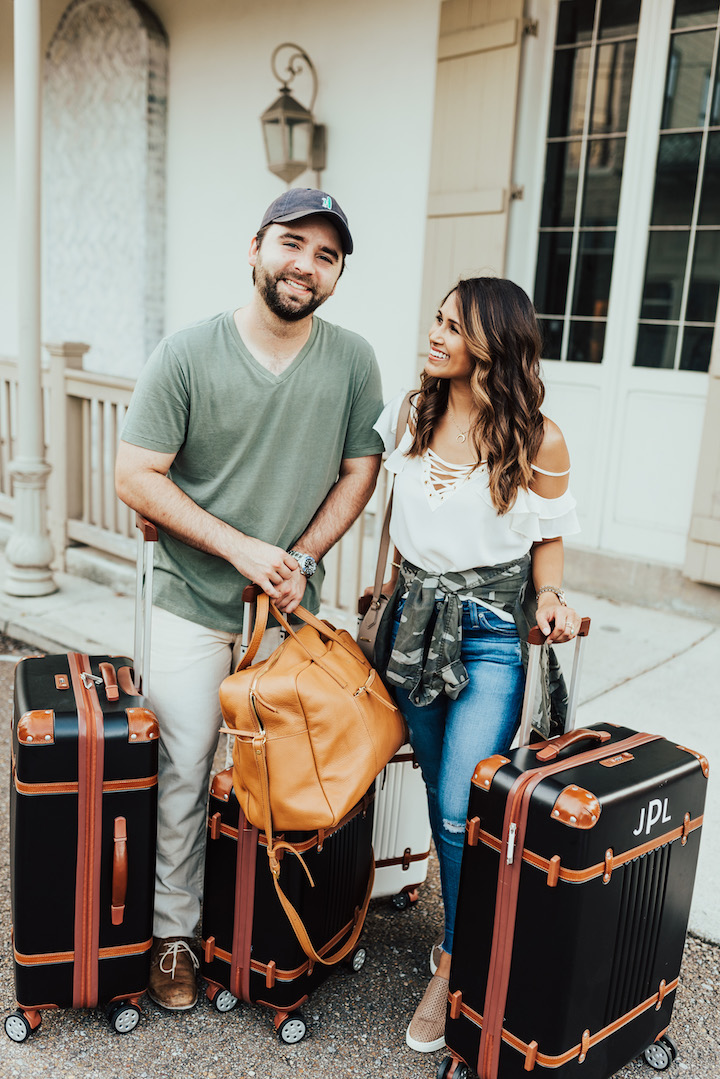 | Shop His & Hers Summer Travel Style |

Jenn's Outfit: Cold Shoulder Top | AG Jeans (also available here) — wearing sz 25 & I normally wear a sz 26 | Somers Slip-on Sneakers c/o Soft Shoes (also available here) | Camo Jacket |  Checked Spinner & Carry-on Spinner c/o Mark & Graham | Jenni Saddle Bag (Designed by Haute Off The Rack in collaboration with Gigi New York)
Blake's Outfit: V-neck Tee | Twill Pants | Similar Oxford Shoes | Checked Spinner, Carry-on Spinner & Daily Leather Overnighter c/o Mark & Graham
| Shop Our Travel Bags |

Survival equipment:
A) The first thing I recommend buying is a neck pillow. Let me tell you that I travel by plane at least four times a month and I have never owned a neck pillow. However, when it comes to nine hours of your head falling side to side and waking you up every five minutes, neck pillows are a game changer.
B) Speaking of protecting your neck, I highly recommend investing in a backpack and 360 spinner rolling carry on bag. These two travel bags will help you avoid putting to pressure and strain on your neck, back and shoulders. I especially love my MZ Wallace Metro Backpack and Mark & Graham Terminal 1 Spinner.
C) Don't forget the essentials like snacks, an eye mask, ear plugs, head phones and a blanket. Most international airlines will provide you with those items, but if you're picky like me, then make sure to pack your own!Also, make sure you purchase a couple extra bottles of water once you get through security, which brings me to my next point….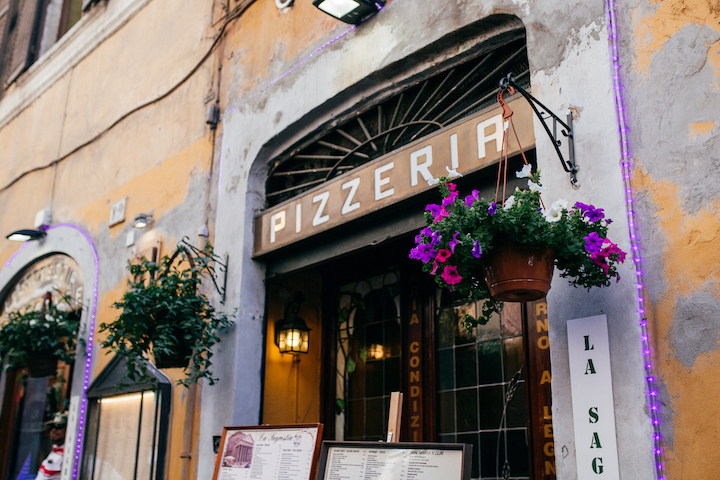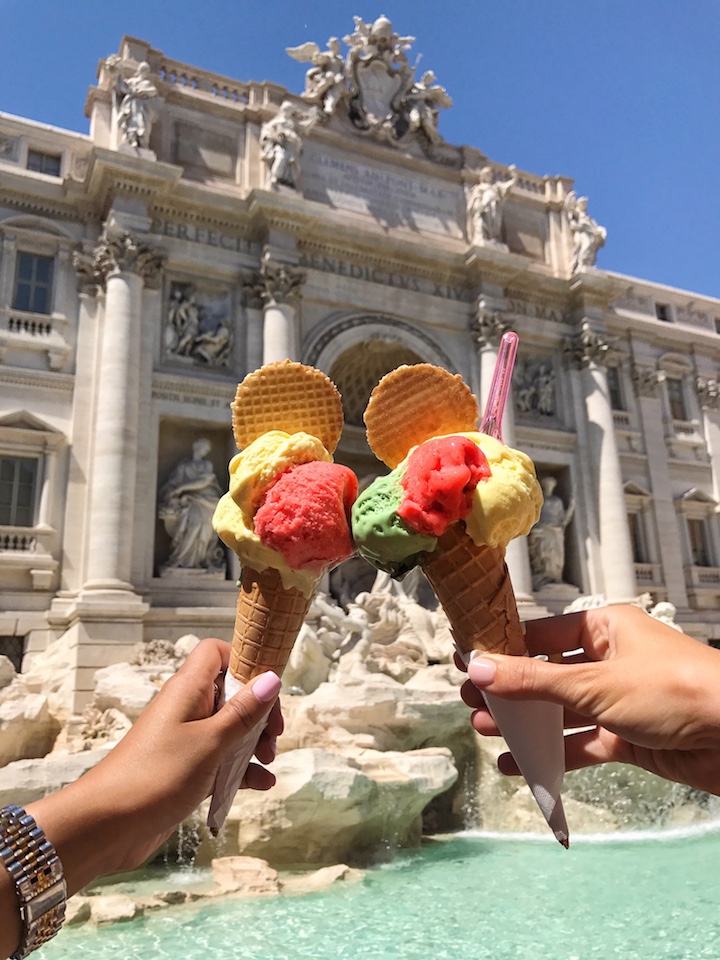 2) Stay hydrated! I know this is kind of a "duh" piece of advice, but for real… 24 hours of travel can really take a toll on your body so staying hydrated will help your body work and function at its maximum capacity.
3) If your flight is set to land in the evening, you must stay away during the majority of the flight so you can sleep once you arrive. If your flight lands in the early morning hours, you must go to sleep right away! Don't wait and watch a movie a first! I made this mistake and the consequences were detrimental to my sanity. We ended up having three screaming toddlers on our flight and when it came to sharing how they felt about nine hour flights, they didn't hold back. And that, my friends is why I didn't get a wink of sleep. Blake on the other hand did things the smart way and popped some Advil PM then minute he boarded the plane. He was out for the majority of the flight while the rest of suffered from the terror of toddlers.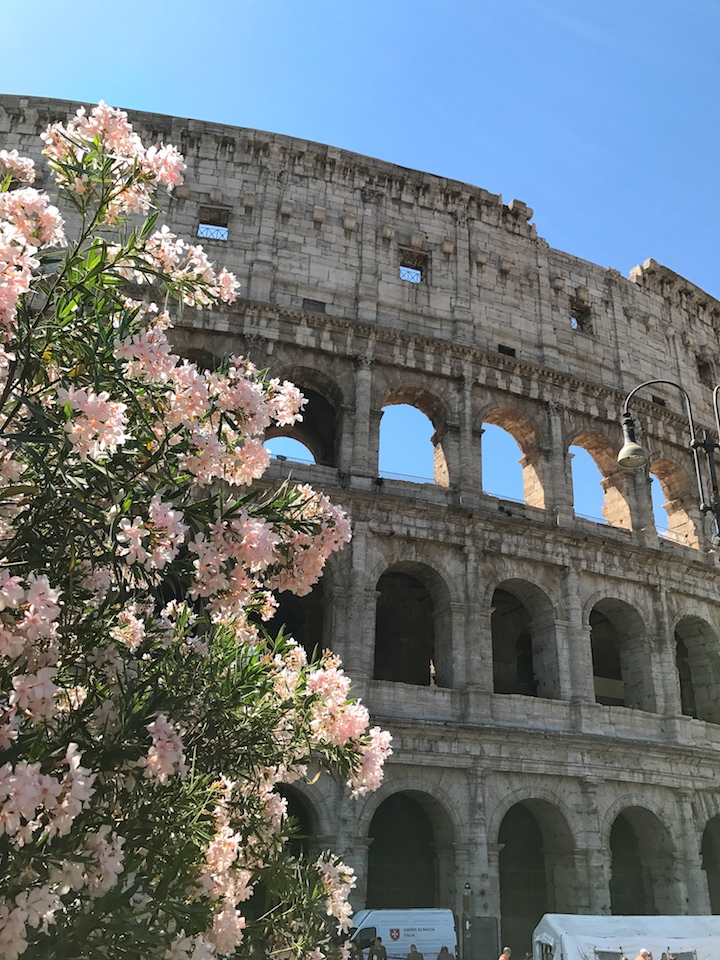 4) Get yourself acclimated to the time zone of your destination before the flight begins! First, start by setting your phones and watches for your destination a couple days before and then try to follow a routine. If you have the luxury of attempting to begin a day before the flight, you will have a much easier time acclimating upon arrival. If you can't set your phone watch manually the day before, set alarms for things you should be doing in your "new" time zone. Things like eating breakfast, sleeping, or just taking a nap for slow acclimation.
5) If you arrive in the morning, get moving! Before your trip, create an itinerary or map of all the places you want to hit to help you fight through the first day so that the rest of your trip is enjoyable and productive. The key is to stay in motion so you stay awake, which means NO naps! With that being said, I suggest lots of walking. Fresh air and sunshine makes it easier to stay awake. I'll warn you though…walking outside doesn't mean all rainbows and butterflies. I literally felt like I was dying the first day while we were exploring the city of Rome. We left New Orleans at 11 am on Thursday and arrived to Rome at 8 am on Friday with a seven hour time difference. So I just felt so confused and exhausted. I even felt a little light-headed and sick until I finally at something more substantial than plane food, but I had to push through it so that I would go to sleep at the correct time that night. I don't think I would have felt as terrible had I slept on the plane, which is why I said that you must go to sleep immediately after boarding the plane.
The good news is that I managed to keep moving all day so I was able to go sleep at the correct time that night and didn't have any other problems the rest of the trip. Unfortunately, some of my family members didn't have the same experience because they went to sleep in the hotel room after they landed instead of pushing through that first day. So their sleep pattern was a little of whack for the first few days until their bodies finally adjusted.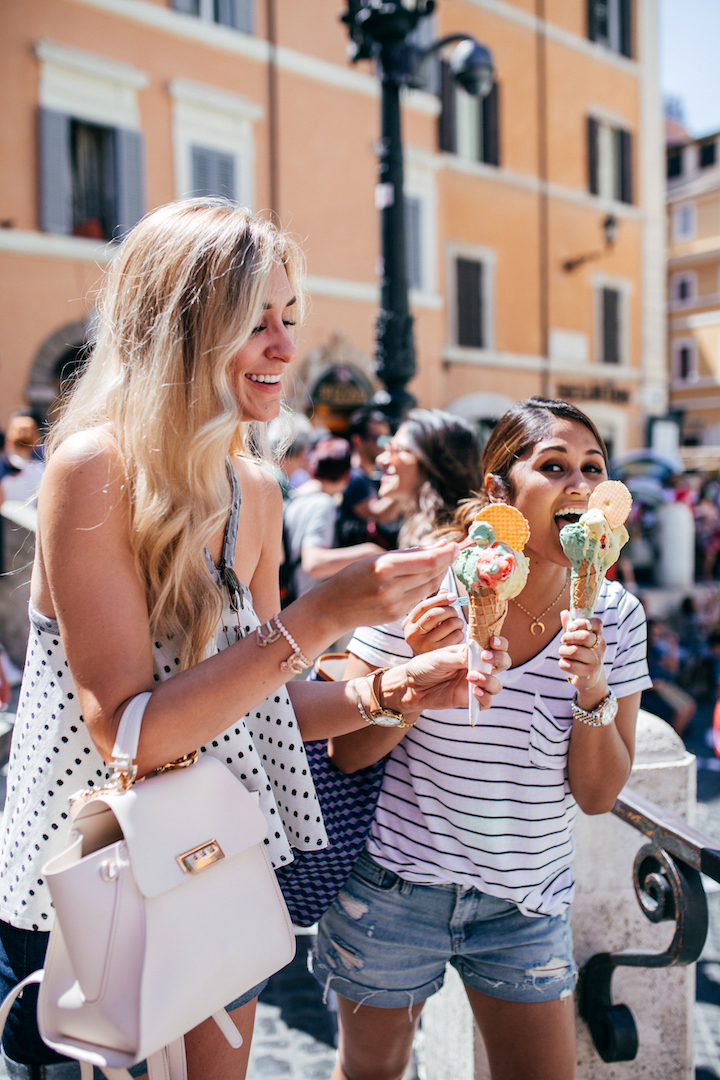 When in Rome:
Visit the Colosseum!
Toss a coin in the Trevi Fountain and make a wish!
Walk down every little alleyway until you spot a cute outdoor spot for lunch!
Treat yourself to some gelato and don't be lame…go with the waffle cone option!
Stop by the Pantheon!
See Vatican City and the Sistine Chapel!
Last, but not least…indulge in plenty of delicious Italian food and then eat more gelato after! Because you never have enough gelato! Am I right?
SaveSave
SaveSave
SaveSave
SaveSave