Happy Friday friends! In case you don't already know, this is the last weekend to shop the best deals on some of next season's top trends, beauty products and wardrobe staples at the Nordstrom Anniversary Sale. The sale ends on Sunday, August 4th. This means that all of the items will go back up to their original prices, but don't you worry because I have rounded up all of the best items that are still in stock.
For more info on the sale, head over to this blog post—> Nordstrom Sale Top Picks
Scroll through this post to shop the Nordstrom Anniversary Sale 2019 Final Round Up!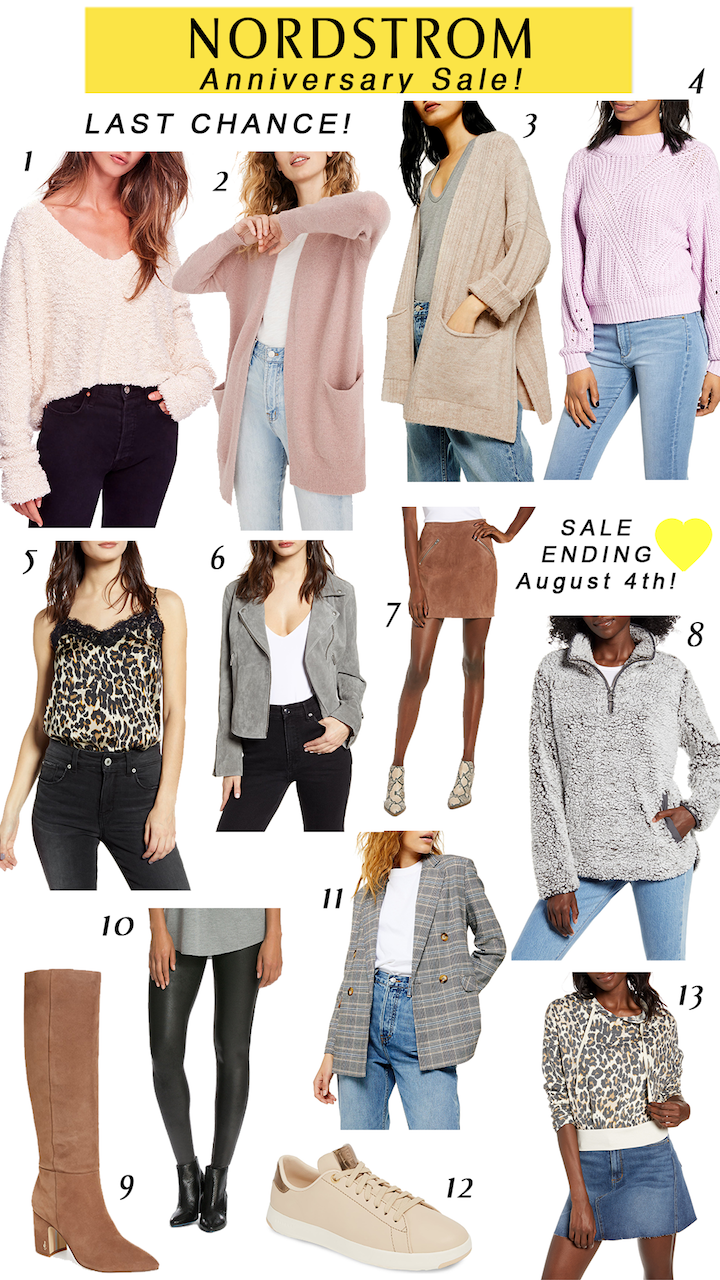 | Shop These Items |
1. Popcorn Sweater | 2. Ryder Cardigan | 3. Long Cardigan | 4. Traveling Stitch Sweater | 5. Lace Trim Satin Camisole Top | 6. Next Level Suede Moto Jacket | 7. Suede Mini skirt | 8. Wubby Fleece Pullover | 9. Hiltin Knee High Boot | 10. Faux Leather Leggings | 11. Double Breasted Plaid Blazer | 12. GrandPro Sneaker | 13. Crop Hoodie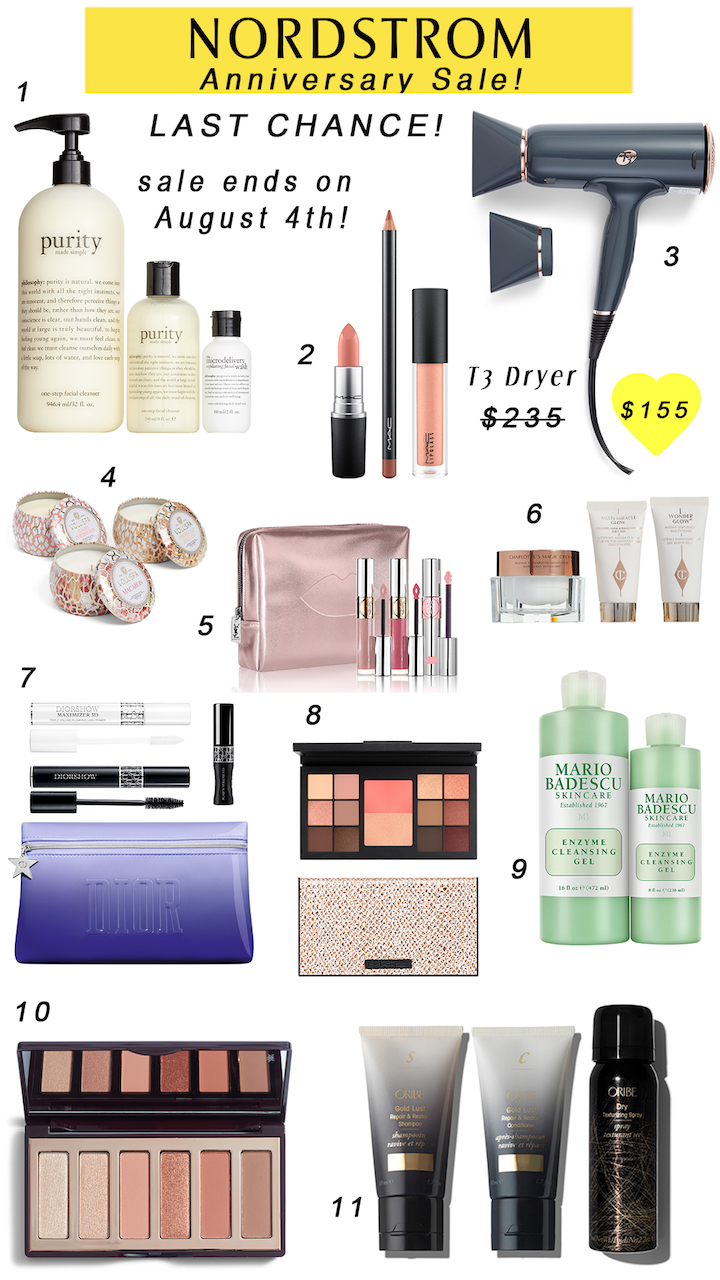 | Shop These Beauty Products |
1. purity trio set | 2. MAC Lip Kit | 3. Grey & Rose Gold Cura Hair Dryer | 4. Maison Blanc Mini Tin Candle Set | 5. Pink Lip Trio | 6. Miracle Skin Set | 7. Lash Trio | 8. MAC Eye & Face Kit | 9. Enzyme Cleansing Gel Duo | 10. Mini Eyeshadow Palette | 11. Oribe Gold Lust Set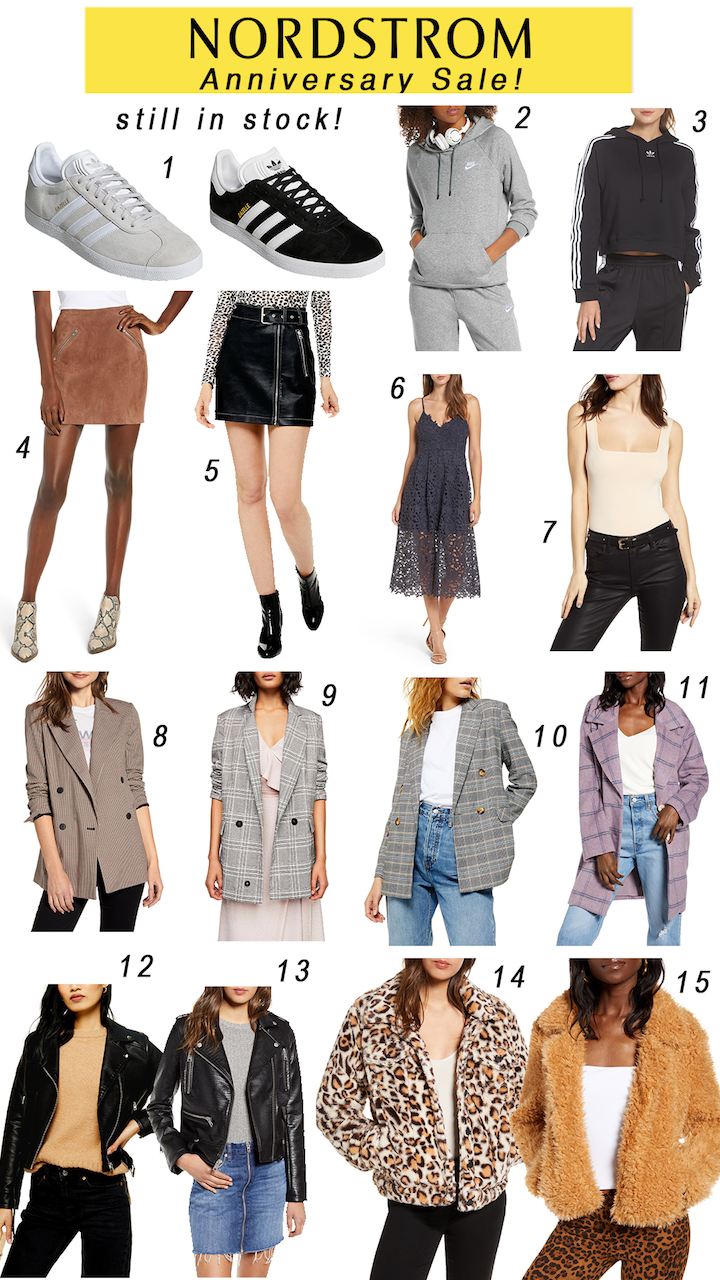 | Shop These Items |
1. Gazelle Sneaker | 2. Pullover Fleece Hoodie | 3. Crop Hoodie | 4. Suede Mini Skirt | 5. Faux Leather Mini Skirt | 6. Lace Midi Dress | 7. Square Neck Sleeveless Sweater | 8. Double Breasted Plaid Blazer | 9. Sporty Oversize Blazer | 10. Double Breasted Plaid Blazer | 11. Plaid Flannel Coat | 12. Leather Crop Moto Jacket | 13. Faux Leather Moto Jacket | 14. Cozy Teddy Trucker Jacket | 15. Faux Fur Teddy Coat