Hey everyone, I hope you all had a nice weekend. Today I'm talking about how to throw the perfect beach bachelorette party by sharing all the details from the recent beach trip/bachelorette party that I helped throw for one of my fellow blogger friends, Caitlyn from Milligan Movement. I got together with nine other influencers who are also friends with Caitlyn and we rented a beautiful 5-bedroom house in WaterSound beach to sleep 12 of us. This is the exact house we rented—> https://www.vrbo.com/7823606ha?adultsCount=10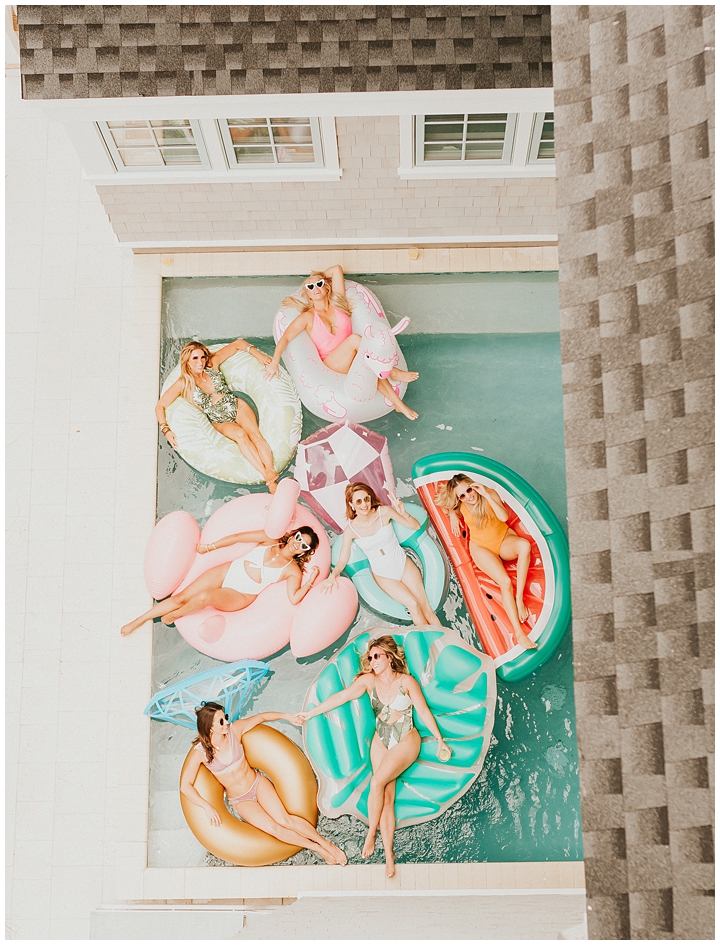 | Shop Pool Floats |
Pool Floats: Inflatable Flamingo | Inflatable Watermelon | Engagement Ring Bachelorette Party Tube | Tropical Palm Leaf Pool Float

Day 1: Arrival & Dinner at the house provided by Private Chef Kali
Prior to the trip, I sent out an itinerary, sign up sheet and packing list to all of the girls so they knew exactly what outfits to bring and how much to budget for. Speaking of budget, I made sure to run the plans by everyone first before booking anything so that there were no surprises when it came to paying for meals and activities. Taylor from Gracefully Taylored was so helpful in booking the house and private chef for the first night. I can't even begin to tell you how nice it was to have a four-course meal complete with champagne and rosé prepared for us in our house the first night we arrived after a long day of traveling. We used Chef Kali and they did a phenomal job.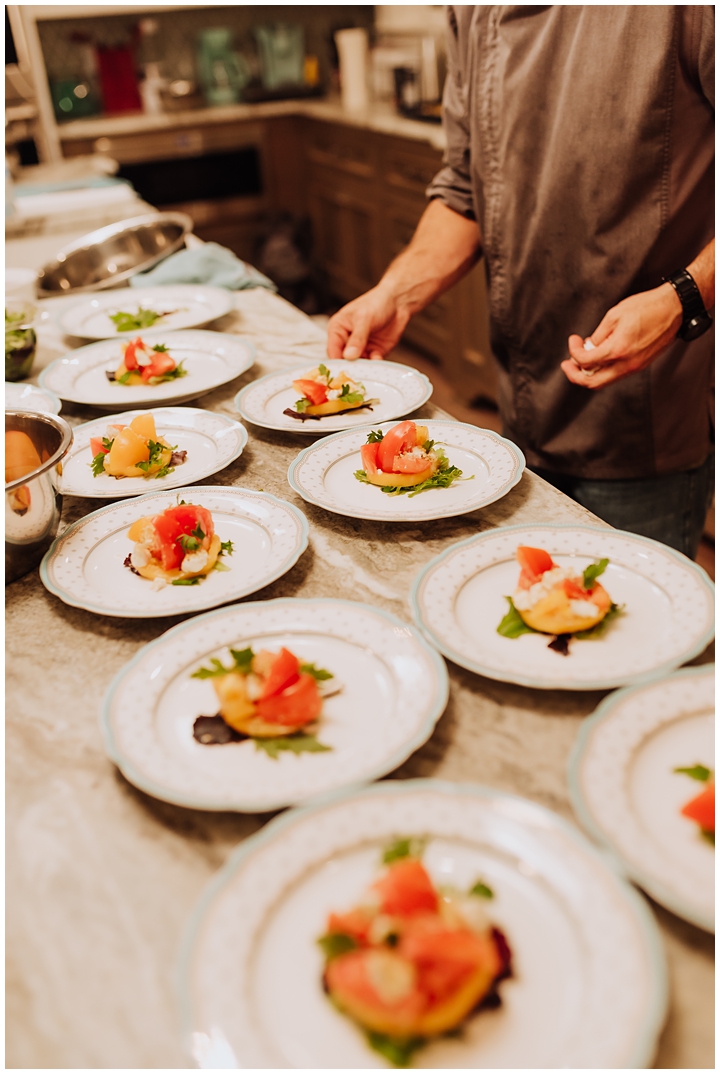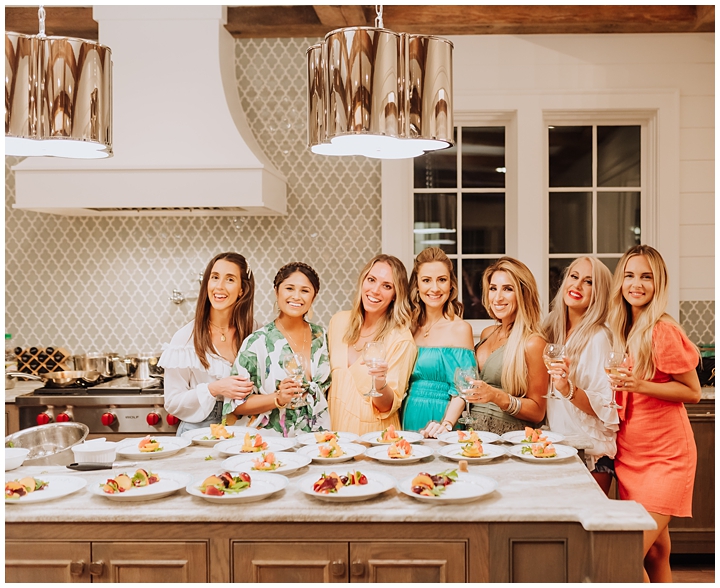 During dinner I passed out all of the goodie bags to each of the girls and we discussed the rest of our weekend plans. When it comes to goodie bags, I do not recommend investing an excessive amount of items like I did for this trip. I was fortunate to have partnered with these brands to give you some unique ideas for items to put in your goodie bags, but I know my friends would be so ecstatic to receive just even one of these goodies. I suggest choosing just a couple of these items to give to all of your best gals.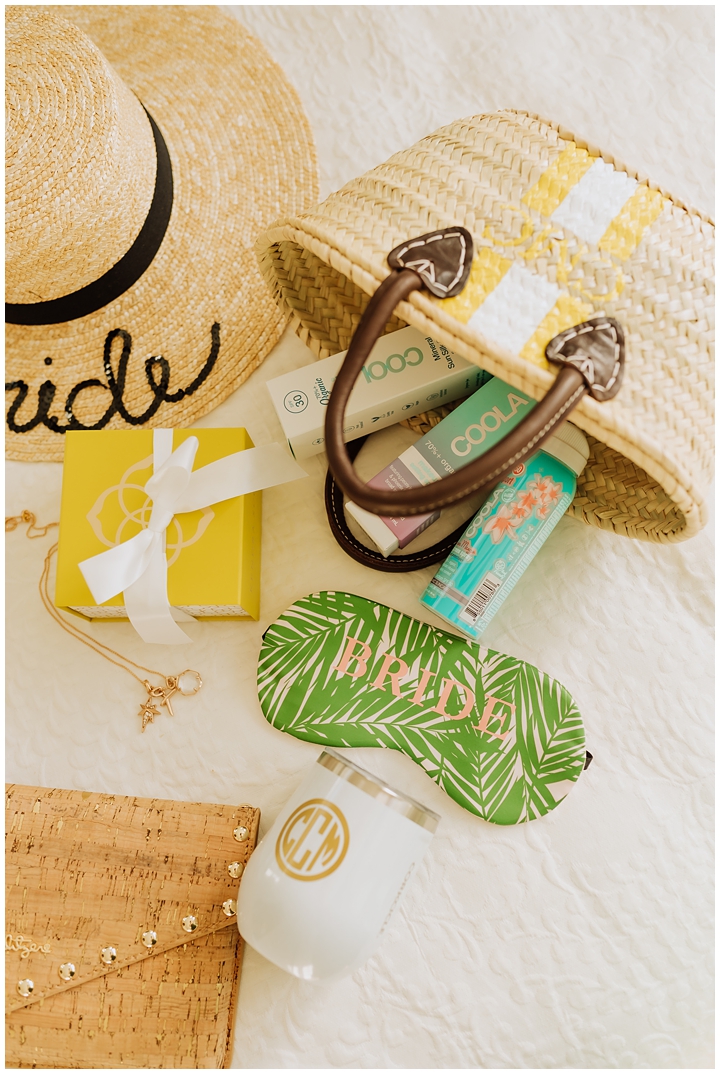 If you are working within a tight budget, it's nice to include items like pain reliever, snacks, mints, makeup wipes, hand sanitizer, bobby pins, SPF, tums, hair ties etc…
Goodie Bags: Palm Leaf Eye Mask, Champagne Nightshirt & Hand-Painted Palm Leaf Beach Bag c/o Mark & Graham | Initial Charm Necklace w/ North Star Charm & Ivory Mother-of-Pearl c/o Kendra Scott | Customized Boater Hat, Disco Ball Cup & Stemless Canteen c/o White Elephant Designs | St. Barts Studded Cork Clutch c/o Lilly Pullitzer | White Heart Sunglasses | COOLA Organic Unscented Sport Sunscreen Spray, COOLA Organic Makeup Setting Sunscreen Spray & COOLA Full Spectrum 360 Mineral Sun Silk Creme Sunscreen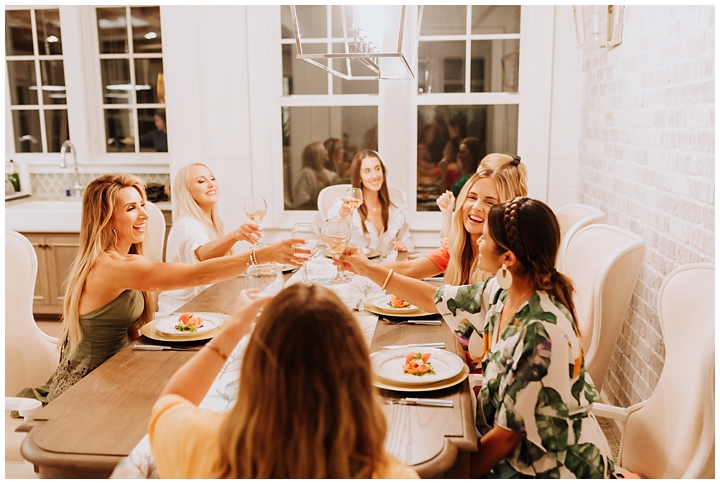 A week prior to the trip, I had Caitlyn's matron of honor email the groom with 24 questions to answer about their relationship and had him send the questionarre back with all of his answers. Some of the questions consisted of: My biggest pet peeve of Caitlyn is? Her biggest pet peeve is when I?
Our best date ever was?
The day I realized I wanted to marry her was?
We saved the questions and answers on someone's phone and read them aloud after dinner and if she answered the question correctly meaning the same answer as the groom, we all took a drink. If she answered incorrectly, she took a drink. I think this game may have been my favorite part of the trip too and it's such a fun way to learn more about your friend's relationship. If you're interested in the rest of the questions for an upcoming trip, shoot me and email at jenn.hauteofftherack@gmail.com.
Day 2: Pajama Party & Boat Day
We kicked off our first full day with a with a pajama party in our new Champagne Nightshirts  from Mark & Graham and danced around the house with mimosas after breakfast. If you follow me on Instagram, this was the pajama party where we reenacted the intro of Big Little Lies! Once everyone was ready for the boat, we packed up all the necessities, snacks and drinks and took and uber to the marina. As I mentioned earlier, I sent out a sign up sheet prior to the trip so that each girl could contribute some type of snack, drink or necessity to make boat day a smooth and pleasant experience.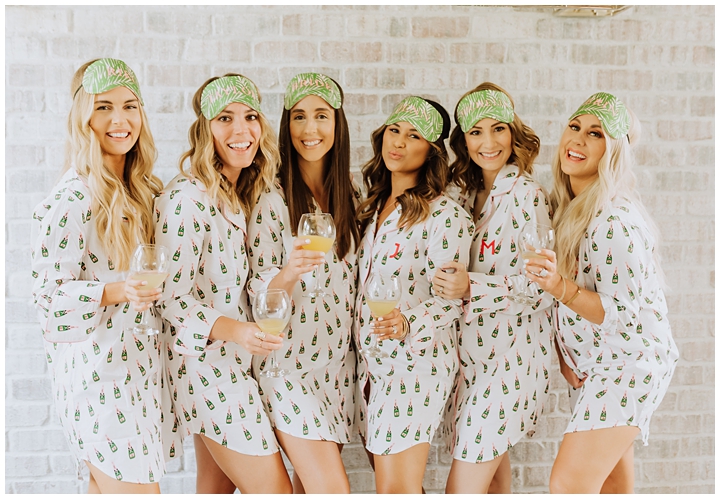 Palm Leaf Eye Masks & Champagne Nightshirt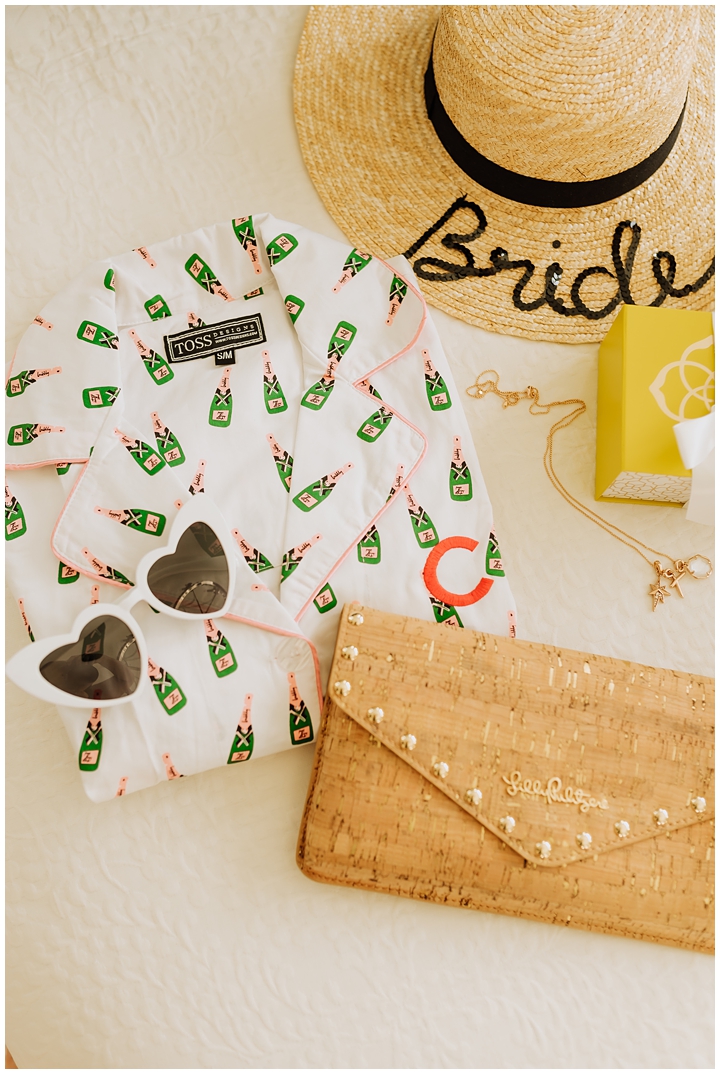 We rented a boat with a kitchen and bathroom so that we could keep our drinks and food cold and still have plenty of room for dancing and lounging. The boat owner also provided us with a captain who took us out on the water for four hours, which was the perfect amount of time because we were exhausted by the end. As for our outfits, we ordered nine black swimsuits and everyone got to choose a "nautical" bachelorette themed phrase to have stamped on their swimsuit.
Black One Pieces & Captain Hats
The whole idea stemmed from the name of the boat we rented! We were cracking up because the name of the boat is called "Nauti⚓️ Pleasures" so we started making "nauti" jokes and all of sudden I was like "Omg I saw something on Pinterest that would be perfect for this!" We decided this the weekend before we left and all worked together with a little help from Amazon prime to make it happen for Cait's bach party!
Day 3: Pool Party & Fancy All White Dinner at Caliza
By day three, we were all pretty exhausted from the boat so we took it easy and hung out by the pool and beach all day snacking on cake pops and drinking plenty of rosé and Michelob Ultra. That night we got a all dressed up in white and went out to a fancy dinner at Caliza to celebrate the bride-to-be!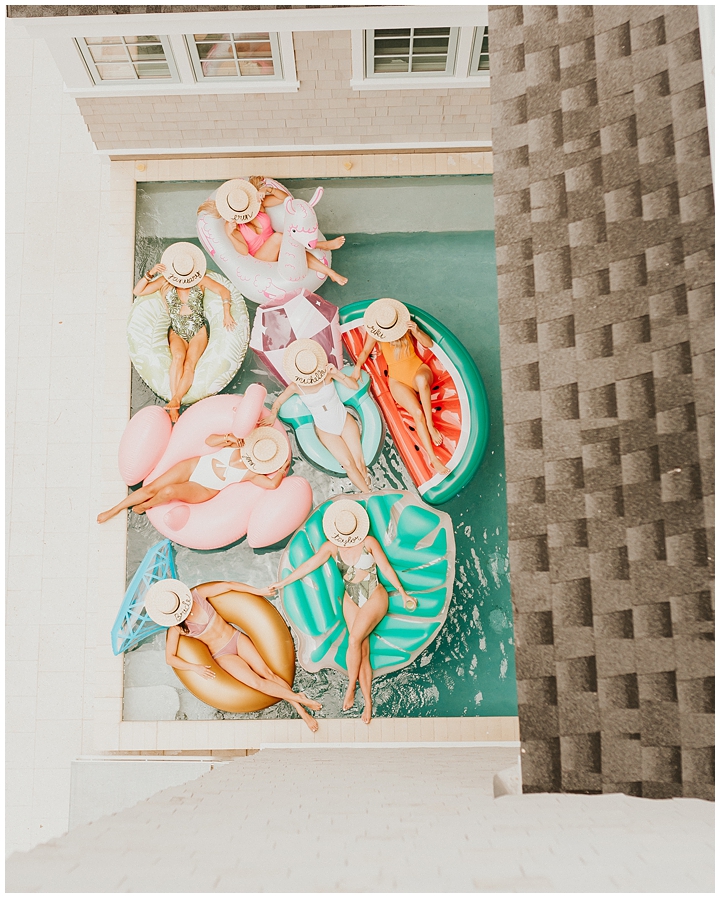 Custom Boater Hats c/o White Elephant Designs
Don't forget to pack an electric air pump so you can more easily blow up all of your pool floats. There is also an option to help you deflate your floats too so you don't have to spend hours waiting for it deflate before packing it to go back home.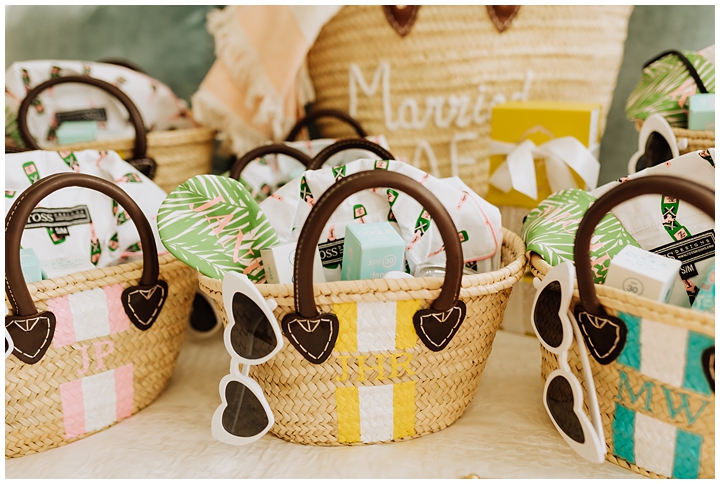 You may have seen my "How to Plan the Perfect Bachelorette Beach Party" blog post from four years ago, but if you haven't seen it, I listed all of my tips below.
How To Throw The Perfect Beach Bachelorette Party:
1)  Start planning two-three months in advance and ask the bride what kind of party she wants, where she wants it, who she wants to invite and her schedule availability. Once you pinpoint her ideal party/trip and have her open dates on the calendar, reach out to the rest of the bridal party and coordinate dates and a budget that work for everyone before booking a place.
2) Once you find a couple of available places that work with everyone's schedules and budgets, present them to the bride and let her choose which one she likes best.  Before booking the place, get a final headcount and make sure everyone is clear on how much money they will need to put down. You can also give them an estimate of groceries, dinner reservations and any additional events that may take place.
To avoid anyone having to spend more money than they had originally planned, I made a rule that once you committed to the trip and paid, you would NOT be refunded your money if you decided to cancel last minute. I did this to be fair to everyone especially those who could not afford to go over budget.
When it comes to collecting everyone's money for the trip, I suggest encouraging the rest of the bridesmaids to download apps like Venmo or Paypal to help this process run smoothly. You'll also like like being able to use these apps during the trip too.
3) A month before the trip research restaurants and fun things to do in that area and take any necessary actions for booking and reserving. When doing this make sure to ask about group deals and special bachelorette freebies.
4) 1-2 weeks prior to the trip, send out an email including the following information: address, start/end time, dress codes, any additional fee reminders, transportation info and a tentative itinerary for the guests to use as a guide for packing. If you plan to throw a lingerie party during the trip, make sure to inform the guests of the bride's sizes. This is also time when you should make your grocery and decorations list, compile a list of fun games and call to confirm all of your reservations. A week before the trip, take food and alcohol requests from the rest of the group if you plan knock out the grocery trip yourself. I  found that it saved a lot of time going alone.  Lastly, make sure you coordinate a ride for the bride and give her the breakdown without giving away any surprises so she knows how to pack.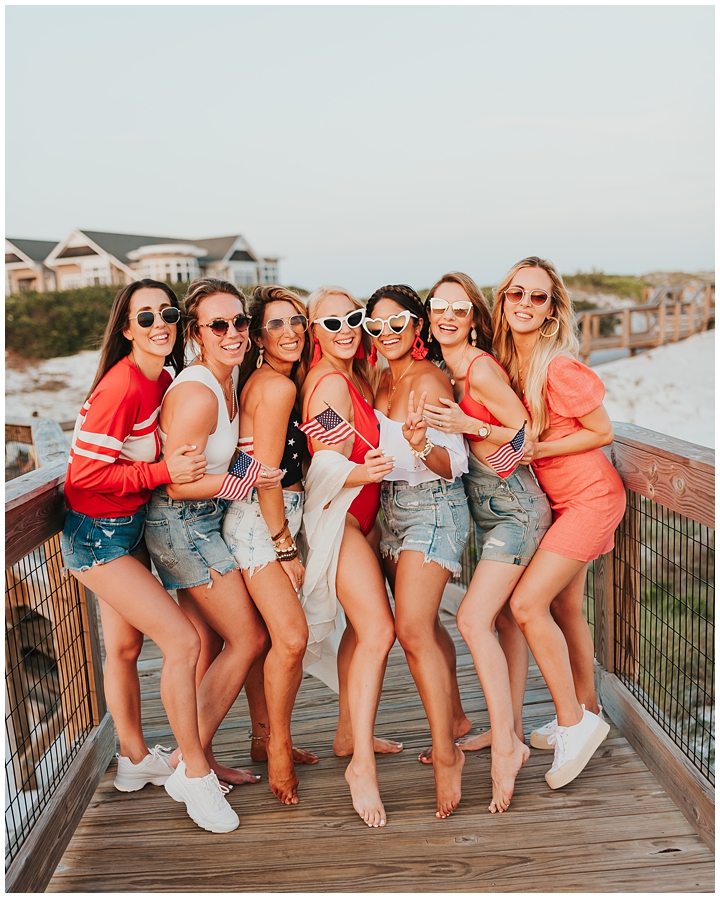 5) The night before the trip, remind everyone of the check in time, address and any other obligations they agreed to.  On the actual first day of the trip, plan to arrive early with one or two more people to help set up and decorate before the bride arrives. For the trip I recently just hosted, I arrived a couple of hours early with one other girl to check everyone in, make a grocery store trip and decorate the condo. I wanted the fridge and cabinets to be fully stocked for when everyone arrived so we could immediately start partying.
Decorations: I didn't go crazy with decorations for this trip beach trip because we plan on throwing a bigger party back at home with more of her friends, but I highly suggest balloon garland and disco balls.
You can use the style board below as a guide to help you prepare for your next beach bachelorette party.
1. Balloons Rose Gold 16″ | 2. COOLA Makeup Setting Sunscreen | 3. 3 Pack Party Large Balloons | 4. Bride Straw | 5. Hand-Painted Straw Beach Bag | 6. One Piece Swimsuit | 7. Yacht Captain Hat | 8. Command Clear Hooks | 9. Drink Coolers | 10. Electric Air Pump | 11. Diamond Ring Pool Float | 12. Pineapple Pool Float | 13. Flamingo Pool Float | 14. Metallic Fringe Curtains
See more from my own bachelorette party here—>Wedding Wednesday: 5 Essentials You Need For The Perfect Bachelorette Party