Morning everyone! The new year is just two days away and while I usually like to take this time to reflect on the past year, I also like to round up my top selling items as well as my own favorite purchases. So today I'm sharing the top 30 best selling products of 2020 along with my favorite baby, fashion, home and beauty items that I purchased this year.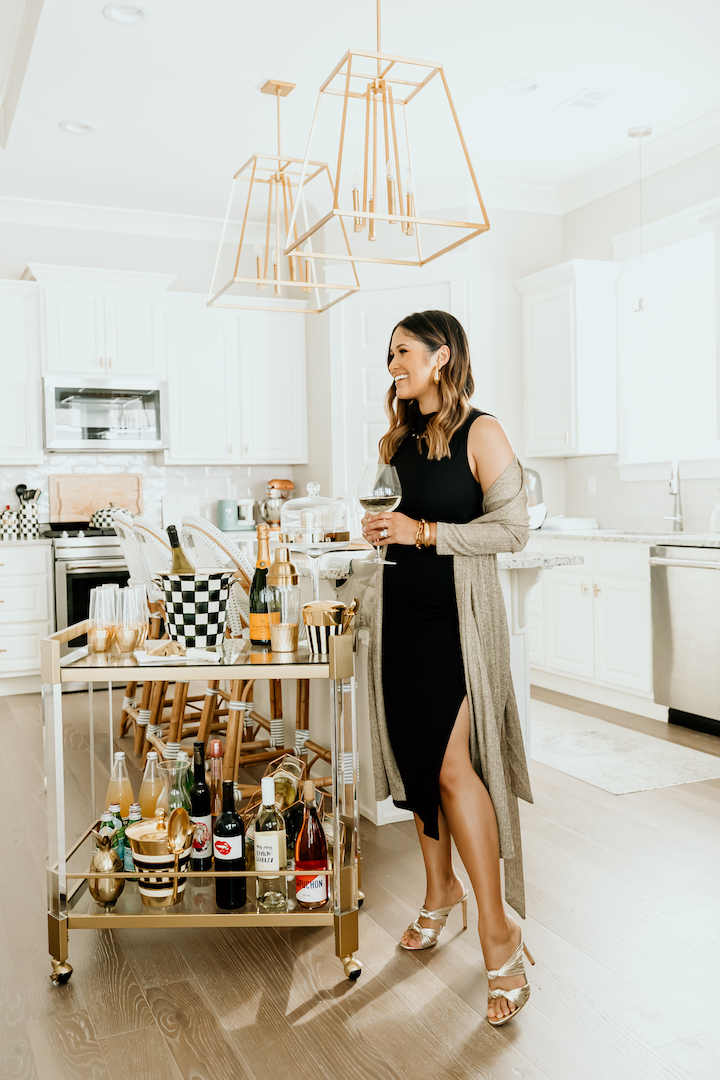 See the full post here–> Gibson X Glam 2020 Collection Launch & here–> 15 Ways to Style a Black Midi Dress
See the full post here–> 12 Ways to Style a Cozy Duster Cardigan
Out of all my top selling items this year, I'm so proud of these three pieces above that I designed with Gibsonlook. In fact, they performed so well that we're restocking both the cozy duster in tan and the black midi dress in 2021. We even plan to bring the dress back in a new color as well as a few other surprises so stay tuned for that! The gold duster sold out so fast too, but we'll probably wait to bring that back next holiday season since it's more of a glam piece. Also, stay tuned for some super exciting news that I will be announcing in January!
My Top Purchases of 2020

| Shop My Top Baby Purchases of 2020 |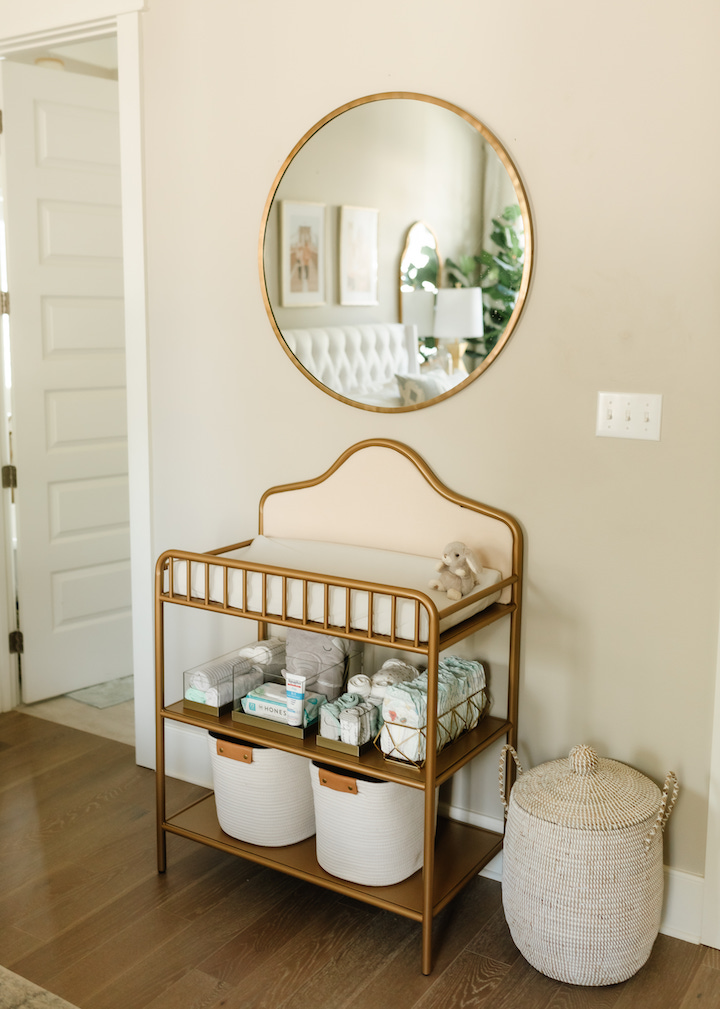 See the full post here–> How to Prepare Your Bedroom for a Newborn
3. Piper Metal Changing Table | Getting a small changing table for our room was one of the best decisions we made since Beck's room is all the way across the house. So it made those middle of the night diaper changes so much easier and we also liked the extra storage room for his essentials instead of mixing in them with our own stuff. The changing table is the designated spot for all of Beck's stuff that we keep in our room.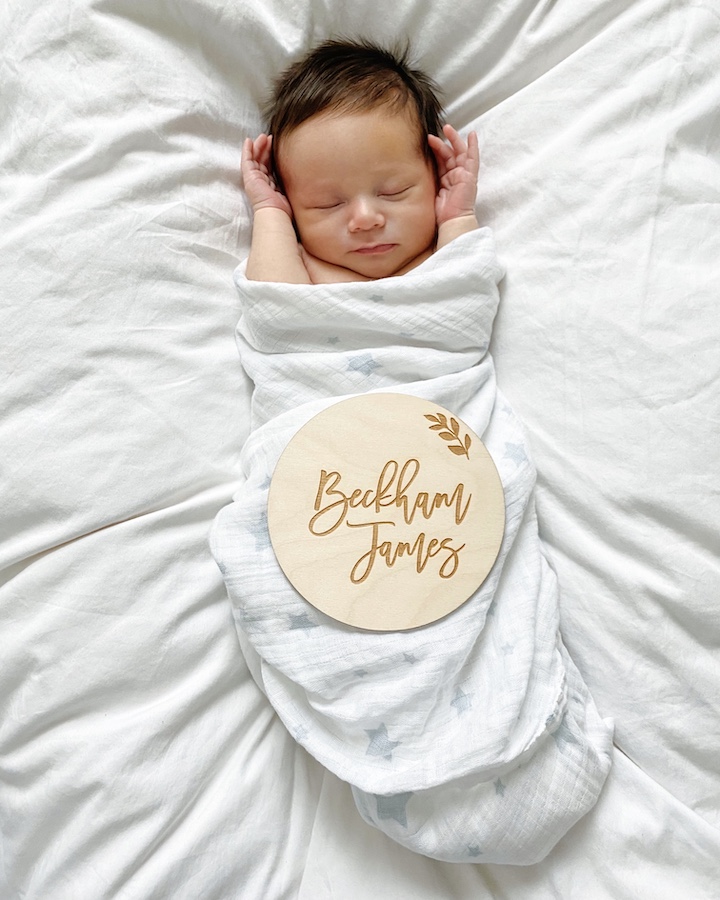 4. Swaddle Blankets | These were my favorite organic blankets to use for Beck as an infant because they're super lightweight and breathable. In fact, I tested them out myself and I could breathe right through them. We also use the Newton breathable mattress in his crib too because you can also breathe right through that too.
5. Babycook Neo Baby Food Maker | We use this baby food maker to make all of Beck's food. It's super quick and easy to use because it steams and purees all in the same compartment, which is ideal when it comes to clean up. Then I freeze all of his food in this storage container.
6. The Ollie Swaddle | This was the only velcro swaddle that worked for Beck during the nighttime before he was big enough to sleep in the Merlin's Magic Sleepsuit. During the day, he napped in the Swaddle UP and transitional swaddle → Swaddle UP Transition Bag. I used a different swaddle for the day time so he could have a day time routine and bedtime routine.
7. Merlin's Magic Sleepsuit | We were so glad when we were able to transition Beck into this sleepsuit. It truly is magical and so much easier to put him in than the velcro swaddle that he always tried to escape from. He slept great in his Magic Merlin from 3-6 months. He now sleeps in the Nested Bean Zen Sack – Gently Weighted Sleep Sacks, which we love for him because he sleeps so well in it.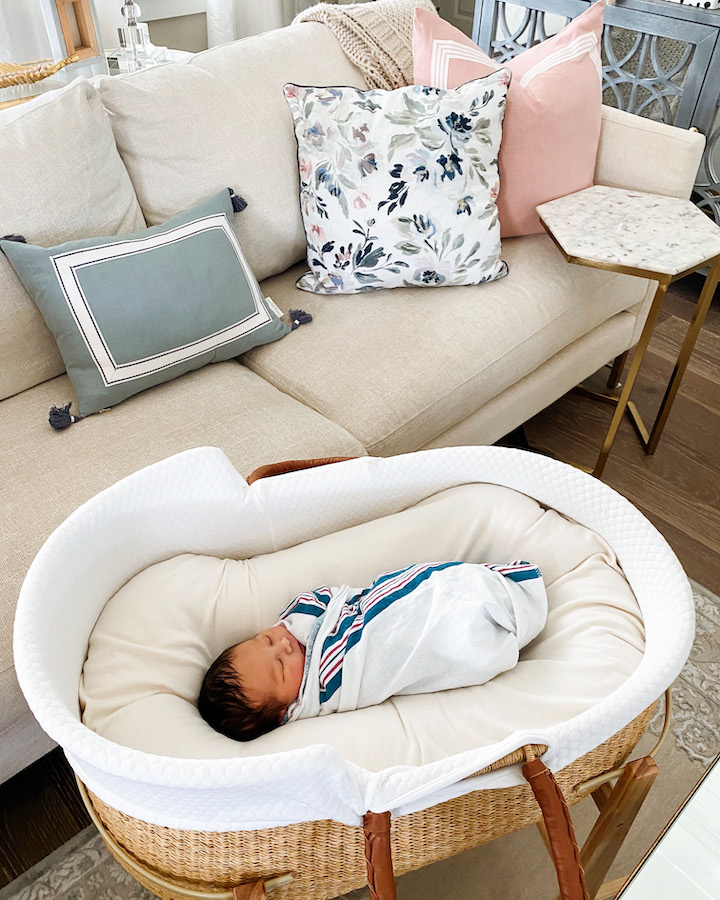 8. Snuggle Me Organic | This thing was our life saver from 0-5 months. The Snuggle Me made him feel like he was being held so he napped like an angel in it. The only downside is he outgrew it whereas the DOCKATOT accommodates them for a longer time. We own both, but the Snuggle Me Organic is the better one for infants because it's more snug.
9. Tiny Love Classic Mobile, Into The Forest | I'm not gonna lie… I wasn't too jazzed about buying this colorful mobile because it doesn't really fit with the aesthetic of Beck's room, but this thing had amazing reviews and we needed something that would entertain him in his crib for a while. It worked like a charm! He loved it. Now that he's 8 months he's more focused on on trying to pull himself up, but it worked great while he was an infant.
10.3-Stage Activity Center | This has been one of Beck's favorite toys because he loves to stand up and the bottom is adjustable so you can adjust it to fit them just right so they aren't on their toes.
11. Kick 'n Play Piano Gym | I got this piano play gym for Beck when he was about two months old and he absolutely loved it and still does.
12. Bassinet Insert for Halo Bassinets | This insert was a game changer for night time when Beck started boycotting his bassinet. The insert cradled him a little more so he slept so amazingly in it plus it's mesh so I never had to worry if he turned on his side because he could breathe through it just like the sides of the Halo Bassinet. Are you starting to notice a trend here? All of our favorite purchases involve Beck sleeping better. Haha!
13. All-in-One Infant Car Seat/Stroller | This is probably the most convenient piece of baby gear we own because it's a car seat and stroller all in one. The second we pull it out of the car it conveniently flips open into a stroller so I don't have to lug around the car seat. Instead I can just roll it right in to wherever we're going.
14. Teethe-EEZ | We keep a set of these in the freezer and pull them out whenever Beck's teeth/gums bother him.
15. Memory Foam Reversible Play Mat | This play mat is awesome because it's a nice neutral color for our living room and super cushiony for whenever Beck takes a tumble while playing. When he gets older we can flip the mat over to the other printed side and put it in his nursery or play room. Also, I didn't include this on the style board, but these floor pillows are so nice to have while playing on the floor with Beck. They're so comfy to sit on and I actually bought them a couple years before Beck was even born, but now I use them more than ever!



| Shop My Top Fashion Purchases of 2020 |
1. Nike Air Max 270 | 2. Pajama Set| 3. Collar Nightgown | 4. High-Waisted Mid-Thigh Short| 5. AMARI TAUPE SLIDES | 6. Women's Fuzzy Fur Flat Slippers| 7.Medium Metro Deluxe Tote | 8. Stretch High-Rise Skinny Button Fly | 9.GOOD LEGS CROP | BLUE261| 10.Soft Pocket Lounge Leggings| 11. GOOD WAIST CROP STEP HEM | 12. Gold Knit Duster Cardigan— designed by Jenn of Haute Off The Rack (Take 20% OFF with code: HAUTE20) | 13. Mock Neck Luxe Knit Midi Dress— designed by Jenn of Haute Off The Rack (Take 20% OFF with code: HAUTE20) | 14. Cozy Fleece Long Belted Cardigan — designed by Jenn of Haute Off The Rack (Take 20% OFF with code: HAUTE20)| 15. Soft Surplice Wrap Jumpsuit
1. Nike Air Max 270 | I got these shoes during the Nordstrom Anniversary Sale and they are so flattering and well made so I got them in two colors.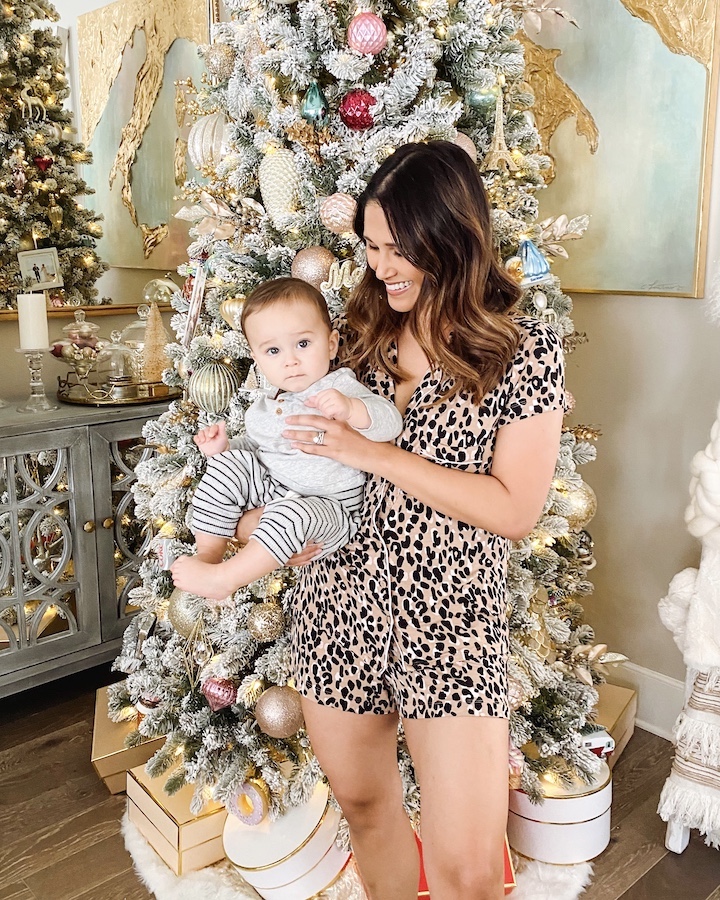 2. Pajama Set | After receiving my first set of these matching shorts pajamas, I ordered a few more because they're so comfortable and lightweight, which is deal because I'm a hot sleeper. They're also super cute and affordable and come a nightshirt version too.
3. Collar Nightgown | I love how these nightgowns are nursing friendly and bump friendly. I bought a ton of them while I was pregnant and I still wear them now because they're so comfy and breathable.
4. High-Waisted Mid-Thigh Short | I don't know how I ever got along with these spanx before. They hug you just right and smooth everything out plus they're short enough to wear with dresses and skirts that have slits. I wore them under this dress for a smooth sleek look–> 15 Ways to Style a Black Midi Dress
5. AMARI TAUPE SLIDES | These were the perfect shoes for 2020 because they're like a cozy house slipper that you can wear outdoors too because it has a rubber sole.
6. Women's Fuzzy Fur Flat Slippers | At first, I thought open toe slippers were a dumb idea until I realized how awesome they because they allow your toes to breathe so your feet don't sweat in them.
7.Medium Metro Deluxe Tote | I have tons of MZ Wallace bags, but I love how the new metro tote deluxe comes with a long removable strap and luggage slip.
8. Stretch High-Rise Skinny Button Fly | These jeans are so flattering while still stretchy and comfortable. Plus I like how they come in an ankle length because they're perfect for petite people. The washed black color looks great on too.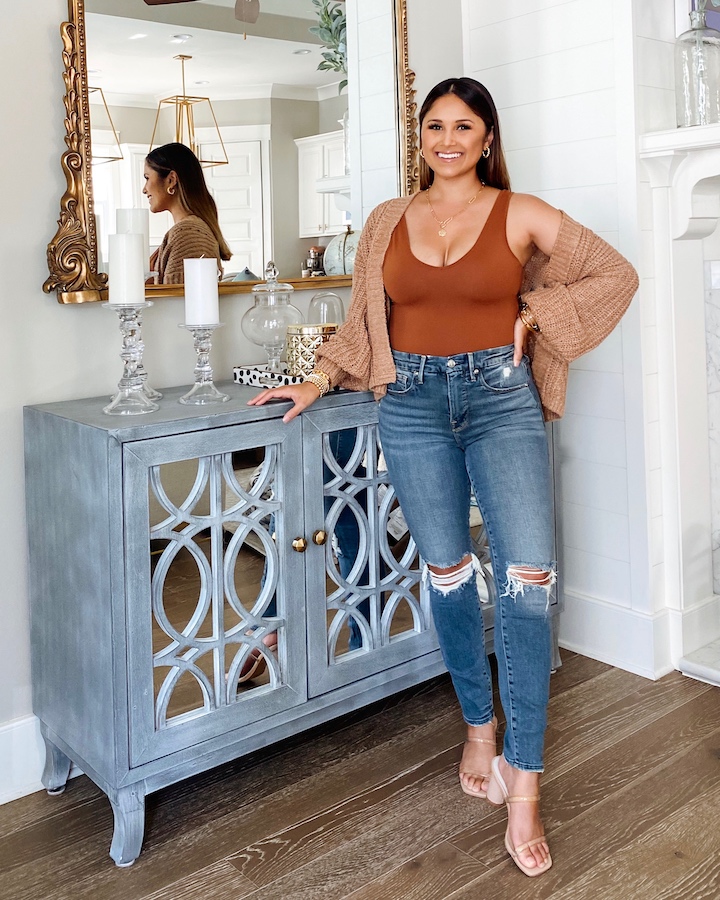 9. GOOD LEGS CROP | BLUE261 | These are one of my favorite jeans of 2020 because the first time I tried them on in July I felt like a million bucks💰and that means a lot coming from a 3.5 month postpartum mama. During that point of my life, I had been somewhat successful with other pairs of jeans since having Beck, but none of them had come even close to how comfortable these are! Not only are they super stretchy and comfy, but they're also extremely flattering! I have about 5 different pairs of Good American jeans that I've gotten over the years and they're all top quality! No gap in the back and they hold their shape in between washes!
10. Soft Pocket Lounge Leggings | These leggings are so cute becuase they look kind of like a jogger, but they're more flattering than a regular jogger because a they're a thick ponte material that holds you in while also still very comfortable. I don't wear them to workout. I wear them around the house, walks around the neighborhood and running errands. The fabric is crazy comfortable and the high waist flatters all figures. This is another piece that I scooped up during the Nordstrom Anniversary Sale and ended up ordered in two other colors.
11. GOOD WAIST CROP STEP HEM | These are another amazing pair of Good American Jeans. I know I've shown you so many different pairs of @goodamerican jeans over the past few months, but this pair takes the cake! Don't get me wrong… I love all my @goodamerican jeans equally, but this pair holds a special place in my heart because they made me feel good about myself in the thick of the holiday season! I'm talking after Thanksgiving🦃🍽 & National cookie🍪 day, which I always indulge myself in!😂 The color is just so flattering because it's in between a black and a dark grey wash so you can still see all the details in the jeans! I'm wearing the Good Waist Step Hem, which has a high waist that flatters every curve! In case you're new here, I've been wearing GA jeans for years and they're one of my favorite denim brands especially ever since I had Beck! Their gap-proof contoured waistbands are 💯 + they have an amazing size range of 00-32!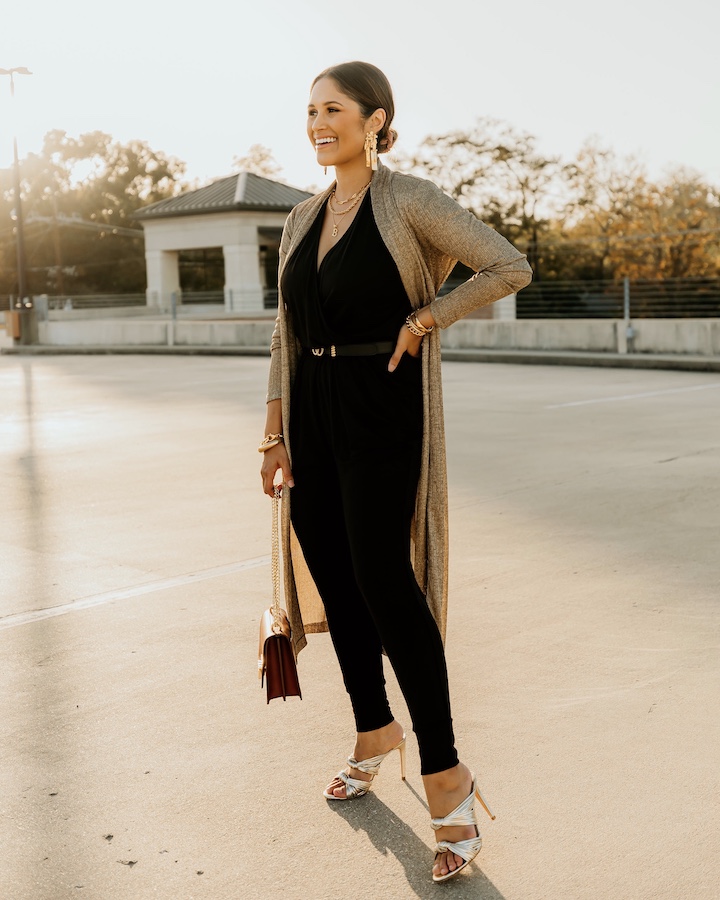 15. Soft Surplice Wrap Jumpsuit | This is my all time favorite jumpsuit. In fact I love it so much I have two of them in black so I still have one to wear while the other is dirty and I have the grey too. It can be worn casually with sneakers and flats or dressed up with heels and a belt. I wear the size XXS because it's super stretchy and forgiving.
Outfit Details: Cozy Fleece Long Belted Cardigan (wearing sz XS)– designed by Jenn of Haute Off The Rack (Take 20% OFF with code: HAUTE20)| Soft Surplice Wrap Jumpsuit— wearing sz XXS | AMARI TAUPE SLIDES | Gold & Clear Glass Bar Cart

| Shop My Top Beauty & Home Purchases of 2020 |
1. OlaplexNo. 6 | 2. No. 5 Bond Maintenance | 3. OlaplexNo. 4 | 4. Dr Teal's Pure Epsom Salt | 5. Discovery Collection | 6. Selfie Stick Tripod | 7. Quench & Shine Restorative Mask | 8. 20oz Glass Tumbler Glass | 9. Insulated Glass Mugs | 10. Lash Enhancing Serum | 11. Natural Calm Gummies | 12. Always Pan | 13. Nespresso® by Breville® | 14. Silicone Cooking Utensil Set
1. OlaplexNo. 6 | 2. No. 5 Bond Maintenance | 3. OlaplexNo. 4 | I just started using these hair products and I absolutely love them. I can tell such a huge difference in my hair after using them. My hair feel softer, smoother and healthier after just a few uses.
4. Dr Teal's Pure Epsom Salt | I used the fragrance free epsom bath salts so much while I was pregnant and then again postpartum once I was allowed to take baths again. They're great for relaxation and body aches.
5. Discovery Collection | The Colleen Rothschild Discovery Collection is the perfect way to introduce a new products into your skincare routine or if you don't have a routine, this is a great way to get started. It comes with both an AM and PM routine with a step-by-step info card so you know exactly how to use everything properly and in the correct order too. All of the products are mini sizes so if you end up liking them and buying all of the full size products, your Discovery Collection turns into the perfect travel toiletry kit. And the bag they come in is really cute too. Side note: I also love Tula Skincare products, but I like to switch things up every once in a while.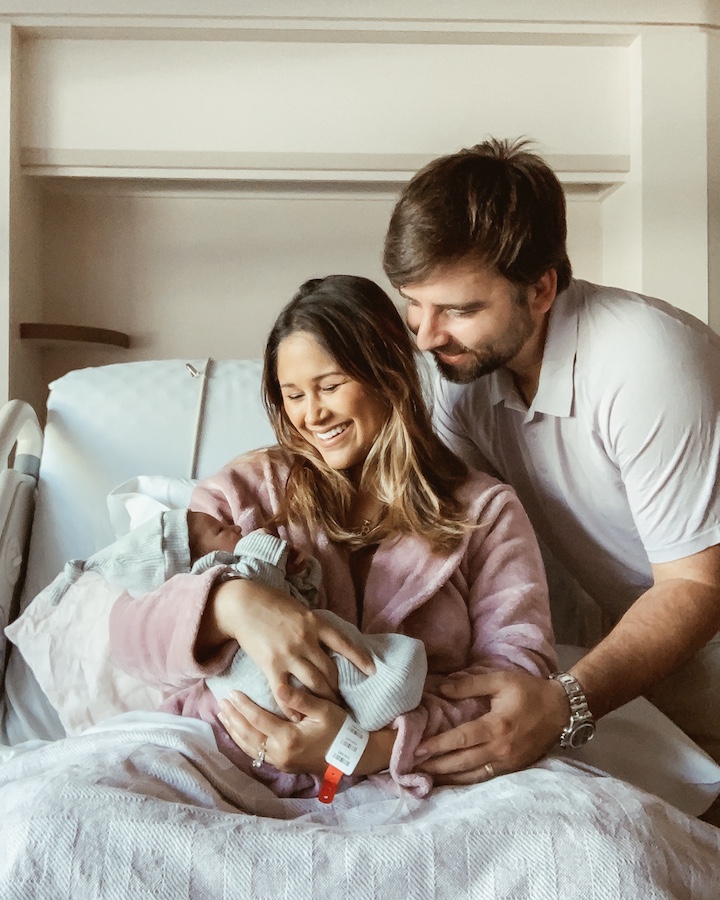 6. Selfie Stick Tripod | This adjustable tripod is perfect for anyone who loves photos, but it's especially great for family photos so everyone can be in the picture. That's how we got our family photos in the hospital. We just packed our tripod with us.
7. Quench & Shine Restorative Mask | I use this hair mask 1-2 a week and it works wonders for my hair. I started using it while I was dealing with postpartum hair loss to keep my hair hydrated and detangled because when you're losing your hair from postpartum, you can't afford to lose any additional hair from tangles and dry brittle locks.
8. 20oz Glass Tumbler Glass | I bought this water-bottle after I had Beck to make sure that I stay hydrated while breastfeeding. I like how it has a straw because it's more convenient than having to twist off a cap while holding a baby.
9. Insulated Glass Mugs | Not only are these glass mugs pretty to look at, but they also keep your coffee warm and I like how big they are too because you're less likely to spill.
10. Lash Enhancing Serum | This lash enhancing serum is a great alternative to the Rodan & Fields Lash Boost because it's more affordable and works just as well.
11. Natural Calm Gummies | These gummies were a life saver post birth because let's just say that going to the bathroom is not one of the most enjoyable things to do those first few weeks after having a baby. I started with Colace, but these gummies work even better than Colace and are a more natural supplement. Next pregnancy, I will make sure to have an abundant supply of these gummy vitamins for both during pregnancy and postpartum.
12. Always Pan | I just got the Always Pan during their Black Friday sale after hearing all of the amazing reviews and it definitely lives up to the hype. It is incredibly lightweight, nonstick, nontoxic and it heats quickly. Plus it makes clean up a cinch!
13. Nespresso® by Breville® | We just got this Nespresso machine for Christmas because we've been looking a machine makes both coffee and espresso so we don't have to have two separate machines. Plus the milk frother is awesome! It also steams your milk while frothing. The only downside is that you have to have special pods so you can't easily run to the store when you run out of coffee. We just signed up for auto ship with Nespresso, but I'll still miss the convenience of picking up coffee while I'm at the store.
14. Silicone Cooking Utensil Set | This might seem random to have on my list of top purchases, but since we've been spending so much time at home this year, I noticed that a lot of our kitchen tools could use a refresh. So I went ahead just bought this whole set because it was such a great deal and it had so many good reviews.
_______________________________________
Best Selling Products of 2020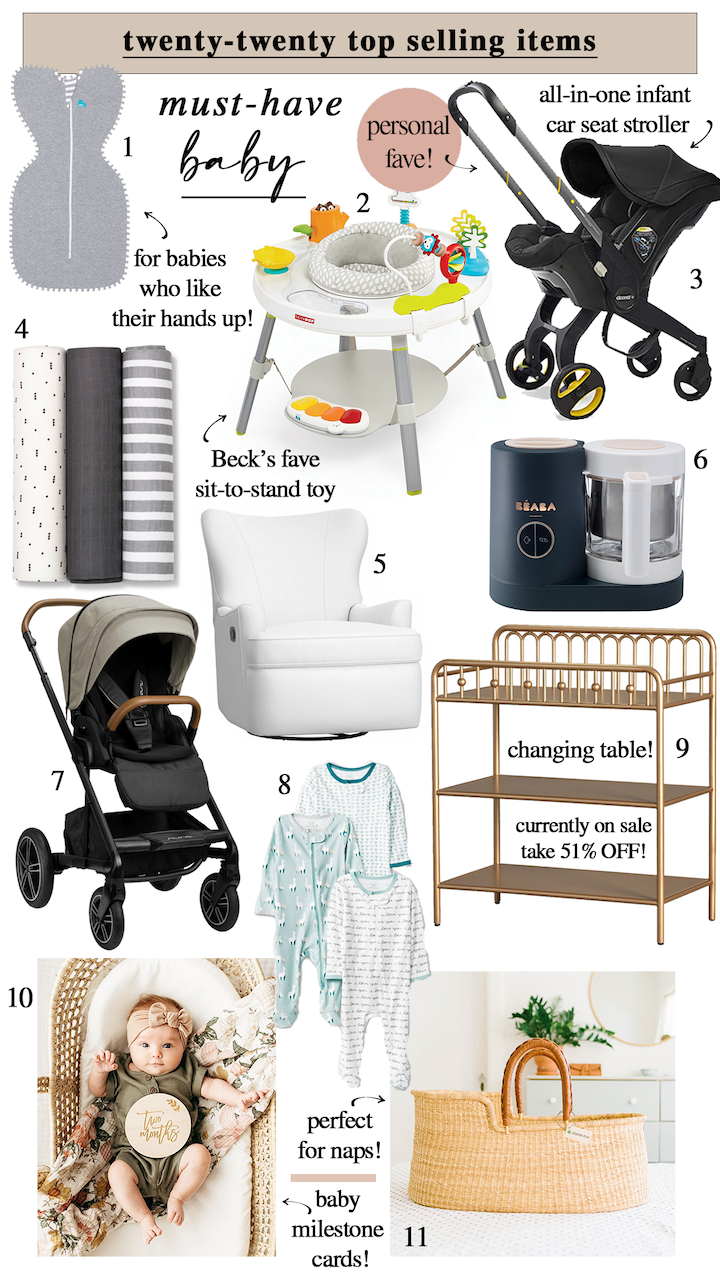 | Shop Best Selling Baby Products of 2020 |

1. Swaddle UP | transitional swaddle → Swaddle UP Transition Bag | 2. 3- Stage Activity Center | 3. All-in-One Infant Car Seat/Stroller | 4. Muslin Swaddle Blankets | 5. Parker Swivel Glider & Recliner | 6. Baby Food Maker | 7. MIXX™ Stroller | 8. Sleep N' Play Pajama | 9. Sierra Ridge Changing Table | 10. Baby Milestones | 11. Baby Moses Basket

| Shop Best Selling Fashion & Beauty Products of 2020 |

1. Soft Surplice Wrap Jumpsuit | 2. Full-On Plumping Lip Polish | 3. Ultra High Rise Ankle Straight Jeans | similar jeans → Ultra High Rise Ankle Straight Jeans | 4. Slim Duster Cardigan | 5. High Waist Crop Skinny Jeans | similar jeans → GOOD WAIST | BLUE476 | 6. Oshay Pointed Toe Bootie | 7. Forever Chain Pointed Toe Mule | 8. Air Max 270 Sneaker | 9. In the Wild Throw Blanket | 10. Quench & Shine Restorative Mask | 11. Gold Knit Duster Cardigan | 12. Mock Neck Luxe Knit Midi Dress | 13. Cozy Fleece Long Belted Cardigan | 14. Triangle Convertible Strap Bralette | 15. Vital Proteins Collagen Peptides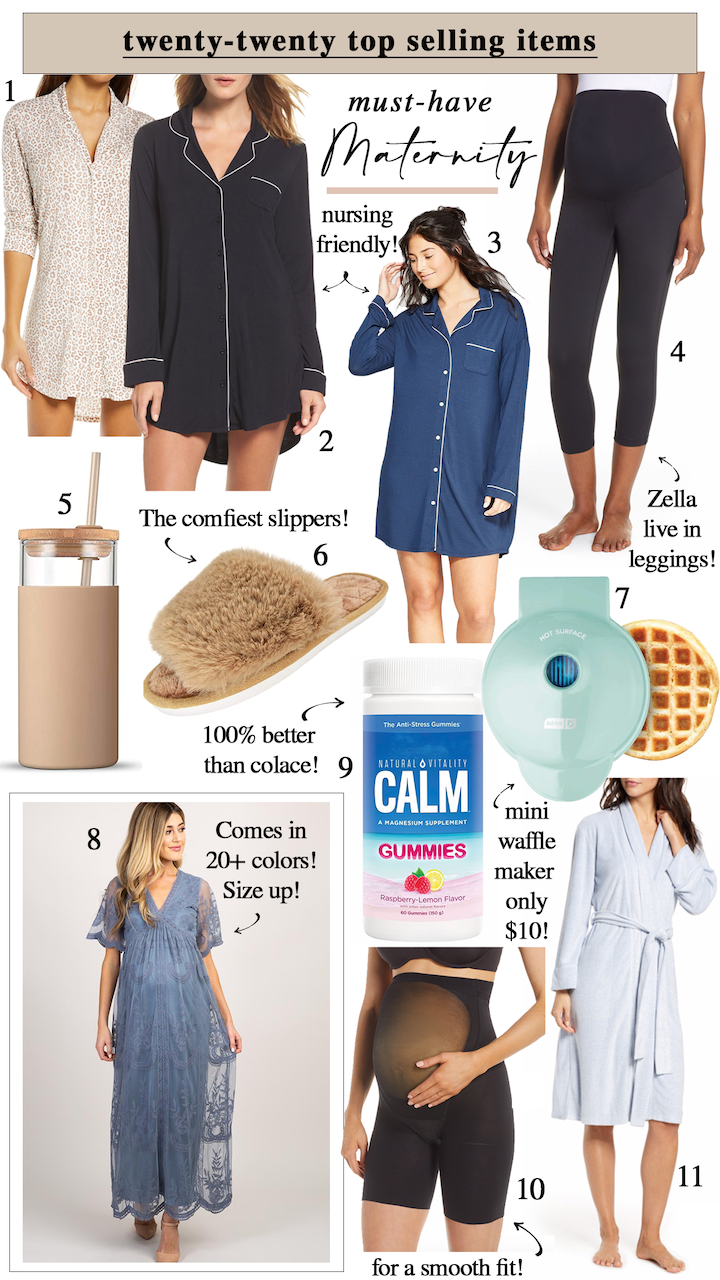 | Shop Best Selling Maternity Products of 2020 |

1. Moonlight Nightshirt | 2. Moonlight Nightshirt | 3. Collar Nightgown | 4. Live In Maternity Crop Leggings | 5. 20oz Glass Tumbler Glass | 6. Fuzzy Fur Flat Slippers | similar slippers → UGG® Cozette Sheepskin Slipper Slides | 7. Dash Mini Waffle Maker | 8. Maternity Maxi Dress | 9. Natural Calm Gummies | 10. Power Mama Maternity Shaper | 11. Sierra Brushed Terry Robe