Hey everyone, as we near the end of my pregnancy I decided to round up all of my maternity and bump friendly outfits for you. Some of these dresses are also nursing friendly and great for post baby too so I'll make a notes next to the ones that I still plan on wearing after the baby is born.
For size reference: I am about 5 ft tall. Before pregnancy I wore a size 32 B, 26 in jeans and smalls in dresses. During pregnancy, I've been wearing a size small or medium, but my bust is now a 36 B. As for undergarments, I usually wear my Spanx Power Mama Maternity Shaper under everything and wireless bra. Their strapless bra is great too, but my bust size changed so much during pregnancy that I ended up buying a cheap strapless bra from Target to wear and then Ill go back to Spanx strapless bra after.
Scroll through this post for 34 different Maternity & Bump Friendly Looks.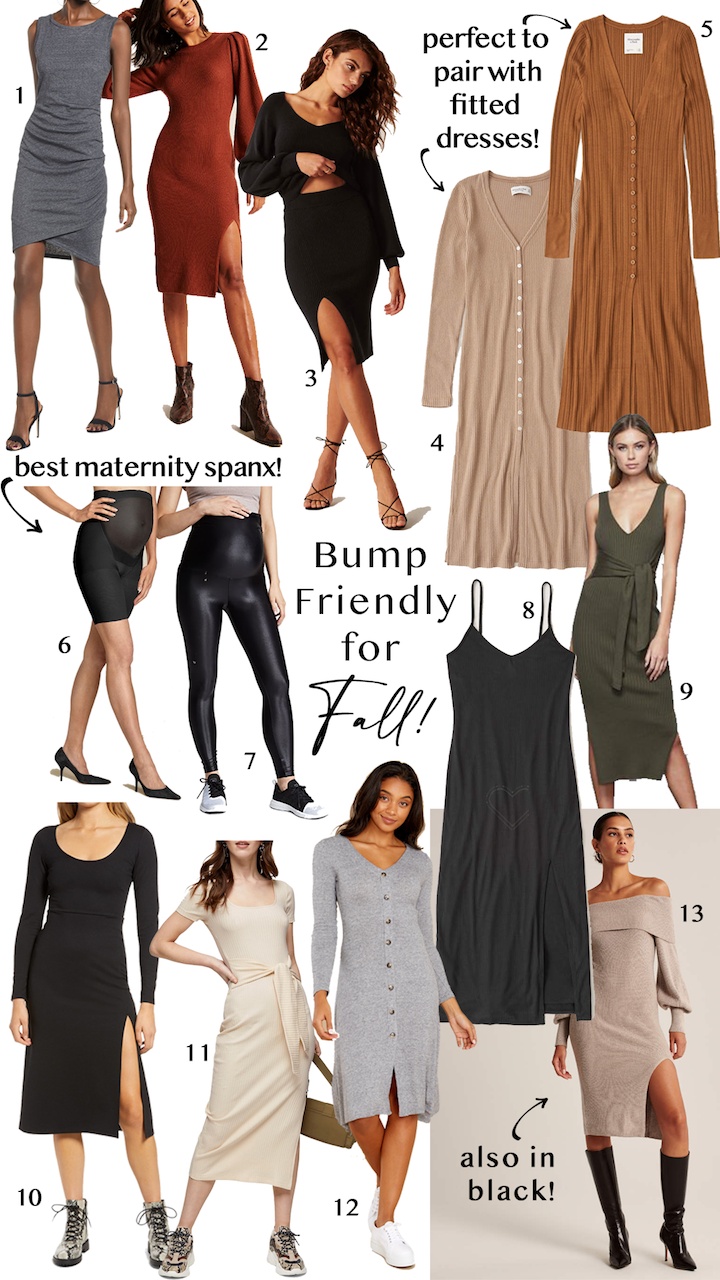 1. Body-Con Tank Dress | 2. Puff Sleeve Midi Dress | 3. High Slit Sweater Midi Skirt | 4. Cozy Ribbed Duster | 5. Slim Duster Cardigan | 6. Maternity Shaper | 7. Maternity Leggings | 8. Ribbed Knit Midi Dress | 9. Belted Body Dress | 10. Long Sleeve Side Slit Midi Dress | 11. Rib Knit Tie Waist Maxi Dress | 12. Knit Midi Dress | 13. Off-The-Shoulder Ribbed Midi Dress
| Shop This Look — Maternity Dress |
Outfit: Ivory Solid Off Shoulder Maternity Maxi Dress (wearing size small) | Avi Hoop Earrings In Rose Gold | Lele Sadoughi Pearly Velvet Headband (budget friendly option here)
| Shop This Look — Bump Friendly, Post Baby & Nursing Friendly |
Outfit: Cream Blue Midi Dress** (This dress is great for early pregnancy when you're trying to hide the bump all the way through the end. It's also nice to have for post baby because it helps conceal your leftover tummy.) I wore this exact ruffle dress in blush to my gender reveal party. See here—> Baby Gender Reveal Party Decor & Details | Clear Heels | Pearl Headband | Exact earrings are sold out (similar here) | Calypso Bracelet, Savannah Hinge Cuff & Paris Demi Hinge Cuff c/o Julie Vos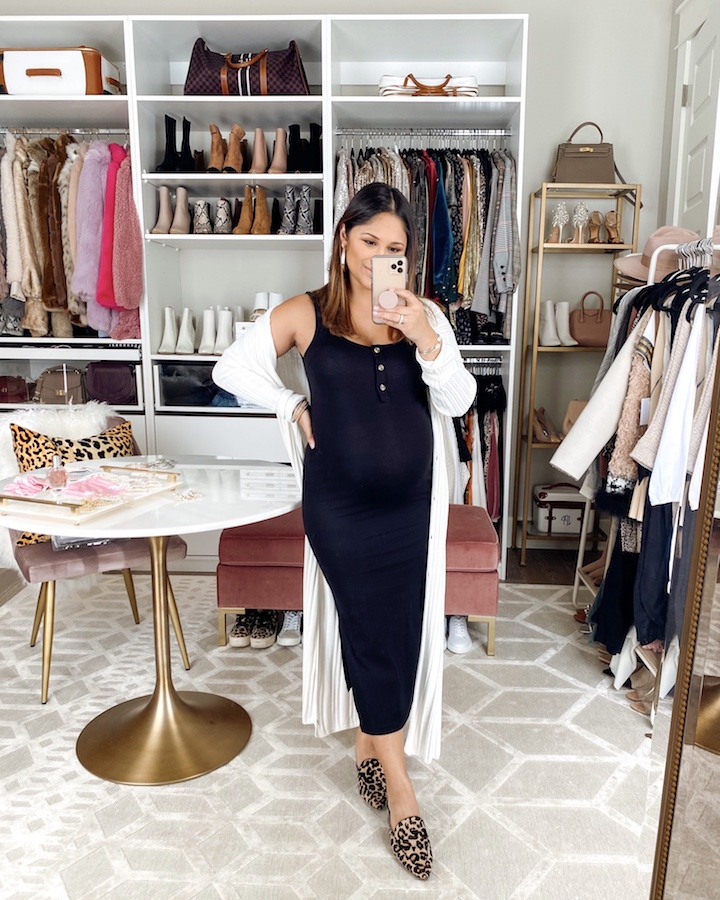 | Shop This Look — Maternity Dress |
Outfit: Ellery Dress (wearing size 0) | Similar Long White Cardigan | Similar Leopard Print Slides
| Shop This Look — Bump Friendly, Post-Baby & Nursing Friendly |
Outfit: Sweet Escape Blue Floral Print Maxi Dress — wearing sz Medium, but wish I would have gotten the small because it's very stretchy | Cascade Hoop, Calypso Bracelet, Savannah Hinge Cuff & Paris Demi Hinge Cuff c/o Julie Vos | Diamond Name Necklace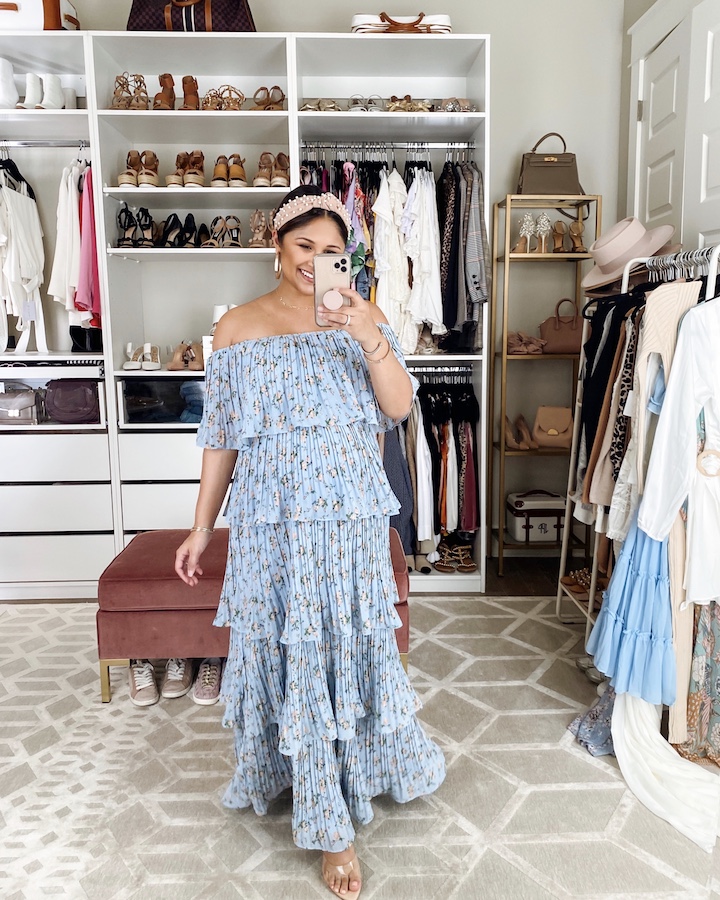 | Shop This Look — Bump Friendly, Post-baby & Nursing Friendly |
Outfit: As It Happens Dusty Blue Floral Print Maxi Dress — wearing sz S | Pearl Headband | Clear Heels | Diamond Name Necklace | Avi Hoop Earrings In Rose Gold
| Shop This Look — Maternity Dress |
Outfit: Blue Lace Mesh Overlay Maternity Maxi Dress — wearing sz M | Exact heart earrings are sold out (similar here)
| Shop This Look — Maternity Dress |
Outfit: Pink Metallic Off Shoulder Long Sleeve Wrap Maternity Photoshoot Gown/Dress | Pearl Headband | Exact earrings are sold out (similar here)
| Shop This Look — Bump Friendly & Nursing Friendly |
Outfit: Sweet In The Spring Blush Floral Print Midi Dress — wearing size medium | NOVA HEELS IN LT NATURAL RAFFIA | Cascade Hoop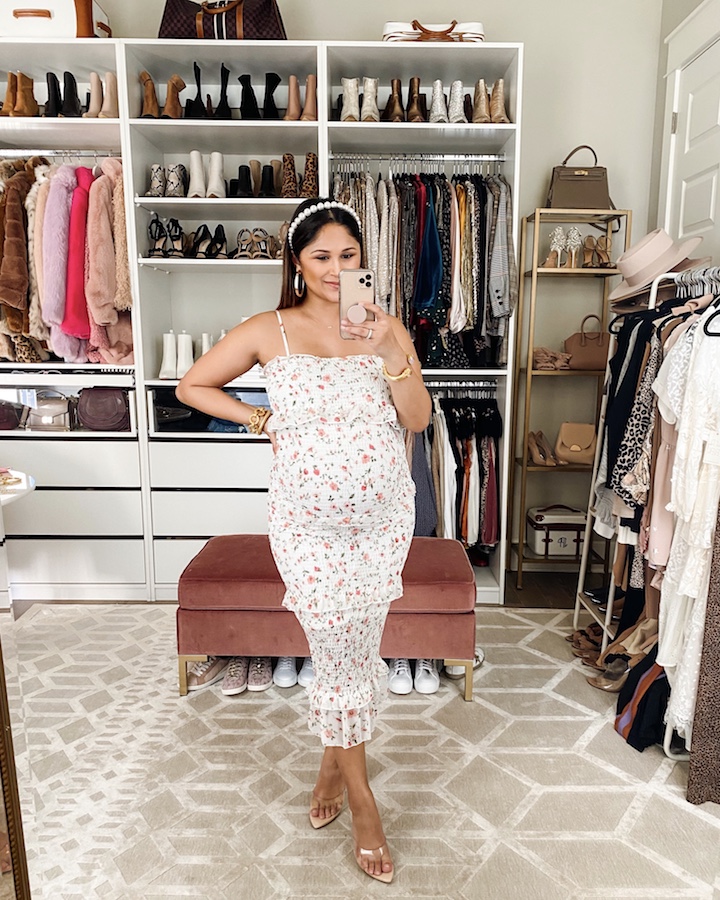 | Shop This Look — Bump Friendly |
Outfit: Floral Midi Dress — wearing sz medium | Clear Heels | Avi Hoop Earrings In Rose Gold | Pearl Headband | Savannah Link Bracelet, Savannah Hinge Cuff & Paris Demi Hinge Cuff c/o Julie Vos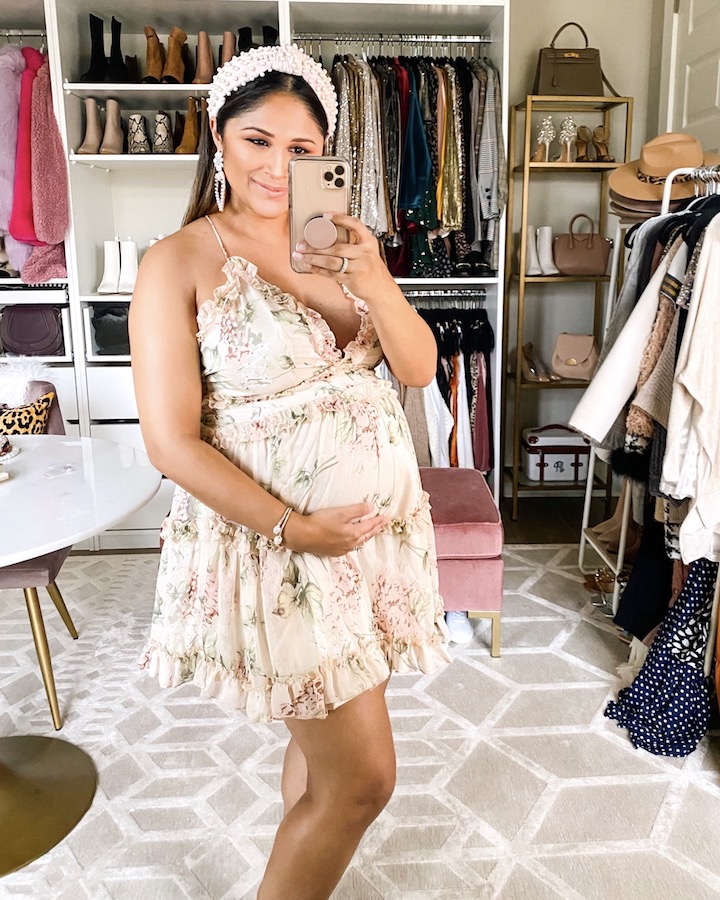 | Shop This Look — Bump Friendly |
Outfit: Floral Mini dress — sized up to Large | Lele Sadoughi Pearly Velvet Headband (budget friendly option here) | Exact earrings are sold out (similar here) | Amiya Gold Cuff Bracelet in Pearl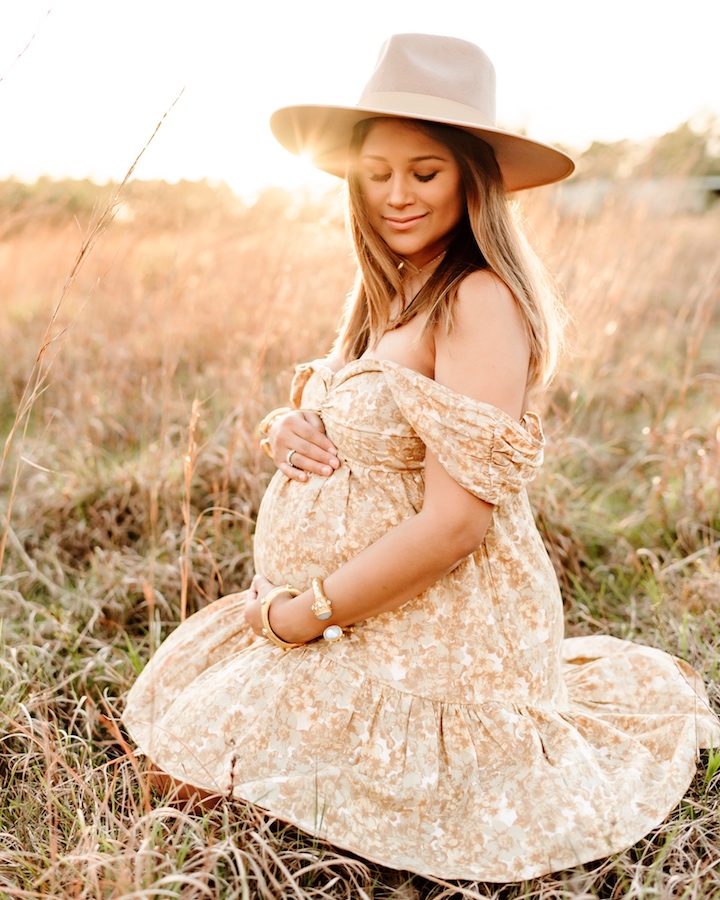 | Shop This Look — Bump Friendly, Post-baby & Nursing Friendly |
Outfit: Free People Pattern Play Mini Dress (wearing sz XS) | Lack of Color Zulu Rancher Hat (budget friendly here) | Calypso Bracelet, Savannah Hinge Cuff & Paris Demi Hinge Cuff c/o Julie Vos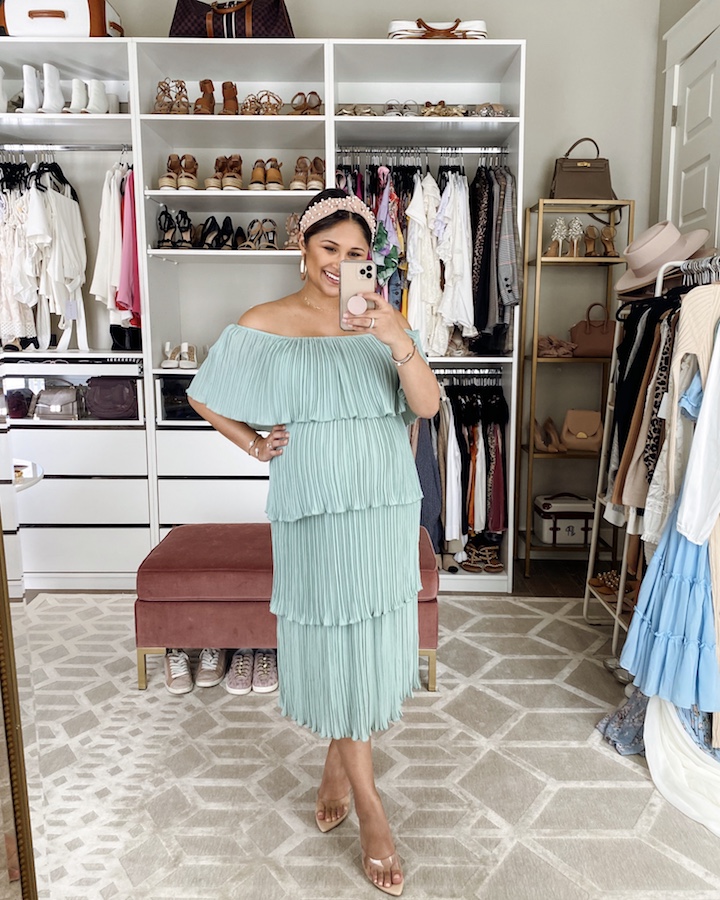 | Shop This Look — Maternity, Post-baby & Nursing Friendly |
Outfit: Waverleigh Mint Green Pleated Off Shoulder Tiered Maternity Dress — wearing sz S | Avi Hoop Earrings In Rose Gold | Pearl Headband | Clear Heels |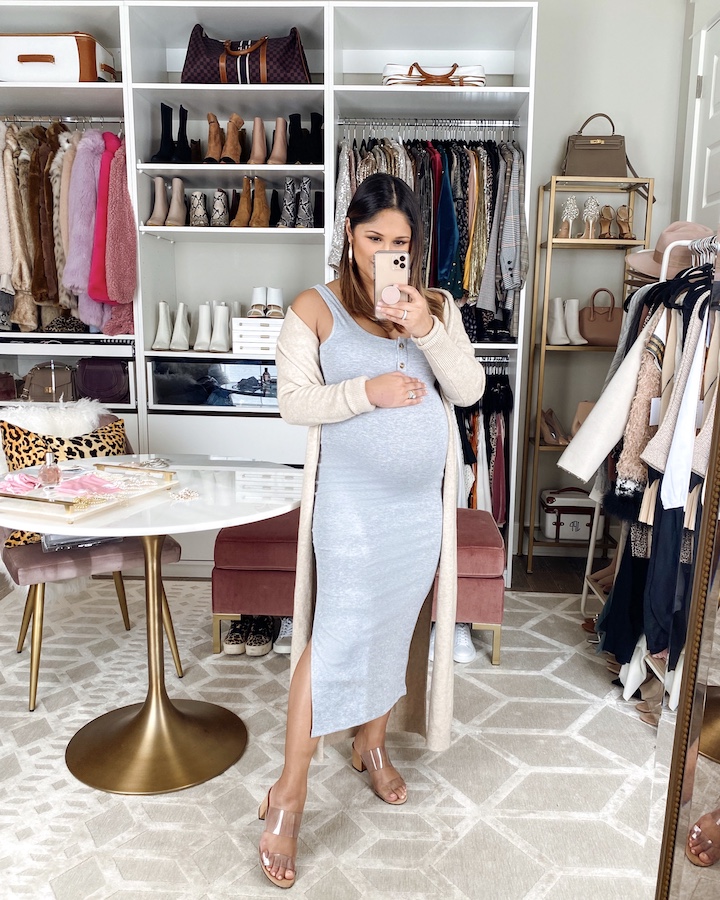 | Shop This Look — Maternity |
Outfit: ELLERY DRESS (GREY MARLE) — wearing sz 0 | Longline Open Cardigan | Victorie Slide Sandal — I always go up a half size in this brand | Avi Hoop Earrings In Rose Gold |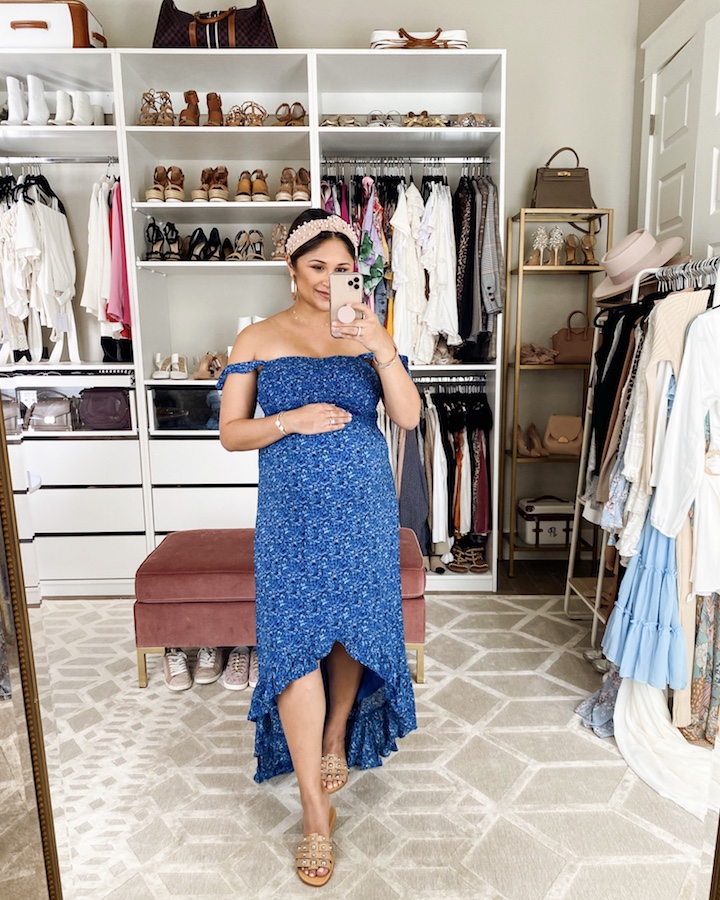 | Shop This Look — Bump Friendly, Post-baby & Nursing Friendly |
Outfit: Open Waters Blue Print High Low Dress — wearing sz medium | Avi Hoop Earrings In Rose Gold | Pearl Headband | Pava Studded Flat Sandal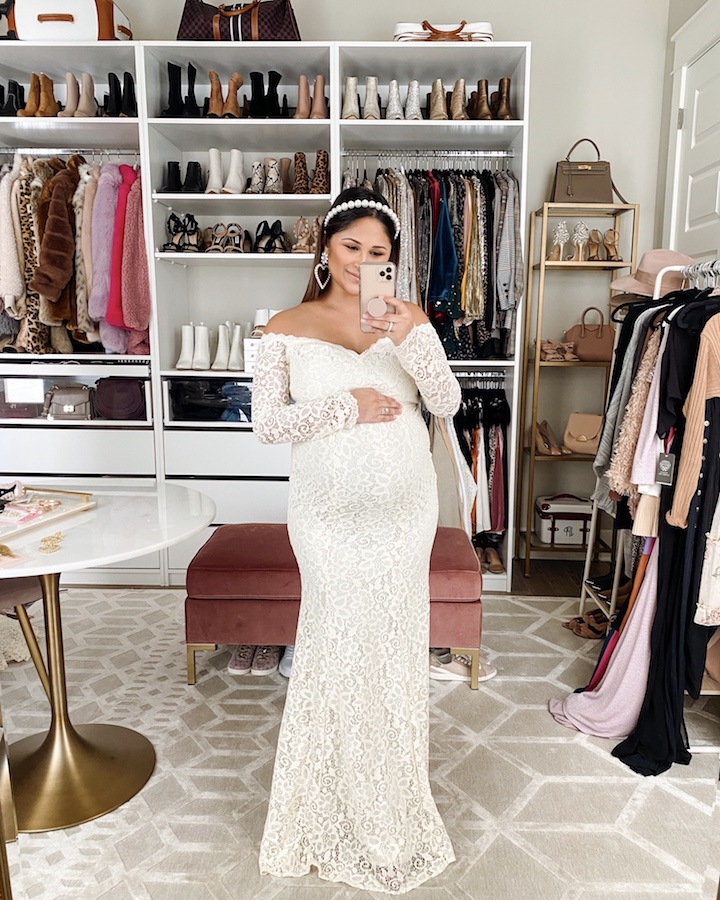 | Shop This Look — Maternity |
Outfit: Beige Lace Off Shoulder Long Sleeve Maternity Maxi Dress — wearing size medium | | Pearl Headband | Exact earrings are sold out (similar here)
| Shop This Look — Bump Friendly & Post Baby |
Outfit: Leopard Maxi Dress | Gold Heart Earrings | Gold Booties | Calypso Bracelet, Savannah Hinge Cuff & Paris Demi Hinge Cuff c/o Julie Vos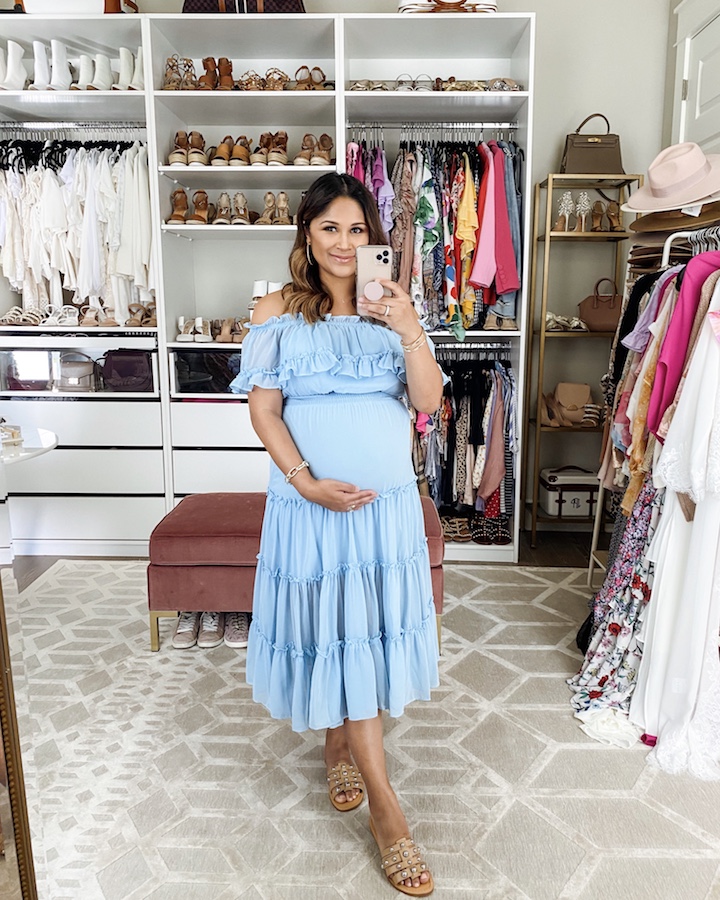 | Shop This Look — Bump Friendly & Nursing Friendly |
Outfit: As She Goes Light Blue Off The Shoulder Midi Dress | Pava Studded Flat Sandal take 20% off promo code LTD1076
| Shop This Look — Maternity |
Outfit: Mauve Lace Maternity Dress —wearing sz medium
| Shop This Look — Bump Friendly, Post-baby & Nursing Friendly |
Outfit: Love In Bloom Light Blue Floral Print Maxi Dress (wearing sz medium)— 37 weeks pregnant in this photo | Kailyn Gold Statement Earrings in Ivory Mother-of-Pearl
| Shop This Look — Bump Friendly |
Outfit: Leopard print midi dress — wearing sz medium (33 weeks pregnant here) | Clear Heels |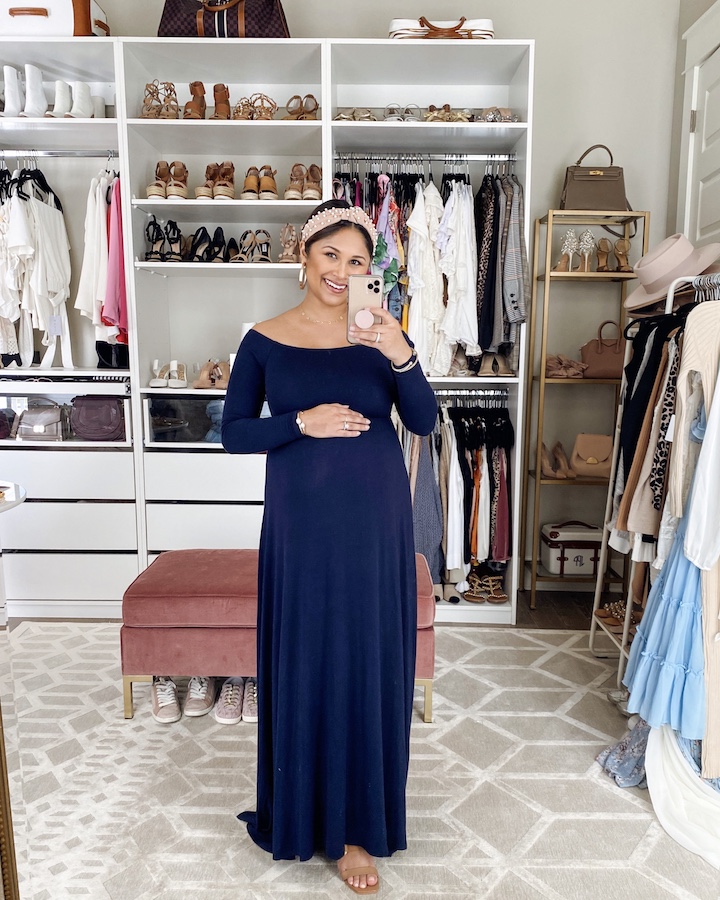 | Shop This Look — Maternity Dress |
Outfit: Navy Solid Off Shoulder Maternity Maxi Dress — wearing sz Petite Small (comes in a ton of other colors)| Avi Hoop Earrings In Rose Gold | Pearl Headband | Yaro Ankle Strap Sandal
| Shop This Look — Bump Friendly, Post-baby & Nursing Friendly |
Outfit: Tabby Off The Shoulder Dress — wearing sz S (33 weeks pregnant) || Avi Hoop Earrings In Rose Gold | Pearl Headband | Savannah Link Bracelet, Savannah Hinge Cuff & Paris Demi Hinge Cuff c/o Julie Vos | Amina Mule Alias Mae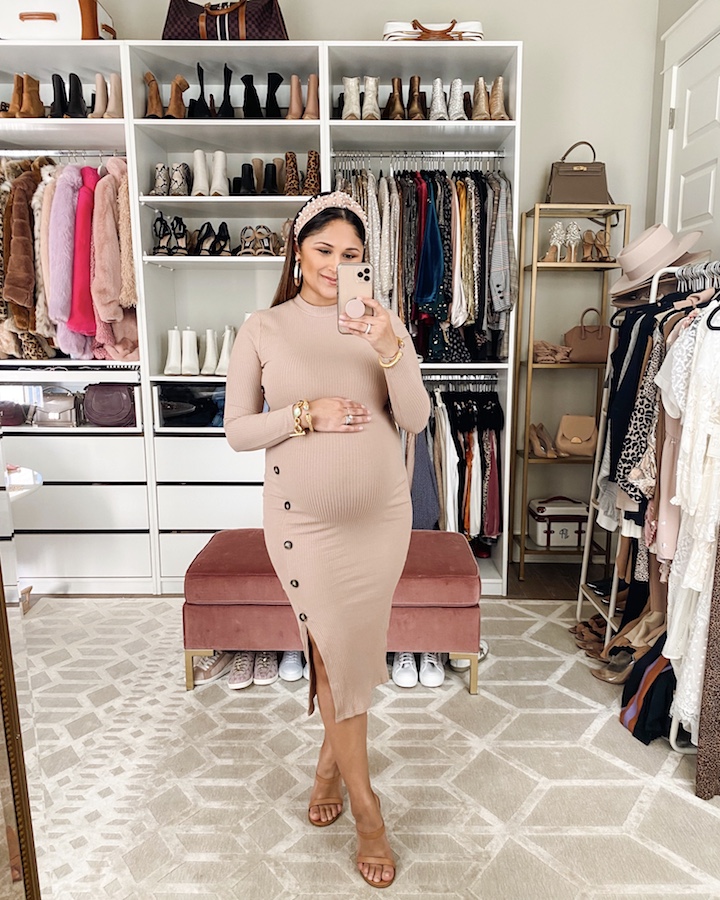 | Shop This Look — Bump Friendly |
Outfit: Avi Hoop Earrings In Rose Gold | Pearl Headband | Savannah Link Bracelet, Savannah Hinge Cuff & Paris Demi Hinge Cuff c/o Julie Vos | Amina Mule Alias Mae
| Shop This Look — Maternity |
My Outfit: Sequin & Tulle Maternity Dress (wearing sz 6 —comes in a few other colors) <—For size reference: Before pregnancy I wore size smalls and still usually order smalls now, but my bust has gone from a small 32B to a full 36C so that is why I sized up to the 6 | Nude Ankle Strap Heels | Avi Hoop Earrings In Rose Gold | Name Necklace | Amiya Cuff Bracelets | This is the dress I wore to my baby shower. See the full post here—>A Whimsical Gender Neutral Baby Shower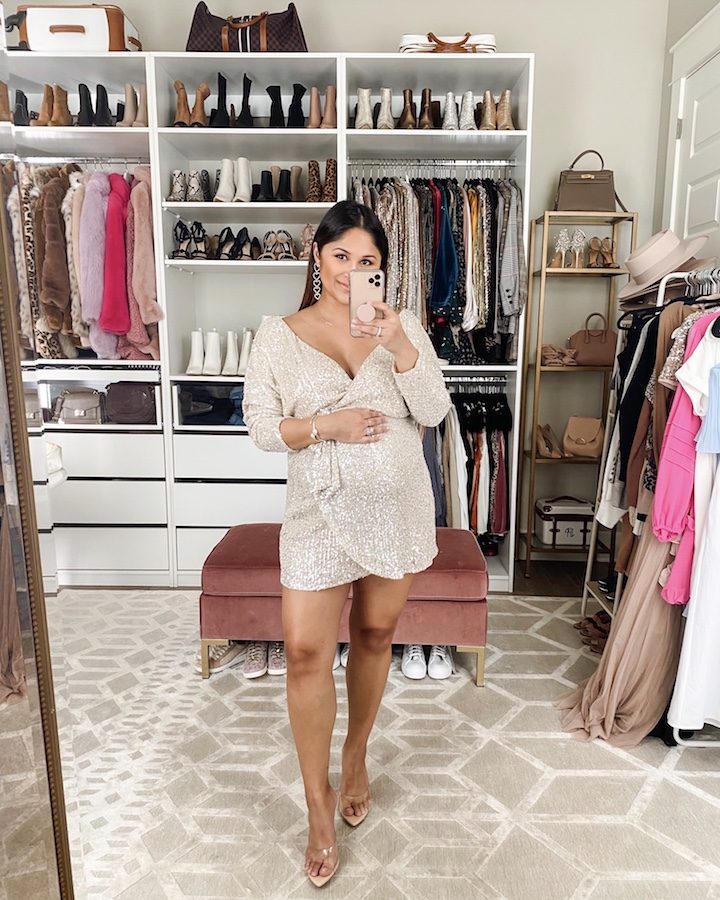 | Shop This Look — Bump Friendly |
Outfit: Show Stopper Champagne Sequin Dress — wearing sz Medium (31 weeks pregnant here) | Clear Heels | Drop Heart Earrings | Amiya Gold Cuff Bracelet in Pearl
| Shop This Look — Bump Friendly & Post Baby |
Outfit: Mezcal Stripe Dress (wearing sz S) — 32 weeks pregnant here | Gold Heart Earrings | Savannah Link Bracelet, Savannah Hinge Cuff & Paris Demi Hinge Cuff c/o Julie Vos | Amina Mule Alias Mae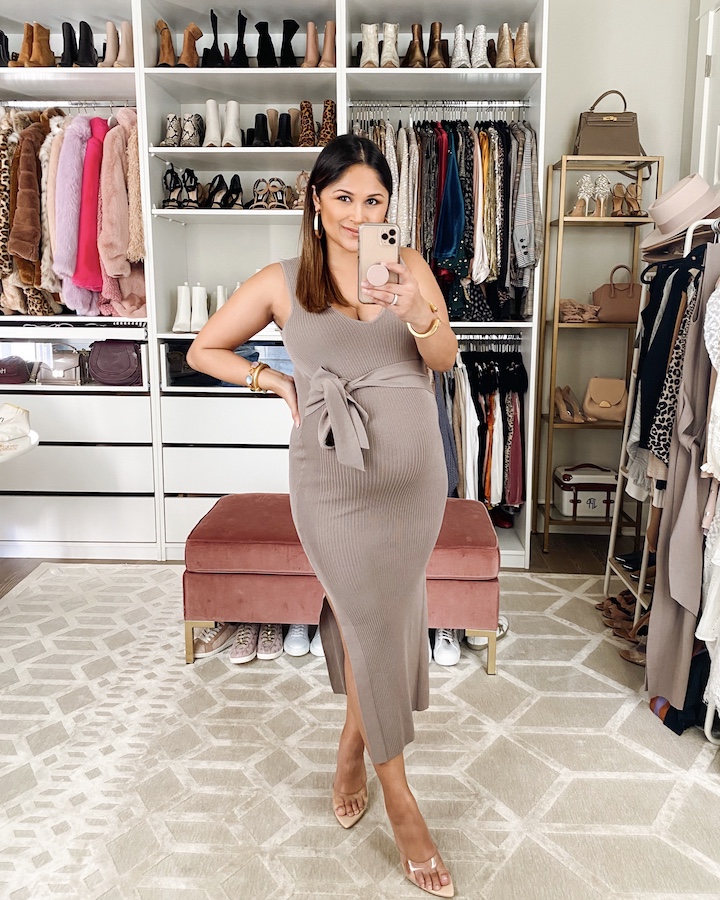 | Shop This Look — Bump Friendly |
Outfit: Knit Dress (wearing sz S — 33 weeks pregnant) | Clear Heels | Barcelona Bracelet, Savannah Hinge Cuff & Paris Demi Hinge Cuff c/o Julie Vos | Avi Hoop Earrings In Rose Gold |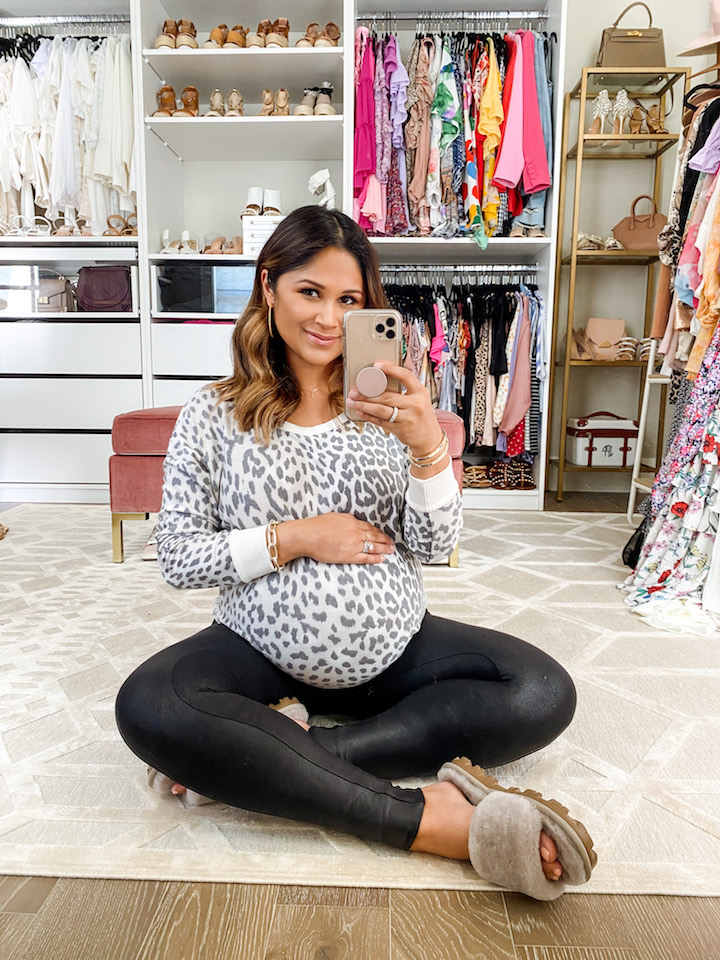 | Shop This Look — Maternity |
Outfit: Mama Faux Leather Leggings — wearing sz S (37.5 weeks pregnant here) | Cozette Genuine Shearling Slide | Similar Leopard print shirt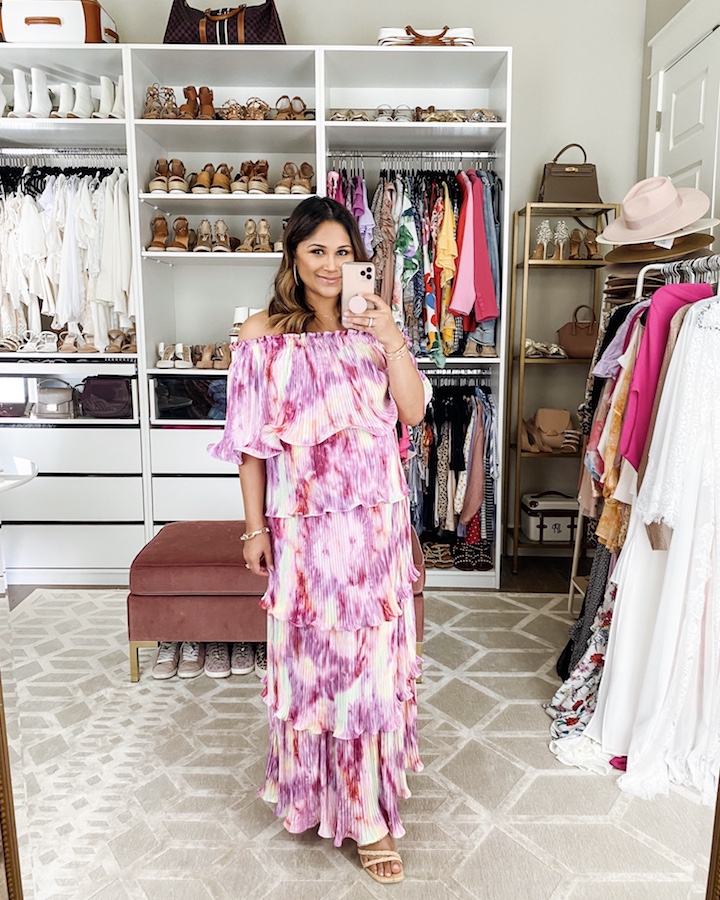 | Shop This Look — Maternity, Post-baby & Nursing Friendly |
Outfit: Waverleigh Multi-Color Tie Dye Off Shoulder Ruffle Maternity Maxi Dress — wearing sz S (37.5 weeks pregnant) | NOVA HEELS IN LT NATURAL RAFFIA | Cascade Hoop
| Shop This Look — Maternity |
Outfit: White Lace Maternity Dress —wearing sz medium | Lack of Color Zulu Rancher Hat (budget friendly here) | Calypso Bracelet, Savannah Hinge Cuff & Paris Demi Hinge Cuff c/o Julie Vos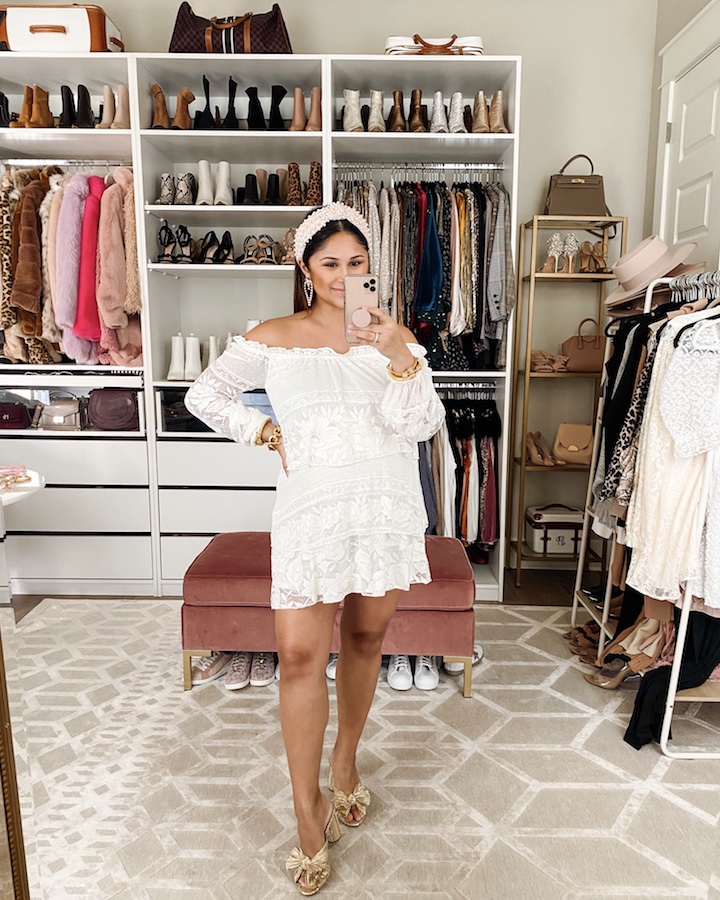 | Shop This Look — Bump Friendly, Post-baby & Nursing Friendly |
Outfit: Moonlight Roses Lace Cream Dress — wearing sz S (31 weeks pregnant here) | Lele Sadoughi Pearly Velvet Headband (budget friendly option here) | Exact earrings are sold out (similar here) | Gold Knot Slides | Calypso Bracelet, Savannah Hinge Cuff & Paris Demi Hinge Cuff c/o Julie Vos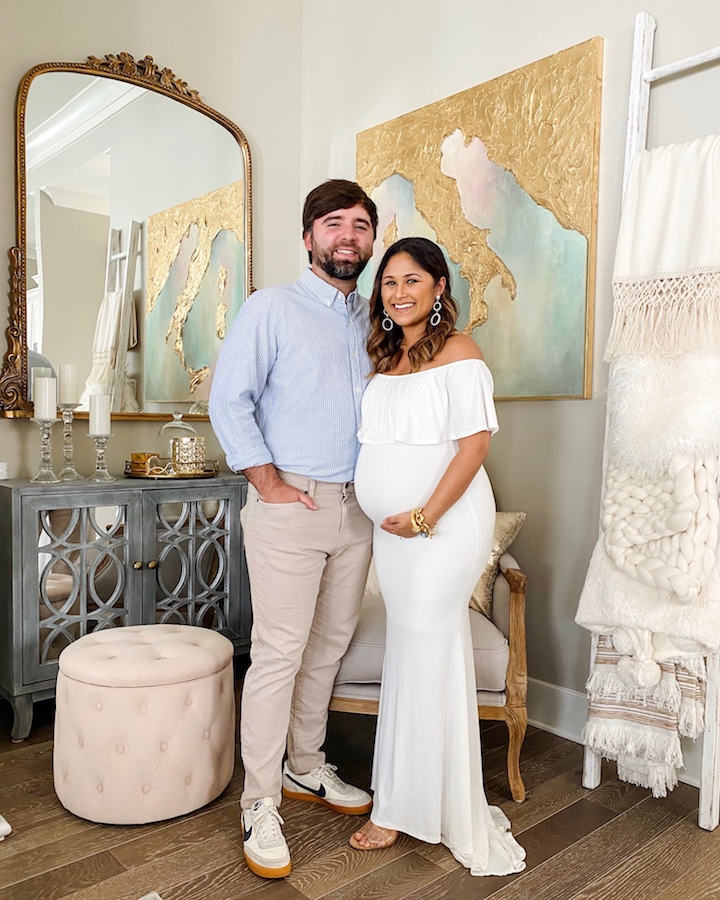 | Shop This Look — Maternity |
Outfit: Ivory Ruffle Off Shoulder Mermaid Maternity Photoshoot Gown/Dress — wearing sz S (33 weeks pregnant here) | Clear Heels | Calypso Bracelet, Savannah Hinge Cuff & Paris Demi Hinge Cuff c/o Julie Vos | Drop Pearl Earrings |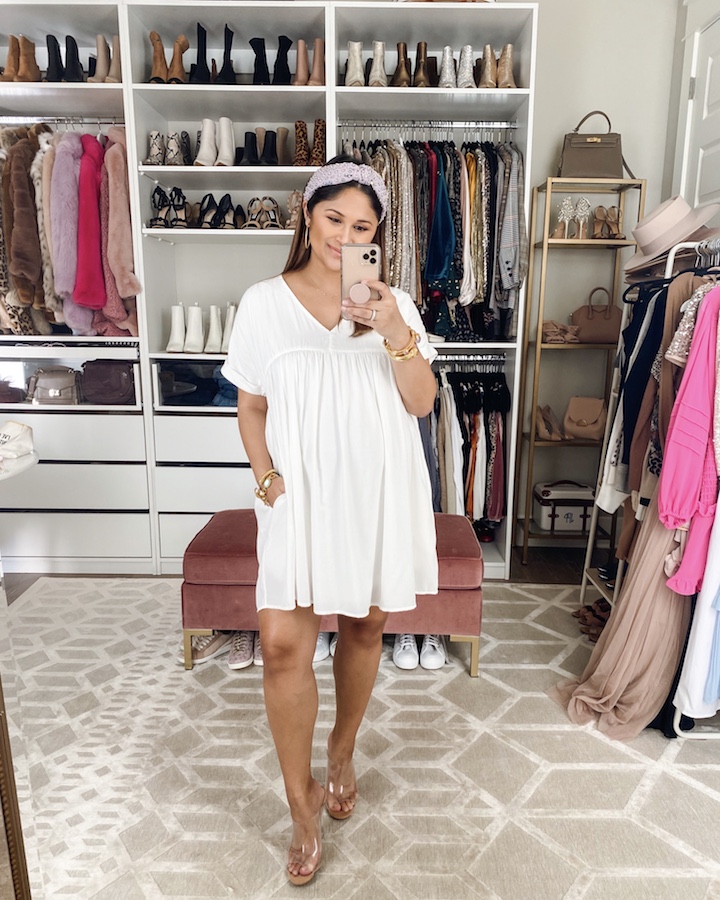 | Shop This Look — Bump Friendly & Post-baby |
Outfit: Just Walk Away White Dress — wearing sz S (31 weeks pregnant here) | Clear Heels | Lilac Embellished Headband | Cascade Hoops, Calypso Bracelet, Savannah Hinge Cuff & Paris Demi Hinge Cuff c/o Julie Vos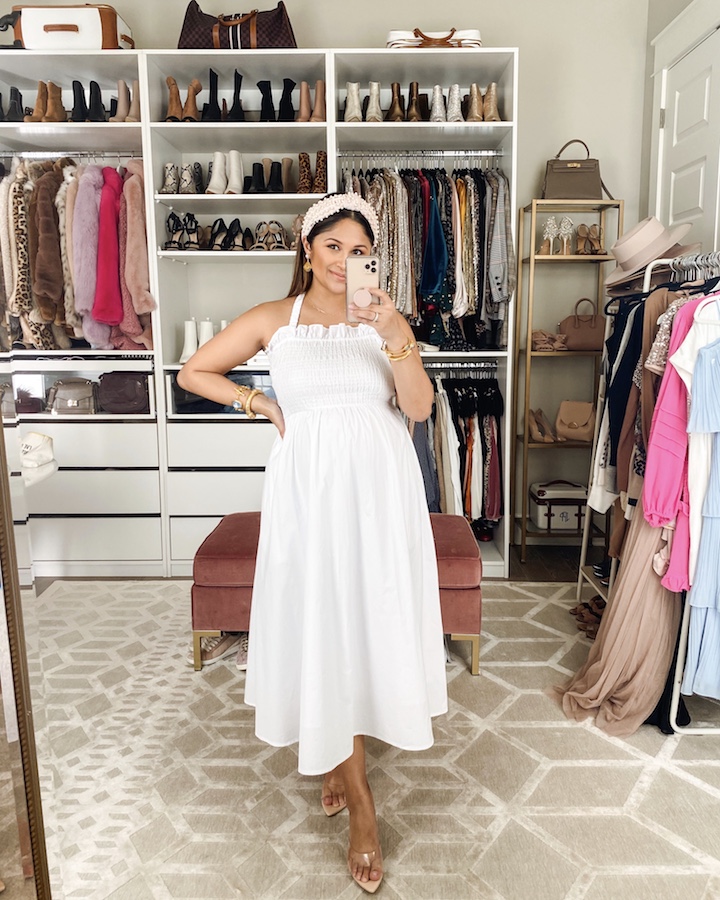 | Shop This Look — Bump Friendly & Post-baby |
Outfit: Right This Way White Midi Dress — wearing sz S (31 weeks pregnant here) | | Lele Sadoughi Pearly Velvet Headband (budget friendly option here) | Calypso Bracelet, Savannah Hinge Cuff & Paris Demi Hinge Cuff c/o Julie Vos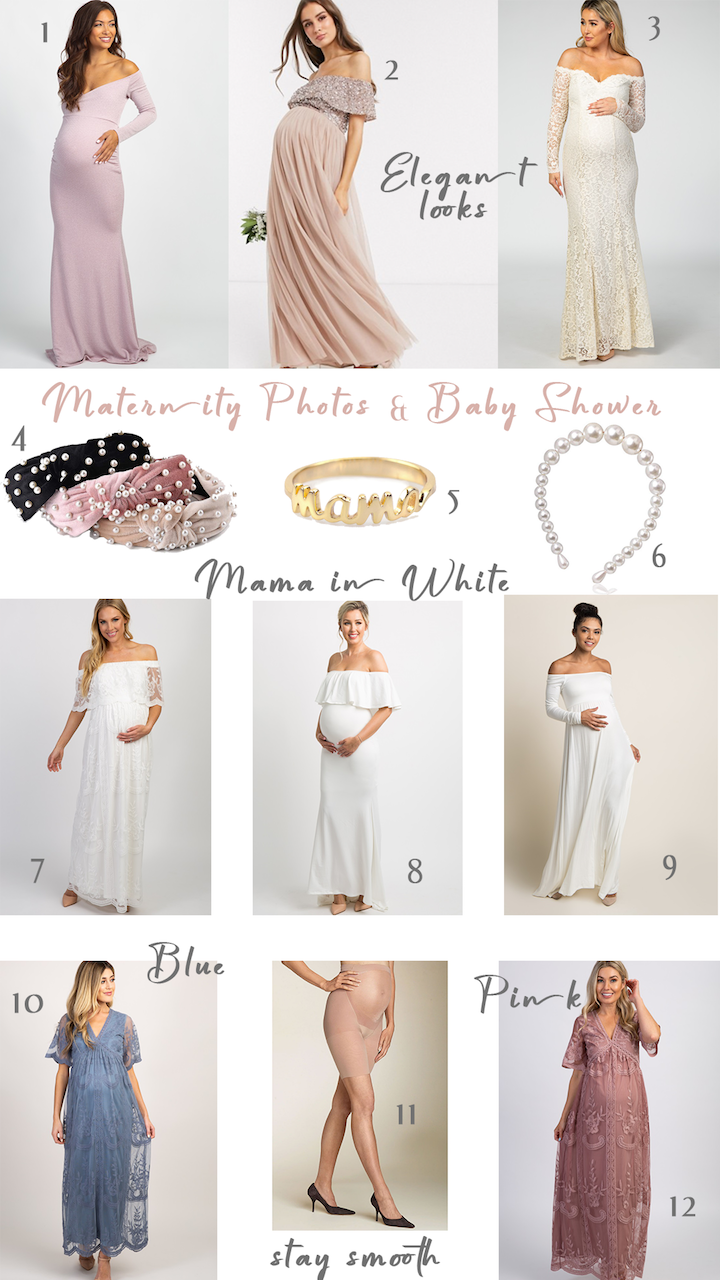 | Shop This Style Board |
Pink Metallic Off Shoulder | 2. Maya Maternity | 3. Beige Lace Off Shoulder| 4. 3 Pack Velvet Wide Headbands | 5. Mama Ring | 6. Pearl Headband | 7. White Lace Mesh Overlay Off Shoulder | 8. Ivory Ruffle Off Shoulder | 9. Ivory Solid Off Shoulder | 10. Blue Lace Mesh Maxi Dress | 11. Power Mama Maternity Shaper| 12. Dark Mauve Lace Mesh Maxi Dress