Happy Friday everyone, I'm so excited to finally share Baby P's nursery reveal with you before his big arrival. I've been working on his room with Pottery Barn Kids over the past few months and we finally completed it a couple of weeks ago. I have to say that even though babies don't start sleeping in their rooms for a while, it feels good to have the nursery complete with everything else going on in the world. If you're currently expecting, now is a great time to dive into your nursery and baby projects while you're home with some extra time. I'm officially 38 weeks today so the countdown is on for me.
As for the design concept of the room, it took me a while to figure that out because I'm so girly when it comes to decorating the rest of the rest of the house and Blake doesn't seem to mind as long there is a TV involved. Haha! So trying to come up with a theme that reflects my personal style while also fit for a little boy was quite the challenge. Fortunately, I had you all to help me and once we picked out the wallpaper for the accent wall, it was all easy from there. Everything just seemed to fall into place once the walls were ready so I suggest starting with your paint or wallpaper before moving onto the rest of the room. The other three walls in the room are painted with Sherwin Williams color match to Benjamin Moore Revere Pewter HC-172.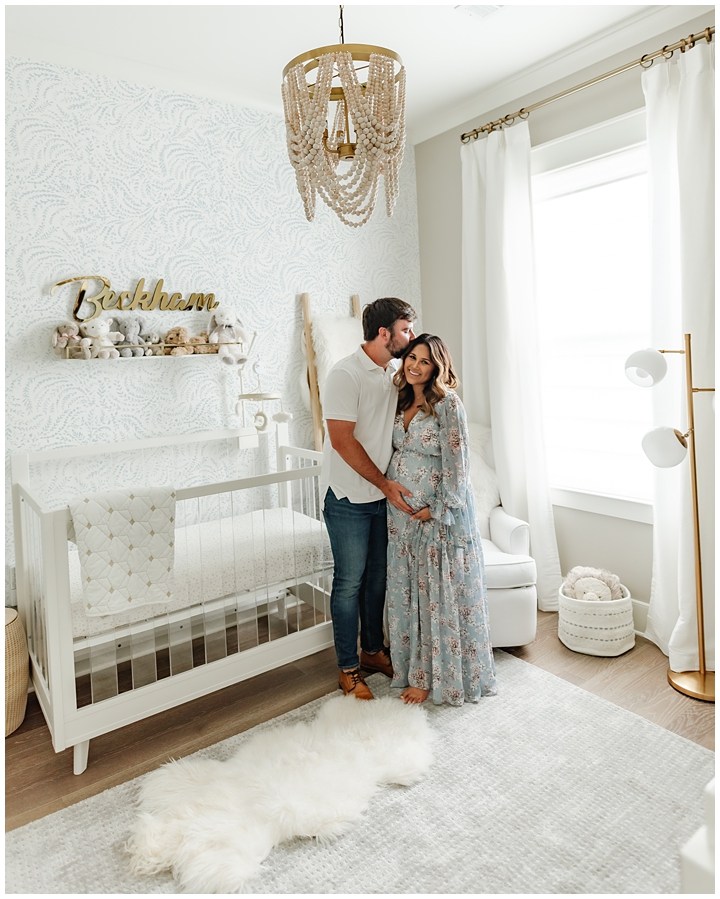 | Shop Furniture |

I chose Pottery Barn Kids for all of my furniture and decorations because they offer such a wide variety of options and styles. Plus not only are all of PBK's products beautiful, but they also provide you with Greenguard gold certified furniture and organic cottons, which are safe and healthy for my baby. This was something that was really important to me because you want make sure that everything you're allowing your baby to breath in on a daily basis is safe for them and Pottery Barn Kids really lived up to this expectation. Every piece of furniture that I received from them was chemical and odor free so I didn't even have to leave the items to sit out for a while. Also, it was so nice having their delivery team put together the dresser and crib for me and place it in the baby's room upon delivery.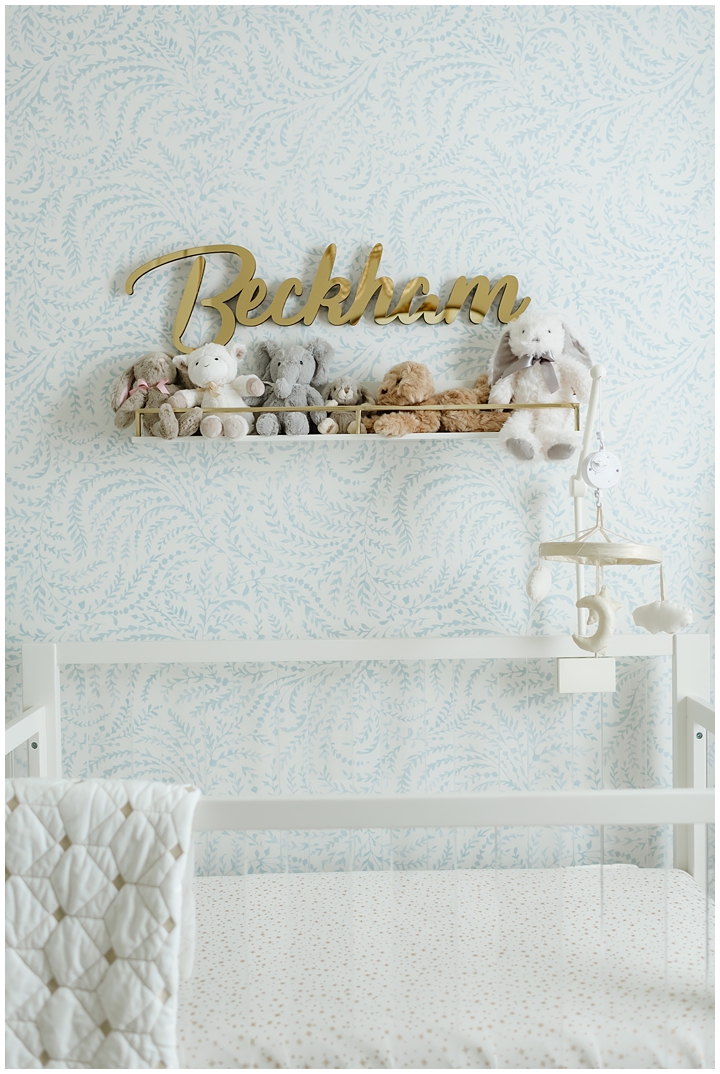 | Gold Acrylic Name Sign sz XL (The company I got this name sign from no longer makes them so here is a custom gold similar name sign) & Priano Wallpaper |
I ended up choosing a soft and gentle blue color with gold accents for a glam yet calming feel in the room. Also, you can't go wrong with classic blue and white when it comes to a baby boy.
| Shop Baby P's Nursery Furniture |
Furniture & Lighting Details: Sloan Acrylic Convertible Crib (similar crib) | Gemma Campaign Extra Wide Dresser & Topper Set | Spotlight Floor Lamp | Skyler Rug | Parker Swivel Glider & Recliner | Children's Standard Rack | Nuna LEAF™ Bouncer, Broken Arrow | Teak Ladder | Whitewash Wood Draped Bead 4 Light Chandelier | Gleaming Primrose Mirror | Gold Milayan Tall Shelf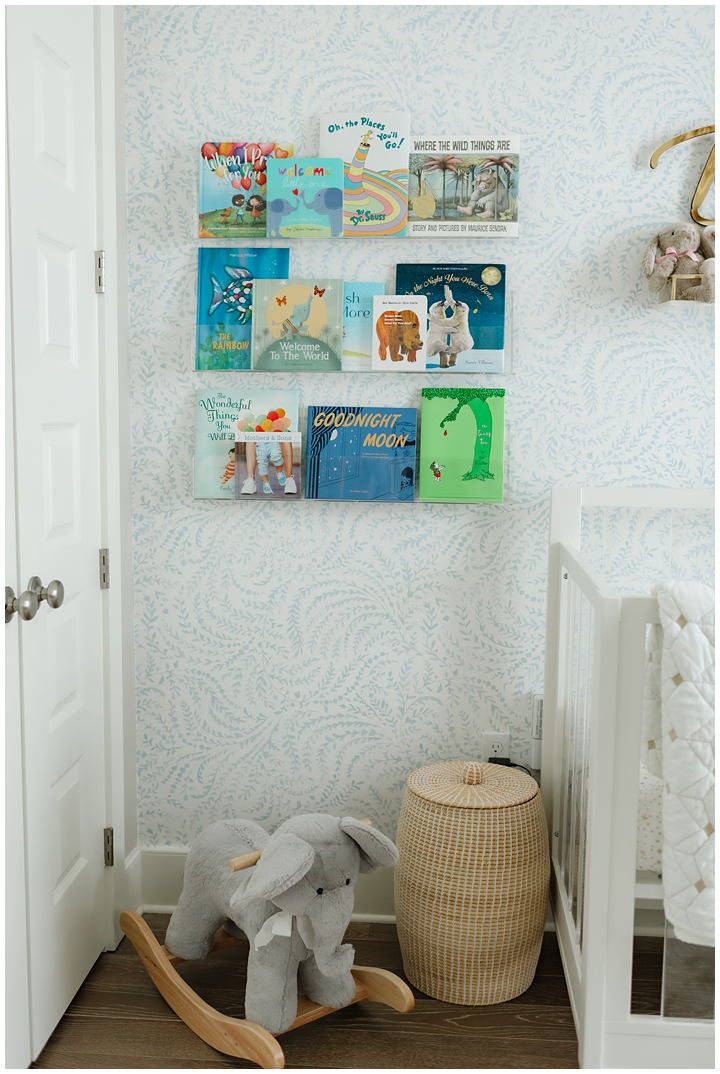 | Acrylic Wall Shelf | Elephant Plush Nursery Rocker & Woven Prayer Hamper |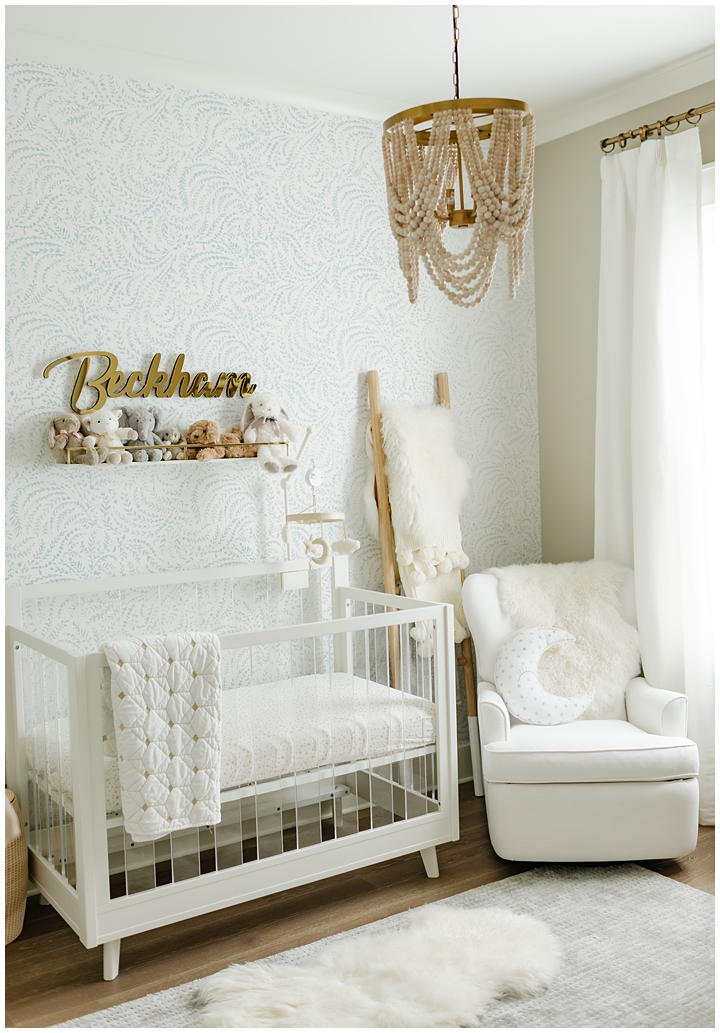 | Shop Baby P's Bedding |

Bedding Details: Lamb Plush Stuffed Animal | Plush Bunny | Plush Elephant | Plush Labradoodle | Metallic Jersey Sherpa Baby Blanket, Gray | Bassinet & Mattress Pad Set | Naturepedic Organic Cotton Waterproof Crib Mattress Pad | Naturepedic® Organic Ultra Light 2 Stage Crib Mattress | Quilt | Deluxe+ Stage 1 Dock | Micah Metallic Star Fitted Crib Sheet, Ivory | (similar crib)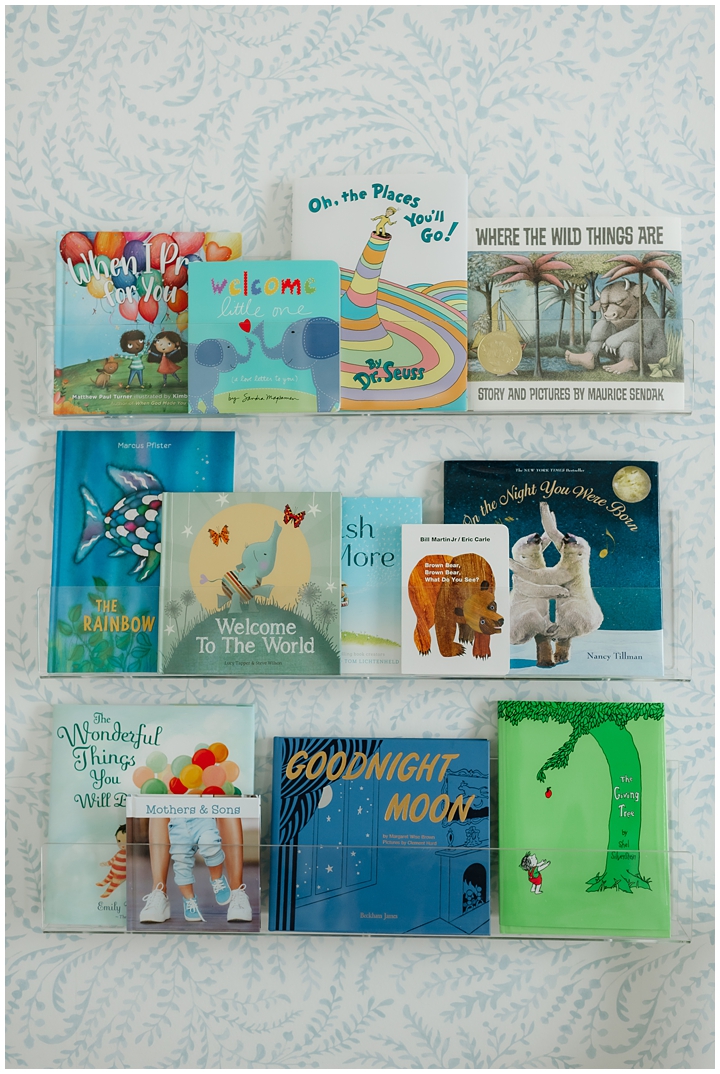 | Shop All of These Books |

The Rainbow Fish Big Book – by Marcus Pfister (Hardcover)
Brown Bear Brown Bear Board Book
Love You Forever – by Robert Munsch (Hardcover)
Welcome Little One by Sandra Magsamen
On the Night You Were Born (Hardcover) by Nancy Tillman
Oh, the Places You'll Go! By Dr. Seuss
I Wish You More (Hardcover) (Amy Krouse Rosenthal)
The Wonderful Things You Will Be Hardcover
Goodnight Moon — We used this book as the guest book at my baby shower. See here —> A Whimsical Gender Neutral Baby Shower
| Whitewash Wood Draped Bead 4 Light Chandelier — regular size |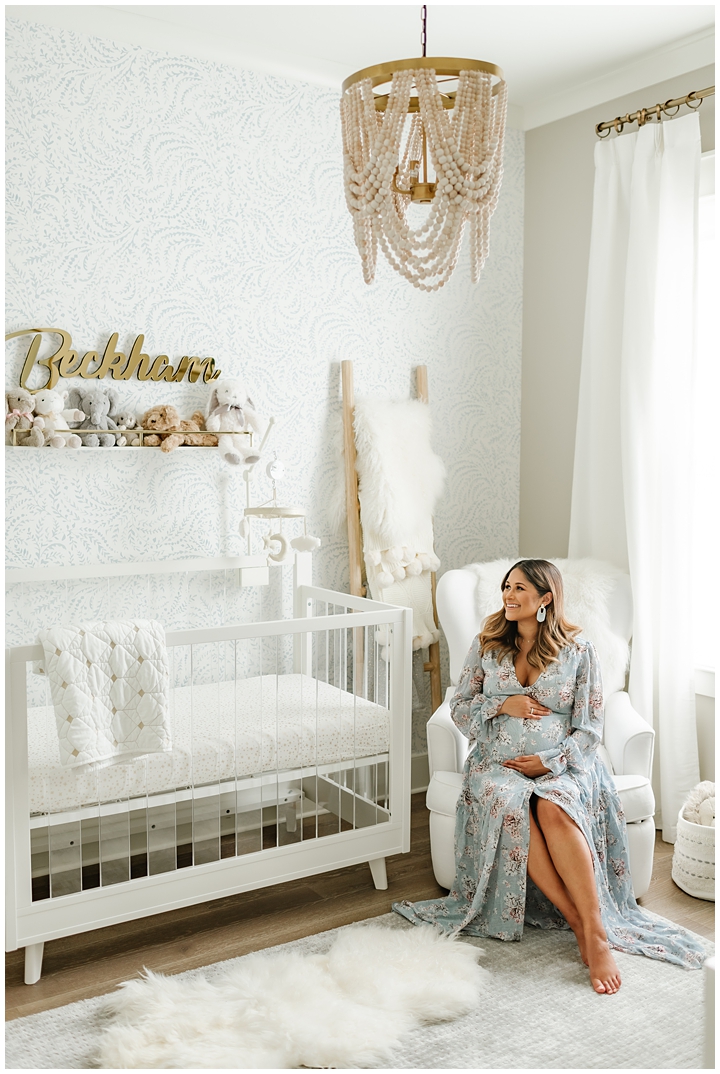 | Shop Baby P's Nursery Decor |
Decor Details: Priano Wallpaper | Moon Decorative Pillow | Stars & Moons Musical Crib Mobile | Winter Bohemian Wool Basket – Small White w/ Silver Metallic | Gold Acrylic Name Sign (The company I got this name sign from no longer makes them so here is a custom gold similar name sign) | Woven Prayer Hamper | Gold Polished Shelving | Elephant Plush Nursery Rocker | Acrylic Wall Shelf | Single Curtain Rod in Warm Gold | Flat Clip Rings in Warm Gold (Set of 7) | Spellbound Pinch-Pleat Rod Pocket Lined Window Curtain Panel | Taupe Lion Interactive Plush Playmat | White Sheepskin Rug on floor and on chair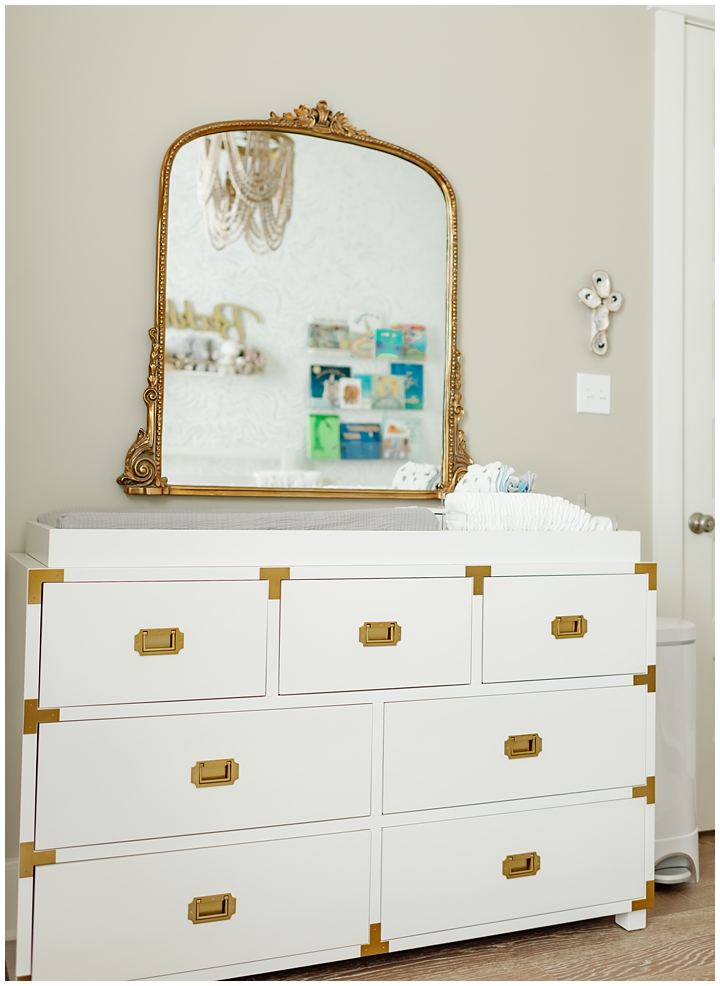 | Gemma Campaign Extra Wide Dresser & Topper Set & | Gleaming Primrose Mirror |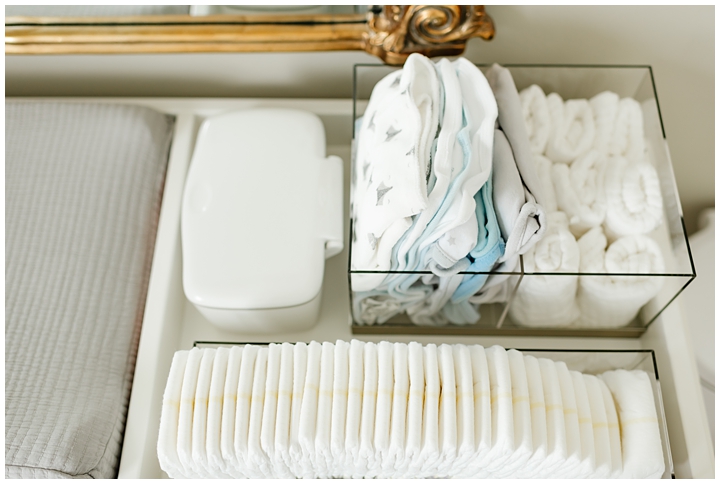 | Shop My Changing Table |
Wipe Dispenser | west elm x pbk Matelasse Changing Pad Cover, Platinum | Acrylic and Metallic Nursery Storage |

This Sloan Acrylic Convertible Crib also converts into a toddler bed! (similar crib)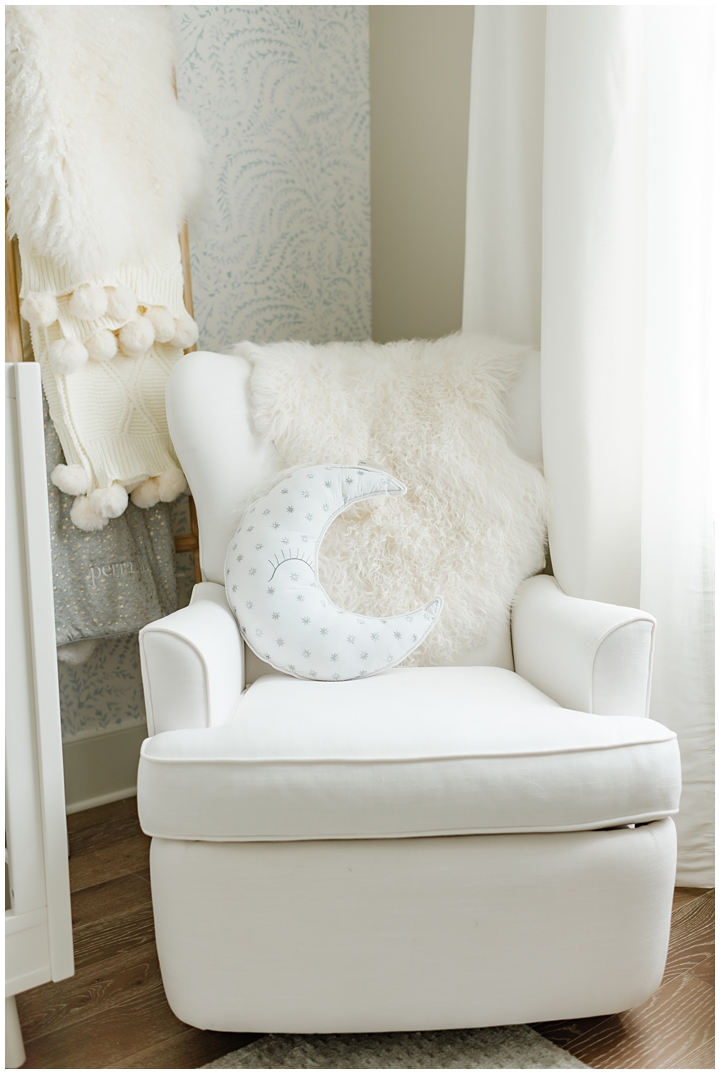 | Parker Swivel Glider & Recliner | Teak Blanket Ladder : Sheepskin | Pom Pom Blanket | Metallic Jersey Sherpa Baby Blanket, Gray | Moon Decorative Pillow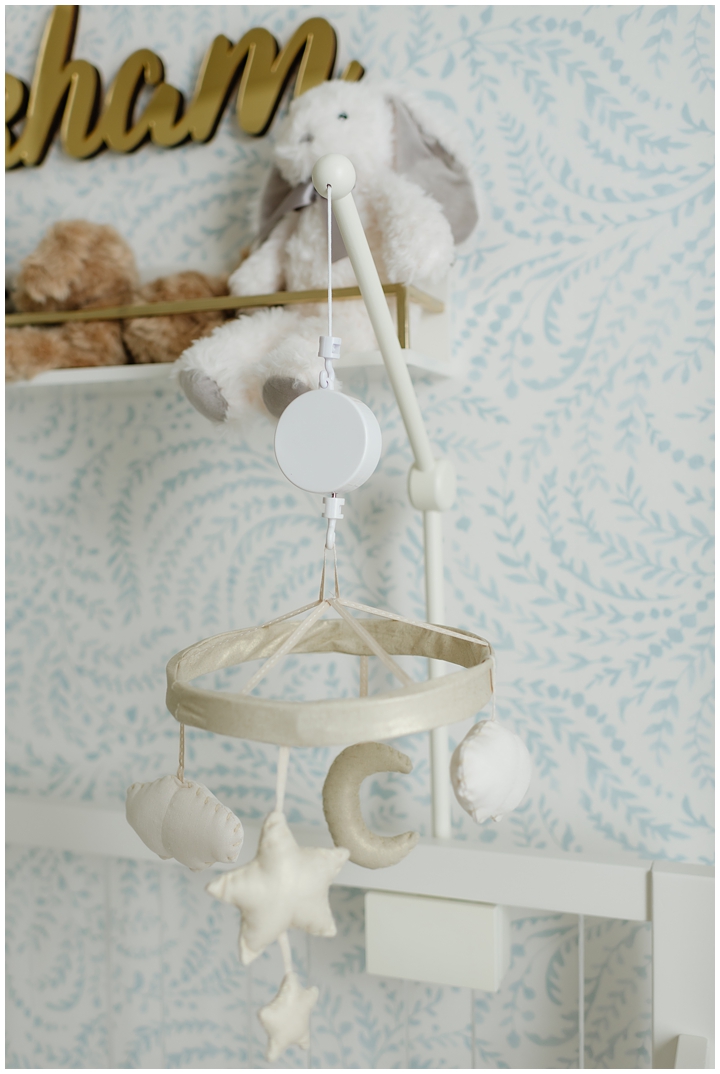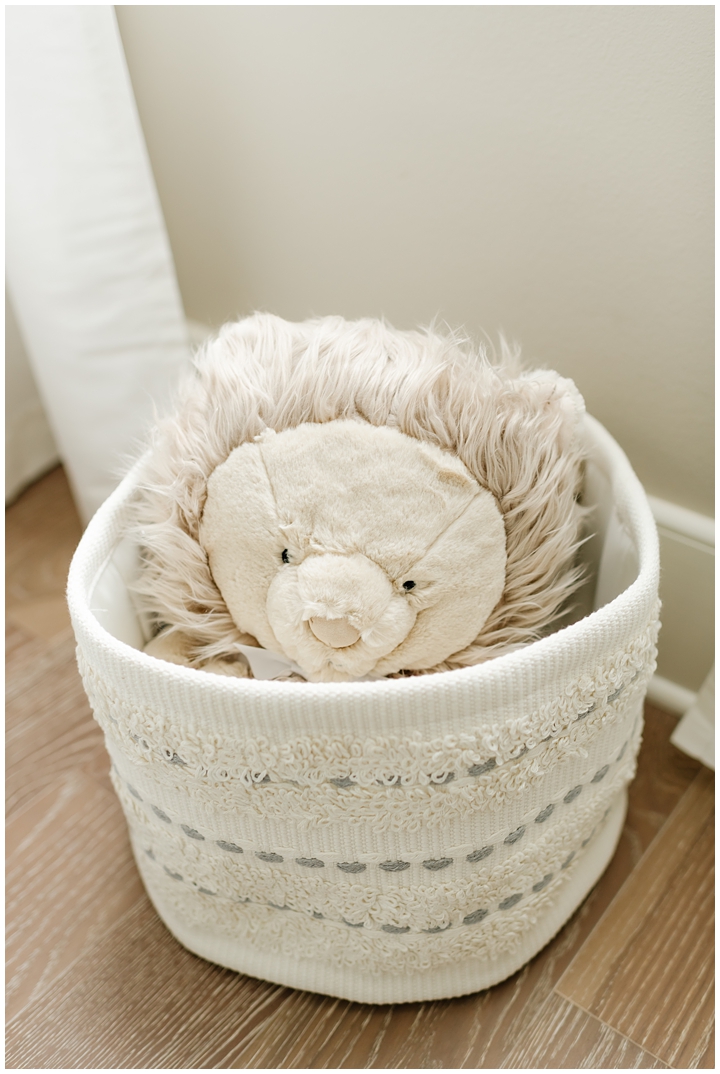 Soft Rug Basket With Detail White & Taupe Lion Interactive Plush Playmat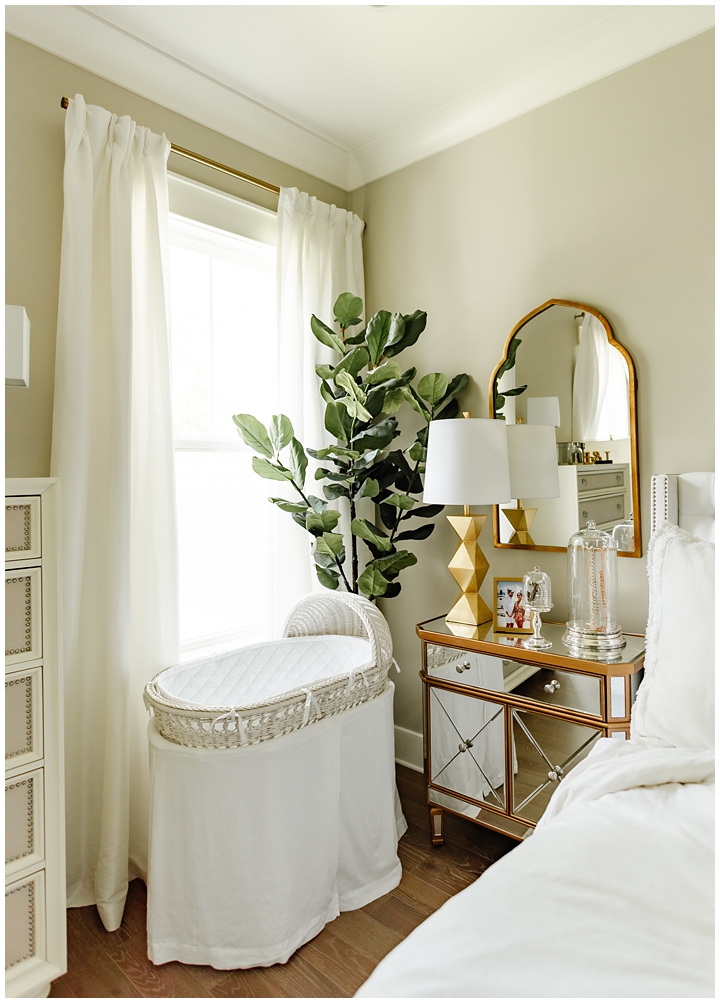 Bedroom details: Bassinet & Mattress Pad Set | Single Curtain Rod in Warm Gold | Spellbound Pinch-Pleat Rod Pocket Lined Window Curtain Panel | Faux Fiddle Leaf Fig Tree | Nicci 1 Drawer 2 Door Accent Cabinet | Glass Jewelry Storage | Gold Mirror | Gold Ripley Table Lamp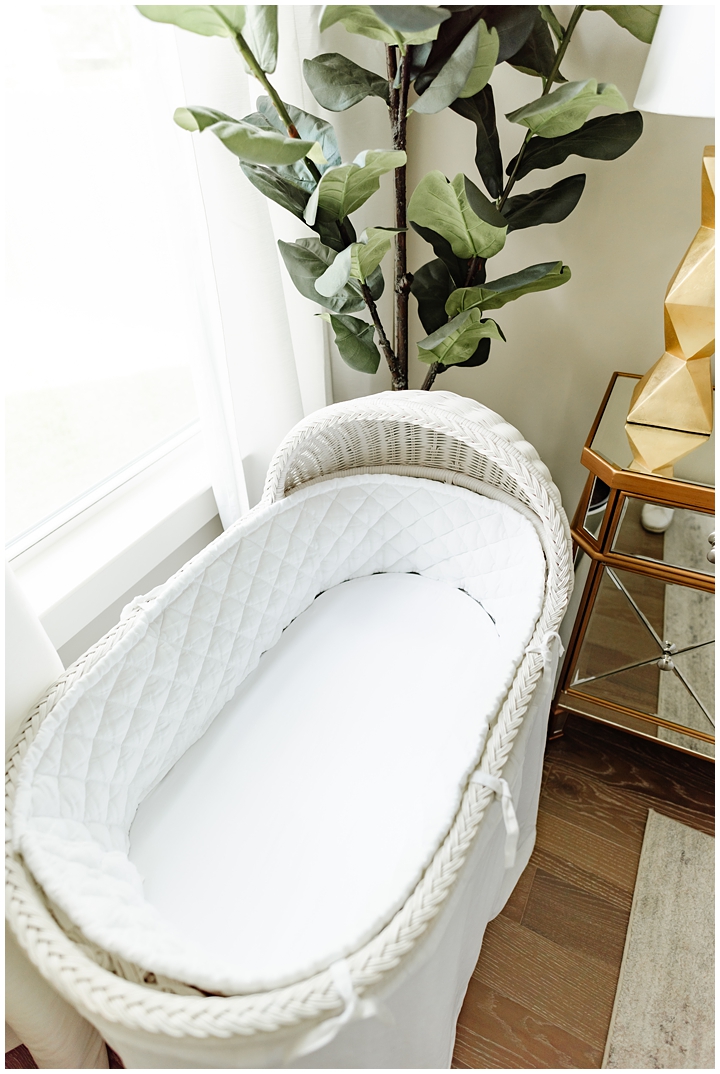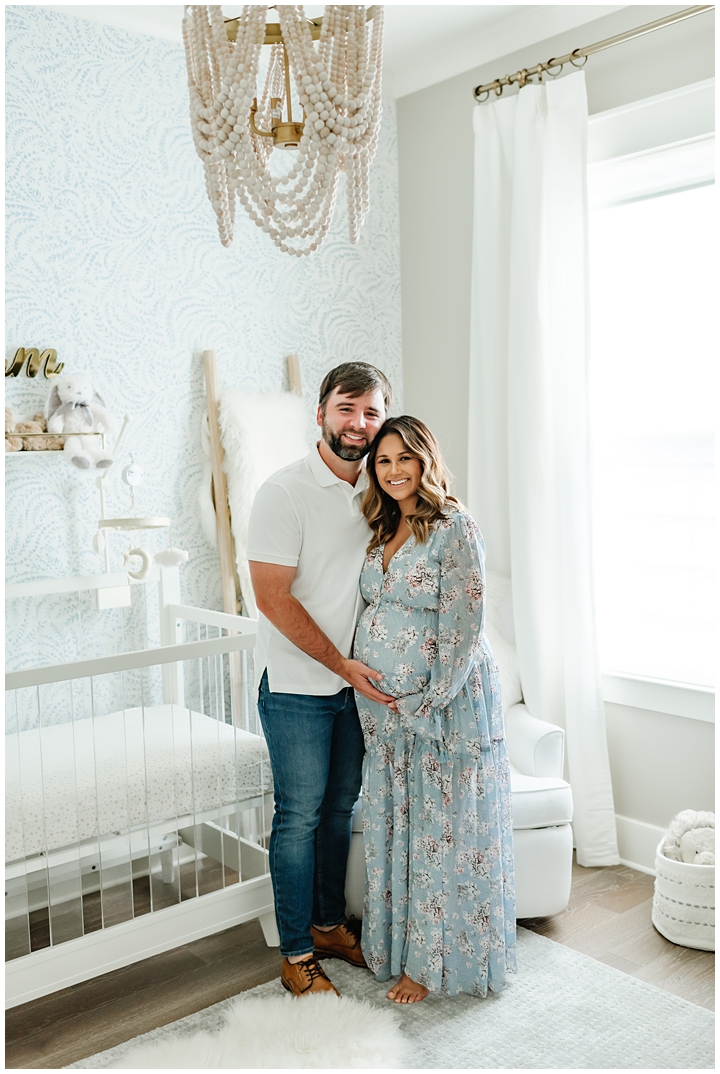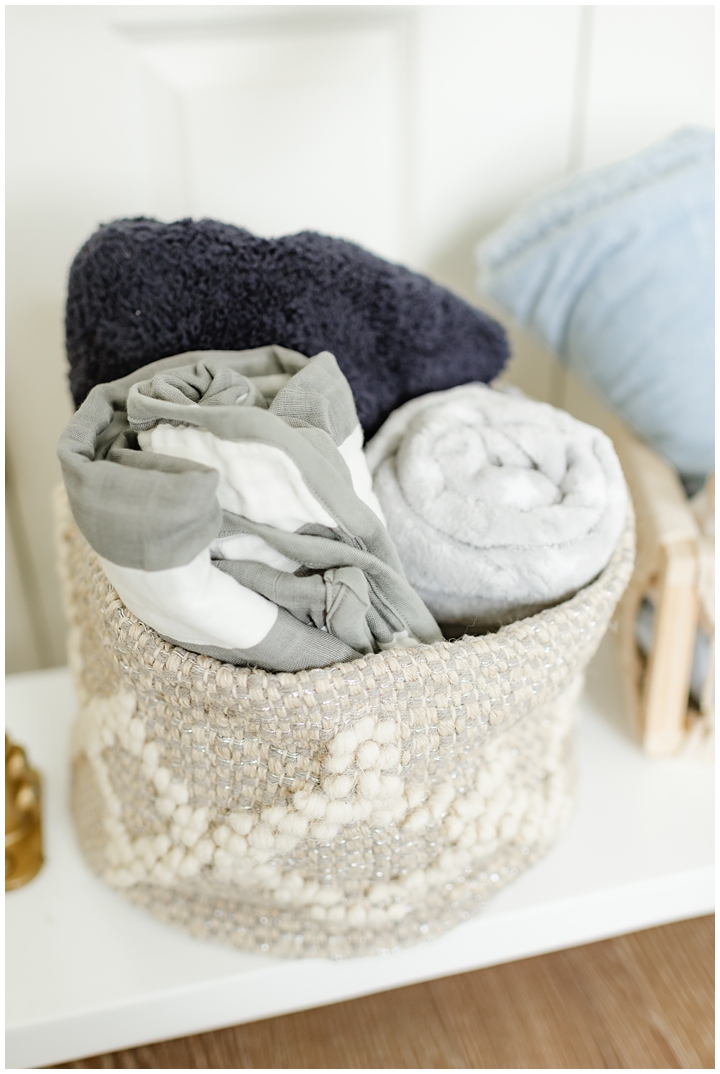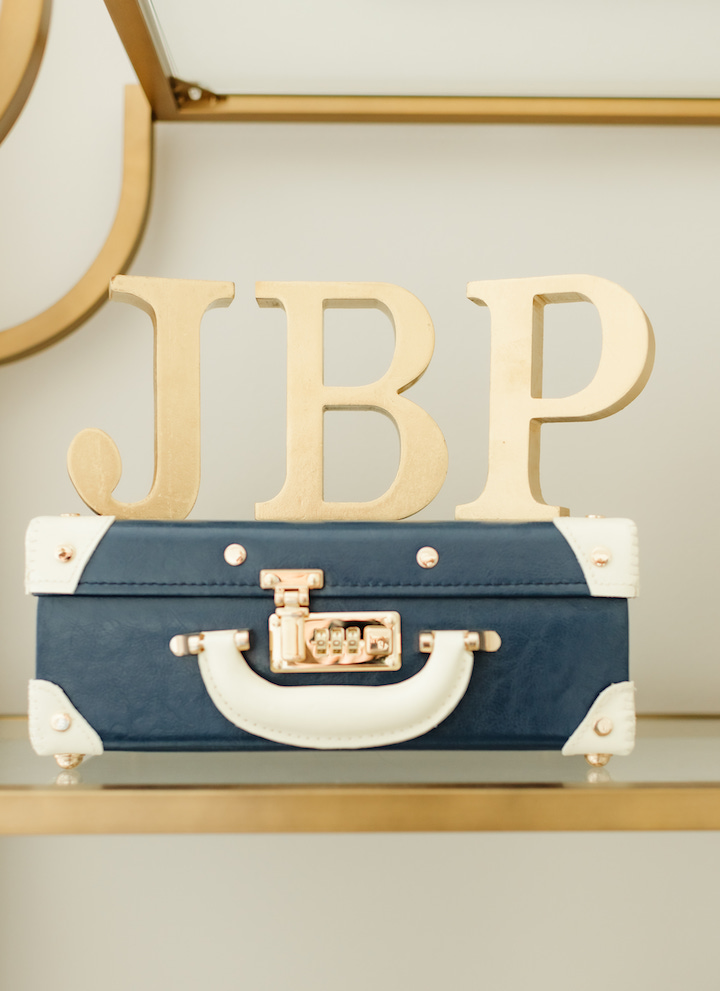 These gold initial letters are from his baby shower. See here—> A Whimsical Gender Neutral Baby Shower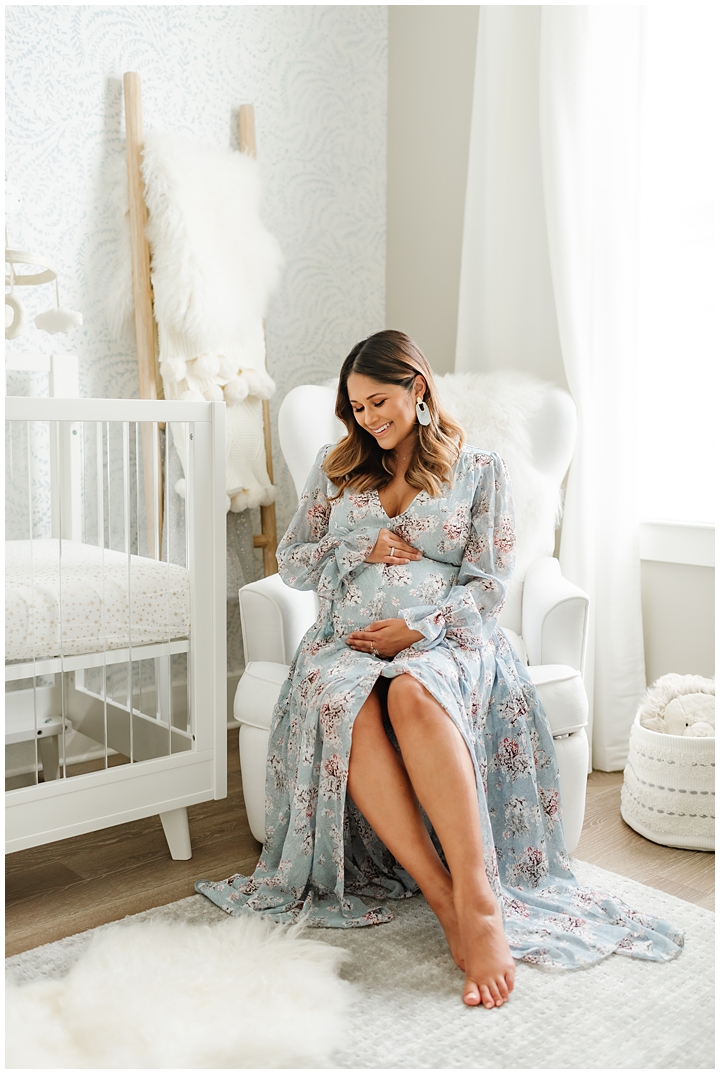 | Shop This Look — Bump Friendly, Post-baby & Nursing Friendly |
Outfit: Love In Bloom Light Blue Floral Print Maxi Dress (wearing sz medium)— 37 weeks pregnant in this photo | Kailyn Gold Statement Earrings in Ivory Mother-of-Pearl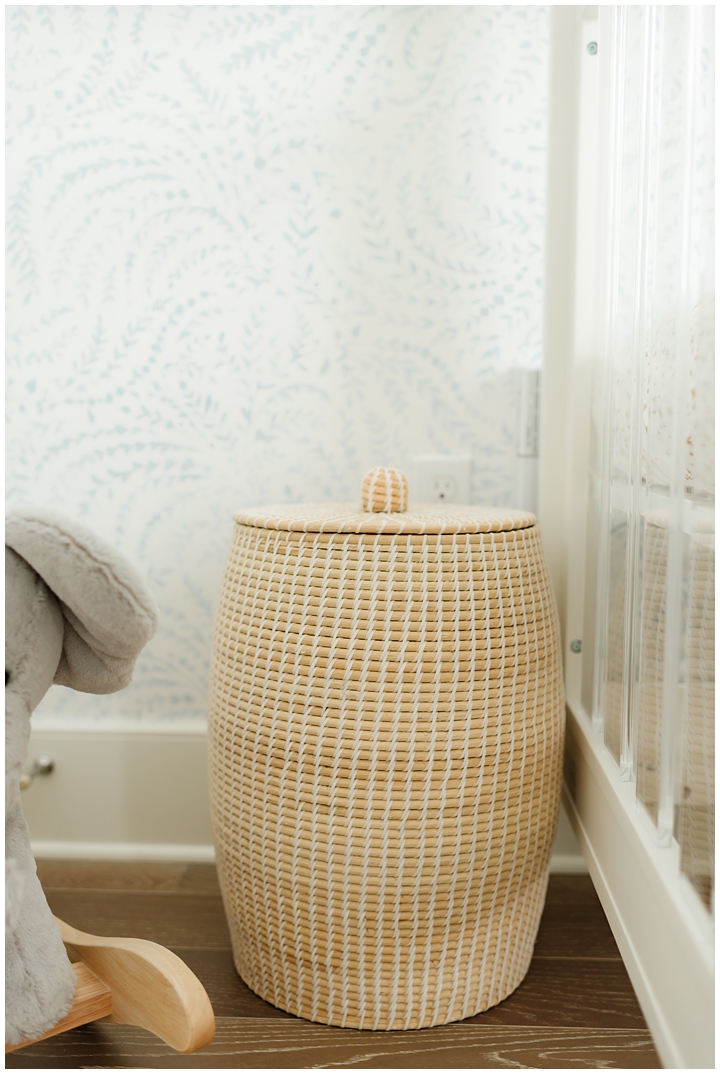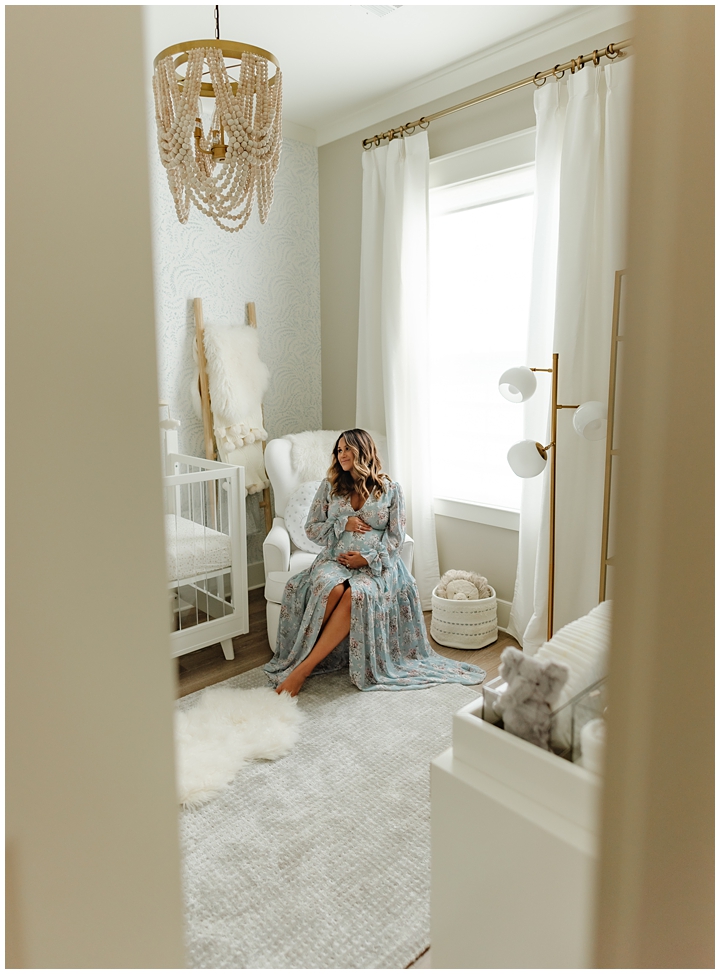 | Whitewash Wood Draped Bead 4 Light Chandelier — regular size |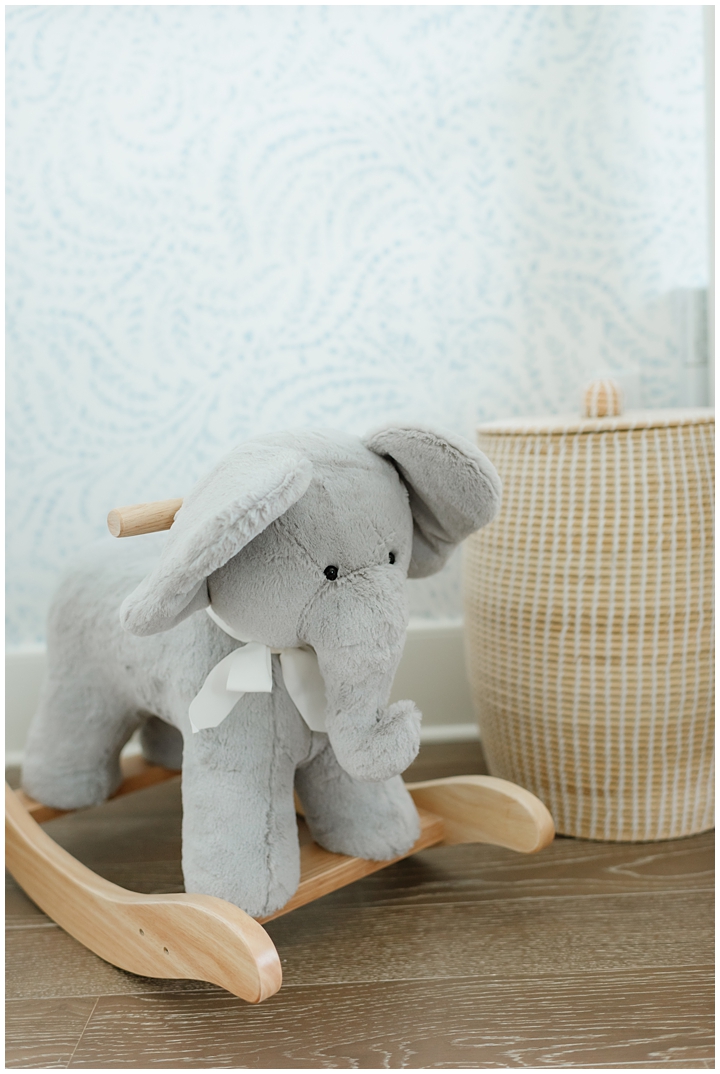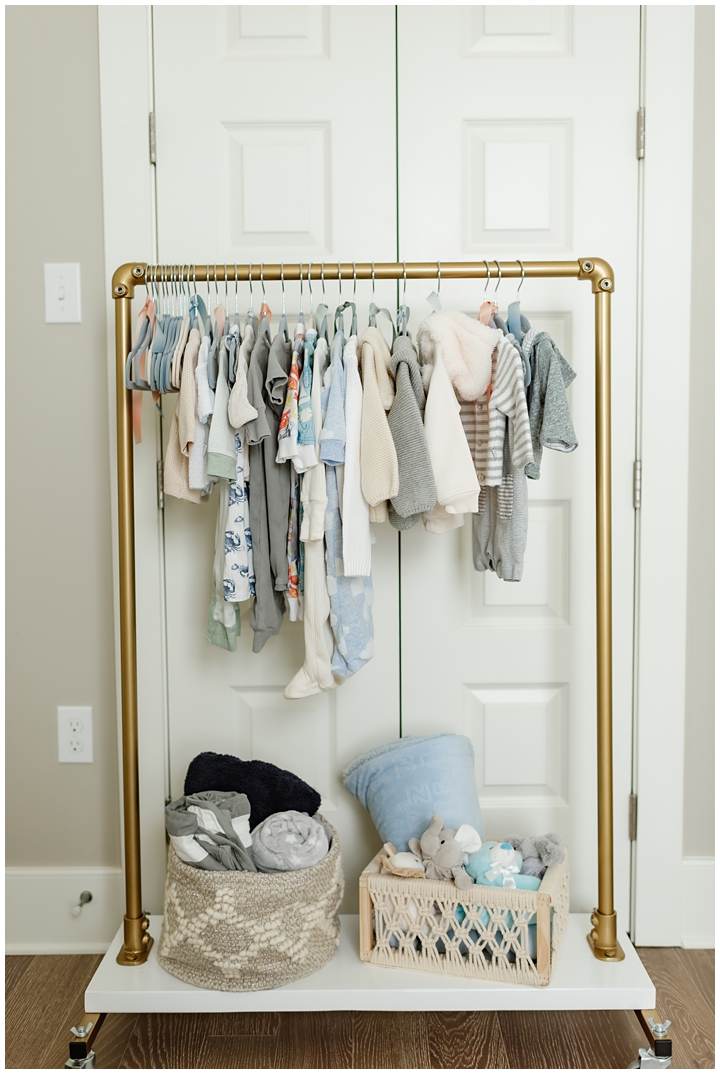 We used this Children's Standard Rack at my baby shower. See here—> A Whimsical Gender Neutral Baby Shower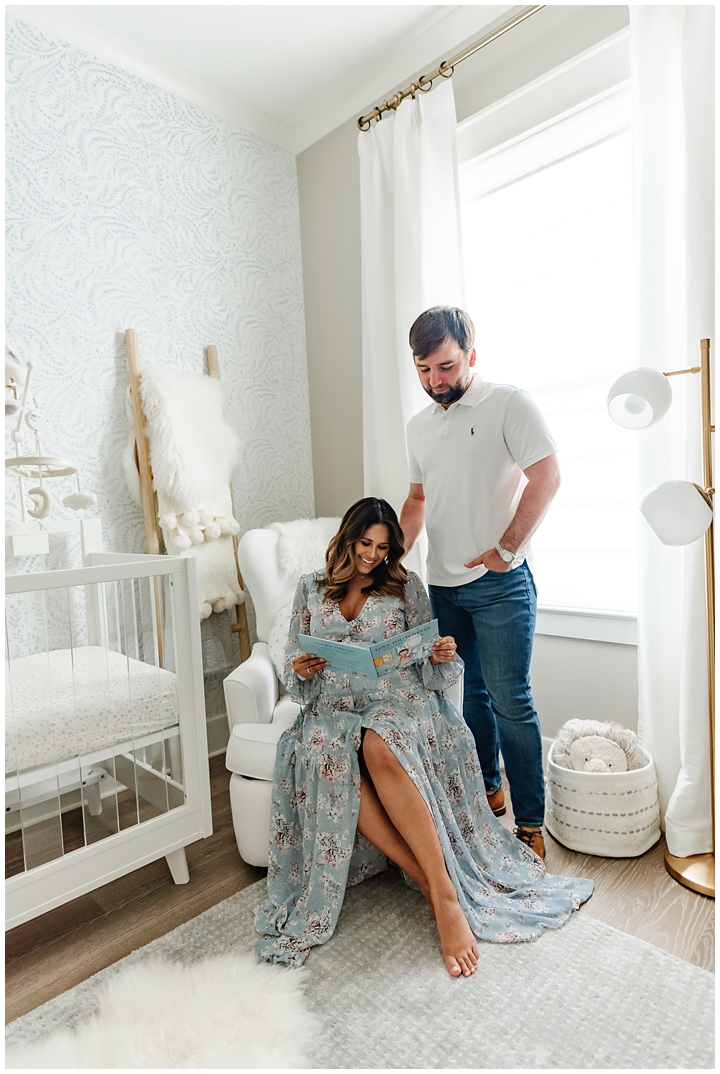 | Teak Blanket Ladder : Sheepskin | Pom Pom Blanket | Metallic Jersey Sherpa Baby Blanket, Gray |