Hey everyone, I can't believe that I'm officially 39 weeks tomorrow. We're so close to meeting our baby boy and I can't thank you enough for following along with us on this journey. If you follow along with Haute Off The Rack regularly, then you know that we recently shared all the details on the baby nursery. Now that you've seen his room and everything we put on our registry, I thought I'd share how we prepared our own bedroom for the baby. After all, newborns tend to spend quite a bit of time in their parent's room for the first few weeks anyway especially if you're breastfeeding. Also, these are great ideas if you don't have time to finish the nursery before the baby is born or you don't have an extra room for a nursery right now.
In case you missed the full nursery reveal, you can see it here—> Baby P Nursery Reveal
Scroll through this blog post to see all of the baby gear and furniture we have ready in our room for the baby.
Baby Crib or Bassinet | We originally bought this gold crib for the nursery, but then we decided to go in a different design direct for his room so we moved this crib to the nursery at my mom's house. If you don't want to invest in both a bassinet and a crib, you can always just purchase a crib and keep it in your room for as long as you need and then move it into the baby room once they transition to sleeping in there.
Some of your asked if I didn't like this crib anymore and that's why I got it rid of it, but that is not the case at all. I love this crib. It's chic, affordable and even converts into a toddler bed. It has a ton of great reviews, but we just wanted to go in a different design direction for his nursery and my mom needed a crib for her house anyway so it worked out perfectly.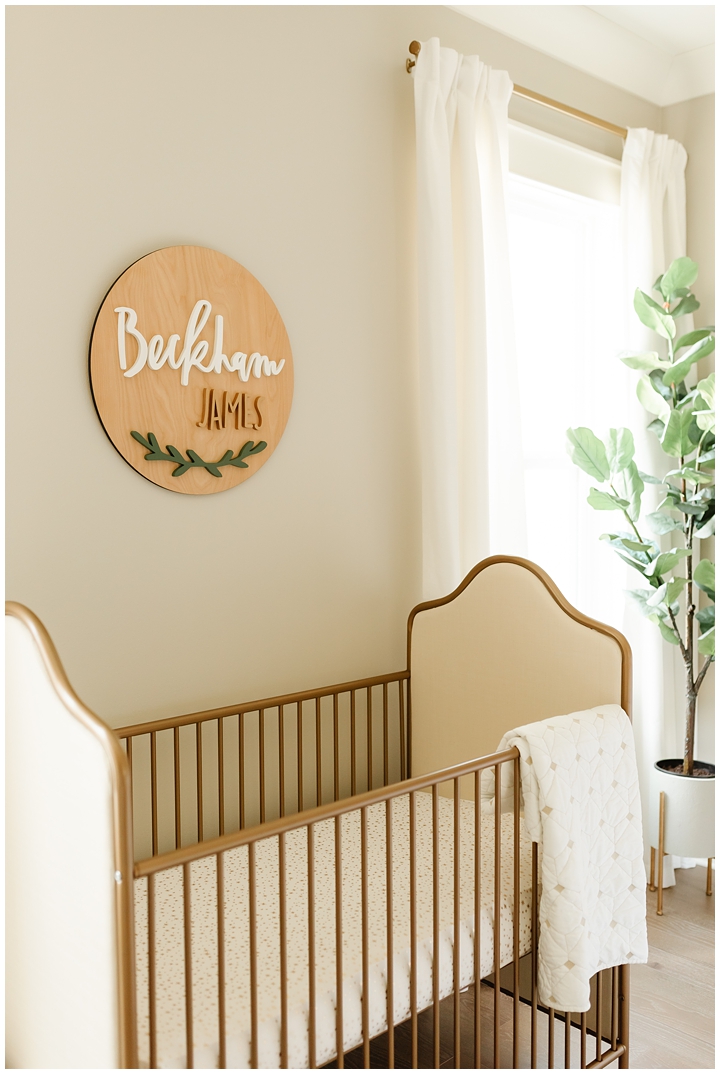 The wooden sign above the crib with his name is by The Polymath Mom. I have the round 24″ one. Take 10% OFF with code: HAUTE10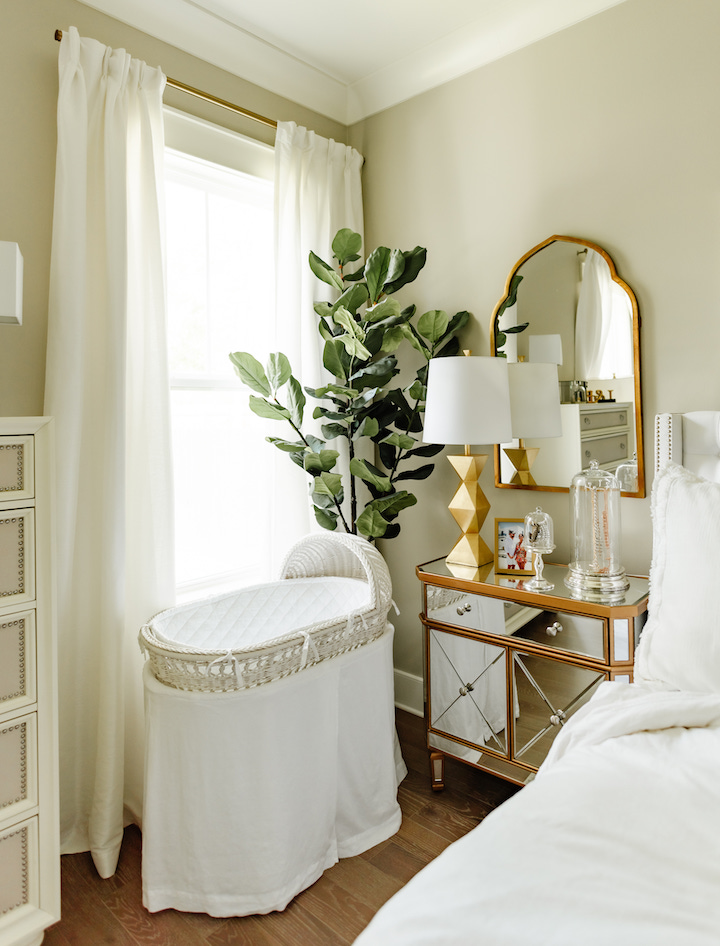 Bedroom details: Bassinet & Mattress Pad Set | Single Curtain Rod in Warm Gold | Spellbound Pinch-Pleat Rod Pocket Lined Window Curtain Panel | Faux Fiddle Leaf Fig Tree | Nicci 1 Drawer 2 Door Accent Cabinet | Glass Jewelry Storage | Gold Mirror | Gold Ripley Table Lamp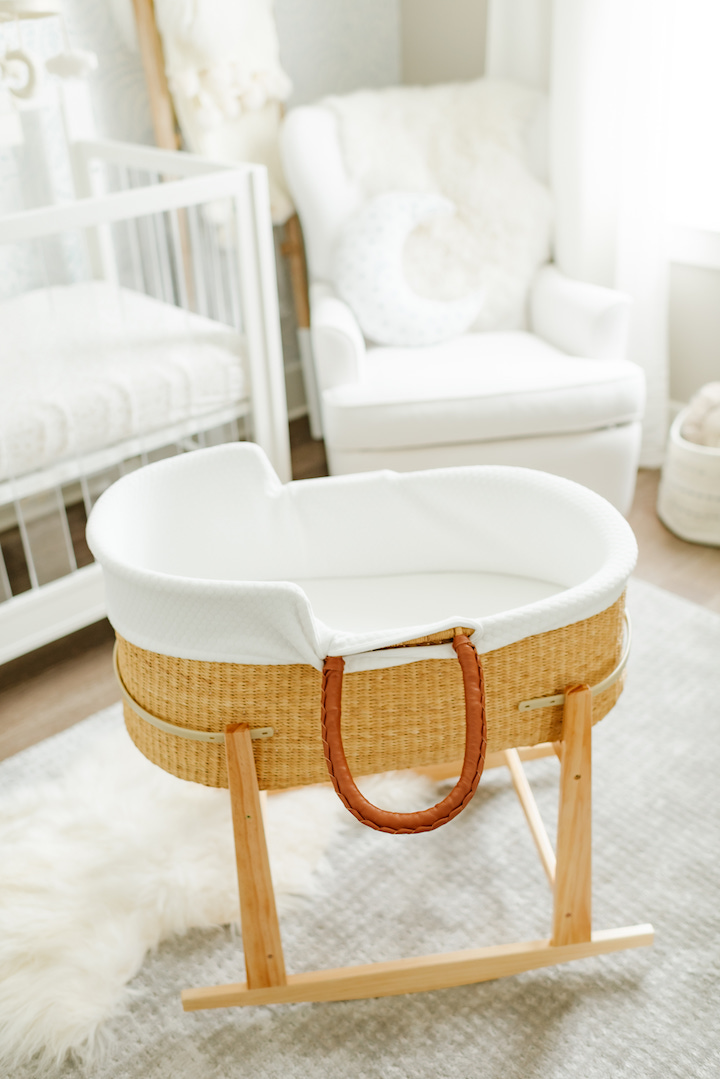 Baby Moses Basket Bassinet | The stand allows you to rock the baby and easily move it around the house. You can also remove it from the stand place it in the crib for naps when trying to transition them into their own room. See below.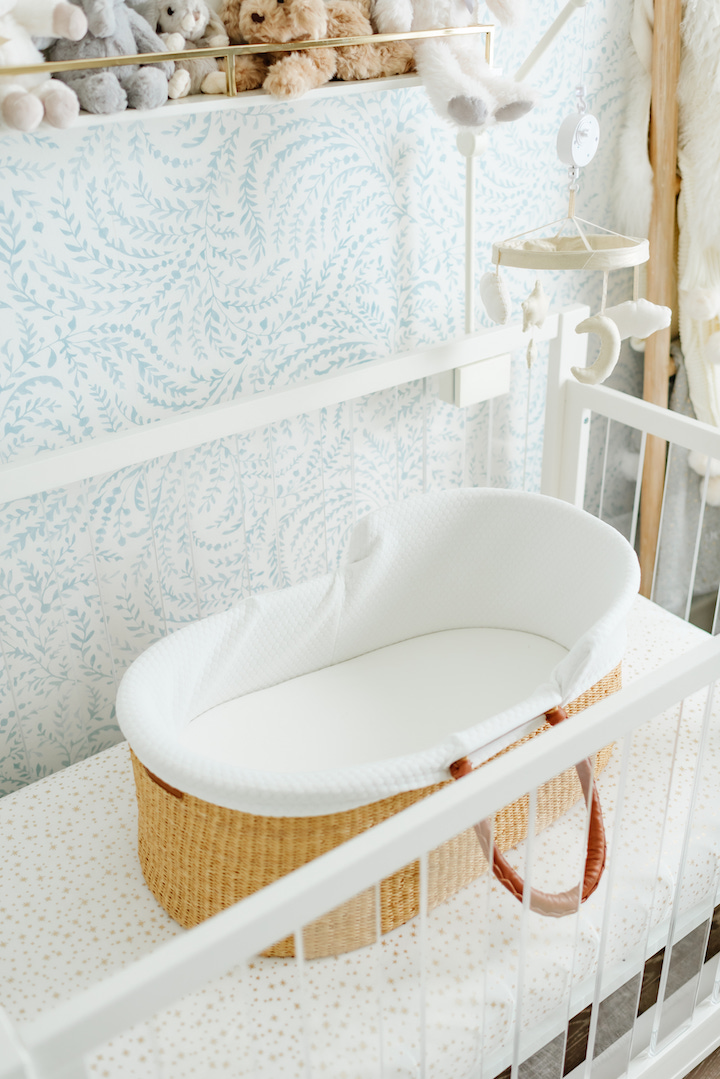 Halo Bassinet | I've heard so many good reviews on the halo bassinet, which is only around $200. The Halo also comes with some cool features like a 360 swivel for a safe, close sleep and you can even upgrade to the version that comes with a nightlight, 2 levels of vibration, 3 soothing sounds and 3 lullabies with volume control, all with 30-minute auto shutoff. Plus, Back to Bed Reminder alerts mom to put baby back to bed after feeding.
As for my other bassinets, I'm going to be fully transparent with you here… I was gifted some additional bassinets by brands to be able to review for you all, but obviously you don't need them all. You can just choose which one one works best for your lifestyle and baby.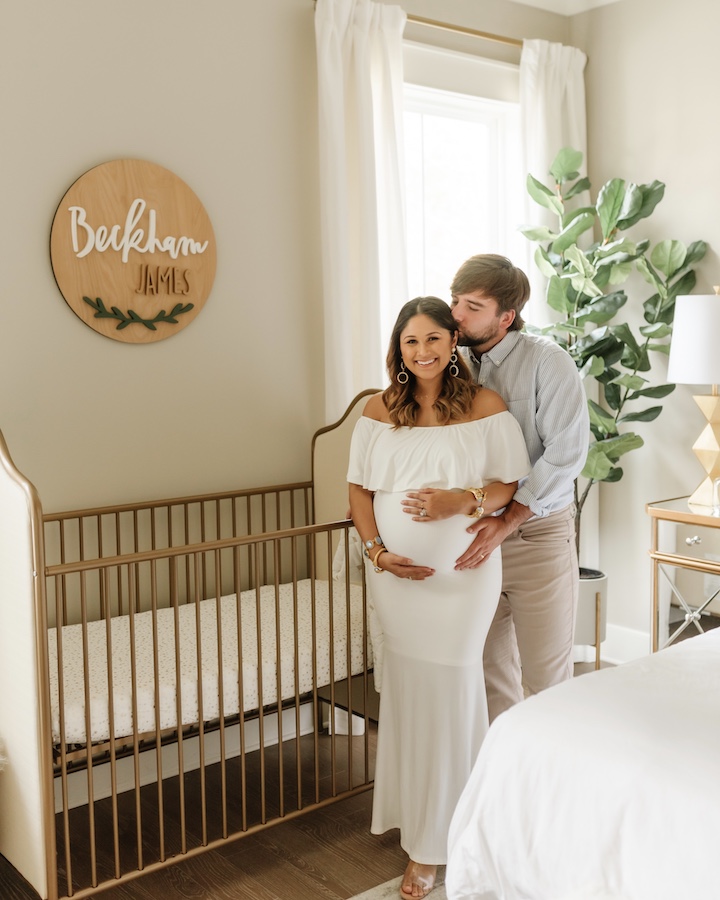 | Shop My Look |
Outfit: Ivory Ruffle Off Shoulder Mermaid Maternity Photoshoot Gown/Dress | Imitation Pearl Drop Earrings ) | Clear Heels | Calypso Bracelet, Savannah Hinge Cuff & Paris Demi Hinge Cuff c/o Julie Vos |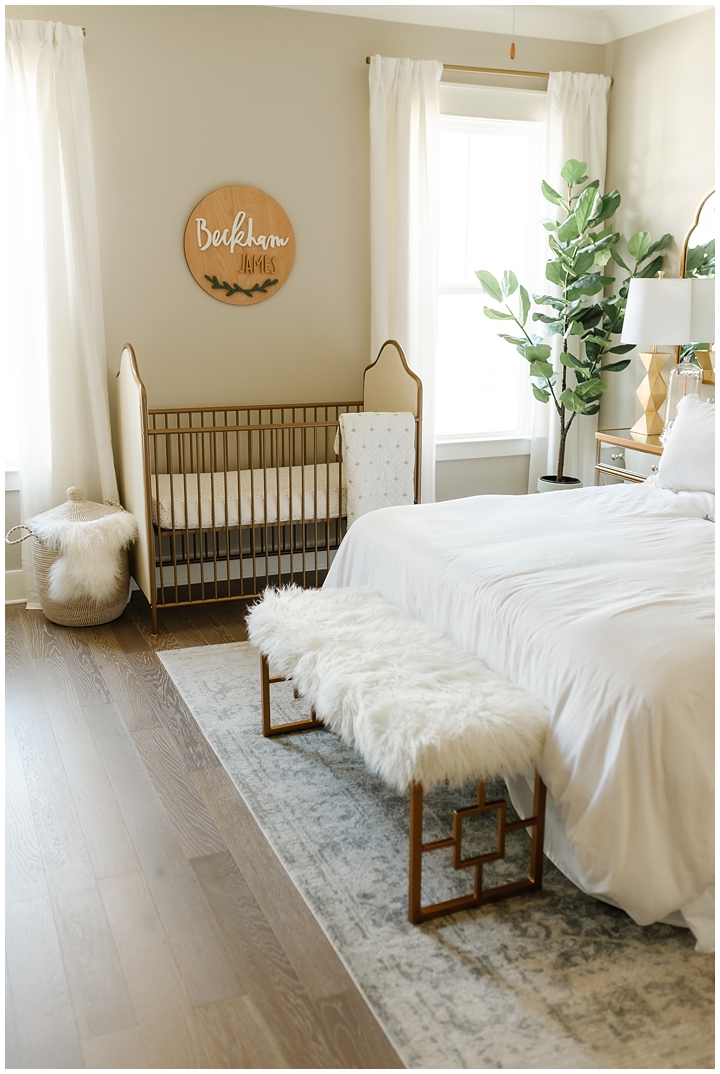 | Shop Our Bedroom Details |
Boll & Branch signature sheet set + duvet cover | Safavieh Mera White Faux Sheepskin Bench | Leighton Pillow Cover | Similar Headboard here & here | Gold Arch Wall Mirror | Mirrored Nightstands | Prisha Rug | Spellbound Pinch-Pleat Rod Pocket Lined Window Curtain Panel (108″ length) | Silver Antique Frames | Gold Ripple Lamps| Cambria® Estate Single Curtain Rod in Warm Gold | swivel glider and ottoman | Gold & Marble Table | Faux Fig Leaf Tree | Solid La Jolla Baskets
Extra Sheets | Not only do you need extra sheets for the crib and bassinet, but you should also have extra sheets on hand for your own bed in case there is diaper or feeding accident on your bed in the middle of the night. A waterproof mattress pad is a must too. We have the Boll & Branch signature sheet set + duvet cover and we absolutely love it.
Baby Shusher | I don't have any personal experience with the Baby Shusher, but we had a quite a few friends recommend it to us. So hopefully it works to soothe him if we can't.
Nightlight | So I actually always sleep with a nightlight because I get up multiple times in the night to go to the bathroom, but I could imagine that it will also come in handy when I need to get up for the baby.
Diffuser and/or humidifier | Blake and I have sleeping with an essential oil diffuser for the past six years and we love it and we most recently got the Baby Frida humidifier. We've heard so many good things about it.
Nursing Bobby Pillow & Water Resistant Pillow Cover | The nursing poppy pillow offers comfort and support while feeding whether you're breastfeeding or bottle feeding. The Water Resistant Pillow Cover will offer an extra layer of protection against spills, but we also got this pretty printed cover from Pottery Barn Kids.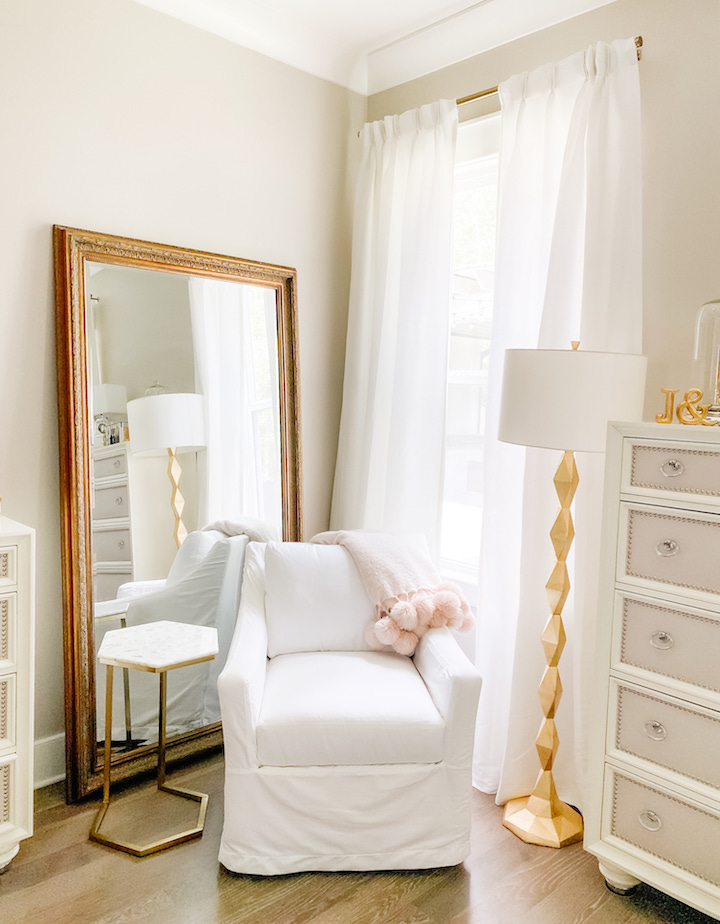 Rocker or Glider | We got a glider for both our room and the nursery for luxury and convenience. Our exact swivel glider and ottoman in our room is from Serena and Lily and our recliner glider in the nursery is from Pottery Barn Kids. The | Gold & Marble Table is from World Market. We have two of them that we keep in the living room and can easily move about the house. | Gold Oversized Mirror
Our friends highly recommended this budget friendly recliner glider. We may end up getting this one for my mom's house because it has great reviews.
Sound Machine | We've actually slept with a sound machine for the past five years because it helps me sleep so this isn't anything new for us, but we absolutely love it and it will be nice for the baby to get used tot he sound in our room before we transition him into his room with the same sound machine.
Diaper Pail | I thought about getting two diaper pails for both our room and his, but then I decided to just get one and we'll keep it in our room for new to help conceal the smell and then we'll move it into his once he transitions into his own room.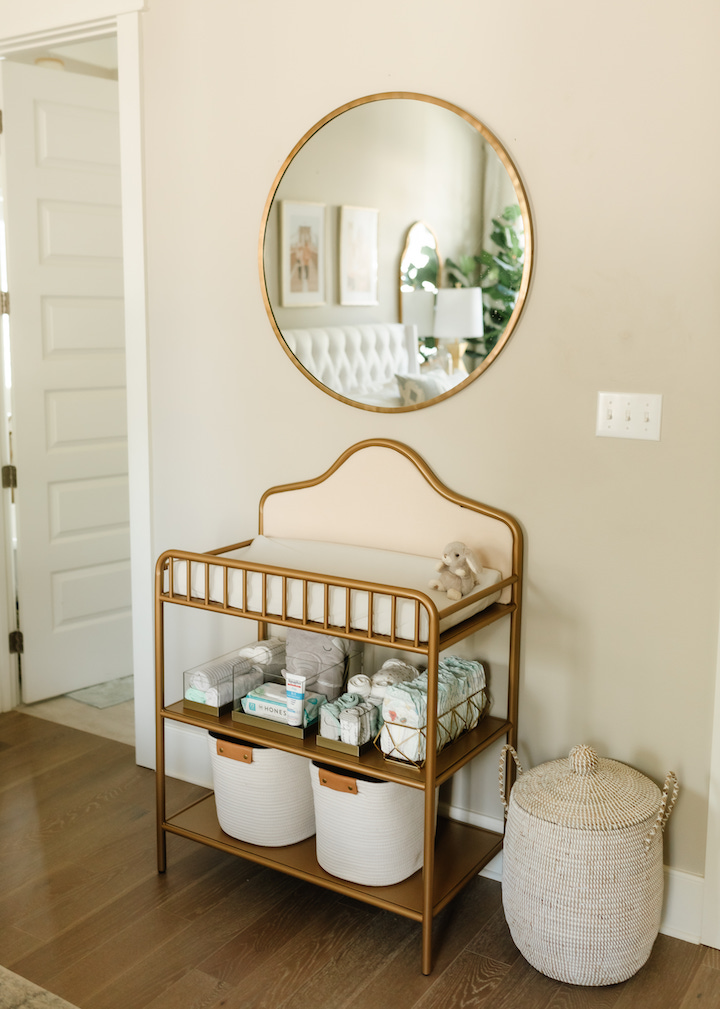 Changing Table equipped with: diapers, wipes, extra clothes, burp clothes, blankets, pacifiers, swaddles, extra sheets for bassinet, Baby Aquaphor and diaper rash cream | Tapered Basket | Acrylic and Metallic Nursery Storage | Solid La Jolla Baskets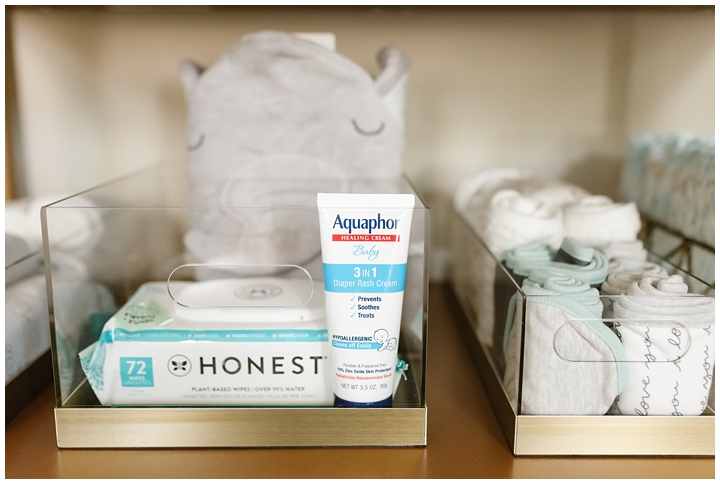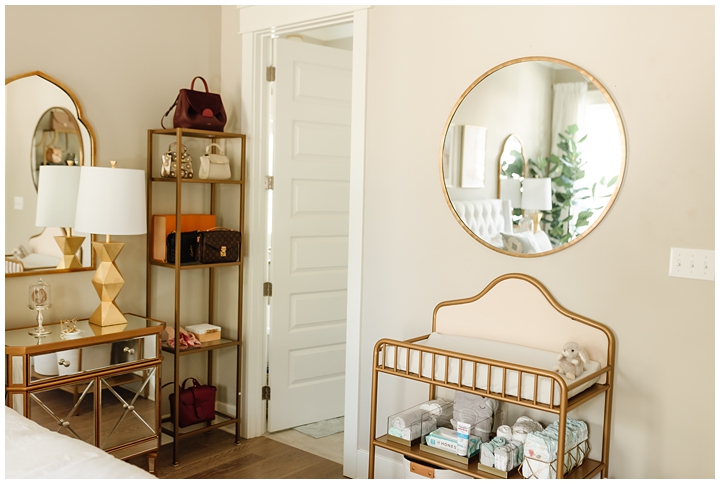 Piper Metal Changing Table | This changing table is so chic and matches perfectly with the decor in our room. Plus it's not too big and only $145. I also like this similar gold changing table for $136. I know that you can change a baby on your bed, but I'd rather not risk the chance of an accident on my bed in the middle of the night. Also, the changing table offers more shelves for baby product storage.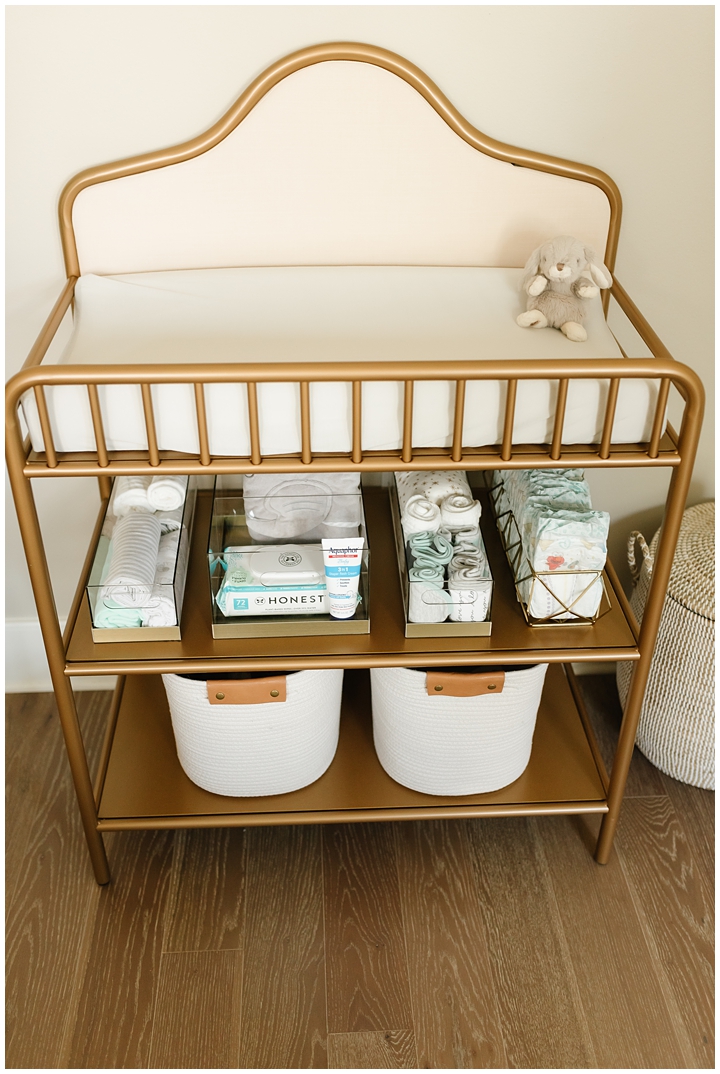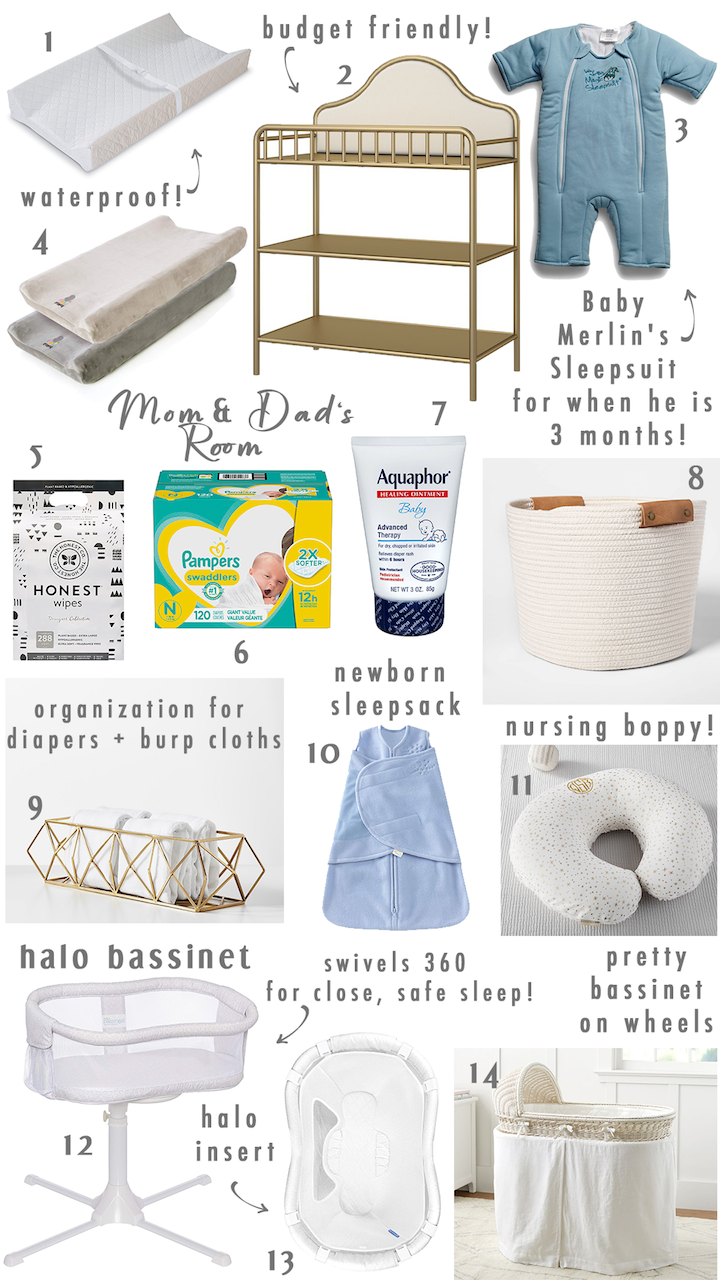 | Shop Our Baby Gear |
1. Changing Pad | 2. Piper Metal Changing Table | 3. Merlin's Magic Sleepsuit | 4. Stretchy Changing Pad Covers | 5. HONEST Wipes | 6. Diapers Newborn | 7. Aquaphor Baby Healing Ointment | 8. Tapered Basket | 9. Metal Prism, Diaper Caddy | 10. HALO Sleepsack | 11. Metallic Gold Star Boppy | 12. Halo Bassinet | 13. Newborn Bassinet Insert for Halo Bassinets | 14.Bassinet & Mattress Pad Set | I also got the Deluxe+ Stage 1 Dock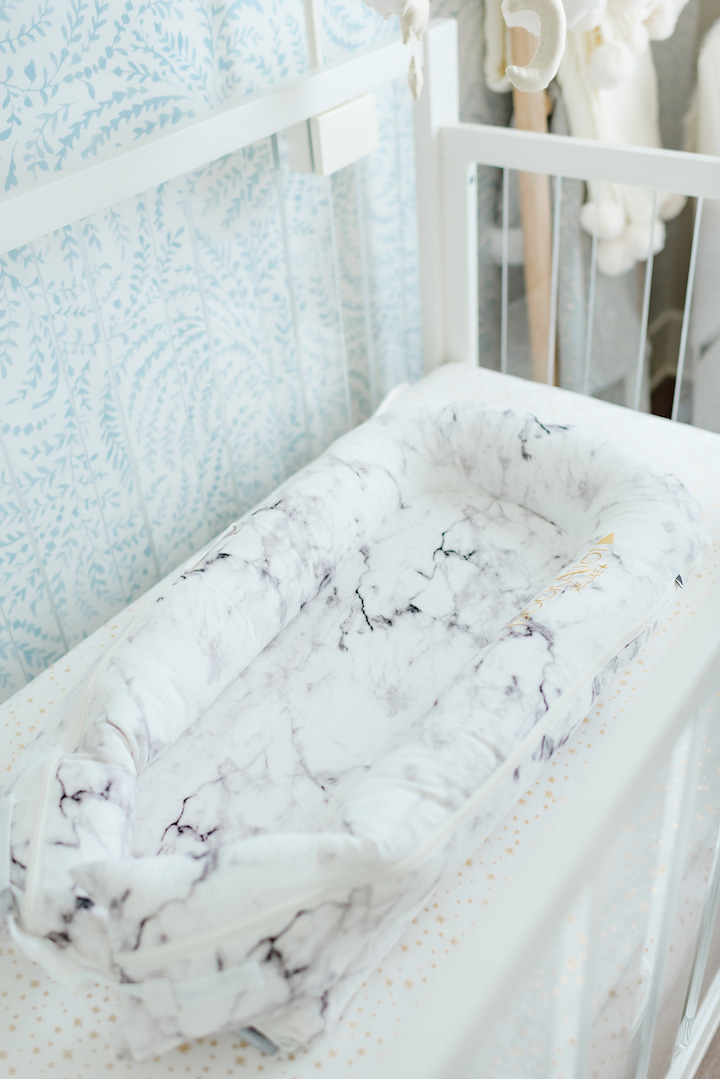 See more on my top baby products here—> Top Baby Registry Products
Also, a lot of you recommended taking the Taking Cara Babies online newborn class. Blake and I recently purchased this since many of you suggested it and we'll also be on our own the first few weeks because of the quarantine.