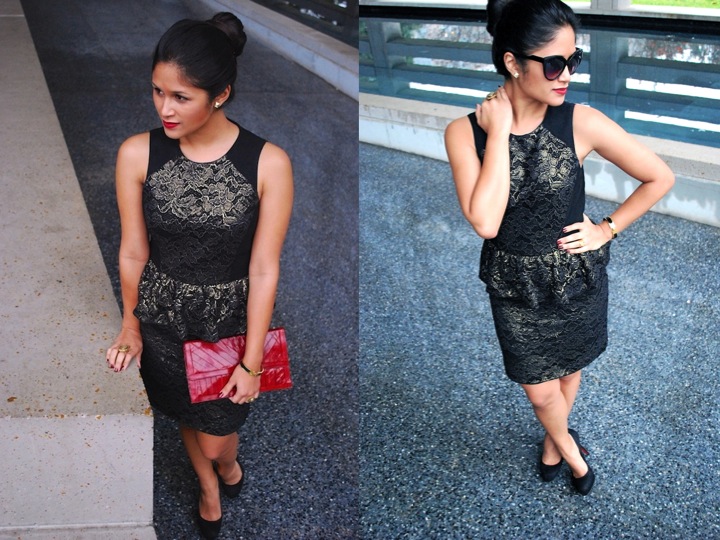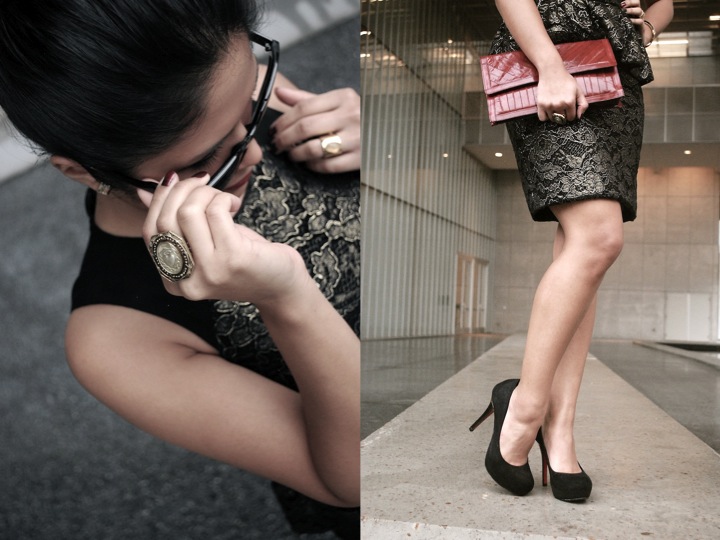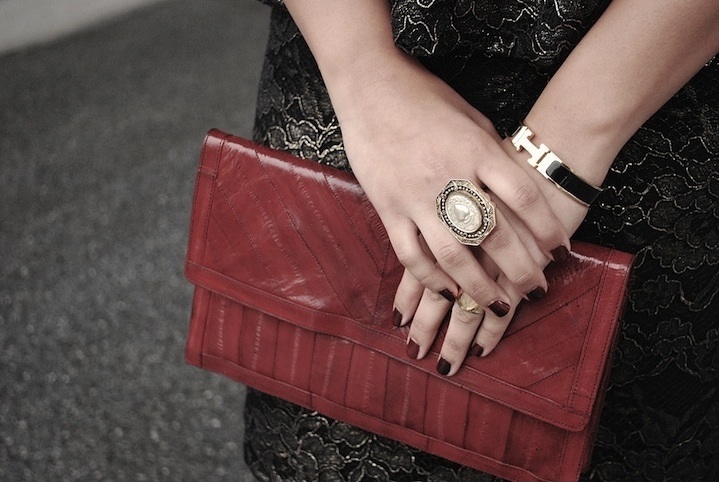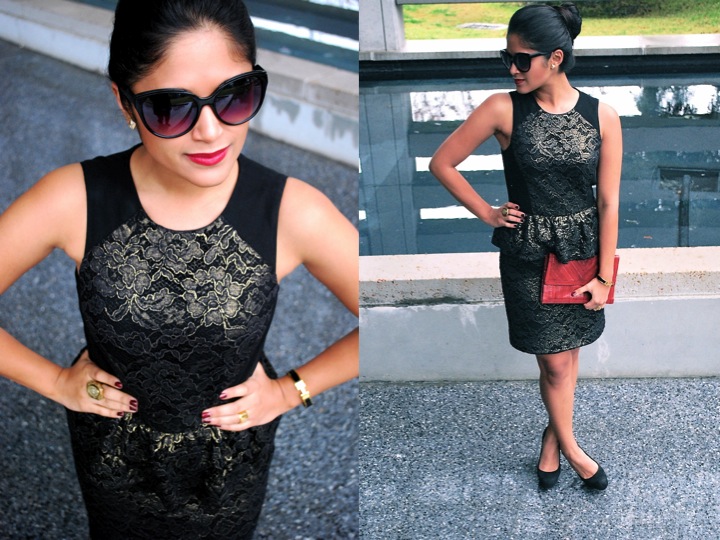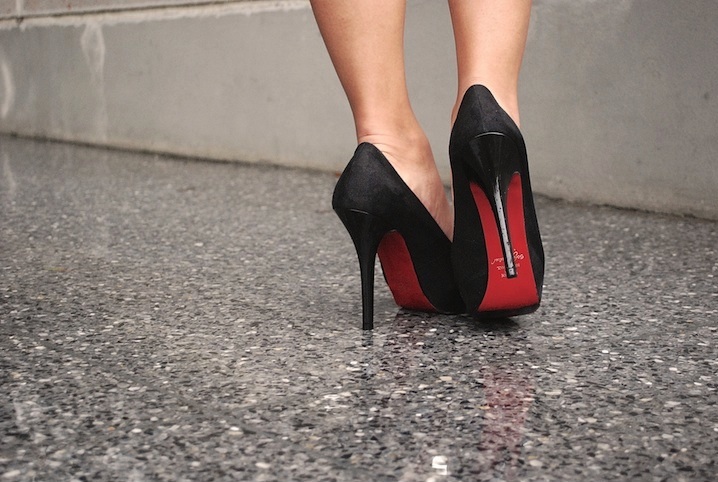 Photos by: Casey Scheib
Outfit: Tibi Private Party Dress (Thank you to Lockerz and Rent the Runway), Red Eel Skin Clutch (vintage-borrowed from my roommate), Black Pumps (Sergio Zelcer),
Jewelry: Virgins Saints and Angels ring (Thank you to Park Lane), Banana Republic ring
Whether you're hosting a holiday soiree or attending your office Christmas party, now is the time to start thinking about holiday party outfits. With Christmas right around the corner, I know money can be tight after garnishing a house with Christmas decorations and gift shopping for everyone on the list, but you don't have to break the bank to get a good look. Although it might sound out of the ordinary, try renting a dress.
There are several options, but for the first-time renter, I decided to test out the website Rent The Runway and share my experiences.
Firstly, I'm sure you'll be glad to know that membership is free, and upon signing up you'll receive a $50-off coupon toward your first rental fee. Plus, for every friend that you recommend, Rent the Runway will credit your account $20 after its first order has been placed and shipped.
Rent the Runway says it believes "everybody deserves a Cinderella experience." They provide members with the opportunity to rent designer dresses and accessories for roughly 10 percent of the original retails prices. Since Rent the Runway launched its site (www.renttherunway.com) in November 2009, it has expanded to more than 160 designer brands and are now known as the "Netflix for Fashion."
To find the perfect dress all I had to do was enter my size, event date and narrow down the search by color, length and designer. However, if you're having trouble finding the right dress by yourself, you can chat live with a Rent the Runway style consultant. They know the ins and outs of the website, including the fit and quality of each brand.
As far as cost, rental fees typically start at $30 and range all the way to $400 depending on the designer. If you're worried about the fit, Rent the Runway offers a free back up size or you can also rent a similar style for the same price or lower for $25.
I originally chose a navy lace Nicole Miller dress, which normally retails at $420, for a 4-day rental fee of $65. But, two days later after I received the dress, I wasn't happy with my style choice. Luckily, the site's exchange process was as easy as calling its style representatives and requesting a new dress. Then I sealed up the Nicole Miller dress in the pre-paid, pre-addressed return envelope and dropped it into a nearby mailbox. The new dress arrived two days later in perfect condition and fit just right.
The dress I chose to exchange it for was the Tibi Private Party dress that would work for either a holiday cocktail party or New Years celebration. I also opted for the 8-day reservation for the same price so that I would have enough time to shop around for the right shoes and accessories before my actual event date. However, in the event that I didn't have time to shop around I could have rented a few items from a selection of jewelry and handbags. You can even rent undergarments needed to help you look your best, and I'm sure you know what I'm talking about.
Rent the Runway offers a beautiful selection of jewelry and accessories to help you add some glamour to your night. Photo courtesy of Rent the Runway
In this case, I was just renting the dress for a holiday photo shoot and already had all of the accessories I needed, but I liked the fact that I had plenty of time with the dress in the case that something came up. Rent the Runway does allow you to extend your dress reservation for additional fees. Once I finished with the dress I didn't even have to worry about dry cleaning it. I just sent it off in the pre-paid envelope and Rent the Runway took care of the rest. Needless to say, I was more than pleased with my experience and highly recommend renting from Rent the Runway to anyone looking to impress for less this holiday season.
Visit www.renttherunway.com to browse their beautiful selection of dresses and accessories.
Good Morning readers, this is my latest article in Dig magazine on how to impress for less this holiday season.  In case, you didn't see my last Dig post,  I repost all of my articles that I write for Dig Baton Rouge magazine on my blog every week for all those of you who don't live in the area, but still wish to read my articles!   Also, you can always go to www.digbatonrouge.com, click on News Mag and search my articles under Entertainment!
About the outfit: When it came to styling this dress, I didn't want to take away from the beautiful brocade texture so I only wore one cuff and a Virgins Saints and Angels ring for an edgy feel.  For the handbag, I chose to carry a red eel-skin, vintage clutch to maintain the vintage vibe of the dress.  Plus it added just the right amount of color and brought the red on the soles of the shoes!  I would easily wear this dress to a Christmas party or a formal cocktail party on New Years Eve.
P.S. Thank you so much to Lockerz and Rent the Runway for sending me this little lovely little dress to review!
Visit my Lockerz Celebrate in Style Collection to see more inspiration for New Years Eve outfits (here) and make your own Celebrate in Style collection with Lockerz for a chance to win a round-trip for two to New York!!  Sponsored by Lockerz & Rent the Runway!
Have a wonderful weekend!