Happy Friday everyone, today I'm sharing my third episode of "Have Your Cake and Eat it Too" on my Instagram stories at @HauteOffTheRack. "Have Your Cake and Eat It Too" is a new spinoff series from my silly "Haute Out The Oven" show. In this new show, my mom and I attempt to bake a cake together while also working out at the same time as our cake bakes in the oven so we can still have our cake and eat it too.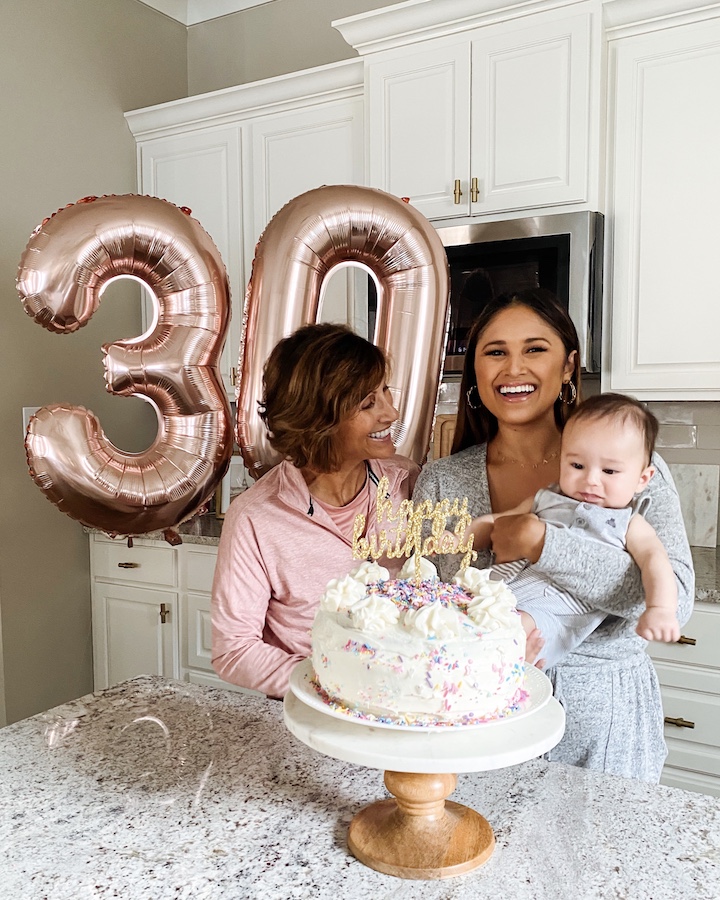 I'm about 4.5 months postpartum now and since my mom is a certified personal trainer on the side, we thought this would be a fun way to work towards getting back in shape and have you follow along with the journey. I hope you enjoy the series and attempt to make some of these recipes yourself. I also hope it inspires you to stay active and healthy especially if you recently had a baby and you're now ready to get back to making your healthy a priority again as I know it can take a backseat when you're more focused on taking care of your new baby. Last episode we made the delicious and refreshing Lemon Blueberry Cake and this time we're making a Funfetti birthday cake in honor of my 30th birthday on Monday.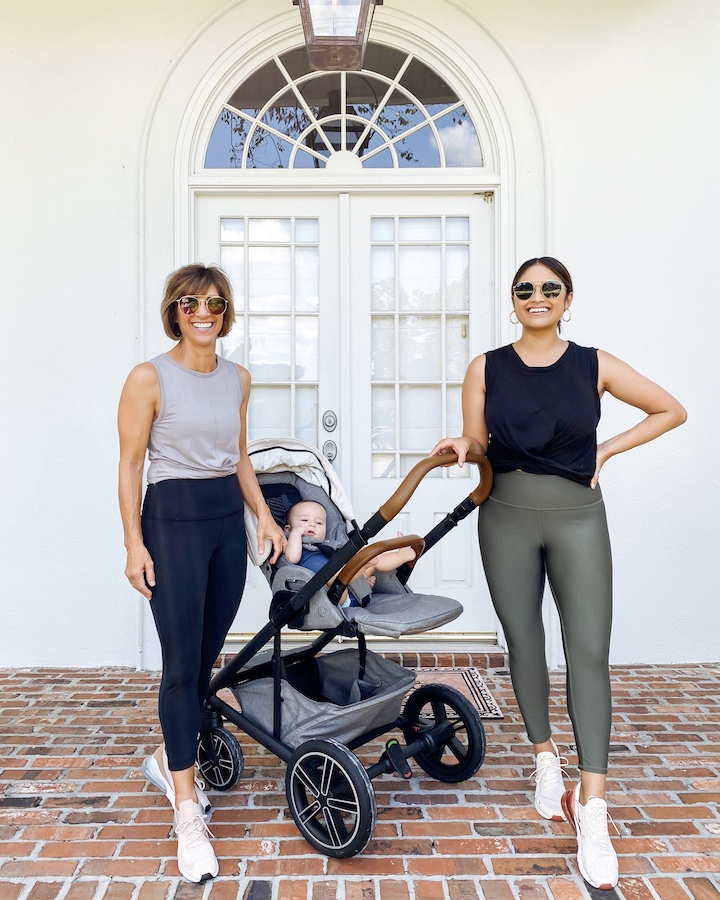 | Shop Our Looks |
Jenn's Look: Airlift High Waist Leggings (I'm wearing the cropped version sz S) | Undertow Tank (wearing sz S/also available here) | Air Max 270 Premium Sneaker | Ray-Ban Sunglasses | Ryder Hoop Earrings in Vintage Gold
Mom's Look: Studio Crop Lite Leggings | Alo Cover Tank | Air Max 270 Premium Sneaker | Ray-Ban Sunglasses
Beck's Stroller: Nuna MIXX Stroller (We keep this stroller at mom's house for walks! We also have the Nuna MIXX Next stroller at our house that we love!)
Check out first fail and attempt cake in the photo below!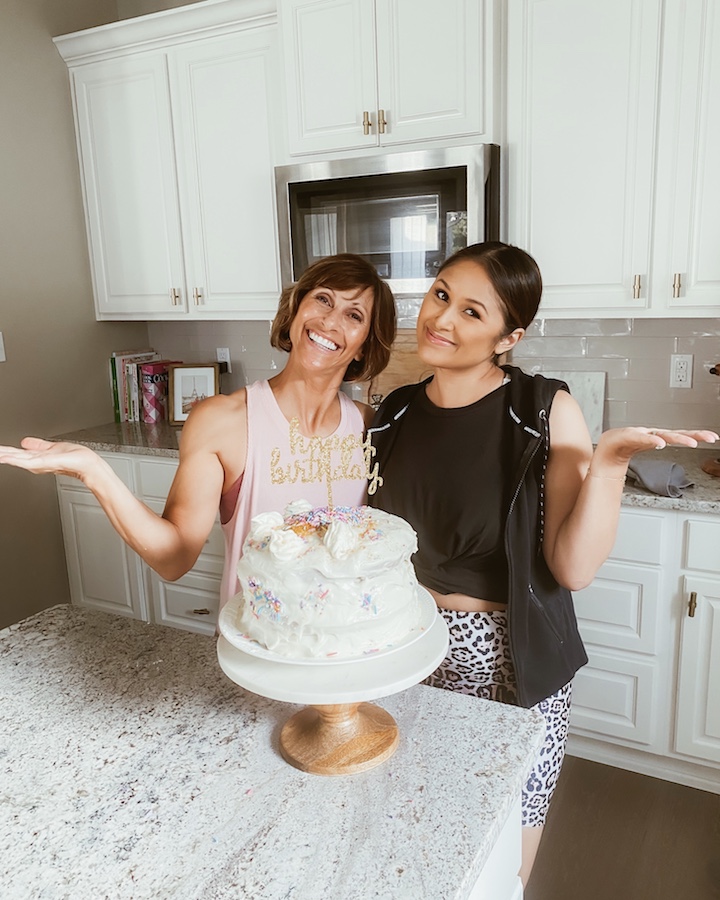 We attempted to recreate the Funfetti cake from Lola that we had at my family party and the first time we failed terribly. I actually shared all of the outtakes on my IG stories. This time we finally got it right! Be sure to watch the IG stories for the workout routines that you can do while your cake bakes in the oven!
You can check out the cake recipe from our first two episode here—> Have Your Cake & Eat It Too Episode 1 | Have Your Cake & Eat It Too Episode 2 
I have all of the videos saved under my highlights under my bio on my Instagram: @hauteofftherack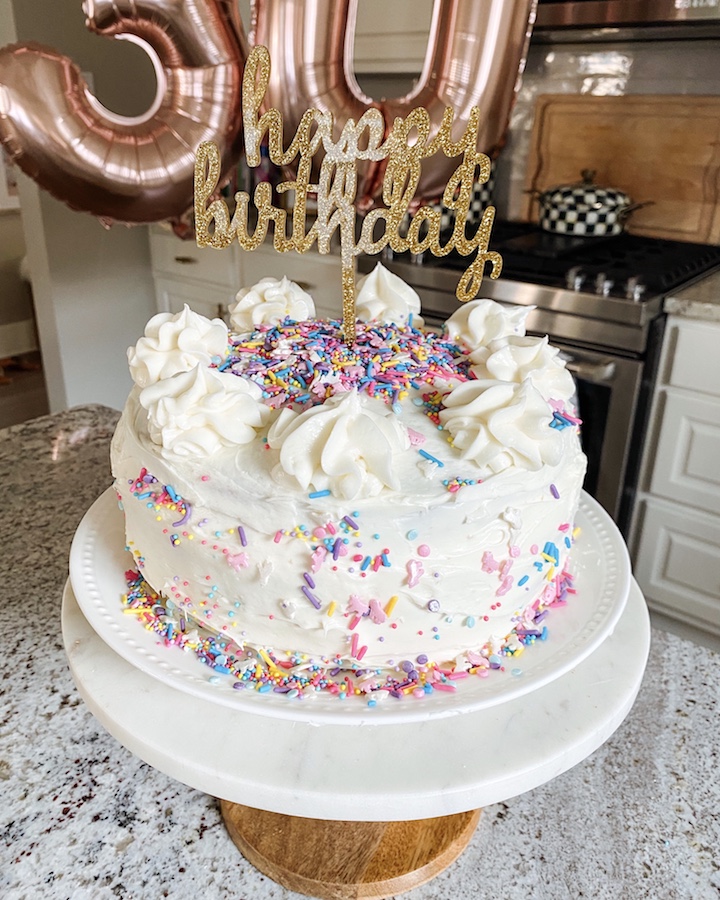 Funfetti Cake Recipe:
We used 2 boxes so be sure to double the recipe
1 cup water
1/2 cup vegetable oil
3 eggs
Substitutions:
Eggs: use ¼ cup of greek yogurt
Oil: use ½ cup unsweetened applesauce
1. Set oven to 350 coat bottom of pan with no-stick cooking spray or shortening and a flour dusting
2. Beat cake mix, water, oil and eggs in your bowl with mixer on medium speed for 2 minutes. Pour batter into pan(s)
3. Bake at 350 & follow the bake times below. When toothpick is inserted in the center & comes out clean, the cake is done. Cool 10-15 minutes before removing from pan. Cool cake completely before frosting!
Pan size: 13×9 → bake time 34-38 minutes
Pan size: two 8-inch rounds → bake time 34-38 minutes
Pan size: two 9-inch rounds → bake time 29-33 minutes
Icing Recipe (double the recipe for extra frosting):
1 cup Crisco All-Vegetable Shortening
1 1/2 teaspoons vanilla extract
4 cups powdered sugar
5 to 6 tablespoons milk or heavy whipping cream
1 pack of cream cheese
STEP 1 | BEAT shortening, vanilla and in large bowl with mixer on high speed until fluffy.
STEP 2 | ADD powdered sugar. Beat on low speed, gradually adding milk, until evenly blended.
STEP 3 | ADD cream cheese and beat on high speed until smooth and creamy, about 2 minutes.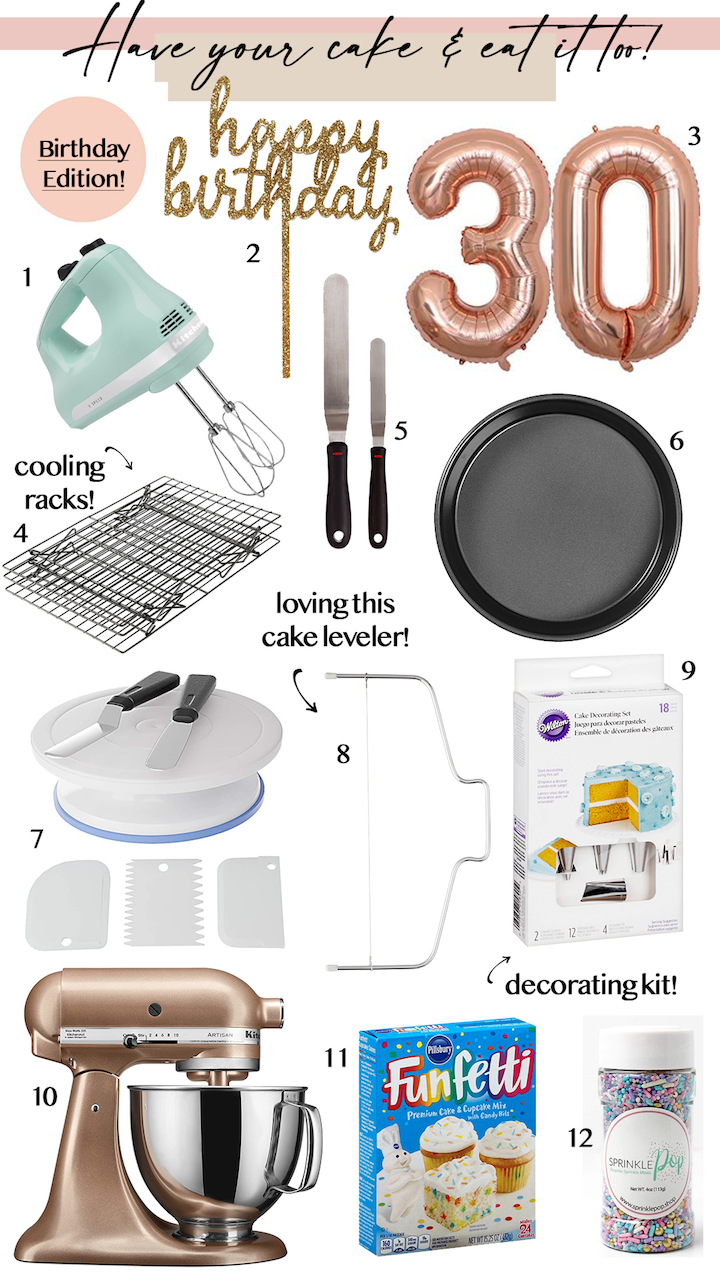 | Shop Cake Accessories |
1. KitchenAid Mixer | 2. Cake Sign | 3. Number Balloons | 4. Cooling Racks | 5. Icing Cake Knife Set | 6. Round Pan | 7. Cake Decorating Kit | 8. Cake Leveler | 9. Icing Decorating Kit | 10. KitchenAid Stand Mixer | 11. Cake Mix | 12. Sprinkles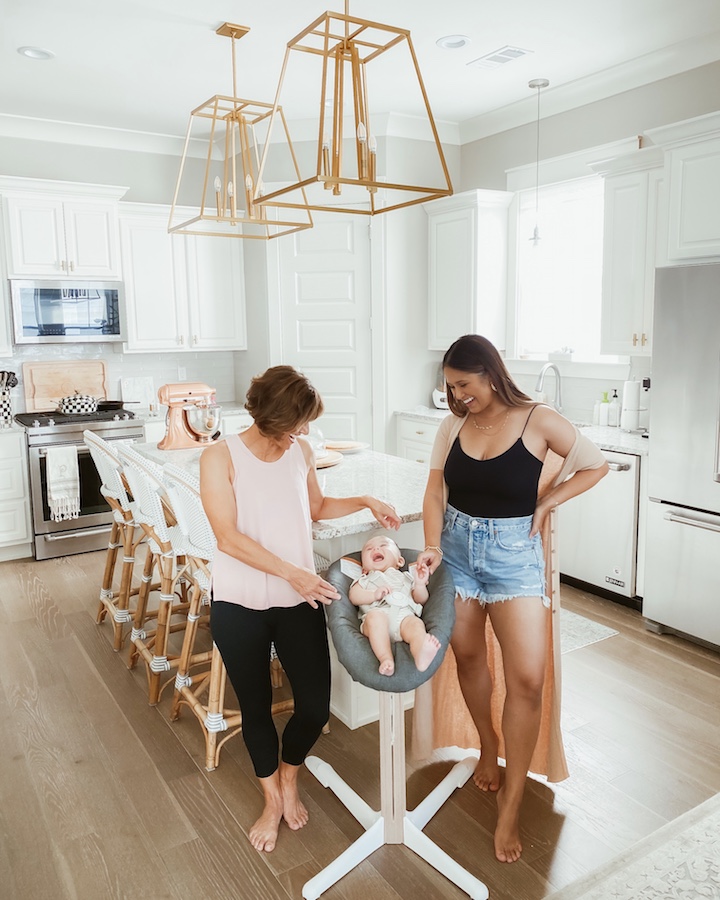 | Shop Our Looks |
Jenn's Look: Cami Bodysuit | L'Academie Firesuite Duster | Parker Vintage Cut Off Short
Mom's Look: Studio Crop Lite Leggings | Splits Ribbed Tank
Beck's High Chair: High Chair Stand & 0-6 month bouncer | We love this Nomi high chair because provides Beck with a soft and cozy spot at the table or by the island when we're eating dinner. The raised height is ideal for "talking", playing, feeding and keeping good eye contact with your baby. The Nomi Baby is also easy to move around the house and is seamlessly adjusted between almost horizontal & more upright positions to match the changing needs of your baby. Plus it converts into a big boy high chair with a tray when he's ready!
Kitchen Details: Kitchenaid Mixer | Riviera Counter Stools | Light Fixtures | MacKenzie-Childs Courtly Check Enamel 3 Qt. Casserole
This is the Lola Funfetti Cake from my 30th birthday family party that we were trying to recreate. My actual birthday isn't until Monday, September 14.