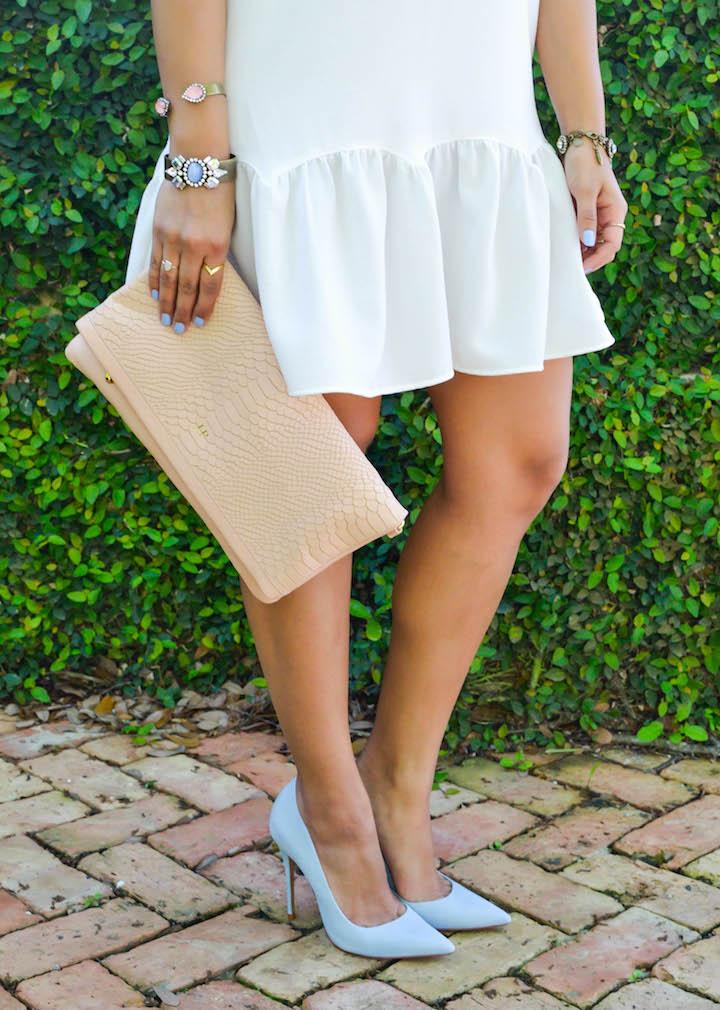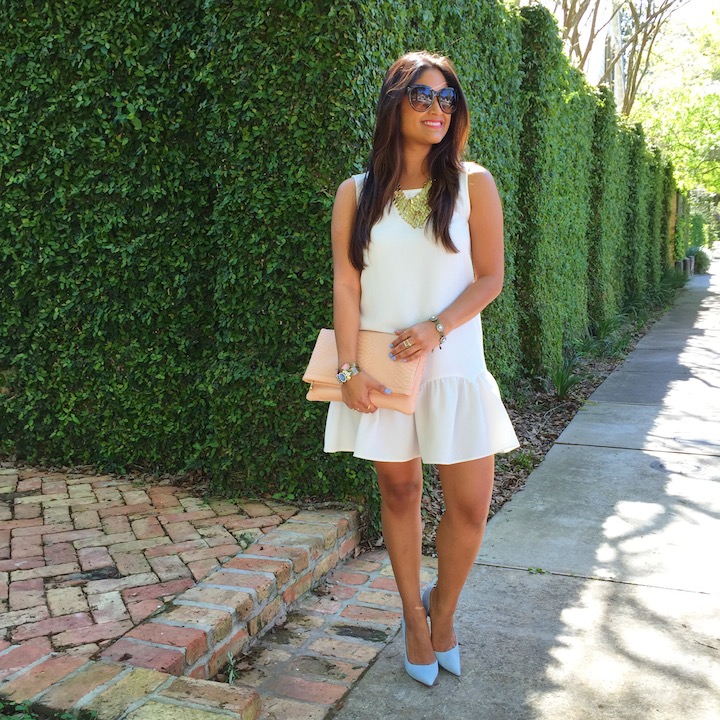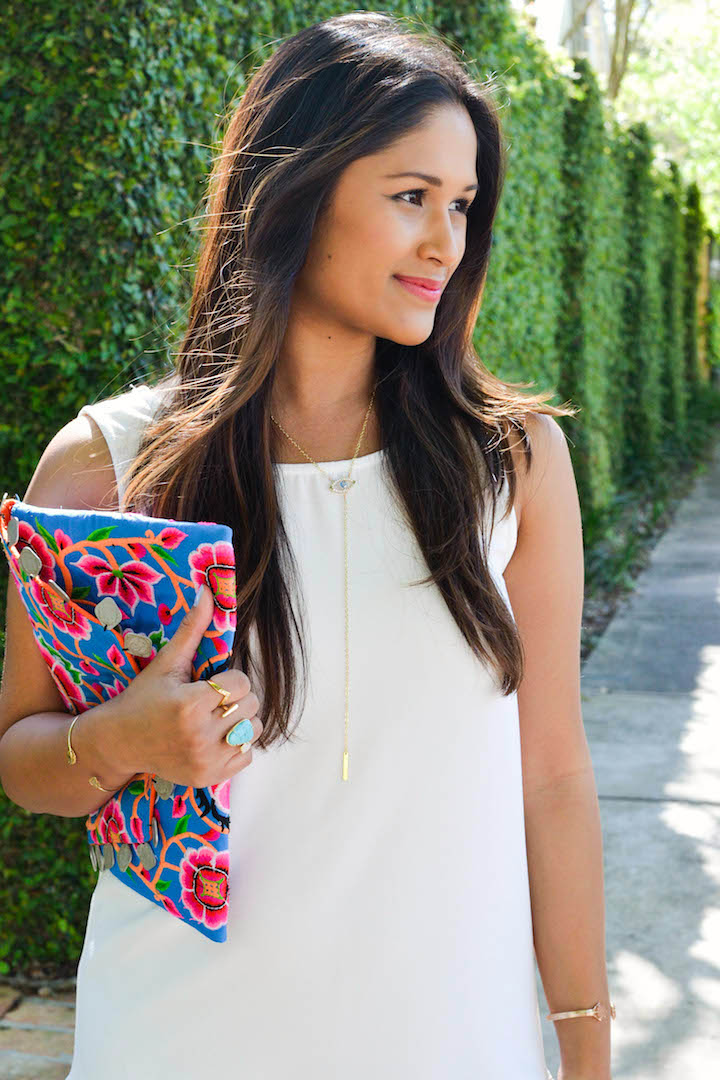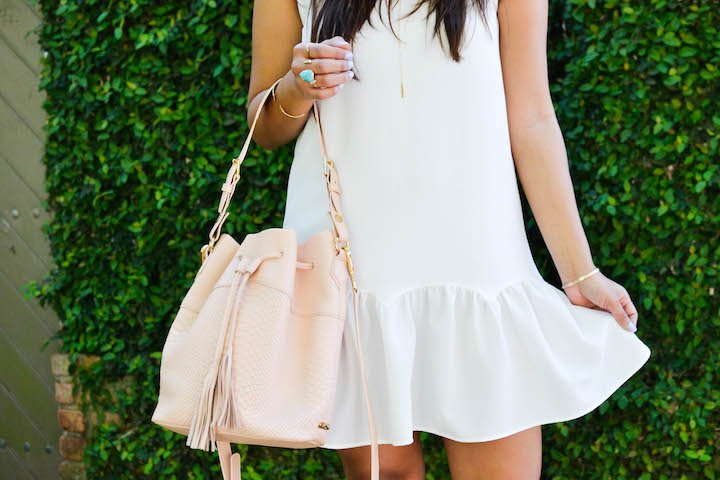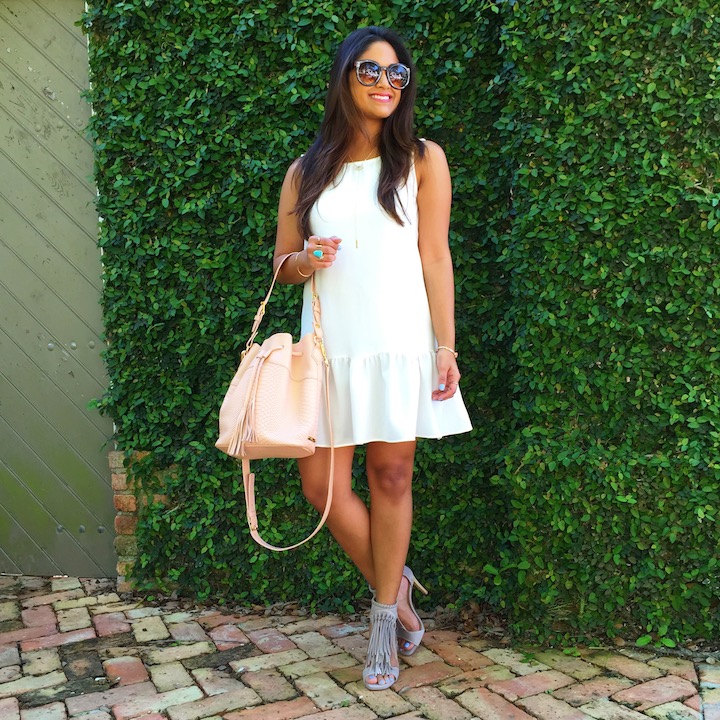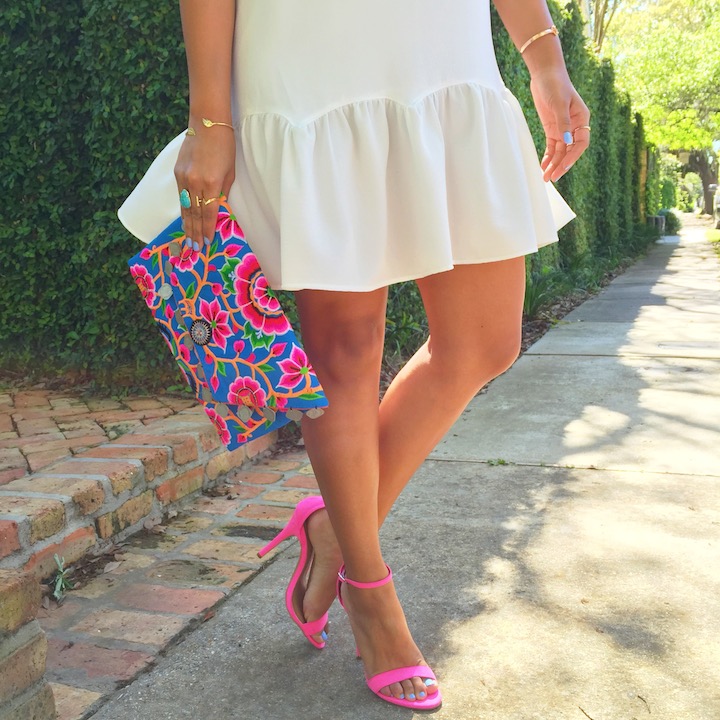 Photos by: Brooke Boyd Photo + Film
| Shop This Post |

Outfit: White Ruffle Dress c/o Shop Bella C
Shoes: Pink Heels c/o Nasty Gal-sold out (similar here) | Chinese Laundry Santa Fe Fringe Heels c/o Candy Apple (similar here) | Schutz Light Blue Rita Pumps |
Handbags: Embroidered Clutch c/o LoveBirds LA | Carly Clutch c/o GiGi New York |  Jenn Bucket Bag (designed by Haute Off The Rack in collaboration with GiGi New York)
Jewelry: Tanay Necklace, Aussie Ring, Abra Ring & Arden Bracelet c/o Kendra Scott | Evil Eye Necklace c/o Elizabeth Stone Jewelry | Small Sarra Cuff & Chloe Bracelet c/o Loren Hope
Good Morning readers, how adorable is this flirty white ruffle dress from Shop Bella C? It's the perfect Easter dress and it's also available in a beautiful coral color too (see here). I love how the the style of the dress is feminine, yet simple and versatile. As you can see from the photos, I styled the dress three different ways with the three different pairs of shoes, handbags and jewelry. Which style is your favorite, the pink shoes and embroidered clutch, the fringe heels and bucket bag or the light blue pumps and blush clutch?
Shop more Easter dresses from Shop Bella C!
P.S. I've got a funny story about flowy dresses for you. So this past weekend I wore a mini floral dress with a ruffle hem to an outdoor couples shower in New Orleans. The weather was absolutely perfect for a crawfish boil couples shower! The sun was shinning and there was such a nice breeze in the air. Perhaps it was a little more breezy than I thought it was though because when I stopped at Walgreens along the way, the most dreadful thing happened!!! I got out of the car and the wind flung my dress right up in the air and almost over my head. Needless to say, I flashed everyone in the Walgreens parking lot! I mean everyone!!! It was so windy that I just couldn't keep the dress down. I didn't even bother trying to go inside. When we arrived to the party, I held my dress down as best I could and asked all of the other girls if they had an extra change of clothes. Of course no one did so I had to go with Plan B- the makeshift romper. Yes, that's right! I safety pinned the dress in between my legs and turned that mini floral dress into quite the interesting romper. It was way better than flashing everyone at the party though. Am I right? Anyway, that's my embarrassing story from the weekend. I hope enjoyed on my behalf! Word of advice, always keep a safety pin on you when wearing flowy dresses on windy days! Even if it doesn't seem that windy!