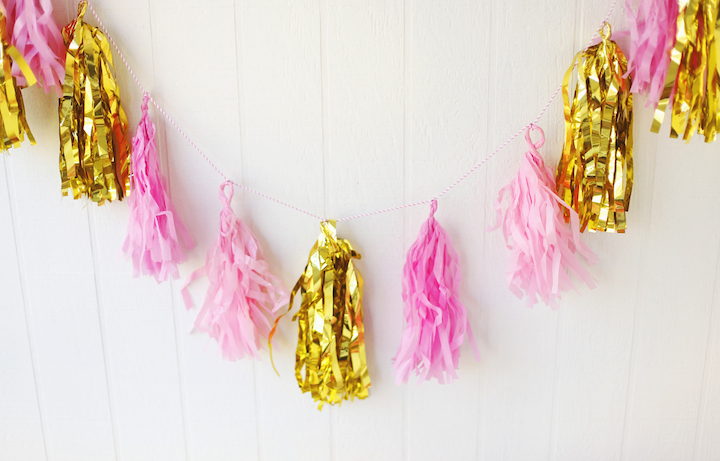 Check out my behind-the-scenes video of how to change your bar cart from morning to night for Valentine's Day! Make sure to click HD for the best quality of the video. Film by: Brooke Boyd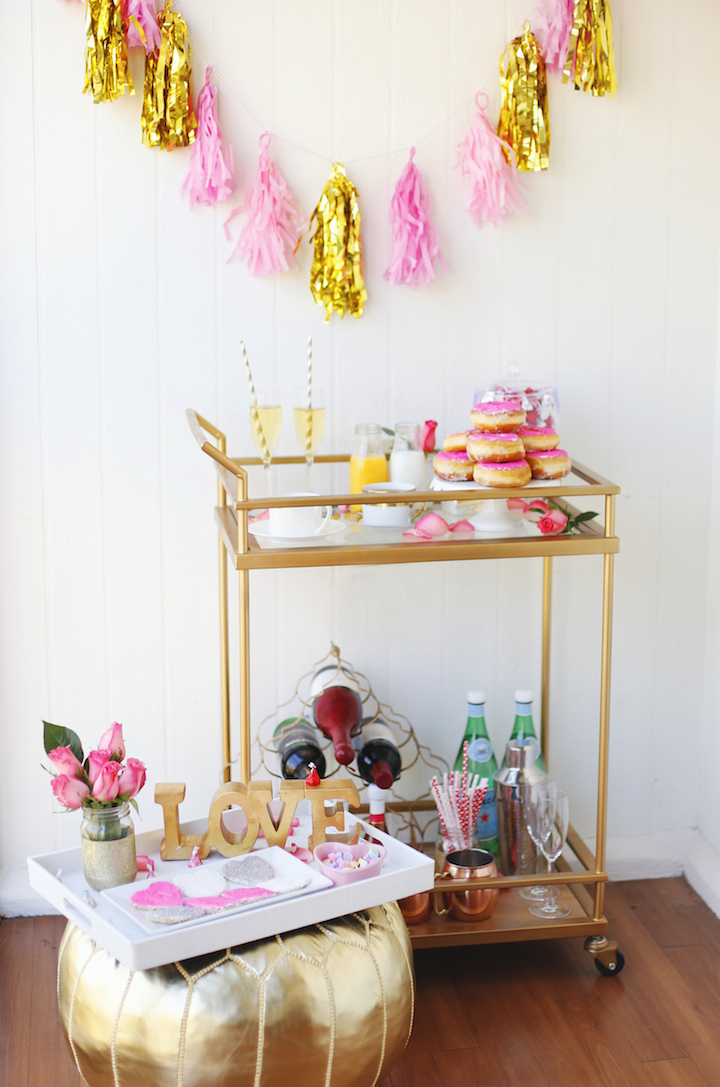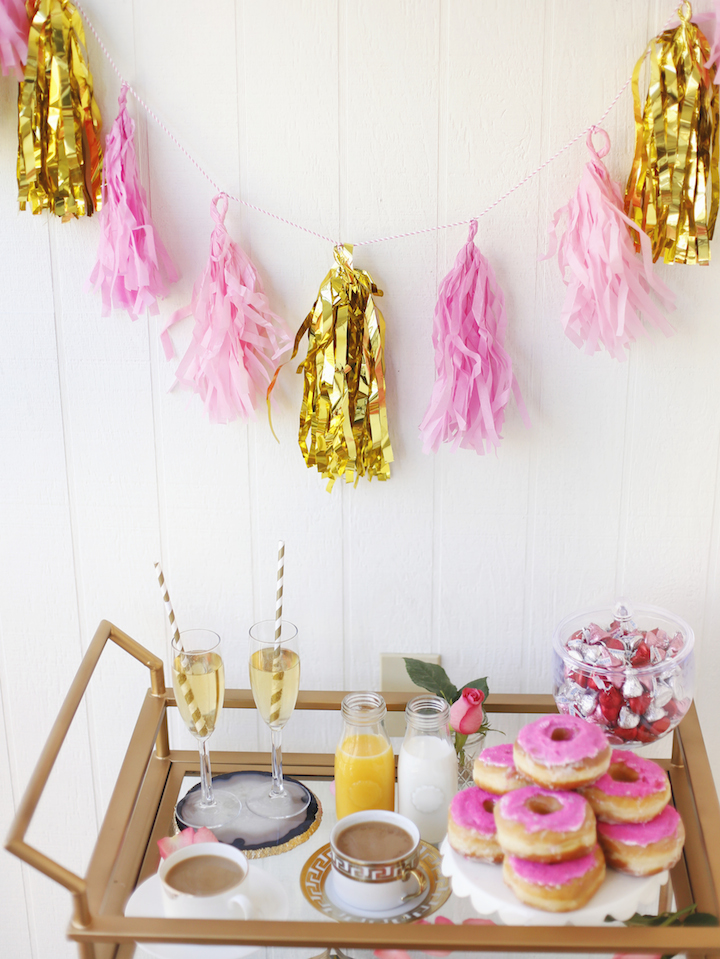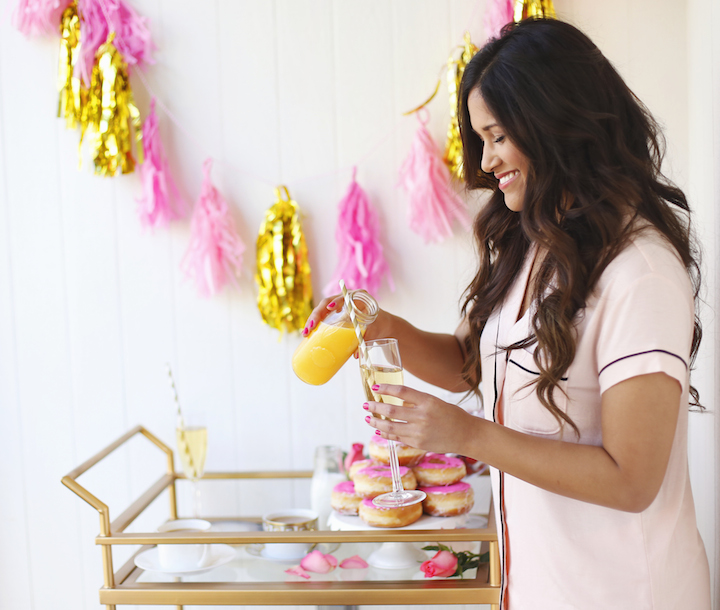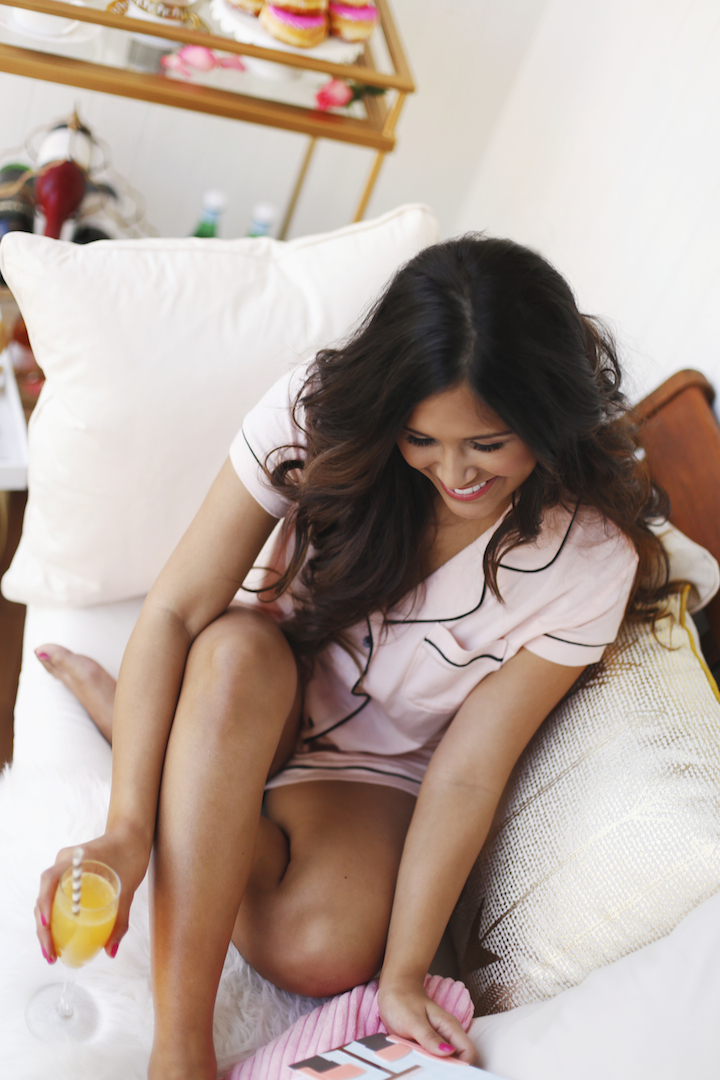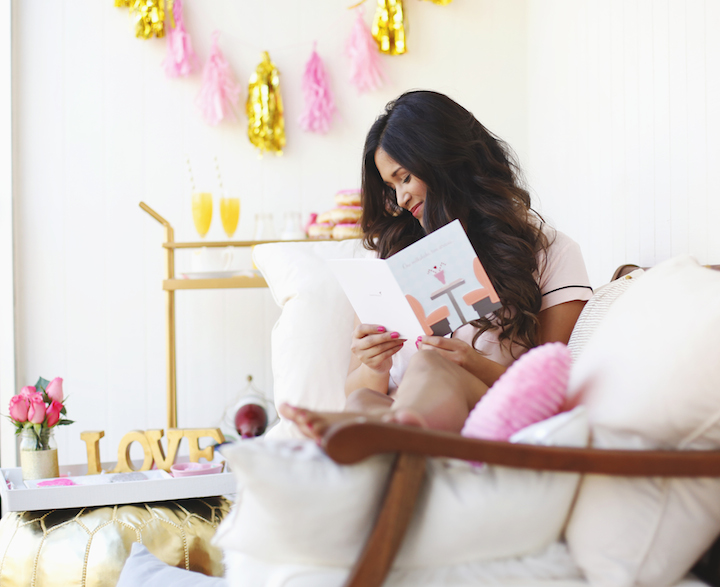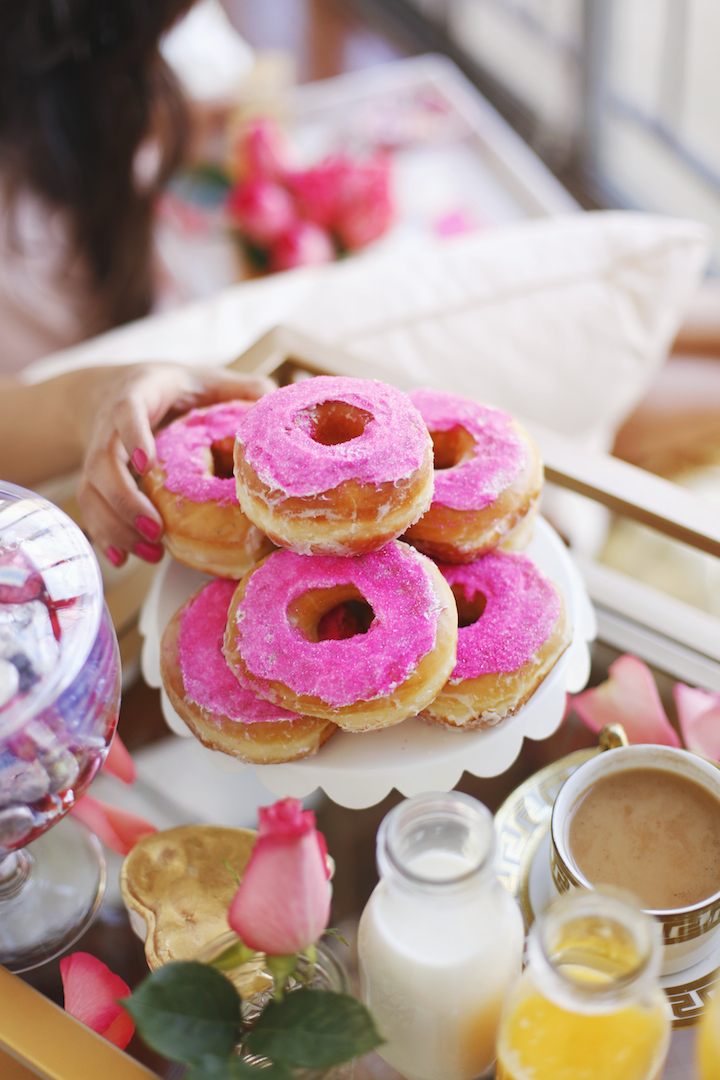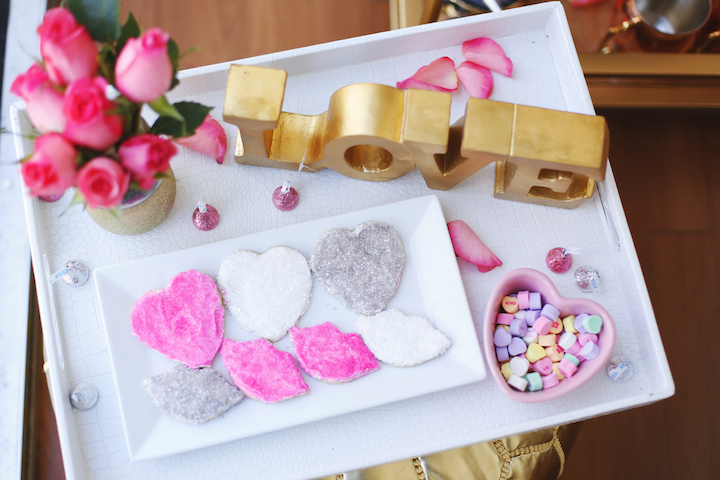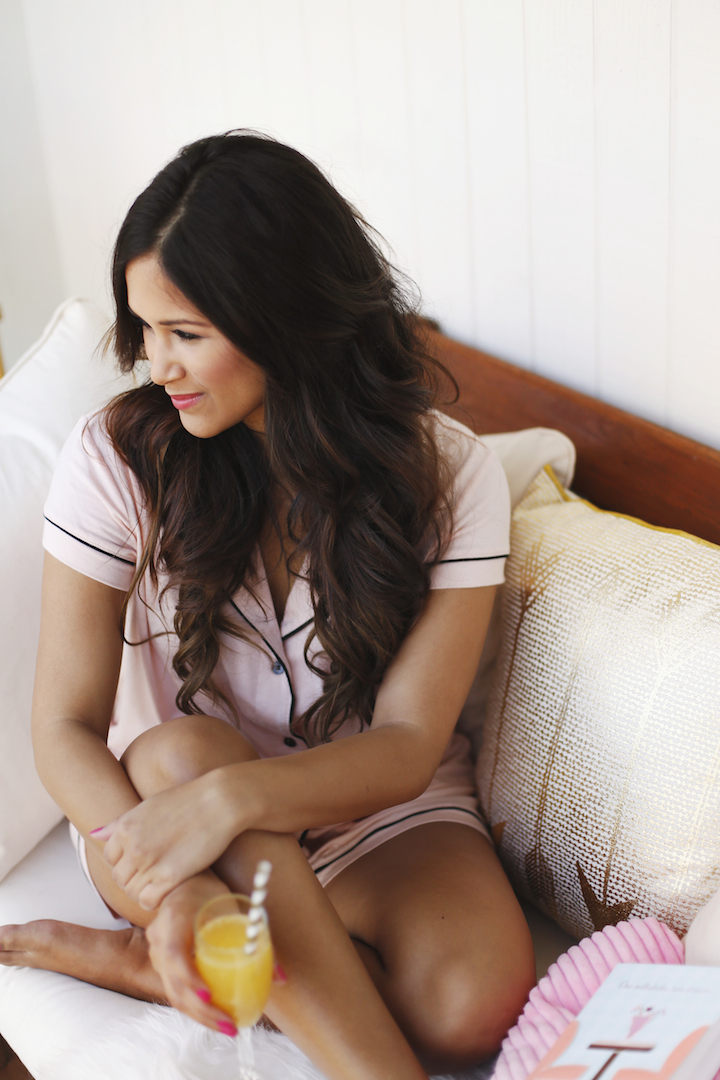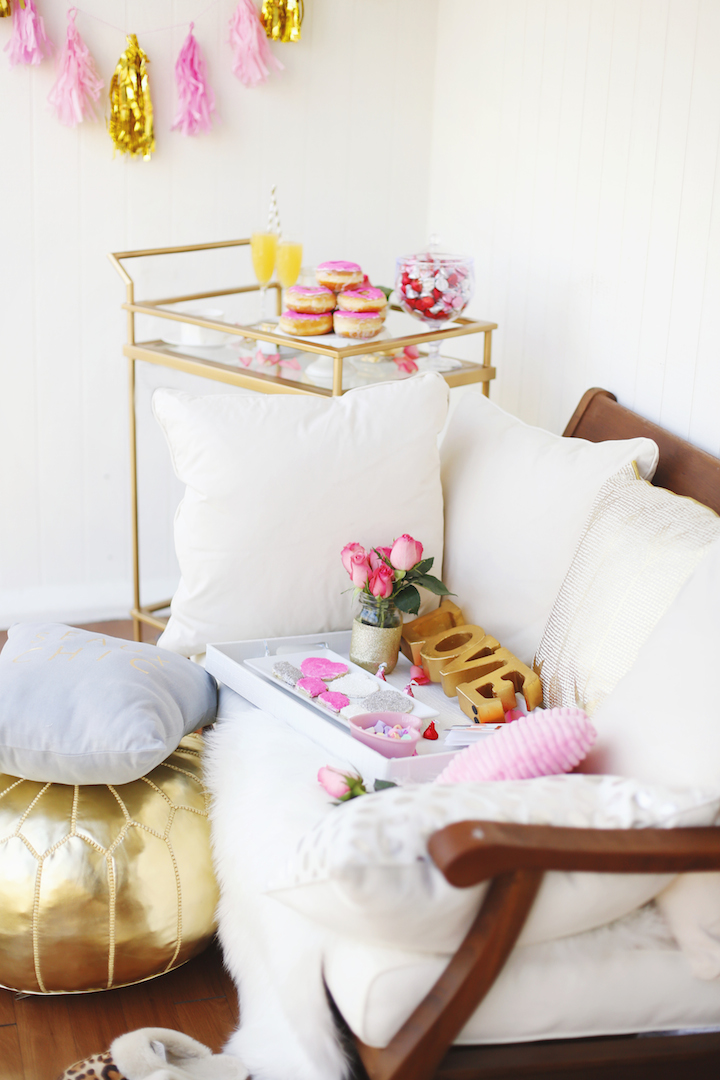 Photos by: Kaela Rodehorst Photography
| Shop This Post |

Decor Details: PJ Set  | Hair Extensions c/o Luxy Hair | Gold Moroccan Pouf c/o Lulu & Georgia | Bench w/ Cushion | Gold Heart c/o Dee Keller| Polkadot Pillow | LOVE (Hobby Lobby) | White Tray (Home Goods) 
Gold Bar Cart:   Scalloped Cake Stand | Agate Coasters | Rectangle Platter | Cocktail Shaker | 8-bottle Wine Rack | Moscow Mule Mugs | Candy Vessel  | Pink & Gold Tassels | Gold China Coffee Mug c/o Chateau En Mae | Milk & Juice Glasses (Target Dollar Section)
Hair by: Rachele Cooper | Makeup by: Melanie Hollander
Good Morning readers, I hope you all had a wonderful weekend! Mine was full of King Cake, Parades, Gumbo, Bloody Mary's, mimosas, Crawfish Étouffée and more King Cake. We tend to eat a lot during Mardi Gras or at least I do! Haha! Thank goodness that I'm attempting a juice cleanse with Raw Republic the day after Mardi Gras (Fat) Tuesday!
Anyway, I'm so proud of myself for putting together the most adorable Valentine's Day breakfast bar cart with a little from my best-friend/life-assistant, Haley of course! Somebody has to keep me in line otherwise I'll procrastinate and try to throw everything together last minute.
Easy Pink Sprinkled Donuts & Cookies: Have you ever picked out a delicious looking box of pre-packaged colorful sprinkled donuts at the grocery store and they turned out to be awful? I know I have so instead of trusting the grocery store again, I went to the best donut house in town, Butter Krisp and purchased a dozen glazed donuts fresh out of the oven! I let them cool when I returned home and then I smoothed some whipped frosting just over the top of the donuts to make the sprinkles stick.  I chose pink sparkly sprinkles to go with my Valentine's Day Breakfast theme.
As for my homemade Valentine's Day Cookies, you don't want my baking advice! Trust me! My hearts and lips came out looking like footballs and soccer balls the first time I baked them. I had to take the cookie cutters to the already baked cookies again to cut them into the correct shape. Yes, that did do the trick, but I know there is more efficient way to get the job done. I recommend following this recipe via Southern Living–> Heart Cookies- How to
For the rest of my bar cart, I included all of our (me & Blake) favorites like coffee, mimosas, hershey kisses, pink roses and colorful heart candies. I found the little heart bowl at Home Goods and the plastic candy vessel at Target.
Make sure to check back later this week to see the details on how I changed the bar cart from morning to night to celebrate Valentine's Day. Also, you might want to check out my Gal-entine's Day post in case you plan on spending Valentine's Day with your gals!–> Gal-entine's Day Sleepover
Special thank you to Brooke for putting together this adorable behind the scenes video of my Valentine's Morning & Night post! Check it out on my Youtube channel here–> DIY: How to Decorate for Valentine's Day!