Hey everyone, I've got a special guest (aka the husband) on the blog today to help me share some new activewear outfits for both men and women available at Nordstrom right now. While I may not be at the gym everyday, you can pretty much always catch me wearing some type of activewear outfit. So I figured I should start sharing more of my casual daily looks with you and talk about where I like to shop for my athleisure outfits. Especially since I know I'm not the only one who does this considering that "athleisure" is an official word now. LOL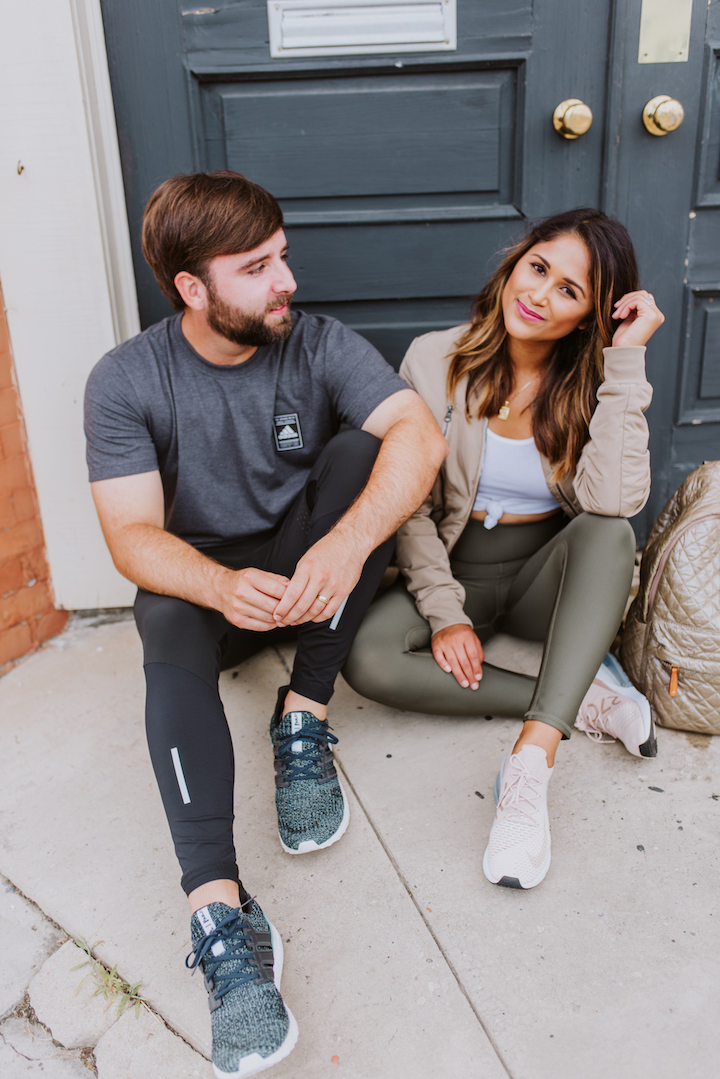 | Shop Our Looks |

Jenn's Outfit: Alo Airbrush Techl Lift High Waist Leggings —wearing sz S | Alo Off Duty Bomber Jacket — wearing sz XS | Onzie Crop Top (similar here & here) | Nike Air Max 270 Flyknit Sneaker (runs TTS) | Ray-Ban Round Sunglasses | Bracha Initial Pendant 

Blake's Outfit: Nike Flex Running Pants | Adidas Shirt | Adidas Parley UltraBoost Sneaker
Blake on the other hand, actually always works out in his activewear clothes. So he is the exception to this "athlesiure" blog post! However, when Blake and I actually do hit the gym together, we usually run errands after or grab breakfast or lunch.  So when it comes to shopping for activewear, we both like to choose pieces that are not only fit for the gym, but also comfortable for wearing around town. For example, I love wearing little cropped tops, but when I do, I make sure to wear high waisted leggings and pack a jacket in case we go somewhere after.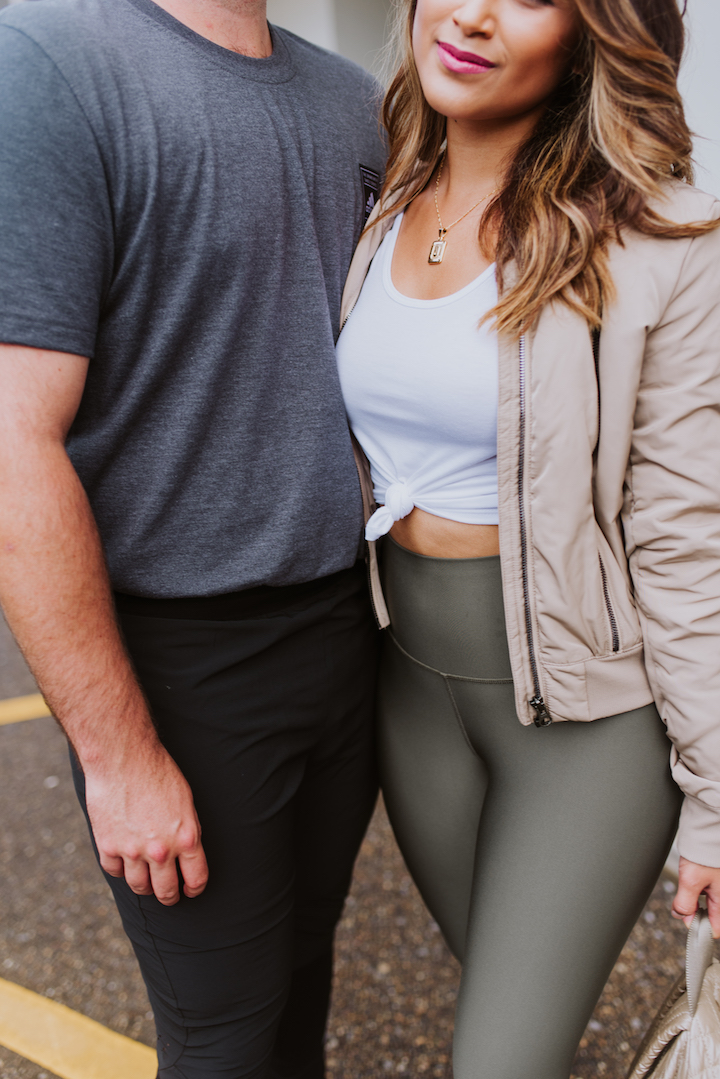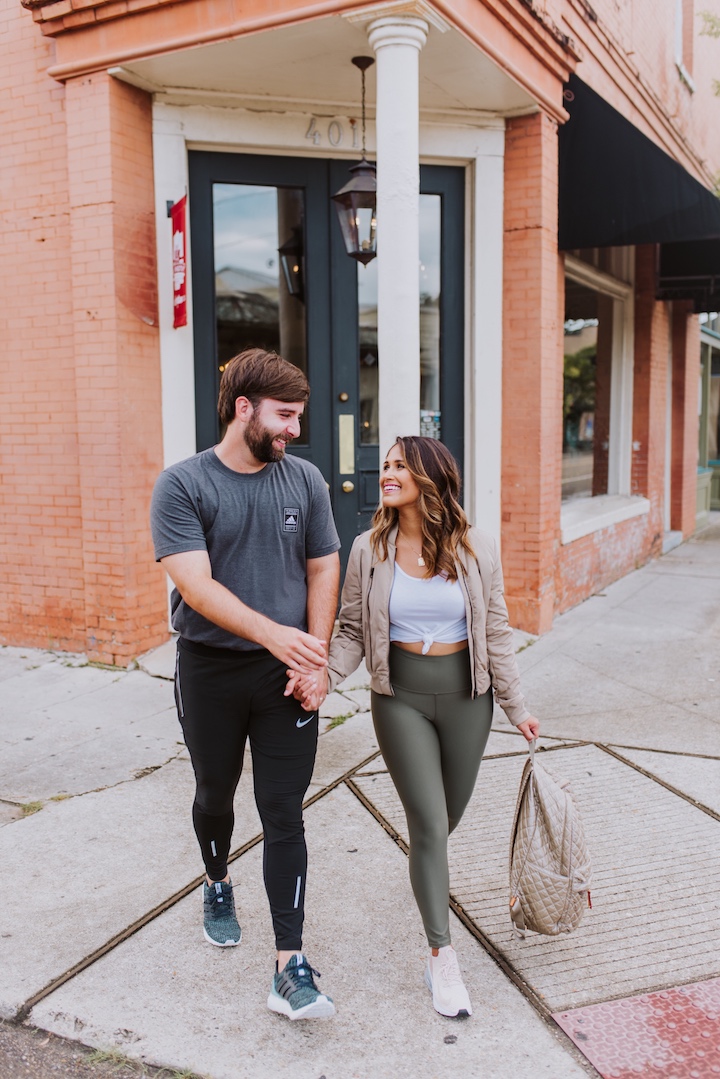 I'm obsessed with these new  Alo Airbrush Tech Lift High Waist Leggings  because not only are they extremely flattering and hold you in, but they're also very comfortable and the perfect ankle length for petite people. As for my shoes, I can never say no to nude sneakers especially when they look as fly as the Nike Air Max 270.
| Shop My Top Nude Sneakers |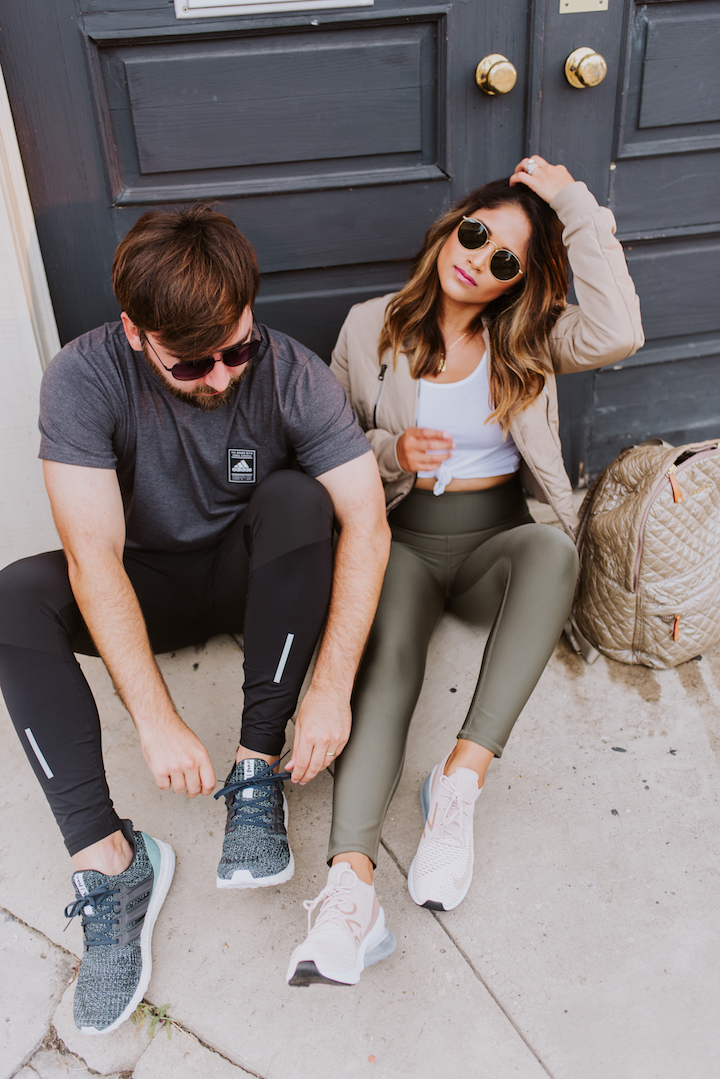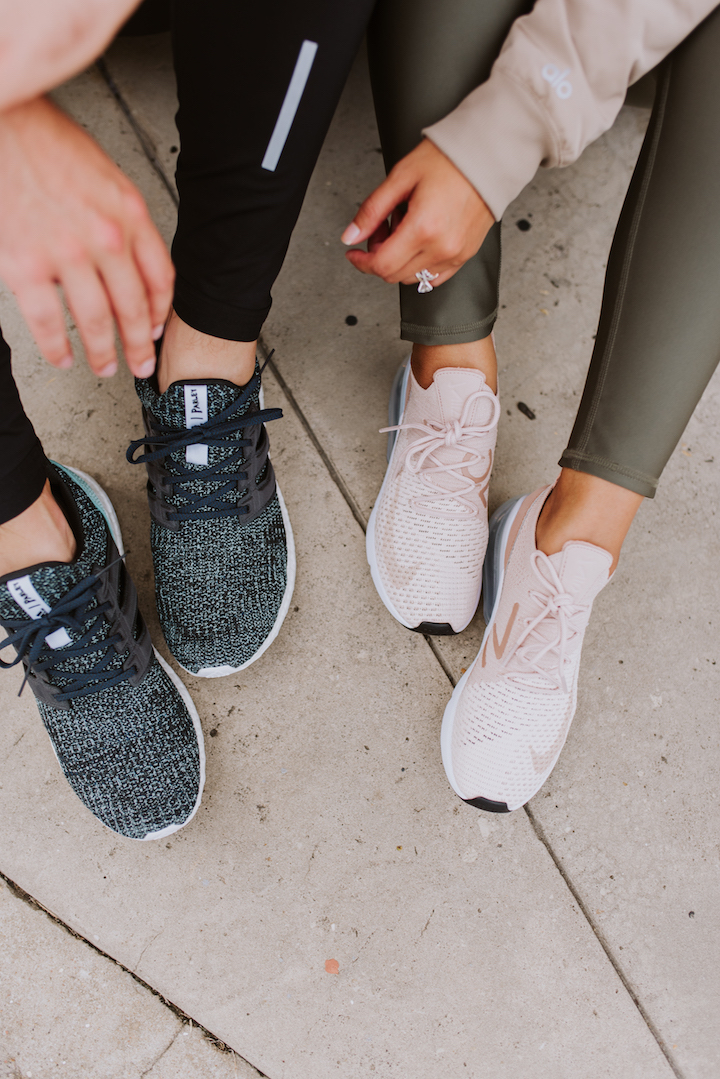 As for Blake's look, I recently convinced him to buy these Nike running pants from Nordstrom because they looked so good on him and Blake actually runs outdoors year round so he'll get a good use out of them. Plus they look a little more appropriate for a restaurant than running shorts.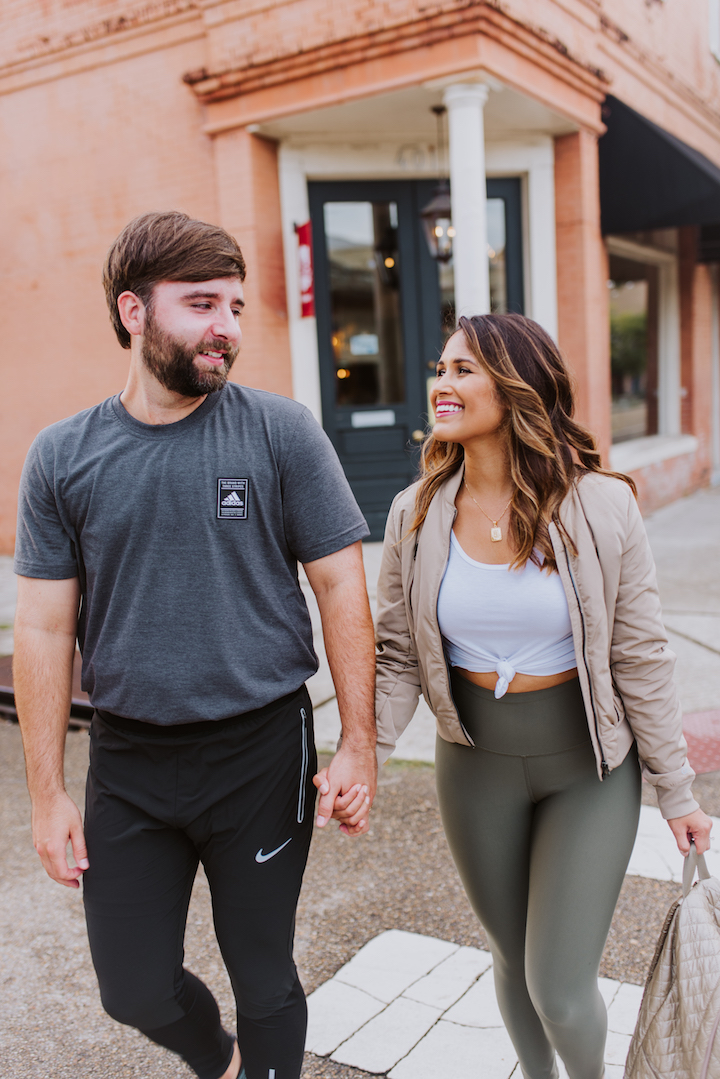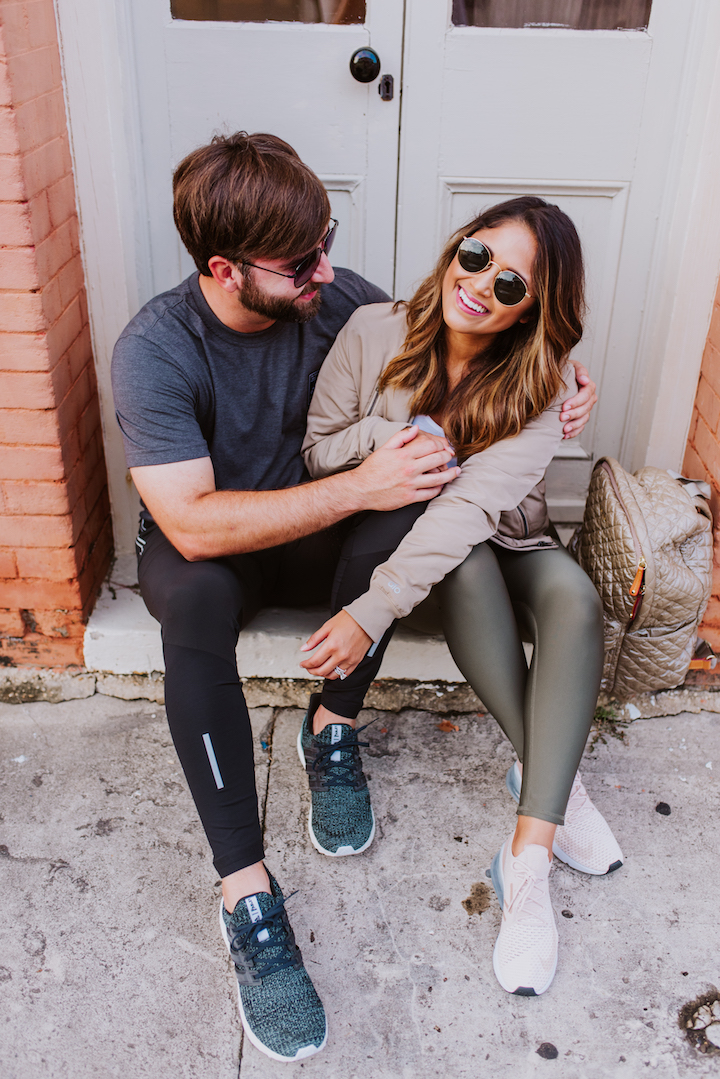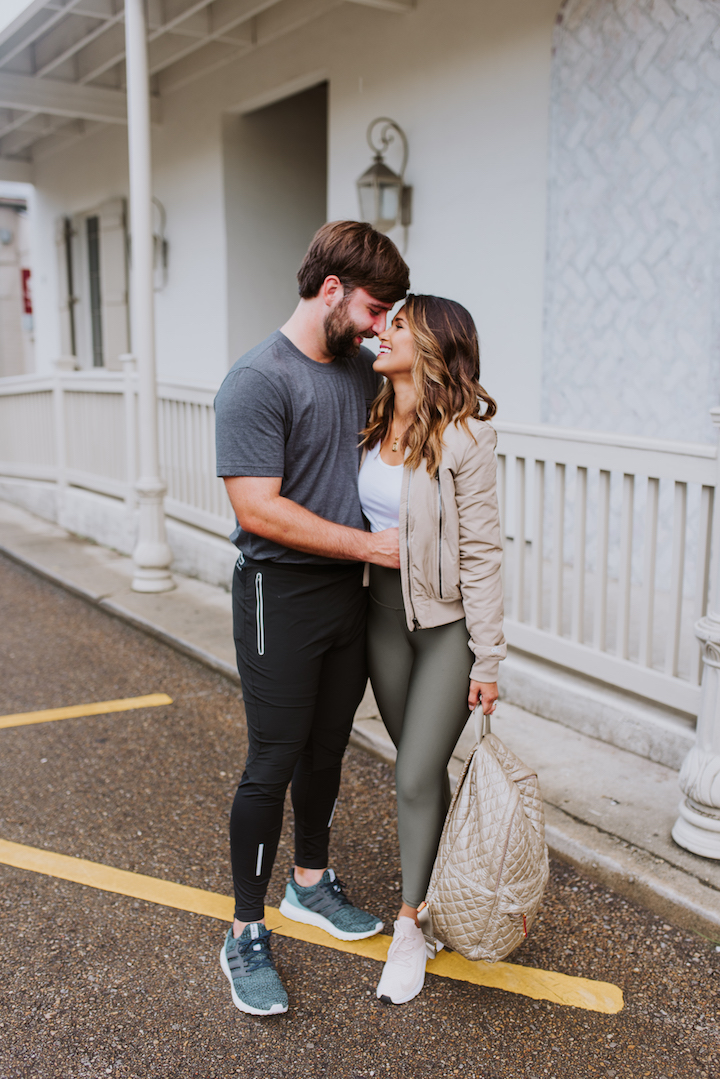 | Shop Our Looks |

Jenn's Outfit: Alo Airbrush Techl Lift High Waist Leggings —wearing sz S | Alo Off Duty Bomber Jacket — wearing sz XS | Onzie Crop Top (similar here & here) | Nike Air Max 270 Flyknit Sneaker (runs TTS) | Ray-Ban Round Sunglasses | Bracha Initial Pendant 

Blake's Outfit: Nike Flex Running Pants | Adidas Shirt | Adidas Parley UltraBoost Sneaker
This post is in partnership with Nordstrom, a brand I love. All opinions and selections here are my own. Thank you for supporting the affiliate posts who make this blog possible.