Happy Friday everyone and Happy Birthday to me! In honor of turning 28 today, I thought it would be fun to share 28 fun facts about myself. I'll also be sharing more details about these facts on my Instagram stories this weekend. But first, I have to thank Sucre in New Orleans for making me the most beautiful macaron cake I've ever seen. And would you believe if I said that it tasted even better than it looked? Because it did!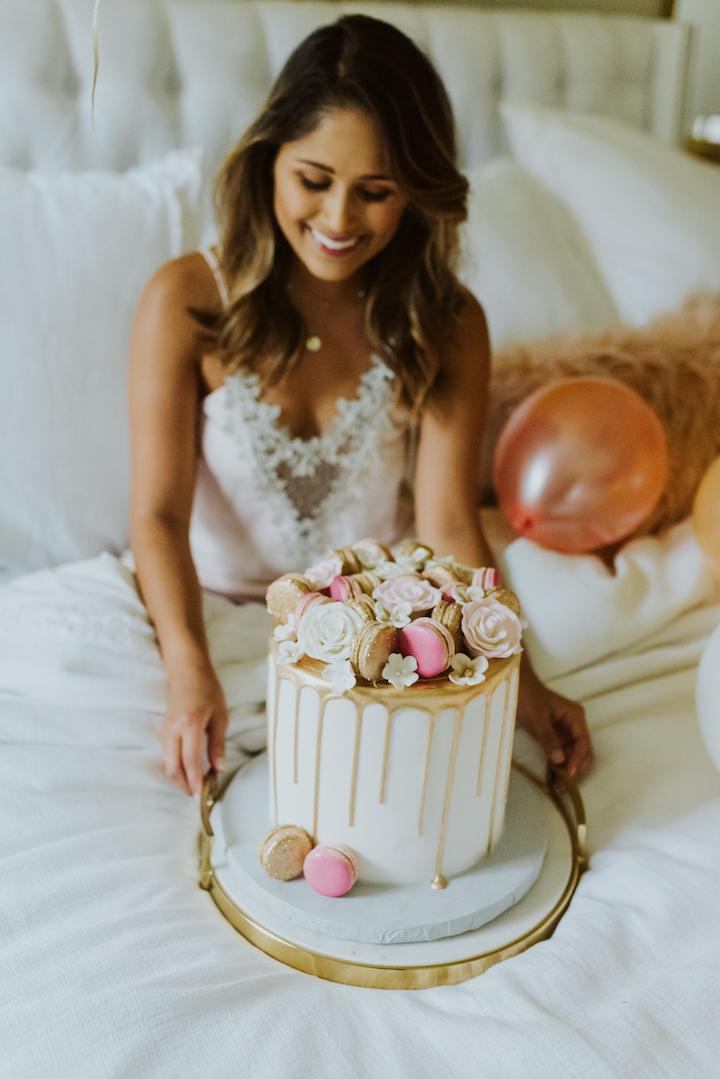 Find my silk nightgown here—> Flora Nikrooz Alessia Chemise in Buff
Home Decor Details: White Duvet c/o Serena & Lily | Upholstered Headboard | Gold Birthday Balloons | Gold Arch Wall Mirror
28 Fun Facts About Me:
I'm Filipino and Italian. My mom is full Italian and my dad is full Filipino.
2) My husband, Blake and I have been together since high school so we're currently going on 13 years! Crazy, right?
3) I interned in Disney World when I was junior in college. I wanted to be a princess (Jasmine or Pocahontas), but I was "too short" so I ended up taking out at the trash at Peco's Bill in Magic Kingdom for four months of my life instead. Let's just say I don't consider Disney World to be the most magical place on earth anymore. LOL
4) I'm always hungry and never turn down Chick-fil-a.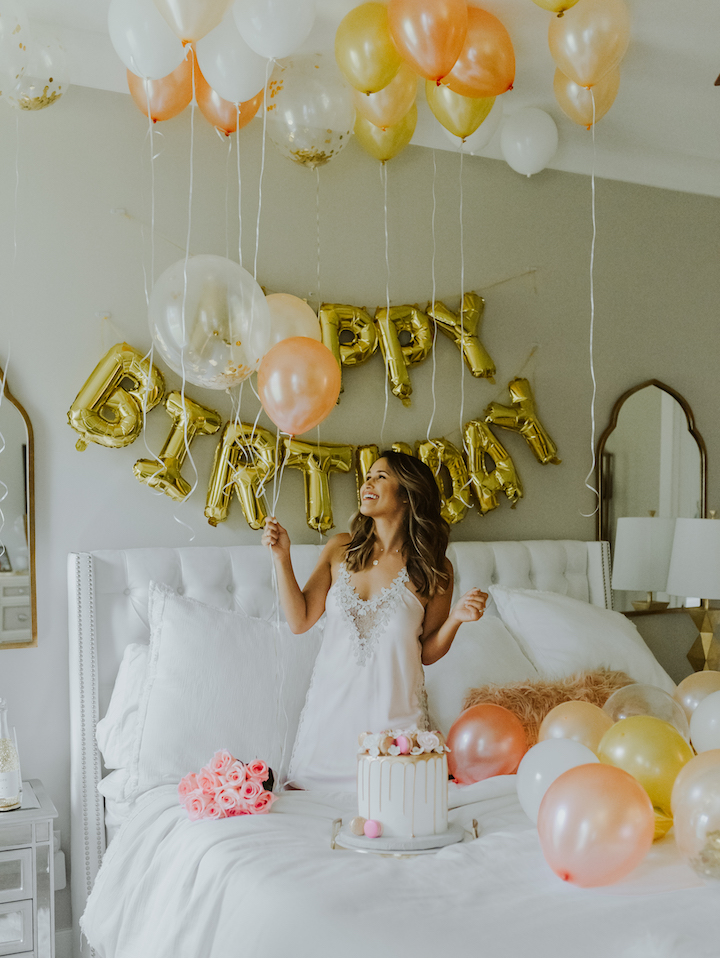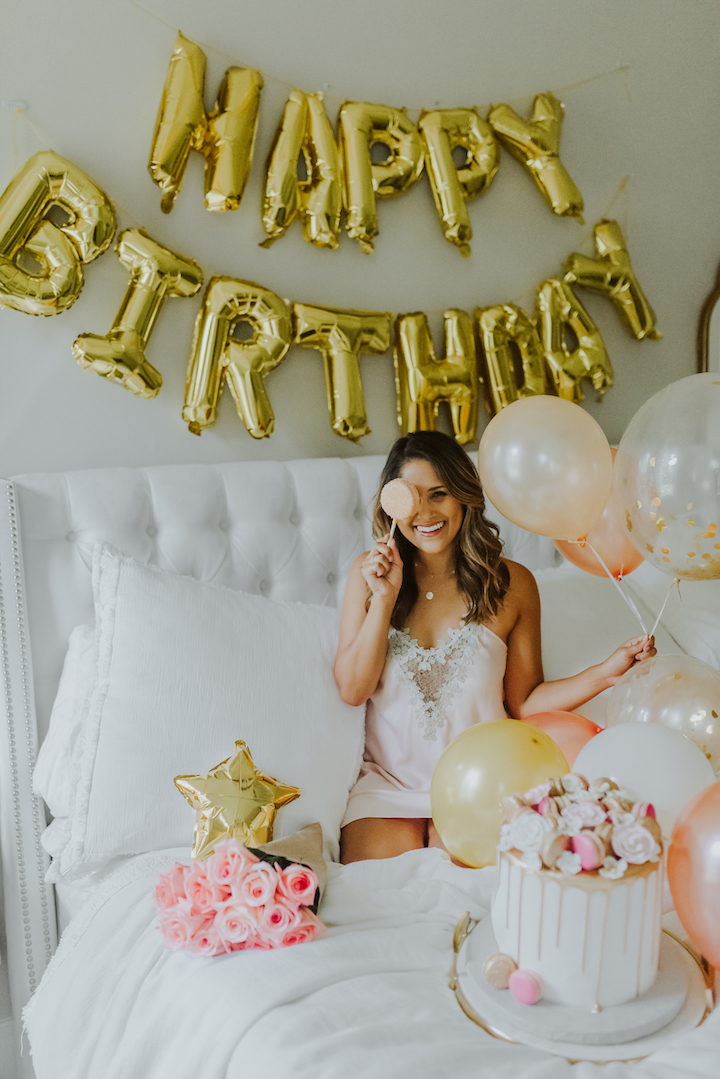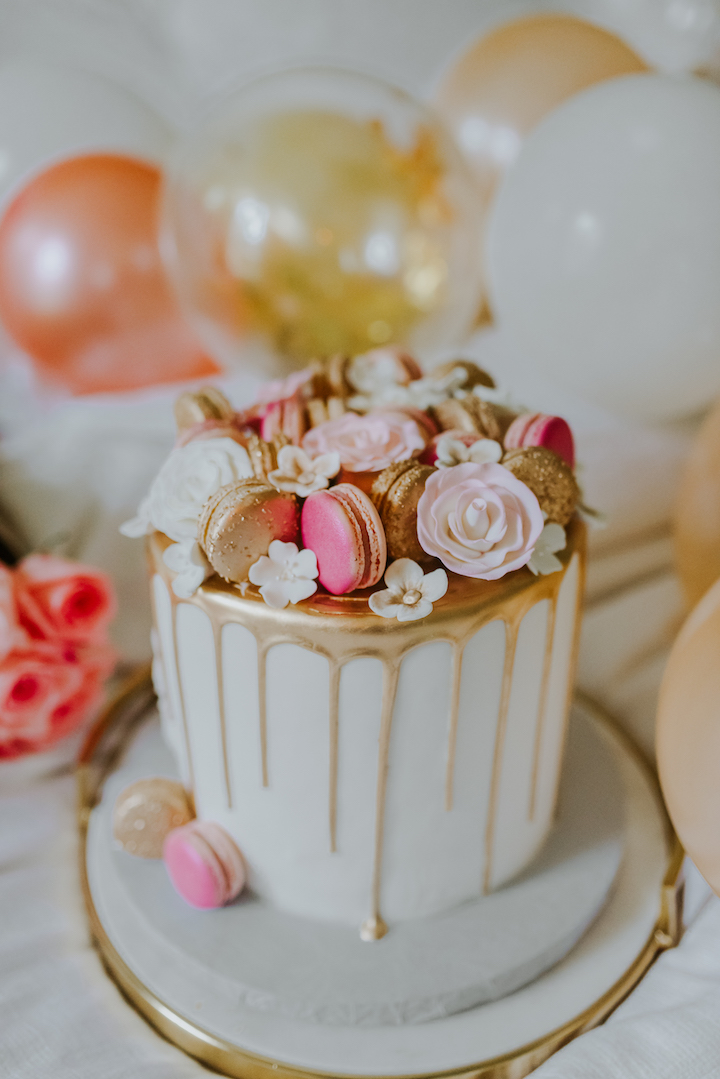 5) My personal blog interview was published in the LiketoKnow.it coffee table book this past month. See here—>Stories From The Influencer Next Door
6) I casually host dance parties and perform impromptu musicals for my husband all the time even when doesn't ask me to, which by the way….he never asks me to! LOL
7) When I was little I wanted to be an actor and singer. I actually still dream about it.
8) I auditioned for the tv show Glee when I was in college. Obviously, they didn't cast me, but we all know they're clearly missing out. 😉
9) I have zero concept of time all thanks to my mother who made me late for everything growing up, but I'm working on it. I always set my clocks 10 minutes ahead to try and help.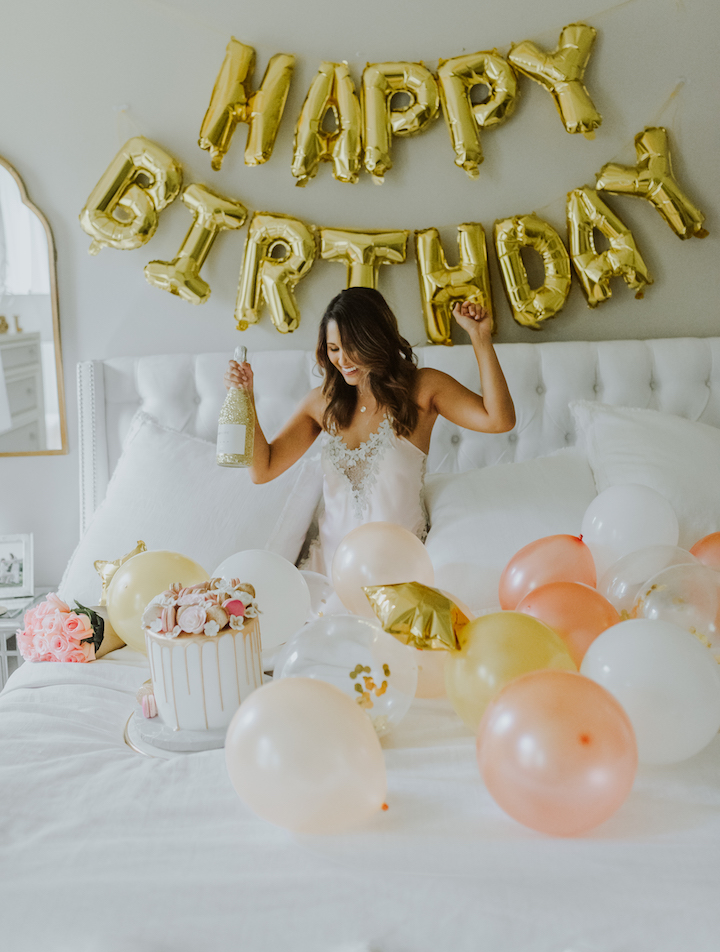 Find my silk nightgown here—> Flora Nikrooz Alessia Chemise in Buff
Home Decor Details: White Duvet c/o Serena & Lily | Upholstered Headboard |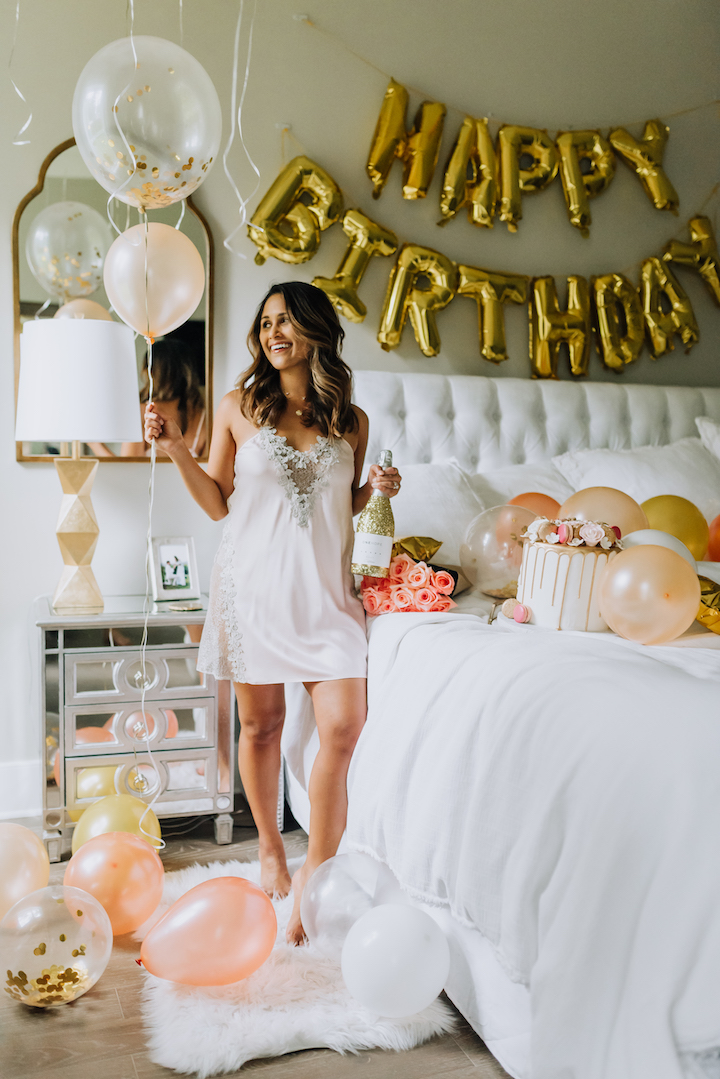 10) I hate scary movies and can't even watch the previews. When Blake and I go to the movies, I wait outside of the theatre until the previews over and then he calls me in. That's how big of a baby I am!
11) When I started my blog, I barely knew how to use a computer! Now I run my own website.
12) I went to LSU for 5 years, but never graduated because my blog started bringing more opportunities than school did. However, I can always go back one day! Maybe.
13) I never let Blake and I go to bed mad at each other.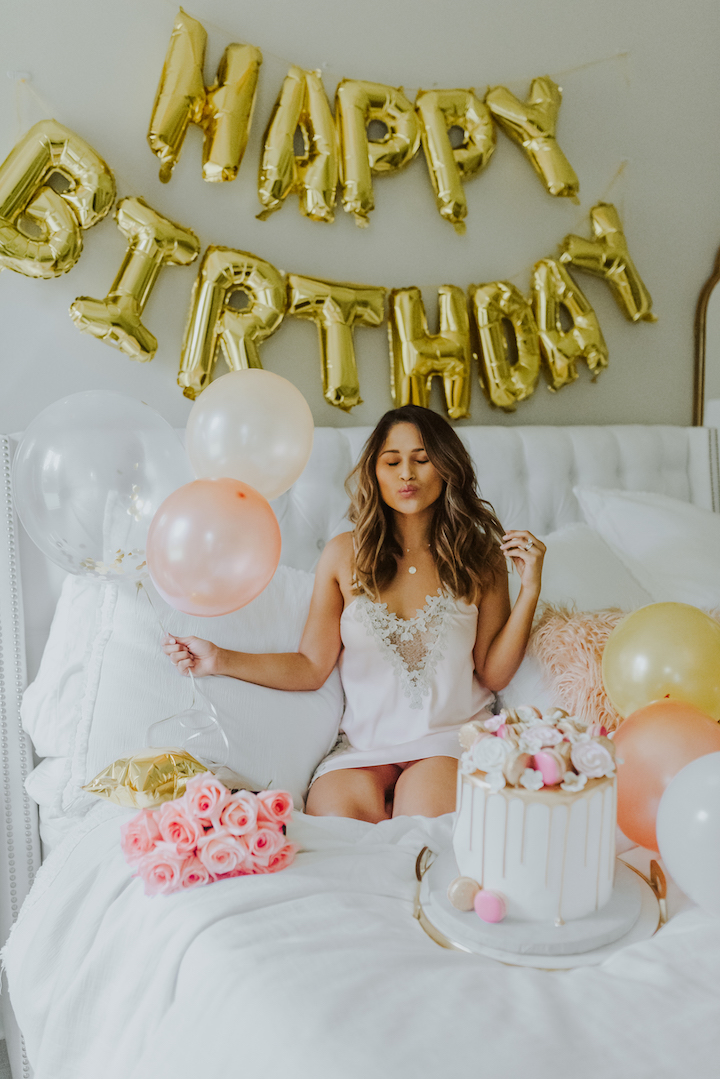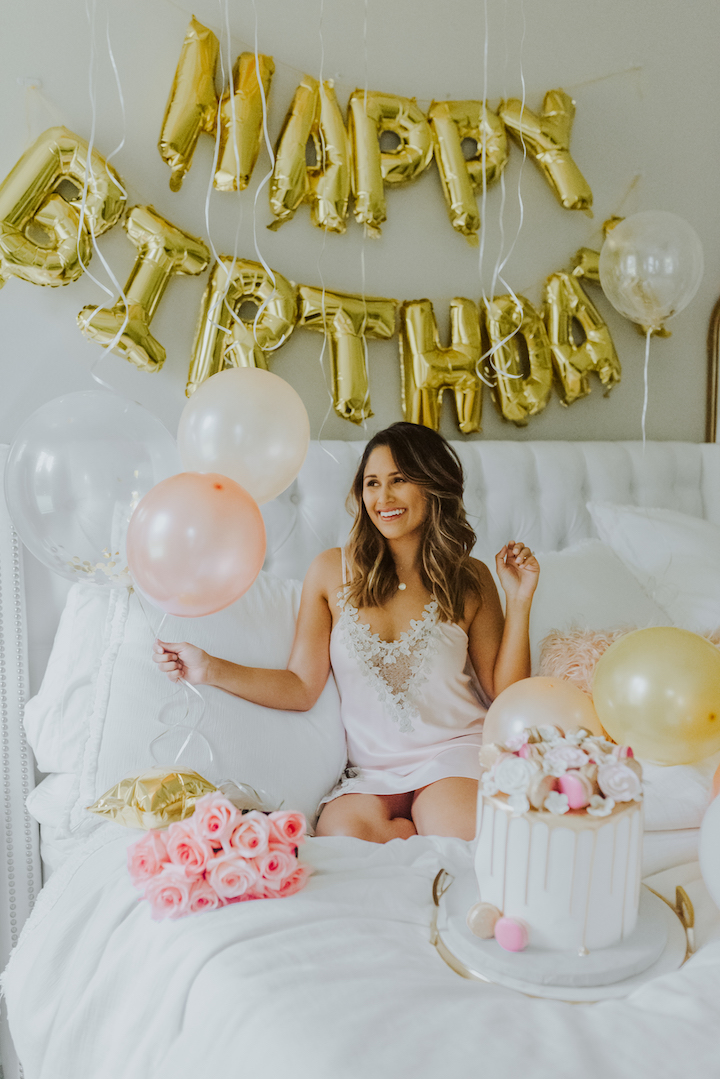 14) I love hot coffee in the morning, which I put in the microwave at least five times before finishing it.
15) Some of my favorite shows include: Friends, The Office, Modern Family and This Is Us
16) While I love brunch, it also stresses me out because I hate skipping lunch. LOL I love all meals though and the thought of skipping one gives me anxiety.
17) I'm a notorious overpacker, yet I never even get around to wearing even half of the things I packed.
18) I am the most positive person you will ever meet. My glass is always half full!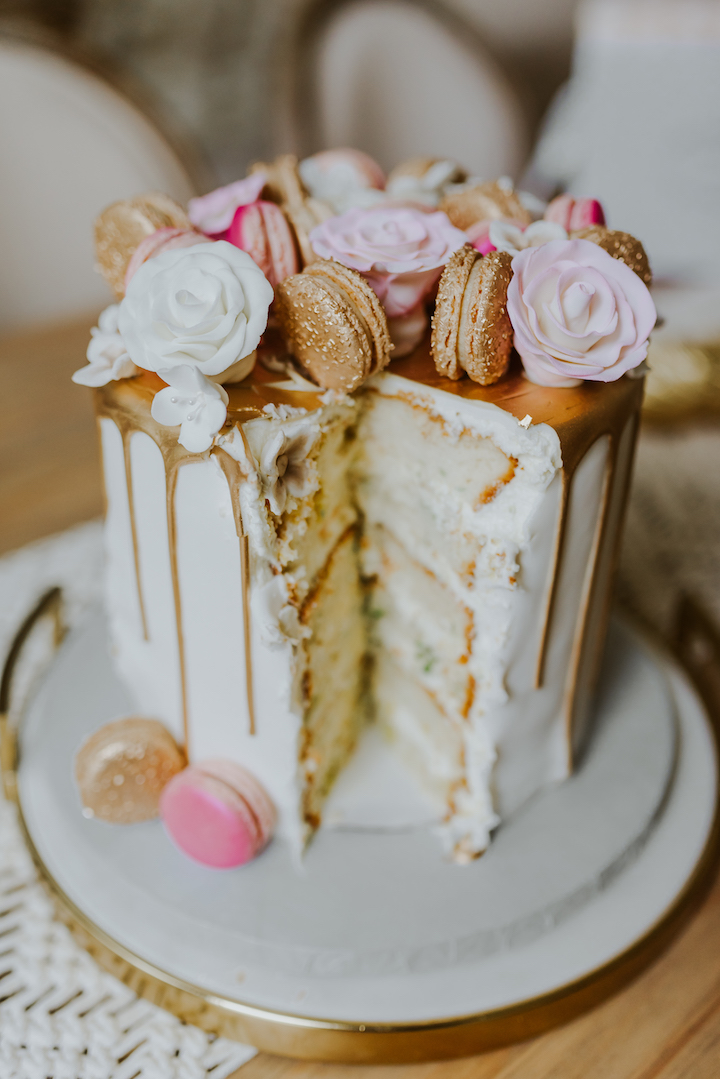 I thought I knew 28 fun facts about myself, but now I'm running out of things to say so I'm going to let Blake take over. This should be interesting…
8 more things you don't know about me (written by Blake):
19) Jenn is a terrible driver. Do not get in the car with her or ask her for directions unless you're looking for the nearest Chick-fil-a.
20) She used to only watch the Disney channel until I recently converted her to Netflix this past year.
21) Jenn doesn't know how to cook, but she always knows how to make me laugh. She has the best sense of humor and always knows how to laugh at herself.
22) We almost didn't get to go on our first date because she was in trouble for leaving the garage door open.
23) Her meal was only $4 on our first date. Clearly that was a trick. Let's just say it's never been under $4 since!
24) She has made me multiple scrapbooks over the years "that I read everyday because I love them!" 😉
25) She'll always make you feel like the smartest person in the room…;)
26) Every morning when I bring her coffee in bed, she says "bring me my robes!" like she's the queen of the house or something. LOL! She also requests a pair of socks her feet are always cold.
27) She dances around the house way more than y'all witness on Instagram stories.
28) She is literally the most annoying person I know, but I can't imagine anyone else more annoying that I would rather spend the rest of my life with! Happy Birthday Jenn! I love you!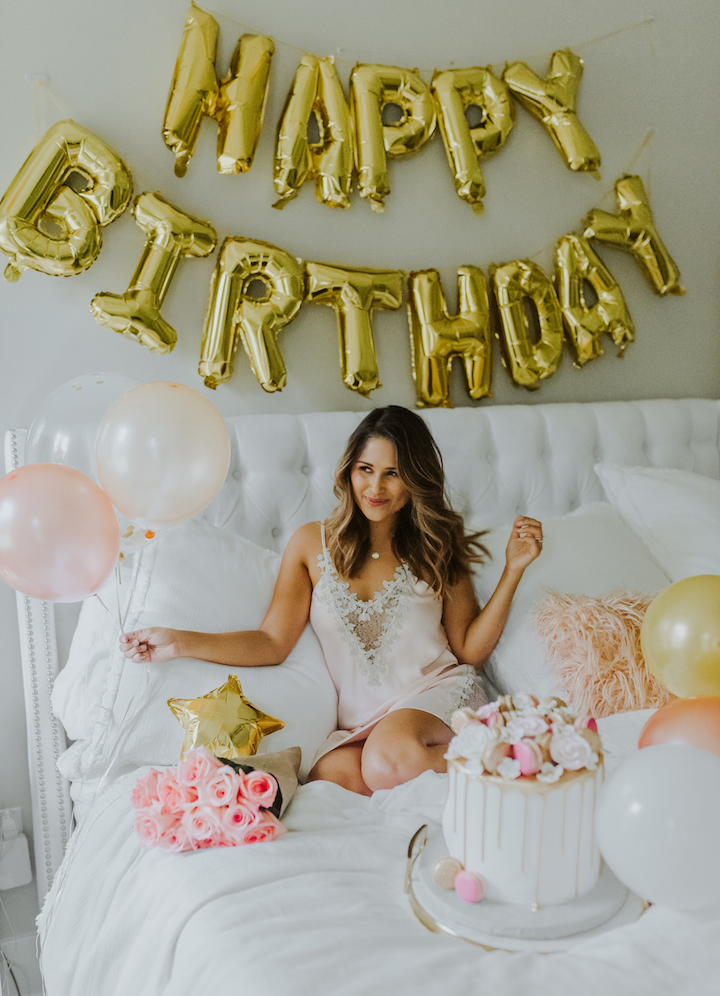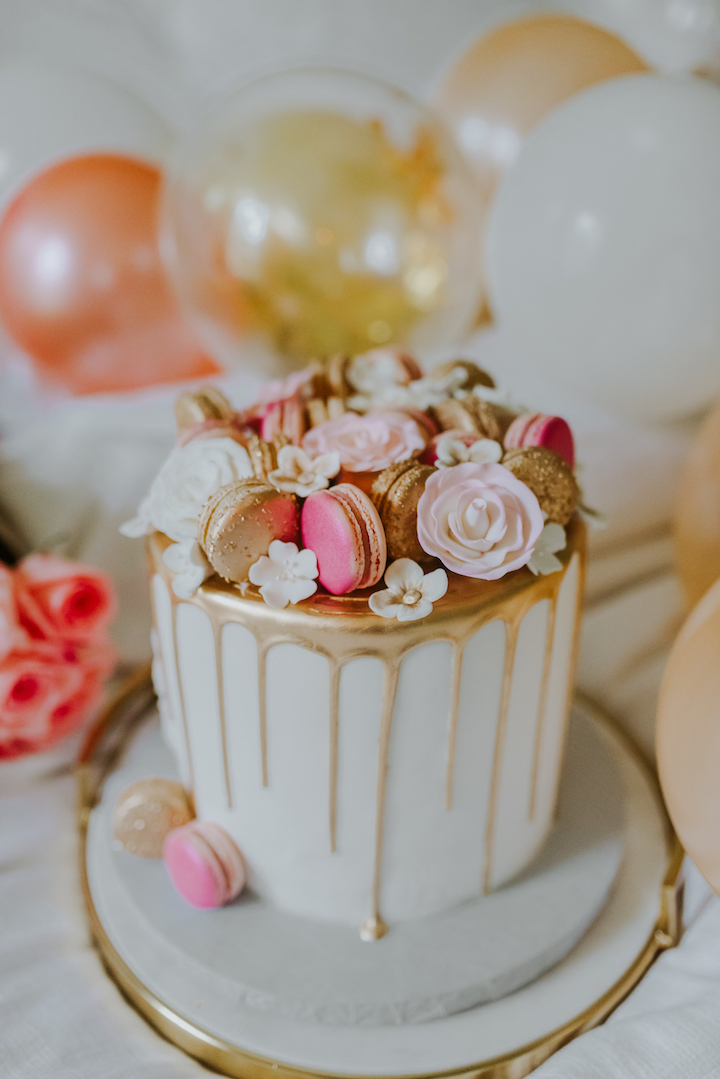 SaveSave
SaveSave
SaveSave