Hey everyone, today I'm finally sharing my Uniworld Paris to Paris River Cruise Recap. Blake and I went on our first river boat cruise through Paris and Normandy  this past October on the B ship, which is one of Uniworld's newly renovated ships. We had an absolute blast exploring Paris, Rouen, Versailles and more with our U hosts. What are U hosts? They're two fun and knowledgable hosts that work with U by Uniworld to guide the guests through all the cities they explore on the cruise, which is super ideal when you're visiting new places in a foreign country. This was our first time to Paris so we were clueless and really enjoyed having guides to ensure that we had the best experience.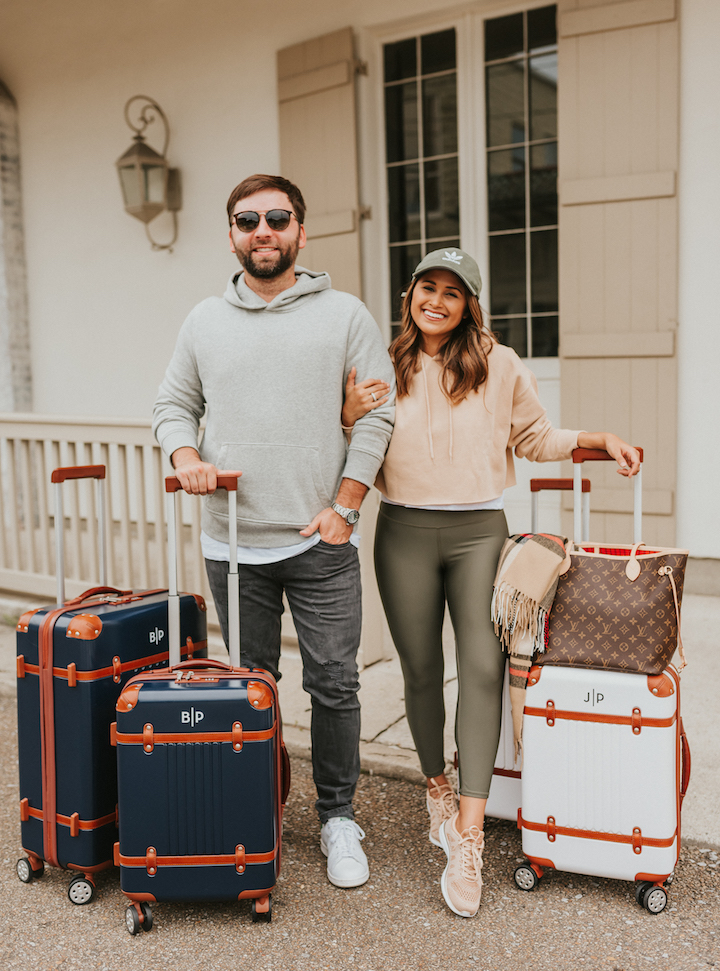 | Shop Our Travel Looks |
Jenn's Outfit: Alo Airbrush Tech Lift High Waist Capris | Out From Under Cropped Hoodie Sweatshirt | APL Sneakers | Adidas Hat |Mark & Graham spinner set
Blake's Outfit: Grey Traveler Jeans | Vintage Soft Pullover Hoodie |Men's adidas Originals Stan Smith Casual Shoes |Mark & Graham spinner set
On our first day in Paris, we boarded the B ship and ate dinner in the dining room before our hosts took us to see the Eiffel Tower at night. The boat was docked near Tour Eiffel so we all just walked together in group. There were only about 70 guests on board so all of our tours were very small and intimate, which we really liked because it made all of our tours and excursions more enjoyable.
The U hosts knew all the best spots to view the Eiffel Tower as well all of the history behind it. Since it was our first time ever seeing the Eiffel Tower, it was magical getting to see it all lit up and twinkling at night. It was definitely a moment I'll never forget.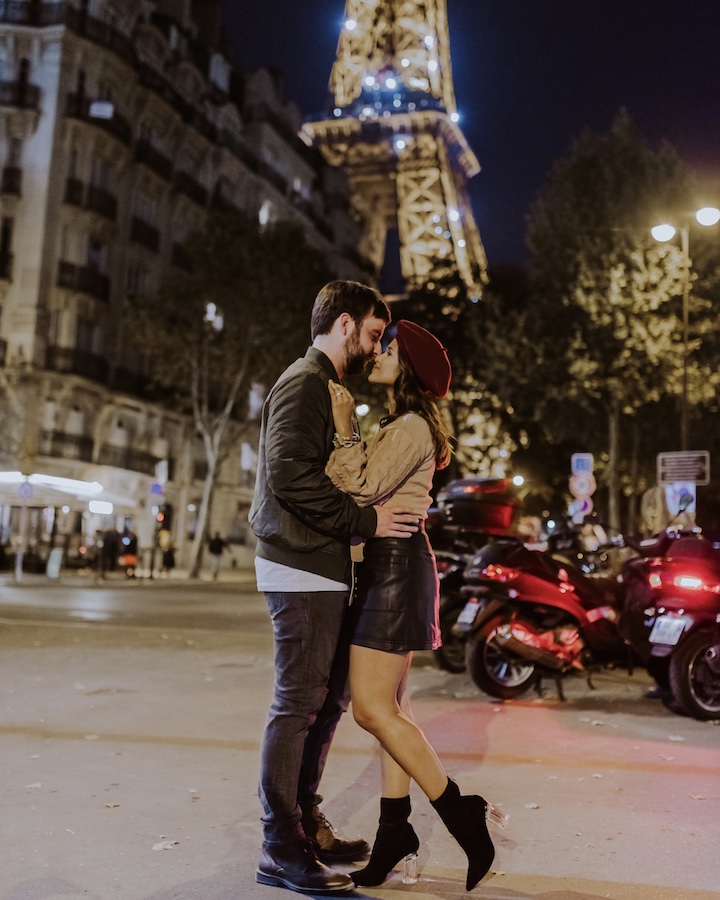 | Shop This Look |
Jenn's outfit: Tularosa Sari Wrap Sweater in Tan | Free People High A-Line Faux Leather Miniskirt (also available here) | Hat Attack Wool Beret in Burgundy | Emma Booties |
Blake's Outfit: Jeremy Fashion Boots Goodfellow & Co Tan | Grey Traveler Jeans | Bomber Jacket
On Day 2, we sailed to Conflans-Sainte-Honorine to tour the Palace of Versailles. The excursion was included with the cruise package and came with a guided walking tour, which was so nice because Versailles is so overwhelming that I wouldn't have even known where to start. 
The photo below was taken right outside of Marie Antoinette's hamlet.
| Shop This Look |
Outfit: Hudson Jeans Barbara High Waist Skinny Jeans | Highbury Sweater Tank | KENDALL + KYLIE Finch Bootie (also available here) | GG Marmont matelassé leather belt bag | Similar Blazer | Brixton Albany Corduroy Fisherman Cap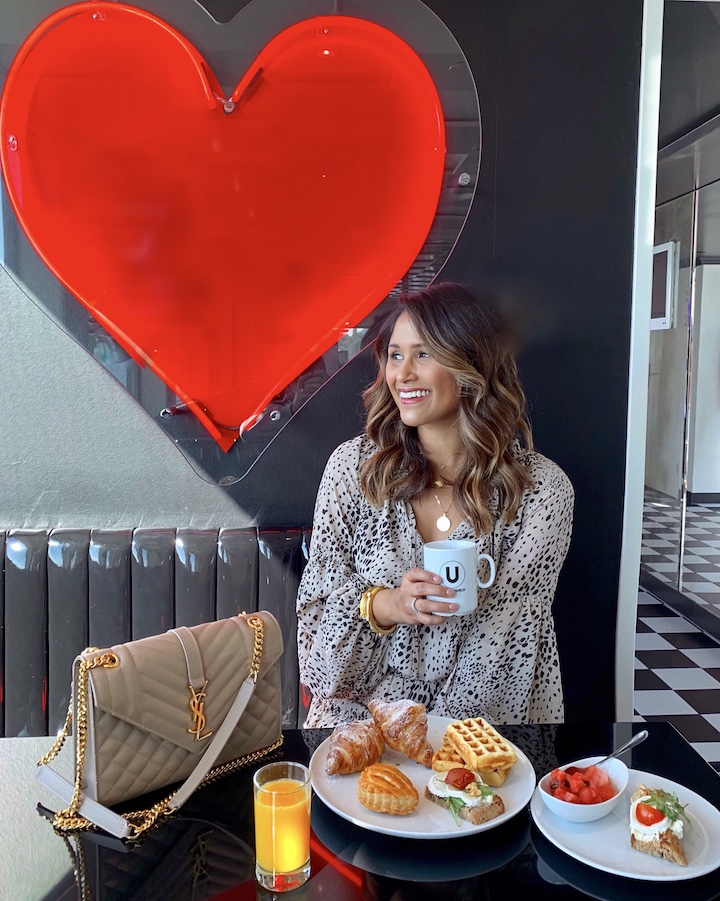 The food on the B Ship was excellent and came with 14 meals. We ate a delicious breakfast or brunch every morning on the boat and then we always ate somewhere in town for lunch. Dinner was served every night on the ship and we always looked forward to it because they offered such a wide selection plus dessert.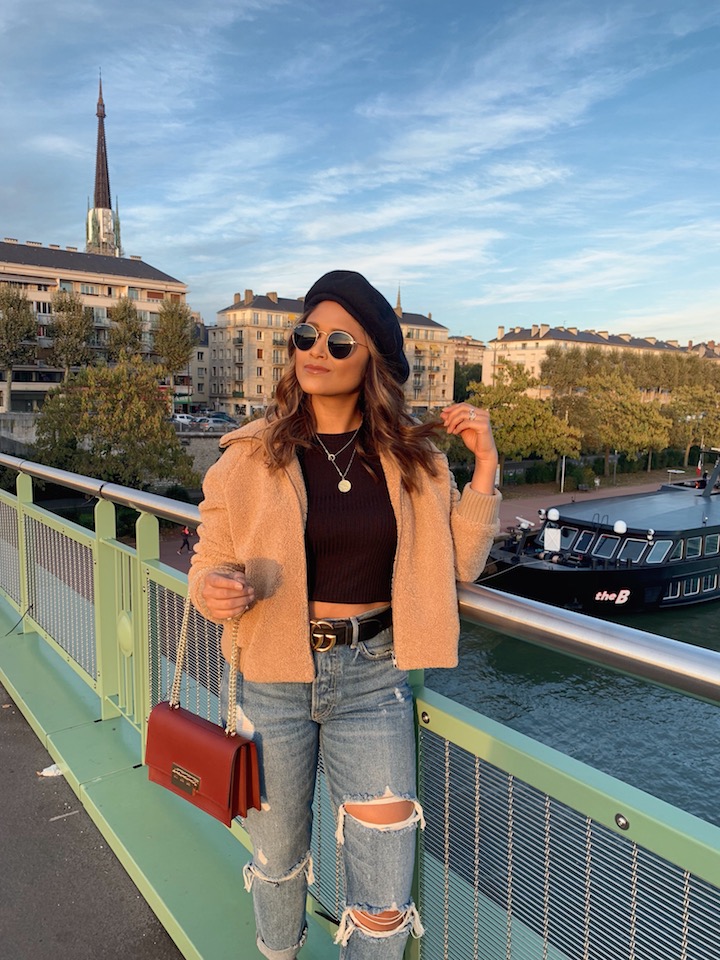 | Shop This Look |
Outfit: GRLFRND Jeans | Reformation Jackie Crop Top | Line & Dot Victoria Jacket in Buff | Similar Jacket | Brixton Audrey Wool Felt Beret | Gucci Belt | ZAC Zac Posen Earthette Leather Accordion Bag
On day 3 we docked at Rouen, which was our favorite stop next to Paris. It was a cool city with a beautiful cathedral and plenty of shopping and restaurants. We even did a mini bar crawl the night before we left.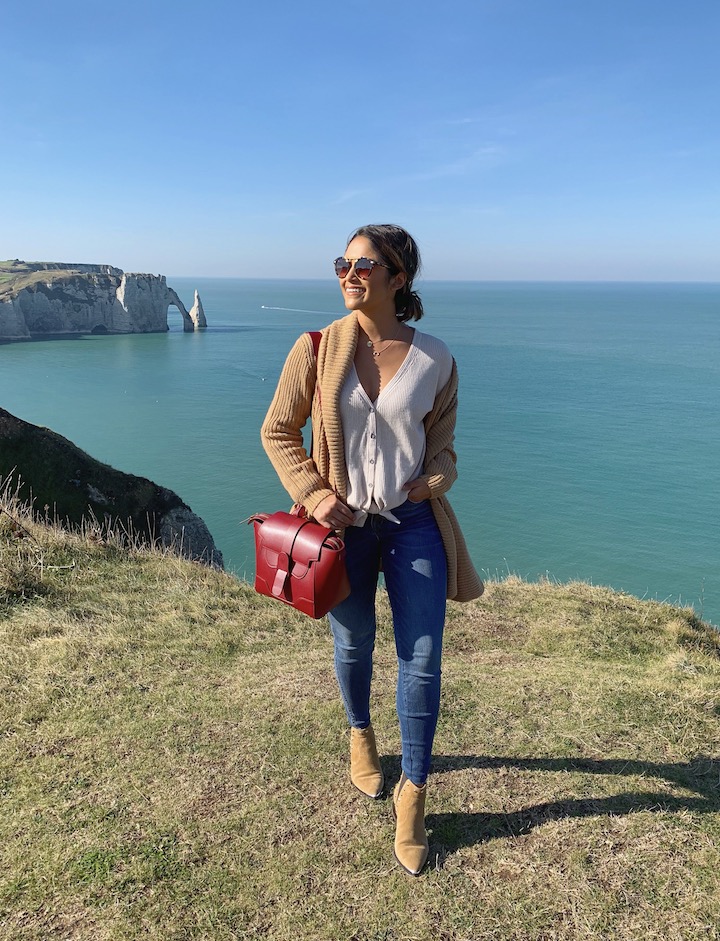 | Shop This Look |
Outfit: Skinny Jeans  | Camel Cardigan | Tie Front Button Up Top | Senreve Mini Maestra Leather Satchel | Marc Fisher LTD Yohani Bootie
On Day 4, we visited the cliffs of Étretat, which was so beautiful. We even climbed all the way to the top. It was kind of a long walk, but totally worth it! After taking in the beautiful views, we headed to Honfleur for lunch and some more site seeing. Honfleur was the mostly darling little fishermen's town, and I actually wish we would have had more time there because it was so cute. For lunch we tried their signature mussels dish and it was pretty good considering that I rarely ever eat mussels. 
We would have no clue where to go in Honfleur without our U hosts. They were so helpful when it came to less touristy places.
On day 5, we took it easy in Vernon and only ventured off for a little while before coming back to the boat to just relax and enjoy the deck before cruising back to Paris. The newly renovated U by Uniworld B ship has a full service bar and plenty of cool spots to just hang out. So that's exactly what we did.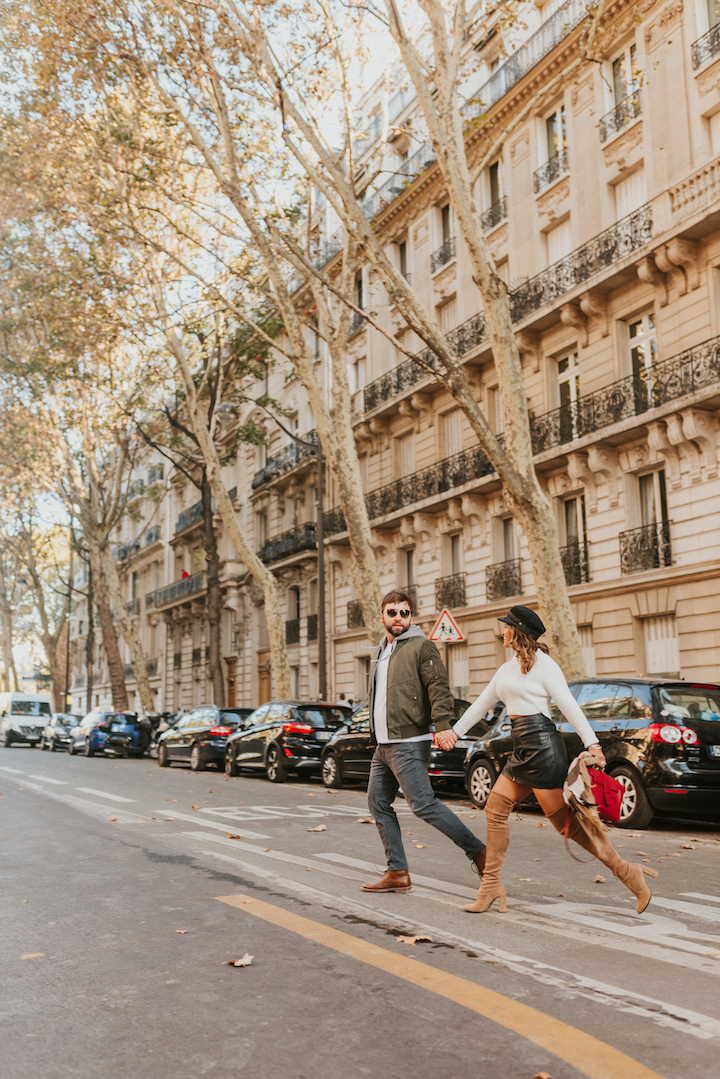 On day 6, we returned to Paris and hit the ground running! Literally though (see photo above). We kicked off our first day back in Paris with a delicious Parisian food tour that we set up through U by Uniworld.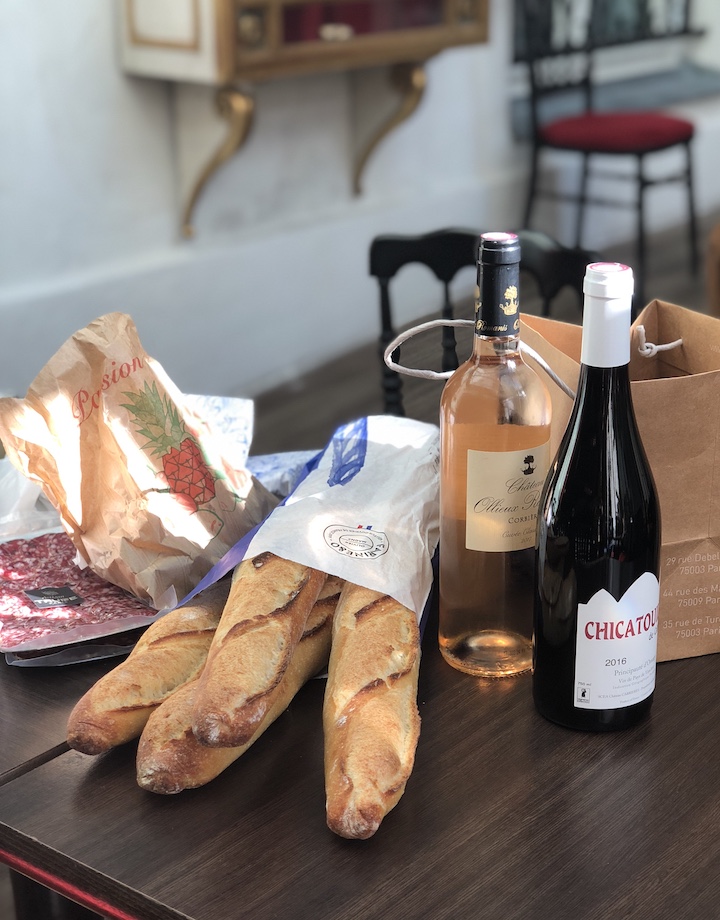 The food tour was led by a local Parisian and he took us to specialty food shops in Montmartre to pick out each item of food. We went to a bakery for fresh baguettes, a pastry shop for croissants, a local cafe for truffle and so on. Then we carried everything to a cute boutique hotel and feasted in their courtyard. We felt so cool and french and everything tasted fresh and delicious!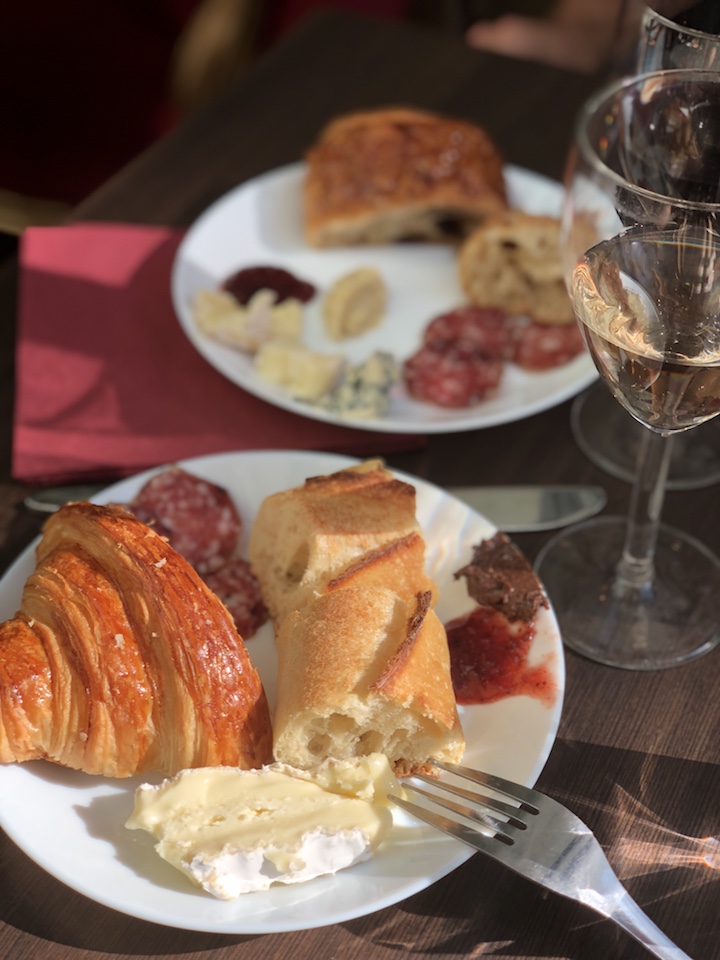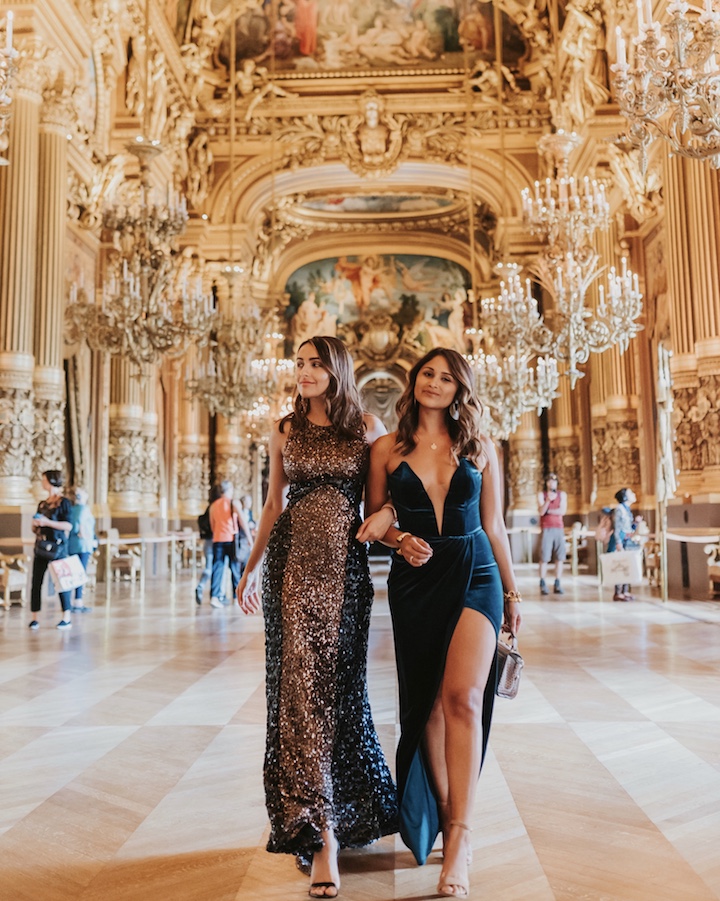 Outfit: Emerald Velvet Gown | Eartha Kit Mini Top Handle Bag | Yaro Block Heel Sandal
Jewelry: Bracha Athens Coin Pendant Necklace | Catalina Hinge Cuff | Catalina Hinge Bangle| Byzantine Demi Hinge Cuff  & Link Bracelet c/o Julie Vos
On day 7, we visited the stunning Palais Garnier opera house and Galeries Lafayette for some shopping. We even walked to the top of Galeries Lafayette to enjoy the beautiful rooftop views.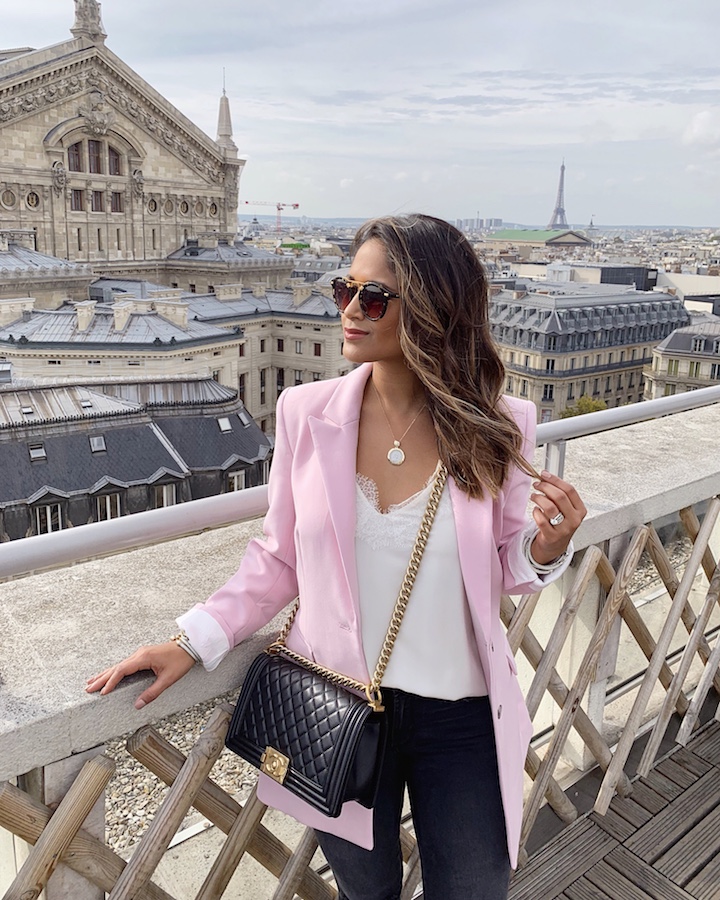 | Shop This Look |
outfit: Something Navy Slouchy Narrow Lapel Blazer | The Racer White | Dark Grey Jeans | Krewe Sunglasses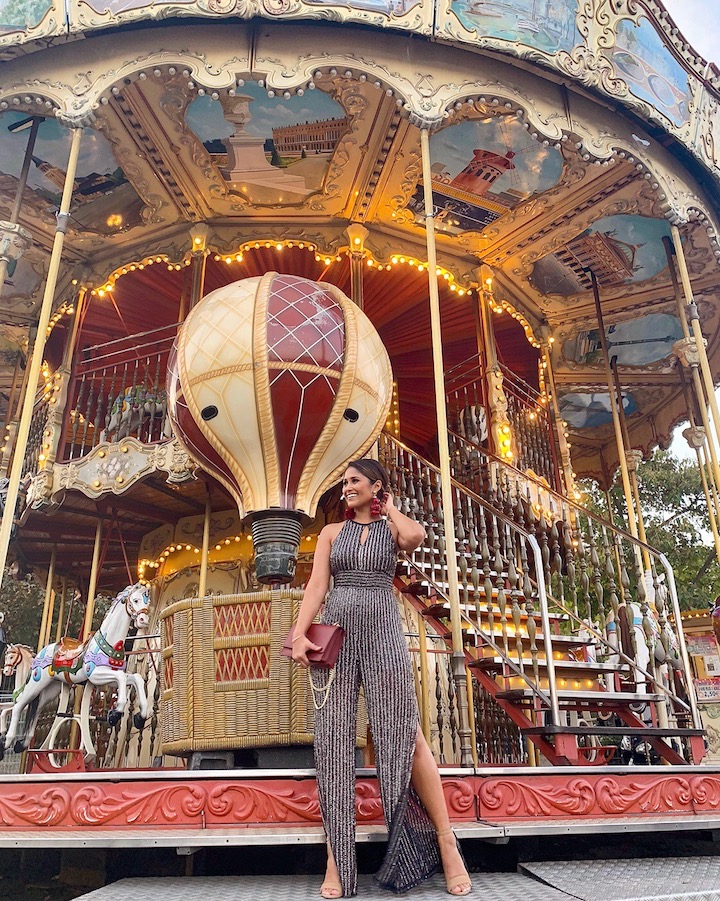 We celebrated our last night with U by Uniworld at the world famous Moulin Rouge's Lady Marmalade show. The show was fabulous and I high recommend it. It was so fun getting all dressed to visit Moulin Rouge and thankful a bus transported us so we didn't have to walk in heels!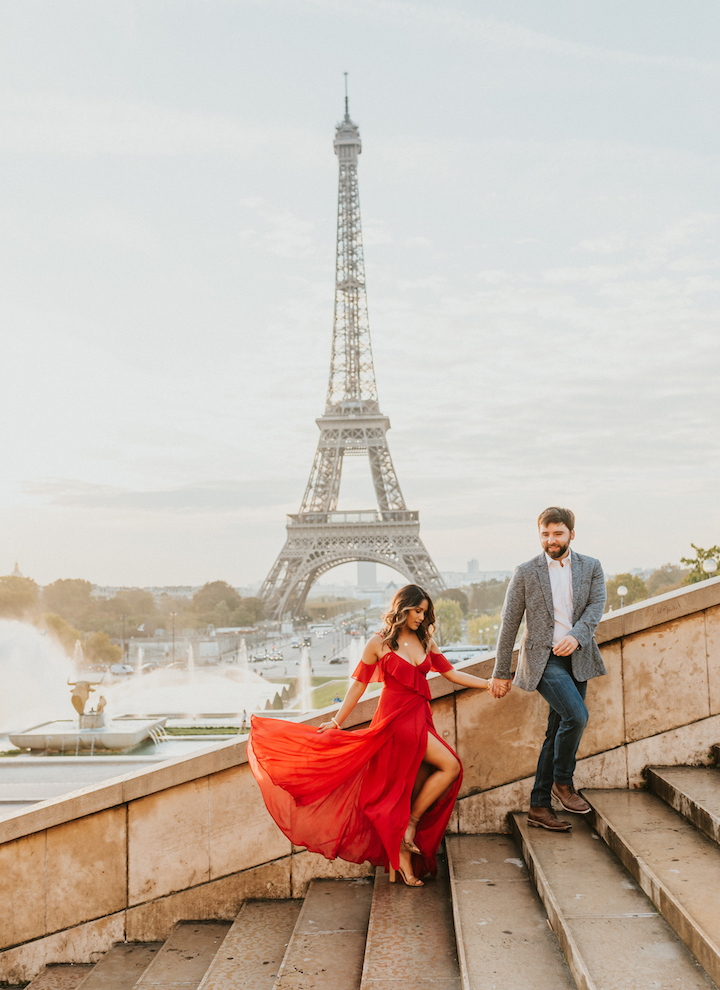 You can find my red Yumi Kim dress here!
We couldn't leave Paris without snapping some beautiful photos in front of the iconic Eiffel tower at dawn before it was flooded with tourists.