Travel Luggage Tricks: The number one trick to always spotting your luggage first on the carousel in baggage claim lies in the color of your luggage! I'm really hoping you already knew that though! I never ever buy a plain black or brown piece of luggage. I always choose a color and in this case I chose multiple colors with the French Bull 21″ Carry On spinner, which is exclusively available at Target! It also comes in a larger size here–> French Bull Vee 28″ Spinner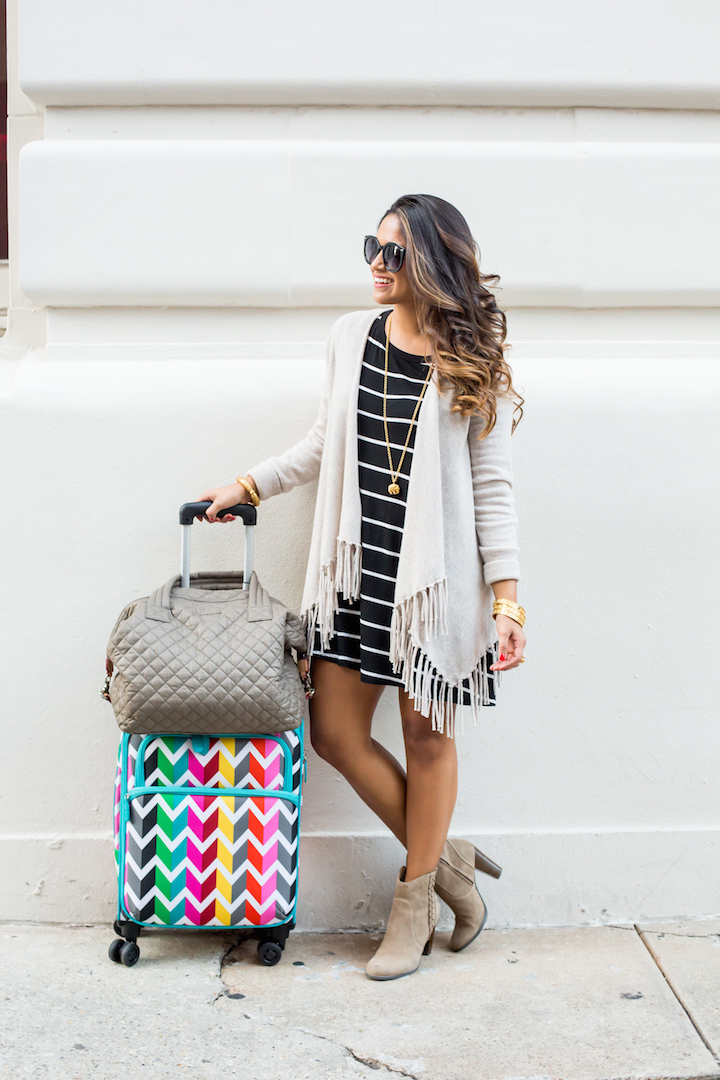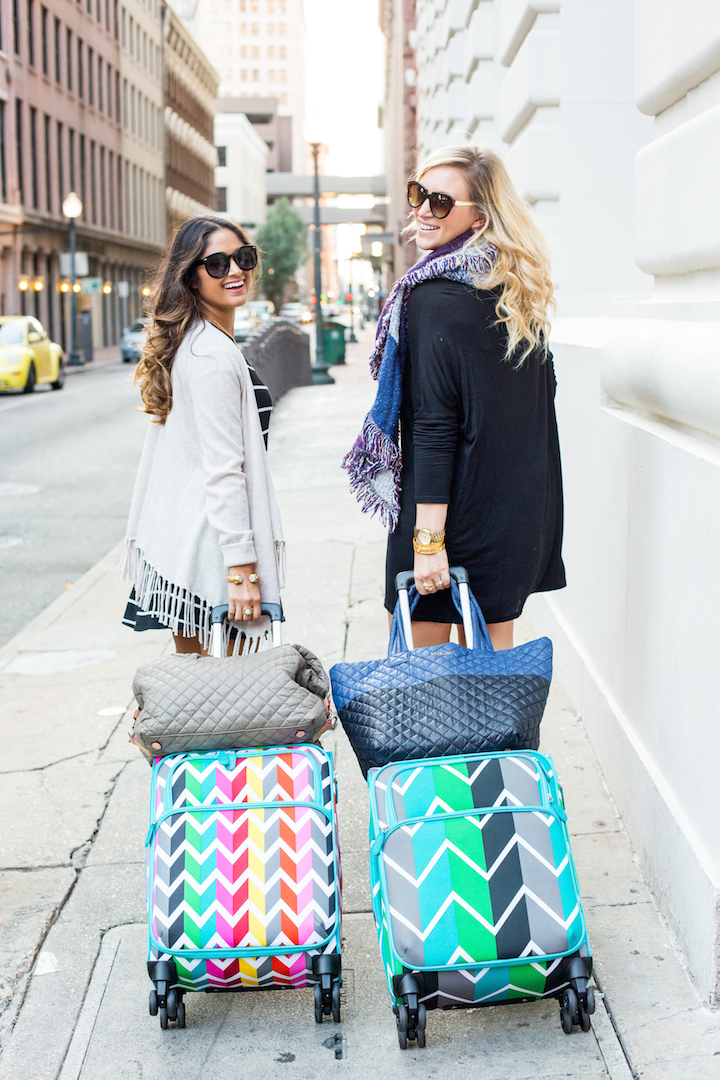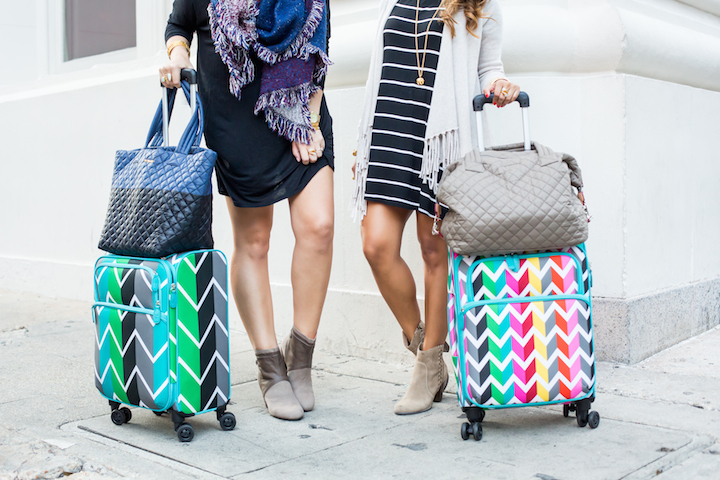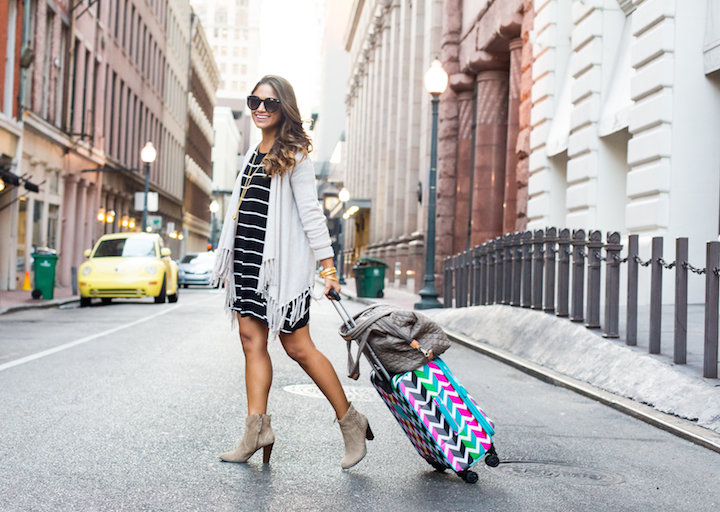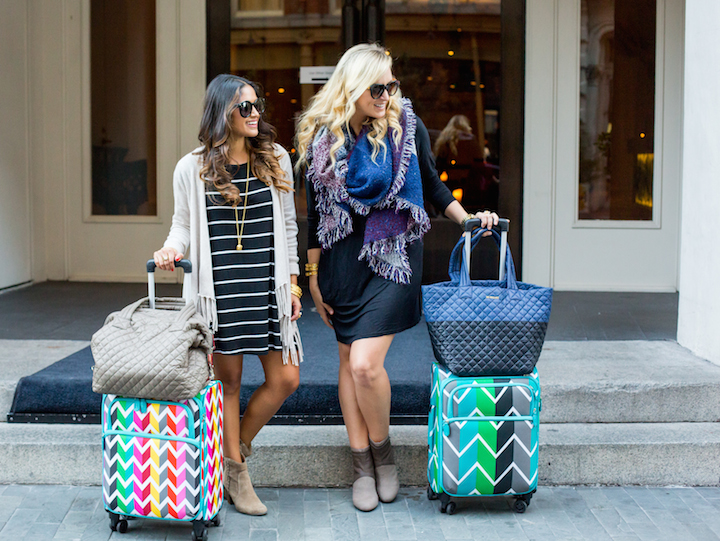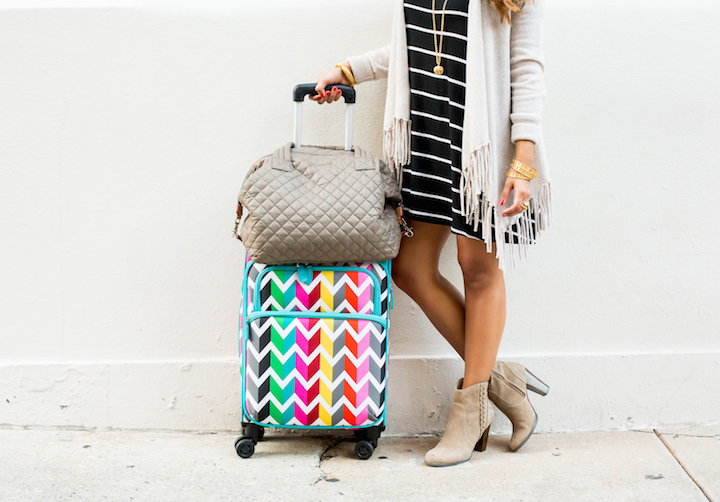 Photos by: Kristina Britt Photography
| Shop This Look |

Outfit: French Bull 21″ Spinner Carry On Luggage c/o (exclusively available at Target + see larger size here) | Striped Dress (long sleeve version here) | Cashmere Fringe Cardigan c/o Calypso St. Barth | Nylon Sutton Bag c/o MZ Wallace
Jewelry: Elephant Pendant Necklace, Soho Ring, Botticelli Bangles & Cuff c/o Julie Vos <- SALE Alert! Get 20% OFF w/ code: LSU20
Good Morning readers, over the past few years I've first handedly learned a couple more travel luggage tricks so I figured I would share them with you:
1) If you're an over packer like me, do yourself a favor and just pack two checked bags instead of stuffing everything into one bag and risking the overweight limit fee on the way home. It's way cheaper to just check two bags instead paying an extra $100 on top of the one bag fee.
2) Always pack your hairspray and perfumes inside of plastic water resistant bags so that it won't leak onto your clothing.
3) If you think it may rain while your luggage is making its way to the plane outside in the baggage carts, wrap your belongings inside of the luggage with a large trash bag on both the bottom and the top. I still have water stains on a white blazer from my stuff getting drenched at the airport while they were unloading the plane.
4) Pack extra carry on bags! I always stuff two extra carry on bags into the front pocket of my suitcase in case I end up traveling home with more stuff that I originally packed, which happens more often that not. I recommend my MZ Wallace metro or sutton totes because they can fold up super tiny and are extremely lightweight.
5) 360 spinners are the way to go! There is absolutely no reason for your luggage to only have two wheels when they can have four! After the first time I used a spinner, I wondered how I ever got through life without one! If you don't already have a spinner, trust me you need one–>French Bull Vee 28″ Spinner
P.S. These photos were taken of My Style Diaries and I and the International House Hotel in New Orleans during a fun little staycation, which we'll be sharing soon on our blogs! So stay tuned!
Thank you to French Bull for bringing you this post. All opinions are my own.