Hey everyone, as we head in to spring and summer, I feel more ready than ever. Which makes me reflect on the positive experience I had with CoolSculpting®, which helped me reduce stubborn fat in certain areas of my body. If you missed my first two posts about CoolSculpting, you can check them here (My First CoolSculpting Experience) and here (CoolSculpting Update).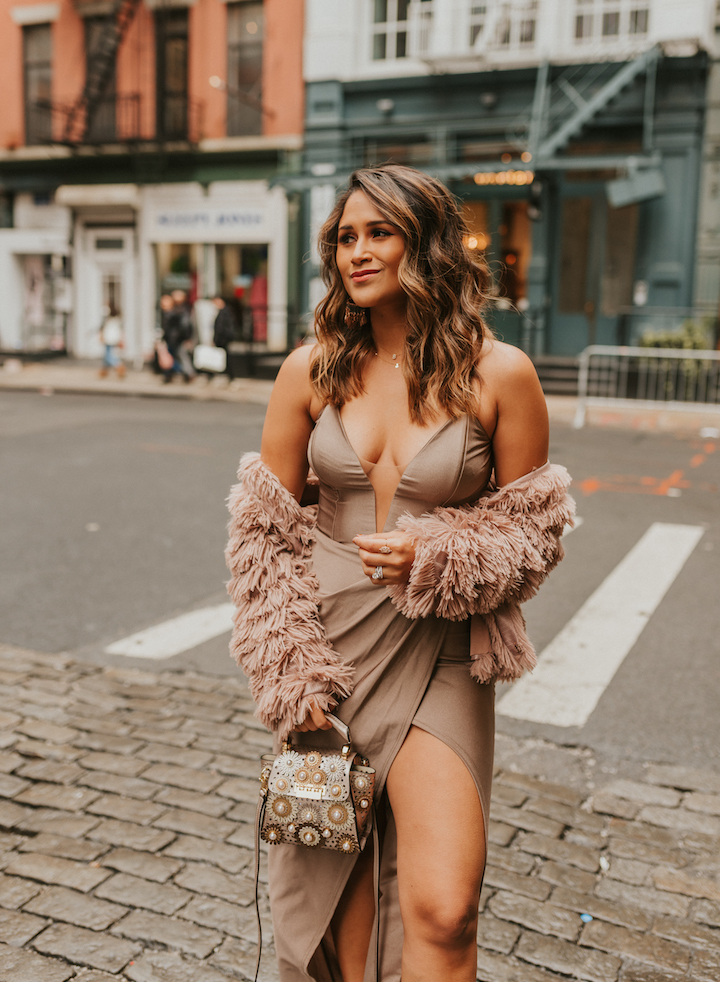 I received my first CoolSculpting treatments at the Lupo Center for Aesthetic and General Dermatology in New Orleans on June 26. The moment I announced that I would be working with CoolSculpting to help reduce my stubborn fat on my Instagram, my inbox was immediately flooded with all kinds of questions and the questions haven't stopped. However, the most frequently asked question I receive is "Does it really work?" While I wanted to answer that question for everyone who asked, I couldn't until the results were fully complete, which takes about three months. Now that is has officially been more than three months since my first treatment, I can finally answer that question for you all….Yes, it worked for me!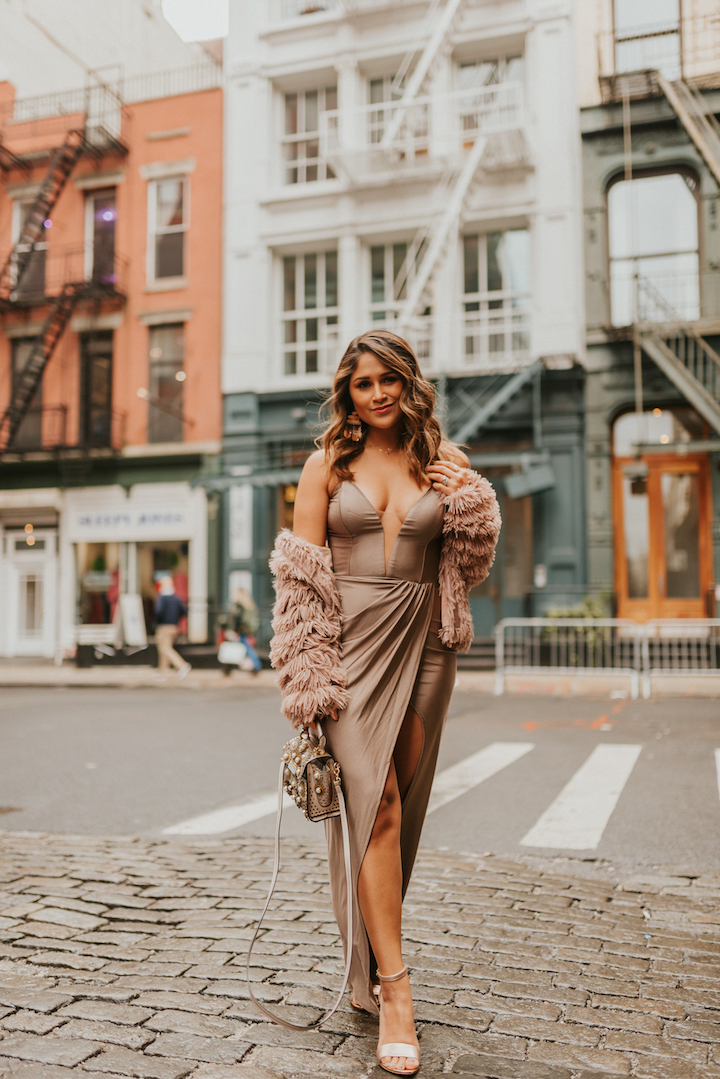 | Shop My Look |
Outfit: Michael Costello Jake Gown | Rose Gold Yaro Sandals | Eartha Mini Top Handle Bag | Greylin Faux Fur Jacket
How do I know? Well, this isn't something I'm proud of or recommend doing, but I have literally worked out the same amount I did before my CoolSculpting treatment in June and I continue to eat plenty of sweets and fried food like I did before. I should make healthier choices, but on the bright side, it actually helped me to see that CoolSculpting was the real reason that my clothing still fits and looks good in the areas I treated.
I treated my lower abdomen and both flanks, which most people refer to as a muffin top. I got four cycles: one on each flank (aka both of my love handles) and then two on my lower abdomen to cover the full area.
Did I lose any weight? No, but I haven't gained any extra unwanted fat in my treated areas either. Also, just to reiterate, CoolSculpting is not a weight loss program. CoolSculpting is a non-surgical, non-invasive, clinically proven treatment that reduces fat cells through FDA-cleared cooling technology. It's a comfortable, fat freezing process that is meant to reduce fat cells in treated areas (aka reduce volume in certain areas) and that's exactly what it did for me. I could actually tell that my waist seemed slimmer and it has remained that way since. My husband and photographer could also tell as well since they see me almost everyday. It's a very subtle difference because I only received one treatment, but that was all I wanted. It's enough for me to feel pleased with the experience and comfortable and happy in my clothes.
Also, as I mentioned in my first post, I did not choose to get CoolSculpting treatments because I don't like my body or wanted a drastic change. I love my body and just wanted to mold it into its best potential shape.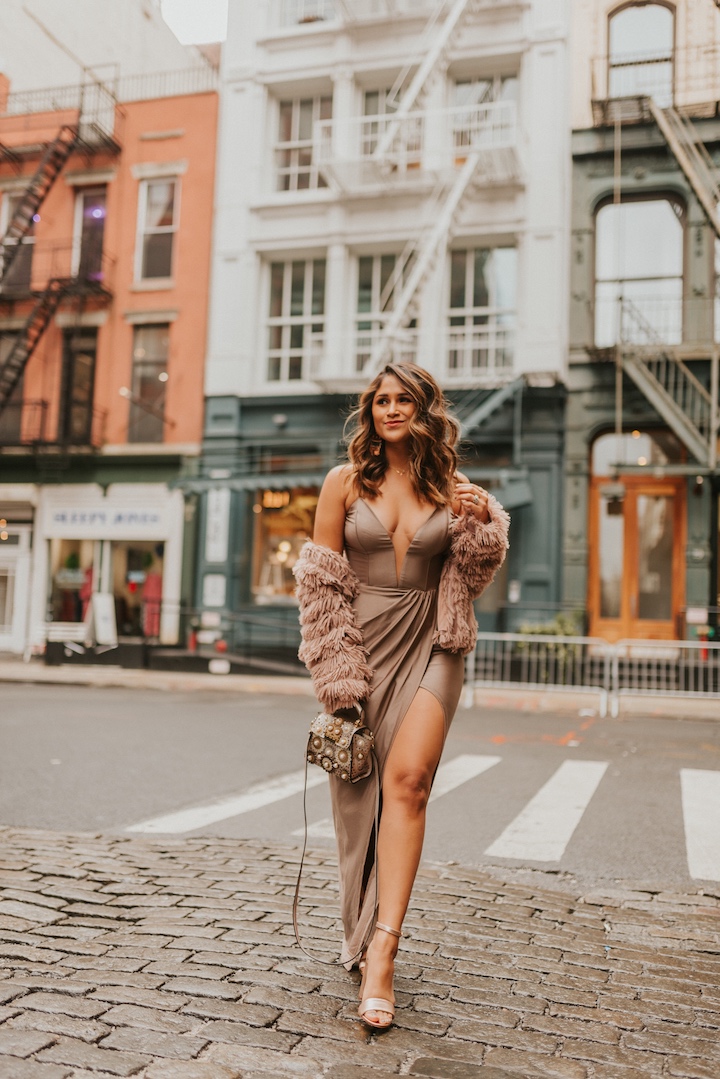 Why not just work out? I did! I worked out really hard in the 6-7 months leading up to my wedding and while I got great results, I still struggled with those problem areas (aka my waist and love handles) that I just couldn't shake so I chose CoolSculpting and it worked for my body!
Why did I not choose to get a second treatment? My husband and I are about to start trying for kids.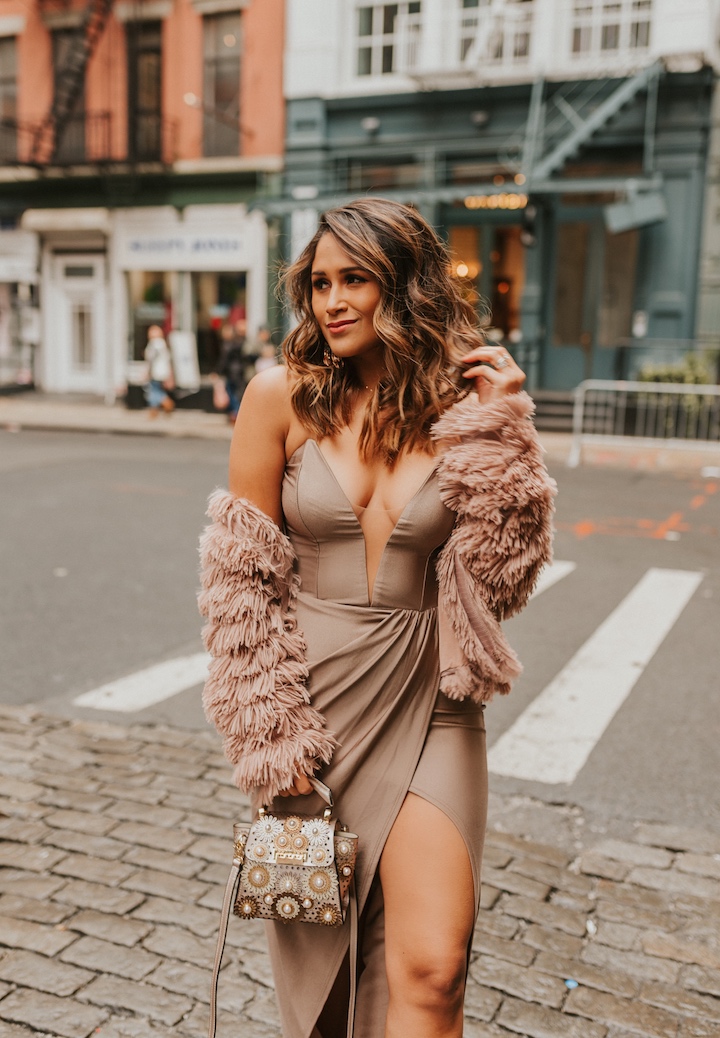 | Shop My Look |
Outfit: Michael Costello Jake Gown | Rose Gold Yaro Sandals | Eartha Mini Top Handle Bag | Greylin Faux Fur Jacket
This post is in partnership with CoolSculpting, a brand I love. All opinions and selections here are my own. Thank you for supporting the affiliate posts who make this blog possible.
Uses
The CoolSculpting® procedure is FDA-cleared for the treatment of visible fat bulges in the submental (under the chin) and submandibular (under the jawline) areas, thigh, abdomen and flank, along with bra fat, back fat, underneath the buttocks (also known as banana roll) and upper arm. It is also FDA-cleared to affect the appearance of lax tissue with submental area treatments. The CoolSculpting® procedure is not a treatment for weight loss.
Important Safety Information
The CoolSculpting® procedure is not for everyone. You should not have the CoolSculpting® procedure if you suffer from cryoglobulinemia, cold agglutinin disease, or paroxysmal cold hemoglobinuria.
Tell your doctor if you have any medical conditions including recent surgery, pre-existing hernia, and any known sensitivities or allergies.
During the procedure you may experience sensations of pulling, tugging, mild pinching, intense cold, tingling, stinging, aching, and cramping at the treatment site. These sensations subside as the area becomes numb. Following the procedure, typical side effects include temporary redness, swelling, blanching, bruising, firmness, tingling, stinging, tenderness, cramping, aching, itching, or skin sensitivity, and sensation of fullness in the back of the throat after submental or submandibular area treatment.
Rare side effects may also occur. CoolSculpting® may cause a visible enlargement in the treated area which may develop two to five months after treatment and requires surgical intervention for correction.
Please see full Important Safety Information for additional information.