Morning friends! It's that time again…hurricane season! I never really worried myself over it too much before, but now that we're home owners and parents, there is so much more to think about. So I decided to create a hurricane prep kit for my family to make sure that we're fully prepared for any weather emergency. I figured I would share it with you all so you can be ready too. Also, since we have Beck now, I convinced Blake to get us a generator for the house because being without power for longer than a few hours with a baby sounds miserable especially in the Louisiana heat. We got our generator from 4LP for those of you who are interested.
Of course we all know to board up, tape the glass windows, bring in the patio furniture and use sandbags for life-threatening storms, but what about the other necessities? Scroll through this post to see everything I have on my hurricane prep kit checklist: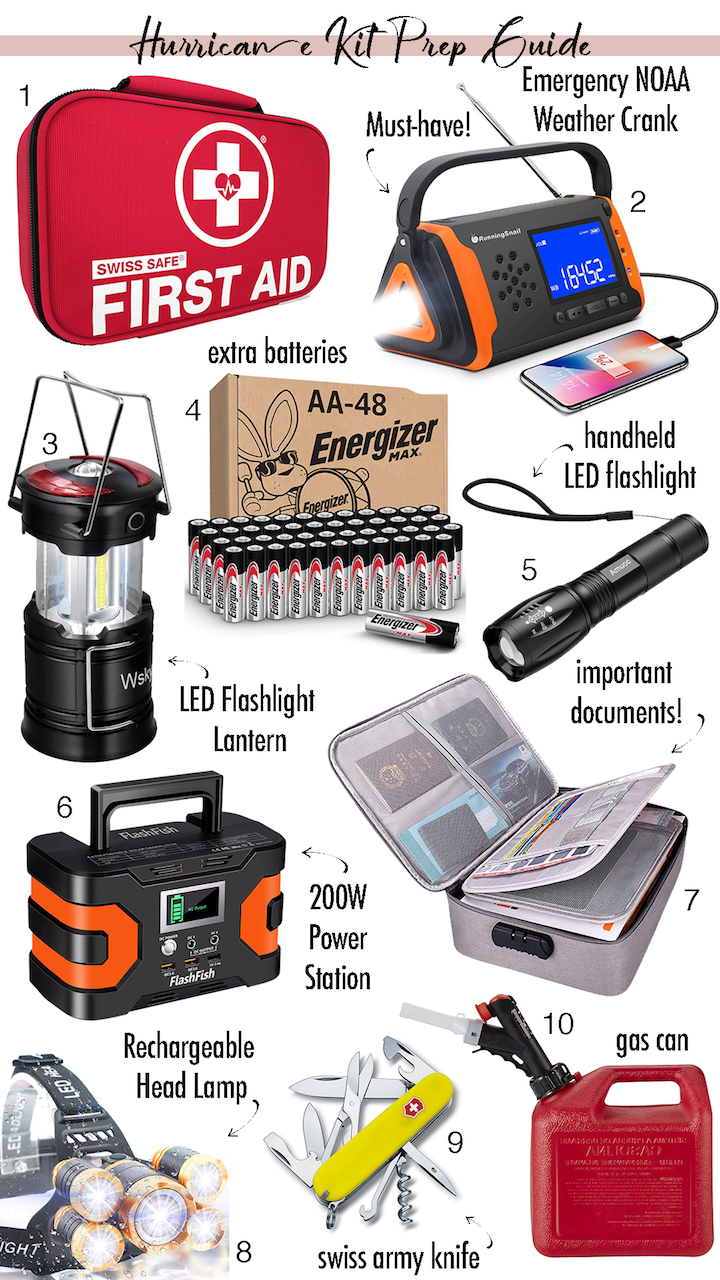 | Shop This Hurricane Prep Guide |
 1. 2-in-1 First Aid Kit | 2. NOAA Weather Crank  | 3. Led Lantern | 4. AAA Batteries & AA Batteries | 5. LED Tactical Flashlight | 6. 200W Peak Power Station | 7. Document Bag with Safe Code Lock | 8. Headlamp | 9. Swiss Army Knife | 10. Gas Can
You can never have enough flash lights and batteries during a storm. Also, we always fill our cars with gas ahead of time in case we suddenly need to evacuate. As for important documents, I just recently purchased one of these water proof document bags with safe code lock in case we flood and I wasn't able to grab them or if we have to grab them and run through rain/water in an emergency situation. I obviously hope that never happens, but if it does at least I'll be prepared.
Important Documents: passports, birth certificates, marriage license, insurance cards, flood insurance, home insurance & social security cards
The 200W Peak Power Station is also ideal for keeping your phones charged to help you stay informed on the weather as well as allowing you stay in touch with your loved ones to let them know you're okay.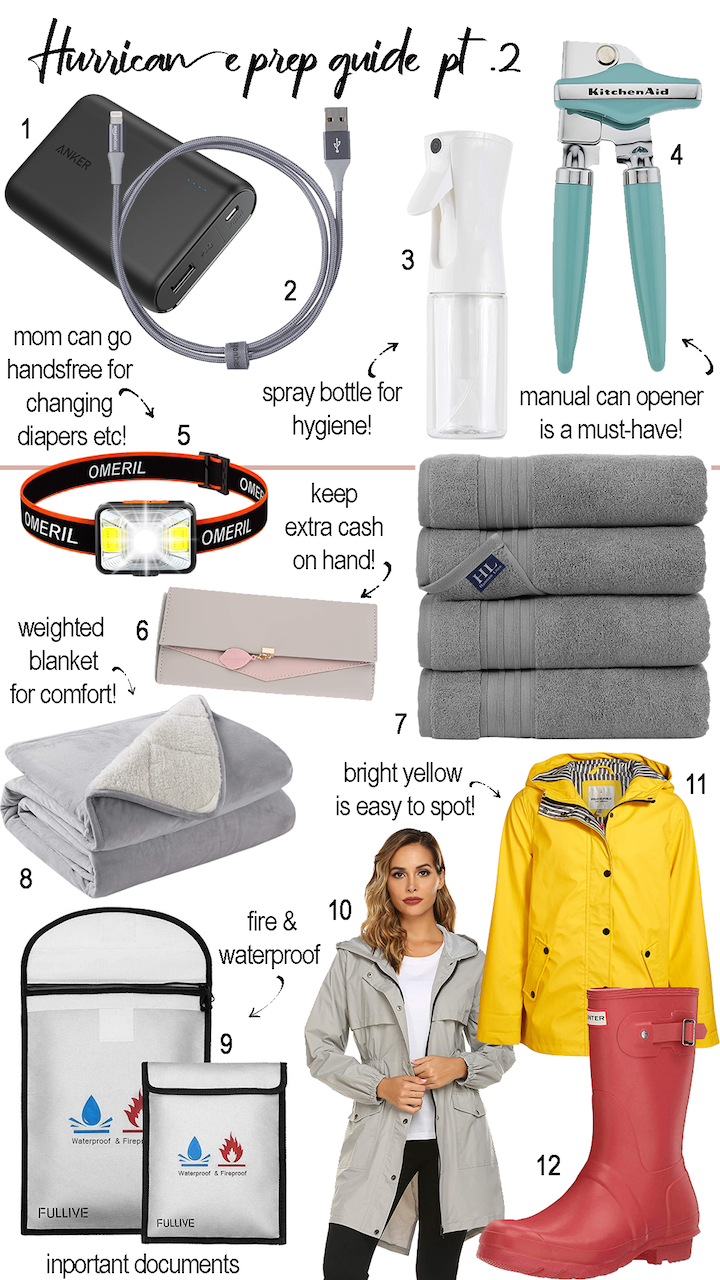 | Shop This Hurricane Prep Guide |
1. Portable Charger | 2. Lightning to USB Cable  | 3. Spray Bottle | 4. Can Opener | 5. Headlamp | 6. Wallet | 7. Towels | 8. Weighted Throw Blanket | 9. Fireproof & Waterproof Document Bags | 10. Women's Raincoat | 11. Girls Raincoat & Boys Raincoat | 12. HUNTER Women's Rain Boot
Don't forget to pack extra cash, rain gear, sturdy shoes and an extra set of clothing sturdy when evacuating. You never know what you might have to walk through. Also, a can opener is key when all you have is non perishable food to eat so make sure to have one on hand!
A battery operated fan isn't a bad idea either since hurricanes tend to hit during the hottest times of the year.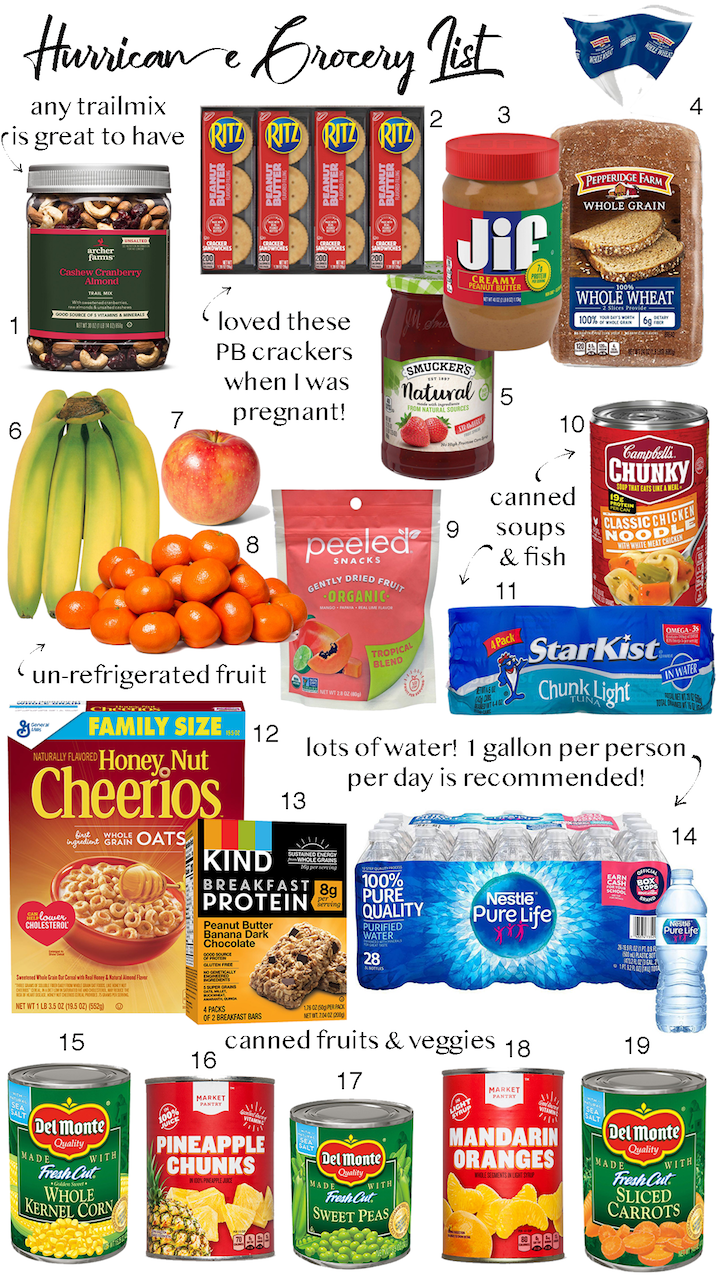 | Shop Food |
1. Cashew Cranberry Almond Trail Mix | 2. Cracker Sandwiches | 3. Jif Peanut Butter  | 4. Whole Wheat Bread | 5. Smucker's Strawberry | 6. Bananas | 7. Honeycrisp Apples | 8. Cuties Clementines | 9. Tropical Blend Dried Fruit | 10. Campbells Soup | 11. Canned TUNA | 12. Honey Nut Cheerios | 13. Kind Bars | 14.  Water 28pk | 15. Corn | 16. Pineapple | 17. Peas 18. Mandarin Oranges | 19.  Carrots
We probably won't purchase these food items until we receive news that we have potential weather threats like a hurricane or tropical storm heading for Louisiana. Also be sure to get at least 3-day supply of water or one gallon per person, per day and 3-day supply of nonperishable, easy-to-prepare food. Oh and maybe just little bit of junk food and sweets like chips and cookies to help brighten your mood when you're all hunkered down for the storm. Also, no need to go crazy on paper items, but I would get a couple extra rolls of toilet paper and paper towels in case you aren't able to make it the store for a while.
If you take any medication, be sure have a 7 day's supply as well as medical items. As for important prescriptions, I would request a 60-90 day supply just in case you aren't able to make it to the pharmacy for a while after the storm hits. You never know if and how long you're going to be displaced from home.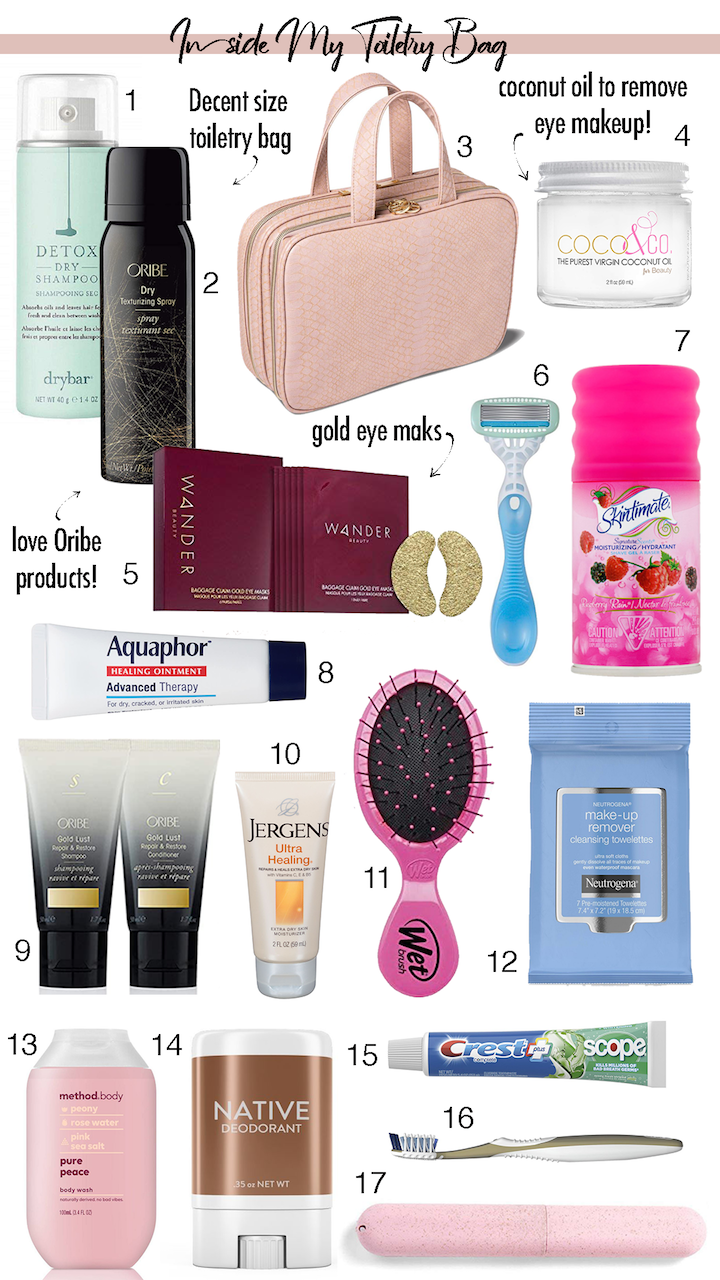 | Shop My Toiletry Bag |
1. Drybar Detox Dry Shampoo | 2. Oribe Dry Texturizing Spray | 3. Toiletry Bag | 4. COCO&CO | 5.Wander Eye Mask | 6. Hydro Silk 5 | 7. Women's Shave Gel | 8. Aquaphor | 9. Oribe Blowout Travel Set  | 10. Jergens Ultra Healing Lotion | 11.  Wet Brush | 12. Makeup Wipes | 13. Method Body Wash | 14.Deodorant | 15. Crest + Scope Toothpaste | 16. Oral-B Toothbrush | 17. Toothbrush Case
I always keep a toiletry bag packed with travel size toiletries so it's ready to go when I travel and it's perfect to pack along in the case that we need to evacuate due to dangerous weather conditions. I also keep a small pouch with my Young Living essential oils that I use on a daily basis especially lavender to help keep me calm in scary situations like a hurricane.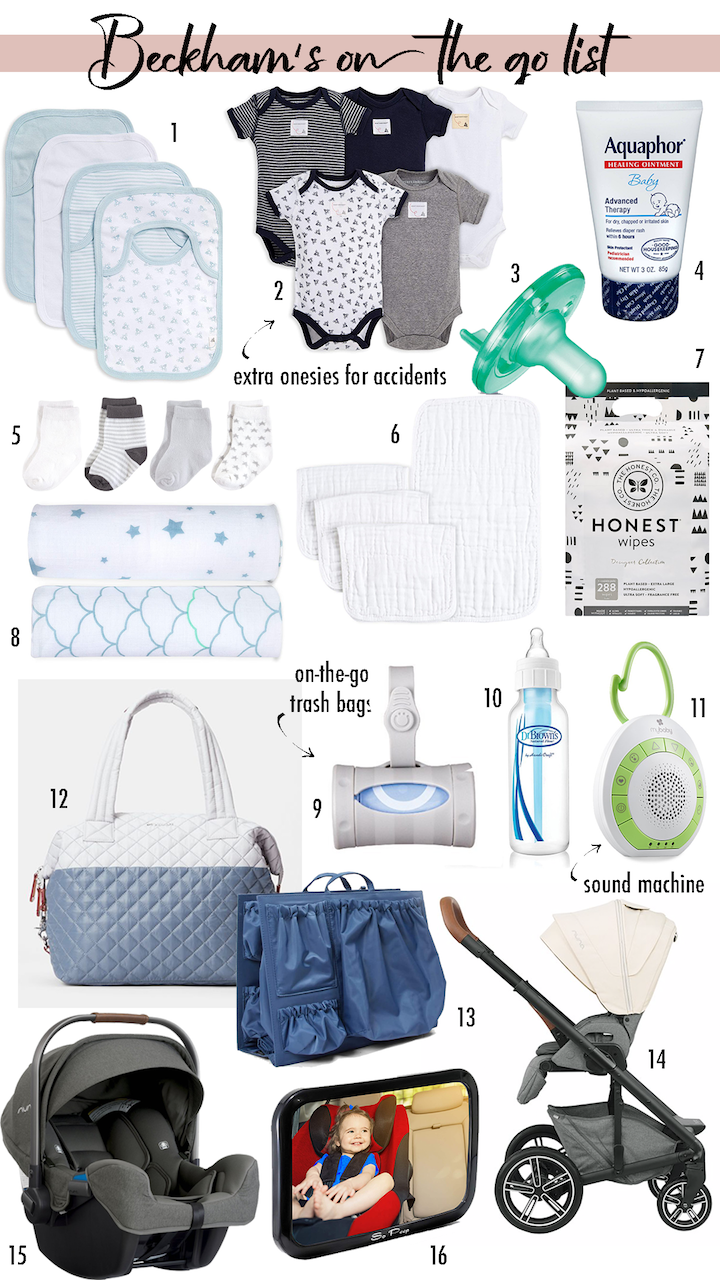 | Shop Beck's Baby Bag |
1. Baby Bibs | 2. Onesies | 3. Soothie | 4. Aquaphor Baby Healing Ointment | 5. Baby Boys' Organic Cotton Socks | 6. Burp Cloths | 7. Baby Wipes  | 8. Swaddle Blankets | 9. On The Go Gray Bag Dispenser| 10. Dr. Brown's BPA Natural Flow Bottle | 11. Soundspa On-The-Go | 12. Colorblock Large Sutton | 13. Tote Savvy | 14. Nuna MIXX™ Stroller | 15. Nuna PIPA™ Car Seat | 16. Baby Backseat Mirror for Car
I highly suggest making sure your diaper bag is fully stocked anytime the weather channel mentions potential weather threats in case you suddenly need to get in your car and get out quickly. I would also have an overnight bag packed and ready in the car so you aren't running around panicking in an emergency. Also, in days prior to the storm, I would make sure you're full stocked on diapers, wipes and formula.
P.S. If you pump, I would suggest having a battery powered pump on hand!
Is there anything I'm missing on this list? I would love to hear from you all especially since I'm a first time mom this hurricane season.