The most anticipated post of the month is finally here: How To Throw The Perfect Bachelorette Beach Trip! In my recent maid of honor duty post, Spring Bridal Shower Invitations, I mentioned that I've wanted to be someone's maid of honor almost my whole life. Little did I know how much work goes into being a top notch MOH, but thankfully the other 10 bridesmaids have been super helpful and cooperative.
However, even with all of the help, the bridal shower for 50 people seemed like a piece of cake compared to planning a weekend bachelorette party at the beach. I've only been on one bachelorette trip ever before so I didn't have much experience to pull ideas from. One thing I did know how to do though was put together some bomb ass goodie bags for the bride-to-be and the bridal party. I'm sure you'll notice in these photos that I went a little overboard with the goodie bags, but that was only because I wanted to offer my blog readers plenty of bridal party gift and bachelorette party favor ideas! With that being said, I don't suggest gifting all of these items to your bridal party, but I do recommend taking a couple of these ideas and incorporating them into your party favors and/or bridal party gifts.
As for how to actually plan a successful bachelorette beach trip, scroll all the way to the bottom of the post for advice based on my own personal experience.
Bachelorette Party Favor & Bridal Party Gift Ideas:
Mini Zip Card Case c/o Gigi New York | I love using this card case while traveling so I don't have to worry about losing everything in my wallet. Also, it's the perfect size wallet for small cross body bags when all you need is your ID, credit/debit card and some cash. Plus you can get it personalized with your initials.
Heart Sunglasses c/o ZeroUV | I mean these are just a must when it comes to fun group photos on the beach!
Mini Rosé Bottles c/o Chandon | Rosé all day people!
Flip Flops c/o Yosi Samra | Yosi Samra is hands down the best brand when it comes to comfy, cushiony flip flops and foldable flats. Speaking of their foldable flats, they are great for the day of the wedding when it's time for everyone to kick off their heels. Yosi Samra offers bridal party deals too!
Monogrammed Wide Brimmed Hats c/o Marley Lilly | If you can't afford to do these wide brimmed, monogrammed hats for the entire bridal party, I highly recommend to at least get one for just bride. It's a beach party must-have! Also, share the idea with the other girls and they may be willing to purchasing the hats on their own for the trip.
Sun Screen Hello Sunshine Kit c/o Supergoop | Supergoop offers top quality skincare products and lightweight, non-greasy sunscreen. Also, their sunscreen protects skin from UVA, UVB and IRA rays.
Metallic Pineapple Totes c/o The Elizabeth Chronicles | Not only are these metallic pineapple tote super cute, but you can also add a fun phrase or hashtag relating to your party or event. Had I planned on getting these totes farther in advance, I would have added #bridetribe just like our flash tattoos that I include in the bags.
Buxom Lip Gloss c/o Buxom Cosmetics | Buxom lip gloss is pretty much the only lip gloss I wear because it goes on smoothly and doesn't leave any sticky residue. Plus I can't even count many shades it comes in!
Flamingo & Cactus Tumblers, Monogrammed Beach Spikers & Monogrammed Champagne Flutes c/o White Elephant Designs | Whoever invented beach spikers is a straight up genius. They fit the tumblers perfectly, but they also hold canned or bottled drinks too. The monogrammed champagne flutes make great favors for your bridal party at the bridal luncheon or bridal shower.
Personalized Tassel Key Chains c/o Mark & Graham | Brides, these tassel keychains are such cute bridesmaid gifts especially since you can personalize them with their initials.
Colorful Low Rise Thongs c/o Hanky Panky | Bridesmaids, if you want to get the bride something blue for her big day, the light blue "I do" low rise thong is absolutely precious! Brides, Hanky Panky also makes special bridesmaids thongs to wear with their dresses for the wedding.
*Side Note: If you are working within a tight budget, it's nice to just include items in the goodie bag like pain reliever, snacks, mints, makeup wipes, hand sanitizer, bobby pins, tums, hair ties etc…
| Shop Party Favor & Bridal Party Gift Ideas |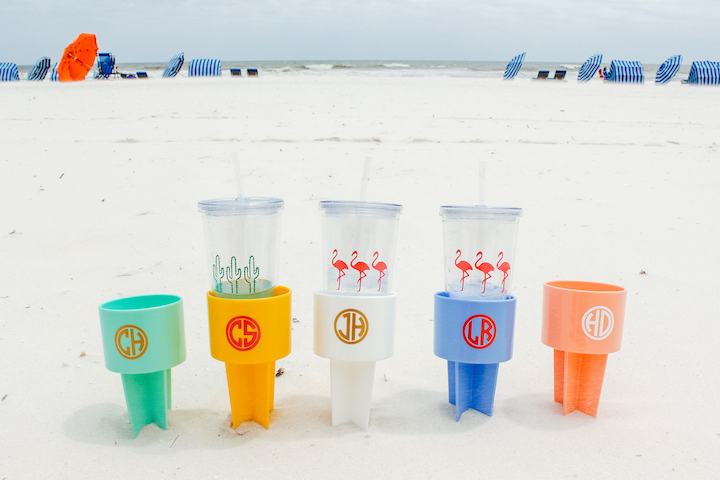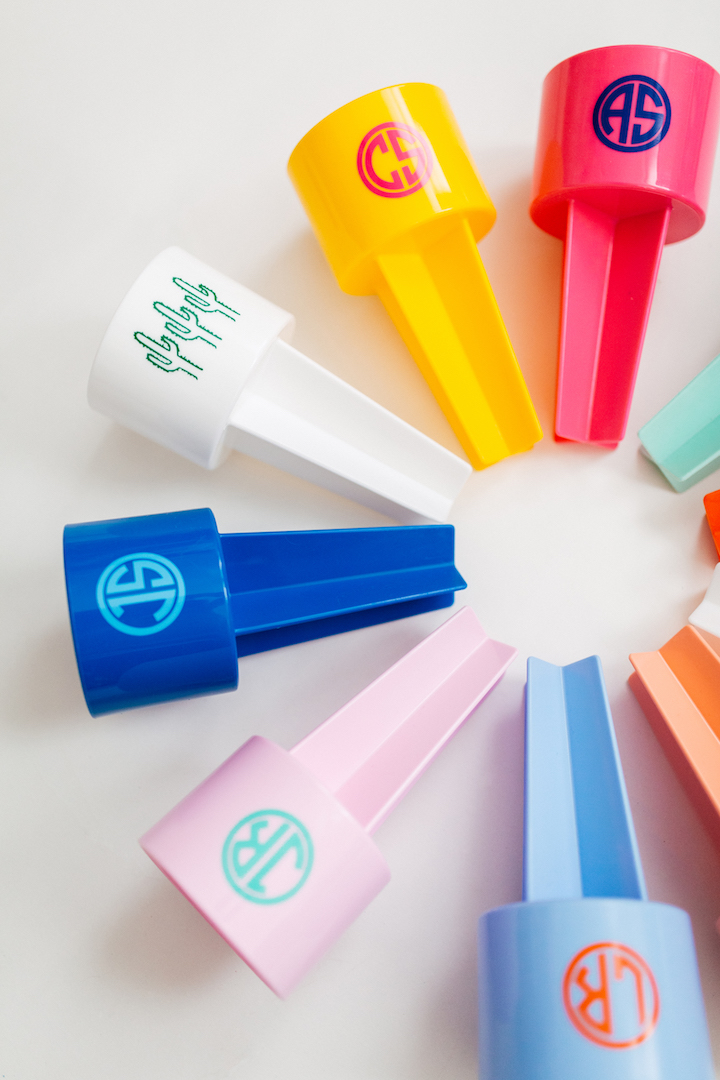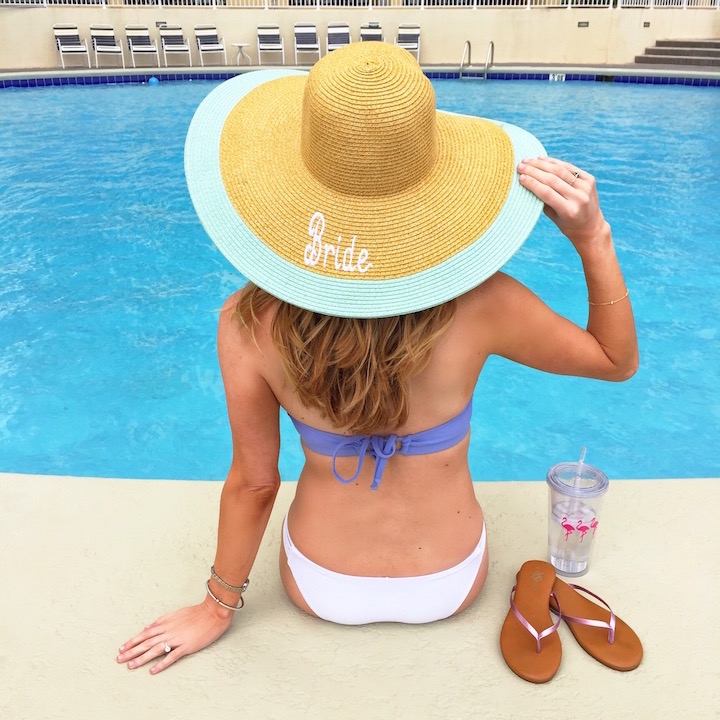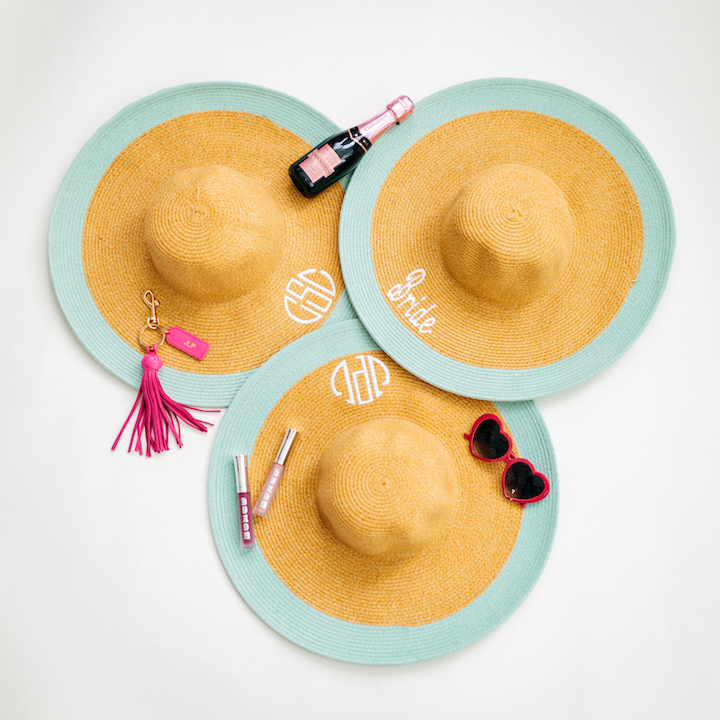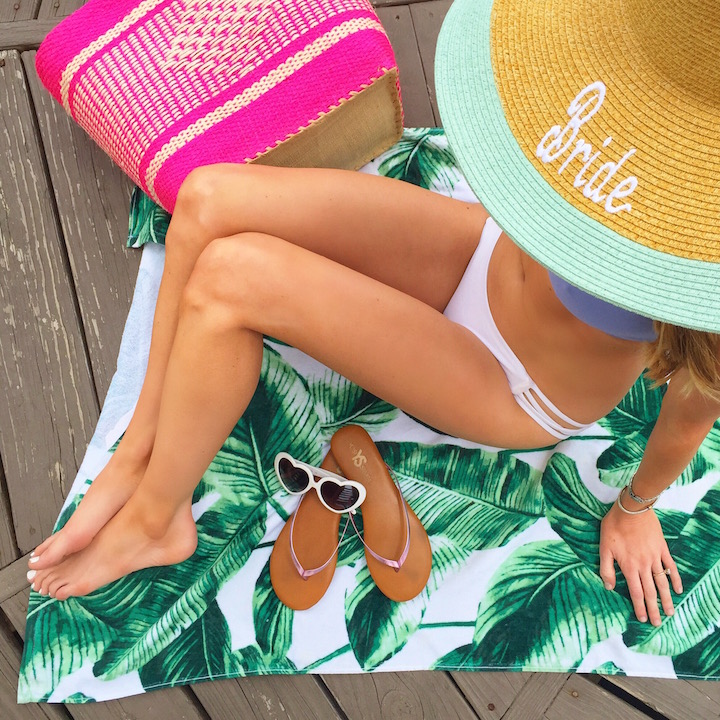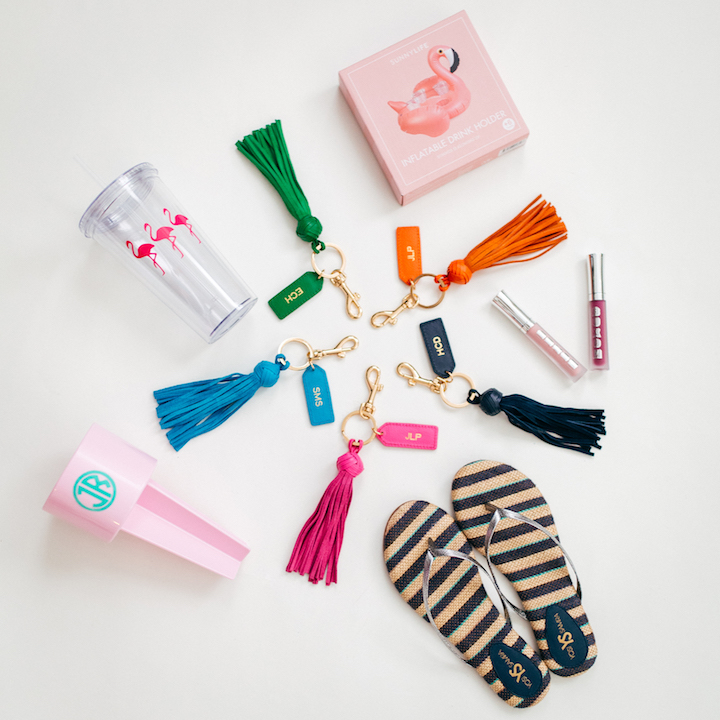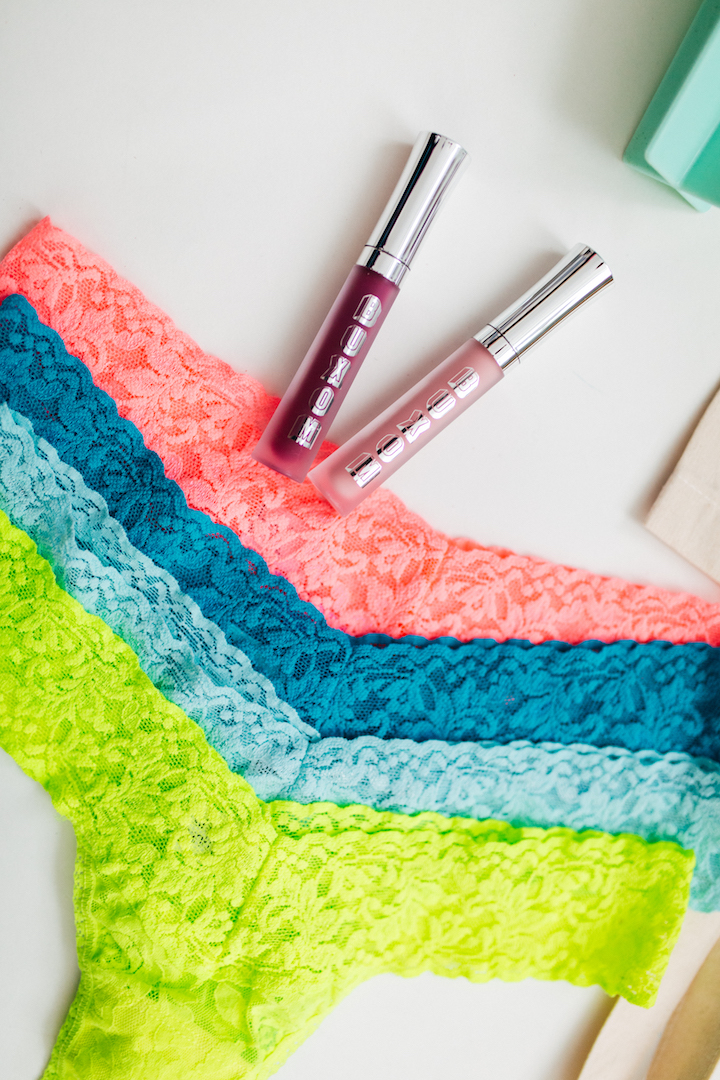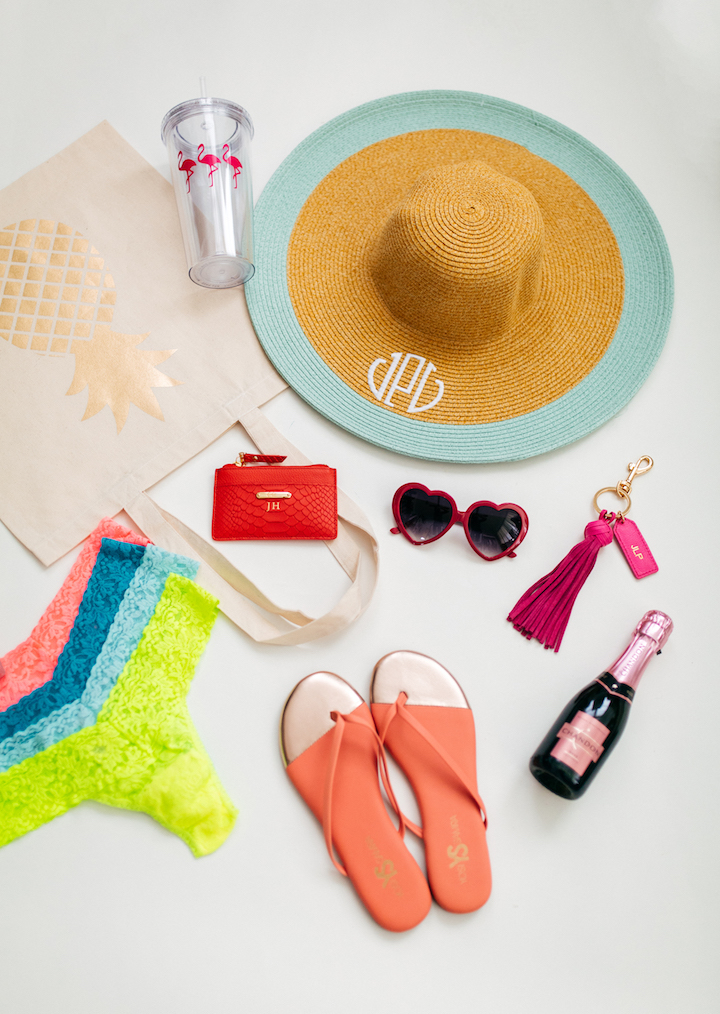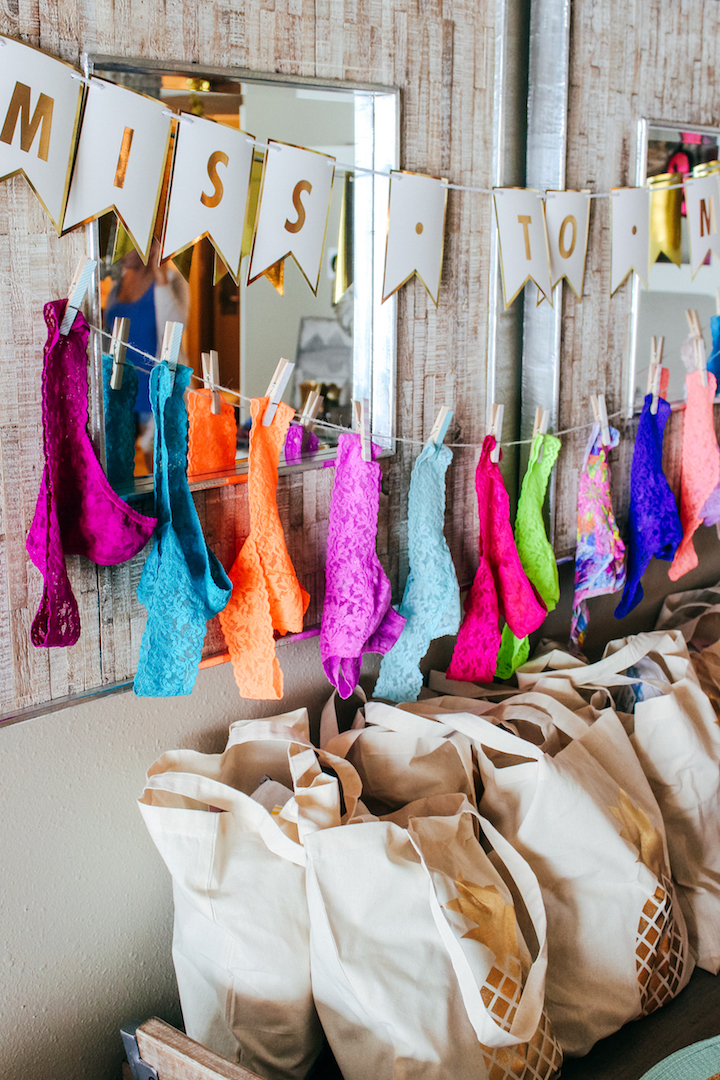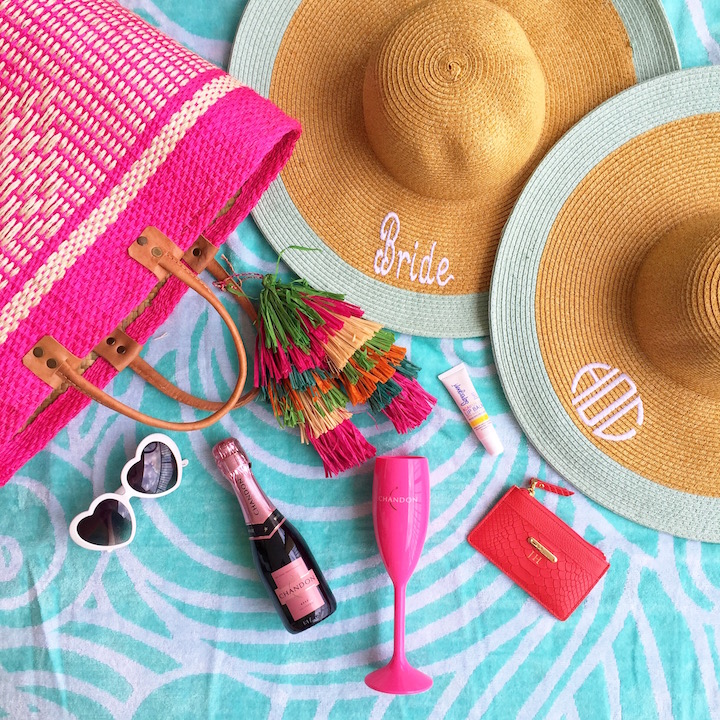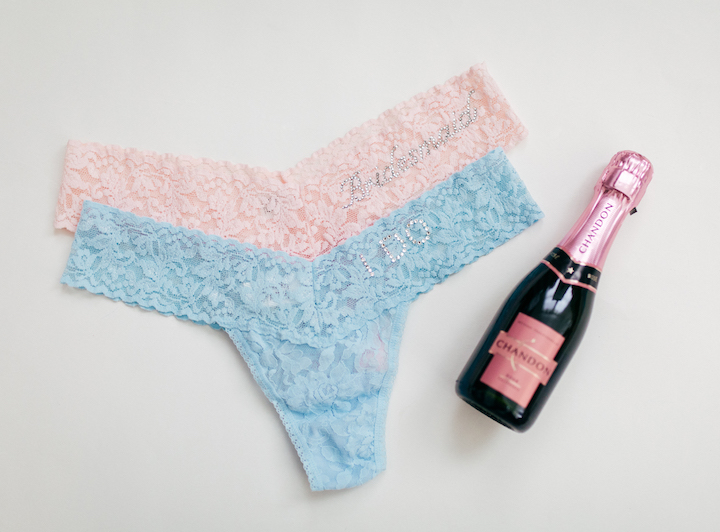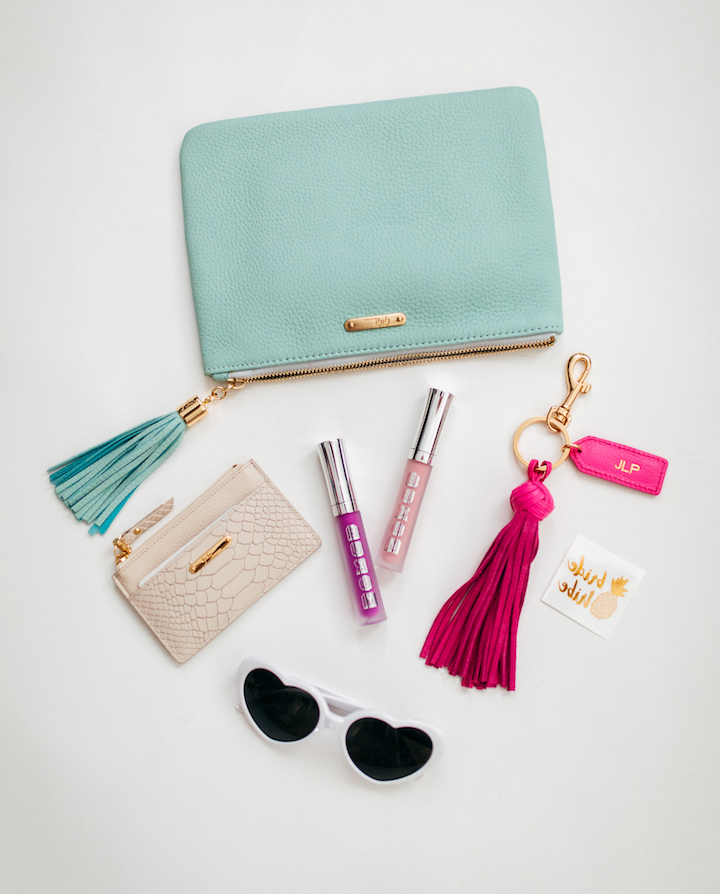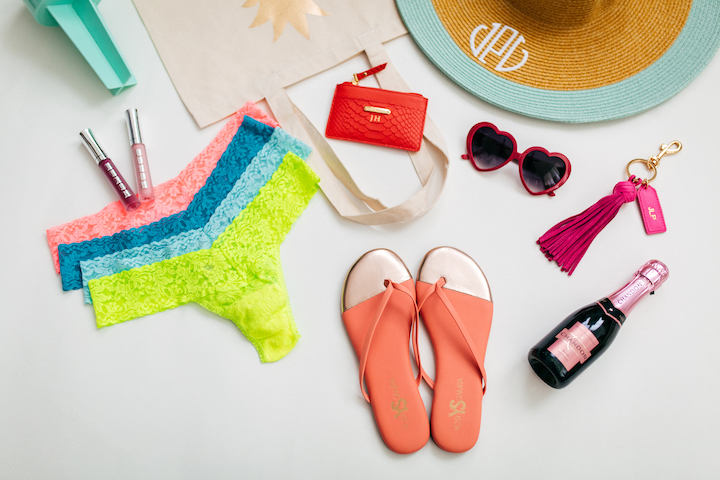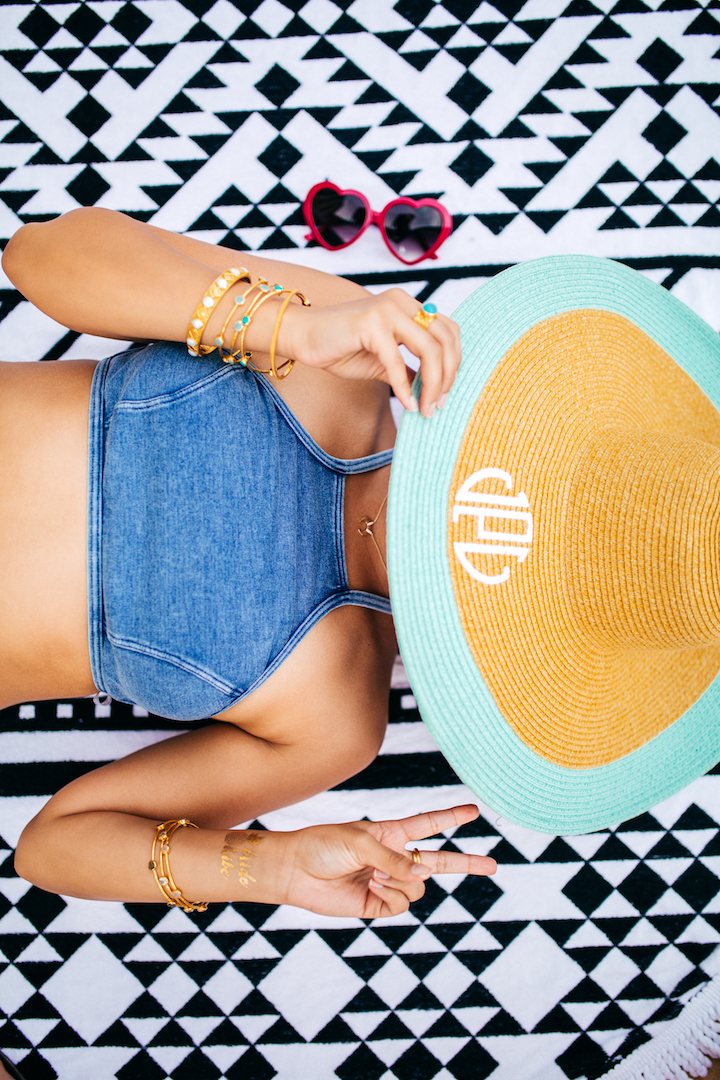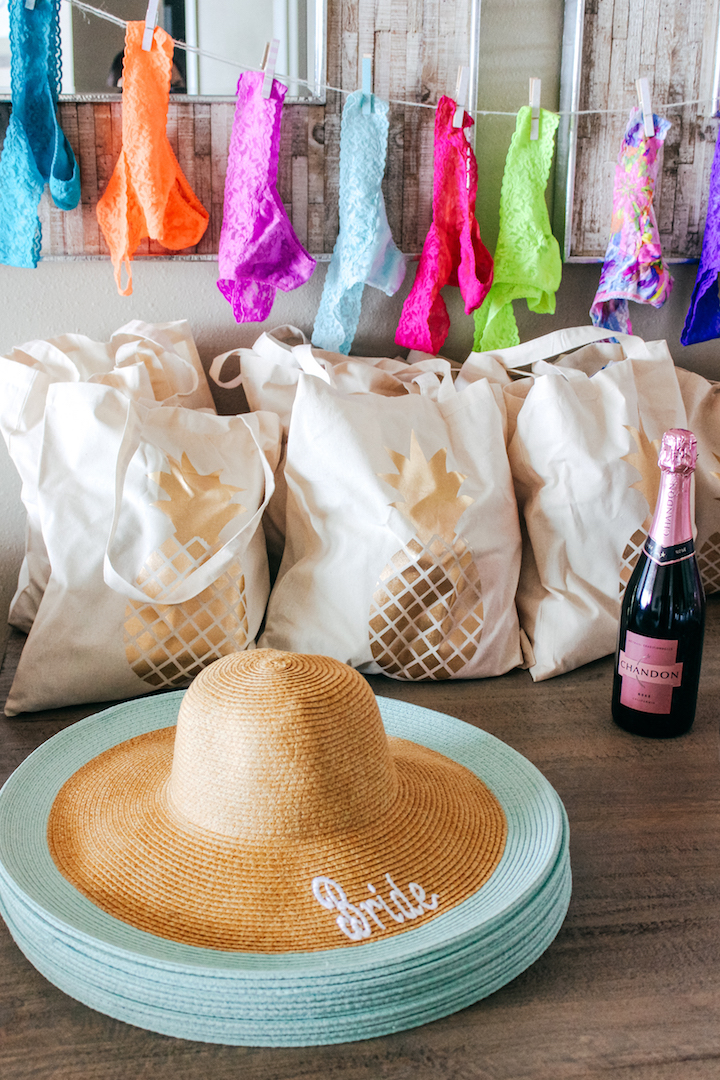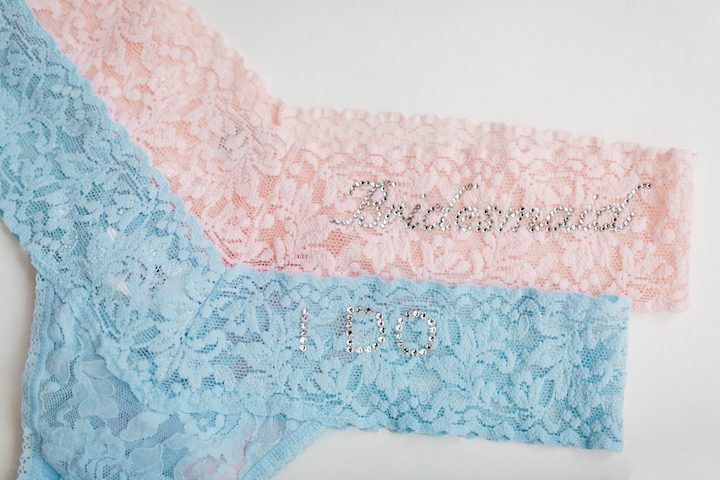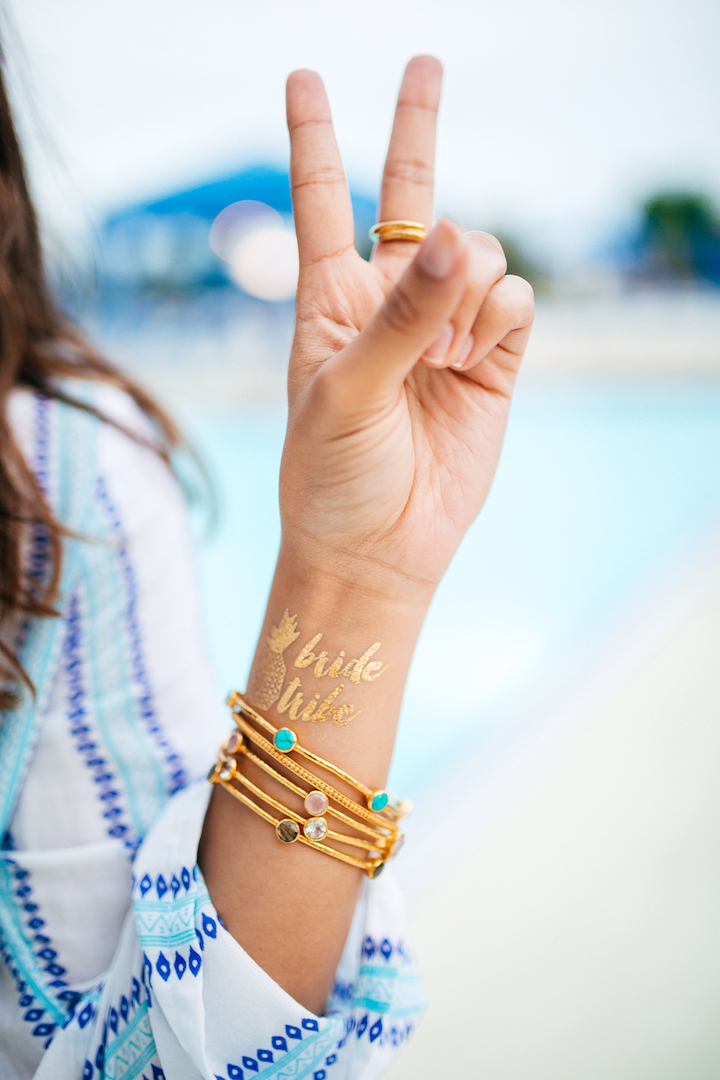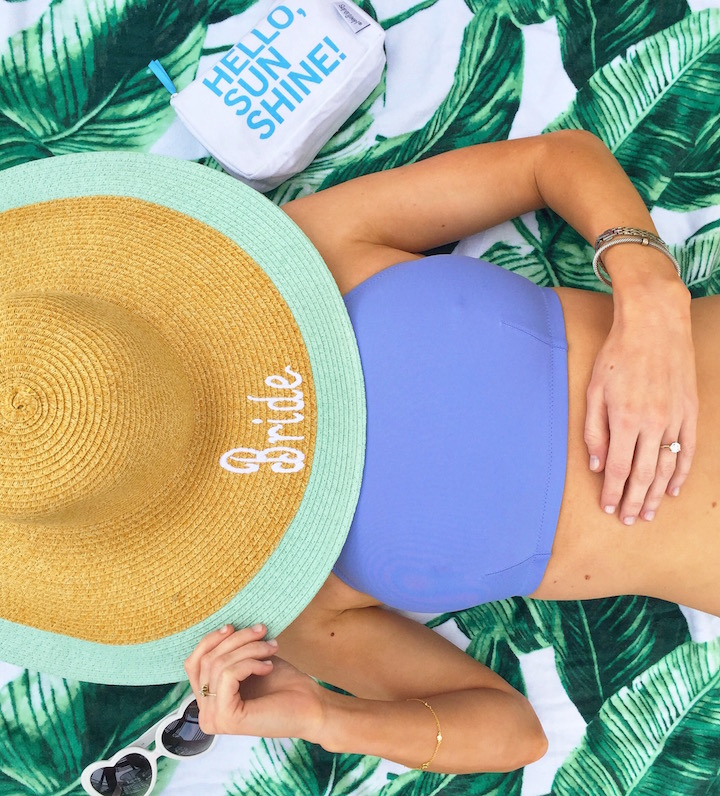 | Shop The Goodie Bags |

Goodie Bag Details: Mini Zip Card Case c/o Gigi New York | Heart Sunglasses c/o ZeroUV | Mini Rosé Bottles c/o Chandon | Flip Flops c/o Yosi Samra | Monogrammed Wide Brimmed Hats c/o Marley Lilly | Sun Block Hello Sunshine Kit c/o Supergoop | Metallic Pineapple Totes c/o The Elizabeth Chronicles | Buxom Lipgloss c/o Buxom Cosmetics | Flamingo & Cactus Tumblers, Monogrammed Beach Spikers & Monogrammed Champagne Flutes c/o White Elephant Designs | Personalized Tassel Key Chains c/o Mark & Graham | Colorful Low Rise Thongs c/o Hanky Panky
Photos by both myself & Lainey Reed Photography (some photos were taken with an iPhone)
How To Plan The Perfect Bachelorette Beach Trip:
1) Start planning three months in advance and ask the bride what kind of party she wants, where she wants it, who she wants to invite and her schedule availability. Once you pinpoint her ideal party/trip and have her open dates on the calendar, reach out to the rest of the bridal party and coordinate dates and a budget that work for everyone before booking a place.
2) Once you find a couple of available places that work with everyone's schedules and budgets, present them to the bride and let her choose which one she likes best. Before booking the place, get a final headcount and make sure everyone is clear on how much money they will need to put down. You can also give them an estimate of groceries, dinner reservations and any additional events that may take place.
To avoid anyone having to spend more money than they had originally planned, I made a rule that once you committed to the trip and paid, you would NOT be refunded your money if you decided to cancel last minute. I did this to be fair to everyone especially those who could not afford to go over budget.
When it comes to collecting everyone's money for the trip, I suggest encouraging the rest of the bridesmaids to download apps like Venmo or Paypal to help this process run smoothly. You'll also like like being able to use these apps during the trip too.
3) A month before the trip research restaurants and fun things to do in that area and take any necessary actions for booking and reserving. When doing this make sure to ask about group deals and special bachelorette freebies.
4) 1-2 weeks prior to the trip, send out an email including the following information: address, start/end time, dress codes, any additional fee reminders, transportation info and a tentative itinerary for the guests to use as a guide for packing. If you plan to throw a lingerie party during the trip, make sure to inform the guests of the bride's sizes. This is also time when you should make your grocery and decorations list, compile a list of fun games and call to confirm all of your reservations. A week before the trip, take food and alcohol requests from the rest of the group if you plan knock out the grocery trip yourself. I found that it saved a lot of time going alone. Lastly, make sure you coordinate a ride for the bride and give her the breakdown without giving away any surprises so she knows how to pack.
5) The night before the trip, remind everyone of the check in time, address and any other obligations they agreed to. On the actual first day of the trip, plan to arrive early with one or two more people to help set up and decorate before the bride arrives. For the trip I recently just hosted, I arrived a couple of hours early with one other girl to check everyone in, make a grocery store trip and decorate the condo. I wanted the fridge and cabinets to be fully stocked for when everyone arrived so we could immediately start partying.
Decorations:
I found all of my banners, balloons and supplies at target. I made sure to pack tape, scissors and command hooks instead of relying on the condo to have everything I needed. As for all the explicit decor, I got all of that taken care of at Spencer's in the mall.
Games:
We played three really fun games during the trip in which the bride mentioned was her favorite part of the trip. On the first night we played a drinking question game. A week prior to the trip, I emailed the groom with 24 questions to answer about their relationship and had him send the questionarre back with all of his answers. Some of the questions consisted of: My biggest pet peeve of Jordan is? Her biggest pet peeve is when I?
Our best date ever was?
The day I realized I wanted to marry her was? I printed out the questions and read them aloud and if she answered the question correctly meaning the same answer as the groom, we all took a drink. If she answered incorrectly, she took a drink. I think this game may have been my favorite part of the trip too. If you're interested in the rest of the questions for an upcoming trip, shoot me and emil at jenn.hauteofftherack@gmail.com.
Game 2: On the second night of the trip, I sent out a Bachelorette Bucket List in our group text which is essentially a scavenger hunt for the bride to complete at the bar. It had all kinds of crazy things on there and I'm not kidding you when I say she literally dominated this list in under an hour. She's a pretty aggressive bride though! Haha!
Game 3: When we returned home from the scanveger hunt at the bar, we played 'Pin the junk on the hunk!' I found this game at Spencer's and it's pretty self-explanatory. I suggest playing it after long night of drinking, it's much more entertaining that way!
Thank you so much to all of the brands that contributed to this blog post. All opinions here are my own. Thank you for supporting the affiliate posts who make this blog possible.