Happy Friday everyone, today I'm sharing my first episode of "Have Your Cake and Eat it Too" on my Instagram stories at @HauteOffTheRack. "Have Your Cake and Eat It Too" is a new spinoff series from my silly "Haute Out The Oven" show. In this new show, my mom and I attempt to bake a cake together while also working out at the same time as our cake bakes in the oven so we can still have our cake and eat it too.
I'm officially three months postpartum today and since my mom is a certified personal trainer on the side, we thought this would be a fun way to work towards getting back in shape and have you follow along with the journey. I hope you enjoy the series and attempt to make some of these recipes yourself. I also hope it inspires you to stay active and healthy especially if you recently had a baby and you're now ready to get back to making your healthy a priority again as I know it can take a backseat when you're more focused on taking care of your new baby.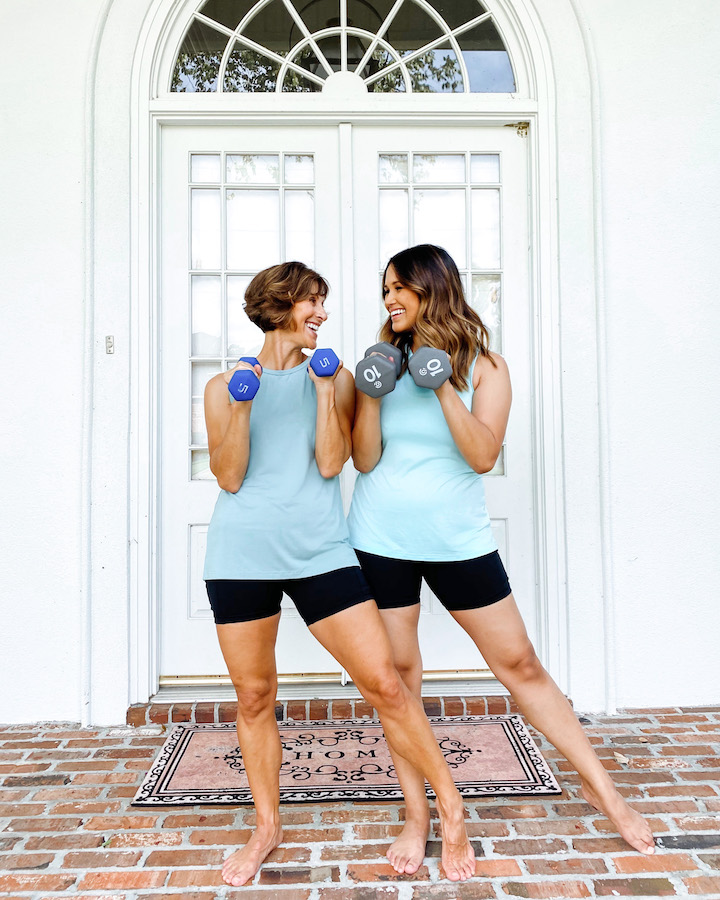 | Shop Our Activewear Looks |
Matching Outfits: Mippo Mesh Yoga Tops (Mom wearing sz XS & I'm wearing sz S) | High Waisted Biker Shorts (My mom is wearing sz S and I'm wearing sz M)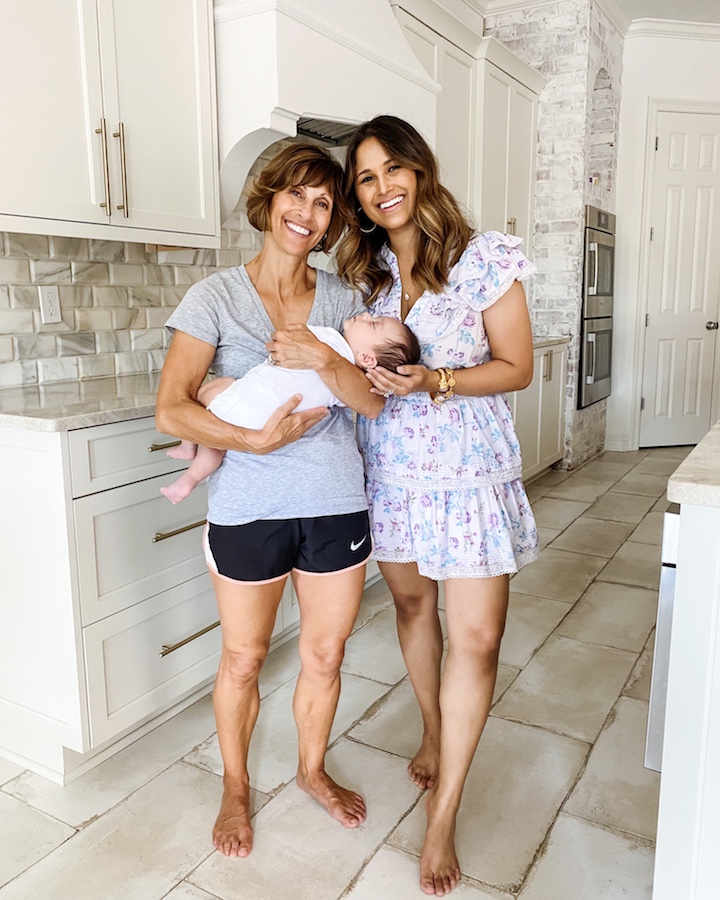 My dress is sold out from the Target x Love Shack Fancy collection.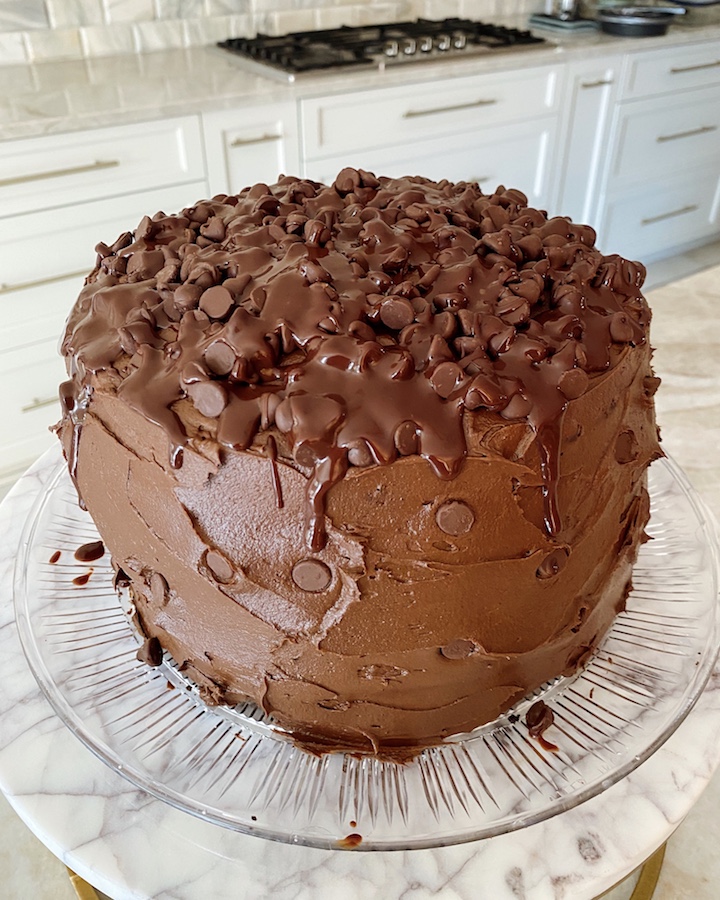 See the full cake recipe that we made during the show below. It's the absolute best chocolate cake recipe that I got from Delish.com
INGREDIENTS:
FOR THE CAKE
Cooking spray
4 c. all-purpose flour
2 c. granulated sugar
1 c. packed brown sugar
2 1/4 c. Dutch-processed cocoa powder
3 tsp. baking soda
3 tsp. baking powder
Pinch of kosher salt
1 1/2 c. melted butter
6 large eggs, lightly beaten
2 1/2 c. strong black coffee
2 1/2 c. buttermilk
1 tbsp. pure vanilla extract
FOR THE FROSTING
3 c. butter, softened
7 1/2 c. powdered sugar
2 1/4 c. cocoa powder
1 tbsp. pure vanilla extract
Pinch of kosher salt
3/4 c. heavy cream (plus more if necessary)
4 c. semisweet chocolate chips, divided
Prep:
Preheat oven to 350°. Line three 8" round cake pans with parchment and grease with cooking spray.
Make cake: In a large bowl, whisk together flour, sugars, cocoa powder, baking soda, baking powder, and salt. In another large bowl, whisk together melted butter, eggs, coffee, buttermilk, and vanilla. Gradually whisk dry ingredients into wet ingredients until smooth.
Divide batter evenly among the cake pans. Bake until a toothpick inserted into center comes out clean, about 35 minutes. Let cool completely on wire racks before removing from pans.
make frosting: In a large bowl using a hand mixer, beat butter, powdered sugar, cocoa powder, vanilla, and salt. Beat in heavy cream (adding more by the tablespoon until consistency is creamy but can hold peaks).
Frost cake between layers, and then cover the entire cake with frosting. Using your hands, cover the entire cake with 3 cups chocolate chips, more if needed.
In the microwave, melt remaining 1 cup chocolate chips, then drizzle melted chocolate over cake and serve.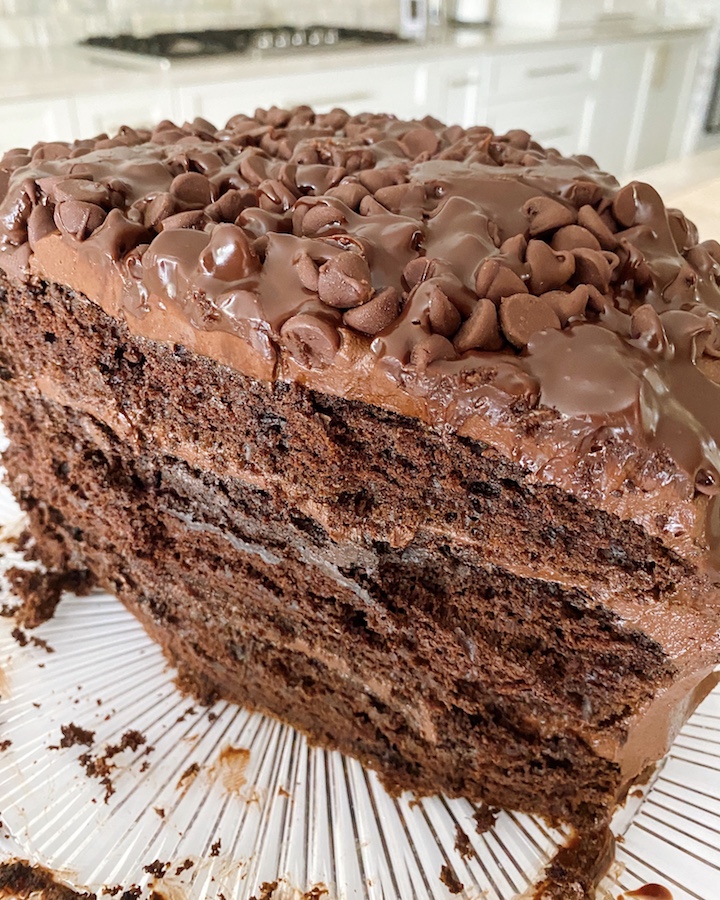 This cake was so delicious! I highly recommend it, but be warned that it's super rich and gigantic. I suggest making it for a large group of people who will be sure to take some home with them or you might be tempted to eat the whole thing yourself!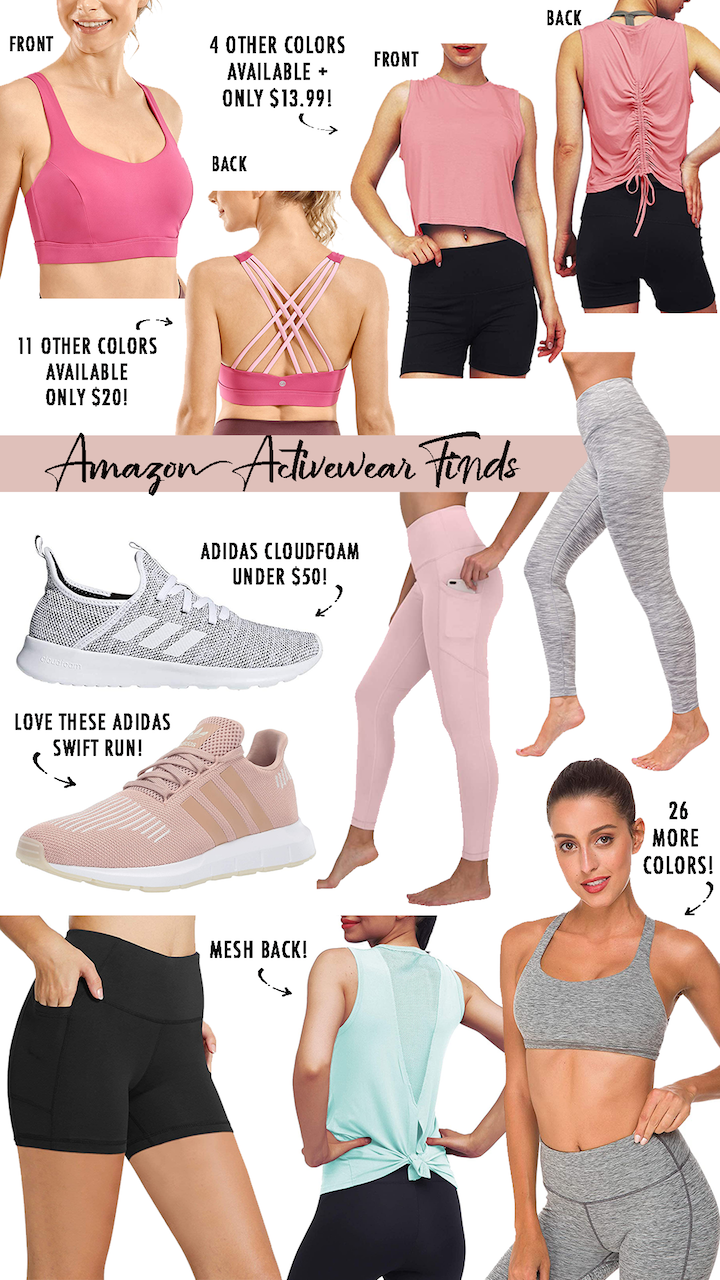 | Shop Activewear Outfits under $50 |
1. Strappy Sports Bra Full | 2. Mippo Tie Back Cropped Workout | 3. Adidas Cloudfoam | 4. Adidas Swift Run | 5. 90 Degree Yoga Pants (Pink) | 6. 90 Degree High Waist (Grey) | 7. High Waisted Biker Shorts | 8. Mippo Mesh Yoga Tops | 9. Yoga Sport Bra Light Support