Hey everyone, I hope you're all having a great week so far. I mentioned yesterday that I missed my flight to Dallas because you know…mom life! BUT I took advantage of the extra time and spent it with the kids and I also put together something fun for you all. nWith Spooky Season🎃 coming up, I thought it would be to create a fun Halloween Candy board to inspire your own festive treats for any parties that you might be hosting or attending. I ordered everything from Walmart and conveniently had it delivered to my house to make these adorable spider🕷& ghost 👻 cookies! This is such a fun activity for the kids to decorate! You don't need to make an entire candy board to impress your guests though, you can just take a few of these sweet ideas to incorporate into your dessert!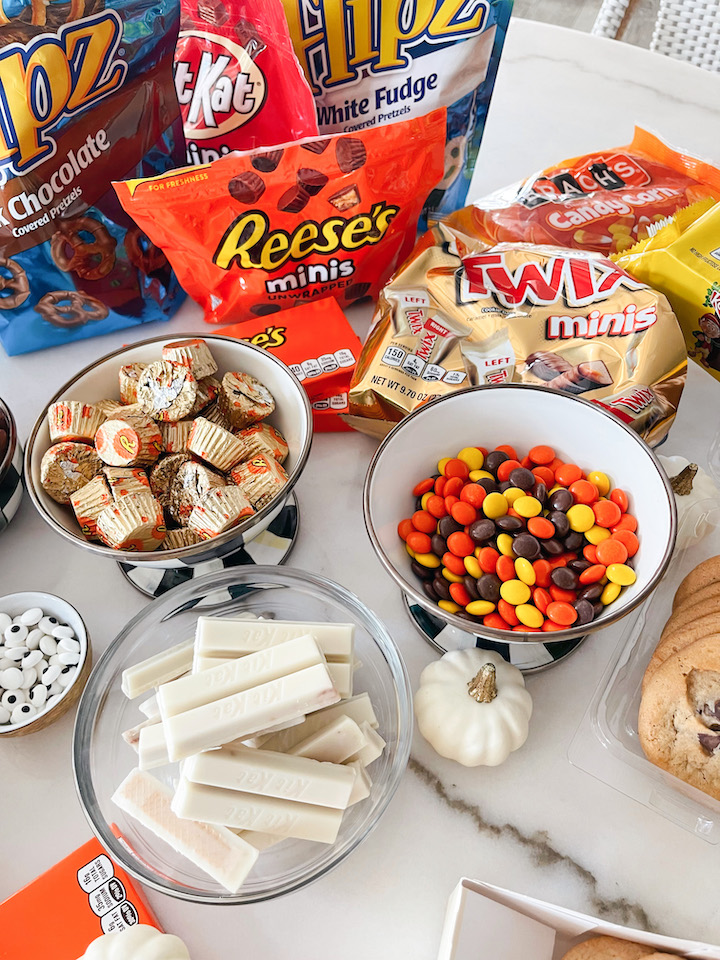 | Shop Halloween Candy Board Ingredients |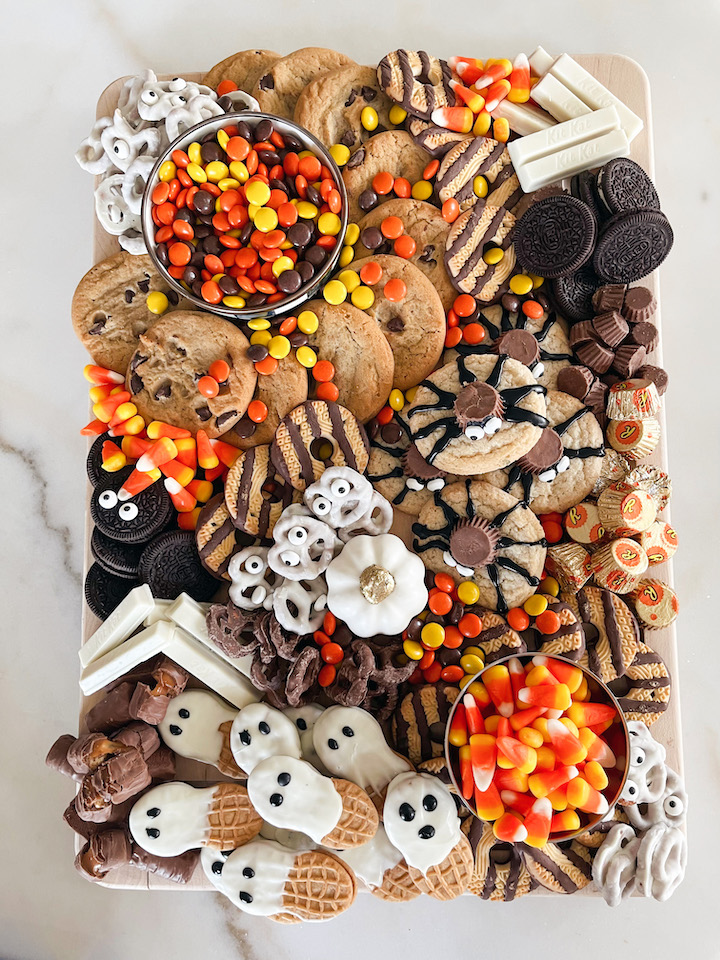 Here is a list of all the candy we included on our Halloween Treat Board from Walmart:
Brach's Halloween Classic Candy Corn Bag | Candy Corn is a must for a Halloween treats whether you like it or not. I actually don't love Candy Corn, but I love how much color it brings to the board.
Wilton Edible Black and White Candy Eyeball Sprinkles | We used these for the eyes on the spider cookies
GHIRARDELLI White Vanilla Flavored Melting Wafers | We melted these white chocolate wafers to make the ghost cookies
Betty Crocker Black Cookie Decorating Icing | We used the icing to make the eyes on the ghosts and the legs on the spiders.
Nutter Butter Family Size Peanut Butter Sandwich Cookies | These cookies are perfect making ghosts or mummies.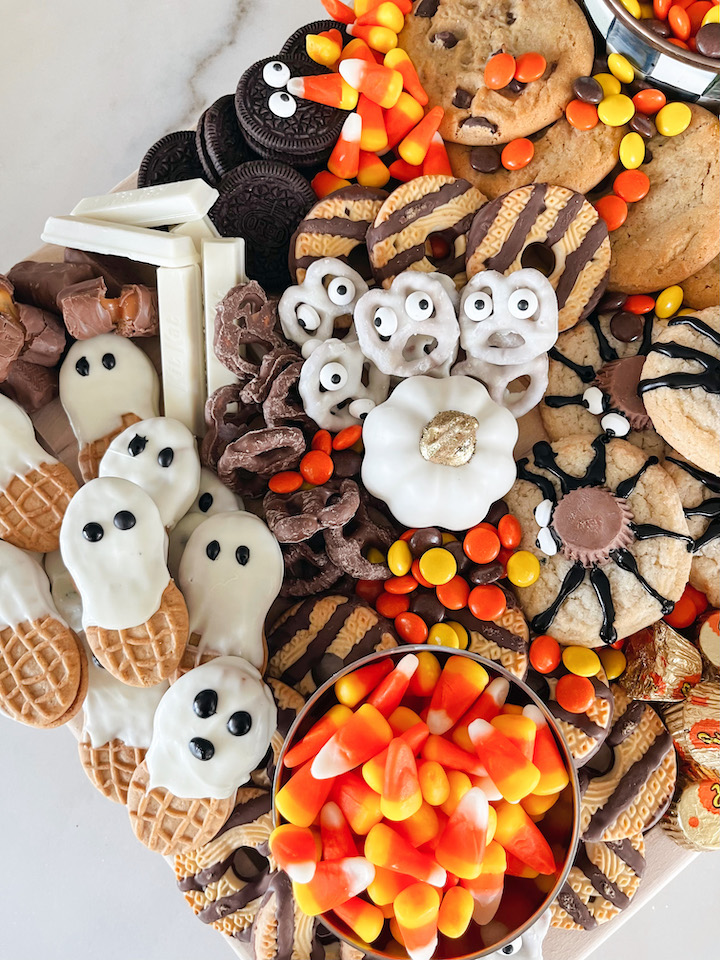 Flipz White Fudge Pretzels | I like to use white chocolate on the board to help break up all of the brown. I also suggest white Kit Kats too.
Chocolate Chip Cookies, Oreos & Fudge Stripe Cookies help fill large spaces on the Candy Board. Also, there are plenty of festive treats you can make with the extra cookies.
REESE'S, PIECES Peanut Butter Candies | These bring a lot of color to the board not to mention the fact of how delicious they are.
Reese's, Miniatures Milk Chocolate Peanut Butter Cups | Spread some dark icing on the wide part of the candy and then place them upside down on top of the the sugar cookies to make the spider cookies. The icing is meant to help them stick.
Twix | Twix is my favorite chocolate candy so I of course had to include it on my treat board.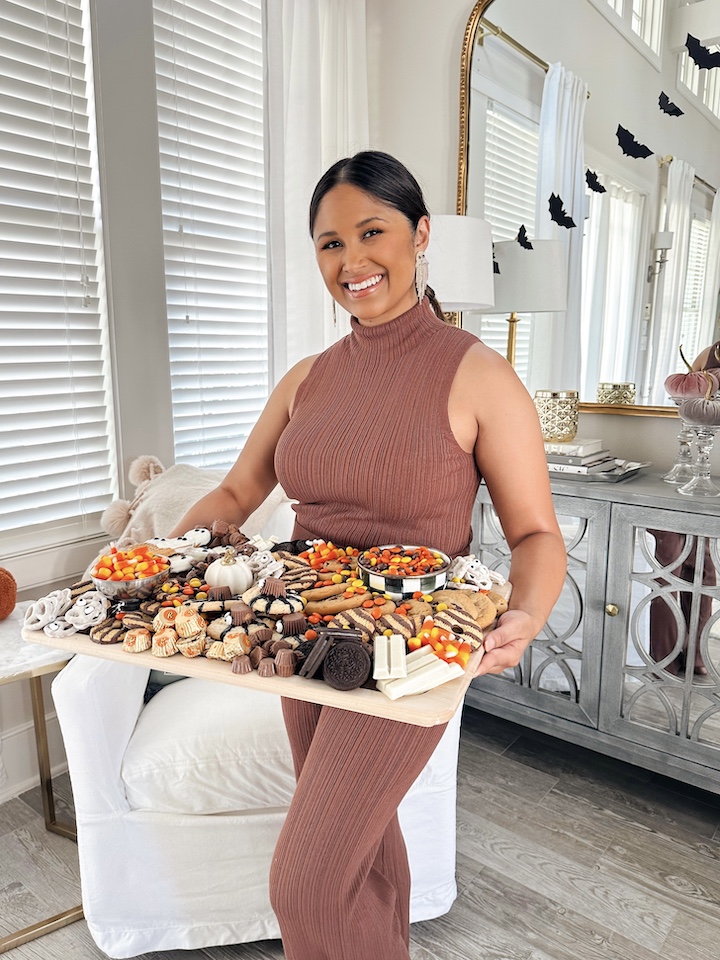 When you decide to make these treats yourself, don't forget that new customers can use promo code TRIPLE10 to save $10 off their first three pickup or delivery orders at Walmart $50 min. Restrictions & fees apply.*
This post is in partnership with Walmart, a brand I love. All opinions and selections here are my own. Thank you for supporting the businesses who make this blog possible.