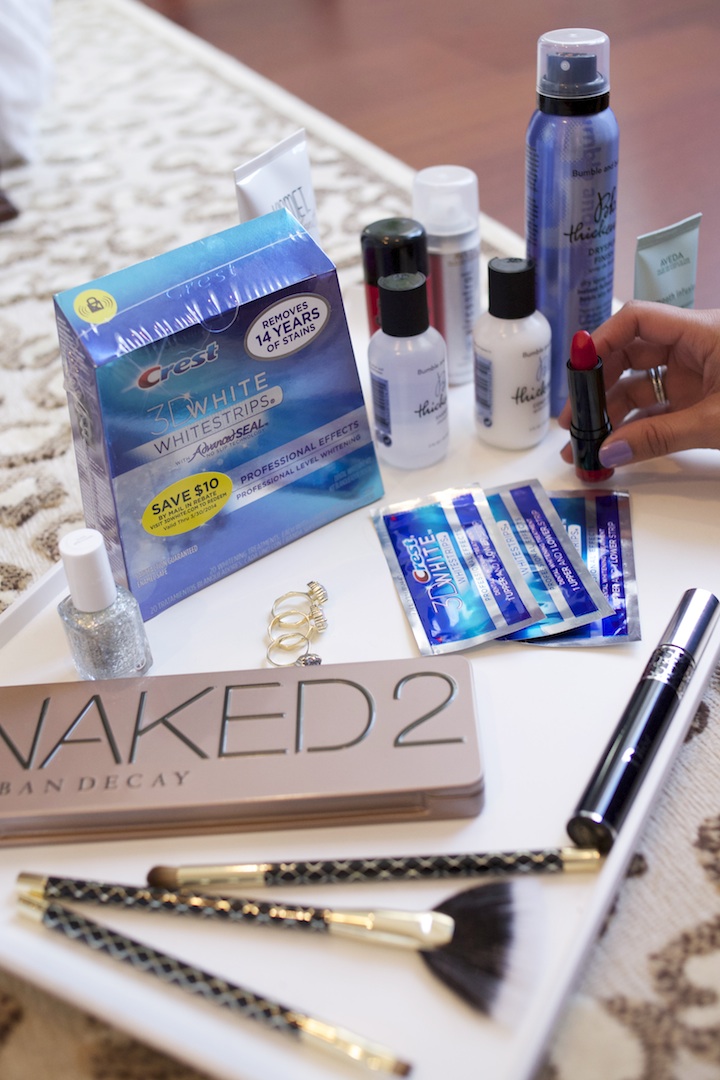 Good Morning readers, today I want to give you a little insight on what goes on behind the scenes of Haute Off The Rack.  Lately, the "What do you use for your hair? What lip color is that? What kind of curling iron do you use? What beauty essentials do you recommend" emails have been rolling in. Not to mention that the Grammys are approaching this weekend and award season is in full swing. It got me to thinking about my own red carpet beauty routine. I may not be attending any red carpet events, but that doesn't mean you can't go out looking "red carpet-ready!" Am I right? So I decided create a blog post series that will answer all of those questions and have you looking like you belong on the red carpet this weekend!
Some of you may find that my "getting ready for a night out" process is similar to yours and others might find my routine a little over the top. A prime example of someone who thinks that my beauty routine is a little over the top would be my boyfriend. How I get ready is a process that he will probably never understand.  During the course of my two sometimes three-hour beauty prep he'll pop his head in the bathroom and say, "Are you close to being done yet? You look the same as you did forty minutes ago?" Ah, but you see I actually don't look the same as I did forty minutes ago. At the forty-minute mark, my teeth are brushed and pearly white, my hair is washed and dried and my skin is cleansed and moisturized.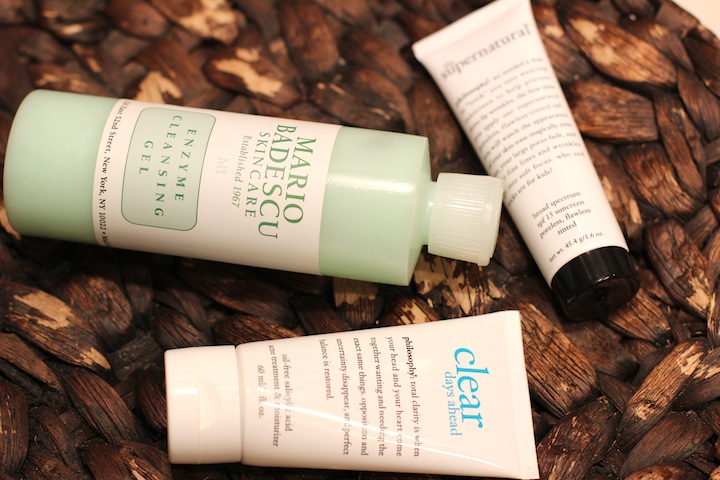 I use Mario Badescu Enzyme Cleansing Gel face wash and Philosophy's Clear Days Ahead Moisturizer. This is the best face cleanser for sensitive skin! I highly recommend it. I've been using it for the past 10 years!
There are so many little details that go into looking glamorous from the 3D White Luxe Whitestrips Professional Effects for that gorgeous white smile to just the right amount of hair spray to give your hair that effortless bombshell look. Am I right ladies?  My boyfriend's philosophy of "You don't need makeup and your hair looks fine," just won't suffice.  To prove that there is more to getting ready just quick hair and makeup, I'm going to give you my step-by-step beauty routine.
First, I'm going to start with my smile because to me your smile is one of your most important accessories. Fortunately, my mother always made me brush my teeth multiple times a day growing up, but unfortunately I live on coffee and sweets, which can darken your bright happy smile. Not to worry though because there is remedy for that! You can use 3D White Luxe Whitestrips Professional Effects to get back that beautiful white smile and voilà! You've got instant  #SmileStyle!
I'll touch on hair and makeup details in a separate post, but below are few of my beauty essentials: Essie Nail Polish, Bumble and Bumble Thickening shampoo, conditioner and hair spray, the Naked 2 Palette, Ashley Sievert Beauty foundation, powder and concealer,  Diorshow Waterproof Mascara and an eyelash curler.
Not Photographed: Glo-Minerals Eyebrow pencil, Aquaphor, Roll-on and liquid Revlon eyeliner and 1.5 inch curling iron.
| Shop My Hair & Beauty Essentials |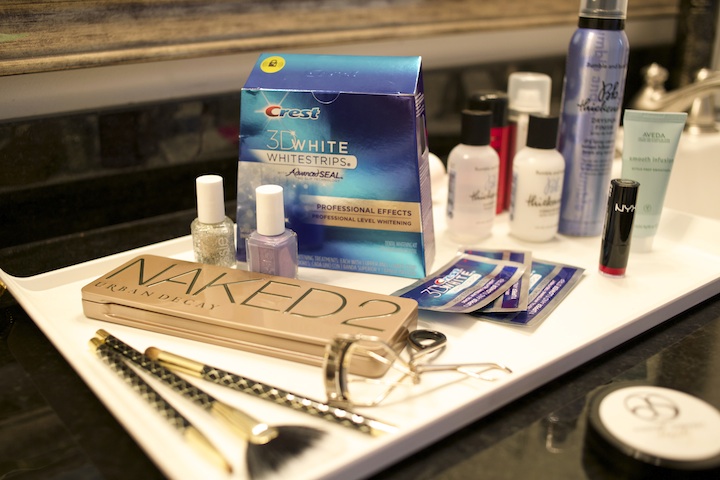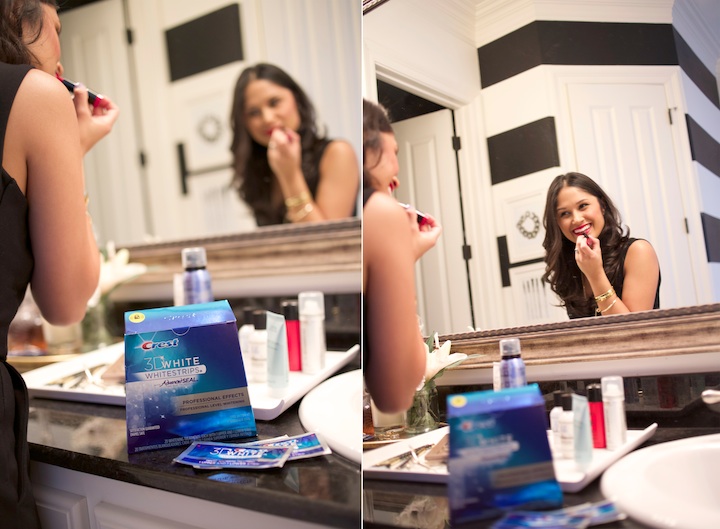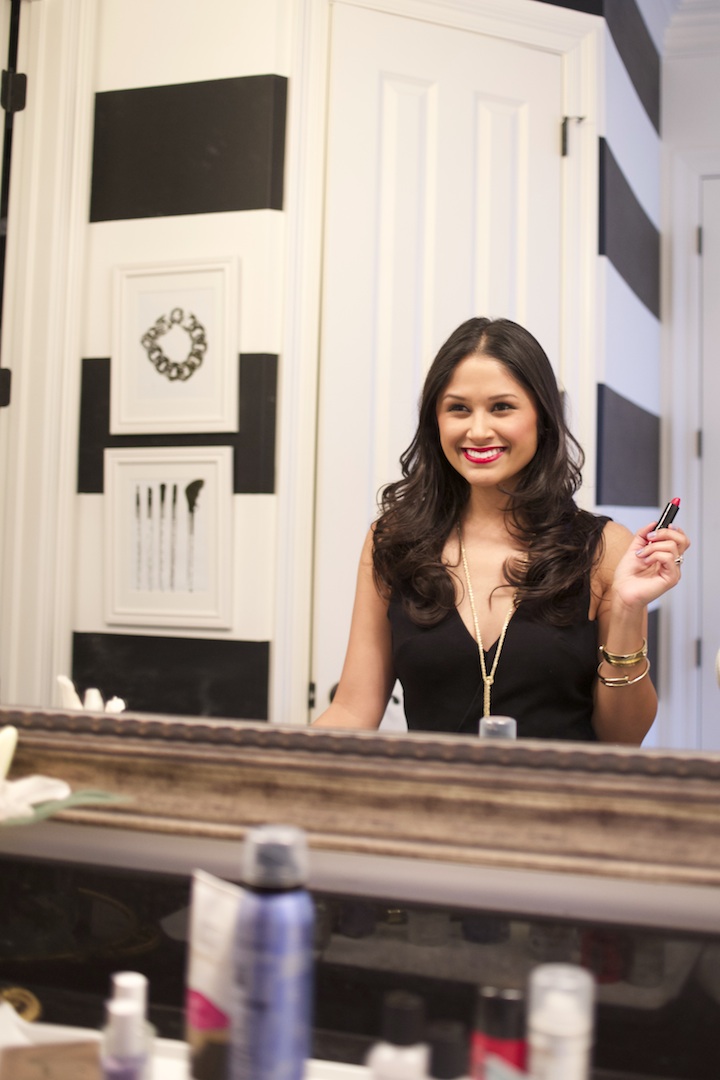 After I finish my hair and makeup I lay a bunch of different options out around the room and then try them all on in front of the mirror to help me decide on what to wear!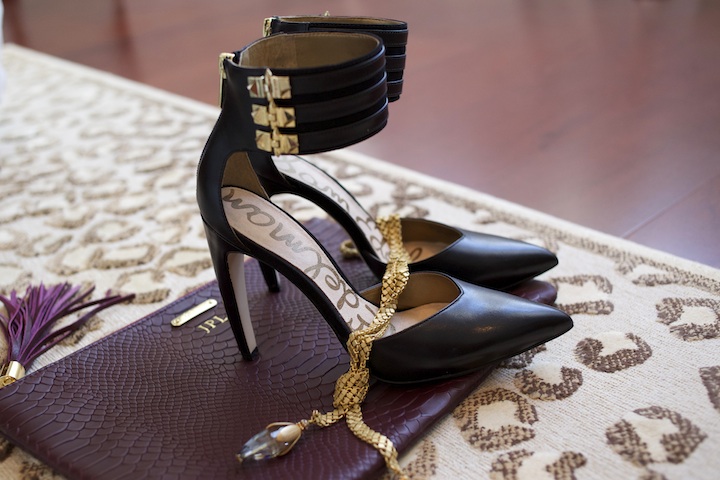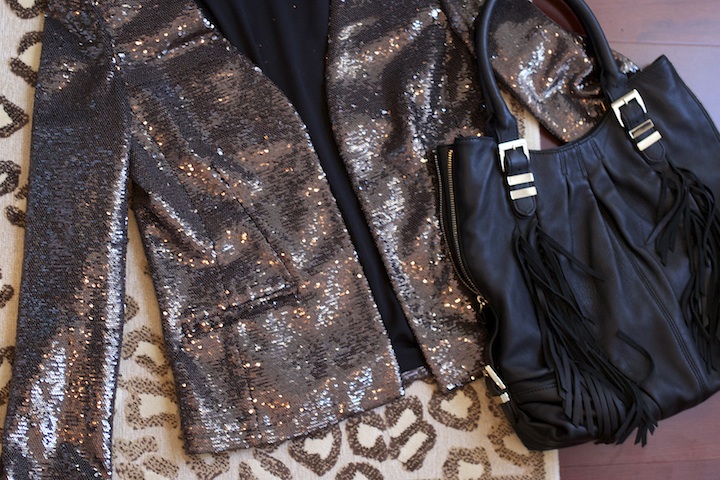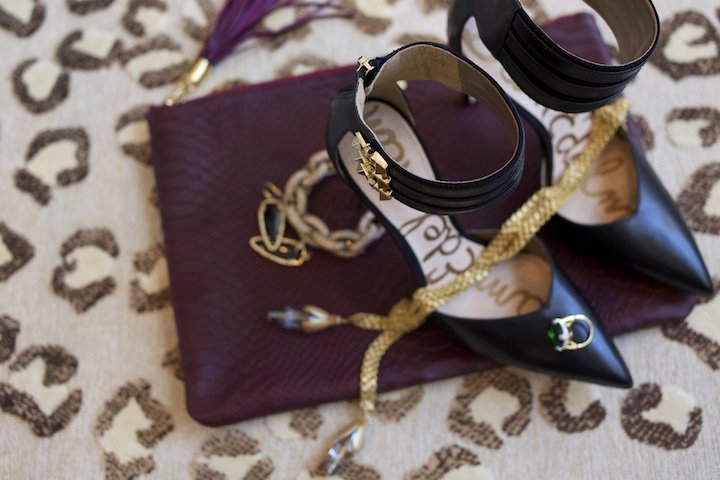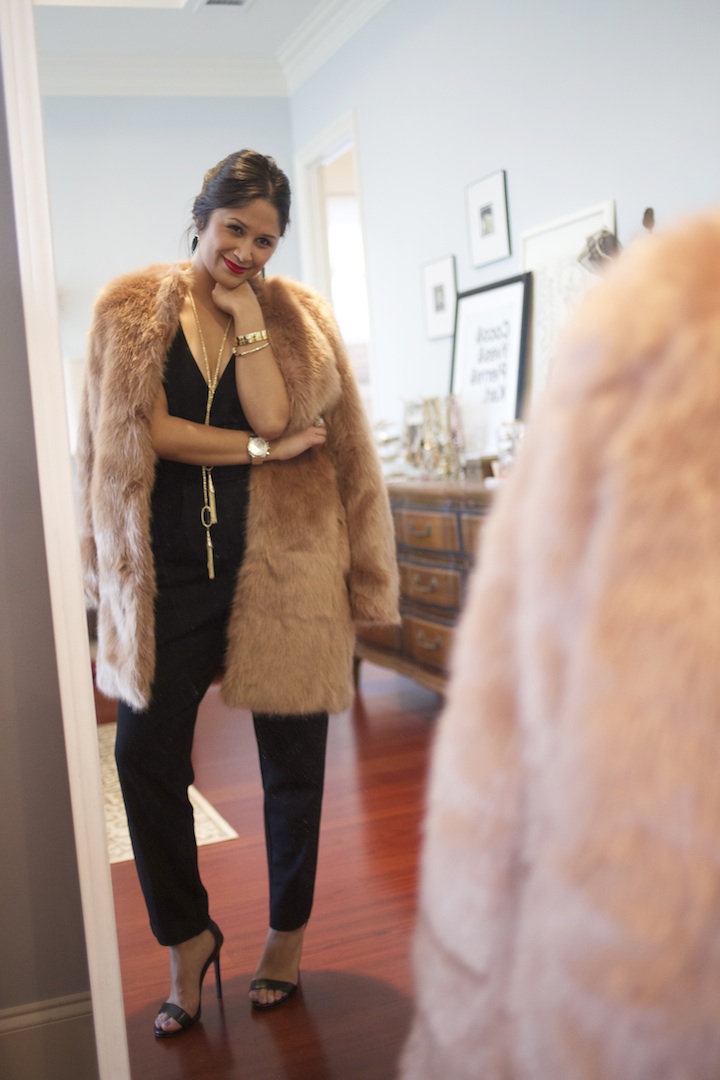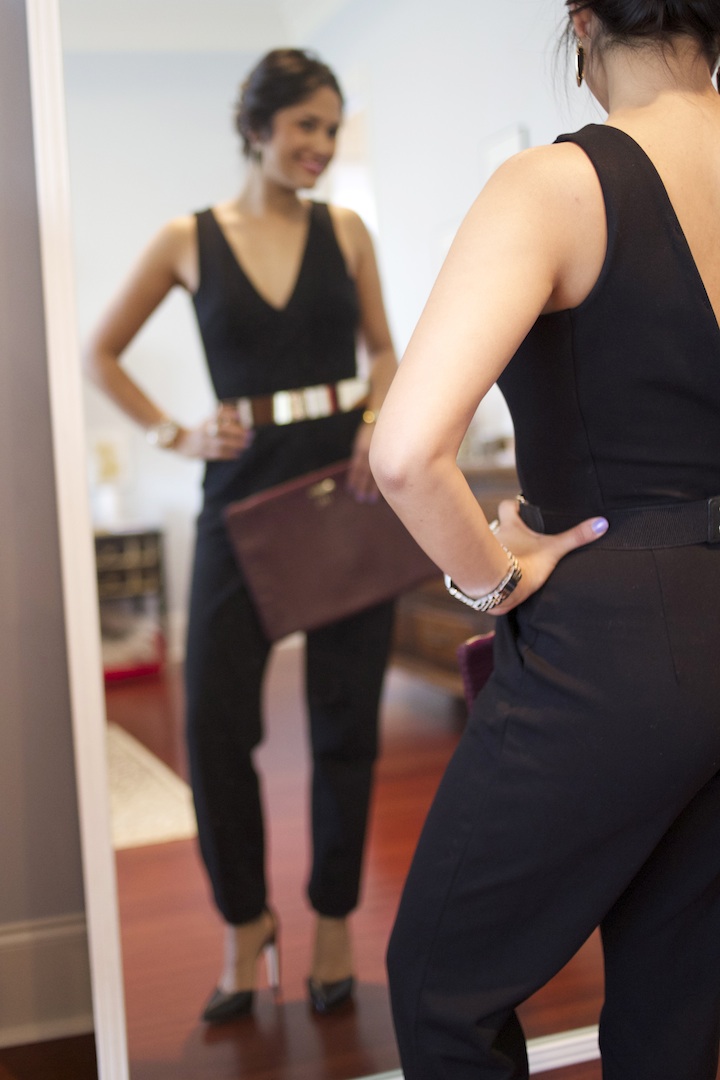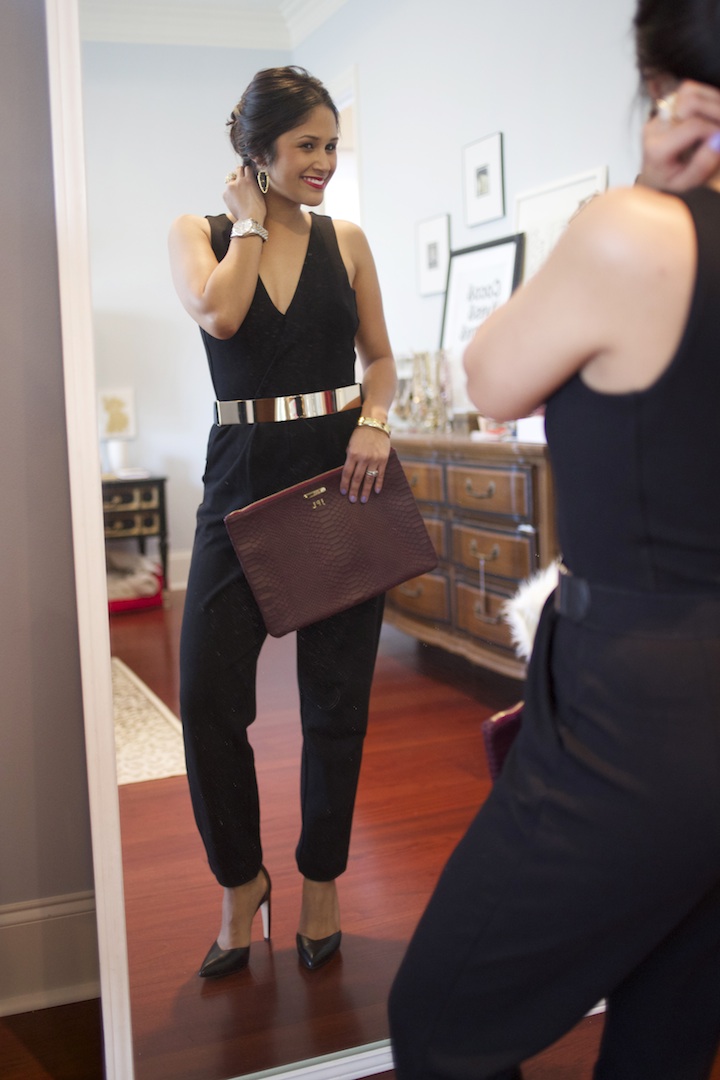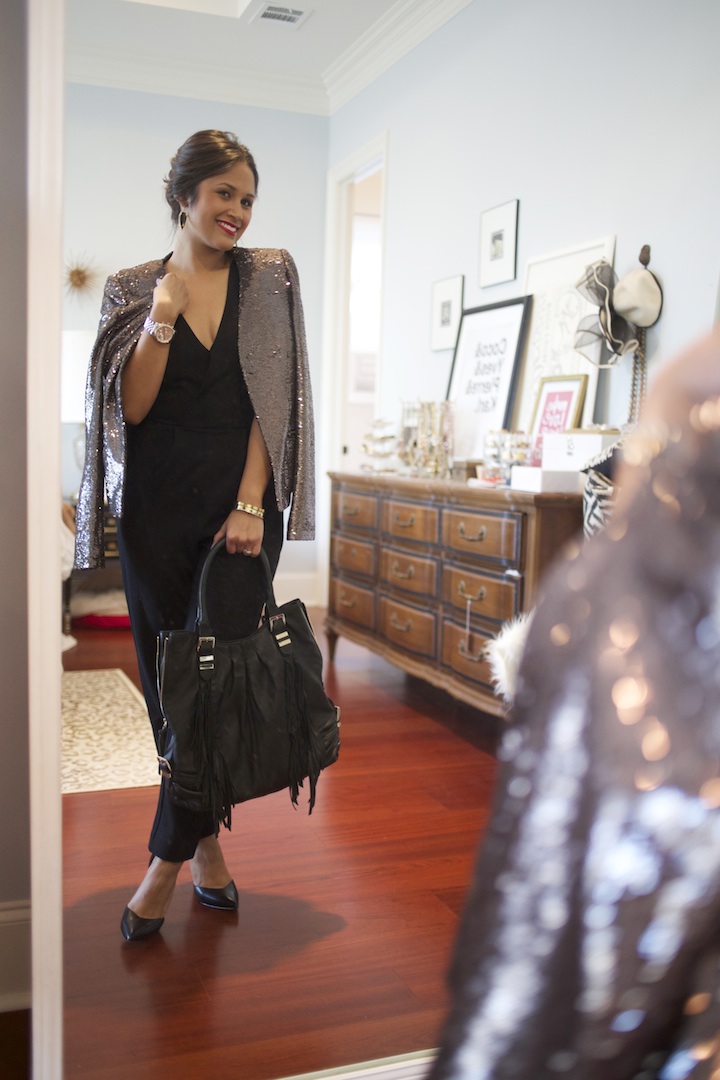 The last thing I do before running out the door and I do meaning running because I'm usually always late is spray a little See By Chloe perfume on my hands and run it through my hair. I feel the like the scent of my perfume always stay on the longest when it's in my hair or my clothes.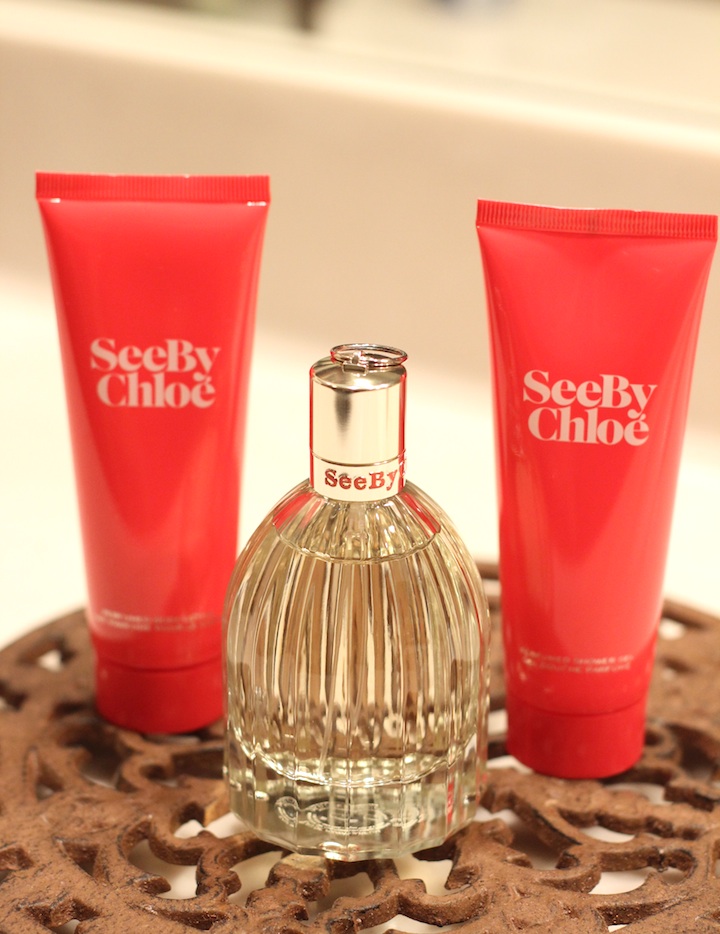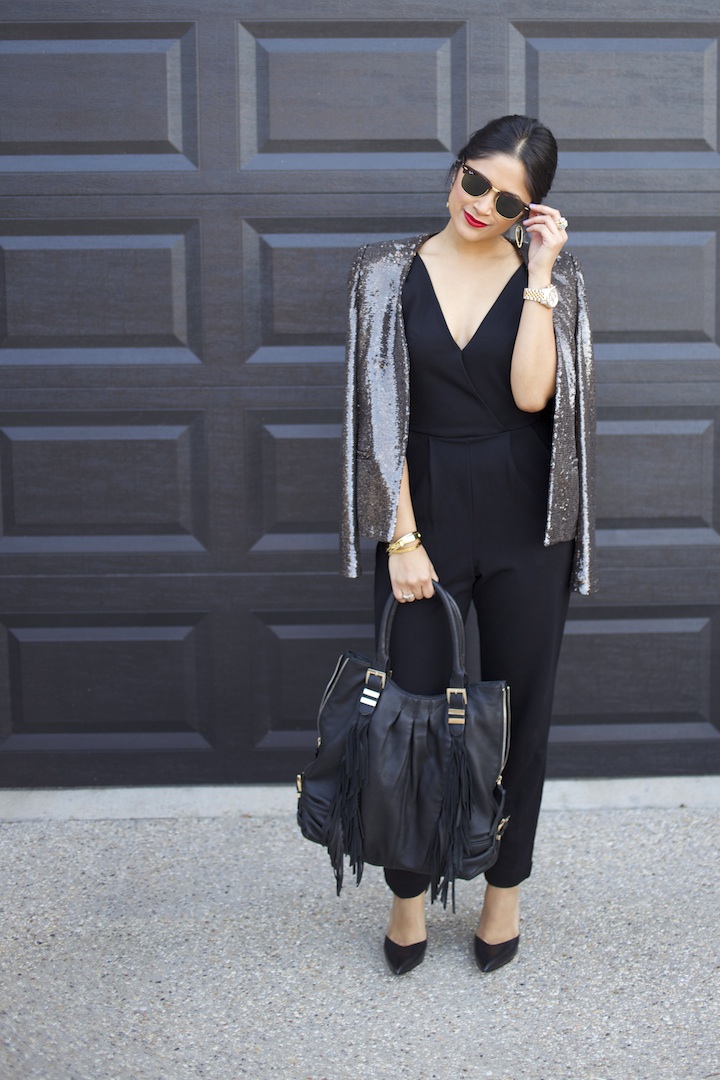 Photos by: Kaela Rodehorst Photography
| Shop This Look |
Outfit: Jumpsuit c/o French Connection | Python Uber Clutch c/o Gigi New York <–SALE alert 30% OFF | Pointy Toe Pumps c/o Sam Edelman | Gold Belt c/o Candy Apple Boutique | Faux Fur Coat c/o ASOS | Rayban Sunglasses | Sequin Blazer and Fringe Bag (old)
Jewelry: Megan Long Necklace and Sky Earrings c/o Kendra Scott | Michael Kors Watch
Now that I've shared a few my secrets with you, I want to hear some of yours! Share your #SmileStyle secrets on social media with me and following along with @HauteOffTheRack, @StyleList and @3DWhite to see my red carpet evening on Grammys night this Sunday!"
This is a collaboration between Crest and the AOL Lifestyle Contributor Network. Compensation was provided by Crest via AOL Media. The opinions expressed herein are those of the author and are not indicative of the opinions or positions of Crest.