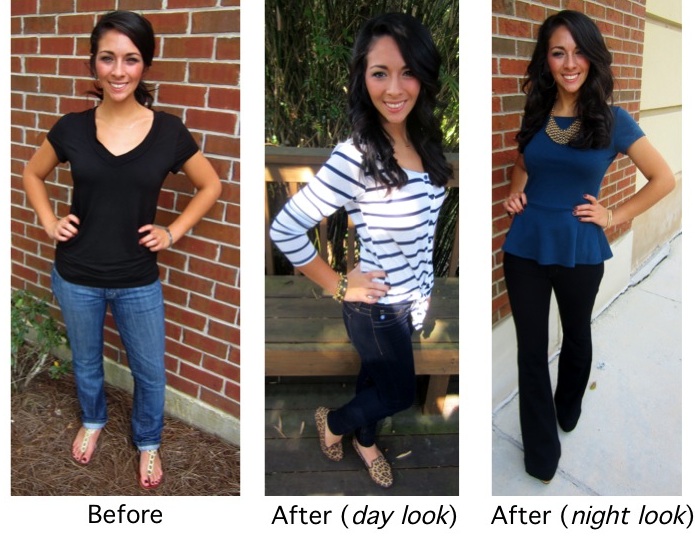 Do you feel like your fall wardrobe lacks the pieces you need to look great, but don't know where to start? Or, could you use some quick and easy tips on how to transition your hair and makeup from day to night?
I recently received numerous emails asking how to freshen up for fall while staying within a budget, so I decided a makeover story was due. I'm going to teach you a few simple hair and makeup tricks to show you how to update your fall wardrobe at a reasonable price.
LSU mechanical engineering student Jessica Ramirez willingly volunteered to get a makeover and share her story with Dig readers.
We first got rid of old, outdated clothes. Then we went shopping all over town, had a wardrobe style session, and capped it off with some pampering by hair and makeup stylist Courtney Johnson at Rigsby Frederick Salon. Ramirez now feels beautiful, rejuvenated, and ready for fall.
To start, we discussed the type of wardrobe Ramirez needed to fit her daily lifestyle, as well as new trends she wanted to try.
"I'm a 23-year-old full time mechanical engineering student, so I want to go for a more sophisticated-yet-comfortable look. I need tops and flats that are cute and easy to wear to class and school meetings. I also really want to try a peplum top and learn more ways to style my little black dress," Ramirez said.
We talked about her image goals, budget, body insecurities, and fabric, color, and style preferences.
"I want a slimming pair of jeans mixed with fun, printed tops that are inexpensive and appropriate for my Tiger Car Racing meetings," Ramirez said.
Next, we assessed all of her current clothes, shoes, and accessories to decide which items to keep, discard, and donate. Once we finished consolidating her closet, and had a good laugh at her 8-year-old pair of jeans that she still insists on wearing, we collaborated on outfits based on her personal style to determine what her wardrobe lacked. We compiled an itemized list of the items needed to complete her wardrobe, and with a budget of $400 in mind, we mapped out all of the places we could afford to shop.
We decided to hit up Love, Rodeo, Frock Candy, Target, TJ Max, and Forever 21. During our $400 shopping spree, we successfully purchased three dressy tops, three casual tops, two scarves, one pair of black flare jeans, one pair of dark, denim skinny jeans, one pair of taupe ankle boots, and one pair of leopard loafers.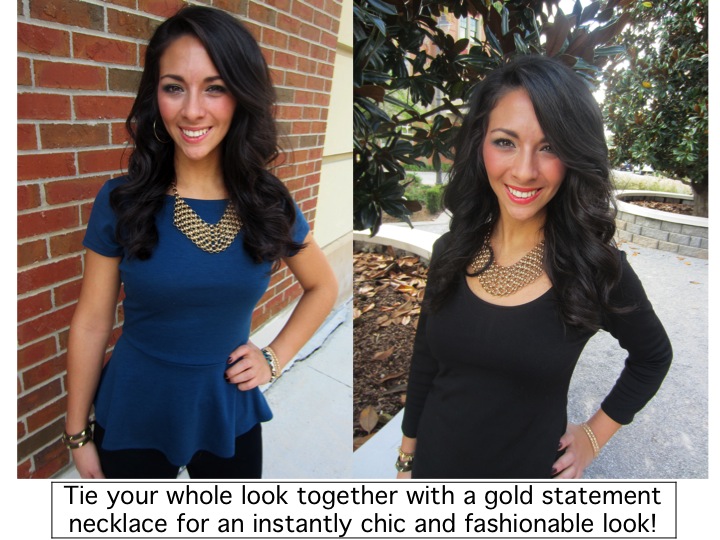 Since Ramirez said she wanted slimming jeans, I chose dark, skinny denim from Rodeo for $48 that she can wear casually to class and easily dress up to wear out at night. In addition to the skinnies, I chose a pair of high-waisted, black James flare jeans for $75 to elongate her petite 5'1 foot frame and instantly slim up her legs.
"I cannot believe how much taller and thinner these black jeans make me look. I feel amazing in them," Ramirez said with excitement.
Based on Ramirez's color and style preferences, we picked out some rich jewel-tone colored tops to complement the dark denim as well as a few casual tops for class. Once we finished shopping, we styled all of the outfits together and headed over to Rigsby Frederick Salon on Perkins Road for a hair and makeup session with stylist Courtney Johnson.
Johnson suggested soft waves for Ramirez's daytime look and neutral tones mixed with aqua hues for face and eye makeup. To achieve this look, the stylist smoothed Ramirez's ends with a Karatase serum for instant shine and misted her hair with Moroccan Oil Finish Luminous Hairspray. Then, she divided Ramirez's hair into large sections and used a 1.5-inch curling iron to form effortless looking waves.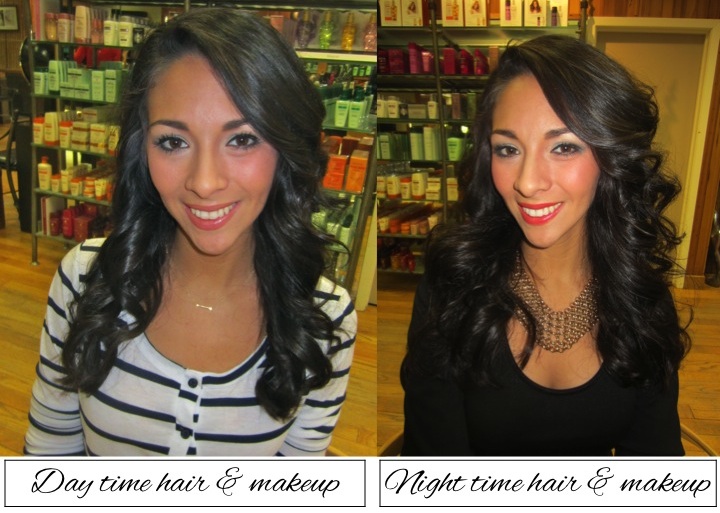 "Make sure to curl the sections of hair vertically and to leave out 1-inch of hair at the ends while curling to keep the style simple and create more of a soft wave effect instead of a curl," Johnson suggested.
For Ramirez's daytime look, Johnson used Kett Cosmetics airbrush makeup to apply her foundation, blush, and highlights.
"Airbrush makeup will give her that perfectly flawless look and will last all the way throughout the day and night without even having to reapply," Johnson said.
Following the face makeup, Johnson brushed bronze and muted aqua hues on Ramirez's eyelids. Next, she applied black liquid eyeliner to the base of the lids and added two coats of mascara to her lashes. To finish off, Johnson smeared a neutral lip color by Minerology with a hint of pink to her lips for a sweet and simple daytime look.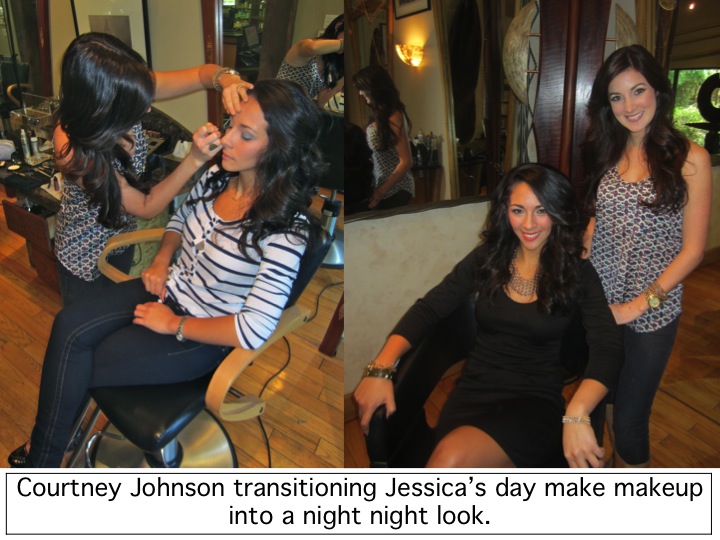 Ramirez's nighttime look took less than 10 minutes. Johnson began by teaching us a trick on how to create fuller curls in under five minutes.
"What you want to do is take small sections of hair, and then, using your fingers, slide the strands of hair upward towards the scalp starting from the ends. This makes the hair appear fuller and more glamorous," Johnson said.
For added volume, Johnson recommended flipping your head over and hair spraying the entire under-side of your hair to pump up the curls.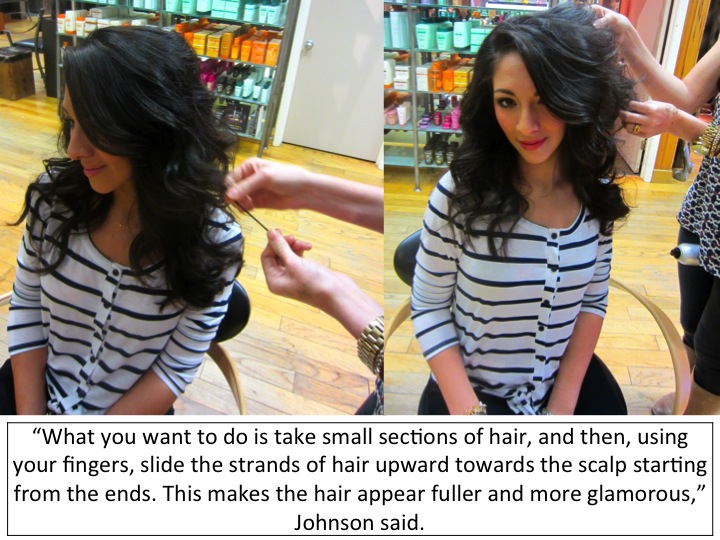 For Ramirez's evening makeup, Johnson brushed a brighter blush over her daytime blush and added some black shadow to her eyelids to create smoky eyes. Lastly, she added a touch of dark raspberry colored lipstick for a more dramatic effect.
Ramirez looked stunning by the end of her makeover, and so can you. Just try a few of the simple fashion and beauty tricks we used to style her. Why not stand out this season? Toss those old faded jeans and try incorporating new trends into your wardrobe like this peplum top and black flare jeans we chose for Ramirez. Also, don't forget the key to looking great is feeling confident and happy with your appearance!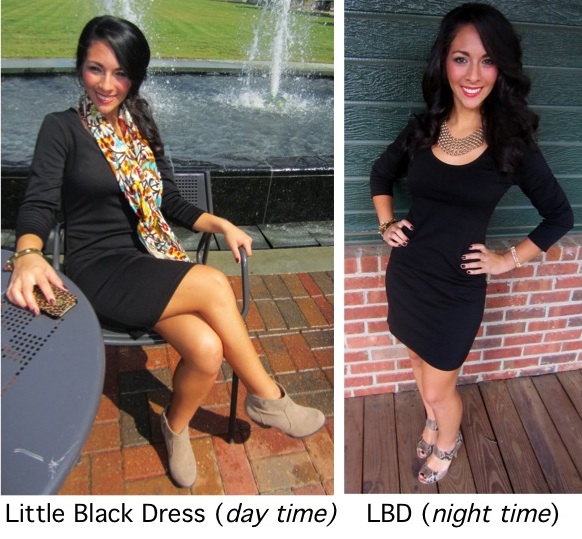 Try using a few of the steps we used to makeover Jessica's wardrobe and shoot Haute Off The Rack an email at fashion@digbatonrouge.com to show us what you came up with. Maybe you'll get featured in an upcoming edition of Haute off the Rack.
Good Morning readers, I hope you all had a nice weekend.  This is my latest article in Dig magazine on Jessica Ramirez's fall makeiver.  In case, you didn't see my last Dig post,  I decided that I am going to post all of my articles that I write for Dig Baton Rouge magazine on my blog every week for all those of you who don't live in the area, but still wish to read my articles!   Also, you can always go to www.digbatonrouge.com, click on News Mag and search my articles under Entertainment!  Have a great day!
Also, please make sure to check out my Contact & Styling Services page or email me at jenn.hauteofftherack@gmail.com if you're interested in some Haute Off The Rack personal styling sessions!