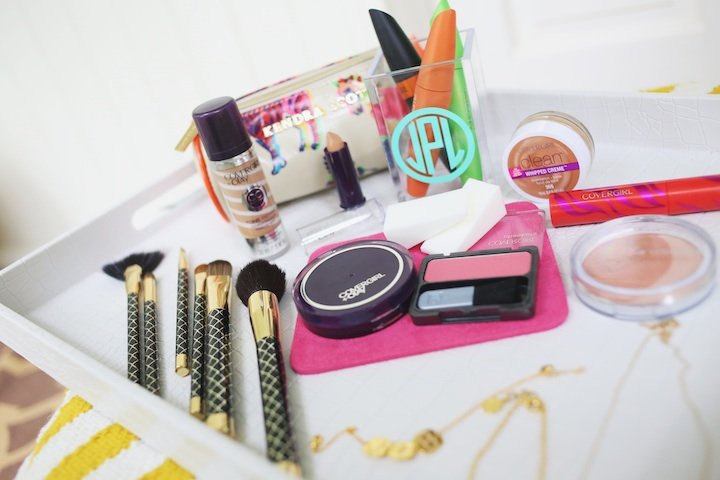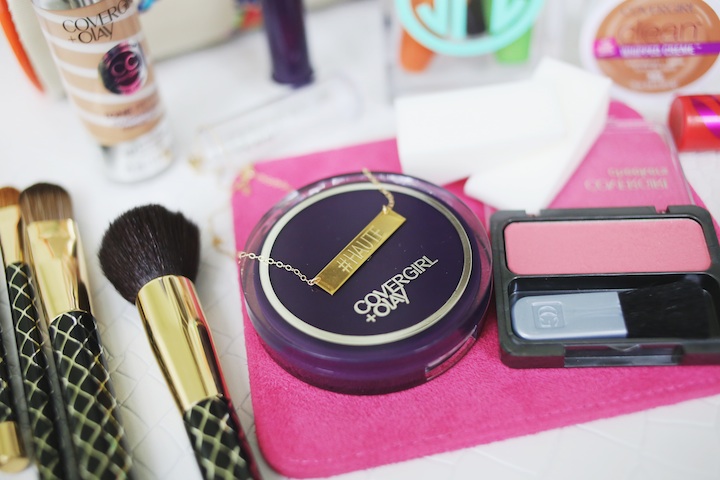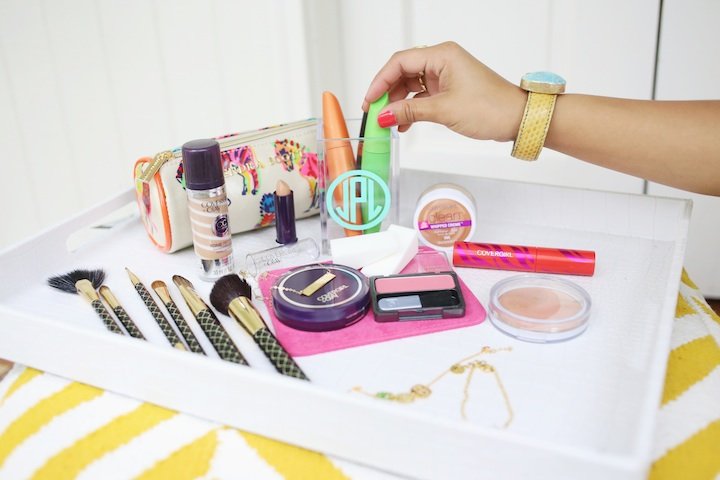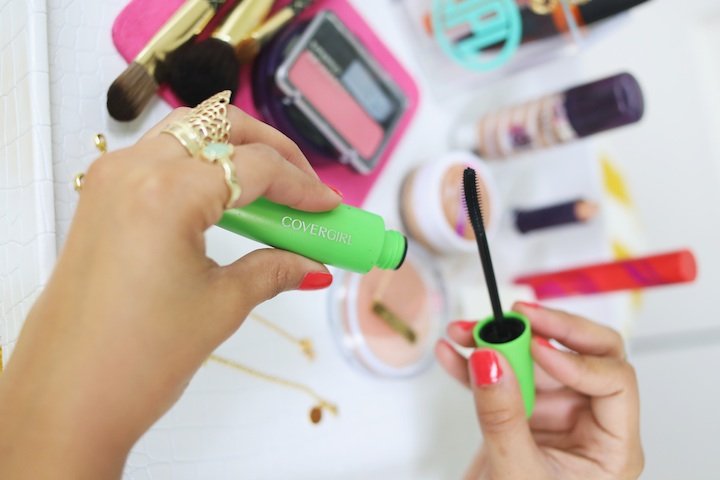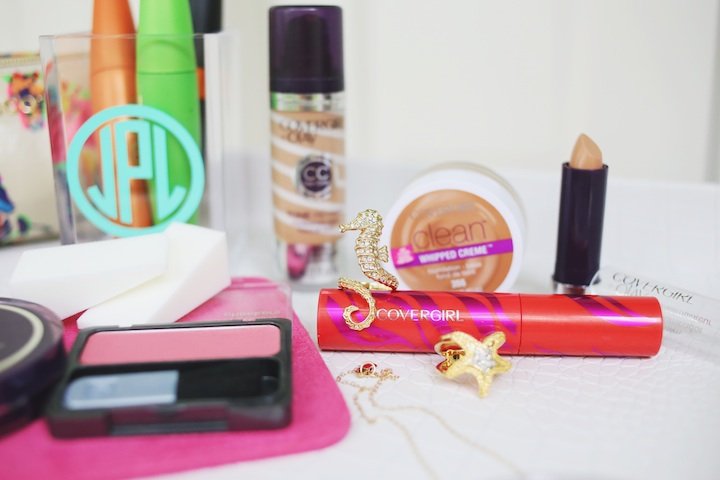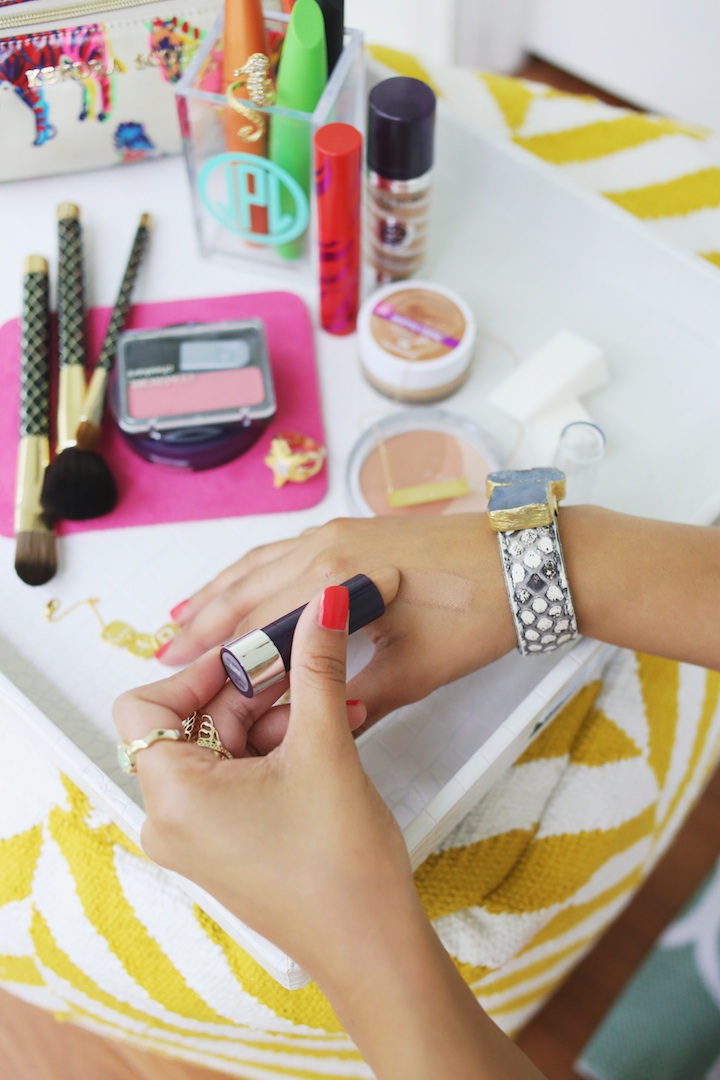 Photos by: Kaela Rodehorst Photograph
Shop This Post: Sea Horse & Starfish ring available at The Mix | Druzy Cuff c/o McClendon Designs | Paige Cut Out Ring c/o Kendra Scott |   Ice Box Bracelet & #HAUTE Alter Ego Necklace c/o Lola James Jewelry | Yellow Printed Target Pouf | Multipurpose Monogrammed Cup Holder c/o White Elephant Designs  | Covergirl Makeup c/o P&G
Basics:
Clean Whipped Crème Foundation
CoverGirl + Olay Tone Rehab 2-in-1 Foundation
CoverGirl + Olay Concealer Balm
CoverGirl + Olay Pressed Powder
Eyes:
LashBlast Clump Crusher Mascara
CoverGirl LashBlast 24 HR Mascara
CoverGirl LashBlast Volume Mascara
Good Morning readers, I hope you're having a great week so far. I can't believe we're already halfway through it. I've still been getting settled into my new house and going through all of my clothing, shoes, accessories and beauty products trying to decide on what to keep and what to toss. With a new season right around the corner, it's time start thinking new wardrobe pieces and new beauty essentials. I don't know about you, but when the season changes so do my beauty essentials. I mean it makes sense though, wouldn't you agree? Your skin changes with the weather so why shouldn't your makeup? That's why I was so excited when StyleList asked me to be apart of their Best of P&G Beauty Review. I tried out all of these products and found that I liked the lashblast 24HF, the Clean Whipped Cream Foundation and the CoverGirl Clean Glow Blusher best. The 24 hour mascara is great for these upcoming hot months because it won't smudge under your eyes as much as you sweat throughout the day and the the whipped cream foundation is so light and fluffy on your face that you can barely even feel it, which is really important to me. I hate wearing thick makeup when it's hot outside because I feel like it's clogging up my pores so I like to use lighter coverage.   As the for CoverGirl CLean Glow Blusher, it does exactly that! It gives you a clean and shimmery glow which complements a nice summer tan perfectly!
This is a collaboration between P&G and the AOL Lifestyle Contributor Network. Compensation was provided by P&G via AOL Media. The opinions expressed herein are those of the author and are not indicative of the opinions or positions of P&G.