Hi everyone, today I'm sharing one of my looks from New York Fashion Week and why you should always pack a pair of nude booties. I wore this outfit the day we arrived in NYC just before the madness of fashion week officially started. We scheduled a ton of meetings for our first day in the city so jeans and booties were a must.
As soon as September rolls around, I always always always pack a pair of neutral colored booties in my suitcase because they're bound to go with anything especially when those unexpected casual events pop up aka planned meetings you forgot you need actual outfits for. That was kind of poor planning on my part because you really should always pack according to an itinerary instead of just throwing stuff in your bag like I do. Thank goodness I at least remembered to pack some jeans and these Vince Camuto booties.
Speaking of Vince Camuto, they are always one of my go-to brands each season when it comes to shoes. I can assure you that even if you scroll back through five years of my blog posts, you'll see at least three to four different pairs of Vince Camuto shoes each season. Remember this gorgeous pair of boots from last winter?
As for this season's faves, you can shop all of current bootie styles below. Can you guess which three pairs I already got this season? I'll give you a hint…one pair is a no brainer and the other pair is "wild" and fun!
| Shop My Favorite Vince Camuto Booties |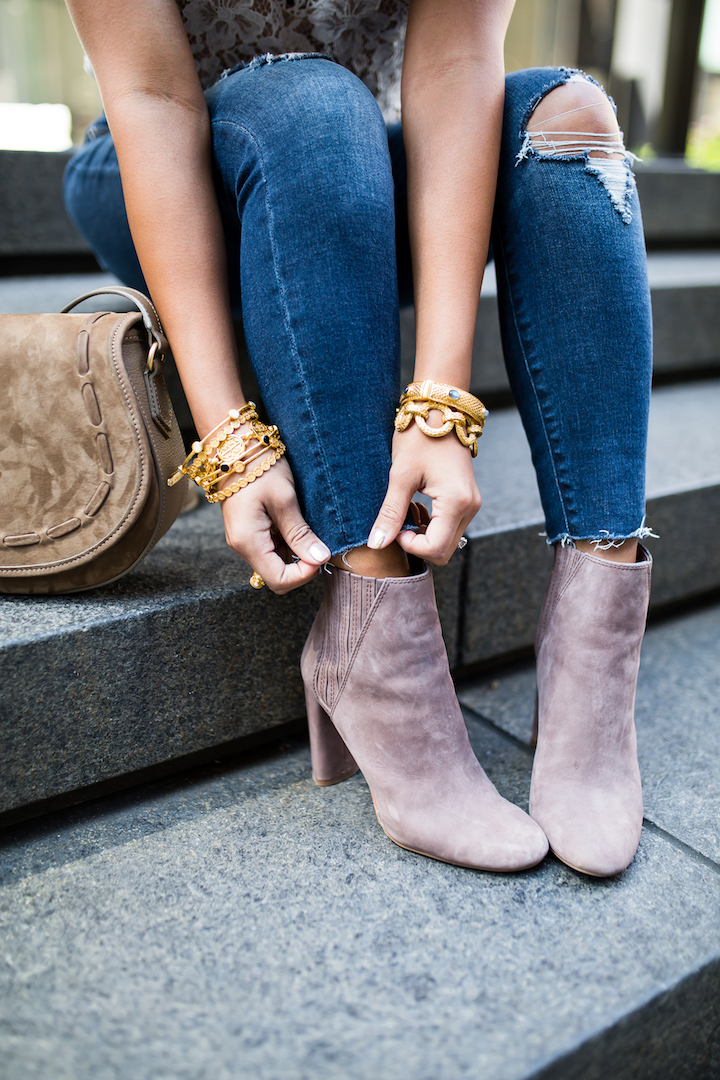 I love this particular neutral color because it's in between a beige and grey kind of shade so it makes it easy to pair with all kinds of colors. I like how this bootie style is simple sleek, which makes it very easy to either dress up or down.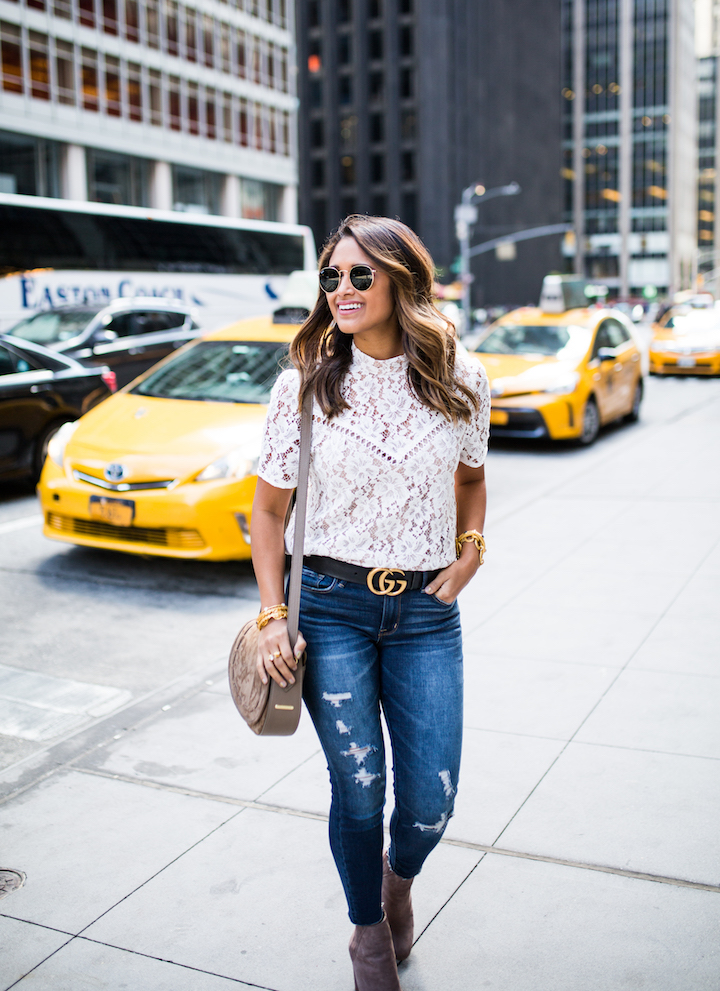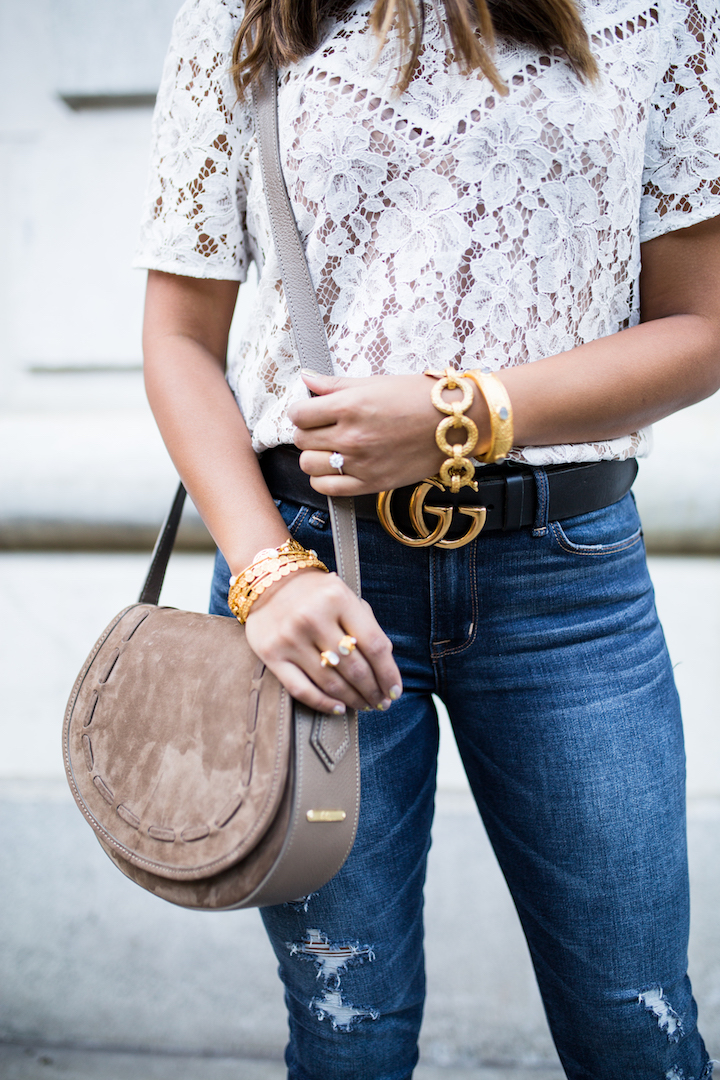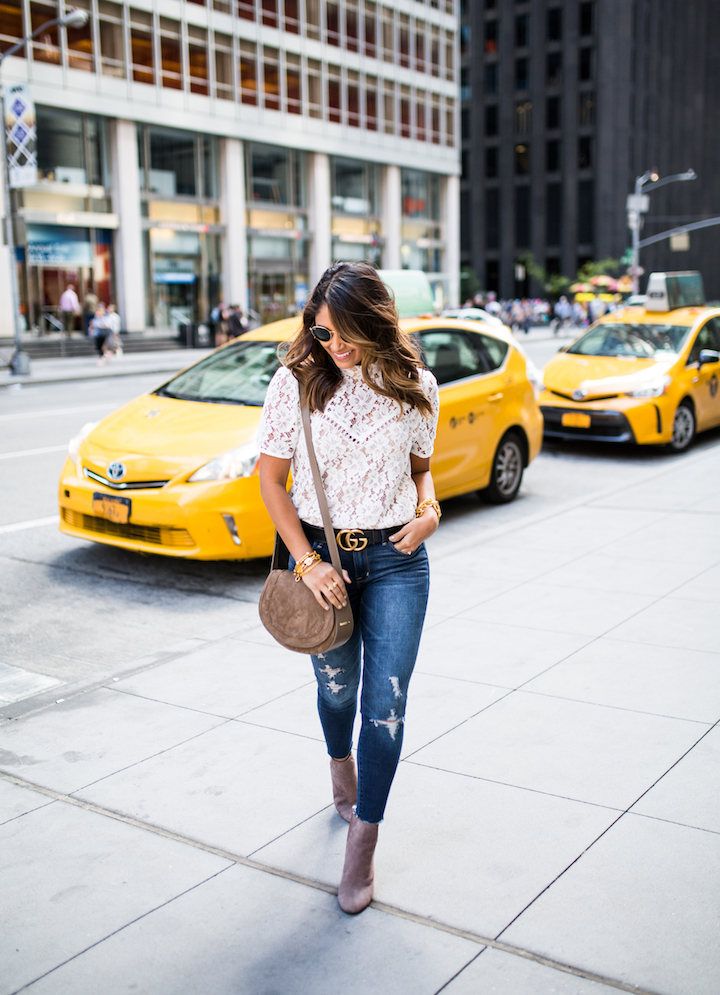 | Shop This Look |
Outfit: Nude Booties c/o Vince Camuto | Jeans | Gucci Belt | Lace Top | Jenni Saddle Bag (Designed by Haute Off The Rack in collaboration with Gigi New York) |
Jewelry c/o Julie Vos
Photos by: Michelle Preau Photo
This post is in partnership with Vince Camuto , a brand I love. All opinions and selections here are my own. Thank you for supporting the affiliate posts who make this blog possible.