Hi everyone, I hope you all had a nice weekend. Today I'm sharing 5 things to ask yourself before splurging on fashion because we all know too well how easy it is to make mistakes when it comes to pricey purchases that we think we need. As a fellow young professional in today's world, I think it's important for us to consider these five questions before we get overly excited about something new and blow all of our money since we're "real adults!"
Did you do something to deserve a prize? For example, did you recently accomplish a work, life or fitness goal and you promised yourself a treat? Then I say I "treat yo-self" my friends! I put this question first because this is my favorite reason to purchase something special that I've had been eyeing. Not only do I feel good about myself for achieving my goal, but I also get to celebrate with a brand new handbag, accessory or piece of clothing. Then every time I use that item I always think about how proud I am of myself. However, you should consider all of the below facts before pulling the trigger!
Will the cost-per-use balance out? How often do you plan to wear the item? Is it a handbag that you see yourself carrying daily or is an embellished gown that you're only going to wear once? I personally recommend only splurging on items that you see yourself using/wearing multiple times because I just can't justify spending $$$ on a one time fling! However, there are exceptions depending on the resale value. Sometimes it's worth it if you can turn around and resell the item for a little less than what you originally paid. Take a look at eBay and Poshmark to see what the going resale rate is for the item your purchasing or even just an item by the same brand.
Is it a classic piece that you can see yourself wearing in years to come or passing down to your children or someone special to you? I would say the perfect example for this is a nice leather handbag, a timeless accessory or a nice a piece of jewelry. This past year I purchased the Chanel Boy Bag and a Burberry scarf, which are both classic pieces that I know I will wear in years to come and would absolutely love to pass down to my daughter one day. They are also two items that I've coveted since I was a young child. I always dreamed that I would carry a Chanel bag and walk around with my Burberry scarf perfectly draped over my long coat.
Have you read the fine print? Every purchase is an investment especially when it comes to high end designer purchases. With that being said, you want to make sure to do your research and make sure that all of the item's characteristics will fit with your current lifestyle. Read reviews on the durability and lifespan of the item and most importantly, read the return policy!! Also, look around at other retailers to make sure you're getting it for the best price.
Can you really afford it? When I say can you really afford it, I don't mean do you actually have the exact amount of money in your bank account. I mean are you going to be eating crackers for every meal until your next paycheck or should half of that bonus be going toward your student loan? Don't spend that you don't have because it doesn't feel good. Trust me, it feels so much more rewarding when you've paid off other big things like your car note or student loan so you don't have to feel guilty.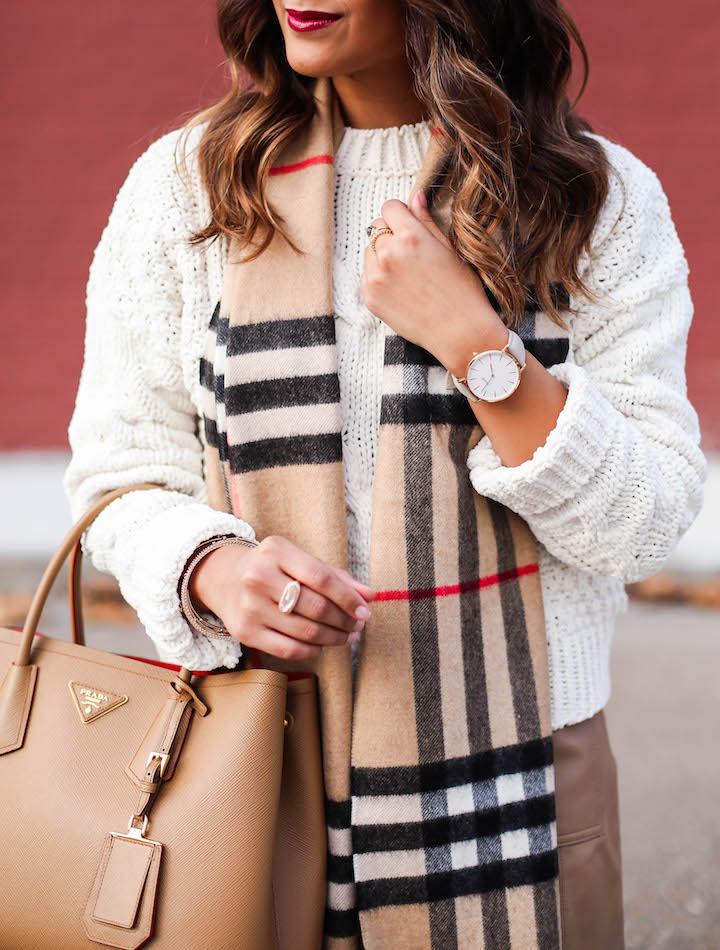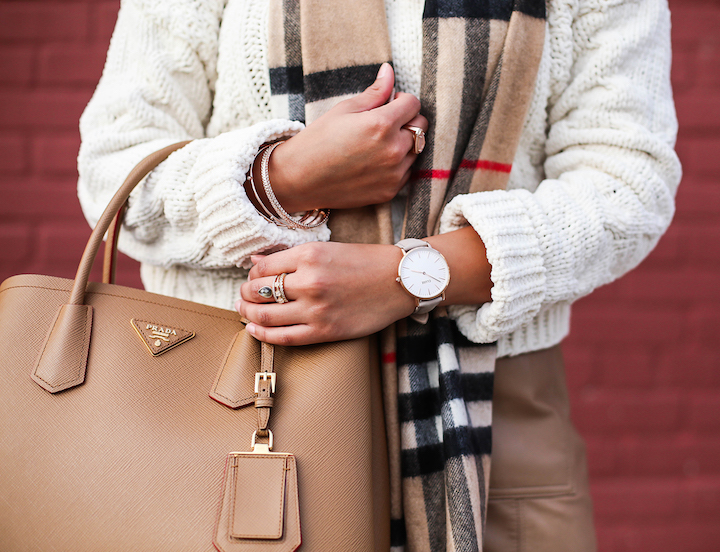 | Shop Cluse Watches |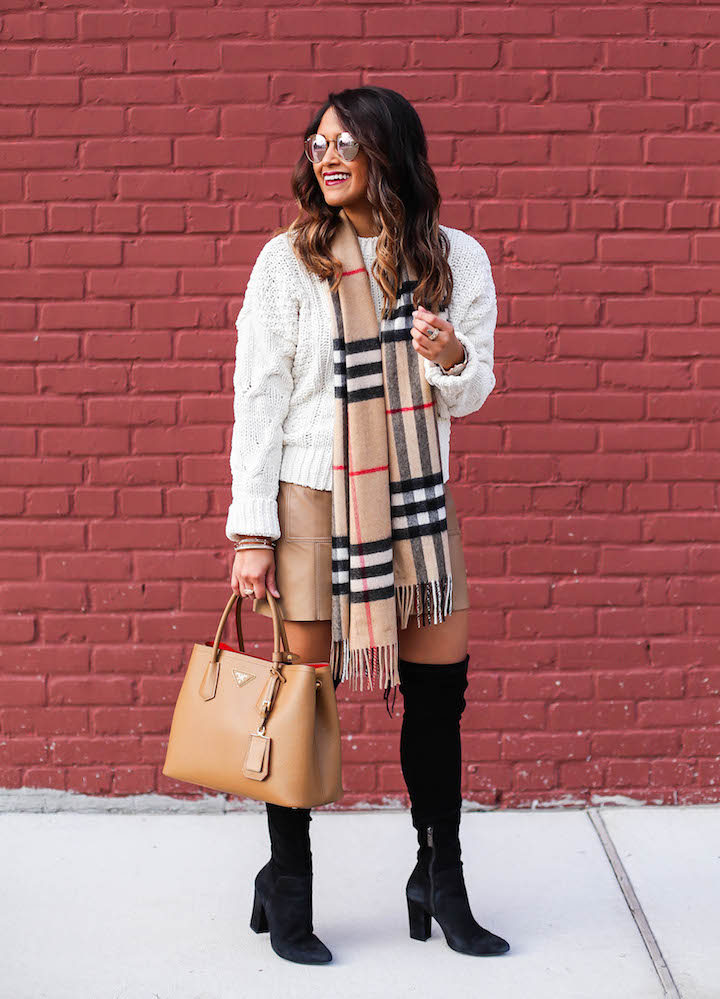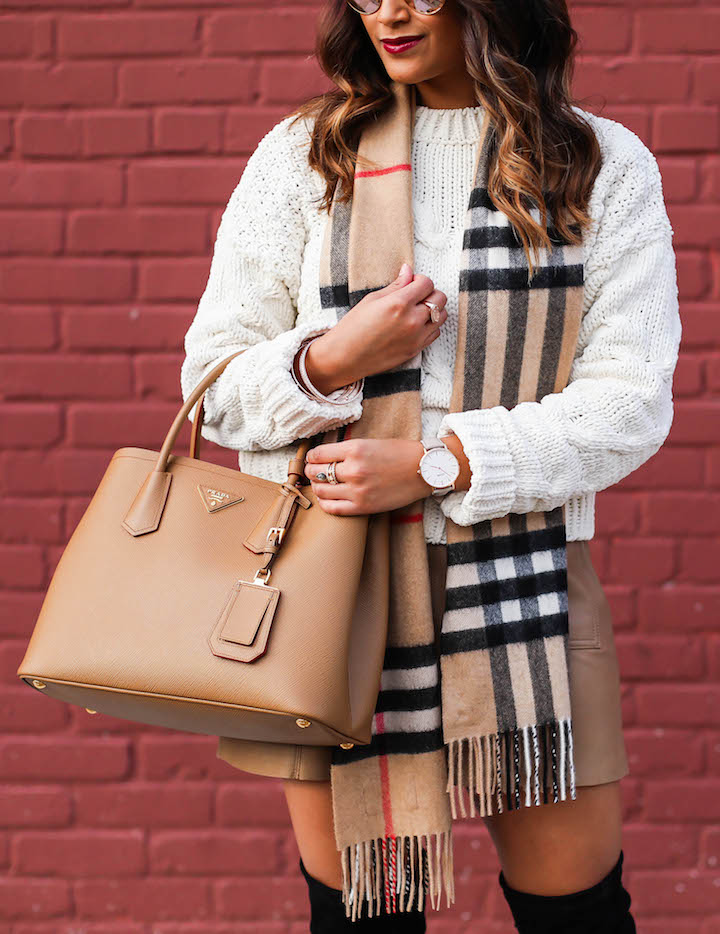 | Shop Camel Handbags |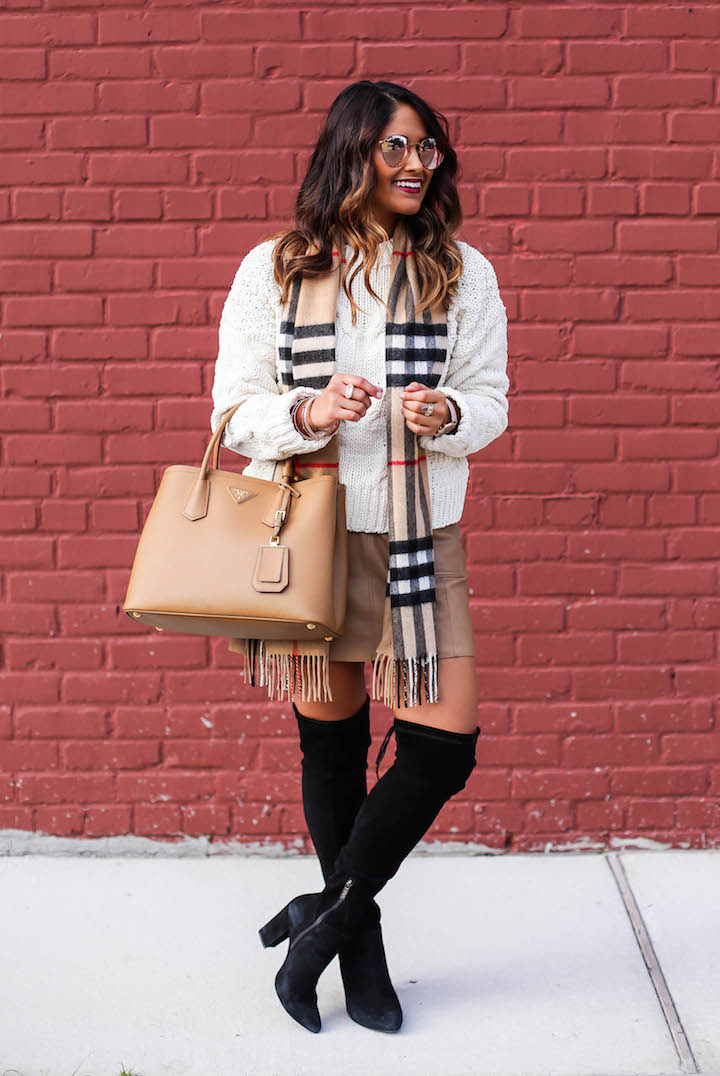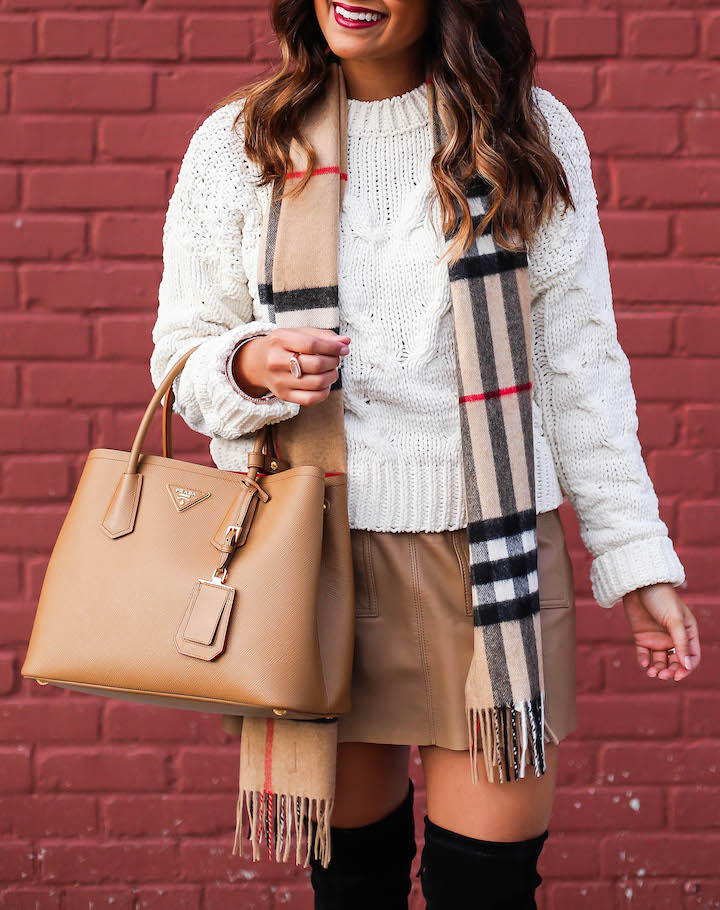 | Shop Tan Skirts |

| Shop This Look |

Outfit: Similar Mini Skirt | Chunky Sweater  (also available here & similar here) | Burberry Scarf | Over The Knee Boots (similar here) | Prada Saffiano Cuir Small Double Bag | Ray-Ban Round Rose Gold Sunglasses 

Jewelry: Cluse Watch | Melanie Auld Rings | Tatum Bangle Bracelet Stack c/o Kendra Scott
2 Bonus Tips:
 Always sleep on it and if you're worried that it won't be there in the morning, take that as a sign.
Make sure you really want it for yourself and it's not just because everyone else has it.