Hey everyone, it's time for my second Wedding Wednesday post. Of course I'm a little late in the day, but that is because I was trying on dresses at Town & Country Bridal and meeting with my wedding planner in New Orleans. Today I'm sharing 5 fun ways to ask your bridesmaids and groomsmen by telling you how we asked our wedding party! Blake and I each asked eight groomsmen and bridesmaids and I also asked two of my friends to be flower maidens (aka adult flower girls). I plan to have them wear floral gowns, which I think will look precious on them! To ask our friends, we I put together the most darling gift boxes! Scroll through this post see what I included in the boxes!
Please keep in mind that you absolutely don't have to include all of these items in your boxes! I think just one or two is perfect! I totally understand how tight wedding budgets can be as I am paying for most of my own wedding too. However, I was fortunate that most of these items were gifted to me from the brands. I hand selected all of the items myself though.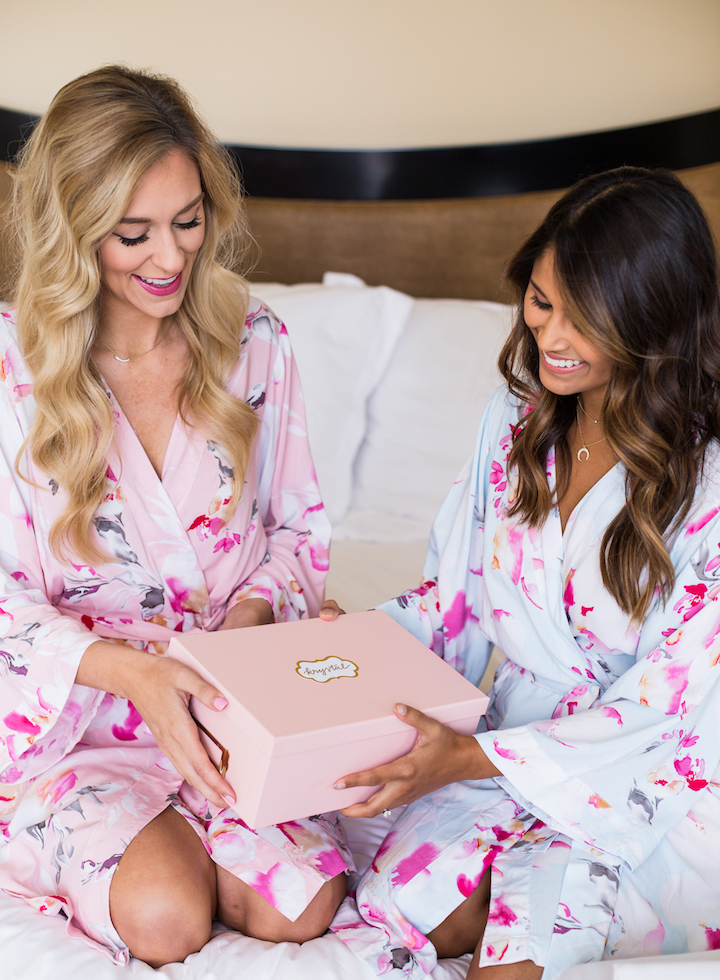 | Shop My Bridesmaids Boxes |

I found these boxes at Hobby Lobby for 50% OFF! They're actually photo storage boxes.
For my bridesmaids & flower maidens:
I thought this was the perfect way to get our wedding party excited to travel to Cabo. Plus you can't ask your friend to be in your wedding without giving her something with her initials on it, am I right? LOL Also, I always love using mine at the airport even when I'm not traveling out of the country! So I thought everyone would get a good use out of it.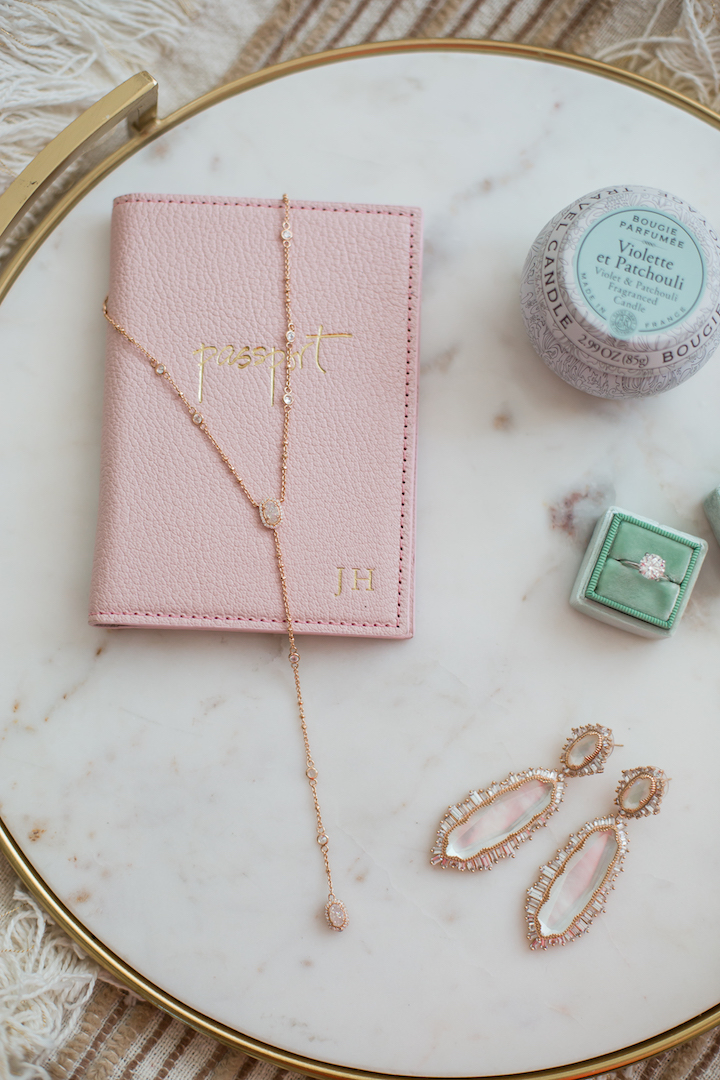 Since my whole bridal party will be wearing Kendra Scott jewels for the wedding, I thought I would surprise them with a piece they can wear now. The Claudia lariat is so beautiful and pairs perfectly with plunging necklines or v-neck tops. I can't wait to show you all of the wedding day jewelry I picked out.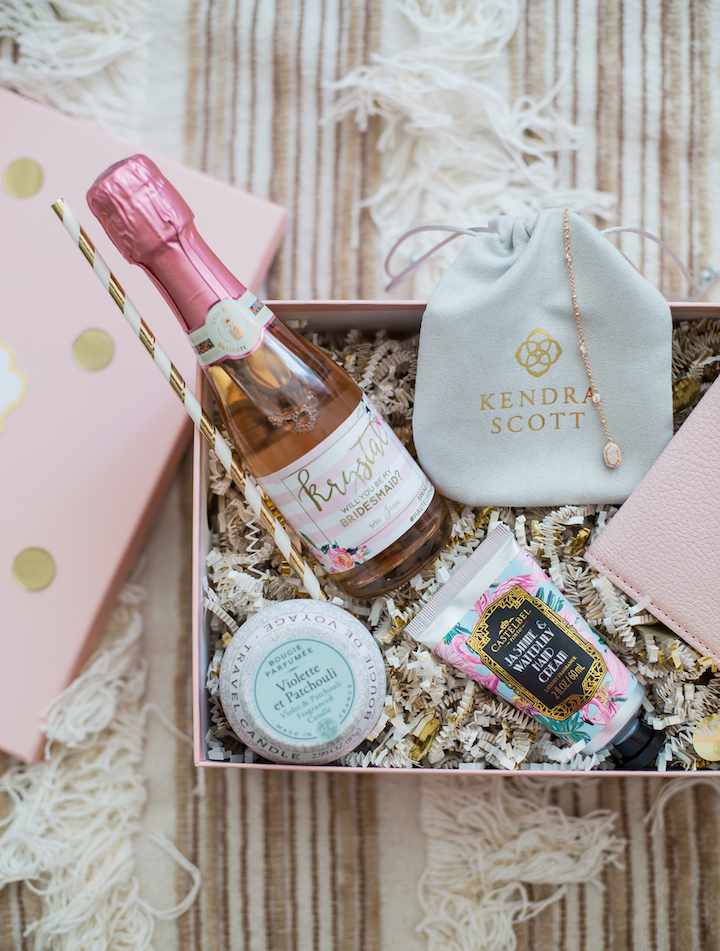 I wanted all of the boxes to smell like fresh flowers so I made sure to include scented candles and hand cream or soap that I found at World Market.
I had individual labels made with each of their names asking them to be my bridesmaids and flower maidens. I mean can you think of a cuter way to celebrate with your best girls than custom made champagne bottles! Lolli Bella offers a variety of different designs and can even create special labels for any event.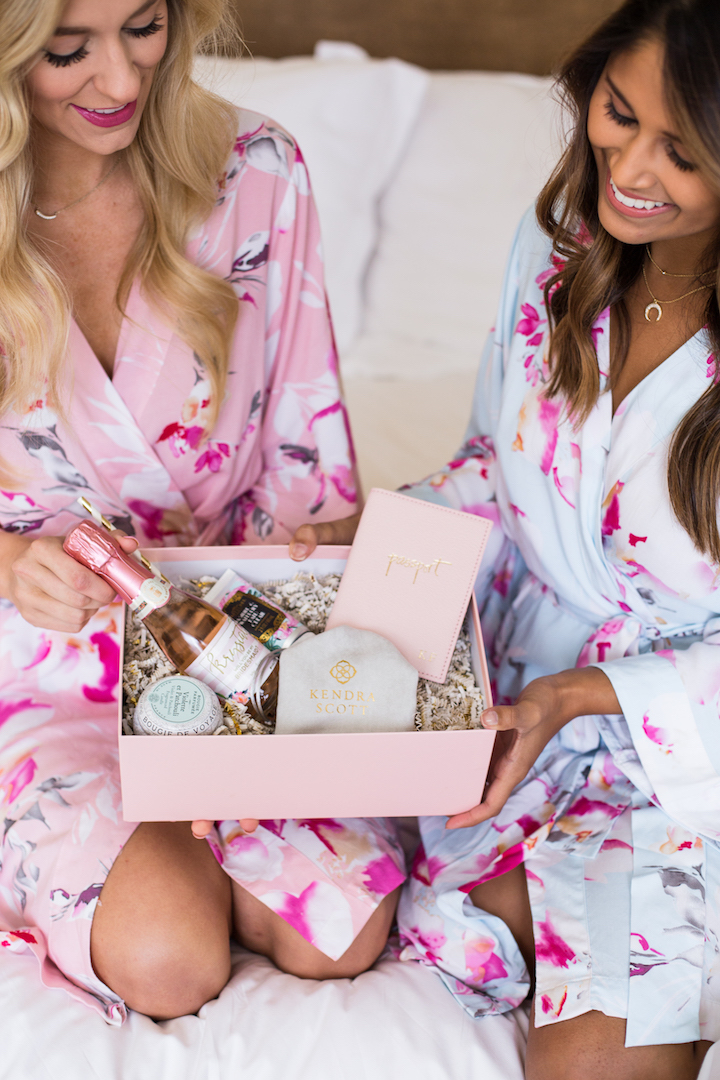 I haven't actually given the girls the robes yet because I want everyone to wear them while we get ready at The Cape Hotel before the wedding. I will have each of their robes ready in my suite when the time comes along with their surprise bridesmaids gifts.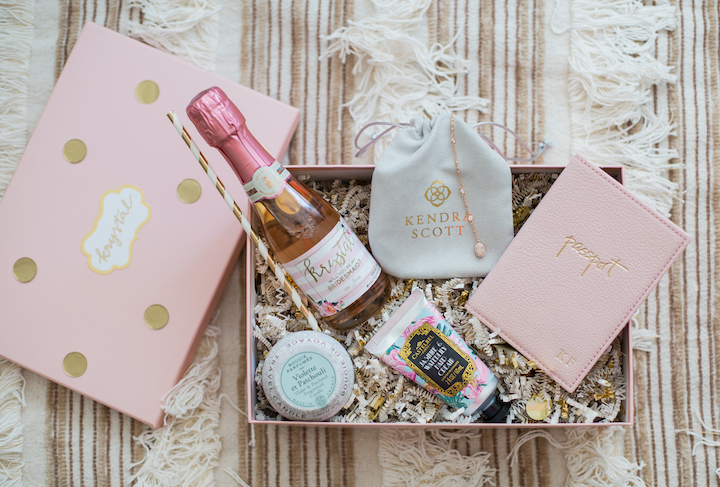 For the groomsmen:
We kept it simple for the guys with booze and personalized passport cases. Gigi New York used a blind stamp for a masculine look as opposed the metallic gold that we used for the girls. For the booze, I originally wanted to give them tequila bottles since we're going to Cabo, but I knew all the guys actually drink Tito's so the vodka wouldn't go to waste!
SaveSave