Hey everyone, today I'm sharing two of my favorite kitchen appliances to use during the holidays that you can find for less on Ebay.  From holiday tablescapes and festive décor to those key kitchen and home appliances, find everything you need to get your home holiday-ready on eBay. I love getting to use my copper Kitchenaid Mixer to cook and bake holiday treats and our Ninja Coffee Bar always comes in handy when we're entertaining guests. We of course use our Ninja Coffee Bar every morning to brew our daily coffee, but it's especially ideal when you're trying to accommodate multiple people since it offers so many different settings and options.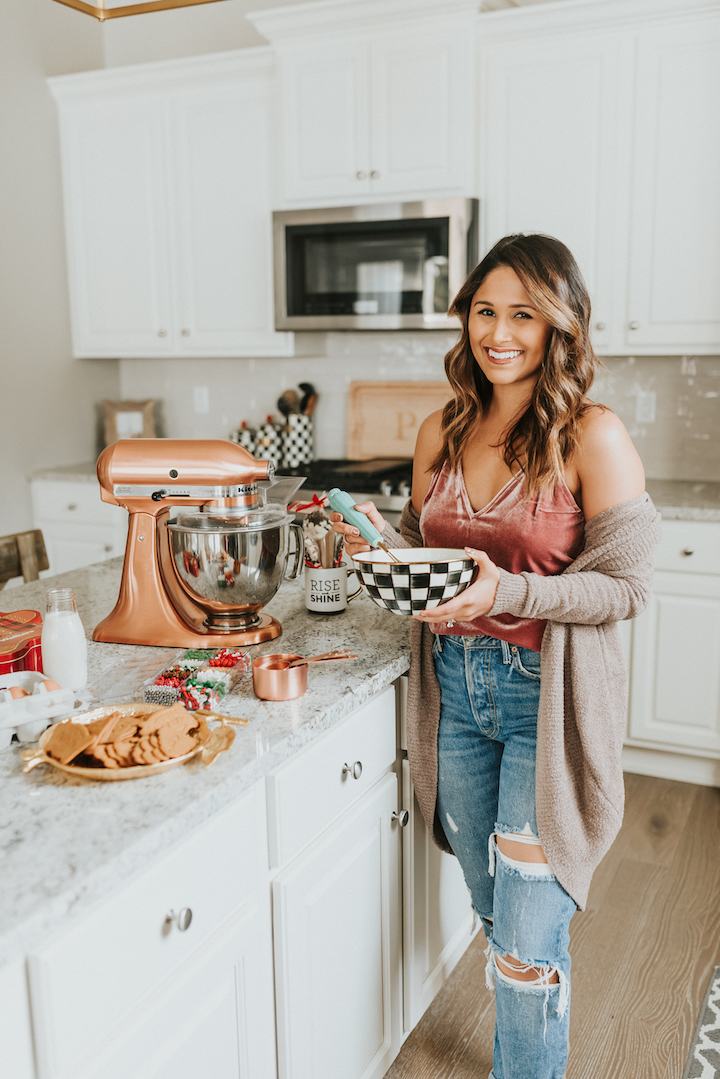 I had the copper Kitchenaid Mixer on my list for years before I actually go it and it is 100% worth the splurge!  The beautiful rose gold color really pops against my grey backsplash in my kitchen and totally elevates my countertops. That and the fact that it makes baking so much easier.  Let's be real here though… most of us just love how pretty of an appliance it is whether we actually bake or not. And I'm here to tell you that it does live up to it's prettiness! LOL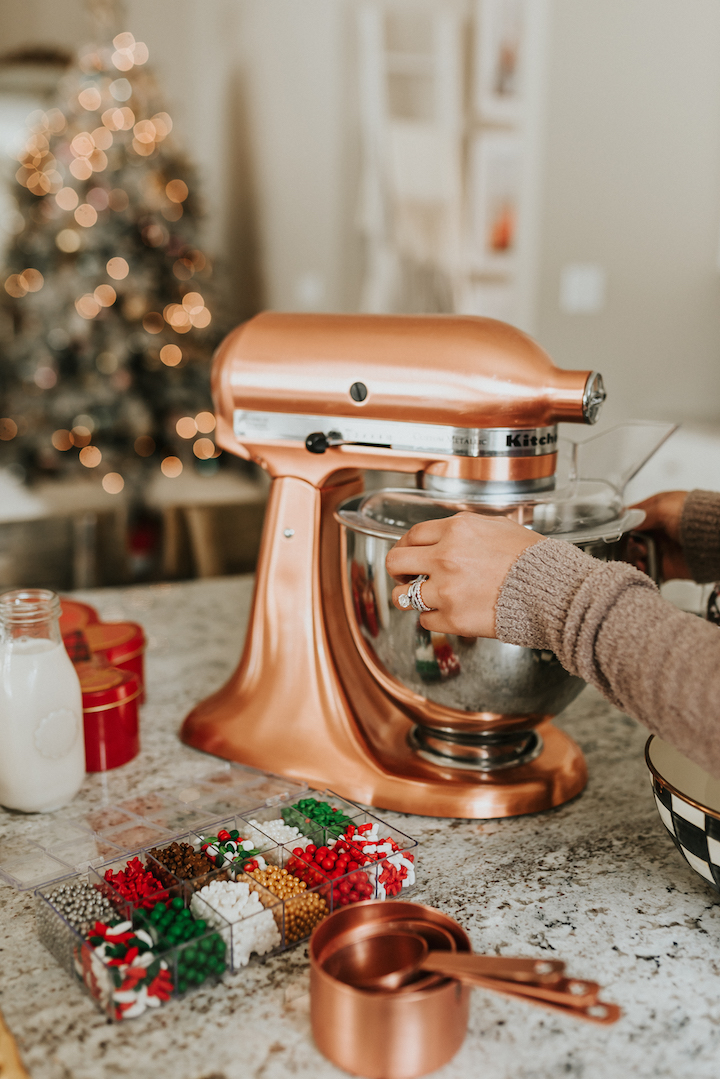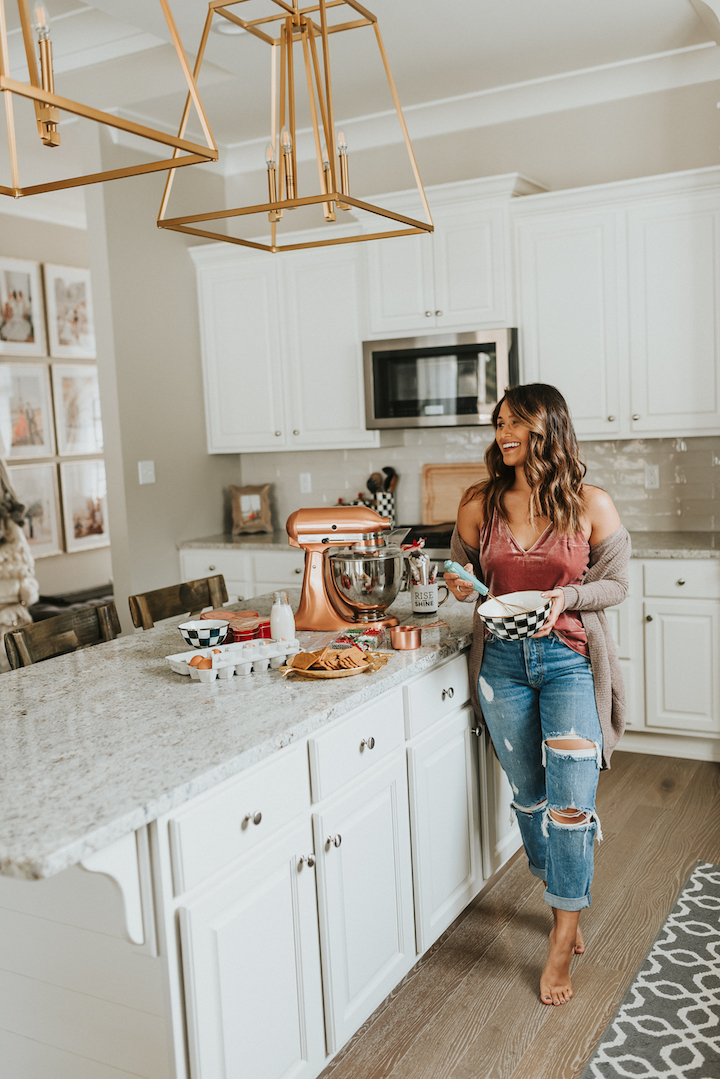 | Shop My Look |
Outfit: GRLFRND Jeans | Blush Velvet Tank | Barefoot Dreams Circle Cardigan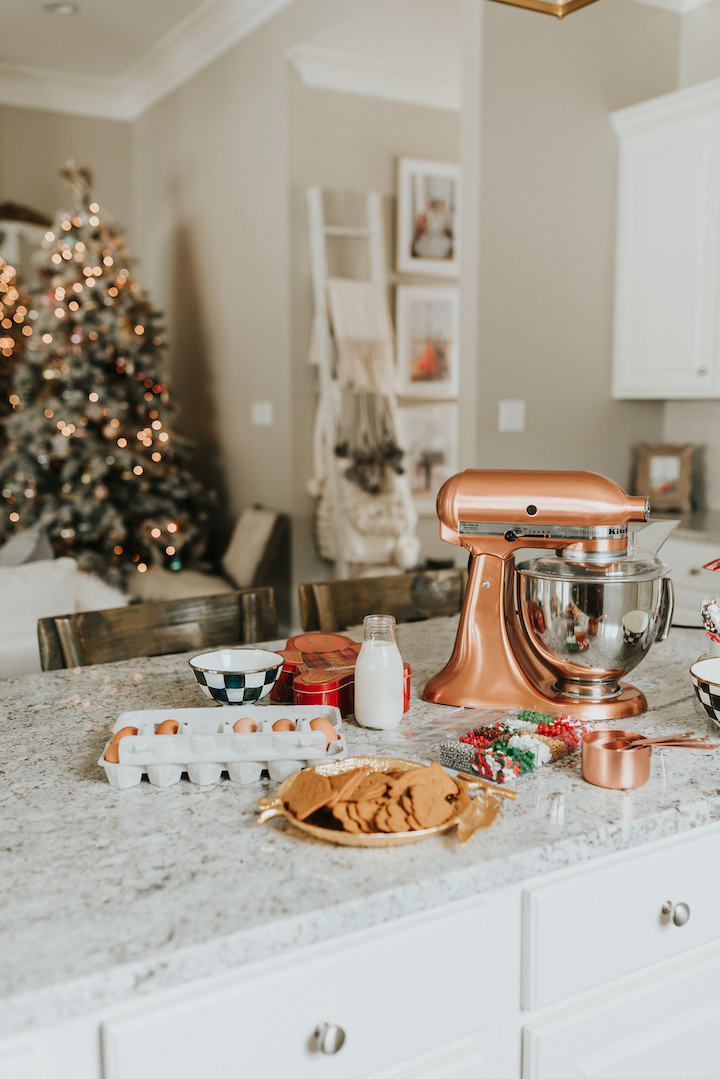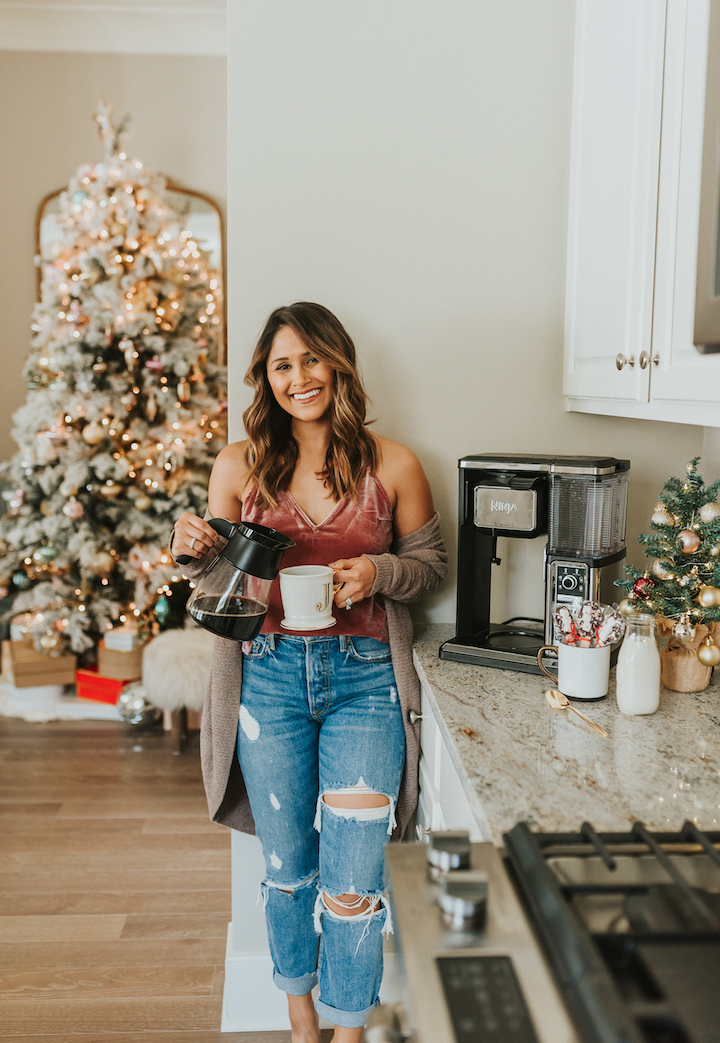 As for our Ninja Coffee Bar, I'm sure you've heard me talk about this appliance a lot considering we use it everyday. It's completely changed the coffee game for us. In fact, we usually prefer drinking coffee at home now instead of running out for a coffee drink.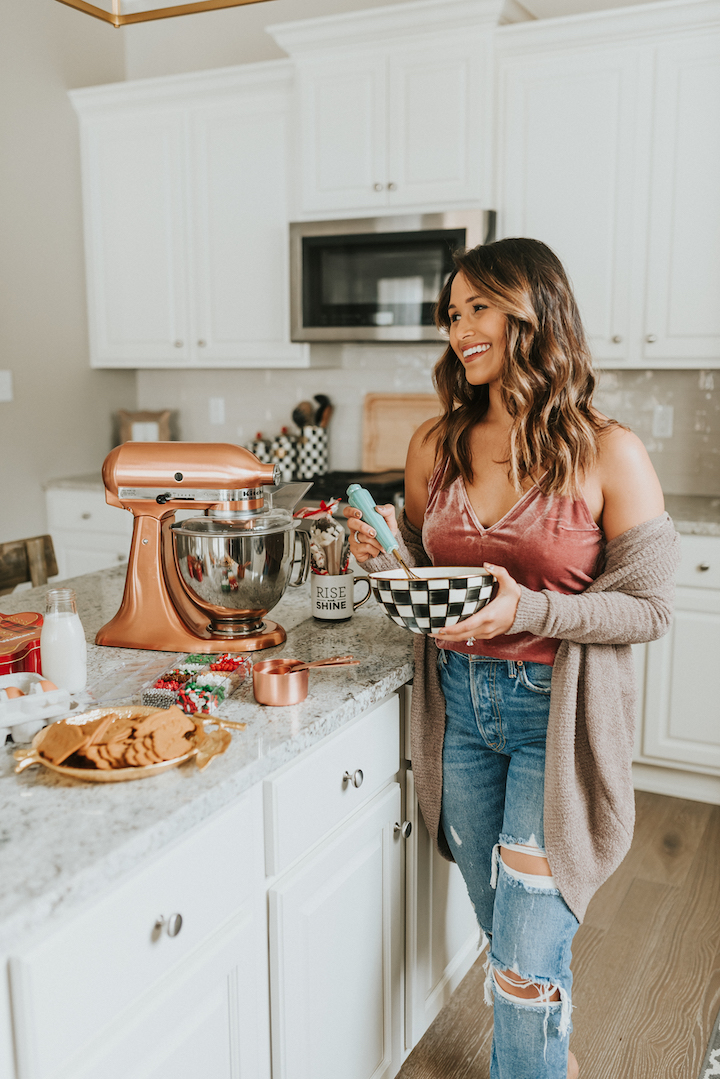 Both of these kitchen appliances are available on Ebay along with plenty more kitchen accessories and electronics I love like espresso machines and the famous Dyson Cordless Vacuum. Be sure to keep an eye out for eBay's daily deals here—> www.ebay.com/deals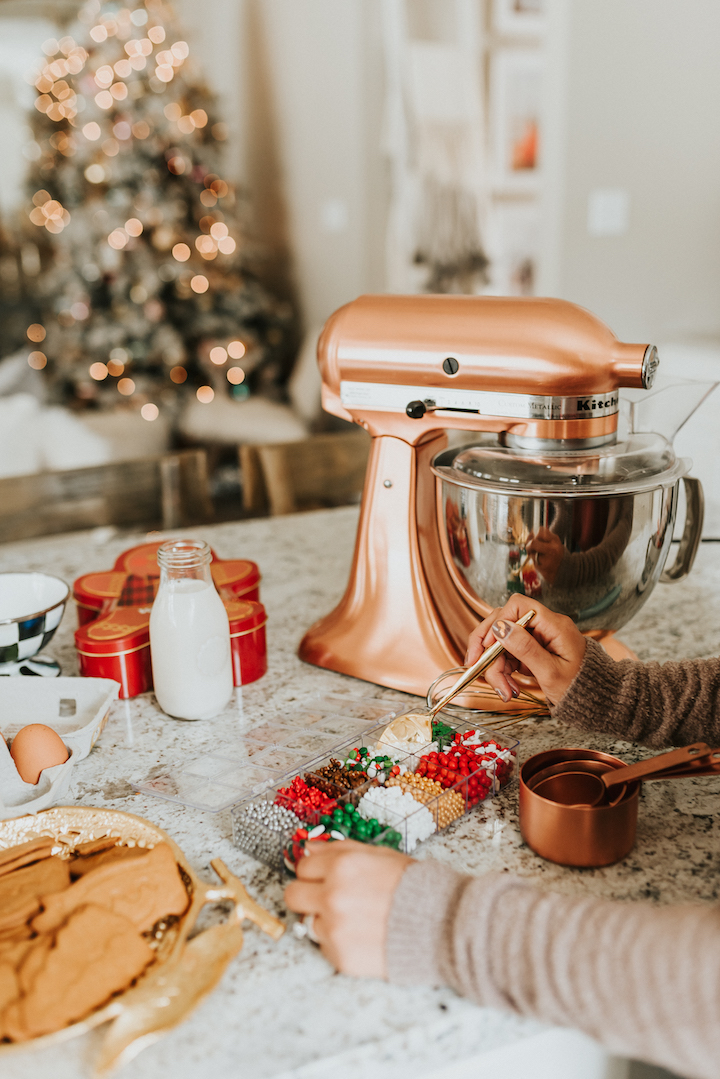 Did you know that 81% of all merchandise sold on eBay is new and available with the "Buy It Now" option? That means you're getting amazing deals on brand new items!
We're hosting a Cookie & Hot Cocoa party this weekend for all of our friends to get together for Christmas and I plan on setting everything up very similar to how I did on National Cookie Day.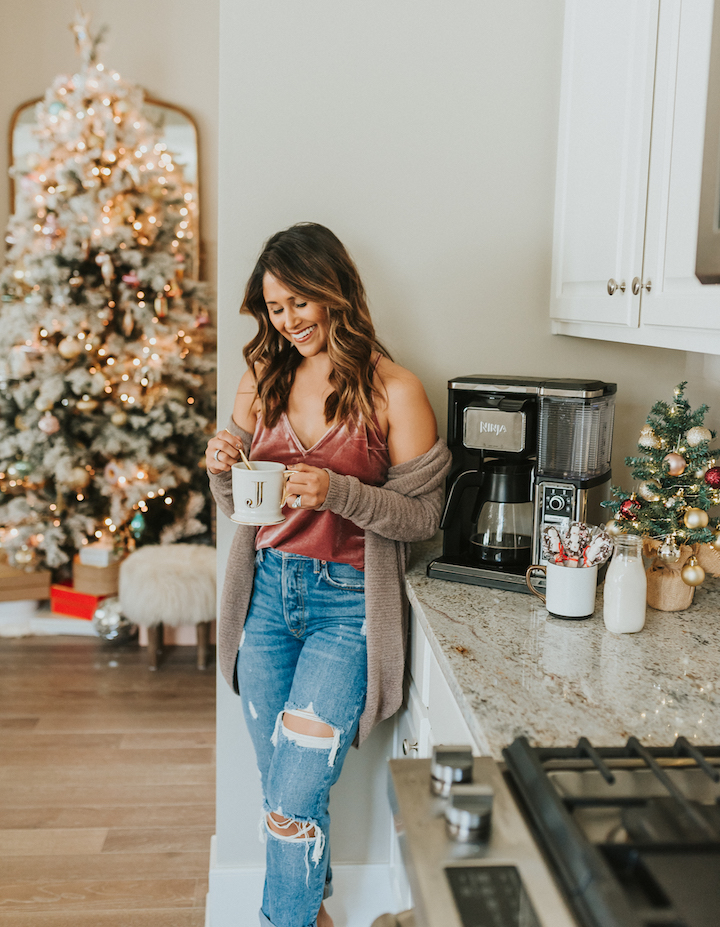 What are some of your favorite kitchen appliances?
| Shop My Look |
Outfit: GRLFRND Jeans | Blush Velvet Tank | Barefoot Dreams Circle Cardigan
This post is in partnership with eBay, a brand I love. All opinions and selections here are my own. Thank you for supporting the affiliate posts who make this blog possible.