Hi everyone and Happy Friday! Today I'm sharing my top 5 Young Living Essential Oils and why I started using them. Also, I wanted to invite you all to an Essential Oils 101 class that I am hosting on Monday, March 13th, at the Chimes in Covington. The class will start at 6:30 and last about an hour, with refreshments and time for questions at the end. If you attend the class or tune into the live Instagram video, you'll have the chance to win a diffuser bracelet giveaway (pictured in today's post). If you can't make it, not to worry because you can still win some diffuser bracelets just by reading this post so read on friends!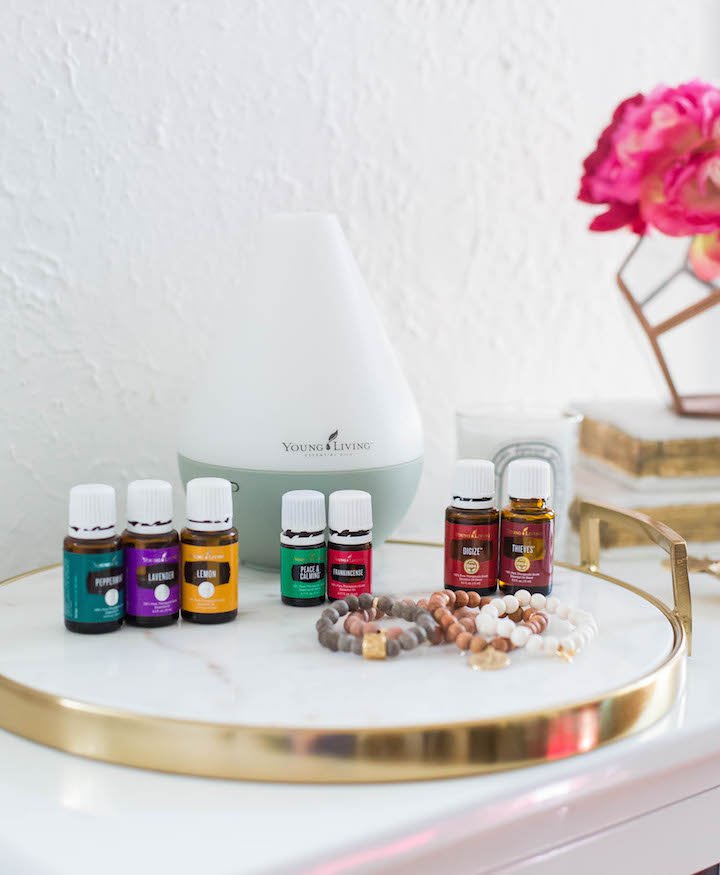 As I mentioned, I want to share my favorite Young Living essential oils with you and how I use them on a daily basis to help me feel better physically, emotionally, and mentally. My best friend, Jordan, helped me order a Premium Starter Kit in July of 2015. Since then, oils have become a necessity and I pack them with me whenever I travel. Seriously though! I can't leave the house without them! Jordan has been my go-to for oil questions, because, let's face it, I just don't have time to read and research all about essential oils myself. I've been using my oils since 2015, so I thought it was time to share my favorite YL essential oils. Science isn't exactly my strongpoint, so I recruited Jordan to answer some questions about what essential oils are and give some more details about Young Living. She'll explain what essential oils are, why we use Young Living, and how you can get a Premium Starter Kit wholesale account while receiving mentorship from some amazing people.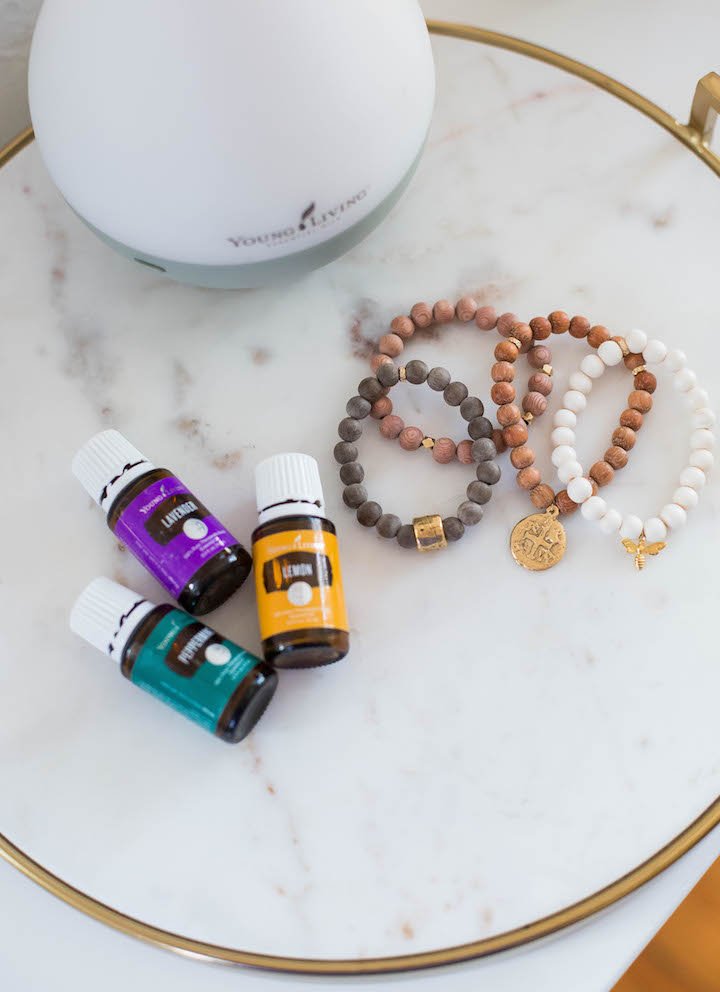 Hey everyone, it's Jordan. I started using essential oils just over two years ago, and they have become something so integral in my life. They are my go-to for so many things. Essential oils support all the systems of the body – immune, respiratory, digestive, circulatory, endocrine, nervous, integumentary, cardiovascular, and more.
What are essential oils? Essential oils are the aromatic liquids that come from plants – trees, flowers, branches, roots, fruit, etc. They have been used for thousands of years (you can look up where they were mentioned in the Ebers Papyrus and their many mentions in the Bible). How do I use essential oils?
Topically: you can put the essential oil directly onto your skin – feet, wrists, behind ears, nape of neck, just to name a few. You can "put the oil where it hurts." Oils can be diluted with a carrier oil like coconut oil, almond oil, jojoba oil, or organic olive oil. Dilute essential oils for children and pets.
Aromatically: smelling an essential oil brings the oil molecules right to the amygdala, the memory and emotion database of the brain. This is how essential oils can affect your emotions. Use a diffuser, rub a drop in your hands to breathe in, or smell directly from the bottle.
Internally: Young Living has a Vitality line that has essential oils that are specifically labeled for internal use. The Seed to Seal® guarantee from Young Living allows us to confidently use Young Living's oils internally. Add a few drops of oil to your glass or steel container (no plastic!), put a few drops in a vegetable capsule, or use in your favorite dish (I love Lime oil in my homemade guacamole!).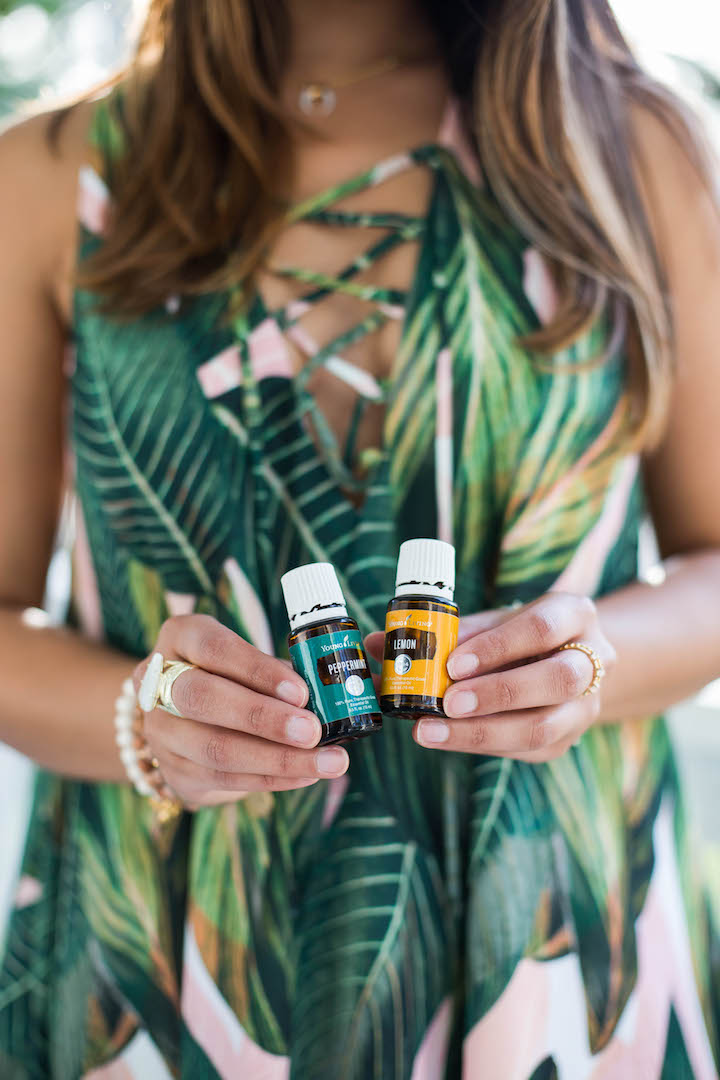 Why Young Living? Gary and Mary Young began distilling their own organic herbs in 1993. Gary learned how to properly distill essential oils in France from some of the best aromatherapists in the world. In 1994, Young Living developed farms in Utah and Idaho and began distilling their own essential oils. The biggest thing that sets Young Living apart from the rest of essential oil companies is their Seed to Seal® promise (www.seedtoseal.com) – this is a GUARANTEE that Young Living will only ever use non-GMO seeds, grown on farms without pesticides, herbicides, or insecticides, and will properly distill the oils at the temperature that is correct for each plant. All oils go through 10 tests for quality by third-party audits, and when the bottle is sealed, you know you are getting pure, therapeutic-grade essential oils that can directly support your body physically, mentally, emotionally, and spiritually. There is only the tip of the iceberg on learning about essential oils – come to the class or join in on Instagram Live to learn more. It brings me joy to help people learn how to use essential oils for wellness, purpose, and abundance.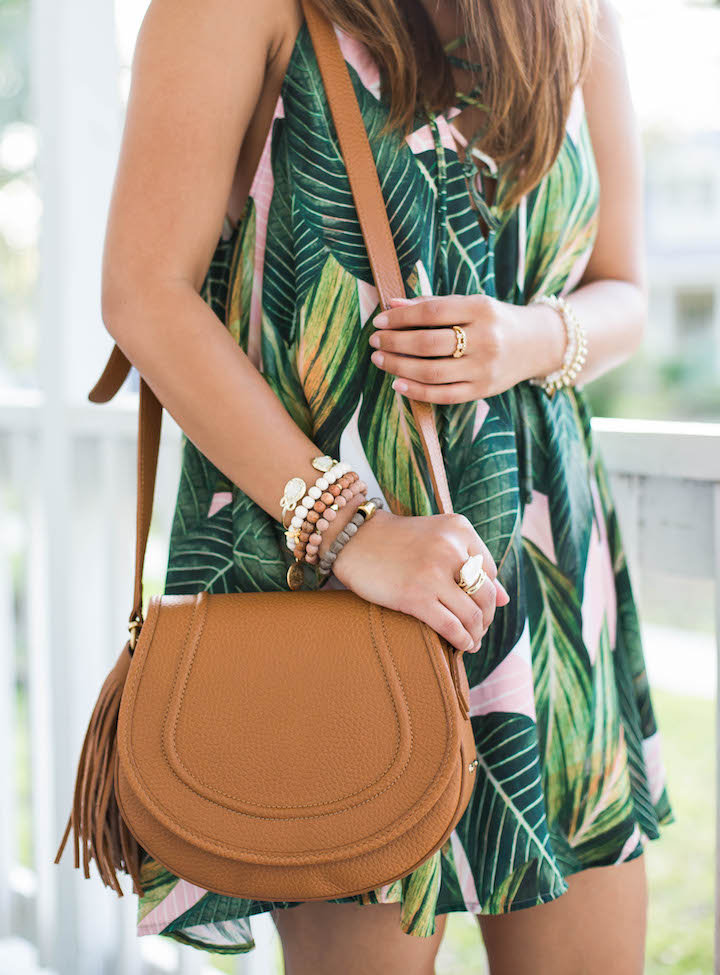 | Shop This Look |

Outfit: Palm Print Dress | Jenni Saddle Bag (designed by Haute Off The Rack in collaboration with Gigi New York) |
Now that Jordan explained the basics of essential oils, I want to tell you more about my personal favorite oils. All of these oils, with the exception of Peace & Calming, come in the Premium Starter Kit!
Peace & Calming – this is probably my favorite essential oil, and LUCKY for you, it recently came back in stock! Everyone can use some peace and some calming in their life… it's perfect for anyone who needs to relax, uplift their spirits, or calm overactive children. I like to diffuse this when I go to sleep. I also like to apply it to my wrists when flying to ease my nerves.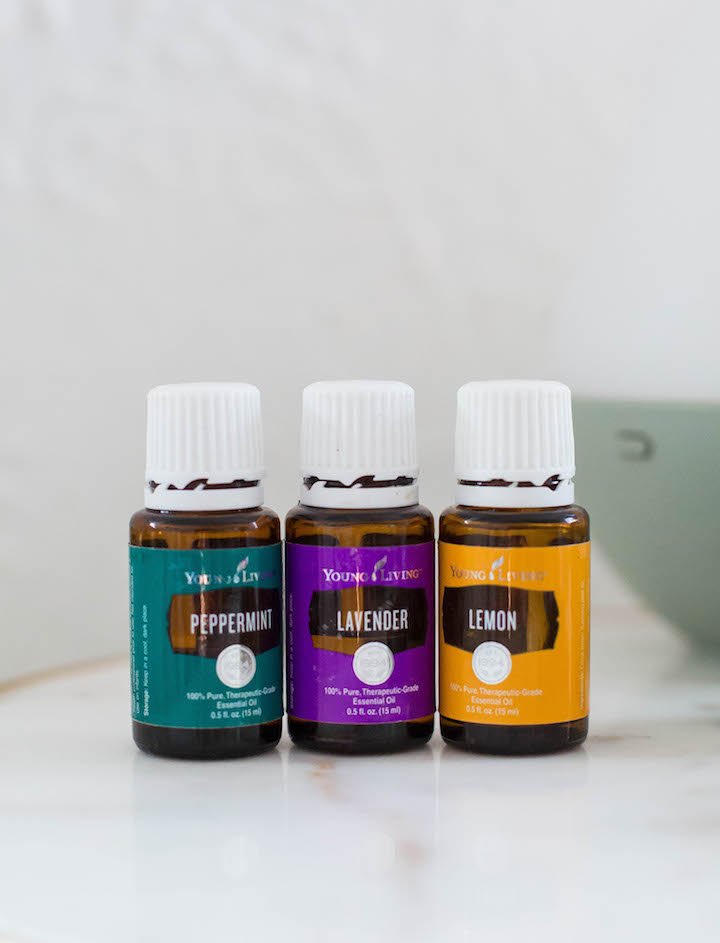 2. Lemon, Lavender, and Peppermint – I know, I know, these are three different oils, but I always use them together. These oils are the perfect trio for the "seasonal discomforts" that come along with pollen and the crazy Louisiana weather. Whenever I'm having those seasonal issues, I will diffuse this trio of oils together, rub them on the back of my neck, or take them in a clear vegetable capsule. They bring relief so quickly. I always make sure to bring Lemon, Lavender, and Peppermint along with me when I travel. What I love most about essential oils is that they have so many different uses – Lemon also supports the immune system, Lavender is calming and relaxing and Peppermint is great for the digestive system. Speaking of the digestive system, whenever I find myself having digestive issues while traveling, I like to add a drop of peppermint in my glass of water to help boost my digestive system. I also DiGize to help with my stomach issues too, which you will read more about under oil number 5.
3. Stress Away – the name says it all. This is a must-have for me, especially when I travel or trying to juggle every day day life with work. Stress Away relieves all of my unwanted stress and anxieties that pop up in life. I like to rub this on my wrists when I feel overwhelmed or when I feel like I have too many things on my plate. Plus I have to say that it smells pretty good too! LOL
4. Thieves – ah, Thieves. This is my go-to for immune support. If I ever feel like I'm coming down with something, I immediately use Thieves. I will diffuse it, put it on the soles of my feet, or take it in a clear vegetable capsule. Young Living has an entire Thieves line that includes a household cleaner, toothpaste, mouthwash, hand sanitizer, and more. In a science fair experiment done this year, Thieves bear Lysol and bleach at preventing any bacteria from growing in a Petri dish. You can watch the 2 minute video about the experiment here—>Thieves Experiment Clip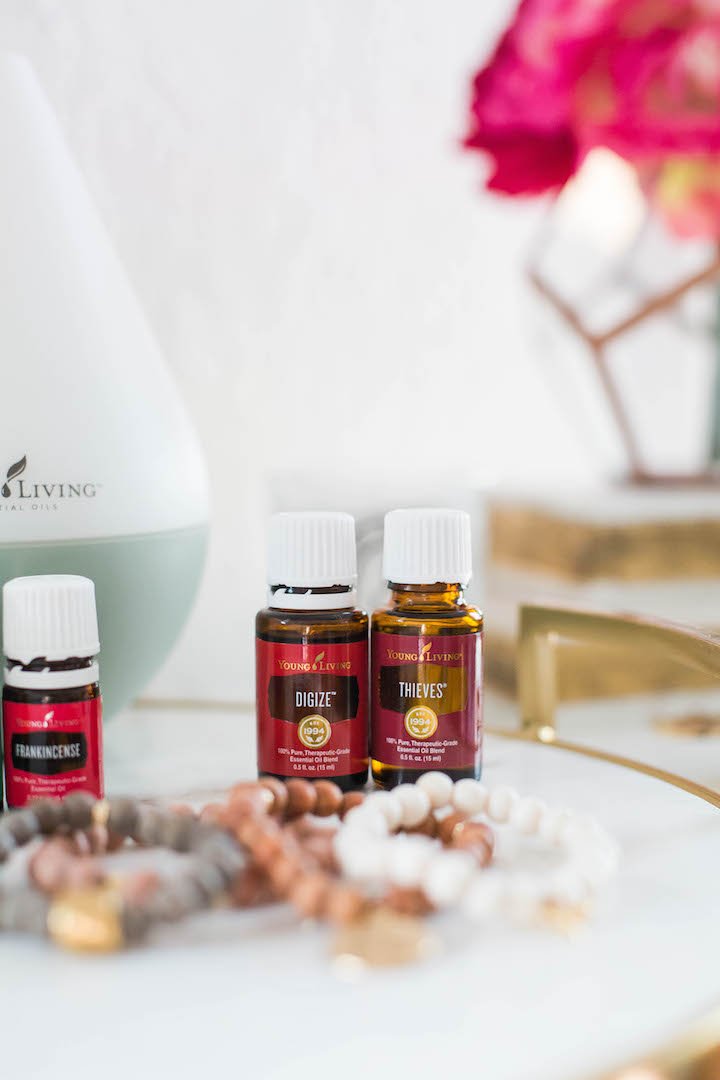 5. DiGize – last but not least, my digestive support in a bottle. If you own DiGize, you're set for any digestive issues you could imagine (wait, maybe don't imagine them all, haha). I'm super sensitive to dairy (but I just cant stay away from pizza, nachos, mac & cheese, chips dips, you name it!!) so I keep DiGize with me to rub on my stomach if I ever start feeling bad. It contains Ginger, Fennel, and Peppermint that are known for helping with the digestive system. Unfortunately for me, this happens a lot. Over the past couple of years, i've come to struggle with what I can and can't eat because my stomach just can't handle everything so I always love that I can depend on DiGize when I make a diet mistake.
I'm sure you're wondering how you can get started using Young Living! The Premium Starter Kit comes with 11 essential oils, a diffuser, samples of Ningxia Red, sample bottles, a product guide and other educational materials, and sample oils to share. It costs $160 and is certainly worth every penny. You can sign up here—>  Young Living Premium Starter Kit
Most people choose the Dewdrop Diffuser with a wholesale account. With the wholesale account you get 24% off ALL oils/products and there is NO monthly purchase requirement!
Joining Young Living with me will also get you access to two private Facebook groups that are packed with tons of information and support. The Oil Sistas Facebook group (www.oilsistas.com) has over 20,000 members and The Oily Batch (@theoilybatch) has almost 1,000 members. Both groups have oil classes, business classes, webinars, and private events. The mentorship is SUPER HELPFUL when you are new to the essential oil world. These are the groups to be in if you want to have access to all the essential oil information you could ever need. Jordan is my mentor, and she will be there to help mentor you as well, along with everyone else in Oil Sistas and The Oily Batch.
If you still want to learn more, come to our class on Monday night at 6:30 PM at Chimes in Covington OR watch the Instagram Live video. There will be a giveaway for anyone who attends the class in person or on Instagram AND there will be a giveaway for anyone who signs up for their own starter kit in the next week. More details to come!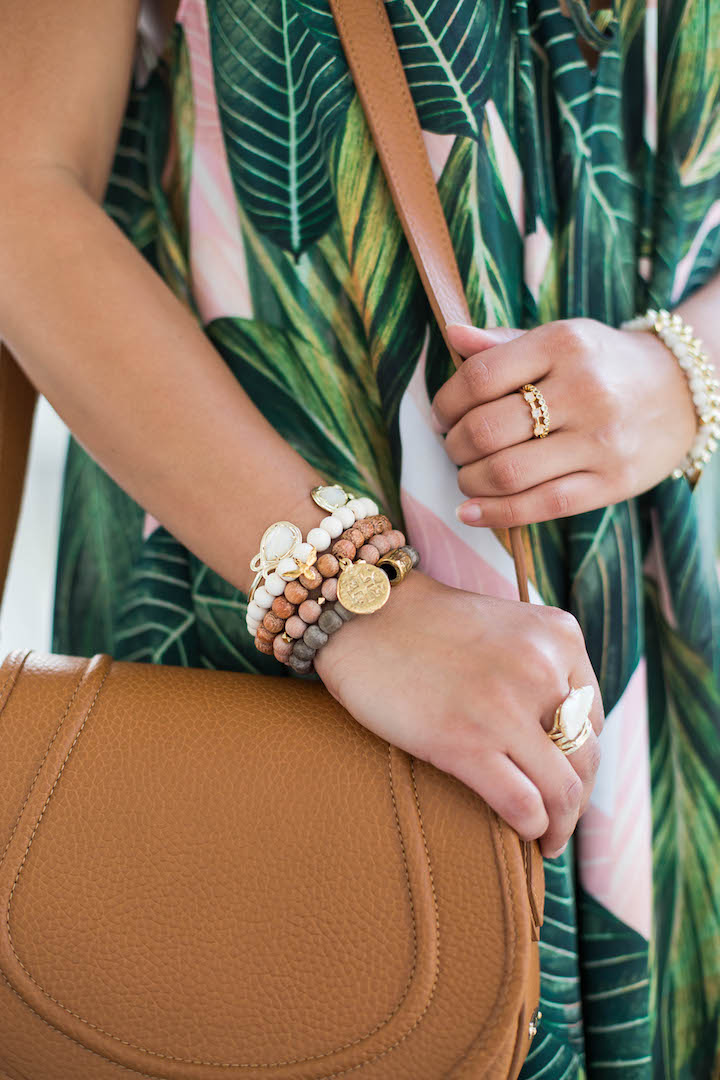 As promised, I've teamed up with Jordan to give away a stack of 4 oil diffuser bracelets in the photo above to one lucky reader as well as one lucky oil class attendee who signs up to be a new member! Just to fill you in on what exactly oil diffuser bracelets are other than super cute, they basically serve a serve as a way to prolong the scent of your essential oil. Essential oils absorb into the skin when applied topically causing the scent to eventually fade away  so diffuser jewelry is used to prolong the scent of your essential oil.
The bracelets are made of rosewood, whitewood, graywood, and bayong wood. The unfinished and unpolished beads are handcrafted in the Philippines. The beads have no finish, polish, or wax so that they are able to soak in the essential oil. The rosewood, graywood, and bayond wood beads have no additional stain, so each bracelet is totally unique, and the colors may vary slightly. The natural whitewood is bleached, washed, and dried to preserve the natural ivory color. You can wear the bracelets in a stack or separately – and keep in mind that any essential oil that has a color to it will absorb into the beads and may slightly change the color.
If you're a reader, you can enter for a chance to win by following the steps in the rafflecopter app below!
Jordan's Etsy shop is still in the works, but if you are interested in buying bracelets now, any order inquiries can be sent to jordan.yloils@gmail.com. Please include the number of bracelets, color, charms/accent beads desired, and size (small or large). Processing of 3-5 days will be needed, as orders are custom made. Here's to essential oils bringing wellness, purpose, and abundance into your life!